TapNova doesn't recommend this version of the app.
New in version 3.166.1
Thanks for driving with Uber! We update the app as often as possible to make it more reliable and improve your driving experience. Check back next week for any new features and important fixes.
Description
Uber Driver – the app for drivers

• Help people move around your city, and make money on your schedule. Drive whenever you want—Uber offers a flexible way to make extra cash on your terms. No offices, no bosses.
• Download the Uber Driver app, and sign up to drive in the app. We'll guide you through the steps and notify you when you're all set to drive.

Hitting the road
• The app offers the latest features that help you focus on driving and making money.
• We'll explain how to use the app, provide optional navigation and Help support, and let you know when there are special opportunities to make even more. Every trip you take is fully tracked by GPS for safety and security.

Getting paid
• You can see how much you've made anytime after every trip. You'll be paid directly to your bank account every week, or receive cash on each trip—depending on the country you drive in.

*This app typically uses 2 GB of data per month. Using navigation can decrease your phone's battery life.

Continued use of GPS running in the background can dramatically decrease battery life.
iPad Screenshots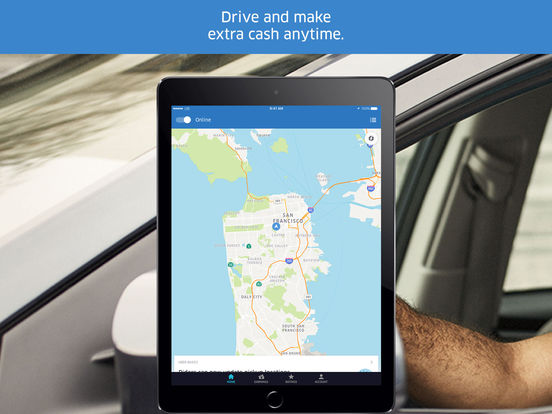 Reviews
A revolutionary app!
As an uber driver I love this app. The app is sleek easy to navigate through and I love that it connects to my pandora. If you want to earn some extra cash and help other people, then download this app. The app makes it really easy to sign up to become a driver. Before you know it you will be on the road 🚗 "happy driving":)
Driver Style Dashboard
Uber Los Angeles
on
8/17/2017
The driver style dashboard calculations are extremely sensitive! I think that feature should be reviewed 👎🏻
Infinite second chance at income
Lukerivers187
on
8/17/2017
When I was having trouble with payments and whatnot, Uber's customer service was in the next village and not far away and I can actually talk to them. Now I'm racing for the quest trips
Battery killer
So far so good after a couple weeks of driving and Not ONE tip!! What's up wit that? And when I pick up a rider the app eats my battery to death! Had phone even die in middle of a ride with over 20% and connected to USB in car!! And another thing why if developer responses so secretive why can't that show their response like most other apps I'd like to know what their responses to these issues are
Great & easy to use. However, the GPS needs improvement.
At least 5 times in 40 , the exact location to pick up the rider is not accurate. Often it is the riders error. Thank goodness there is a phone contact.
Low Rates
Makayla142987
on
8/16/2017
Uber needs to raise their rates period. Drivers are using their own vehicles, gas, oil changes, miles etc.. not to mention the taxes we will be paying at the end of the year. The incentives would be nice if it was busy enough to actually get them. Some days I make great money n somedays I can't even afford gas. Uber needs to raise the amount per minute n per mile. We don't even get 80% anymore with all your fees, we only get 50%
Great app
Uber is great company the gps could be better I drive in Central Oregon and it tell you to go down one street sometime and turns some times
Excellent app
Suggestion: option for sound or vibrate or both in setting for ride request.
Something strange going on.
Stevie'sSoul
on
8/16/2017
For this pass week as I stop at a light with passenger in tow; the app reverts back to the pick up directions for a few seconds. Other than that the app is pretty great.
Long haul pick up and return trip fee
nofreenameilike
on
8/16/2017
I live in a small town and the distance between passengers are ridiculous like 20 plus miles sometimes uber does not charge a pick up fee so if the passenger is only going for a minimum run you just made $3.96 for a 20 plus mile run not including return trip. I think uber needs 2 things 1 a pick up fee for passengers wanting service but are further than 10 miles away, and a return trip fee for trips further than 20 to 30 miles. It would help because we as drivers are either canceling the runs cause we don't want to take a loss or are providing bad service because we are mad over the loss of money from the run. The plus for uber will be the fees they receive and being able to provide better coverage in small and midsize towns. It just makes sense on all sides for uber to do this.
Extremely poor support
I love classics
on
8/16/2017
Uber is a classic example of the beta stages of allowing A.I. run your support platform. If you have an issue, you are limited to the preselected categories that leave no wiggle room with their one size fits all approach. If you can crack that algorithm to submit your issue, you get generic cut and paste responses that are void of a human touch. There is no phone number to call. I've reached out on Facebook and was ignored. I don't use twitter. And legit technical problems have no way to get to technicians and coders because there simply isn't a line of communication. Uber also takes more than 25% A rider paid uber $26.58. I was only paid $16.29. That's more than 25%. Even if I subtracted the $2.40 booking fee, uber still shorts me around $1.80. I'm in Charlotte NC.
UberEATS
Since last update I can't see UberEATS eats order info on my app
Not worth it. Stopped after 8 months
It's just not worth it, especially if you are in their leasing program. I don't know how I hold up to them for so long. Yes, I've worked really hard and made up to $1k a week, average like $650... but am I really making $600 to $1k??? I know a lot of people like to brag about it but in the end of the day it's not what it seems. Car owners are just putting a lot of wear and tear and lots of miles in the car of course. Paying for their own service, ect... For every week, since I'm in their "leasing program" I have to pay $275 now after Innovate took over Bama Titling Limited (company Uber got me into) for a Camry LE, they've been charging me the max with excessive mileage, but already caught them lying and overcharging. From $175 now I'm paying $275 a week?!!!! Every week just to operate for Uber: 1. $275 on the lease (are they f'ing kidding me) 2. $75 to put on the side for monthly insurance 3. $At least save $100 for gas and tolls for the next week, money you can't actually touch every week. 4. $25 average for weekly car washes That's $475 alone that you don't see when making $600 or more every week. Keep in mind you still need to pay your phone with LTE which you need for Uber and food. Uber doesn't really give you any bonuses that helps with your car or gas. Nobody ever gets any prizes or bonuses, they just do that to get you where they want you. All those surge areas goes away to quick, you'll make a little extra but in the end the money still doesn't add up. They take their 25% plus make you pay other fees, your cut is actually less than 65% in the end of the day. You're killing yourselves for very little. Totally not worth it if trying to make this a full time job and getting a lease was your only option. Time to admit that I was a sucker and fell for their false advertisements on the lease, I will move on now. Going tomorrow to the dealer I got it from and throw them the keys. Had enough of it already!
Please adjust
I'm constantly having to clear caches and reboot, today 9/15/2017 the gps was absolutely awful. Please I beg you to work out the bugs on the android platform.
Great for extra cash but not your only income
lyft driver 4 life
on
8/15/2017
Uber is a great way to make extra money but they are just too greedy with sometimes making more than half of the fare:(
Quantity over Quality
muddslinger417
on
8/15/2017
Uber lets any vehicle on their platform, and does not care about the quality drivers who take care of their cars. You will have to compete against cars with taped headlights, tail lights smashed in doors, and drivers who urinate in the airport staging lots with no recourse. I am a driver who has to deal with this and will no longer go to the airport.
Crap day
Drove 3 hours 39 minutes on match tip day. Normal times for me and I got notta rides. Thanks for nothing
Immoral company
Ascendant ;)
on
8/15/2017
This company treats its drivers as expendable and worthless. I was a loyal driver for a year, then let go for no reason at all. When trying to contact their staff to find out why, I got the typical generic cut-and-paste answers through the app that did not address the issue. The Uber hub staff all gave me conflicting information and didn't understand what happened either. You can't speak to a single competent person within the company, as they make it literally impossible. DO NOT work for this company and DO NOT give them your business! Update: In regards to the developer response, this is again an example of the misdirection I spoke of. For starters, the only official page I found of Ubers online doesn't let you PM it! And asking me to send a tweet to a company? Unprofessional much? I am not signing up for Twitter all to get ignored through another interface as well.
The navigation
I really like using uber but the navigation could be upgraded or partnered with google maps or Waze. Otherwise everything else is cool
Glitch fixed
jimbosdayoff
on
8/15/2017
(Update: no further problems and they reached out to me) Due to a glitch in the app I received requests without being notified. This adversely impacted my acceptance rate. Why do drivers get punished for technical errors in the app. Customer service recognized the error and said they cannot fix it, impacting my earnings.
Platform.
The Uber app platform is by far leaps and bounds ahead of major Fortune 500 companies. I know this because I have worked for 3 for f500's. It is easy to use and the app GPS is one of the best systems on the market for a phone.
👍🏼
This app is an app of the century! 👏🏼
Worst company
PokeFinderNewUser
on
8/14/2017
Worst app
Suggestion
I think the app works just fine it does have a few bugs here and there but overall it's great. I would like to see an option of seeing where the other drivers are located on a map so I can go where there isn't as many. Weekends are horrible with too strong of concentration of drivers downtown. It would also be good to be able to communicate with them as well.
Great
Dontneednonameeeeeereee
on
8/14/2017
I use it regularly as a way to offset bills great app
Good
Pupo Roberto
on
8/14/2017
It has a very good user interface design. Just need to improve the time it takes to have information about last trip. It would be helpful to see how many miles you are away from destination.
Buggy
Peter V Johnston
on
8/14/2017
Doesn't sign off and then you get dinged for missing rides. Surge map is never actually representative of the surge you end up getting. Uber tries too hard, app has too many features and developers have bloated incomes. Uber should get $0.99 per ride and that's it, drivers should be free to set their own rates. Instead they pretend to be tech company but still want nearly 1/4 or more of the fare cut, in reality they are just an illegal taxi company putting drivers at risk and destroying their cars and their credit. Gig is not worth it; which is why they refuse to give you all the information about each ride. They have to trick you into accepting every ride in the hope that it will be enough to survive, by definition this is not a fair or free trade. They used to show where passenger is going but they eliminated that feature because drivers realized short trips aren't worth the wear and tear, so now they trick us with every fare. You should stay as far away as possible. All ridesharing apps are sinister entities that only want to exploit you and your car.
Low voice + acceptance button
Michaelmaomao
on
8/14/2017
Uber! It's been 6 month past,you uber just don't want fix the google maps low voice guidance! And please put back the pick up address on new accepted button for safety when driving middle of road while the request pop up.the screenshot of the address could make me quicker decisions where gonna driving ahead or make turns,For example: if I see that intersection or general area is clogged with traffic then i skip it. Or it gives me an idea if i have to imminently take a left or right turn or if i SHOULD NOT go in to a major street,one-way street or freeway. I write in because it's really dangerous for driver,the new design I need wait around 5 seconds for the pick up address showing up then make decisions to make turns or go straight,sometimes on the traffic intersection,some time in about freeway entrance.do u have any ideas how dangerous keep an eye on the screen 5 seconds in middle of road.Thank u !
Great App For Uber Drivers!
Frequent updates and very reliable!
Great app, bad nav.
I usually end up manually typing the address into google maps for a quicker/shorter route.
Uber
jose columna
on
8/14/2017
It's great I love it
Thank you
AMMAR MICHAEL
on
8/14/2017
Thanks
Uber Driver
I love the AP. Uber is good for me. I like it.
It's not worth it...
You will waste your time and put soo many miles on your car for nothing. No incentives, no bonuses, nothing! 👎🏻
TERRIBLE TEAM SUPPORT
Drivers response are worthless against any no sense bad review. One rider bad stupid review is more valuable for Uber than 50 good ones.
Ubereats orders
Can't see what I'm picking up in the app when I get to restaurant, the app just has blank screen where the order is supposed to be at, plz fix
Good appBut navigation needs attention
This app is good and I find it very easy to use. The only problem I have had is with the navigation system. This past week the system did not have rider locations accurate. I had one tell me pick up a rider in the middle of an interstate. Another had me driving across the freeway from the rider on a dirt access road. I also had riders pinpointed on the wrong side of the street or over 100 years from where pick up was said to be. This was frustrating. In addition the nav system was slow. It would often go slow then speed up and have to reroute because turns were missed. At one point it wanted me to drive right through a building. When it did reroute I often was driving in circles. I received one star ratings due to navigation this weekend and that was frustrating because my device was not the problem. All in all I really like the app. Would like to see tipping be easier for the rider as well. Keep working to make it better. Loving what I've seen so far and will be super happy once navigation is fine tuned.
Still major flaws
xxt3chnoizradxx
on
8/13/2017
I can't tell you how many times I've accidentally went offline on complete accident when in the airport queue. It kicks you all the way to the back of the line even if you go right back online. It asks all the time if I'm sure I wanna go offline when it's late at night and I'm tired but not when I'm almost at the front of the queue?
I am addicted to Uber now
breakdancer555
on
8/13/2017
I previously rated this app 1 star. But after a lot of changes during the 180 days of change, I'm so addicted to driving for Uber now! It's much better on so many levels. I only wish the riders are forced to rate the drivers before their next trip. That way, they wouldn't resort to rating only when they have issues with their trips. Please do this and I'll update my rating to 5 stars instantly!
Let's talk
I rated so low cause I'm been followed around by Uber and not told why missing with my apps and everything other then this i would have given 5 what you got against me Uber?
It's Uber, great part time job
I've enjoyed driving with Uber for over a year now. The app and its GPS have improved since last year and there will always need updates from time to time. The GPS is accurate this year by 90% correct, compared to last year at only 70% correct, with regarding to rider location, rerouting issues, and mapping problems. If there is bad weather nearby, then there will be issues or if it's a very big event (concert) with lots of rider requests and drivers in the area, the app could crash. Use common sense. Call/use the rider for pickup/drop off Asst, leave the congested area until the app refreshes itself. Or don't bother driving for uber, get a real job, and stop whining about "your" issues with whatever. It is what it is. Great P/T job but not so good F/T job unless you have/had experience with a "driving job". PS: I rated 4 stars and not 5 due to its very small issues. I love driving for uber and the riders(90%) are great.
Worst directions ever!
Comrade Jeff 37692
on
8/13/2017
Constantly sends you to wrong pickup or wrong drop off points. Use Google Maps or Waze instead.
$$
Great way to make extra money
Gps
Galsen 4 ever
on
8/13/2017
I wish the Gps could update us on road block- clients get made when you pick other client on a uber pool
Allow drivers to see pictures of client before pickup & VIP selection of drivers
I enjoy using the app and driving for UBER. Overall it's a 4.5 ⭐️⭐️⭐️⭐️plus.. A 5.0 ⭐️⭐️⭐️⭐️⭐️ would be enhanced safety for drivers..By.. ADD PICTURE OF PASSENGERS Allowing drivers to see pics of passengers BEFORE the ride.. Equalize the playing field... Why should only passengers get a visual of the driver before pickup? Allow the same courtesy to the drivers. Let drivers see clients/passengers picture before the ride. VIP SELECTION OF REPEAT DRIVER Also would be nice if passengers can select a repeat driver. Some passengers have said I wish I could use you again. Perhaps a VIP feature would be to allow this function through an ability to schedule rides.
Great side gig w/ subpar payout
I am driving with Uber to pay the bills while I interview for jobs. In addition to having little to no rides in my area, the payout for Uber driver is ridiculously low. For a 30 mile trip (40-ish minutes) you get $24. And for shorter trips the payout is way WAY worse. Add the car maintenance, fuel cost, and wait time to that. At times you'd drive 30-40 minutes to pick up a $3 ride. Since you can't see the rider's destination prior to them boarding, and Uber penalizes you by offering less rides when your acceptance rate goes down - you're basically driving around forever for little to nothing. There are also times when the people just decide to cancel or not show up at all. I am grateful for the opportunity to make cash at my own time. But Uber is taking advantage of people's desperation to an extreme degree. To make things worse, the "queue position" at the airport pickup area freezes and randomly goes in reverse at times, making me wait hours and hours for one ride, literally.
Fact Sheet
Publisher: Uber Technologies, Inc.
Category: Business
Released: Oct 18, 2016
Current Version Released: Aug 02, 2017
Version: 3.166.1
Size: 194.6 MB
Compatibility: Requires iOS 8.0 or later.
Recommended Age: 4+
Game Center Certified: No
Supported Devices: iPad2Wifi-iPad2Wifi, iPad23G-iPad23G, iPhone4S-iPhone4S, iPadThirdGen-iPadThirdGen, iPadThirdGen4G-iPadThirdGen4G, iPhone5-iPhone5, iPodTouchFifthGen-iPodTouchFifthGen, iPadFourthGen-iPadFourthGen, iPadFourthGen4G-iPadFourthGen4G, iPadMini-iPadMini, iPadMini4G-iPadMini4G, iPhone5c-iPhone5c, iPhone5s-iPhone5s, iPadAir-iPadAir, iPadAirCellular-iPadAirCellular, iPadMiniRetina-iPadMiniRetina, iPadMiniRetinaCellular-iPadMiniRetinaCellular, iPhone6-iPhone6, iPhone6Plus-iPhone6Plus, iPadAir2-iPadAir2, iPadAir2Cellular-iPadAir2Cellular, iPadMini3-iPadMini3, iPadMini3Cellular-iPadMini3Cellular, iPodTouchSixthGen-iPodTouchSixthGen, iPhone6s-iPhone6s, iPhone6sPlus-iPhone6sPlus, iPadMini4-iPadMini4, iPadMini4Cellular-iPadMini4Cellular, iPadPro-iPadPro, iPadProCellular-iPadProCellular, iPadPro97-iPadPro97, iPadPro97Cellular-iPadPro97Cellular, iPhoneSE-iPhoneSE, iPhone7-iPhone7, iPhone7Plus-iPhone7Plus, iPad611-iPad611, iPad612-iPad612, iPad71-iPad71, iPad72-iPad72, iPad73-iPad73, iPad74-iPad74,
Supported Languages: Arabic; Azerbaijani; Bulgarian; Croatian; Czech; Danish; Dutch; Flemish; English; Estonian; Finnish; French; German; Greek; Hebrew; Hindi; Hungarian; Indonesian; Italian; Japanese; Korean; Latvian; Lithuanian; Malay; Bokmål, Norwegian; Norwegian Bokmål; Polish; Portuguese; Romanian; Moldavian; Russian; Chinese; Slovak; Slovenian; Spanish; Castilian; Swedish; Thai; Chinese; Turkish; Vietnamese;