Screenshots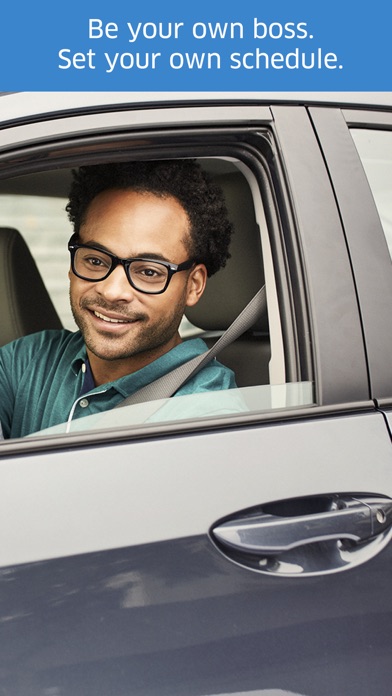 New in version v3.175.10001
Thanks for driving with Uber! We update the app as often as possible to make it more reliable and improve your driving experience. Check back next week for any new features and important fixes.
Description
Uber Driver – the app for drivers

• Help people move around your city, and make money on your schedule. Drive whenever you want—Uber offers a flexible way to make extra cash on your terms. No offices, no bosses.
• Download the Uber Driver app, and sign up to drive in the app. We'll guide you through the steps and notify you when you're all set to drive.

Hitting the road
• The app offers the latest features that help you focus on driving and making money.
• We'll explain how to use the app, provide optional navigation and Help support, and let you know when there are special opportunities to make even more. Every trip you take is fully tracked by GPS for safety and security.

Getting paid
• You can see how much you've made anytime after every trip. You'll be paid directly to your bank account every week, or receive cash on each trip—depending on the country you drive in.

*This app typically uses 2 GB of data per month. Using navigation can decrease your phone's battery life.

Continued use of GPS running in the background can dramatically decrease battery life.
iPad Screenshots
Reviews
Frustrating Experiences Often-Horrible Cust Service : (
I really try to like Uber, but there are always frustrating experiences and I expect that sometimes with companies. But when you need help you can't get a real person or someone who's from our country who will really help you!! Even when you email support!! Ugh!!! They are always spitting out these generic responses and never really are helping you! There support line is horrible! You can tell it's outsourced to another country... Just horrible. I feel like Uber is trying to save money after experiencing hardship. Not fair to the driver or the customer whom I've heard is now paying more?🤔
GPS IS BS
GoldStarGuru
on
12/13/2017
Basically I Felt I Had A Better Chance Of Finding Nemo🐠Than My Rider With This Confusing GPS.
Please raise my pickup fee
Sometimes I received a request that far away from me , and always was McDonald, then I was drive almost 10 miles to pick it up ,and sent it about 1.2 miles ,you guys only give me 3 dollars ,what about the pickup distance? Oh my god, please optimize your calculations and don't give me so long pickup distance , and when I had wait to pickup ,the guest they canceled the order so I get nothing , 0 dollars! Can't believe it , that not my fault!!! What about the time and gasoline?? And "I will tip you through the app soon" I never receive the tips when those guys smile and say that!
Total rip-off
Abdo price chopper
on
12/12/2017
Uber is too greedy. Takes up to 50% and more on some rides and that's not fare at all. The drivers have to pay for the gas, mileage and vehicle maintenance and and only get half of the fair amount? Lyft only takes 20-25% maximum they are less greedy than uber!
Unable to go online
Jersey Girl- Ro
on
12/12/2017
The app keeps telling me my vehicle is not allowed to operate in NJ. I keep reinstalling the app. Nothing is working.
Dear Uber
Please give all of us UIC - Uber Independent Contractors $1,000 this December before Christmas as a gift bonus 2017 and every December year. We know that the future will be electric and gas vehicles will become classic cars. We know, there won't be any driving work for Uber in the future but $1,000 maybe tiny for you but $1,000 will help us buy gifts for our families or pay bills.
UBER- LIARS.. PROMISES NOT KEPT HAVE PROOF
Uber LIES HAVE THE EMAIL PROOF. Uber app stinks, customer support is ABSOLUTE GARBAGE. I wouldn't hire them to pick up my dogs poop. FIRE EVERYONE AT SUPPORT AND HIRE PEOPLE WITH BRAINS. Cheap company. And for the tech team, I don't think you could handle programming a clock radio. As for corporate..bunch of morons who hide behind closed doors cause you are afraid to actually deal with your problems.
Uber pool
Uber pool is non sense. It forces me to serve riders door to door for less than bus fare. Many riders request pool just to save money, on my dime of course. If the pool ride does not happen I end up working for less.
The navigation voice is broken also needs watch version for drivers
The navigation voice has been changed to a mans it needs to be changed back to the way it was as a females and needs a watch version for drivers
CarPlay
The app is great, but for convenience purposes, why has there not been CarPlay integration? This would create a much safer driving experience.
180 dias de cambio
bad for uber
on
12/10/2017
Yo en lo personal no Miri ningun cambio
Update
Making us down load another upgrade only the stupid thing locked up my app and did not download. Lost an entire day driving. Trying to buy Christmas presents with Uber money. Guess some are getting left at the store. Thanks Uber for doing so many updates.
Smh
Had a long winded speech, I can make it much more simple. ******************************************* My advice, look at the rating, read through the reviews. Go to uberpeople.net if you need more evidence. Uber doesn't care about its drivers. PS... I love the developer responses... that doesn't sound right... I know it can be frustrating... please email us. If it doesn't sound right then why so many of the same complaints?
Surge and bonus do not work properly
Sangeethcattu
on
12/10/2017
The surge and streak bonus do jot work properly . Defnitley uber cheats the riders and drivers alike . They take more from the riders all the time but drivers never get the benefit . I could be right in the middle of a surge but I will get requests from 15 mins away and no surge . Working early mornings or late nights is a total waste as riders pay premium because of odd timing but drivers make peanuts . Also in New Jersey another big joke is if you get trips to New York you have to spend double the time , you don't get any rides from New York because of the restrictions , you do t get paid the toll to go back to New Jersey because you are not on a ride. So I either deny all requests to New York once I realize where the destination is or call and check with the customer before going to pick up. There is no point spending 2 hours doing a trip if at the end of the day you don't make any money. Uber really needs to stop cheating the drivers and pay them more transparently , else it is a matter of time before one more app comes up and you will definitely loose drivers .
Jus raise pay. BAD COMPANY
Heyyoucanfinish2356
on
12/10/2017
They pretend to make changes. The changes are with pennies no real change in drivers earnings. Just pay a good rate and raise the per mile. Per minute. Then you don't need all the bs. Get rid of POOL.
Virtually useless app and impossible support
Absolutely horrible horrible app. Support is also horrible in every sense. This thing does not work and I can say this because I have been trying to use it for the last four years. This is a continuing problem that does not seem to be resolved matter how many times you try to contact them. Going online for 12 hours a day and getting for delivery request is ridiculous. They keep blaming the drivers for not having properly troubleshoot it the phone. Are you really kidding me? This is ridiculous. You lie to your own drivers by hiding the fact that you guys keep trying to update the app. It does not work! I just spent $200 in gas this week alone and only made $120. Something is wrong with that equation. It certainly isn't the fact that I haven't done any troubleshooting, or that my brand new iPhone 7 is too crappy to support this wonderful app. UBER needs to fix this quickly because I don't think that other companies like post mates, or DoorDash, or many others, have the same problem. I think UBER doesn't really care at this point if drivers leave and go to work for another company because they are too busy trying to get their system to work after they have fired their CEO. I cannot afford to work for UBER anymore. It has become too expensive for me when I don't have any support at all. So I drove around to all busy areas, and re-downloaded the app 30 times, and restarted my phone 30 times, and spent at least $220 on gas, then one week. I made $400 that week . That's $180 for 70 hours online. This is not the way it supposed to be. Uber Support does not help at all, and the app is absolute crap. Even after going to green light hub...NO HELP. It is impossible to work for this company! Uber has absolutely proven that they care nothing about their customers, and even less, a lot less about their drivers. The APP needs to be downloaded at least 5 times before it starts barely working. I'm on my 11th download, and the app STILL does not care about my location! Uber is making it impossible to work for them! No requests at all!! 35 calls to support today. completely useless!!
Automatic 5 star ratings
LORDROOTMAN
on
12/10/2017
Why drivers can't get automatic 5 star ratings if a rider does not leave feedback or ratings within 48 hours I guess everything looks good for them no complains
Buggy app and poor resolution delivery
Downtime Anytime
on
12/10/2017
Recent version of Uber running on most recent version of iOS are incompatible. A notification banner for an integration partner app - Getaround - covers the 'online' switch and can't be removed by the driver partner end user. No amount of firmware or app updating - or configuration - removes the notification banner. This banner prevents drivers from going online and earning 'anytime'. Their service model is decentralized and segmented - which means that only a meaningful resolution can come through a complicated and cumbersome escalation process. Times like this I wish I were a Lyft driver.
Unsafe application.
Imagine being asked to drive to an unknown remote location at which someone you don't know and have never seen before will get into your car. Only after you have someone in your car you are told to take them wherever they want to go for a small fee. The Uber driver app asks you to do exactly this. The problem is, it's not a game on your phone, it's a real life request. People are being assaulted, robbed and even killed because of it. Please ban the Uber app. Thank you.
Ratings
I love Uber BUT... they need to make the rider choose one of the feedback options given to them when giving a driver less then 5 stars. If I get a 4 star and I thought the trip went great how am I suppose to know what happened with no feedback? I mean how can I screw up a 2 minute ride bad enough to get 4 stars and Uber thinks that's acceptable? I feel like it's not made clear to riders what the difference in the star ratings is. Like 4 stars means ——- and 5 star means ——- so that good drivers aren't getting bad ratings from riders who may not even remember the ride entirely.
Rating system
The rating system have issues, I get Five stars and the the number of total trips rated stays the same , the same thing for five stars rated trips , I even made some customers to give me five stars and icons and nothing changed even the number of icons, and Uber support doesn't help sometimes I think they don't speak English and it's always cut-paste-copy answers.
Change Navigation Voice
The new update changed the navigation voice from female to male that is very low pitched and difficult hear. Also the turn by turn navigation has become useless. The voice says turn right when the image shows turning left. The voice doesn't match the directions. PLEASE CHANGE THE VOICE BACK!!
Garbage app
They redirect me every single time away from a surge even though I'm in the middle of it.
Hard to work with
I've been doing Uber Eats and the gps is terrible with locating customers locations! I've had problems over 5 times in two weeks where the Uber gps took me somewhere 10 minutes away from the customers actual location. This makes the customer think it is my fault when it is really the apps fault. Fix this issue!!!!!!!!!
Is there an option for - stars?
Absolute horrible experience from start to finish. I asked important questions before beginning lengthy process to avoid issues. Was given information by Uber so moved forward bought business license and changed my insurance. Only to be allowed 1 trip and get waitlisted.Uber support do not have the knowledge or information to help. I was waitlisted for over a month (suppose to take 15 days for background check) every support person I talked to during that time gave a difference response and all tried doing the sam thing and gave me the it will only take 15 days over and over. Went in a circle for over a month until I said screw it. The fact that support cannot be on the same page will put you in a bind when you actually need support and getting issues resolved. Waist of time and money and now I want nothing to do with them. Horrible experience, wouldn't recommend to drive with them or use them. Will be taking my business license elsewhere.
Long distance match, PLEASE FIX!!!
I found a problem at this version, usually match me a long distance pick up like 8 miles, 10 mils. And also for delivery, even sometimes give a 15 miles delivery pick up. That really doesn't make sense . ————————————————— Updated: Today I got 5 delivery quest in a row, which are 20 mins away, at least 15 miles. What's wrong with uber??? PLEASE FIX !!!! The long distance pick up is really annoying, if don't accept, it will decrease acceptance rate, on the other hand, there is no significance to accept. UBER must fix that!
app crash 🚦
audominicano
on
12/8/2017
the app stops working sometimes as soon as you drop off the rider nd you have to restart it.. good thing it at least registered the ride before it died on me..i see a lot of ppl is having trouble with that and they not getting paid once the app crashes..deff don't want that to happen to me
Needs improvement
Brit Da Spoiled Brat
on
12/8/2017
Needs a lot of work the app has been freezing while on rides and I cannot end a trip I have to go out of the app and open it back up. Also riders are not required to rate but as soon as their trip is over us drivers have no choice but to rate them
Fix this
Veronica Anne W.
on
12/8/2017
Every time they update this it doesn't want to let me choose my navigation app in settings. I have to uninstall it a doZen times for it to work again and it's beyond frustrating. There really needs to be a simple patch for this. Or maybe don't needlessly update the app
This is ridiculous
Maaaaddd person
on
12/8/2017
There isn't any problem with the app; however there is a huge problem with UBER company. Uber used to be fair. Not going to work for Uber until they pay and treat their drivers well.
Does what It's supposed to.
Tells me when, and where to pick up fares, calculates my money correctly, and pays me on time. No complaints.
Completely 100 % unreliable software for last 6 weeks or more
Dijutal assassin
on
12/7/2017
UPDATE 12/7/17: Well you people are either a bunch of sadists laughing at your fake features or youre all completely incompetent. The same issue that you all have been saying " yeah, were handling it" is still an issue. Your darn arrival timer is still worthless because like 20 minutes until i set it to be somewhere i catch a trip going an hour in the opposite direction. We use this feature when were about done for the day and are only available for certain trips. Because of those other engagements in our lives. Like your advertisement talks about respecting. Yeah. Our time isn't worth jack. You all have made that loud and clear. Zero respect!!!! Well, Uber's computers cannot accurately process driving duration times properly. They used to be pretty good at it but over the last 3 weeks, they have been notoriously unreliable. When i am about done driving, i would set the destination filter and add an arrival timer and would not get anything that would prevent me from making my destination around the time i had set to be there. It was actually quite awesome and would allow me to do another ride or so, make a little extra money and get a few more people to their respective destinations in addition to feeling like uber was way more concerned with both sides of the rideshare experience. However, for the past three weeks or so, ill be nearing the end of the time I allotted to drive uber and set a destination with an arrival time and ive been getting tons of trips that completely prevent me from making my destination by the time i told the destination filter i needed to arrive by. Its so off that its not even close anymore. At first i thought that it was a temporary glitch and severely inconvenienced myself taking those people where they needed to go but now it is completely apparent that it isnt temporary at all and when you tell the app that youre about done and you can only accept certain things, its as if uber is laughing at you by giving you trips that completely violate the parameters of how you have made yourself available on the road. Its been several weeks of telling the support reps over the phone and in email that there are bugs which severely undermine the driver confidence and experience in their technology and tbh, canned responses are the best they can come up with. Oh. You have to be east of here 45 minutes from now eh?, well how about we wait until two minutes before the screen turns from blue to gold and give you someone going 20 miles west of here and then at the end of that trip our app will tell you to start heading east now. Ha. The point is people cant take things like that and when we input that information into the app, and accept something based on those parameters, we expect the trip to fall within those parameters. Otherwise, without the confidence that uber respects our time, people will be way less willing to give their time because it precludes the ability to do this in your free time as you are way less able to make those other special engagements in your life. Im sure full timers dont care as they can drive all over wherever and whenever but the rest of us have a life and currently are having a hard time juggling the two with the said glitch going unresolved for so long. " Set your own schedule You can drive with Uber anytime, day or night, 365 days a year. When you drive is always up to you, so it never interferes with the important things in your life " The above quote is taken straight from their website regarding their driver app. The key phrase is that ... so it never interferes with important things in your life... but as i explained above, it has done nothing but that since their "glitch" has gone unresolved for so long. Uber has way too many intelligent people working there to have a glitch like this for so long so as a user of their service im very disappointed with them currently. ****update**** Um. No thanks. I reviewed here publicly so that other people could have a heads up of what to expect and so that app developers could read about a flawed buggy system. Ive no interest in engaging with csr because theyre illiterate, incompetent, and frankly id rather have a root canal done through my bum than subject myself to the aggravation of dealing with them. If you want to fix flawed features, great, here is something for you to work on. ****update 11/25******* Well. The proof is in the pudding. ****update 11/26***** I was speaking of severe bugs and glitches from a driving experience. You see, right there A response that doesn't match what i said. Its this reason that ill pass on contacting you all through the app. At this point, all you had to do was say thanks for illuminating bugs at no cost to you all. It was not glitchy four weeks ago. Something happened with the order of operations in your code. Now its glitchy as heck, and inconvenient for drivers and riders alike. Now, the parameters of eligibility for trips is severely compromised. The filtering mechanism isnt working. Want to know why? Ask the code people what they did about a month ago that would undermine it. The bottom line. Is when a driver uses a feature to set trip parameters as mentioned above. Thats an agreement. They've agreed to do trips you send based on certain parameters. Now the trips sent need to abide by those parameters mentioned above or your computers just need to not send trips at all. But this "glitch" is absolutely unacceptable and goes against the premise of using said features in the first place. If it doesnt work reliably then its literally a crap shoot. I mean seriously. If i set my account to say xl only and you guys kept spamming me with the wrong type of trip requests, something completely outside of my category, would that not be problematic? Thats not even the issue here but it is an issue regarding parameters and the lack of adhering to them or honoring them when used is the mf problem.
Customer support
Uber confirms drug use in drivers vehicles and the customer support is horrible
Bugs and more bugs
There is no way to report a bug or issues for an update. Therefore you get a single star in hopes you read this. Bluetooth- talked to someone in tech support about adjusting volume in navigation and they sent a link to turn on/off voice navigations. For that you get one dunce cap. Bluetooth continued. I have a Bluetooth hands free. When your voice comes on, it sometimes does not un mute itself untill you kill the app and restart. Bluetooth again. If I'm on the phone while sitting in the offline mode, it leaves the phone in an awkward state, where the next incoming phone from a rider, while en route, will not select the car kit. It will continue to ring thru the speakers and will not answer. Then, I have to turn the radio off, speak on speakerphone. Navigate the rider to destination. Then kill app and restart. Night Mode. Why don't you set night mode in the Onlibe mode waiting for a fare? I have to turn phone brightness down while waiting. Then when I get a fare, have to turn brightness back up. Accessibility. Can you make the road name and distance a much larger font. It's like 10 point. Should be at least double size. In regards to tones, it would be nice to change notification tones and volume. Otherwise a semi functional app for your "partners"
Refused to pay referral reward, poor pay.
Uber refused to pay my reward referral of 200$ because I waited to long to ask support why I didn't receive it. I have had customers lie to support and caused me lose of pay for driving out my way whilst obeying traffic laws and wear and tear on my new vehicle. Thought uber would be decent to earn extra cash for a extended vacation I would like to go on but it was a waste of time. Uber hopes you are desperate and willing to go out of your way for very little pay.
Don't expect to make much money.
Your not compensated for the price of gas. After paying insurance, gas and wear and wear and tear, like tires and car washes alone basically using most of your hard earned money it's really not too much left. But if your in it for the social part it's good. Gets me out of the house. 😃
Highway robbery
Uber eats is so awful for the driver, I've driven it for multiple shifts and it breaks down to less than minimum wage. Also just a heads up look at how much uber takes off the top of your fare, it ends up being about 30-40% and some how we are cheaper than cabs. For the volume of rides Uber does you would think they would maybe keep 10 percent and not pass on all the fees and still make a killing. Really unfortunate, atleast driving UberX you can average 15-20 dollars an hour but after You factor in mileage you are still making almost less than minimum wage.
Navigation is a POS!
J2112gallardo
on
12/7/2017
Makes what would otherwise be an easy job more difficult when I have to use google maps to locate an address . FIX IT!
Trash App as always
Horace grant son
on
12/7/2017
Look at old reviews . SAME ISSUES EXIST. They'll never change only cheat you More accusations come out every week about this fraudulent company . They are evil and I hope karma will humble them. They steal everything, money and even information, from riders and drivers . BEWARE do research. You're no different than any other uber ant. Uber always wins and you'll get screwed !!! Look at UBER responses to reviews . All automated they don't give a 💩 about YOU Nothing changes !! They fool "Partners" and riders with upfront prices. Every fare is different, they take any amount they want and it's more than %25. Look at reviews from years ago , all the same . Don't sit at the airport. Because there will always be a problem with queue. It's a waste of time and the surge is fake !! Poorly ran company , terrible app, will get you frustrated like a toddler . The map and navigation is laughable . The launching of another navigation system, won't link , during surge when you zoom in it goes blank . It can NOT handle all the activity during busy hours. You just have to get used to It , because they don't update their app, they clear bad reviews . Frequent riders always know the flaws with the app and laugh. Also your acceptance rate will go down for no reason. "You're online but not accepting trips " is BOGUS !! Don't respond because your link won't work . Google UBER DRIVERS FORUM Drivers are miserable because Uber lies, cheats and steals from them .
5 Star Trips
Is the app just going to stop counting my 5 star trips? I've been stuck at the same number for a week and my rating has gone up 2 points.
Their response to criticism shows how bad they are
They've copied and pasted the same response to the negative reviews. They know there are existing issues, but as long as they make their buck they don't fix them. They have years of useful information as to illegal turns, routes and in some cases driving THROUGH buildings, by instead use their access to information for bad business practices. Their "support" is just like their responses to the app comments- copy and paste or read from a script. HOURS WASTED, but again as long as they make their buck they don't care.
Fraud guaranteed
Fraud guaranteed
on
12/6/2017
I completed 1st 100 rides and was promised $1025 guaranteed but never got it and I sent over 20 emails and every time the same copy and paste response I received from Uber: (Thanks for reaching out. This referral promotion has been flagged for improper use of the Uber application and as a result, has been removed from your payment statement. Examples of improper use include requesting yourself, creating duplicate accounts, accepting trips without the intention to complete them, claiming false fees or charges, manipulating trip details, or intentionally accepting or completing trips with invalid riders. Please note that repeated improper use of the Uber app will result in account deactivation. If you believe this decision has been made in error, please let me know with a brief explanation of this referral.)
Second thoughts
Itsmeagain10
on
12/6/2017
I started with uber about 2 years ago and after driving for a few months I heard about Lyft and their tip option and made the switch. Have been driving exclusively for Lyft ever since. Lately in my area their are way more Lyft drivers than riders so the wait times can get long. Was thinking of switching back to uber now that I heard they allow tips but after reading these reviews I'm going to just stick it out with Lyft. Seems like uber has lost their way. Although I never had major issues I have heard several complaints from current drivers of uber and these reviews just put the nail in the coffin. Hope for their sake they figure it out but I won't be going back.
Awesome but need little more adjustments
UberEats Driver
on
12/6/2017
I have been an ubereats driver for 3 months now..I actually find the app user-friendly.I can actually get to work when I want to and stop whenever I like (I'm the my own boss).But not withstanding uber really needs to work on a lot of stuff. 1-I often get to restaurants to pick up and I realize the restaurants are closed .i think uber should should display restaurant operation hours or let the customer know whether or not the restaurants are closed ,this safes both the driver and the customer the stress. 2-Uber isn't considerate of traffic or You can spend a 20mins slow down caused by traffic and you still get paid for the same distance fare (that's not fair). Overall I have had an awesome time with Uber .they just need todo a little more adjustments 😌
support for apple car play and android
It would be great for uber to support car play. that way you can just connect your to car through the usb. if you have iPhone or android base phone your map navigation comes through your car system on screen
The turn by turn has been a nightmare.
Whytry2talktoyoupeople?
on
12/5/2017
It skips turns. It will not reroute. I have update the app by remove and reinstalling. Now it is giving me messages that I have been turning down trips. I have not! Fix this, please! You are costing me money.
Beware
Customers are allowed to change the drop off location as many times as they want without fee. Even if you've already arrived at the first, second, and third location they've given you. I drove around for 22 minutes on a delivery that should have taken me 6min, this being the second time it has happened in two weeks with no more than $1.11 for the first time and $0.35 the second time added to my fare. Very disappointed in the delivery supports response to my concerns. Maybe next time I just won't complete the delivery. TIME IS MONEY.
$300
Use promotion code: 1f8uk5hdue to get $300 if you drive Uber
Massive battery drain on iOS 11
Battery drain needs to be fixed! Make the app more efficient! As far as earnings go, please take a smaller percentage from each trip! Increase appeal for uberPremium!
You will be homeless don't do it
Rates are so low and Uber can take up to 35 % of what they charge the passengers, don't drink the cool aid. I now have a car with significantly less from all the miles and practically worked for free.
Fact Sheet
Publisher:

Uber Technologies, Inc.

Category:

Business

Released:

Oct 18, 2016

Current Version Released:

Dec 06, 2017

Version:

v3.175.10001

Size:

212.6 MB

Compatibility:

Requires iOS 9.0 or later.

Recommended Age:

4+

Game Center Certified:

No

Supported Devices:

iPad2Wifi-iPad2Wifi, iPad23G-iPad23G, iPhone4S-iPhone4S, iPadThirdGen-iPadThirdGen, iPadThirdGen4G-iPadThirdGen4G, iPhone5-iPhone5, iPodTouchFifthGen-iPodTouchFifthGen, iPadFourthGen-iPadFourthGen, iPadFourthGen4G-iPadFourthGen4G, iPadMini-iPadMini, iPadMini4G-iPadMini4G, iPhone5c-iPhone5c, iPhone5s-iPhone5s, iPadAir-iPadAir, iPadAirCellular-iPadAirCellular, iPadMiniRetina-iPadMiniRetina, iPadMiniRetinaCellular-iPadMiniRetinaCellular, iPhone6-iPhone6, iPhone6Plus-iPhone6Plus, iPadAir2-iPadAir2, iPadAir2Cellular-iPadAir2Cellular, iPadMini3-iPadMini3, iPadMini3Cellular-iPadMini3Cellular, iPodTouchSixthGen-iPodTouchSixthGen, iPhone6s-iPhone6s, iPhone6sPlus-iPhone6sPlus, iPadMini4-iPadMini4, iPadMini4Cellular-iPadMini4Cellular, iPadPro-iPadPro, iPadProCellular-iPadProCellular, iPadPro97-iPadPro97, iPadPro97Cellular-iPadPro97Cellular, iPhoneSE-iPhoneSE, iPhone7-iPhone7, iPhone7Plus-iPhone7Plus, iPad611-iPad611, iPad612-iPad612, iPad71-iPad71, iPad72-iPad72, iPad73-iPad73, iPad74-iPad74, iPhone8-iPhone8, iPhone8Plus-iPhone8Plus, iPhoneX-iPhoneX,

Supported Languages:

Arabic; Azerbaijani; Bulgarian; Central Khmer; Croatian; Czech; Danish; Dutch; Flemish; English; Estonian; Finnish; French; Georgian; German; Greek; Hebrew; Hindi; Hungarian; Indonesian; Italian; Japanese; Kazakh; Korean; Latvian; Lithuanian; Malay; Bokmål, Norwegian; Norwegian Bokmål; Polish; Portuguese; Romanian; Moldavian; Russian; Serbian; Chinese; Slovak; Slovenian; Spanish; Castilian; Swahili; Swedish; Thai; Chinese; Turkish; Vietnamese;