Screenshots
New in version 3.171.10001
Thanks for driving with Uber! We update the app as often as possible to make it more reliable and improve your driving experience. Check back next week for any new features and important fixes.
Description
Uber Driver – the app for drivers

• Help people move around your city, and make money on your schedule. Drive whenever you want—Uber offers a flexible way to make extra cash on your terms. No offices, no bosses.
• Download the Uber Driver app, and sign up to drive in the app. We'll guide you through the steps and notify you when you're all set to drive.

Hitting the road
• The app offers the latest features that help you focus on driving and making money.
• We'll explain how to use the app, provide optional navigation and Help support, and let you know when there are special opportunities to make even more. Every trip you take is fully tracked by GPS for safety and security.

Getting paid
• You can see how much you've made anytime after every trip. You'll be paid directly to your bank account every week, or receive cash on each trip—depending on the country you drive in.

*This app typically uses 2 GB of data per month. Using navigation can decrease your phone's battery life.

Continued use of GPS running in the background can dramatically decrease battery life.
iPad Screenshots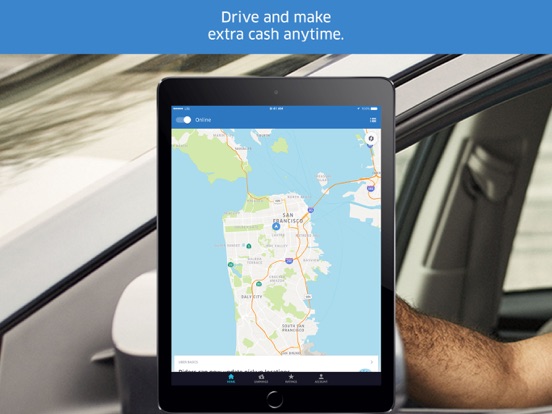 Reviews
App crashing
Jaetheebaeee
on
10/19/2017
If your app is crashing log in from another phone. I used my boyfriends phone and still able to make money.
垃圾
tommy861004
on
10/18/2017
谢特!垃圾!出啊吃
Love it
This my 3 week doing this. I know this is only extra money since I was on medical leave from work. Nice meeting new people out there. Love helping people when they need help to.
Unable to cash out!
Currently Uber says they are doing maintenance on the app and in the meantime to keep checking the app to see if it will allow us to cash out...this is ridiculous.
No landscape support means everything is sideways...
inotia Tacos
on
10/18/2017
Mounting, charging, and visibility constraints all require me to keep my device in landscape position. Uber, in its infinite wisdom, has apparently decided that it's better to have all of my text sideways rather than support a function as everyday as landscape mode. That said, I love working for the company, but I cannot in good conscience give this app anything over one star until it supports such a basic and absolutely necessary function as landscape mode. Forcing us to keep the device in portrait mode keeps my screen in the way and impairs my vision of the road. THIS IS UNSAFE!!! Absolutely unacceptable.
This app does really weird stuff.
I've been driving with Uber for years. I live in the SF Bay Area, and have almost 5000 trips. I use the Uber app with the latest version of iOS on an iPhone 6s Plus. I commend and thank Uber for its sincerity in wanting to improve the driver experience. However, the driver app is extremely buggy and unpredictable. For example, one minute it shows the latest GUI, the next minute it reverts back to the old legacy GUI. Features on the app flat out disappear, and sometimes reappear a day or a week later. New features are constantly added, and then removed, over and over again. Trips constantly go missing from my history log, forcing me to pull over and call support. Instant pay constantly crashes. We are just scratching the surface here. I could go on and on. I've tried every trick in the book. Power downs, reinstalls, settings changes, nothing works. Yesterday my entire screen turned grey at about 3pm PST, showing two messages which I'd never seen. One said: "drive to shaded areas" (even though the entire screen went grey). The other said: "NaN on next trip". I have no idea what these were, but I never saw them again. To no surprise, my next trip went missing from my history log, which I am still resolving with support. For the remainder of the day, my history log was one hour off. This app is a loose cannon. It is too bloated. It tries to accomplish too many tasks. It implements too many changes, too fast. The constant updates never end. I feel that I need to reinstall the app almost daily to ensure that it doesn't go haywire. If anyone cares, I hope this helps.
In our small market it works good
It always has worked good
Good, but not perfect. PLEASE FIX
As much as I'd love to give 5 stars, I feel that 4 stars are more deserving. To Uber: Here are a few suggestions/issues: 1) Once we ACCEPT a trip, it would be not only nice, but extremely helpful to see the passenger's destination so we can plan out where we are going in our head. I understand Uber does not want us to see the destination before accepting a trip, but AFTER a trip has been accepted, please let us see where we are going to be driving to. And should a driver then cancel, ding them with lower acceptance rating, and perhaps charge the driver a cancellation fee for doing so. 2) Please, PLEASE figure out something better with the navigation! The map is by default zoomed out way too far, and I make many wrong turns with passengers because you can not clearly see which road you need to turn on. The only way I can adjust this is to physically pinch my screen and zoom in while driving to get a better view - and that is dangerous to be fiddling with the map while driving. Also, the routes it sometimes chooses are all over the place. 3) There have been several trips that have ended and then when I go to submit my passenger rating, the app freezes, and continues to say "Sending". I have to force close the app, and I then open it back up. 4) My minimum pay for trips is $3.66. I feel too high a cut is taken by Uber on these short trips. If this were to be rounded up to $4, it would feel much more reasonable and help the psyche. Please address these and I will gladly give 5 Stars!
Needs improvement
I really wish the app told us where the person wanted to go before we accept the ride. I get anxious driving in certain areas and I hate the uncertainty of not knowing where I'm going to be going. It would also be helpful if the app let us know ahead of time that the ride is going to take longer than a half hour-45 mins so we can plan our nights accordingly
Taking away driver's ability to choose
I loved the feature that allowed you to pick what area you wanted to drive in. I live 35-45 mins outside of the city and don't always want to have to drive people to the city and then try to get back home. It's nice to be able to select a region like 'Northern Suburbs'. Also, at the same time that option disappeared the number of trips towards a destination was dropped to 2. It makes it hard to drive when you want if you have no idea if your next ride is going to require 2 hours there and back.
Burning my battery out
I'm not sure what the situation is but whenever I use this app in conjunction with Waze it decreases and burns out my battery life on my phone a lot faster to the point where it's not even charging.
the most dishonest company
the most dishonest company
on
10/17/2017
the most dishonest company
Poor app
I feel like this app should be way better for us drivers! It also seems like the app is getting worse for some things and it's gone really downhill lately! It was nice to be able to use waze or google maps for gps and now after the past updates I can't do that anymore.
Music volume
Cocowitafatass
on
10/16/2017
When the app makes a sound it either lowers my volume permanently by half until I close the app. Sometimes it will go back to normal after another noise and it will blare the volume at full sound. As a full time driver this problem with the uber app is a major headache and startles myself and anyone in my vehicle. Do you really think customers like having the volume blast at full sound in a car? I think not. I called weeks ago about this issue and it's been about a month or two of this issue. Get it together!
Awesomeness in Hawaii
I've been with Uber for about a week I almost got my 100 trip. Great app & service it provides wish it can be a little better in placing our riders. That's when calling them is a great feature thanks UBER! Mahalo Nui Loa (thank you very much) Cousin Jay a.k.a Da Hawaiian
Great job for extra cash
LOVE driving for Uber. I get to meet new people and all within the confines of my city. I have a Prius, which is an excellent vehicle for the job and it really helps that the gas margins are so low. The app has always worked well for me, and when I submit questions or requests online (like from my MacBook) via the driver website, I always see their responses on the app. I've read through some of the other reviews on here, and I'm not really sure what kind of support issues haven't been handled correctly, as everything I have ever submitted has been dealt with—literally within minutes. Bottom line—great job, flexible hours, app works just fine for me.
Add the printer?
Cooliesnoopy
on
10/16/2017
suggested you to add the printer button for bills like list of Base fare: Distance, Time, Wait Time, & Toll way, etc and Service Fee? & Booking Fee? So I don't want to write all of these and waste our time so we can print it and put it in the file for tax in the future...
Garbage
Stupid mother 🐔 useless
Sound issues with iPhone
I've driven for a bit and the only thing I can say is the navigation is good, not great. There are no house numbers on houses any longer and the app doesn't locate businesses by the address. That would make finding the rider a bit easier. The other thing I've experienced is the sound all of a sudden just stopping and leaving me at the mercy of watching the navigation, which can be very dangerous in the downtown areas. Also, I'm unable to locate the "stop driving" feature they told me was available when I have a rider in my car. There have been some times where I need to stop and get gas, or use the restroom but continue receiving assignments and this damages my acceptance rate. I have an appointment at the hub next week and hope to get answers to my questions then.
stupid navigator, why always guide to toll road?
Can you pass the destination address to the three part navigator?
Airport queue frustration
1)The app (should be automated) doesn't always put you into the airport drivers queue and no way to add yourself. 2) BEWARE-Updating my iPhone 6plus to IOS 11 has caused the Uber app to be extremely slow and a significant drop in battery life. I would not suggest updating.(wish I could roll back the update)
Average
2 Month Old Newbie
on
10/15/2017
When it works it works great. The moments the pickup is off or the entire app freezes are dampers for both the driver and rider. Still needs work.
Love Driving for Uber
Great experience
Driver was incompetent...slow...and Uber 🙄
The driver did not start the ride on time. Which resulted me in not getting to my destination on time. The route he was taken was taking us back to the pick-up location. He was neglect and not comprehensive...a little slow if you ask me. Uber did not want to refund me for the ride.
Getting better and better
urbanviewpoint
on
10/14/2017
All I can say is I'm enjoying Uber as a driver, and I'm somehow making more and more money each week. I have even driven less, but I'm learning where and when to be, and that has been key in maximizing my monies. Love it! I'm a 4.98 star driver by the way! Woot-woot!
Ratings
Just as Uber changed back to only 2 preset destinations a day, they should also changed back to being able to change the ratings of a rider. We can no longer change passenger ratings later in the app. I wanted to change a rating later on and sure enough I could not. It's now automatically set to 5 stars which is fine but most times I swipe 5 stars for everyone bc the rider is sometimes sitting there looking at you. Also a ride may come in while you're dropping off so I may not have the time to rate properly or leave a detailed comment. Just as Uber changed back to 2 a day destinations, you should also change back to being able to rate riders differently later. If I had known that I would have probably rated differently at drop off. Another thing would be nice is to know what they look like when picking them up. I haven't had much other issues with this new update but I saw another comment saying that the food should be ready when we arrive at restaurants or at least very close. I would like to get paid for driving to the restaurant as well and not just from restaurant to the end destination. I'm thinking about quitting this Uber. I get the feeling some riders believe we should be perfect and our vehicles should be perfect too. Please remember that these are our personal vehicles and we do this by choice! So be respectful of that.. That's all!
Delivery
Carebear_1996
on
10/14/2017
I think the customer should have your number or some way to let customers that are at hotels to come outside when they see that you are close I was texted 3 Times by my customer while driving asking if I wanted them to come down that they were at a hotel then the bar in hotel they were at. Not good while driving please help
Rating and stars
I think that the rider should be able to see who rates them and gives feedback on and be able to dispute it if need be. Also knowing this would be helpful to think back on and say yea this happened or that happened. It should not be left in the dark as to who rated you or gave feedback.
Glitchy
Alisa Allen
on
10/14/2017
I've been driving for 2 weeks. App has been glitchy past 2 days. When I complete a trip and get to the rating screen everything is grayed out and I can't rate the rider or even get to the home screen without completely closing the app and reopening. Also "last trip" is showing up twice (duplicate)on the screen above daily earnings. Locations have been way off...I had a specific address on my screen (a residence)and the rider was a full block away at a business. Lastly, the navigation almost always takes a longer route than necessary.
It's a waste of time
Don't waste your time driving for Uber. They just steal your money, and your time. Worst decision I've made in my life.
Almost a 5 Star
this app is awesome and I love being a driver for Uber!
Uber not good if you got a good car
If you have a luxury car don't drive for Uber uber x is a joke you get $ 5 on a trip in a regular car service you get $8 prices are bad jfk airport from the city drivers get $40 or $43 tolls include Passanger don't tips 10 years ago trip was $45 plus tolls you want to take people for less then drive uber plus by the end off the year you pay the taxes so that trip for the airport - gas and tolls plus tax you get $20 don't drive for uber there is allot of car service you make more money than uber try one
Map
Just started with Uber, did first ride, I think the app map should move the direction ur moving not stay facing north. MUCH easier to read map while navigating the roads.
Uber Fleet
I need uberFleet for iOS ...
Love driving for Uber
I love driving for Uber the only issue I'm having right now is I have an iPhone ever since they updated their iOS my maps are not working for Uber I have tried Waze and I have tried Google maps and those are not working as well so I don't know if it's an issue that Uber has to fix but other than that over is a great company to work for and I look forward to working for them for a while
Great! Fun! And Profit!
Bomb giggity
on
10/13/2017
I have had so much fun driving Uber. The reason I give a four star is because the app has some kinks that needs to be worked out. OVERALL!! Uber makes it very easy to just open the app and drive!!!
Could be better
Uber is awesome, the people are usually nice, buuuuuut for an app that is supposed to send you to pick someone up and drop them off, the GPS is HORRIBLE. Luckily I usually know where I am in my city but someone new to St. Louis would end up quitting bc the poor Uber lady has no idea where she is at half of the time. She often wants me to drop people off on the side of the road or try to pick them up from the dumpsters behind Walmart. She's been as much as 1/2 a mile off from where I was supposed to pick this poor woman up. Long story short, this app is in SERIOUS need of a GPS improvement. I wish Waze was an option to use like Lyft drivers. Lucky
Remove no thanks button
Please remove no thanks button at the time of new ride request.
Great! App!
Everything is ok but you need to improve some address error, sometimes the pin is not in the rider's place but besides that is a great app
Rating problem
It is very difficult to rate rider after completing trip. It is very very slow response. It is very painful.
Recent Navigation Issues?
Seems like for the past two weeks, I've had to call almost EVERY rider to ask them where they are. I do like that lane designations are included, but what's up with navigating to the rider pickup? I'd also dearly love the directions to include navigational directions, as well as showing on the map which way the map is displayed - NORTH, SOUTH, EAST, WEST. I'm not familiar enough in this area to keep myself oriented to the directions, and I am often confused when the map rotates.
Can't go online!!
Ever since the new update I can't go online because it asks for more info on my car and when that info is inputed the app says network error! Get it fixed!
Not working
bailey_nicole91
on
10/12/2017
Won't let me select my vehicle type and color - says "network error" and won't let me go online as a driver.
I love UBER
Mr_iGuy_doe
on
10/12/2017
I love being a driver !! I wish they would add Apple Watch support like accepting rids
Completely disappointed!
I've been a driver over 3 years with a rating of 4.91. And close to 3000 completed trips. Then all of a sudden Uber decides to deactivate my account due to a report from Checkr. Which is completely inaccurate. And i try to get in contact with support, they either dont care or their emplyees have absolutely no idea how to solve your issue. Their replies are simply automated responses. Every time i get a different answer. What a great way to treat your veteran partners Uber.
Uber night driver 🚘
I've been a night driver for Uber for 2 years and the app works good 😊 one of the strongest ride share apps. 🚘😀👍🏽
UBER
Atchigher1258
on
10/12/2017
Who can explain to me why uber navigation always tells to KEEP RIGHT? Even when u have to keep left to change freeway ? It's confusing !!!! Work on this issue u guys are updating every week and I can't see any improvements after each update
Ripping off
Dr1dearhdealer
on
10/12/2017
I think that if you decide to work for a company like this one please get yourself educated before you trie it
Three months of driving
curtraddatz
on
10/12/2017
I'm just a part time driver but for the last three months I've had good experiences with the app on my iPhone 6s. A few suggestions. 1) Round trip option - I get people that need to go to the store, pick up something, and come home. It's a pain to make them enter a second request. Be sure it counts as two trips!! 2) Multiple stop option - similar to round trip but go to home, pick up a friend, go somewhere else. Counts as multiple trips! 3) Reports - drivers should be able to generate reports for any date range showing mileage, income, trips and expenses. Very important for tax time. Curt
Great App
Most of the reviews here are about the service and should be about the app. Don't vent here if you don't like working for uber. The app is awesome!
Fact Sheet
Publisher:

Uber Technologies, Inc.

Category:

Business

Released:

Oct 18, 2016

Current Version Released:

Oct 11, 2017

Version:

3.171.10001

Size:

200.5 MB

Compatibility:

Requires iOS 9.0 or later.

Recommended Age:

4+

Game Center Certified:

No

Supported Devices:

iPad2Wifi-iPad2Wifi, iPad23G-iPad23G, iPhone4S-iPhone4S, iPadThirdGen-iPadThirdGen, iPadThirdGen4G-iPadThirdGen4G, iPhone5-iPhone5, iPodTouchFifthGen-iPodTouchFifthGen, iPadFourthGen-iPadFourthGen, iPadFourthGen4G-iPadFourthGen4G, iPadMini-iPadMini, iPadMini4G-iPadMini4G, iPhone5c-iPhone5c, iPhone5s-iPhone5s, iPadAir-iPadAir, iPadAirCellular-iPadAirCellular, iPadMiniRetina-iPadMiniRetina, iPadMiniRetinaCellular-iPadMiniRetinaCellular, iPhone6-iPhone6, iPhone6Plus-iPhone6Plus, iPadAir2-iPadAir2, iPadAir2Cellular-iPadAir2Cellular, iPadMini3-iPadMini3, iPadMini3Cellular-iPadMini3Cellular, iPodTouchSixthGen-iPodTouchSixthGen, iPhone6s-iPhone6s, iPhone6sPlus-iPhone6sPlus, iPadMini4-iPadMini4, iPadMini4Cellular-iPadMini4Cellular, iPadPro-iPadPro, iPadProCellular-iPadProCellular, iPadPro97-iPadPro97, iPadPro97Cellular-iPadPro97Cellular, iPhoneSE-iPhoneSE, iPhone7-iPhone7, iPhone7Plus-iPhone7Plus, iPad611-iPad611, iPad612-iPad612, iPad71-iPad71, iPad72-iPad72, iPad73-iPad73, iPad74-iPad74, iPhone8-iPhone8, iPhone8Plus-iPhone8Plus, iPhoneX-iPhoneX,

Supported Languages:

Arabic; Azerbaijani; Bulgarian; Croatian; Czech; Danish; Dutch; Flemish; English; Estonian; Finnish; French; German; Greek; Hebrew; Hindi; Hungarian; Indonesian; Italian; Japanese; Korean; Latvian; Lithuanian; Malay; Bokmål, Norwegian; Norwegian Bokmål; Polish; Portuguese; Romanian; Moldavian; Russian; Chinese; Slovak; Slovenian; Spanish; Castilian; Swedish; Thai; Chinese; Turkish; Vietnamese;