Recommended app!
App last updated
Nov 17, 2017
Screenshots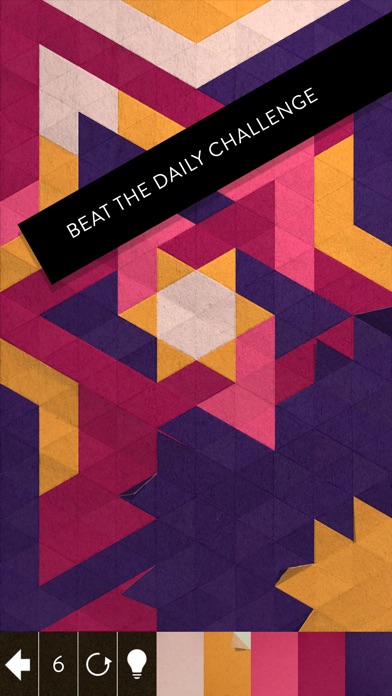 Description
Sequel to #1 puzzle game, KAMI

The calming yet addictive puzzle game is back!
With over 100 hand-crafted puzzles, Kami 2 takes you on a mind-twisting journey that combines logic and problem-solving.

Can you achieve perfection?
Flood each puzzle with a single color in as few moves as possible to claim a 'Perfect' sticker. But watch out for subtle new tricks and fiendish surprises.

Want even more?
Beat the global Daily Challenge, earn a winning streak and compare your scores to other players. Test yourself on thousands of user-generated puzzles, uploaded daily.

Get creative and take on the world.
Craft your own KAMI designs using the Puzzle Builder. Design and share your creations, send them to your friends and challenge the world to beat your score.
iPad Screenshots
Reviews
Fun and beautiful
Can't believe an app this great is free! While I'd love to buy hints to keep it free, it's a challenge to myself to solve them without hints (also cause I'm stingy). Spent so much time on campaign alone, can't wait to explore the user-creation side of the app.
Elegant and Relaxing
Fookin awesome
on
1/22/2018
This game is beautiful. The gentle music and soothing sound effects lull you into a relaxed state of being. Easy to play for hours. 10/10
Relaxing, simplistic, lovely, and tricky
Love this game! Already wasted a bunch of time that I should be using for sleep or being productive, but it's just so calming! I like that I have to use my brain, but it isn't stressful at all.
Super awesome game, gets you really thinking!
This game is quiet unique and really gets you thinking about a strategy. I love games that forces me to think out of the box, and this one really does.
Pretty fun free hints on... the tube
Hey guys. There's no sense in paying for the hints when you get them for free! On yt
Fun and challenging!
I really enjoy this game, it challenges me to think differently about problems! It's great to play when you have down time and just wanna focus on one thing. Only reason I'm giving it 4 stars is that we can't watch ads for hints. I eventually finish every puzzle but it'd be nice to get a hint every now and again and I understand they have to make money, no shame on them, but I'd really like it if hints were available after watching an ad. Other than that truly small, first world problem, 10/10 will recommend to a friend
I really enjoy this game!!!!! BUT....
NajKenington
on
1/18/2018
It's like a crazy addiction now between my best friends, co-workers and even supervisors!There's some things hopefully you can incorporate within the game, for instance maybe an undo button, sometimes I don't want to restart the entire puzzle over, also I get that this is a relaxing puzzle game but I think the game could use some achievements, in more regards to if someone completes a puzzle in less moves than the creator, and/or maybe another players of the said puzzle, and lastly maybe it's a bit much, I would like to leave a comment sometimes to compliment the work some people do, they take time to create some challenging puzzles that are also works of art. Hopefully these things are already in the works 🤞🏾. One last thing, I'm showing my supervisors this game, one mentioned that it would be helpful to have a tutorial. Just some ideas from a new fan! OTHERWISE I REALLY ENJOY THIS GAME! My new, more relaxing candy crush!
Not very zen
For a game that is supposed to be a relaxing experience, reminding me that I can pay money or watch an ad every minute I spend trying to solve your puzzles is not very polite.that being said I love the game. The greedy developers not so much
Good game, annoying hints
First of all, I really enjoy the concept of the game and I think it is really well made. Unfortunately it appears that the makers intended to make it so difficult as to need hints. I like the challenge and can clearly see that I have the option to purchase hints. I would rather not resort to using a hint, but a little message will not stop popping up asking me if I need a hint! I want to solve it on my own, not be pestered into paying for the solution to the puzzle.
Great game, but....
This game is wonderful but I'm pretty sure there is an error on level 108, page 18. I have been trying this one for days and have not figured it out. I got so frustrated I had to look up the solution online. The solution required 16 moves, while the version of the game I have only allows 15. I am thoroughly convinced it cannot be done in 15 moves, and I'm not going to pay for 15 hints. They need to fix this...
Challenging
Lackadaisy1981
on
1/16/2018
Some of the solutions come easily and some take a bit of trial and error. Quite fun!
I hate it
amariz real name
on
1/16/2018
Nope I just hate it
Love it
Shoushikochou
on
1/15/2018
Love it
Addicting
Very fun, addicting, can't put down, awesome!
Need more levels!
Can you please add more levels to Journey?
In LOVE
This game is so relaxing and comforting. The colors, the sounds, everything's amazing. Love it.
So much fun
This game is as fun as it is beautiful. The levels are challenging without feeling impossible and I love watching the colors spread throughout the screen as you switch them up. I only wish that we could get free hints every so often..
Challenging and Pretty
Very cool.
Kami 2
Very entertaining, challenging, and surely gets me going for more. Kudos to you!!!!!
Amazing app.
o yes yes yes
on
1/10/2018
This app is so amazing I have been dreaming about it.
GREAT
florian vandepol
on
1/10/2018
I recently bought the Iphone X and started a search for fun games on the app store, i found this, a free game, and downloaded it. I started playing it and playing and playing and playing, i introduced it to my family, was able to friend them on the game and i made a BUNCH of puzzles for everyone to try. I was not paid to say this. (P.S. my name in the game is Puzzleflow)
Challenging
Random Hero95
on
1/10/2018
Very visually appealing and challenges the brain. Only knocking a star off as hints are limited to just 1 before they want you to pay. There was a time where I could watch an ad and get a hint that way, but it's only happened once. I would happily watch an ad for a hint if it was an option.
Stunning
Just picked this game up, it has very colorful and full of character. I'm enjoying it so far ( ̄个 ̄)
Brainstorm
It's an awesome game.
Bugs
Really fun game. I like the idea of getting a hint for watching a commercial. But it doesn't work. Watching a video to completion only gets you a message that "no hints can be rewarded since video was closed before completion " Don't fall for this ruse. Figure the puzzles out yourself or delete game
Good
Shaliah Alston
on
1/9/2018
This game is a great game to play to pass time
Warning! Super addictive!
beohsocavalier
on
1/7/2018
I don't usually review games, but this one has truly captivated my interests! Super zen and aesthetically pleasing. Starts out simple as you get a hang of things and then gets really challenging. The animation is beautiful and there's even an option to turn off the excess motion to preserve battery life. Truly a wonderful brain stimulator and wonderful pastime. Have fun and challenge your wit!
Great brain game
I think this is great for working the brain. It really makes you think.
KAMI 2
Something I am really good at! I love these puzzles!
Best. Game. EVERRRRR!!!!!
The Killer of Paper. io
on
1/3/2018
Who doesn't want an Application that is like this? The Grinch! You rock!
Rewarding, Fun, and gets your mind going!
This game gives you little rewards as you complete each challenge. Really gets your mind going but highly addictive!! :)
Fun simple puzzle game
thenobleshrew
on
1/2/2018
Easy to learn. Challenging levels, lots of free play levels
Simply Challenging
The second dot
on
1/2/2018
I love this game, it's easy to catch on but still stumps me every few games which keeps me from getting bored. The entire layout is simple but enjoyable.
Great game!
This game is fun, calming and addictive! Of course as you advance in the levels, the puzzles get more tricky! Which makes me determined to finish them! It's fun!
Great app
Well made, aesthetically pleasing. Puzzles for all levels. Engages my mind while passing time.
Relaxing puzzler
Relaxing and surprisingly challenging at times... until you find the solution and then it feels obvious. Love that it's free unless you need hints or play A LOT.
Wonderful but...
I love almost everything about this unique puzzle game except that it's not uncommon for the developers to go days without adding a daily challenge. I know it's the holidays but I haven't had a new daily challenge appear for 3 or 4 days yet it still says it will appear in 15 hours. Otherwise I'd give it 5 stars
Love Kami 2
???GuessWho???
on
12/29/2017
Game is so much fun. It's addicting. I can't seem to put it down.
Just a small change
Please make add a 1 step back feature so that I won't have to start all over if I make a mistake.
Brain Games are the only games!
TYSON RIOS 88
on
12/27/2017
Quite the tricky puzzle game. Very entertaining. Well done! 👏🏼👏🏼
Amazing!
DiceRebellion
on
12/27/2017
Never gets old, just the right amount of difficulty
Fun puzzle game
Very fun. Breaks your mind from a mundane day. It does the trick. -G
Total boredom buster!!!
It's a must-have game with vibrant colors and amazing graphics :)
A fun spatial perception puzzler
The game requires you to think in fields of color. What fields can you eliminate to get to a single color in the field. The game is fun and very addictive.
Dope Puzzler
The Bubble God
on
12/26/2017
This is a very pretty and elegant puzzle game
Awesome sauce
I downloaded this game a day ago and i am lowkey obsesses. It's challenging but perfectly challenging. It makes me want to keep playing the game, not like most games. I guarantee you won't get bored playing this.
Engaging
I just started playing today. It's a good thing I'm off today, because I'm playing it a lot. You need to use spacial reasoning and geometry to solve. I really like this game.
Lovely game
Difficult and rewarding puzzle game with a unique concept.
Totally Addictive!!!
Love this game - engaging and calming at the same time!
Fact Sheet
Publisher:

State of Play Games Ltd

Category:

Games

Released:

Mar 29, 2017

Current Version Released:

Nov 17, 2017

Version:

1.7.3

Size:

148.7 MB

Compatibility:

Requires iOS 9.0 or later.

Recommended Age:

4+

Game Center Certified:

No

Supported Languages:

Danish; Dutch; Flemish; English; French; German; Italian; Japanese; Korean; Norwegian; Portuguese; Russian; Chinese; Spanish; Castilian; Swedish; Chinese; Turkish;