Screenshots
New in version 1.1.1
◉ Bug fixes (Continue button) and UI improvements.
Description
Relax your brain with the champion of time killer!

Swipe your finger to throw the balls and break the bricks.
Try to break as many bricks as possible before they move down to the bottom. 
Collect all the items to get additional balls and make an endless ball chain!

The level of bricks will be increased after each round you throw the balls.
Very easy to play but very hard to reach high scores. Don't forget the angle is the key point!

Game Features:
◉ Free to play
◉ Endless gameplay
◉ Simple ball control
◉ Challenge your friends with the best highscore
iPad Screenshots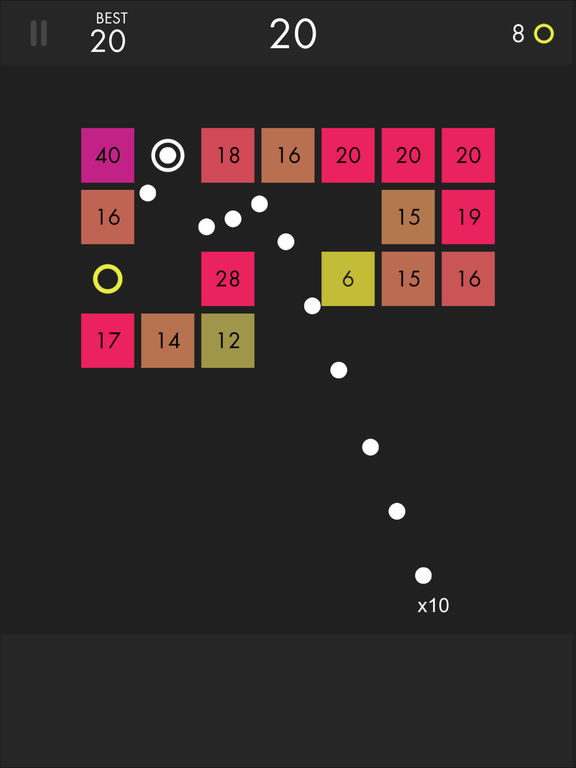 Reviews
Wow
I would like this game except there's no Japan-flag ball. Total ripoff. I want my money back. Please update. Arigato
Found a bug
Recently while playing this great game, I found a break with the ball movements. At the score 193, the balls were zig zagging down the screen when the last ball slowed down and slothed its way across the screen where it hit the wall and went at a slower speed down the wall.
Good but
locknkeyangel
on
8/20/2017
This game is really fun but it would be nice if there were ways to earn more "continue playing" chances!
UGH!!!!!
I have been on level 2304 and I can't move forward. I have used all of my ballz and every time it should move up to the next level it crashes. I'm extremely frustrated right now.
Load faster
"I wish your game would load faster!" - my 5 year old nephew
Addicting
luckysonofaduck
on
8/20/2017
I would give five stars but honestly if you watch the gameplay you should have one more turn before it hits the floor but other than that it's so fun! It's addicting and a great distraction
Love it
Wonderful game I really like this game
Balls
Xhdjdjhfjcjfjrhxbsvfg
on
8/20/2017
I love balls in my mouth
Great game
Passes the time well. Nice problem solver type. 240 is my best so far!
Breaks laws of physics/motion
ChatoBoss416
on
8/19/2017
Plz don't play this game, as it breaks all laws of physics. You could hit a corner with the Ballz and it bounces backwards. It also could hit another corner and speed up. And yet it could hit another corner and start going from a vertical to horizontal direction. But over all, it is a pretty good,(and addicting) game to play.
It's great!
It's my favorite game right now. I've Already bought all the colored balls you can buy and I have tons of coins I wish they would let me purchase something else with the coins.
So cool
Sherry hearthSFCW7Dwyh
on
8/19/2017
Best game ever 10/10
Needs a finish level button
Once you get good playing Ballz is like watching Paint Dry. Props on adding a speed up button but we need more to continue playing. I'm only at 1150 and it's terribld
Keeps crashing - can't progress
I am all the way up to 3675 after months invested in this game, but I can progress no further as the app crashes rather than loading the next row. I have played this same screen countless times hoping it will finally move on, but it just crashes again. Would hate to lose my progress by deleting it, but it looks like I will. I won't be wasting so much time on this game, tho.
Fun game , don't give them the $1.99
Fun game however when I had to have my phone restored and I downloaded the game back off of cloud all the adds were back and the developer will not respond.
Love it
Hashakashamashafasha
on
8/18/2017
So addictive
AMAZING! Except...
VERY addicting. Unfortunately, as you get higher it becomes way too easy and boring, especially when you get to the point of having to wait 5 minutes for it to clear the screen, even with the speed boost. Which takes way too long by the way, and should be there the whole time. And should get even faster, especially the higher you get. Also, I had over a thousand and accidentally hit restart. WHY IS THIS IN THE GAME!?!? And if it is, at least have a confirmation (i.e. Are you sure you want to restart?), because 99.9% of people don't want to throw away their 1,000+ points for no reason. Also, ads are annoying. Even if you manage to hit the X, and say "I'm not interested" "I've seen this before", etc, the same ad pops up! I am a guy getting ads for feminine health products. Why? I don't know! I say "I don't like this" and get it again. Come on guys.
Addictive
Love the game. Need to have an even faster speed ball.
Ok
All in all this a great game for many reasons. One of them being it's a good way to relieve stress or playing it just for fun. BUT, when ever you reach a high level in the game and you lose, the game will give you an option to continue playing after you watch a video. If you click on it the option seems like it does not want you to get any higher. This has annoyed me ever since I got this game. I ask the the creator of the game can fix this very soon
good but needs somethings to fix
so I love this game so much but my score right now is 1636 and its boring. It takes FOREVER for the balls to be done destroying the boxes so you have to wait a at least 5 min WITH THE FAST FOWARD THING. So pleeaaseee put a new fast foward where it only takes like 30sec to be done. Also put like different modes for example one where you have 100 balls and they start to shoot and you can switch where you are aiming. And also, there is this "hack" where if you messed up or didnt want the ball to go into that direction, you pause the game and put main menu and you get like a "retry" so you might wanna fix that...
Addicting
Oh lord so amazing
on
8/18/2017
Addicting
Good, but broken!!
Simple,yet addictive! But I'm in the 3700s (playing for weeks) and it keeps crashing after completing each level. Please fix!!!! Deducting one star until a fix is found....
Addicting but glitchy
Wonderful app but it needs some improvements like the "continue playing"button does not work the rings distract you from breaking the bricks which makes you die I am really bad at the game but the continue playing button makes it so much harder 😡😡😡😡😡😡😡😡😡😡😡😡😡😡😡😡😡😡😡😡 I hope that they find my complaint concerning because now I suggest not to buy this game because of the glitches please fix it ketchapp I am so mad 😡 😡😡😡😡😡😡😡😡😡😡😡😡😡😡😡😡😡😡😡😡
Goood
Mohammad javadiii
on
8/18/2017
Goood
Game Constantly Crashing
JacobZ032202
on
8/18/2017
Don't waste your time. You play and play and eventually the game gets stuck on a level and keeps crashing. Not worth the frustration. Find another game.
Great. But.
Great game, only thing is its so easy to restart on accident. As im at level 400 lol
Addictive
I love this game. My husband downloaded it first and is WAY better than I am at it. I do wish once all the different colored Ballz were purchased that we could use our coins for something else. I've racked up a lot but nothing to spend them on now. Different backgrounds or even more colors/designs? Box color themes...? Just my thoughts.
HORRIBLE
THIS GAME BLOWS I WAS AT LEVEL 777 AND OUT OF NO WHERE IT GLITCHED AND SAID I DIDNT CLEAR ALL THE SQUARES WHICH I DID. IT TOOK ME A LONG TIME TIME TO GET THAT FAR AND NOW IT WANTS ME TO START OVER
ADDS!!!!!
I love playing the games but the adds on almost (not all) all the ketch apps have adds that are out of control, I hope someone can fix this problem😉
Suggestion
I love this game so much! It's addictive and fun, but I think there should be an instant finish button so you don't have to wait even when the Ballz are going fast, but not fast enough
Restart
Soccer player4
on
8/17/2017
Game is very fun but the restart button is really easy to mash. It should double check to see if you want to restart the game. And idk anyone would want to restart from level one anyway. The restart button should be for that one level you are on, not the whole game. Because the restart button resets the entire game, it should make sure that you want to restart. Not good at all.
Addicting
Great time waster
Good at first...then game shuts down
Love the Outdoors 88
on
8/17/2017
Earlier this year, my daughters got me hooked on this app. In the beginning, the game was a lot of fun. Once you get enough coins to buy all the different colors of balls, there is nothing else you can use the coins for, so that is something the developer needs to change, to use the coins for other things than to buy colored ball. Once you get over 1000 points/balls, the game starts to slow down. Now that I am over 2300 points/balls, the game has really slowed down to the point it shuts off. So the developer needs to make updates to this app to fix this problem.
Addictive but.........
Great game addictive, fun, creative, but the restart and pause button always give me trouble. I press the pause button but it never pops up it's small in the corner and out the way of the game but mines seems to be too hard to press and I always have to start over. The restart button also is trouble when I go to resume I always click restart☹️😫.
Excellent stress reliever
This game is a Excellent stress reliever. Need to get information to see why the game started resetting after being in 3717 and won't go any higher Jose Aguilo
Aweome except......
I loved this game. I thought it was amazing. The only problem though is that a( I wish there were more colors to the blocks and b( that STUPID RESET BUTTON. DO YOU KNOW HOW LONG IT TOOK ME TO GET BACK UP TO 840?!?! All because that button that has no business doing there. Why is it even there? What's it's purpose? I'll tell you what the purpose is. It's to TICK PEOPLE OFF. The next time you do an update, get rid of the reset button. It has ruined too many lives, and I hate it. Other than that, great game!
Fun but with problems
I had almost beaten my high score and I messed up and I pushed the 2nd try button and watched the video all the way through and after that it sat on the title screen and didn't continue my game. The same thing happens when I watched the videos for the free 20 rings. I'll watch the video and it doesn't give me the rings. Fun game just would like to see these bugs fixed. Thank you.
Great fun!
Best time waster
Needs Update
It was fun... Now it crashes every time I try to play.
Awesome
Holly55wood07
on
8/16/2017
It is a awesome game
Great?!
I love it . It is for FREE and it's addictive. But ... all they keep doing is telling you the instructions and after awhile it's anyoing. Good job.
Missing levels
The android version has more games
Review
Why Is It We Only Get One Chance To Continue Playing/ Get One More Turn 🙄 Other Than That Very Addictive And Fun
Balls are too fast
Since update the balls go way too fast. Is there a way to slow them down?
Hate and love it
I love this game but hate it because u can clear all the blocks so if one little f-ing block hits the end game over
Great fun, dumb design flaws.
fiveminutemac
on
8/15/2017
So many have mentioned restart button, no need to belabor that point. But my second complaint is about iPad use. Black game field works fine in iPhone, but doesn't fill screen on iPad. Instead, black game field sits on "almost black" background, with no way to change either. Makes it almost impossible to play in anything but a totally dark room. Just a bit more tonal separation would make all the difference.
Fact Sheet
Publisher:

Ketchapp

Category:

Games

Released:

Feb 18, 2017

Current Version Released:

Apr 12, 2017

Version:

1.1.1

Size:

141.2 MB

Compatibility:

Requires iOS 8.0 or later.

Recommended Age:

4+

Game Center Certified:

No

Supported Devices:

iPad2Wifi-iPad2Wifi, iPad23G-iPad23G, iPhone4S-iPhone4S, iPadThirdGen-iPadThirdGen, iPadThirdGen4G-iPadThirdGen4G, iPhone5-iPhone5, iPodTouchFifthGen-iPodTouchFifthGen, iPadFourthGen-iPadFourthGen, iPadFourthGen4G-iPadFourthGen4G, iPadMini-iPadMini, iPadMini4G-iPadMini4G, iPhone5c-iPhone5c, iPhone5s-iPhone5s, iPadAir-iPadAir, iPadAirCellular-iPadAirCellular, iPadMiniRetina-iPadMiniRetina, iPadMiniRetinaCellular-iPadMiniRetinaCellular, iPhone6-iPhone6, iPhone6Plus-iPhone6Plus, iPadAir2-iPadAir2, iPadAir2Cellular-iPadAir2Cellular, iPadMini3-iPadMini3, iPadMini3Cellular-iPadMini3Cellular, iPodTouchSixthGen-iPodTouchSixthGen, iPhone6s-iPhone6s, iPhone6sPlus-iPhone6sPlus, iPadMini4-iPadMini4, iPadMini4Cellular-iPadMini4Cellular, iPadPro-iPadPro, iPadProCellular-iPadProCellular, iPadPro97-iPadPro97, iPadPro97Cellular-iPadPro97Cellular, iPhoneSE-iPhoneSE, iPhone7-iPhone7, iPhone7Plus-iPhone7Plus, iPad611-iPad611, iPad612-iPad612, iPad71-iPad71, iPad72-iPad72, iPad73-iPad73, iPad74-iPad74,

Supported Languages:

English;