TapNova doesn't recommend this version of the app.
New in version 1.1.1
◉ Bug fixes (Continue button) and UI improvements.
Description
Relax your brain with the champion of time killer!

Swipe your finger to throw the balls and break the bricks.
Try to break as many bricks as possible before they move down to the bottom. 
Collect all the items to get additional balls and make an endless ball chain!

The level of bricks will be increased after each round you throw the balls.
Very easy to play but very hard to reach high scores. Don't forget the angle is the key point!

Game Features:
◉ Free to play
◉ Endless gameplay
◉ Simple ball control
◉ Challenge your friends with the best highscore
iPad Screenshots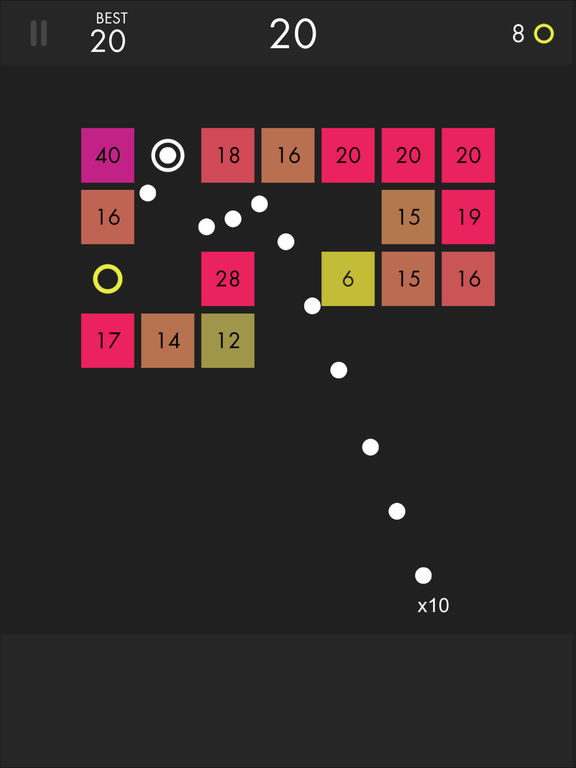 Reviews
Great game
I like the game but I have already bought all the ball colors and have so many coins that I can't spend. There's should be an update that add other things to spend coins on. Maybe different challenges or something.
Has great potential but lacks consistency
Michael J. Borg
on
6/26/2017
I love this game but the bugs are outweighing the fun. The unreliable continue button is very frustrating. It seems like you need to be connected to wifi for it to work consistently but that proves to be incorrect. Also, sometimes it won't even show up on the first try at all. Also, the game freezes way to much and forces you to restart. Needs some work done asap. If you can make improvements, I will change it to 5 stars hands down.
Addictive
Great time passer...wish it had rewards.. what does the coins do?
Simply addicting
Can't. Stop. Playing
Great game!
I love this game! I could play it all day and not get bored. Highly recommended.
Addictive yet needs update
My hubby and I love it!! In fact we are in a contest to beat each other at it. The one thing about it is, I can only buy for different color balls? Why not add in more features like for every so many coins allow me to buy another ball to start with (start with two balls instead of just one) let that continue on till I run out of coins. Or what about starting another competition to earn more coins like get all these tiles gone in some amount of a time or eliminate these tiles that have high numbers, or compete against a friend!!! 😉
Good game
I play this game a lot. It's really good, but there Is a huge bug some times the dot things that you try to get go in the blocks and it lags the blocks.Try to fix it.
please fix the bug issue
I'm on level 2359 and every time I complete the level...the game crashes and closes. I've tried about 20 times, crashes every time. I think we need an update to fix this bug. Other than the above, this is my favorite game of all time. I play all day, so addicting!
Recommended!
love it! if you click pause the. main menu it will let you replay the round.
Loved it
My dog gave me herpes and my dad was killed by Hitler also, my mom gave me aids(it was very good). Once I got this app my dad was revived and my aids and herpes was cured. Thank you balls for reminding me of the things I don't have in life. Also, this app gave me a huge penis. And hard nipples. $$$!
Unoriginal
TheLegitBanana
on
6/25/2017
Just a copy of swipe brick breaker
COOL
AWESOME GAME😁😁😁😁😁😁😁😁😁😁😁😁😁😁😁😁😁🌈🍡🍩🍨🌯🍱🍟🍧🍜🍖🏵🎭🥈🚵🏻‍♀️🎗🎸🎮🎳🎷🎤🎗🥇🤽🏼‍♂️🏟🏗🏚🏚🏖🏖🏜🏩🏤🏗🏝⛰⛺️📺🎞🎞⏱⏲⏲🖤💗❤️💚💜💜💞💘💘💗💓💟✝️✡️⛎♍️♉️🕎♌️♐️♊️⛔️🈲㊙️㊙️㊗️㊗️🇸🇩🇹🇱🇻🇮🇹🇷🇹🇲🇹🇰🇹🇯🇸🇩🇹🇭🇬🇧🇻🇳🇺🇿🇹🇰🇹🇯🇹🇬🇻🇪🇿🇼🇿🇲🇻🇦🇺🇸🇺🇸🇺🇸🇺🇸🇺🇸🇺🇸🇺🇸🇺🇸🇺🇸🇺🇸🇺🇸🇺🇸🇺🇸. I love it 🦄🦄🦄🦄🐚🦄🦄🐚🦄🐚🐥🐗🦆🦉🦇🇹🇰🇹🇯🦄🐚🦆🦆🐗🐗😂😂😁🐚🦄🇺🇸😭🦇🦇🦆🐗🐗😂🐚😭😭🐥🦉🐗🐗🐚🚺🆒🆕🆓🦇🇸🇩🇬🇧㊙️🇻🇦🇸🇩🇹🇲😅🙂🤣☺️😓😤😐😐😲😯😣😞🙁😩😐😼😽🙀😿😻😾😾😾👍🦐🐡🐊🐘🐫🐐🐏🦏🐄🐃🐪🐖🐘🐏🐏🦍🦏🐄🐄🐂🐐🐐🦏🐄🍂🌸🌺🌹🌷🌺🌍🌼🌹🌸🌎🌏🌏🌍🍟🥙🌮🥗🎗🎗🎫🚵🏼🛵🏍🚨🚔🚍🔤🔠🆖🆗🆗🆒🆒🆓0️⃣✡️🛐♌️♎️🕎💓💖💖💝❤️💚💜🕞🕟🕠🕛🕖🕕🕘🕝🕣🕦🕖🕕🇧🇶🇨🇻🇨🇬🇨🇷🇨🇨🇨🇦🇧🇿🇨🇳🇩🇲🇩🇴🇱🇧🇱🇹🇱🇾🇰🇿🇱🇷🇲🇱🇾🇹🇾🇹🇲🇽🇲🇭🇲🇼🇲🇭🇲🇭🇲🇭🇲🇭🇲🇽🇸🇭🇸🇸🇬🇸🇬🇸🇸🇱🇸🇱🇬🇸🇬🇸🇬🇸🇬🇸🇬🇸🇬🇸🇬🇸🇸🇸🇸🇸🇸🇸🇰🇷🇸🇷. I'm cool 😎
Love game but
Once I hit the 2000 levels the game keeps crashing instead of starting the next level. I have to play 5-10 times to pass a level now because of the crashing.
Nice fun game!
Good game to pass time!
Great BUT
Great game. Kills the battery life quickly!
Love it.....but that restart button...
Awesome game my high score is 2285 it would have been higher but I pressed pause and my finger went over the restart button. Super mad. The restart button should have a "are you sure" then a "yes" and a "no" buttons you press so you don't loose your awesome score. Like I did. Really really mad...
Great game
Very challenging good way to waste time
Fun
Gets old but fun for my kids
Addicting
For me this game is very addictive. At this point it has become very frustrating. The continue button is not allowing me to continue. Hopefully someone will figure out why and fix the problem.
The RESTART BUTTON
Taylor Nicole Moore
on
6/25/2017
I love this game and play it all the time , but the one thing that bothers me is the restart button because I've pressed it 2 times by accident and it restarted my game . My score was at 793 and then ... restart button happens . It. Makes me not want to play it anymore cause I don't feel like having to work my way all the way back up to my high score , it gets boring and annoying after a while . So i definitely suggest that you update the game and make it so there is no restart button .
Has bugs which freeze the game. Have to restart app.
MikDaddious Maximous Oreillous
on
6/24/2017
This has to be addressed, since I paid for it. The game randomly freezes in the middle of gameplay.
Additive
I love the angles but must of all I love the "pause" (=) which allows you to start a screen over. My son call it a glitch. If it is don't fix it. My high score of 1372 could never have been achieved without it 👍🏼.
Addicting
Really fun but you have to know the rules first
more balls
try to put buying balls which starts with 10 or 20 balls instead of buying aimless colored balls
Addictive game
Pack Fan Lang
on
6/24/2017
I love this game. But I also love high scores. I would like to see the score tally the blocks completed total in lieu of 1pt for each round. However, I will remain a fan and keep playing.
.
CherrytomatoexX
on
6/24/2017
CAN U MAKE THE PAUSE BUTTON WORK
Restart button on ballz
savagelifexxx
on
6/24/2017
Everything about this app is good but I accidentally pushed restart when I was at 1000 today so could y'all please add an option that says are "you sure you want to restart."
I pressed restart!!!! (Accidentally)
I now hate this game!! This is such a fun game and I like it a lot and it's really addicting! I got really far and then took a break, and when i went back in my car hit a bump and I pressed restart accidentally!! I think that they need to have an "are you sure you want to restart button" after you press it because I'm not the only person that this has happened to!! I think my friends and I all agree we enjoy playing and competing with this game but expect to be it to be made better. With all the technology today we expect that this game be made and thought out better. This game is PROOF that evolution can go in reverse!! I mean does this game like to see people fail when their doing well?? I mean this game could lead to like suicide or something like that! Anyways in conclusion although I like this game, it needs to be recoded or something like that before this game can continue to be fun again!!
Second chance feature is horrible
Talk about setting you up to fail. Your second chance feature simply makes us experience the fail all over again when there is no way to clear the blocks because each is worth more than our ball count. Your not doing enough to keep us wanting to continue playing. Once the game is over what keeps us from just closing out the game.
Love this game!
ChristyDawne
on
6/24/2017
So fun and addictive!
More ball variety but addictive
Enjoy it. Addictive.
Horrible
IT ALWAYS HITS THE GROUND!
Junk !!!
Horrendous waste of time !!! I got to 2439 & can get no further because the game can't handle big numbers !! Every time the ball count finishes - it automatically resets - I'm done
It's ok
Gracebuckman91
on
6/24/2017
So is game can be fun but it is also really really hard, it's so hard to win
A couple problems
I love the game, don't get me wrong. It's just that when you start the game and only have one ball and lots of blocks to destroy, it gets annoying because it's so hard. I'm hoping you could fix this. And when you have about 10 or so balls, it gets extremely hard because really high blocks are being put in one row. And once they get to the bottom, your dead. Another thing is that it's too hard to get more balls. You have to aim a shot that gets the ring and hope it does more damage to the blocks. If you make this game so that the rings give you more balls or start off with multiple balls, that'd be awesome. And as I've mentioned before, there are a lot of high blocks. So when you want to get more balls your also making it easier to lose. I've heard complaints about this from some other people and I think I should add this to the list. When you get the yellow rings it gives you coins to buy more balls. Lots of people don't like changing their balls, but I do. If you could do that, great, if you can't, still great. But people want to make those rings give you coins for balls and chances to restart. What I mean is that you should have to buy a second chance and not watch an add. I have one more thing, I don't like all the adds. If you could take the adds away, decrease them, or at least make a 'buy no adds for 0.99' even though I WON'T buy it. Some things I like and don't want you to change is the second chance (but still work on the thing I requested about this before), the fact you can buy more colored balls, and the fast forward button. If you could keep those that'd be great. And I think that's all. Thank you for spending your time reading my review even though it was very long. I'm hoping your next update could include some things I requested. And also please do some stuff others requested, I don't want to leave anybody out. Thanks again and have a lovely day. 😊
Not a fan
I know its a simple game but i dont think the physics are good with it
Take another turn
It's a great game but if u have internet,and u want 1 more turn,and u go watch a ad finally go back in the game and they start u off with a huge block on the bottom. They should fix it, it gets annoying. Especially when u are on a high level
it's good but
Madison.Settle
on
6/24/2017
every freaking time I press the "continue playing" button it plays the ad, then when I press replay after it IT STARTS ALL THE WAY OVER! :| it doesn't let me continue where I left off at. Fix it please
Awesome!!
This game is highly addictive!! I love it! Great game.
Best!
Yafyufainthehouse
on
6/24/2017
Record of 2334. Love this app!
Dont get this game
Seatontheman
on
6/24/2017
This game is exactly like flappy bird... Rage inducing and a complete waste of time. Have had no fun experience with this game
Relaxing
Addictive fun and best of all free!
Accidentally clicked restart
I love this game I do, but when I beat my high score by a lot and then accidentally click the restart button I was pretty sad. Like why is there not an 'Are you sure?' button because I would've then clicked NO I AM 100% NOT SURE THAT I WANT TO END MY GAME AND RESTART
Josh
Fun game when u are bored
Excellent
No complaints. Addictive. Even my 6 year old son loves it.
Would be awesome to start with more
Fat Tire Beer
on
6/23/2017
It is fun. It's a nice way to get my mind off work during my lunch break... but it would be awesome if you could start with more balls after you lose...
Good but...
I like the game very much and I think the reset button is stupid but that's not what bothered me, this app keeps crashing every time it moves up to the next level so I end up repeating the same level 5-10 times before moving on.
The aiming is incredibly annoying, it allows moves from where I aimed, change it to lock in place
king_me(like checkers)
on
6/23/2017
Completely frustrating, DONT DOWNLOAD‼️.... I had to delete it
Too hard to get anywhere
Is there a reason the android version is better than the apple version??? Nearly impossible to gain levels. Other games are far more entertaining and allows you to actually get somewhere
Fact Sheet
Publisher: Ketchapp
Category: Games
Released: Feb 18, 2017
Current Version Released: Apr 12, 2017
Version: 1.1.1
Size: 141.2 MB
Compatibility: Requires iOS 8.0 or later.
Recommended Age: 4+
Game Center Certified: No
Supported Devices: iPad2Wifi-iPad2Wifi, iPad23G-iPad23G, iPhone4S-iPhone4S, iPadThirdGen-iPadThirdGen, iPadThirdGen4G-iPadThirdGen4G, iPhone5-iPhone5, iPodTouchFifthGen-iPodTouchFifthGen, iPadFourthGen-iPadFourthGen, iPadFourthGen4G-iPadFourthGen4G, iPadMini-iPadMini, iPadMini4G-iPadMini4G, iPhone5c-iPhone5c, iPhone5s-iPhone5s, iPadAir-iPadAir, iPadAirCellular-iPadAirCellular, iPadMiniRetina-iPadMiniRetina, iPadMiniRetinaCellular-iPadMiniRetinaCellular, iPhone6-iPhone6, iPhone6Plus-iPhone6Plus, iPadAir2-iPadAir2, iPadAir2Cellular-iPadAir2Cellular, iPadMini3-iPadMini3, iPadMini3Cellular-iPadMini3Cellular, iPodTouchSixthGen-iPodTouchSixthGen, iPhone6s-iPhone6s, iPhone6sPlus-iPhone6sPlus, iPadMini4-iPadMini4, iPadMini4Cellular-iPadMini4Cellular, iPadPro-iPadPro, iPadProCellular-iPadProCellular, iPadPro97-iPadPro97, iPadPro97Cellular-iPadPro97Cellular, iPhoneSE-iPhoneSE, iPhone7-iPhone7, iPhone7Plus-iPhone7Plus, iPad611-iPad611, iPad612-iPad612, iPad71-iPad71, iPad72-iPad72, iPad73-iPad73, iPad74-iPad74,
Supported Languages: English;