This version of the app is not recommended
App last updated
Apr 12, 2017
Screenshots
New in version 1.1.1
◉ Bug fixes (Continue button) and UI improvements.
Description
Relax your brain with the champion of time killer!

Swipe your finger to throw the balls and break the bricks.
Try to break as many bricks as possible before they move down to the bottom. 
Collect all the items to get additional balls and make an endless ball chain!

The level of bricks will be increased after each round you throw the balls.
Very easy to play but very hard to reach high scores. Don't forget the angle is the key point!

Game Features:
◉ Free to play
◉ Endless gameplay
◉ Simple ball control
◉ Challenge your friends with the best highscore
iPad Screenshots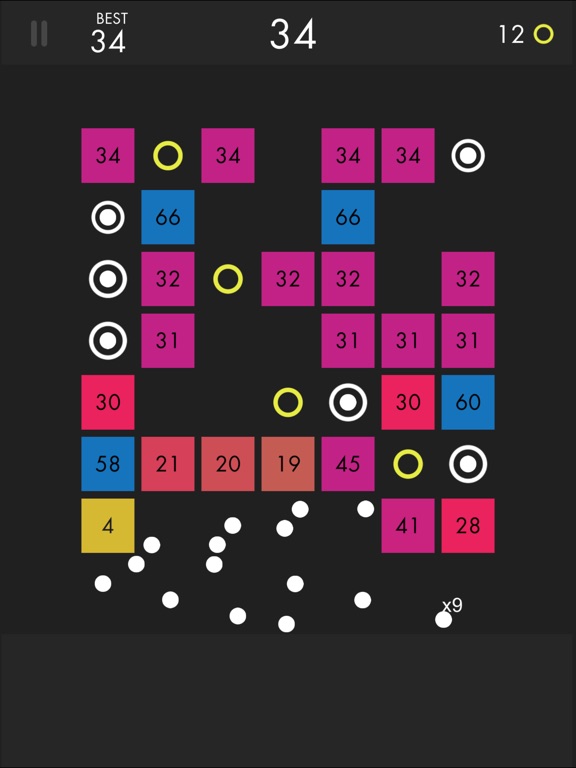 Reviews
Much balls
Gothic Monkeies
on
1/23/2018
Such fun
tips for the game devs
permanent speed up button needed
Crashes
After a certain number the game keeps crashing. I'm at 3718 and it has crashed every single time it finishes. It doesn't jump to the next level, just keeps crashing. It started once in a while 10-15 levels before but now it doesn't move from there, just crashes
Restart Button
very sad ballz player
on
1/22/2018
Ok i am so mad i was at 1057 and i go to the pause page and I HIT RESTART and of course there wasn't a "Are you sure you want to restart?" button and now i am crying so please put that in the new update ASAP
White Ball Trouble
Love the game, recently had a great game going. All of a sudden a small white ball went horizontally back and forth on top of screen. Had to cancel the game.
More ball colors please
Swag50810922
on
1/21/2018
I've unlocked all the ball colors. I enjoyed having the objective to unlock ball colors, so please come out with more. I have many rings to spend
Addicted
Hard to put down... very addictive
For the lulz
I just love playing with Ballz
Awesome!!
This app is amazing! Addictive, but amazing!
Great game
I enjoy this addictive game as well, but eats up a lot of battery. Needs an update. Maybe add more content (obstacles, etc).
Very addictive!
Great time passer/waster. I also wonder what the rings are for—-? What I would really like to see is some indication of if I'm on the 2nd chance. Sometimes I have to stop playing & when I finally get back to it, I can't remember which one I'm on. Trivial, but would be nice.
Why
The continue button doesn't work
Fun and addictive, but could use some slight improvements
cowboy emoji
on
1/20/2018
im actually addicted to this game. i have some suggestions to make the experience more convenient. first, i think the blocks should change colors more. once you get up into the hundreds, its hard to tell which blocks you should focus on more. also, i think the speed-up button should be constant, and it should speed up more. last, the reset button and the main menu button are right next to each other and ive pressed reset by accident on multiple occasions. theres nothing more frustrating than losing your high score because you tapped a centimeter above where you were supposed to. i think these changes would enhance the game and make it a more fun experience.
Addictive
Addictive for sure. But fun.
Game stuck at 3715....ugh.
Stuck at 3715....been playing for weeks and it shuts down at the same level. Arghhh....
Freezes too much!
Too glitchy for me
Good
This game is good but you should add different versions like other games. Add seasonal things
Addictive
I love this game. But I have a request. I think you should be able to continue more than once. Possibly using the circles to buy more. Not just to buy different color balls. I'm downgrading my stars. I'm stuck at 3707. Once all Ballz have cleared the game it closes. When I open, I have to redo level. Ugh!!!! Update. Still can't go to next level. It's kicking me out. Ugh!!!
Super addictive
Love this app. Needs some updates there are glitches and needs some point to the game. When you clear the whole board give a bonus like an extra turn or a bar the keeps the balls bouncing up once more within the same round.
Locks up
I have been playing on one game for months and reached level 4561. Then the game resets itself when the level ends back to the previous level. So I'm stuck at level 4560. So I restarted hoping it would put my score on the leaderboard but no. This is the second time it has done it. I thought it was my old outdated phone but this time I have a new phone with lots of memory. Should had learned my lesson the first time. Very frustrating!
Meh
Lindslinds1024
on
1/17/2018
Game is addicting as hell. I love it. Would've given it 5 stars had it not been for the fact that it always glitches :( I lost a 218+ streak because it froze
it's way over addicting!
actually y'all.. it's helped my OCD brain. something about it. and it's not just one thing.. the sounds, the ballz ringjingning. makes me laugh at times how it just eats away the blocks. great game!
Ballz... what's not to love?
This game is addictive. It's easy, relaxing and fun. No gimmicks or cliches or stupid things you have to do. Just you and some ballz. The 1.99 for no ads is worth it.
I Love This App
softballpitcher900
on
1/17/2018
This app challenges me to use my mind and helps me relax and have a happy day with no stress 😎. It keeps me calm
I am not impressed
Daniel Wressell
on
1/17/2018
So I had a 1645 ballz score and I wanted to go to the menu and when I wanted to click MENU I accidentally clicked RESTART and without hesitation the WHOLE game restarted without asking me "if I wanted to restart for sure" so I have no clue why they wouldn't have a button that says "are you sure you want to restart" because that is very annoying. I am very mad and I am going to delete the app.
Addictive
That's all I can say. It's such a good game.
Awesome game! Can't wait for iPhone X support.
Jackson Garnett
on
1/15/2018
Hoping for iPhone X support soon (with a full black screen for OLED too).
Ok also annoying
This app is so glitchy and I would watch a video to get to continue after I lose and it won't even let me play it from where I lost. I think I have a additional game on my iPad!!
🤗😍—-😰😫
I was at 636 and I hit the restart button instead of the continue button. I am so sad right now. I was beating my high score by like 400!! It would be great if you put the restart button in a different place or have an "are you sure" button after you press it just in case you don't mean to press it. I see that a lot of people are having this problem. I like this game except for the restart button. I wish there was at least a way to go back to the same game after you press the restart button.
Hmmmmm
It is what it is. The boxes close in fast and it's game over. To easy to close the app. I've had it for a while and only opened it a couple of times. Keep trying though. Others think it's "addicting".
Great game but
I love this game. Have had it for over a year now. When I first downloaded the game you could lose and continue one time. Now the continue button does not work for me. I have deleted the app and re-downloaded it lost all my progress just to see that the continue button still does not work. Please fix it I love this game.
Bluahahhhhhhhhhhhhhhhhhh
Me Me Big Commentiquette Fan
on
1/14/2018
911 wasn't real it was only an illusion death to all humans Satan Lives mayhem will come your way buahaihhuabahbanxkxhbekwlqksbns smskdjdjndndndidkdokwbwbwbbejekowjsndhjdndnebdoqinwbhdjdbbrnfkdnndidnrnrb
Glitchy
Once you get up into the thousands, the app closes/crashes a LOT. I'm currently unable to progress to a new level, as it crashes every time it's supposed to level up. Bummer.
Read, developers
I think y'all should implement a feature that just skips to the end of whatever "round you're on. I say this because it gets annoying when you have balls perpetually going up and down, hitting a 1600 or whatever block. The option to skip ahead to the end of the "round" would eliminate any impatience people may encounter. Otherwise, I love this game
Restart Glitch
Will you guys be fixing the glitch where you get a redo on the part your on if you close the app up and restarting the app?
Carter Nova
It was fun at first then it gets really boring
ARE YOU SURE YOU WANT TO RESTART BUTTON
THIS GAME WOULD BE PERFECT IF THERE WAS AN ARE YOU SURE YOU SURE YOU WANT TO RESTART BUTTON!!!!! Two stars
Poor Update
New iPhone 4S User
on
1/13/2018
I used to love this app. When they updated it the last time it let's you play thru the level and it crashes every time. I complete the level and as it waits to the next level the app crashes. I don't want to delete it and reinstall it because I'm at level 4540. It went from my favorite app to one I can't use anymore.
Beware the restart button
Kimberly of Frisco TX
on
1/12/2018
This app is fun and a true stress reliever UNTIL you hit the restart button accidentally. SERIOUSLY!!!! Pisses me off because there is no need for the button in the first place. All your hard work and effort wiped away in a flash. For Gods sake, developer, REMOVE THE RESTART BUTTON!!!!!!
Hours of addictive fun
Mindlessly satisfying, cathartically pleasing, ceaselessly engaging, and annoyingly mesmerizing. I hate that I love this game.
Game needs fixing
Several times the game has started me back at one ball for no reason. Usually happens if I stop playing for a little but now it's doing it while I'm playing. I was half way back to where my score was previously and after completing a round it went to the main screen and when I went back in I had to start with 1 ball again. If it gets fixed I'd give it a much higher score.
Level 2250
coldpizza7417
on
1/11/2018
It won't let me go past level 2250 :(
Great game
They need to make the game more challenging as you rise in boards. I'm at board 1935 and the amount of bricks that come down are not enough to challenge me. I get 2-5 bricks max every time... very easy for me not to lose. Love the game though.
Broken
Kayasdfghjkl
on
1/10/2018
I'm currently in the 3000s and every time the balls finish hitting the blocks the app crashes and I have to start that level all over again. This is my favorite game to play but I don't play it anymore because I'm tired of playing the same level and waiting a long time for the balls to finish just for the app to crash. Also after pressing the speed up button the balls end up going even slower which takes too much time.
One more turn
Jackievxyz123
on
1/10/2018
Fix the get one more turn button please! I can tap it hundreds of times and it still doesn't work! It's very annoying, love the app otherwise. Except once you get all the ball colors get rid of collecting the coin things for them... so pointless
two problems
the get one more turn option is broken and doesn't let me press it, and could you always allow the speed up option so we don't have to wait for it to appear.
Lost my game from lag
Bull sh*t
Beautiful Ballz!!
Old puzzler66
on
1/9/2018
Love the game with all the angle shots & aiming!
Dumb
weimaranerpuppies
on
1/9/2018
Okay I just wrote a big long review but it wouldn't let me submit it. Probably be the creators of this app don't want negative reviews. So I'm going to keep this short and simple. 1 there are TO MANY ADDS. I will not pay 1.99 for adds to be removed. 2 I love this app but I won't play it anymore if I have to deal with all these adds every 15 seconds
Super glitchy
I am borat hello
on
1/8/2018
Once you get over 1,000 it starts to get really slow. The ballz lag significantly to the point where I have to close the app and open again for them to speed up. I love this game, it's super addicting but that lag is really annoying.
Fact Sheet
Publisher:

Ketchapp

Category:

Games

Released:

Feb 18, 2017

Current Version Released:

Apr 12, 2017

Version:

1.1.1

Size:

141.2 MB

Compatibility:

Requires iOS 8.0 or later.

Recommended Age:

4+

Game Center Certified:

No

Supported Languages:

English;