Screenshots
New in version 1.1.1
◉ Bug fixes (Continue button) and UI improvements.
Description
Relax your brain with the champion of time killer!

Swipe your finger to throw the balls and break the bricks.
Try to break as many bricks as possible before they move down to the bottom. 
Collect all the items to get additional balls and make an endless ball chain!

The level of bricks will be increased after each round you throw the balls.
Very easy to play but very hard to reach high scores. Don't forget the angle is the key point!

Game Features:
◉ Free to play
◉ Endless gameplay
◉ Simple ball control
◉ Challenge your friends with the best highscore
iPad Screenshots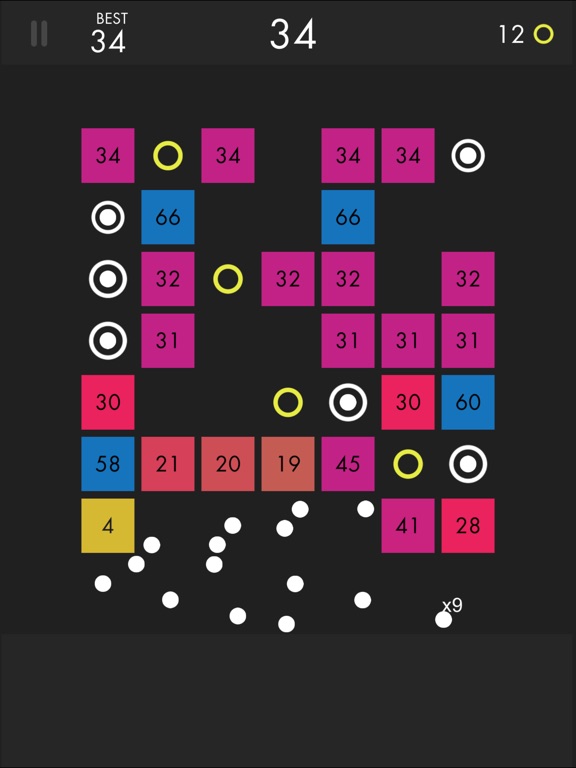 Reviews
Great App But What About Coins?
wowilovefood
on
10/22/2017
This is very addictive but I still don't know what to do about these coins I keep accumulating. I wanna spend them on extra balls. Just a suggestion.
Iskkdbfjf
Kfkfjfjdnksld
on
10/22/2017
Very Decent game
Fun and addictive
chelsaratops115
on
10/22/2017
I've spent more hours of my life playing this game than I'd like to admit. The only thing that annoys me is when you unlock all the ball colors you still collect coins and it seems to be for no reason. I have like 7000 coins and nothing to do with them. Maybe release some new colors or something? Other than that it's a fun addictive game and the app runs well.
fun game
Mardi Gras QUEEN💛💜💚
on
10/22/2017
fun game
take away restart button
Cgwhisenhunt
on
10/22/2017
I don't think you should have the restart button right beside main menu. who would want to restart??? makes no sense
Still have ads
Stumpjump3r
on
10/22/2017
Paid for app. Still get tons of ads. Game has froze for the third time. Requires deletion and reinstall.
Too many adds and redirects
Game was good but wish they would get rid of the ads and constant pushing of other games.
Love it but...
I wish it would start on the same level my game ends on. I'm on level 674, but I have to start on level 1.
Amazing
Adrian Brito's Library
on
10/21/2017
Super addicting
My Ballz are in a Stucky situation!
Randallmac21
on
10/21/2017
As addicting as this game is. I was the furthest I've ever been (lvl 112) and only had 3 or 4 blocks left with 108 balls and a ball gets stuck on top of a block and doesn't move....I sat there for awhile hoping something magical would happen but nope. I closed and reopened the app to a full dang screen of boxes to bust! When my original screen only had a few! So an hour or so later I lost at level 113, made my wife mad for playing this dang game, missed out on grown up time and threw my MacBook Air!!! Be a great developer Ketchapp and send me some merchandise!
Disappointed
Kaykaykay01047
on
10/20/2017
I am very disappointed in this App. I just logged on to find all my progress deleted. I had a high score of 293 on it as well as over half of the colored balls earned. I'm not sure what's up with this app but I'm giving it a low rating because it was my favorite but now with having to restart it's not worth it to me anymore.
Fun but...
Caveman2382
on
10/20/2017
So the game is addictive and fun, but the coins are useless. Pretty quickly I had bought all of the different color balls. I'd change my review to 5 stars if there was a way to cash in coins for some kind of boost or something.
More interesting please.
The game is very repetitive. It would be neat if a small obstacle would come down with the lines of blocks to make it a little more difficult and to break the monotony.
Slow
eagleeyeviking
on
10/20/2017
Addicting game. Simple and fun. But my score is 3232 right now, and at this point, the game has grounded to a halt. Each ball takes 1 second to launch and each round takes 20 to finish.
Shawshank
Love the game but since I got to level 2541, it freezes up and shuts down and won't advance to next level.
Bad
This is the worst game I ever play I just play it bc when I'm hype it makes me bored a make me com down like no I want to play a game that fun not boring
Excellent gameplay
Can you guys put more colors to unlock? I'm over here with thousands of points accumulated... countless hours in the work bathroom racking up little ballz. So addictive. Easily in my top 3 APPS OF ALL TIME... after IG and Bank of America. Lol
Nice and time consuming
Superchargedup
on
10/18/2017
I recommend this if u smoke pot
Frustration
Littlepriddle
on
10/18/2017
If you get good and reach high levels the game crashes and you cannot advance, leaving you to replay the level and hope it advances when done.
Game
this game is the bast
Fun game but limitations are frustrating
Marshmello12
on
10/18/2017
Once you get above a score of a few hundred it can take a long time to play each ball. Fast forward doesn't help much when you get up to several hundred or thousands. I've reached a point where I think the game is maxed out because it just shuts down instead of continuing. This happened on my old 64 Mb iPhone around 2300, but was happy when my new 128 Mb iPhone allowed me to continue playing but once again maxed out around 3700... anyone know if there is a work around?
are you sure!
Ghost cookie lover
on
10/18/2017
please put an are you sure option when a player clicks restart because i was at 1,180+ and i accidentally clicked restart!!!!
Needs more rewards
There's no point in spending rings when all you get it colored balls. There needs to be options that allow for quicker progression. If I get to 171 points I want to try to beat that and having to start off back at one ball (regardless of color) is infuriating. Have options to buy ball multipliers, more ballz to start. Stronger balls (ones that cause double number reduction. !!!DO NOT MAKE MICROTRANSACTIONS!!
More chances
Really like this game and I was at 478 but I didn't have the one more Turn thing which is crazy so can this game have more than one chances after dying
Fix the restart button
I have played this game for so long and I have restarted my game on accident way to many time and I would like to see if you can add a "are you sure you would like to restart??" Before it ends up restarting all of the work you put in.. please fix this
Lots of rings
Generalstovepipe
on
10/17/2017
I have over 15,000 rings. No more balls to buy. What else are they for?
Caleb gustafson
One of the most best mind games I've ever played
Ok. Unable to invert
Better play than most. Not being able to invert is a deal breaker for me. Uninstalled
Addicting
desertrose0601
on
10/17/2017
Pretty solid app. It's highly addicting which is what you want in a phone game. Just a few thoughts though. 1) Make the fast forward button always there. It's really irritating to have to wait to turn that on. 2) What is the point of the score in the upper right? It seems to count how many rings I've gotten over the course of owning the app, but I'm not sure why that's important. I feel like it should reset for each game or at least have some prize for reaching certain milestones. Otherwise it's just a distracting and useless stat. 3) There should be an "end level" button for times when you're hitting nothing and simply want the clock to run out. Sitting there waiting for 300 balls to finish hitting nothing is mind-numbing. 4) The pause button doesn't always seem to work. Maybe make the entire screen a pause button so tapping anywhere brings you to the menu? 5) We need a leaderboard! It'd be fascinating to see all my high scores listed out. This type of stat seems standard for this type of game so it seems odd that it's not in this one. Might be a good opportunity to incorporate friends as well, if we could have the option of comparing scores to friends. Maybe three leaderboards - individual, friends, and a universal one (all players everywhere).
Reno
Very addicting game but it keeps locking up. Fix that and l would play it again.
Stuck
Busybusybusylife
on
10/16/2017
I'm stuck at 4492 for the past 2 weeks. The game will not advance, no matter how many times I play. It shows my best game at 4493, then makes me repeat 4492. ?????
Highest score
My score right now is 1529
Boring ballz
Asdfghjklqazwsxqazedc
on
10/15/2017
I don't like balls
Addicted to Corners
I really like this game. Find it is a good way to calm my thinking...BUT the algorithm is written in a way that seems mathematically improbable. The balls trajectory seems to be drawn to the sharp corners and so often react in unpredictable ways. Still, all in all, a fun game. Just don't assume you can game the angles.
Ballz
This game is a must have for anyone with a phone if you have never played this game you are strongly missing out
Ballz
Not sure what the purpose of the gold coins, but Ballz is an addicting game!
Balls
I give it a 10out of 10 it is really fun and addictive I love it and so does my son make more games like this
It glitches at 1000
Josh the Panda
on
10/14/2017
*mic drop*
Crashes after every level!
Jgfalcons33
on
10/13/2017
AWFUL
Love it!
@Sausage_wallet
on
10/13/2017
Great game, fun, addicting, and easy to play anywhere, anytime!
Great App
I fell in love with this game keep up with the making of great games like this
Ad's appear mid game
Freeky Deeky Dutchman
on
10/13/2017
While lining up a shot in the game, and ad will randomly pop up. After x'ing out the ad, the shot will automatically go, since I took my finger off the screen to X out the ad. Caused me to lose a long game, so I deleted the app.
محمد التميمي
Mohammedaltmeme
on
10/13/2017
لعبه جميله لكن تفتقر لبعض المميزات مثل الاحتفاض بالتقدم اثناء المرحلة مقابل الحلقات التي يتم جمعها من خلال المرحلة
Fix the higher number glitches!
Missayyyy124
on
10/12/2017
I love this game but please fix the glitches when you get to high numbers! Once I hit around 800 it started getting glitchy and now past 1500 I can only get a couple in (if any) before it starts being so glitchy it freezes to the point of a number takes a whole minute to pass, I have to click out and click back on and it makes it work for about 100 and then I have to do it again! It makes the game impossible to play! Please fix it
Glitch
idkjustaname
on
10/12/2017
It's a great game but I glitched the game on level 103 and now I can't continue :(
Addicting but glitchy
This game is very addicting but great for passing time or if you just need to turn your brain off for a few minutes. However, the glitches are frustrating. It will reset your game automatically even if you've hit the "one more turn" icon and watched the ad. Also, sometimes when you hit the speed up button, the game seems to bog down, especially when you get to higher levels with more balls.
Balls fixes
This game is so good except I was at 1,541 balls and then someone accidentally hit restart there should be a tab that says are you sure U want to restart because now I have to start from 0
I love Ballz!!
This has brought great misfortune upon my familia. Muah.
FIX YOUR GAME!!
Can you please please put out an update to fix the problem I'm having with your game?! I cannot get past a certain score. I'll play as usual and when the turn is over, it closes down instead of going on to the next level. In fact my best score shows 2320 but my current level shows only 2319 (and it's the same game). If I delete the game and reload it, I have to start all over 😡 and I'll have to pay money again to have my game be ad free 😡.
Fact Sheet
Publisher:

Ketchapp

Category:

Games

Released:

Feb 18, 2017

Current Version Released:

Apr 12, 2017

Version:

1.1.1

Size:

141.2 MB

Compatibility:

Requires iOS 8.0 or later.

Recommended Age:

4+

Game Center Certified:

No

Supported Devices:

iPad2Wifi-iPad2Wifi, iPad23G-iPad23G, iPhone4S-iPhone4S, iPadThirdGen-iPadThirdGen, iPadThirdGen4G-iPadThirdGen4G, iPhone5-iPhone5, iPodTouchFifthGen-iPodTouchFifthGen, iPadFourthGen-iPadFourthGen, iPadFourthGen4G-iPadFourthGen4G, iPadMini-iPadMini, iPadMini4G-iPadMini4G, iPhone5c-iPhone5c, iPhone5s-iPhone5s, iPadAir-iPadAir, iPadAirCellular-iPadAirCellular, iPadMiniRetina-iPadMiniRetina, iPadMiniRetinaCellular-iPadMiniRetinaCellular, iPhone6-iPhone6, iPhone6Plus-iPhone6Plus, iPadAir2-iPadAir2, iPadAir2Cellular-iPadAir2Cellular, iPadMini3-iPadMini3, iPadMini3Cellular-iPadMini3Cellular, iPodTouchSixthGen-iPodTouchSixthGen, iPhone6s-iPhone6s, iPhone6sPlus-iPhone6sPlus, iPadMini4-iPadMini4, iPadMini4Cellular-iPadMini4Cellular, iPadPro-iPadPro, iPadProCellular-iPadProCellular, iPadPro97-iPadPro97, iPadPro97Cellular-iPadPro97Cellular, iPhoneSE-iPhoneSE, iPhone7-iPhone7, iPhone7Plus-iPhone7Plus, iPad611-iPad611, iPad612-iPad612, iPad71-iPad71, iPad72-iPad72, iPad73-iPad73, iPad74-iPad74, iPhone8-iPhone8, iPhone8Plus-iPhone8Plus, iPhoneX-iPhoneX,

Supported Languages:

English;