Screenshots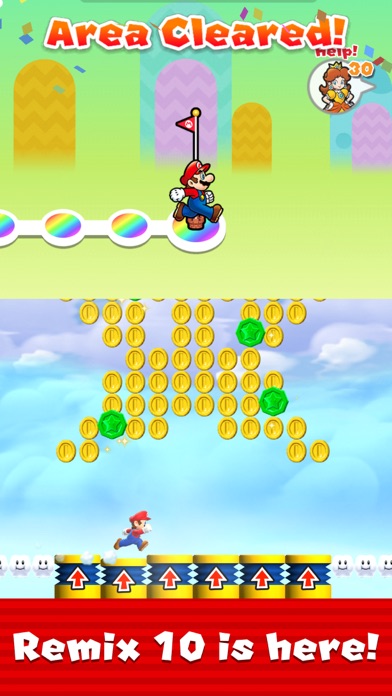 New in version 3.0.6
・Adjustments have been made so the game properly fits the iPhone X screen.
・An issue where players could not perfectly clear a course has been resolved.
・An issue where some items did not appear in the Notebook has been resolved.

Ver.3.0.4 update details:
Remix 10, made of some of the shortest Super Mario Run courses you'll ever play, is here!
There are also some brand-new courses, a new playable character, and a new feature that lets you listen to your favorite music while you play!
Why not try out the updated Super Mario Run?

■Remix 10: Super Mario Run courses done short and sweet!
In Remix 10, you'll challenge 10 very short courses in a row. Daisy is lost somewhere along the way, so if you play enough courses you'll be able to find her! You'll also be able to play some extra Bonus Games and a Super Bonus Game to get various buildings for your kingdom as you run through this mode.

■Even more fun with World Star!
There are some new courses to explore, including a forest, a ship packed with coins, and a whole airship armada. Each course adds a whole new level of fun!

■Daisy, a new playable character, is here, and she brought a double-jump skill with her!
If you play through enough Remix 10 courses, Princess Daisy of Sarasaland will join your group of friends. Her double-jump ability lets her jump while she's already midair!

■Listen to your favorite music with the music-play feature!
Now you can listen to music stored on your device while playing Super Mario Run. Mario and his friends will wear headphones when this feature is turned on! Find some music that will get you pumped to run some courses!

■New buildings for Kingdom Builder mode
You may earn brand-new buildings from the Bonus Games in Remix 10. Try to get as many as you can!

■The way opponents are selected for Toad Rally has been adjusted. There is now less of a chance you'll play against someone whose Toad population is significantly different from yours.
Description
A new kind of Mario game that you can play with one hand.

Super Mario Run has received some big updates! You control Mario by tapping as he constantly runs forward. You time your taps to pull off stylish jumps, midair spins, and wall jumps to gather coins and reach the goal!

Super Mario Run can be downloaded for free and after you purchase the game, you will be able to play all the modes with no additional payment required. You can try out all four modes before purchase: World Tour, Toad Rally, Remix 10, and Kingdom Builder.

■New mode Remix 10
Some of the shortest Super Mario Run courses you'll ever play!
This mode is Super Mario Run in bite-sized bursts! You'll play through 10 short courses one after the other, with the courses changing each time you play. Daisy is lost somewhere in Remix 10, so try to clear as many courses as you can to find her!

■New World Tour courses
A brand-new world of courses, World Star, has been added to World Tour mode! You can play this world after completing the first six worlds.

■World Tour
Run and jump with style to rescue Princess Peach from Bowser's clutches!
Travel through plains, caverns, ghost houses, airships, castles, and more.

Clear the 24 exciting courses to rescue Princess Peach from Bowser, waiting in his castle at the end. There are many ways to enjoy the courses, such as collecting the 3 different types of colored coins or by competing for the highest score against your friends. You can try courses 1-1 to 1-4 for free.

■Toad Rally
Show off Mario's stylish moves, compete against your friends, and challenge people from all over the world.

In this challenge mode, the competition differs each time you play.
Compete against the stylish moves of other players for the highest score as you gather coins and get cheered on by a crowd of Toads. Fill the gauge with stylish moves to enter Coin Rush Mode to get more coins. If you win the rally, the cheering Toads will come live in your kingdom, and your kingdom will grow.

■Kingdom Builder
Gather coins and Toads to build your very own kingdom.

Combine different buildings and decorations to create your own unique kingdom. There are over 100 kinds of items in Kingdom Builder mode. If you get more Toads in Toad Rally, the number of buildings and decorations available will increase. With the help of the friendly Toads you can gradually build up your kingdom.

■What You Can Do After Purchasing All Worlds

・ All courses in World Tour are playable
Why not try out the bigger challenges and thrills available in all courses?

・ Easier to get Rally Tickets
It's easier to get Rally Tickets that are needed to play Remix 10 and Toad Rally. You can collect them in Kingdom Builder through Bonus Game Houses and ? Blocks, by collecting colored coins in World Tour, and more.

・ More playable characters
If you rescue Princess Peach by completing course 6-4 and build homes for Luigi, Yoshi, and Toadette in Kingdom Builder mode, you can get them to join your adventures as playable characters. They play differently than Mario, so why not put their special characteristics to good use in World Tour and Toad Rally?

・ More courses in Toad Rally
The types of courses available in Toad Rally will increase to seven different types of courses, expanding the fun! Along with the new additions, Purple and Yellow Toads may also come to cheer for you.

・ More buildings and decorations in Kingdom Builder
The types of buildings available will increase, so you'll be able to make your kingdom even more lively. You can also place Rainbow Bridges to expand your kingdom.

・ Play Remix 10 without having to wait
You can play Remix 10 continuously, without having to wait between each game.

*Internet connectivity required to play. Data charges may apply.
iPad Screenshots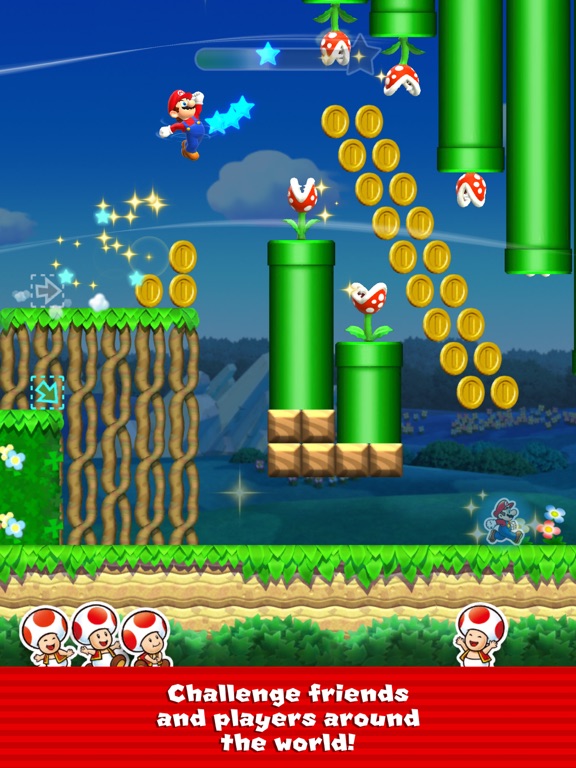 Reviews
F U N
Srishti Kaur Jassal
on
12/16/2017
I just love it I don't know how to explain really good game you should probably get for your child
How do you get purple and yellow toads?
GZjdjdjd man
on
12/16/2017
Anyone know?
Always crashes on startup
iOS 10.3 here. The game 100% of the time crashes on startup. Hasn't worked in months.
Can I brag
Matt Matty Matthew
on
12/16/2017
I just beat 1-1 while not touching a single pink,purple,or black coin. Nor did I hit any yellow coins! Challenge: beat bowser without touching any coins or 🍄.
Good entertainment. Bad design
When only $10 to unlock a game, I expect it to work without internet on a flight. It's not necessary to be connected to the internet to play a simple game.
Best game ever, Nintendo
😀😀 but kinda😡😡😡
on
12/16/2017
I am a HUGE Mario Fan and I'm only 8 thanks for making this game Nintendo
Rip off
The game itself is really fun and a great game, however there is barely anything you can do before you have to shell out 10 dollars to play the game, it's a rip off
i cannot purchase all worlds
I cannot purchase the full MARIO RUN game. I have tried to reinstall the game multiple times. I have tried to restore my purchase multiple times. I have tried to associate the game with another Apple ID(s). I have even used The Game Center to connect to my Apple ID(s) in my Iphone and I still cannot purchase the game. I even have a new Iphone and Mario Run, No other app or in-app purchases restrict me from downloading, the game still will not install. I am getting the same error messages that I was on my previous Iphone I still keep getting error messages 804-4102 804-4201 804-4161 804-4140. I just want to buy the full game. I've tried almost on a daily basis to download the game. I play the game almost on a daily basis and I just want to make the full purchase. Please help me.
Hi Nintendo
Kelwin Jose
on
12/15/2017
I have a glitch, when I open the game it quits :( this doesn't happend in Animal Crossing, only in Mario Run
It's OKAY
Mario on mobile is a pretty scratchy move on paper, but the controls are somewhat like the new MARIO games. But if you make a FREE game you should be able to play ALL of it for FREE. If you were gonna make the game PAY TO PLAY Nintendo, then you should've made it pay to download, and have the ability to play ALL of it. While game modes like remix 10 and toad rally are fun, it doesn't blind the fact that the game is PAY TO PLAY. In my opinion, Super Mario Run Takes one step forward and two steps back.
What? I did not get stages1-4
What the fudge I did not get stages 1-4. What a rip off I got 100 toads but did not get stages 1-4 I guess I did all that work for nothing This game is just a game for a quick buck they don't even work on it anymore in my opinion don't get the game if you don't want to spend 10 whole dollars on a game btw it is a waste of money. You could spend it on more important things like food.
Terrible! Pay to Play Game!
Luthor Guy🐶
on
12/15/2017
I thought this game would be amazing when it came out in 2016. Only after I completed 2 or 3 levels however, the game said I needed to spend $$$ to move on to the next levels. Really Nintendo? You've sunk this low by grabbing money from pay to play levels. Don't you already have enough money to begin with. I don't recommend anyone gets this unless they want to spend 10 bucks.
Awful
Firstly this game was much too easy. Going through the tutorial took ages and it felt like the game was on auto play for that whole starting point Secondly this game can not be played offline. One of the things that was nice about all of the older mario games played on handheld devices was that they didn't need to be connected to anything. You could play them on road trips and such. Thirdly this game is a freemium game. You play the first world normally, beat the boss, and the first thing you notice when you go to play the next world is that you HAVE TO BUY IT. It's not a small purchase either; it's $9.99. Given how frustrating my previous points were I decided that there is no way the rest of the content could be worth $10. I wouldn't recommend this game to anybody.
Super MARIO run
It is super fun it is my favorite game I love it
This game is outstanding!
Finally! My childhood character is on mobile! I have been waiting for this to happened and it's gameplay is awesome! It was so worth my $10!
Awesome game.
Great game, but the microtansactions are worse than EA! Almost all of the game is locked behind a paywall! Disappointing... 😭🤬🤮🤑💵💵💰💸💶💶💷💳
World ⭐️
Danny Wenger
on
12/14/2017
On World ⭐️, I unlocked it by completing Level 6-4. But to get World ⭐️-1, I need to save Princess Peach. But I did. Otherwise this app is very well made, and I like Remix 10!
Scam!
This app is a scam. They let you play the first "world" for free than ask for $9.99 to continue playing. You pay $9.99 and then get to the end of the game in about 2 hours. Quite a scam. Do not buy!!
Amazing!!
Blazinkoopabutt
on
12/14/2017
Please make more mario games on Apple!
Support fail!
Medic 11126
on
12/14/2017
The game is a lot of fun but there is an issue with the sound on my iPhone X. I went to the website, couldn't find a link for support. Went to the App Store page and clicked on the link for support and it brought up a window that said "File not found". I expected more from Nintendo. Hopefully this gets corrected soon! That was a lot to pay for an app that isn't working correctly!
Terrible
It's does not deserve 1 star When I first launched the app it crashed then it crashed again and then when I opened it it made this loud sound like dropping a microphone😭 terrible DO NOT download this😡
Top free game but it isn't free
Just charge up front already. This is the joke game of the year because of the bait and switch monetization scheme.
Crash
Every time I open it, it crashes
Awesome Game
This game is one of The awesome games I ever played
Without internet game is useless
Mr sleepy k
on
12/13/2017
Also your game is a rip off because I can't even play it without internet like if I'm traveling on a plane or something. Get outta here!
Could be fun
Not that unique.
on
12/13/2017
I liked the game a lot, but it kept sending me to the lock screen on my iPad Air 2 right in the middle of the game. Needless to say, it made the game unplayable and prevented me from spending $10 to get the full version.
Entertaining
purple3poet
on
12/13/2017
Super Mario Run is one of my four year daycare child's favorite iPad games. It's a fun game for ages 4+.
Offline, plz?🙏🏻🙇🏻‍♀️
*Dec. 13, 2017* ⭐️ 2 Please 🙏🏻make "Super Mario Run" to play offline? *Dec. 4, 2017* ⭐️ 2 Remix 10 is awesome!👍🏻 Please make an offline mode.? *Nov. 29, 2017* ⭐️ 1 This game🎮 needs offline play for me to be able to enjoy. Come on, Nintendo! I paid full price for this game & would like to enjoy it without the requirement of internet. 🤦🏻‍♀️🙍🏻 * Nov. 8, 2017* ⭐️ 1 Loading time for game is too long👎🏻. Offer offline to prevent this. The game🎮 at it's present state is an awful user experience for players.👎🏻👎🏻😡
Decent game, poor updates
Jecht_Silver
on
12/13/2017
This is probably one of the more easy and fun games to play on a cellphone. Unfortunately the recent updates has messed with collision points, and issues like how many touches it detects during gameplay. Considering this game is all one touch that last part is extremely important as now when you play you're not always guaranteed that second jump when you press down on the screen like you would in previous builds.
Basic
Petrolium11
on
12/12/2017
Not very interesting. Also took a long time to load
Awful
Birmingham Apple Fan
on
12/12/2017
Why do we have to pay for a game this crappy?
Why pay
Seedy Fighter
on
12/12/2017
I'm not allowed to pay for stuff and I want to play the full game Respond plz Make the whole game free!
Crashes
The game crashes every time when starts. Iphone 6s plus Ipad 3
FIX
VillagersNose
on
12/11/2017
I downloaded it but when I try and open it it crashes when Nintendo logo goes away. I'm on iPhone 5s iOS 10.3.1 so it should be compatible.
Mario, but not fun
I mean, this game captures the feel of a Mario game but it's infuriating. You have so little control over your character that you can literally end up in loops where you just keep dying over and over. The bubble is a crappy mechanic that isn't fun in any way, and it's extremely easy to die to some stupid tiny thing you can barely see with all the crap going on on the screen like the wrenches that the mole guys throw. It's a lot more frustrating than fun.
Boring version of Mario Bros!!!
Should be a 99 cent game. It has limited controls and is definitely not worth $10.
Good But Not
BryadenPlazzz
on
12/10/2017
i like this game alot BUT i hate it because u have to buy the next few worlds. i dont know about u guys but for me its not worth spending money on one game just to play it if that makes sense.
Its Okay.
I bought this game for $10 when it first released. I beat the game and deleted the game for more space. Unlike other apps you've purchased and can come back to them; I am unable to download the app with the full game I purchased. My son wants to play the game and is unable to go past the demo version.
Not Worth 10 Dollars at All
Jawesomeness40
on
12/10/2017
The first world was fun, but now I can't play without paying 10 DOLLARS! That's so unfair. In my opinion, I would not get this game. You play a couple rounds of "Toad Rally" and complete the first world, but then you either quit and don't ever play or pay 10 DOLLARS. In my mind this game is not worth 10 dollars. I wouldn't get it.
Pretty Solid 👌
I actually managed to buy the full game for $10, and let me tell you, it's worth every penny. What Nintendo Did Right: Graphics: This game is one of the best-looking mobile games on the market, in my opinion. It has the aesthetic of the New Super Mario Bros games, but it's on mobile (which is pretty neat). Level Design: This game is a mix of easier and more challenging levels, and they're balanced quite well. The levels are well designed, as they should be. Selection of Characters: The roster of characters is pretty good! We've got some fan favorites and some characters who haven't really seen much spotlight lately (you ACTUALLY remembered Daisy for once, lol). Game Length/Content: This game can be very long or very short, depending on how you play. Speeding through World Tour will make the game seem very short - it's not how the game was meant to be played. There's a reason there is more than one set of coins for each level, ya know. You can get additional content for collecting all the coins. Remix 10: This mode is great, especially for those who didn't buy the full game. It basically gives them a taste of the rest of the game. You also get a character for FREE. Of course, this mode is better if you pay (you don't have to wait to play). (Also, the music for Remix 10 is some of the best in the game ;) ) Other New Features: I like that you can listen to your own music and the characters wear headphones. Nintendo didn't have to add this feature, but they did anyway (it's the little things, I guess). Also, the addition of World Star was a good idea. It gives the existing levels more replay value and you can unlock additional levels to play. Download Now, Pay Later: This approach was the right one. Back when this game came out for the first time, I was upset that there was a paywall. But then I realized that app could have just been $9.99 to download and you would have NO idea what the game was like. Instead, Nintendo let players have 3 levels to try out, so people could have a choice if they wanted to pay or not. What Could Be Fixed & Complaints: Music: With Remix 10 as an exception, the music in this game is good, but unoriginal to players who have played New Super Mario Bros U. They got a bit lazy with this, but I somewhat understand why they made that choice. Freezing/Lag: I have been having issues with lag, for no reason whatsoever. My game freezes or lags sometimes and it's kinda frustrating when I'm playing the game and this happens. It might be my phone, but I'm not sure. Toad Rally: This mode is fun, but isn't fantastic. Some improvements mentioned by other users would probably be beneficial. Offline Play: Nintendo should have an offline mode, especially for World Tour. Some people don't readily have access to the Internet and that poses a problem when they want to play this game. Overall, this game is a blast to play. With a few minor changes, this game could be at it's prime. If you put down this game before the big update, then please give this game a second chance. EDIT: Another feature I'd like you to add is the ability to sell items for coins in the shop: I have a TON of duplicate items (from Remix 10) that I'd like to sell for some coins, so I can get more items. This would be helpful. Also, the lag issue is getting worse, especially in Remix 10. Just so you know, I'm using this app on an iPhone 6 on iOS 11. Please check and see if there's any issues. Thanks :) EDIT 2: Yet another feature I'd like to suggest is the ability to gift things to friends on your friend list. If I have a spare item (a statue of a certain character, for example) and my friend doesn't, I'd like to gift that person the item. Please add this because it makes the friend list more useful.
Good but...
Good, well made game but to continue the game you have to pay money.
$10.00!!!
Higlimashyuiop
on
12/10/2017
Definitely not worth the $10.00. It's not as fun as the originals and it's just a bad game for $10. I would buy it if it was no more than $2 or $3, but def. not 10
not a free game
you shouldn't get an top free game
Pass.
The app itself is free, however when you start playing it after three levels you have to pay $9.99. I'll pass on that. There are several endless runner games on the App Store that are fun and FREE.
Why waste 10$?
Don't buy,play world 1 and that's it! worlds2,3,4,5 are 10$! Why.Why!!
Amazing Game!
I purchased this game the day it was released I had patiently been waiting on it. I've been playing it since and I still love it. It's a 1 time payment of $10 but it's totally worth it in my opinion. It's fun, some levels are easy, some are challenging but that's what makes it so fun. The controls are simple, my 3 year old niece LOVES it, it keeps her busy while cooking dinner, cleaning up, etc. and she is able to play this game with no problems (on the easier levels of course) so it's a great game to keep your kids occupied while getting things done around the house and they love it! It always has things to look forward too, and play towards to continue to unlock new features while giving yourself a challenge! It's just an all around good, fun, family friendly game. Worth every penny spent, and I'll continue to play this for a long time. I give it 5 Stars ⭐️⭐️⭐️⭐️⭐️ and 6 if I could!!
Good but repetitive
Bonnies_girl
on
12/9/2017
This game is a lot of fun. I purchased when it first hit the App Store and could not put my phone down. I was super Jazz when they came out with another tour! It's a lot of fun but only so many tour levels. I suggest they continue to make more tours so the game doesn't get Boring after you complete the tour. I mean remix 10 and toad rally are alright but what makes the game are earning the different coins in the worlds. So make more of them! Overall entertaining !
Good but...
I actually fell limited, I have to spend money to just continue TOUR and REMIX 10 is way too frustrating because I want to get all perfect but it is just too frustrating and I feel so frustrated!!!
Fact Sheet
Publisher:

Nintendo Co., Ltd.

Category:

Games

Released:

Sep 07, 2016

Current Version Released:

Nov 01, 2017

Version:

3.0.6

Size:

226.3 MB

Compatibility:

Requires iOS 8.0 or later.

Recommended Age:

4+

Game Center Certified:

No

Supported Devices:

iPad2Wifi-iPad2Wifi, iPad23G-iPad23G, iPhone4S-iPhone4S, iPadThirdGen-iPadThirdGen, iPadThirdGen4G-iPadThirdGen4G, iPhone5-iPhone5, iPodTouchFifthGen-iPodTouchFifthGen, iPadFourthGen-iPadFourthGen, iPadFourthGen4G-iPadFourthGen4G, iPadMini-iPadMini, iPadMini4G-iPadMini4G, iPhone5c-iPhone5c, iPhone5s-iPhone5s, iPadAir-iPadAir, iPadAirCellular-iPadAirCellular, iPadMiniRetina-iPadMiniRetina, iPadMiniRetinaCellular-iPadMiniRetinaCellular, iPhone6-iPhone6, iPhone6Plus-iPhone6Plus, iPadAir2-iPadAir2, iPadAir2Cellular-iPadAir2Cellular, iPadMini3-iPadMini3, iPadMini3Cellular-iPadMini3Cellular, iPodTouchSixthGen-iPodTouchSixthGen, iPhone6s-iPhone6s, iPhone6sPlus-iPhone6sPlus, iPadMini4-iPadMini4, iPadMini4Cellular-iPadMini4Cellular, iPadPro-iPadPro, iPadProCellular-iPadProCellular, iPadPro97-iPadPro97, iPadPro97Cellular-iPadPro97Cellular, iPhoneSE-iPhoneSE, iPhone7-iPhone7, iPhone7Plus-iPhone7Plus, iPad611-iPad611, iPad612-iPad612, iPad71-iPad71, iPad72-iPad72, iPad73-iPad73, iPad74-iPad74, iPhone8-iPhone8, iPhone8Plus-iPhone8Plus, iPhoneX-iPhoneX,

Supported Languages:

Dutch; Flemish; English; French; German; Italian; Japanese; Korean; Portuguese; Russian; Spanish; Castilian; Chinese;