Games
Simulation
Adventure
Recommended app!
App last updated
Dec 12, 2017
Screenshots
New in version 1.7.0
We regularly bring you updates and new features to improve your experience. Have fun!
Description
YOUR CHOICES, YOUR STORY
Dive into an interactive drama where romance, mystery and the Parisian lifestyle combine! Meet colorful characters, build relationships and unravel an old mystery…

You're interviewing for a job at City of Love, Paris' most prestigious lifestyle magazine and brainchild of Raphael Laurent, a handsome entrepreneur. But is this the real reason Raphael has invited you to Paris?

FEATURES

• MAKE choices that shape your social relationships and influence the storyline.

• UNRAVEL an old mystery and investigate in multiple locations.

• CREATE your dream love life: meet, date, flirt and find true love!

• DISCOVER the Parisian lifestyle through a wide range of fun activities.

• IMMERSE yourself in the story experience with beautiful backgrounds and lifelike animations.

• EXPLORE countless iconic locations such as the Champs-Elysées or Le Louvre.

• MEET colorful characters and build close relationship with your best matches.

• SHARE unforgettable moments, collect souvenirs and unlock stunning original artworks.

• DELIGHT in City of Love's humorous writing tone, exciting storyline and authentic settings.

• REPLAY the story to try out alternative storylines.

Whether you are an avid reader of romance novels, a detective fiction enthusiast, a globe-trotter with a sense of adventure, or just a fan of all stories great and small, City of Love: Paris has something unique for you.

"Let us read, and let us dance; these two amusements will never do any harm to the world"
Voltaire

More info about your interactive drama on:
• Facebook: https://www.facebook.com/CityofLoveParis/
• Twitter: https://twitter.com/CityOfLoveGame
• Instagram: https://www.instagram.com/cityoflovegame

PLEASE NOTE:
• This game is free-to-download and free-to-play but some game items may be purchased for real money. You can disable in-app purchases in your device's settings.
• This game contains ads. Making any in-game purchase will disable them forever.
iPad Screenshots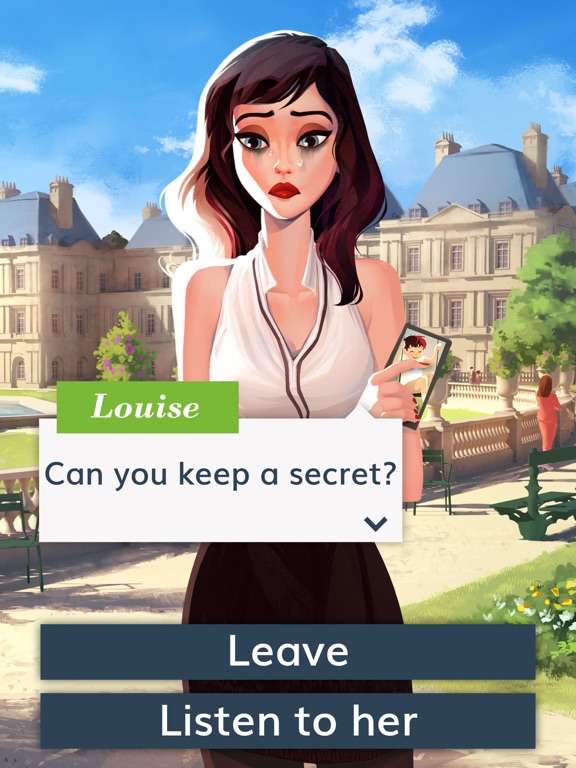 Reviews
Good style but...
DRAlpha4134eva
on
1/22/2018
Really think it'd be great if there was an app like this that didn't rely so heavily on "lightning" energy. Or maybe I'd just rather trade watching stupid ads in exchange for more free energy. Either, it's cool, just an app I'd probably lose interest in for how infrequently I could play it in a day.
Yikes
Mines not working! It was working but then it stopped so I Un-downloaded and then re-downloaded it and when it was starting to load as soon as it turned to seven a little tap popped up and told me that an error had occurred and it wouldn't let me do anything else
Beautiful Game!
I finished chapter 2 and it said the end!! Please say there will be more!
A bug
LoveAngelCupid
on
1/11/2018
I really love the game but recently its stuck a character who shouldn't be there is stuck in the screen... Also the first two messages of the dialogue pass easily and no matter how many times i tab the screen no further messages appear..... i tried redownloading it still not working tho.
Why am I like this?
Dragontamereg
on
1/8/2018
I haven't even started playing, I'm just glad there's a game where I can date a hot French guy.
Amazing graphics
Lollipopfunnybottom666
on
1/8/2018
This game is so beautifully designed as soon as I opened the game up the details of the characters amazed me. Incredible.
Love it
Bojack Horseman fan
on
12/31/2017
I LOVE IT CAN IT HAVE MORE EPISODES I MISS THE GAME SOOOOOO MUCH I WANT MORE!
YES!!💕💕
Its_Just_Vanna
on
12/28/2017
This game is AMAZING! It has AMAZING graphics, and the story is phenomenal 😊 💕💕
Sad
I download the game to play it and somehow I can't even start the game, without it telling me, "could not contact a server" 😢
Great!
This game is really fun and cute. I just wish you didn't have to wait 24 hours before your energy is restored.
One problem
The game is great but on Season one episode 10 it says my progress is 90% even though I didn't start it yet. Once the episode started, it froze right after Raphael speaks and nothing will happen. Please fix it! Plus I already deleted and reinstalled the game but the problem still wasn't fixed
Beautiful but with a cost
RomeoTheKitty
on
12/27/2017
The plot, the music, the animation and everything is without a doubt beautiful but the players aren't allowed to truly experience the game because of energy. Why not just let people purchase the full game so players can get the full experience? Nobody can truly enjoy their time playing if there's always going to be a energy level. Anyway, this is why I've gave the game three stars instead of five.
Pretty fun so far
I just started playing and so far the game has been really fun!
First Bug In The Game
This has been a great story so far, with intriguing characters, lovely music, and breathtaking art. However, I've experienced a bug recently, and it has lasted for three days so far. The game starts to load, but just when it reaches 7/10, it shows an error in screen, despite having connection to the Internet. This bug has kept me from accessing the story, but I do believe it's a bug that can be fix and worth pointing out! EDIT: After another try, the app loaded, however, it also deleted my saved progress in the process. I believe this could be something to keep an eye on, so as to prevent that from happening to other players!
Good
Barbie.2005
on
12/18/2017
I want a season 3
Louise more like Yes Please
notgayjustheretoplay
on
12/17/2017
Good game, but uhhh can you romance Louise?? I'm really down to date her and all the guys are boring lol
I like it but...
The only thing I don't like about this game is that u can only play it at 6:00 so if the company who made this can change that I will change my rating.
I really love the game but the energy system and game didn't save for me
I get the point that the story is soo good and fabulous and cute which should not be able to play for free for whole game without paid some money I totally understand but I think the daily energy system is too low and I believe it need some raising like 300 or 200 atleast more than 5 minute would be satisfying I felt passionate toward the game when my energy is restored but when I got to the game I felt like I only play 2 or 3 minute which it was reAlly quick and it pretty annoying I want to atleast for,daily energy to last 4 or 5 minute longer for the game,e and I have a question is there more choice of romance toward the female? Because my main target romance I'm aiming for Louise her main pic caught my attention and that how I got to this app I hope you could really romance Louise or kat there is one dialogue that got my hope up when Vincent ask what I think about kat and I chosen true love is she an option?but mainly I want Louise pleaseee make her an option and I accident,y delete game but when I install them again I lost all progress and I connected to Facebook nothing happen please help
Good...
Juliana.nickname
on
11/26/2017
It's a great game but you don't get enough energy for the chapter. Also, the price is high for energy so why buy it. Also, you should be able to change your name and customize your character. Other than that, it's beautiful and I love how you can scroll and see the entire scene. Everything is great except those things. Hope this helped!
Great Art and Storyline!!! 👏👏
This is one of the most beautifully designed interactive story that I have seen. I really enjoyed how the music is incorporated with the story line and also with the art!
Boring
SummerGlo 
on
11/21/2017
This was terribly boring. Awesome graphics but a dull story
BEAUTIFUL GAME but...
casprings93
on
11/12/2017
This "energy" needed to play the game is kind of ridiculous. I mean, you can only make 10 choices before you're out of energetic, but the story asks you SO many choices that you can only play for literally 3 minutes before you either have to buy energy or wait another 24 hours. If you don't mind paying, you'll probably love this game.
Beautiful
betsyanne33
on
11/12/2017
This game is gorgeous and gives you an animated visual of Paris, yet the constant 24 hour wait for energy actually made me stop playing. I pick it up every once in awhile and love it, then I remember why it had become a forgotten app on my phone. :(
Please Continue the series
cyber-hatter
on
11/3/2017
I saw the Facebook announcement the game is going to end. Please continue the series or at least port it to a PC version. I'm worried the app would be deleted from the App Store like I had seen old apps that disappear
It's cool but they need to tell us the gender before we put in our name
Unicorns and Sunshine
on
11/1/2017
K that is it
AMZING
CYERRAGAMES
on
10/29/2017
ALL OF THESE PEOPLE THAT THINK IT DOESNT WORK YOU GUYS ARE DUMB BECAUSE MINE WORKS PERFECTLY FINE IDIOTS🙄😡
Beautiful
The animation is just wonderful
Was hoping for gender
I opened it up after finally being interested and no gender option. Was really forward to being a man, but whatever. I won't play it till they make one, though I doubt Ubisoft cares because of prior experience.
Fun and addictive
Amberjade21
on
10/22/2017
Very fun and addictive game. I could not quit playing it.
Here's some suggestions!
The cat is seen frequently on certain screens but is never seen in the game. It would be great if they could be introduced. I adore the art style and the animation, so PLEASE don't change that. I strongly suggest allowing players to pick whether or not they can play as a male or a female! It would allow even more LGBT representation.
uggg
ahahahahaahahahahahah
on
10/18/2017
pretty but tries to force you to play money in order to play for a long time :/ makes me want to delete it
Souvenirs
I really love this game. My only problem is that I'm trying to collect all the souvenirs and if you miss one. I don't want to have to start all the way back to season 1. I wish you could start over on that episode to collect them. It's frustrating. Please change that so everyone can try to collect the souvenirs instead of starting all the way from the beginning.
Energy
La'Shelle_J
on
10/16/2017
Okay.....😒......not worthy the money!!! AT ALL! 🚫
Love It!
Just finished Season 2, Episode 12. I am hoping there is more to come!
Ridiculous
Love the storyline. But most ridiculous app I have ever come across. You have to wait until 6 pm to get more tickets. Most apps you wait 2 hours. Would give it 5 stars but this is asinine!!!
Needs work
Great concept so far, I love it. My problem with the game is the energy takes way to long to fill. It makes me uninterested in games when I have to wait a super long time to play again.
A well-made game that is virtually unplayable
Vanessa Vestal
on
10/13/2017
City of Love: Paris is a "decision-based" game that plays out like a cute romantic novel with pleasing art and comforting sounds. That's where the positives begin and end. It is otherwise a trainwreck of a concept that will leave you questioning why you allow it to take up space on your device. I placed quotes around decision-based because I greatly hesitate in describing the vast majority of what Ubisoft presents as critical decisions. Each day you are given a small amount of "energy". You receive around 100 energy every 24 hours with special exceptions where you're gifted with double. (Don't get too excited now.) The game wastes no time informing you that every "important decision" you make requires 20 energy. It turns out that every single time you are able to respond to a character, that counts as an important decision. "Hey, how'd your interview go?" "It was ok I guess." -20 energy! You are able to speak to someone once every 30 or so seconds and so, on average, you can "play" for 5 minutes every 24 hours. But hey, when it's double energy day, that's like 10 entire minutes! Ubisoft offers a generous deal of 2,000 energy for the low price of $30. That's like buying the entire collection of Telltale games when they go on sale on Steam. The developers would have been smart to simply make the game a paid app. I would value it at a few dollars. As it stands now, it is one of the most useless free games on the market albeit a pretty one to look at for a few minutes a day.
Louise
i wanna get w louise
Interesting, but slow energy refill
I'm not sure the game is interesting enough to hold my attention in spite of the slow energy refills. We'll have to wait and see.
Is always unable to connect to server
I love the visual and storyline but it constantly gets disconnect to the server and i have to close the app and open it again to continue. This gets extremely tedious and made me lost interest in the game. And I have problems with passes like everyone else too. I hate it.
Great but maybe with another pet 🐶
sweetie puppy and kitten
on
9/28/2017
I like the game and everything but in the ads can you add a close button and maybe when you introduced the cat 🐱 can u also add a dog into the game and including the cat also? Can u guys do that?
so cute hh'hhhhhhhhhhhhhhhhhhh
so cute hh'hhhhhhhhhhhhhhhhhhh
Good but no
It's a great game but I think that for kids who want this game it doesn't need to have cuss words in it😫😬😬😬💩
Nice game
LizzyTheAlmighty
on
9/10/2017
I always use up my energy tho!
Cute
GypsyIslander
on
9/10/2017
Cute so far... not sure yet
I LOVE THIS GAME😋
AWESOMENESS GET THIS APP NOW!
on
9/9/2017
😍😘😍😘😘😍 OMG SOOOO ADDICTING
WONDERFUL
No ads, gorgeous story and animation, and I'm happy everything is free and you don't have to pay for episodes but I do agree there's not enough energy! But it's tolerable enough! I love the app!
Skin Tone!! And Gender!!
What if I wanted to have a different skin tone, I am not Caucasian. Also I feel like gender is really important and you should let people choose if they wanna play as a boy or girl.
great art style + energy code
💎DiamondGirl💎
on
9/3/2017
i personally dislike the energy bar and hoping you guys can either improve that or remove it and replace it with something else. the art style is super nice and i love the writing and overall aesthetic. (the code is fZVfGS)
Fact Sheet
Publisher:

Ubisoft

Category:

Games

Released:

Feb 01, 2017

Current Version Released:

Dec 12, 2017

Version:

1.7.0

Size:

145.7 MB

Compatibility:

Requires iOS 8.0 or later.

Recommended Age:

12+

Game Center Certified:

No

Supported Languages:

English; French; Spanish; Castilian;

Parental Advisory:

Mild Alcohol, Tobacco, or Drug Use or References; Suggestive Themes;