Screenshots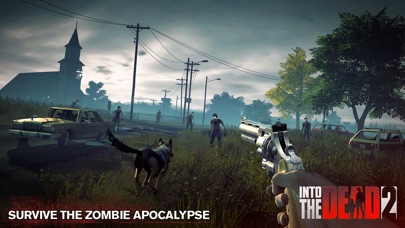 New in version 1.2
- Battle through the snow and earn an explosive new weapon in the Frostbitten event, featuring an all-new storyline! Coming for a limited time, December 20-29 (UTC).
- Improved the look and usability of buttons and other UI.
- Chainsaw and Scrub Cutter now viewable on the weapons screen with kill stats.
- Fixed critical issue where game could not be played following event rollover.
- Various bug fixes and performance improvements.
Description
Journey through the zombie apocalypse in a race to save your family. Arm yourself with an arsenal of powerful weapons and do whatever it takes to survive. Maim, mow down, and massacre the Dead - anything to keep moving! In a world where no one is safe, how far will you go to make it out alive?

FEATURES:
• Evolving story and multiple endings - complete 7 action-packed chapters, 60 stages, and hundreds of challenges
• Powerful weapons and ammo perks - unlock and upgrade melee weapons, firearms, explosives, and more!
• Varied gameplay - fire from military gun emplacements, slay the hordes from atop vehicles, stab them to stay alive, or risk going after them on foot
• Multiple, immersive environments - discover different locations, from oil fields and military bases to campsites and rural farm communities
• Ever-increasing zombie threats - adapt your tactics to annihilate different hordes, including armoured and running zombies!
• Daily and special event modes - prove your skills to win exclusive prizes
• Loyal canine companions - fend off zombies and stay protected in the field

Into the Dead 2 is free to play but offers some game items for purchase with real money.

We love to hear from our players! On Twitter? Drop us a line @PikPokGames and join the conversation with #IntoTheDead

Terms of Service: http://pikpok.com/terms-of-use/

Monthly VIP Subscription for 1 Month with great daily in-game benefits. This subscription will auto-renew every month and must be cancelled at least 24 hours before renewal. 

Monthly VIP Subscription will renew automatically unless auto-renew is turned off at least 24-hours before the end of the current period. Payment will be charged to iTunes Account at confirmation of purchase. Account will be charged for renewal within 24-hours prior to the end of the current period. Renewal costs 9.99 USD/month (or local equivalent).

Subscriptions may be managed by the user and auto-renewal may be turned off by going to the user's Account Settings after purchase. No cancellation of the current subscription is allowed during active subscription period.
iPad Screenshots
Reviews
It won't let me update and now I can't play
I came so far in the game and it won't let me download the new update and now I can't play I tried everything and if I delete it in going to have to start all over what can I do ?
Good, pushes microtransactions
Pretty good game, and would get a better score, but the game suffers from the fact that it constantly pushes microtransactions down your throat. At least take me on a date if you're gonna try that
Level 34 Bug
Theres a bug where the chainsaw on level 34 only gives you ammo and not the chainsaw. Please fix.
Game reset
Was 3 levels from the end and game randomly started from the beginning when I opened it. What a joke. All progress lost
Woowwww
I love this kind of games like playstion 😭💘💘💘💘
ايهم من العراق
هناك مشكلة في اللعبة وهي الاق جهازي أيفون 6+ و ذوا رام 64 جيجا بايت ولدي مساحة كبير لكن اواجه تعليق كبير في اللعبة لا اعلم ماهي الاسباب ربما من اللعبة نفسها او من جهازي الشخصي ! ارجوا النظر في تحديث اللعبة و اصلاح مشكلة تقطع اللعبة .. اللعبة جميلة جداً و انا العبها كل يوم برغم من انها تتقطع عندي .. شكراً جزيلاً لكم و أمل النظر في مشكلتي
Stay Away
disneyfan64
on
12/12/2017
I've had this game for awhile and have had issues with it. Contacted them and did everything they suggested but it still locks up. When you open a loot case and it's a VIP, the game locks up. I suppose it wouldn't be an issue if you spend the $9.99 a month to belong to the VIP club. To me that is a scam to get your money!!! So do yourself a favor, don't download it!
I lost my guns
After updating all my guns except the first two are gone. I still can play all the chapter that i have played so it's not data lost. Only those weapons gone 😭😭😭
Purchased gold card and didn't receive it.
The game is great and I play it everyday. I recently purchased a $4.99 gold card and it took my money out of my bank account but I didn't receive the gold and it says purchase is pending. Very irritated about this situation.
The greed shines through.
damronhimself
on
12/11/2017
No way I'm spending $10 on a weapon. No way.
update please
Rjhaymagician35
on
12/11/2017
please help me. i can't update this game on my phone. thanks.
Best phone game!
Dope game, so many levels and missions. Weapons are even better!
Hesam
Simply put, worth trying 'coz the best
Great game but not working
It's really fun but it requires you to update it and with this last update I'm not able to get on and play. It says it's updated but when I go to play it says it needs to be updated in order to play really frustrating
Abandons the ITD1 feel that made the game great
Justsomeguynamedryan
on
12/11/2017
I have been a fan of Into the Dead since around when the first game came out, so when I saw this game, I downloaded it almost instantly. The game has greatly improved since the first installment, the overall feel of the game, from the graphics to the zombie AI, makes you feel immersed in the world, giving you the since of danger the character feels. The zombies feel a lot more alive and deadly, providing a fun challenge. However, after around the completion of the first act, the game slows down majorly. From this point on you always feel underprepared, your guns constantly needing upgrades that you don't have the parts for. To stay up to date, you have to go back and grind challenges from levels that were already difficult to just get through in the first place. The player spends up all their energy trying to get that one annoying challenge pinned down so they can upgrade their gun which will once again become obsolete 2 levels down the line. The grind never stops! The energy system is slightly annoying, but bearable. HOWEVER, the one thing that bothers me about this game is that it has completely lost it's infinite runner touch that the first game had. Missions are alright, but doing the same missions over and over gets dull, and they don't take long to finish. Sure, there is a daily mode, where landscapes are randomly generated like the first game, but you can only use the one exclusive event item given to you. In addition to this, on the campaign and survival models, you only have 2 weapons the whole time during a run, which completely abandons the idea of the first game of having a massive random arsenal at your disposal, where you never know what weapon with what special characteristics you are going to pick up next. There is no strategy to it, just dodge, conserve ammo, and shoot when needed. Into the Dead 1 provided a unique experience each round, with landscape, weapons, and zombie placement never being exactly the same. Every infinite round was never the same as the last. Now, the game is predictable and dull when you have the environment of each level practically memorized. Perhaps a new game mode could bring back the old game's infinite random runner feel, helping not to isolate the fan base that made this game popular in the first place. I thank you for taking the time to read my review, I hope you will use it to make the game better.
Good game but cannot update
I cannot update. The game says an update is needed but nothing in App Store. Please help
Great game
killagamer6
on
12/11/2017
This has a lot of hard work to it but it could be pretty easy when you're OP. This first person shooter game will give you the experience of a guy who is stranded in the open trying to get back to his family and on his trip he has to deal with a hoard of zombies coming his way. Once you get to know this game better you will be able to overcome everything that comes you're way. This game deserves a 10/10. 2017 best game
Keeps crashing
Keeps asking for an update even after update had been done
Don't get it!
TDC Disengage
on
12/11/2017
Great game, fun and addictive with a challenge. But, the game offers extremely bad lag causing you to lose or the app will force close causing a fail in the mission. The last update for the season forced my application to go on an endless loop to update the app, not allowing me to actually update it even after trying for about 3 hours. I had spent so much money on this game and now I lost all my progress. Don't bother getting this game, it forces you to loose. This really pisses me off!
Lost all my weapons
I need functions
on
12/11/2017
I'm obsessed with this game but today when I opened the game, I lost all my weapons save the starter gun. I am so sad. The levels I need to progress through require 7+ guns and now I only have the starter all the way down to level one. Most likely will stop playing since my weapon progress is all lost.
Good zombie game
Dollabill_Will
on
12/10/2017
This game is awesome good story line and weapons!!
Great game. But....
Game is really fun. But every time we get a update, it tells me update required. Than I can't play game for like a week. Which screws me out of my daily map rewards. Game is super fun.
I LOVE IT
gamingisnotacrime
on
12/10/2017
I really enjoy this game it is fun to play, but I wish the story had unlimited stamina for free.
Lots of fun
Addictive fast paced zombie slaying , much better then the original which also was a solid game
Great game but it gets too hot to play
I love the game. I have fun playing the game. The only problem I have been experiencing is that my iPhone 7plus keeps getting extremely hot when I play this game. I can only play for like 5 minutes at any time before i have to stop because my phone has gotten too hot and he controls don't respond very well.
THIS is the Zombie game you want to Download
Mucky Pup NYC
on
12/8/2017
THIS is the Zombie game you want to Download! It's A First Person Shooter with amazing graphics, control and gameplay. Aside from the very rare zombie flying off a truck into the sky there are NO glitches to speak of. You can play for Free (no, really) though it certainly helps to buy upgrades as they come in handy - weapons can be leveled up, extras purchased, etc. A MUST Play for FPS, Walking Dead and Survival Horror Fans
Fun and addictive
killer-christopher82
on
12/8/2017
Very hard at times and gets your heart rate up! I get very mad at times! But that makes it a good game and more satisfying when I win‼️
Pretty cool
I like how this one has an actual story. Last mine was Kinda boring but this ones way better, keep up the good work 🙂
Bags
Jooey bagodonutz
on
12/4/2017
Nice game, but losing interest. There have been a few blank screens after watching ads for loot..powered off came back and lost that loot ...then a frozen store screen after getting the dog and needing dog food Several restarts didn't clear it, so I deleted the app, now I've lost progress and the dog,....need to rerun the level I guess ....stuff in the inbox is non retrievable as well, The daily challenge is nice
All requirements met notice
Once you've unlocked the final level, it sends you a pop up letting you know you've unlocked it multiple times (seems to be once a day upon ending a different level) please make it pop up only once
Loads of fun
Good game to come back to daily
TOO MUCH FLASH
Lower the flash when getting loot boxes and kills from the daily challenge. It hurts my eyes to play this games
Game starts good but fizzles out quick
Mike Skincarver
on
12/3/2017
Zombies that can run to cut off your movement is ridiculous.the ability for the zombies to reach out and grab you if your even in the general vicinity is a frustrating mess. the dog runs around zombies putting you in danger during a reload.no reload button for guns with one bullet in the magazine.could have been better with potential but in the end another mediocre addition
Help
TheresaProffitt
on
12/2/2017
A good idea for a game but needs a little more challenging levels and a good idea for the game
REALLY GREAT GAME BUT IT DELETED ALL MY GUNS
Sushi_Boss1261
on
12/2/2017
First let me start off with this game is very good it's well made and easy to use. It's engaging for any player and works well with my device. But I️ recently came into a problem yesterday where I️ opened the app and I️ looked into my weapons section and all of my guns progress was reduced back to as if I️ just downloaded the game. Weirdly my story progress has been saved but my gun progress hasn't. How can I️ fix this.
To developers
Korban Dallas
on
12/1/2017
Game is very fun, but lack of ammo makes it very boring to play. Give us more ammo otherwise game becomes just annoying. Tons of zombies but no bullets to have fun.
Good game, now unplayable
No Contact information
on
12/1/2017
Since replacing my phone this game insists that I need to update as a "new version is required" however it's updated to the most current version of the game. It's now unplayable, it won't let me play at all. I don't want to reinstall because I'll lose all my progress (only 3 levels left!) please fix!
Good Game
This game is a lot better than the first one. Had a serious problem with my profile. Customer Service took care of it very quickly. My only complaint is that when I watch a video for the extra " loot bag " when there is parts that are worth watching for and that I truly need. The screen always freezes at the very end of the video. But when there are crappy parts for weapons I don't even use. It mysteriously works fine.
Piece of crap
You have to pay to the get the good guns they show in their video, graphics look half as good video shows and it is full of glitches such as you hitting an invisible wall or zombies walking out of trees etc. or every once in a while your guys auto aim will aim at a zombie to the far left of the screen and not the zombie right in from of you. So I will recommend finding another game.
Great but.
I bought the VIP membership package for 9.99 a month. Just today I'm experiencing a major glitch can't control my guy and shoots randomly it's a major bug needs to be fixed please. Thanks
Good Game but be prepared to pay
Felicia Phillips
on
11/30/2017
Like the game but even after spending 4.99, i'll have to spend a lot more to go further. I miss paying one price for a game instead of having to repeatedly pay money to level up to the next weapons. I'll not be playing anymore because I won't be spending anymore money and can't progress without higher level weapons. This game is nothing but a money pit and it's buggy. i'm out.
Love it but lots of places to get stuck and die
Whizzing wizard
on
11/30/2017
I've played for a month now and have manly died from getting stuck on barriers or houses and not being able to move and dieing.
Epic
The best game at the app store
Awesome game overall
Christopher La Vende
on
11/29/2017
Great mechanics, updated music is a subtle touch along with other new features and optimizations. I've had the game since launch and all major bugs have been ironed out
Not perfect but very fun and nice
Treadmilloo
on
11/29/2017
Graphics and Atmosphere: beautiful and it has a really creepy vibe at same time very well done Sounds and music: eerie and good quality Gameplay: Simple yet very fun Story: nothing absolutely amazing but decent Progression: random loot boxes which I am NOT a fan of but I can say these are WAY more reasonable than most. It tells you exactly what you can expect (which is only a few items per box, not too many) and the percent drop rates and loot boxes aren't hard to come by. It's actually possible to succeed without an insurmountable amount of play time. It's sad that this FREE app has a way more fair loot box system than $60 AAA games like call of duty and battlefront 2, etc
Fantastic Game
Theblackrhino
on
11/28/2017
Try it out! Its a blast
Fun game
tysean harold
on
11/28/2017
This game is awesome but they just need to make some changes It doesn't have no lags u don't need wifi I think it's just straight up awesome and I'm a kinda person who plays a game and moves on I had this game for a a week no or maybe 3 day idk but it is awesome and lit From.tysean Harold Shoutout to my dad for being my favorite person and he came when I needed help if u see him tell him I said hi his name is russel Harold
Fact Sheet
Publisher:

Prodigy Design Limited T/A Sidhe Interactive

Category:

Games

Released:

Oct 11, 2017

Current Version Released:

Dec 10, 2017

Version:

1.2

Size:

757.3 MB

Compatibility:

Requires iOS 9.0 or later.

Recommended Age:

17+

Game Center Certified:

No

Supported Devices:

iPhone5s-iPhone5s, iPadAir-iPadAir, iPadAirCellular-iPadAirCellular, iPadMiniRetina-iPadMiniRetina, iPadMiniRetinaCellular-iPadMiniRetinaCellular, iPhone6-iPhone6, iPhone6Plus-iPhone6Plus, iPadAir2-iPadAir2, iPadAir2Cellular-iPadAir2Cellular, iPadMini3-iPadMini3, iPadMini3Cellular-iPadMini3Cellular, iPodTouchSixthGen-iPodTouchSixthGen, iPhone6s-iPhone6s, iPhone6sPlus-iPhone6sPlus, iPadMini4-iPadMini4, iPadMini4Cellular-iPadMini4Cellular, iPadPro-iPadPro, iPadProCellular-iPadProCellular, iPadPro97-iPadPro97, iPadPro97Cellular-iPadPro97Cellular, iPhoneSE-iPhoneSE, iPhone7-iPhone7, iPhone7Plus-iPhone7Plus, iPad611-iPad611, iPad612-iPad612, iPad71-iPad71, iPad72-iPad72, iPad73-iPad73, iPad74-iPad74, iPhone8-iPhone8, iPhone8Plus-iPhone8Plus, iPhoneX-iPhoneX,

Supported Languages:

Danish; Dutch; Flemish; English; Finnish; French; German; Indonesian; Italian; Japanese; Korean; Malay; Bokmål, Norwegian; Norwegian Bokmål; Portuguese; Russian; Chinese; Spanish; Castilian; Swedish; Thai; Chinese; Turkish; Vietnamese;

Parental Advisory:

Suggestive Themes; Mild Profanity or Crude Humor; Intense Cartoon or Fantasy Violence; Fear Themes; Intense Realistic Violence;