This version of the app is not recommended
App last updated
May 04, 2017
Screenshots
Description
Import your favorite Mp3 Music to your drives and listen anytime anywhere! Play OFFLINE, No LIMITS!

Feature:
-Import music from all popular cloud services - Dropbox, Google Drive, OneDrive or From your Computer.
- Full-featured music player
- Start listening in one tap
- Background play supports
- Create and manage playlists
- Shuffle and repeat playlists
- Lockscreen control support


SUBSCRIPTION PRICING & TERMS
We offer 2 auto-renewing subscription option:
- Subscriptions are from $4.99 USD monthly with 7 days free trial and $1.99 USD weekly
- Payment will be charged to iTunes Account at confirmation of purchase
- You will be able to access full feature of the app for the duration of the subscription
- Subscription automatically renews for the same price and duration period as the original "one week"/"one month"/ unless auto-renew is turned off at least 24-hours before the end of the current period
- Account will be charged for renewal within 24-hours prior to the end of the current period at the cost of the chosen package (weekly, monthly)
- Subscriptions may be managed by the user and auto-renewal may be turned off by going to the user's iTunes Account Settings after purchase
- No cancellation of the current subscription is allowed during active subscription period
- You may cancel a subscription during its free trial period via the subscription setting through your iTunes account. This must be done 24 hours before the end of the subscription period to avoid being charged. Please visit http://support.apple.com/kb/ht4098 for more information
- You may turn off the auto-renewal of your subscription via your iTunes Account Settings. However, you are not able to cancel the current subscription during its active period
- Any unused portion of a free-trial period, will be forfeited when the user purchases a subscription

Read our full Terms of Service and our Privacy Policy at
http://inventiveapps.com/policy/privacy_policy.html
iPad Screenshots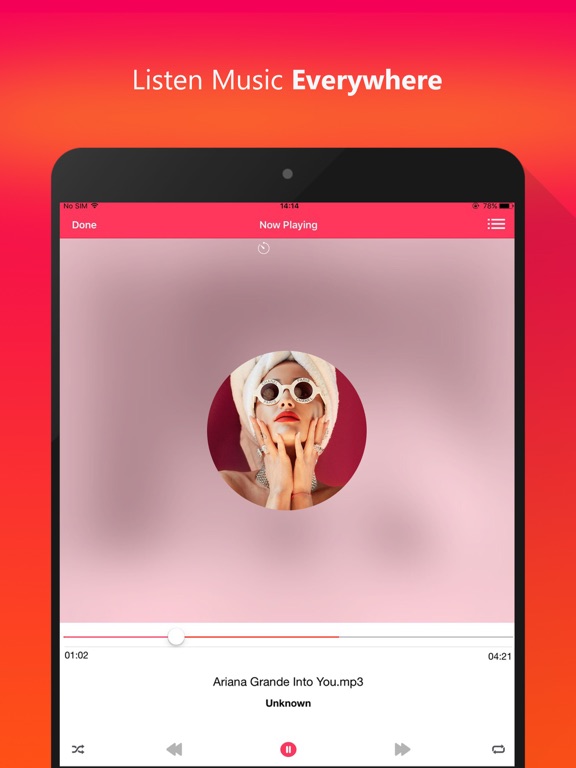 Reviews
Terrible
DERP Narwhal X3
on
1/21/2018
It was terrible, it would only let me in the app only if I did a subscription. No like!
Uh...
Can't even see the app without paying bro.....
Boo
Emily LaTaylor
on
12/22/2017
Makes you start a trial when you open the app or pay without ever seeing the app
Purchase
I didn't purchase this app and I am wondering why it's on my card?
Bad
Cadenfry200713
on
11/16/2017
It says it's free but to listen to music it says you have to pay for it
REALLY GOOD APP
Queen Dominicana
on
11/1/2017
Y'all this is the greatest music app invented . Pay free,plays offline , pays all the music you desire ,etc ! ( really useful app )
Bad
Trippencracy
on
10/26/2017
You can't use the app unless you pay. There's not even a mode that lets you only have like a small amount of song. Don't waste the time downloading.
Money?
Biomechanical
on
10/7/2017
This is supposed to be free😢😢😢😢😢😢😢😢😢
You have to pay to use the app?
I thought it was free, what a terrible app. You can't even use it until you buy something.
Very Misleading
ForwardMotion
on
10/1/2017
This is not a free app. You can get 7 days for free and then must pay $4.99 a month or skip the trial and pay $1.99 a week. Very disappointed, I'm not paying a monthly fee to listen to my music that I've already paid for.
Trash
Trippy Niqqas
on
9/15/2017
You need like to pay
Not free
Imaginary Ambition
on
9/8/2017
This app is not free maybe for the first week but then automatically charges you so for me wouldn't recommend rather have a Spotify premium account than this
READ BEFORE YOU DOWNLOAD
Smileykwjsjshsjsjjs
on
9/6/2017
It ask you to do a free trial or buy for a subscription TO ACTUALLY USE THE APP. You cant even use it without putting your credit card in. DONT DOWNLOAD
Worst App I've Ever Tried
This is a joke? It's free but u gotta pay for a package. Not The Best App.
For only $5 a month...
I can listen to my own music? Quickly deleted this "free" app.
Drains battery
Angel of darkness 🚫🚫
on
8/6/2017
I downloaded the app and my battery is or was at 100% and then as soon as opening it it drains my entire battery to 20% which in apple device is low battery.
Free?
No way it's paid for som premium user.
Free?
A wanna be DJ
on
7/27/2017
As soon as the "free" app starts you are asked to pick a package which if you don't cancel after the allotted time you will be charged either the weekly or monthly charge & if you don't pick one of the packages you can't even enter the app to see what it's all about before you decide if you want to keep it or not because they want you to pick one of their packages in hopes that you forget that you've entered your payment info then end up like a friend of mine did being charged every month because she didn't know how to stop it until I showed her.. This is crappy tactic by money hunger thugs..!
Not Free!
You can either pay $2/week or $5/month No other options
Free??
This thing is not free
Maybe?
I know this is kinda a me problem some younger people (like myself) have restrictions set on in app purchases. This is my problem, but I really don't like the fact you need to start a free trial or something to listen to music. If it didn't have this, I'm sure it'd be fine with me. I can't seem to find a music app that works for me for this reason.
THEY MAKE YOU PAY
THEY MAKE YOU PAY SCAMMERS!!
Uhm...
I Always Ball out
on
7/3/2017
I don't want a free trial, I don't want to start a trial, I can't restore anything, I DONT WANT TO PAY FOR ANYTHING! Will you guys please let me run the app free please
Suggestion as an update!!!!!
mrkillerdead2
on
7/2/2017
So you seem very good with this app playing music but it would be better if we could not only import, but EXPORT too. Please read this and thank you for this app. I appreciate it and hope for the best of luck to you. Also it won't let me play offline music. I have the iPhone 6s +. Please help and thanks
Glitch
Will give 5 stars once app is updated will not continually play songs
*What*
~random.......~
on
6/23/2017
I would usually read the reviews before actually buying the app, since there was no complaints about the payment they made me do so I purchased the app.When I purchased the app they told me to pay such amount of money to pay music and event tho I kept pressing restart nothing happened. So for all those who are going to buy the app you must pay a payment to play ⚠️
😐😐😐
Video star ⭐️
on
6/13/2017
After reading all the reviews this app was loading I stop it and I do not won't this app😡
Horrible
If u r trying to find free music don't use this one it makes u pay money to work
No good
Merehunter45
on
6/11/2017
This app is honestly the worst! You can't do anything on it unless you pay $4.99 a month. And even then, the music you want is dated and it's all crappy remixes. This app needs to be shut down, it's a real disappointment...
STUPID APP
I wish I could give 0 STARS this IS horrible NOBODY WANTS TO PAY FOR MUSIC$&@!?
You need to pay to use
You need to pay to use
Google Drive Incompatible
Cloud music doesn't seem to support all clouds. Can't move beyond the Google Error: 503 - Error: disallowed_useragent.
Not free
Only a 7-day free trial. Deleted.
Glitch, Please fix
LaZEE&FaBJous3
on
5/28/2017
I loved this app, however, now there is this glitch. I can't continuously play songs on a playlist, I have to keep going back into the app and hitting play. I also cannot control the songs from my lock screen. (It doesn't even show up). Once this glitch is fixed, this will definitely be a five star app.
Playlist problems
This app is great but on recent issue I've had is that playlists will only play one song and then stop.
I don't like it
Cyberbullong😰
on
5/16/2017
You can even barely experience the app because I have restrictions on my iPad so that I can't make in-app purchases so I HAVE to start the free trial but I can't so I keep trying to reopen the app and all I get is the same thing I see the app for half a second then the thing pops up like ugh please fix it so you can X out of it pleas
Complete garbage
Got the app doesn't even work unless you pay
Eh
TwoNumberNines
on
5/15/2017
Music doesn't play automatically and after doing it once, I can't import from any other service. Fine besides that
useful
Fathibaihaqi
on
5/12/2017
this app is very good for those who have google drive/dropbox!!! very much recommended. and u can save unlimited songs here... but lately it doesnt work properly such as when i went out of the app it stops playing the next music and sometimes when i clicked on a song the app crashes
Cfffgvv
Cccxxdgvx fgcggg dabble hbbn aged agb. Uhbbmf ugvbv hatch vxvv hbvnv hbvn
BIG ISSUE
Ash_Dragneel
on
5/10/2017
the songs will stop playing most of the time and it doesnt allow me to change a different song by accessing on the homepage, the recent update made it even worse than it is before
Terrible
Worst app you can buy for music for kids because you need to enable in-app purchases and the your kid somehow get ahold of you Apple ID password and buy a bunch of things in there game
Playlist problems
Ever since the latest update my playlist won't keep playing after my screen on my iPhone times out have to get back into my phone to select next song never did this until the update please fix this and get us a new up date thanks.
Perfect
Perfect application love it.
Pretty good
Cooper.dowling
on
5/8/2017
It works
Great but...
Pikachiforprez
on
5/8/2017
Okay so i got this app about a month ago and it works perfectly. However i noticed three days ago that if i were to leave the app to play by itself it will not play any music unless i do it manually.
Deleted right away
They make u write a review before u can listen the any of ur music because after u download all ur music to the "cloud" they make u sign up for a "plan" kinda shady
Da booty best
Awesome app
Xx
Good stuff, wish it would be better to manage
Fact Sheet
Publisher:

Farhana Kabir

Category:

Music

Released:

Sep 20, 2016

Current Version Released:

May 04, 2017

Version:

1.2

Size:

27.3 MB

Compatibility:

Requires iOS 8.0 or later.

Recommended Age:

9+

Game Center Certified:

No

Supported Languages:

English;

Parental Advisory:

Suggestive Themes;