Games
Word
Entertainment
Board
Recommended app!
App last updated
Jan 19, 2018
Screenshots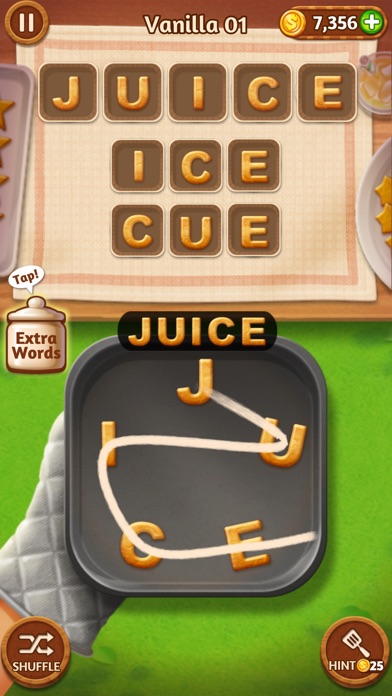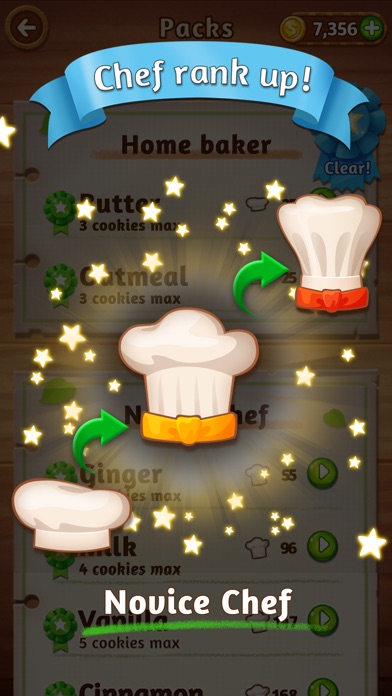 New in version 2.5.5
- Added new 20 levels

Always thank you for your feedback.
Swipe and find tasty word cookies to be the best chef!

Thank you!
Description
The best word searching puzzle game "Word Cookies" is here!

Word Cookies is a simple. yet, exciting word searching puzzle game that literally makes you keep playing!
Are you ready to find all the delicious word cookies at your kitchen oven?
Embrace your brain power as you discover the words.

The aim of the game is to find all of the hidden words.
With this game you can easily improve your vocabulary, concentration and spelling skills.

HOW TO PLAY
• Simply swipe along the letter shaped cookies to form a word (or more).
• If you manage to spot a valid word it will remain highlighted on the word list as found.
• Some words are left hidden so don't hesitate swiping everywhere!

FEATURES
• Discover hidden words from mixed letters.
• Find derived words from main words and develop your brain & vocabulary skills.
• Simple and Easy!
• Daily bonus rewards
• Great exercise for the brain
• NO TIME LIMIT
• NO WIFI? NO PROBLEM!
- You can play offline in anytime.
• TONS OF UNIQUE LEVELS
- New updates are always on the way!

NOTES
• "Word Cookies" contain ads like banner, interstitial and video ads.
• "Word Cookies" is free to play, but you can purchase In-app items like  AD FREE and in-game currency to buy hints alike.

E-MAIL
• contact@bitmango.com

HOMEPAGE
• http://www.bitmango.com/

Like us on FACEBOOK
• https://www.facebook.com/wordcookiesofficial

Thanks for playing!
iPad Screenshots
Reviews
It's great
considerit123
on
1/23/2018
I love it
Great Game
Great word game very entertaining!
I like this game but...
Hate that the main words are not food related anymore.
Da1ugot2love
Da1ugot2love
on
1/23/2018
Word cookies is an amazing game. Keep me alert, challenging and fun!
Would love LESS ads and MORE levels
I really enjoy this game, but the CONSTANT ads are super annoying. Every time you leave the game screen (ex: to check a text), you're greeted by an ad upon returning to the game. It's very annoying. I love the cookie jar feature that helps you collect coins to redeem for hints. I just really wish this game had more levels! 😡 I've beaten all current available levels, but it'll be WEEKS before they come out with the next one. When a new level is released, I can easily beat it in one day. In the meantime, I just log in each day for my daily spin to earn free coins. With today's technology, I don't understand why they can't easily generate more levels. If this doesn't change soon, I'm about to drop this app and find a new one that provides more levels.
Brain teaser
Great game and very addictive. I enjoy it very much.
Word cookies
glittergirl3442
on
1/23/2018
I just started playing but I love the app so far😍😍😍🦄🦄🦄😍😍😍🦄🦄🦄😍😍😍
Word cookies
Worthy matron
on
1/23/2018
Love it
Fun
Fun but need a lot of coins if you get stuck.
Habitforming
Can't stop playing!
Good game
I like playing this game
Love it!
kiara_debarros0223
on
1/23/2018
It's fun. It gets more complicated as you work your way up to the next level. It passes time easily! I love this game
Word game
Carmel from shop
on
1/23/2018
It challenges your brain. Earns you points. Gives you something to do besides putting your nails. Thank you word game!
Love this game!
Fun Game!
Deleted it
M&M's in MeMe
on
1/23/2018
Fed up with the ridiculously frequent intrusive ads.
Word cookies
ladya1234620
on
1/22/2018
This is a game of surprise, new word all the time and I love this game I wouldn't play no other unless it had something to do wit word cookies..alway an A from me
Fun word game
Enjoyable for those that like word scrambles.
Challenge
I love this game! It's simple yet provides me with a challenge
Challenging
Cool game ghost challenges your brain.
Superb
I love playing this game, help me to relax after a super long stressful day it's also super addicting
Word Cookies
Doc1313132313
on
1/22/2018
Great game. Crashes way too much.
Super fun
I just download this app and it's super fun so far!!
Great word game
I love the cookie jar for extra coins. I like how challenging it is level by level. Can be addictive!
Word Cookies
AGrammaAngel
on
1/22/2018
Great game
Linda
Lots of fun. Keeps me thinking!
Cookies
I love your game 👌😀
Suggest
Would like to see boosters or collectibles
The Elise kilter
you are amasing
on
1/22/2018
Hi I love the game I'm playing the other day and it's a good thing for my sister and I to play it ❤️😜 Hope you like the message bye 👋
Relaxing
Great for unwinding at the end of the day or for playing with kids.
Word review
Fun and enjoyable! Relaxing!
Word fun
Fun game for those who like word games.
Love it
Great game, I got full version so no ads. Very addictive lol
Love it
I just can't stop playing it!!!!❤️❤️❤️🤘👍🤘
Nice game
This is a nice game I really like it but you should make the hints less coins cause they are a lot but anyways thank you for creating this game I love you and I want to make out with you wait forget that last part but anyway live❤️❤️😊😊😊😘😘😘😍😍😍😗😗😗😘😘💋💋💋👙👙👙🍆🍆🍆🍆🍆🍆🍑🍑🍑🍑🍑🍑🍆🍆🍆🍆🍑🍑🍑🍑🍆🍆🍆🍆
It's great
Lovleystarxox
on
1/22/2018
I like it
Word cookies
Thought this would be too easy but it's making me think. Am enjoying this game.
The best thing to do
I'm not sure if you want to play
Great
ffshssvddfsjs
on
1/22/2018
This is a fun game. Me and my family play this together All the time. I like to play this when I am bored to get a education s little bit
Amazing game!ill never stop playing it
Someone you dislike xD
on
1/22/2018
I love this game so much I play it when I'm bored and it's a great puzzle for your brain
WOW!!
SavageReviewer7
on
1/22/2018
This app is amazing!!
Ads
Good game, but has a lot of ads
Great learning tool!
Noland Dental
on
1/22/2018
Awesome!
Fact Sheet
Publisher:

BitMango Corporation

Category:

Games

Released:

Dec 11, 2016

Current Version Released:

Jan 19, 2018

Version:

2.5.5

Size:

135.9 MB

Compatibility:

Requires iOS 7.0 or later.

Recommended Age:

4+

Game Center Certified:

No

Supported Languages:

English;