TapNova recommends this app!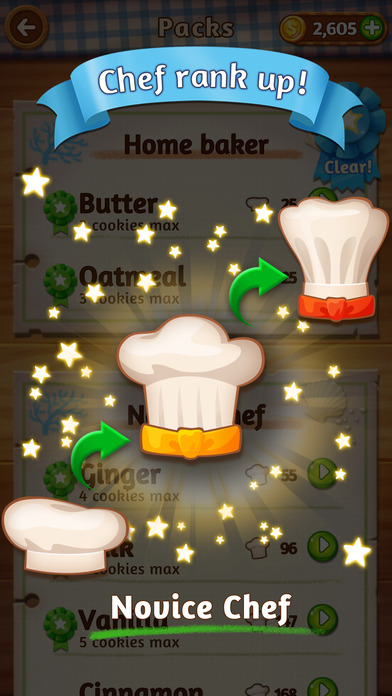 New in version 1.4.3
Version 1.4.3 Note

• Added 20 levels.
• Bug fix.

Always thank you for your feedback.
Swipe and find tasty word cookies to be the best chef!

Thank you!
Description
World's best words puzzle game "Word Cookies"

This is a new word puzzle game created by BitMango, the creator of HIT app, Roll the Ball™ - slide puzzle and Block hexa puzzle !

Word Cookies is a very fun and exciting word puzzle game,
it makes you keep playing for FREE!

The aim of the game is to find all hidden words.
With this game you can easily improve your vocabulary,
concentration and spelling skills.

The KING of BRAIN TEASERS!
Do you enjoy the word puzzle games?
Do you like cookies? Do you like challenge?
Here comes the perfect game for you, Word Cookies!

Are you ready to find delicious words cookies at your kitchen oven?
Embrace your brain power to discover words.

HOW TO PLAY
• Words can be vertical, horizontal, diagonal and even backwards.
• Simply swipe your finger over a word to select it.
• If you've found a valid word it will remain highlighted and marked on the word list as found.

FEATURES
• Discover hidden words from mixed letters.
• Find derived words from main words and develop your brain & vocabulary skills.
• Visually pleasing to play cookies in various kinds!
• Feel achievement with Increased point by making more cookies!
• Simple and Easy!
• Daily bonus rewards
• Free 200 coins payments, at the first game
• Great exercise for the brain
• Support both Phones and Tablets.
• FREE Update!

• EASY AND FUN PLAY
- Easy to learn and fun to master gameplay

• NO TIME LIMIT
- Enjoy game for any time, anywhere and a short time.

• NO WIFI? NO PROBLEM!
- You can play offline in anytime.

• TONS OF UNIQUE LEVELS
- 32packages and over 580 awesome levels! Updates will be continued!

NOTES
• Enjoy the game with various devices (Phones and Tablets).
• "Word Cookies" contain ads like banner, interstitial, video and house ads.
• "Word Cookies" is free to play, but you can purchase In-app items like AD FREE and packages.

E-MAIL
• contact@bitmango.com

HOMEPAGE
• http://www.bitmango.com/

Like us on FACEBOOK
• https://www.facebook.com/BitMangoGames

Thanks for playing!
iPad Screenshots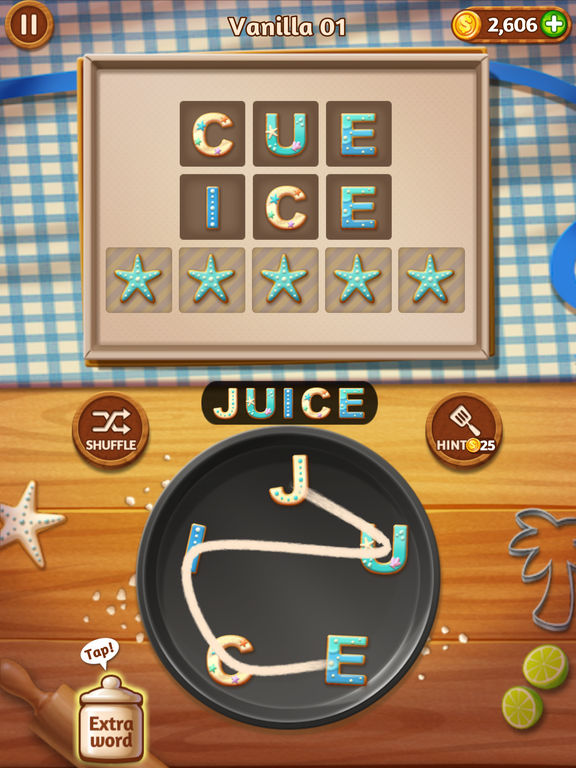 Reviews
Awesome!!
High school skinny achiever
on
7/24/2017
I saw my friends playing Word Cookies and I thought it was a really fun game when I was playing with them!! So then I decided to get it! It is a really fun game I enjoy playing it even though I just got it!!!
Word cookie
DragonKing15
on
7/24/2017
It's a good game
Challenge
Love games that challenge me with a point! Tests my vocabulary
Fun but to many adds
mlgemily1018
on
7/24/2017
This is a good brain workout but... the adds. I got an add that was 30:00 minutes long!!! This would have been a five but the adds took away the two. Please fix the adds.
Great game
Great thinking game
Addicted
This game is addicting and fun... Great brain game! Challenges you!
Very fun
Malaysia Paris
on
7/24/2017
I go on road trips and this is a very exciting game to play while in the car for numerous hours
Brain work
Bismark Five
on
7/24/2017
I like the fact that it makes the brain think!
Fun
Asseymcgarrett
on
7/24/2017
Fun
AMAZING!!!!!!!!
I love it barely any ads
Very entertaining
Great alternative to social media!
Fun game
Texasfireman
on
7/24/2017
Really enjoy it
Word cookies
Tattoomom1018
on
7/24/2017
It's pretty good. Can get frustrating. To many ads
Too many adds
Great fun game but ads after every level!!!
Each new upgrade makes it better
Sometimes there are words that exist the the app doesn't acknowledge. Sometimes the 3 letter word completion gets old. I wish I could choose where I want to use the hint.
Great game
If you're not sure if you should download it let me give you my opinion it is a great game it's so addicting and a fun Way to work your brain
Good
It's a pretty good game
Really fun
Love this game!
Fun and easy
All the words in the game are really esay
This game is amazing
Deejlover1122
on
7/24/2017
I really appreciate the creators because this game gives you so much more energy
Awesome
Fun game and stress reliever
Love this game.
Love this game. Keeps me and my son on our toes! He gets to practice his spelling while playing an app!
Way too many ads
Very well designed and addictive but deleted it because of the incessant ads popping up way too often.
Good game
This game is fun and entertaining to pass the time.
Fun
Bellamelinda
on
7/24/2017
Fun to play
Y'all playing yourself
Dinkleburg666
on
7/24/2017
I'm only writing this review so I can get 50 coins
Good for kids with word retrieval challenges
Great game
Love this game
Shalynistheboss
on
7/24/2017
This game is my new favorite game now I love this game to death it's teach you new words so 10 out of 10
Barman Review
YrrabTnamhcuoC
on
7/24/2017
Great app! Makes you think and lots of fun.
Amazing
Bestgamesever
on
7/24/2017
Best app ever
Love this game
Love this game
Time killer
It's a great time killer because if I get bored I got something to play with and it's a very good addicting game
Word cookies
Chicky and maddy
on
7/24/2017
Great game but too many commercials interrupting the game. You can be distracted and leave the game to buy from other sites. I don't think the developers would appreciate that. Right?
Fun
joey bucktooth
on
7/24/2017
Cool to build brain power
good
LackadaisicalLauryn
on
7/24/2017
i just rated to get coins
Lots of fun
Definitely humbled you sometimes on simple three letter words. Very addictive
love ittt
i absolutely love this app, i use it all the time ❤️
Fun!
Ginamarie1080
on
7/24/2017
For all ages!
Fun and exciting
This game is good for kids because it lets them concentrate and learn more words
Something to pass the time
Cute and something to pass the time when your waiting.
Fact Sheet
Publisher: BitMango Corporation
Category: Games
Released: Dec 11, 2016
Current Version Released: Jul 12, 2017
Version: 1.4.3
Size: 110.6 MB
Compatibility: Requires iOS 7.0 or later.
Recommended Age: 4+
Game Center Certified: No
Supported Devices: iPhone4-iPhone4, iPad2Wifi-iPad2Wifi, iPad23G-iPad23G, iPhone4S-iPhone4S, iPadThirdGen-iPadThirdGen, iPadThirdGen4G-iPadThirdGen4G, iPhone5-iPhone5, iPodTouchFifthGen-iPodTouchFifthGen, iPadFourthGen-iPadFourthGen, iPadFourthGen4G-iPadFourthGen4G, iPadMini-iPadMini, iPadMini4G-iPadMini4G, iPhone5c-iPhone5c, iPhone5s-iPhone5s, iPadAir-iPadAir, iPadAirCellular-iPadAirCellular, iPadMiniRetina-iPadMiniRetina, iPadMiniRetinaCellular-iPadMiniRetinaCellular, iPhone6-iPhone6, iPhone6Plus-iPhone6Plus, iPadAir2-iPadAir2, iPadAir2Cellular-iPadAir2Cellular, iPadMini3-iPadMini3, iPadMini3Cellular-iPadMini3Cellular, iPodTouchSixthGen-iPodTouchSixthGen, iPhone6s-iPhone6s, iPhone6sPlus-iPhone6sPlus, iPadMini4-iPadMini4, iPadMini4Cellular-iPadMini4Cellular, iPadPro-iPadPro, iPadProCellular-iPadProCellular, iPadPro97-iPadPro97, iPadPro97Cellular-iPadPro97Cellular, iPhoneSE-iPhoneSE, iPhone7-iPhone7, iPhone7Plus-iPhone7Plus, iPad611-iPad611, iPad612-iPad612, iPad71-iPad71, iPad72-iPad72, iPad73-iPad73, iPad74-iPad74,
Supported Languages: English;