Screenshots
New in version 2.4.2
- Bug fix
- Add a new feature, free coins video

Thank you!
Description
The best word searching puzzle game "Word Cookies" is here!

Word Cookies is a simple. yet, exciting word searching puzzle game that literally makes you keep playing!
Are you ready to find all the delicious word cookies at your kitchen oven?
Embrace your brain power as you discover the words.

The aim of the game is to find all of the hidden words.
With this game you can easily improve your vocabulary, concentration and spelling skills.

HOW TO PLAY
• Simply swipe along the letter shaped cookies to form a word (or more).
• If you manage to spot a valid word it will remain highlighted on the word list as found.
• Some words are left hidden so don't hesitate swiping everywhere!

FEATURES
• Discover hidden words from mixed letters.
• Find derived words from main words and develop your brain & vocabulary skills.
• Simple and Easy!
• Daily bonus rewards
• Great exercise for the brain
• NO TIME LIMIT
• NO WIFI? NO PROBLEM!
- You can play offline in anytime.
• TONS OF UNIQUE LEVELS
- New updates are always on the way!

NOTES
• "Word Cookies" contain ads like banner, interstitial and video ads.
• "Word Cookies" is free to play, but you can purchase In-app items like  AD FREE and in-game currency to buy hints alike.

E-MAIL
• contact@bitmango.com

HOMEPAGE
• http://www.bitmango.com/

Like us on FACEBOOK
• https://www.facebook.com/wordcookiesofficial

Thanks for playing!
iPad Screenshots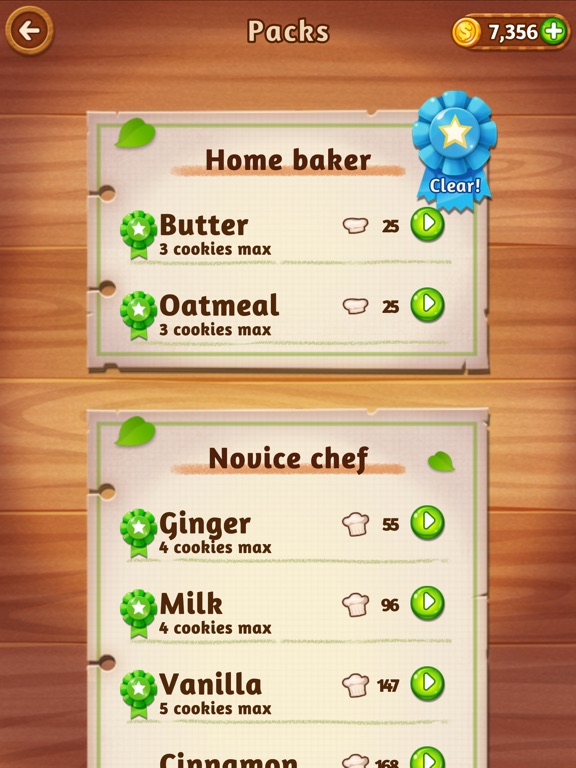 Reviews
Absolutely amazing game
KeetahSmeet
on
11/18/2017
Good for anyone who loves word games
Fun
Assfhhbjinnc
on
11/18/2017
Fun
Cookies
Game is entertaining
nice
βℓαcκ мαттɛ
on
11/18/2017
nice
Addicting!
If I could I would play this game for hours on end!
Word Cookies
Chaney.warren
on
11/18/2017
Love love love!!! It is so addicting and I play all throughout the day.
WORD COOKIESIS THE BEST
AMANI MARIE BARNES
on
11/18/2017
IT IS EASY AT THE BEGINNING AND THEN IT GETS MORE CHALLENGING SO THAT IS WHY I LOVE PLAYING WORD COOKIES
Great game!!!
Awesome game!! Too many interruptions though.
Addicting 🍪
But so far this game is my favorite it's so addicting. Sometimes it can get a little frustrating with the words. But also a complaint for is the ads they are annoying and get in my way. Each time I have to swipe out of the game. :)))
Word Cookies!
awkotacobabe
on
11/18/2017
I think that this game rocks and it is fun to put words in the boxes on the cookie tray!!! I like the way the boxes are set up, that I have to fill them in, and then I have to use all the letters to make words! This is a fun game indeed!!! ❤️❤️❤️❤️❤️💙💙💙💙💙💕💕💕💕💝💝❤️❤️❤️❤️❤️❤️❤️❤️❤️❤️❤️❤️❤️❤️❤️❤️❤️❤️❤️❤️❤️❤️❤️❤️❤️❤️❤️❤️❤️❤️❤️❤️❤️❤️❤️❤️❤️❤️❤️🍪🍪🍪🍪💕💙💝
Decent time passer
Starts pretty basic but gets more difficult. Quite addictive actually!
Love it
Tatianasparkles
on
11/18/2017
Great game
Epic game!
I love spelling
Love This Game
taylorgame843
on
11/18/2017
Really would recommend this game to my children!!!
It's cool!
Jimbo McKimbo
on
11/18/2017
I like it a lot, makes my brain work. Only thing I don't like is the ads :/ other than that it's awesome. Had me and all my friends stumped
Enjoyable
So far I have enjoyed this game. The words are pretty easy to figure out
Really fun
Billy Bob the mountain goat
on
11/18/2017
This is my go to game for long car trips without using data and for when I'm just really bored👏👍🏻🤙🏻
Great game
Katieleigh42
on
11/18/2017
Great l game, I love it! They miss out on a lot of words even though you can gain coins for finding words that aren't actually used as words, but otherwise it's a good game! Ads aren't as bad as some reviews make it seem--they have to pay for the game somehow and they're only up to 30 seconds and you can exit out of them.
I'm addicted to this game
I play word cookies all the time
Great
Giovanni 1977384927
on
11/18/2017
Game runs good on iOS.
Words
You think it should be easy, but is great fun. It makes you think. Then you need to look up definitions of some words.
Hard but challenging
Sweetbesos95
on
11/18/2017
Exciting new way to think of words or even expand your vocabulary. Requires thinking skills! Absolutely love and addicted to this game
Game is fun and stretches your brain!
Mastagirlll
on
11/18/2017
This game is great and is a nice challenge for the family. 💕
I loved this game
Lovestar23489
on
11/18/2017
I am just at level 3 as I downloaded it and lovin it I hope for word cookies 2
Love it!!!
EveeLoveGamer23
on
11/18/2017
This is a great way to spend ur time! I love this app! I bet each update will make it better and make me like it even more!!! Sayō nara! That mean goodbye in Japanese! 💩💩💩💩💩💩💩💩
I love word games
This is a winner!
It's Great
Cookiechanp
on
11/18/2017
Cool
Word addiction game!
Emmy Kaitlyn
on
11/18/2017
I love this game so much! It really helps challenge you to figure out words. Lol I often find myself addicted to playing this game. It is really fun I would definitely recommend it! :)
This is an awesome game!!!
Lady cakes eb
on
11/18/2017
I love this game. I do recommend it and I think anyone else will love it. It's not too hard to figure out the words. It's also good for kids!
An obsession for the whole family
All Us Moodys
on
11/18/2017
My two sons and husband are obsessed with this game. It has become something they all do together. Such an unlikely little app to bring a family closer.
Awsome gAme
Crazy chrixxy
on
11/18/2017
This game is fun and addicting 💜
Word cook
Olivia Oathout
on
11/18/2017
Very fun game! Just downloaded it and I'm having a blast! Will be checking out more games created by this company!
Love this app
Moister-gooser
on
11/18/2017
This is a amazing app
Fun and addictive
Very fun but kinda boring after a while
Love it
Chuck.Horigan
on
11/18/2017
Consistently challenging and some special events add to the fun.
game
this game is awesome but
on
11/18/2017
this game is awesome but there are too many ads popping up
Dumb
😎🤓😎🤓😎🤓😎🤓😎🤓😎
on
11/18/2017
Stupid and dumb
Word Cookies
Aaliyah the Frointier
on
11/18/2017
Word cookies is a great game to play
Good
Grandma Chubb
on
11/18/2017
This game is a very educational for kid and adults to help with spelling! However the adds can be very annoying.
Meh
This game is pretty fun, but sometimes it's just to obvious.
Good game
Addictive but annoying ads
Love game, hate ads
barackobama1108
on
11/18/2017
The game is really fun. Sometimes I get really stumped and can't figure out the level! My only complaint is the ads which plays every other game. It gets annoying enough I am tempted to spend the $2 to get rid of them.
Fact Sheet
Publisher:

BitMango Corporation

Category:

Games

Released:

Dec 11, 2016

Current Version Released:

Nov 16, 2017

Version:

2.4.2

Size:

133.8 MB

Compatibility:

Requires iOS 7.0 or later.

Recommended Age:

4+

Game Center Certified:

No

Supported Devices:

iPhone4-iPhone4, iPad2Wifi-iPad2Wifi, iPad23G-iPad23G, iPhone4S-iPhone4S, iPadThirdGen-iPadThirdGen, iPadThirdGen4G-iPadThirdGen4G, iPhone5-iPhone5, iPodTouchFifthGen-iPodTouchFifthGen, iPadFourthGen-iPadFourthGen, iPadFourthGen4G-iPadFourthGen4G, iPadMini-iPadMini, iPadMini4G-iPadMini4G, iPhone5c-iPhone5c, iPhone5s-iPhone5s, iPadAir-iPadAir, iPadAirCellular-iPadAirCellular, iPadMiniRetina-iPadMiniRetina, iPadMiniRetinaCellular-iPadMiniRetinaCellular, iPhone6-iPhone6, iPhone6Plus-iPhone6Plus, iPadAir2-iPadAir2, iPadAir2Cellular-iPadAir2Cellular, iPadMini3-iPadMini3, iPadMini3Cellular-iPadMini3Cellular, iPodTouchSixthGen-iPodTouchSixthGen, iPhone6s-iPhone6s, iPhone6sPlus-iPhone6sPlus, iPadMini4-iPadMini4, iPadMini4Cellular-iPadMini4Cellular, iPadPro-iPadPro, iPadProCellular-iPadProCellular, iPadPro97-iPadPro97, iPadPro97Cellular-iPadPro97Cellular, iPhoneSE-iPhoneSE, iPhone7-iPhone7, iPhone7Plus-iPhone7Plus, iPad611-iPad611, iPad612-iPad612, iPad71-iPad71, iPad72-iPad72, iPad73-iPad73, iPad74-iPad74, iPhone8-iPhone8, iPhone8Plus-iPhone8Plus, iPhoneX-iPhoneX,

Supported Languages:

English;