This version of the app is not recommended
App last updated
Nov 15, 2016
Screenshots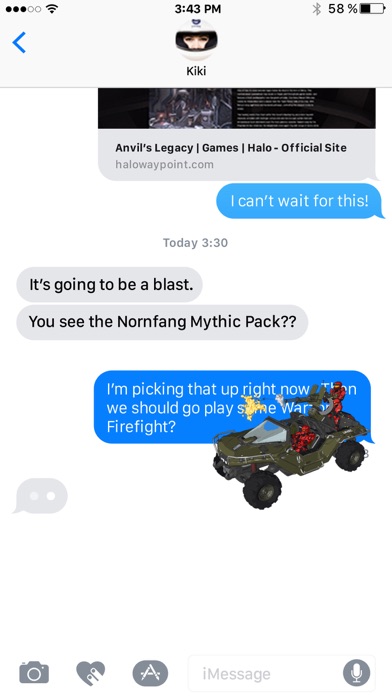 New in version 1.1
To celebrate Halo's 15th anniversary, we've updated the Halo iOS sticker pack with some legendary new ways to express yourself!
Description
Betcha CAN stick it! Halo universe stickers – available now on iPhone and iPad!

Every chat needs a little more Chief, and with these new stickers for iPhone and iPad you can do just that – and much, much more. Sometimes that last message to your friends and family was Perfection, sometimes it was Overkill… Either way, now you've got the tools to showcase which is which!
iPad Screenshots
Reviews
Abysmal choices
WhatTheWhat1
on
11/23/2017
A handful of options that are totally & completely random. You will never use any of these. Pretty much only "happy birthday" and silly celebratory Elites & Grunts and stuff. Retarded selection.
Can't delete it
can't delete it
on
6/21/2017
Can't delete it🖕
I can't use it
Why can't I use the stickers
I don't mind
I am a dog from the wild
on
5/6/2017
I don't mind it at all. I like for having my favorite game as stickers
Nice I like it but one thing
How can we get it
on
4/25/2017
You need to update it make Locke and his team make chief and his team make more Spartans add the flood brutes elites jakels ok but other then that its great
Awesome
These Stickers Are Great. Their Only Downfall Is The Fact That They Are Mostly Wearing Birthday Hats.
Where is it?
Downloaded the app, can't find it anywhere. Can't open it from the App Store either. Really don't like the idea of a ghost app on my phone.
TOO CUTE!
Perfect for my cousin and I! We love Halo so much!
Tnchmech
Nathaniel de la Torre
on
2/26/2017
You need to go to add button and activated the halo button
Halo is great but these stickers are not very usefull
Love the fact that there are stickers for iMessage but unlike other stickers, these are not really emotes. I find myself rarely using them because they are random halo icons. If they had some that could be used as reactions in conversations they would be 5 star and worth even paying for.
How to use!!!
Can anyone tell me how to activate these emojis? I have this and even the Mario bros and cannot see where to enable them or even an icon for the app.
What I think about the Halo stickers
Michael Lindberg
on
1/27/2017
I think there are well done but I would enjoy if they were the original grunts and more spartans would be nice too. Even though I think it could be better I do enjoy them. Keep up the good work.🙂
Huh
Suicidal twin
on
1/16/2017
Eh 8 out of 10
Nice
I think the grunts look cute when you are not murdering them, so yeah it could be better but awwwwww the grunts are so cute :3 i give it a 5
4th review!
Random Somebody
on
12/28/2016
It looks okay, could be better
I like it
Zachattack0623
on
12/6/2016
It's nice and it's funny
Awesome P.S.
BONEXCRUSHER
on
12/5/2016
Lol if you say fail you probably are a cod fanboy
Uhh..
Justintoddd35
on
10/21/2016
Am I the only one who can even use it?? I downloaded it but it's not showing up on my phone
Great for a start!
Love the idea and is nice to see 343 doing stuff for apple now! The only problem is there isn't enough stickers, 10 isn't enough to show off halo also i was a little disappointed that it doesn't show up next to your message like in the pictures for the app, instead it shows up separately.
Awesome, needs more stickers
Needs all vehicles and weapons please!!!!!!
Let me pay for more!!!
Halo Rocks, Would happily pay for more!
Crap quality
At least it's free but I was expecting a much higher quality from MS.
Red VS Blue!
Dhggxcixeggunv
on
10/16/2016
Great stickers but it needs more stickers, (RVB specifically)
It's free. It's Halo.
BootlegBrawl
on
10/15/2016
There's really nothing to dislike here. Could use more stickers though, to be honest!
master chief spartan 117 from halo
James. Braselton
on
10/15/2016
hi there this master chief spartan 117 from halo 10 stickers for free app even halo has econmy halo mega stures type 4 sevation most expecive cevation in the universe 7nothing cheap soo 40 halo stickers coming soon at $4 117 stickers $12 777 stickers earth $84 halo $77
So cool!!!
I love it. My favorite video game in stickers.
Good Start
I was super stoked to see these new Halo stickers for iMessage yesterday! Kudos to Microsoft for willingly jumping on the iPhone train and supporting the iMessage Ap Store so soon. The stickers are great, and it's a nice first foray into it for them. I would have given 5 stars if there were either a) more animated ones, or b) more to choose from. Hopefully we'll see more push in the future!
Halo is life
Fat Fingers Jefferson
on
10/14/2016
They missed out on a little animated t-bag but still great!!! Can't wait for more!!
THANK YOU
AdamBlanton1126
on
10/14/2016
This great I just wish there would be more stickers
Awesome
GameHEADtime
on
10/13/2016
Bring to my windows phone oh wait
Like what the hell
8 stickers, not suprised, screw microsoft and 343
Good but I want more
HotShot2316
on
10/13/2016
How about some iconic medals perhaps? Weapons? Gametype logos? Other characters?
Not very good
Joshua McShane
on
10/13/2016
Really small and not very expressive. Love the idea of Halo stickers, but these just aren't very good. Would love to see a do-over.
Very good.
I like the halo stickers I just wish there were more.
Low on content
Overall not enough stickers and missing so many iconic characters and poses.
Love em!
Halo is one of my favorite game series and when I saw that a sticker pack was available I freaked out! The pack is great and I've already started to annoy my friends with a sticker every other message! Hopefully they'll add some more stickers because right now, it's a rather small sticker pack TBH.
Nice Stickers
Emperor Tiberius
on
10/13/2016
Good stickers, art is decent. Halo 5 isn't Halo. #savemccfirst #yespartsofitarestillbroken
C'mon guys
JordawnTheJew
on
10/13/2016
You guys seriously release this with only 10 stickers? Where's the kill streak medals, prometheans, fore runner anything, freaking halo rings? Arby? Red Spartan v blue Spartan? I want and deserve a better opportunity to represent halo in iMessage.
Too small and not enough
Seriously Microsoft, I'm promoting your brand. I think we can do a little bit better then 10 stickers. How about some red v blue, one of the skulls, the oddball, any of the weapons. You'd think Cortana would all over this since she's your AI? Thanks for taking emoji's you already had made off the shelf. Epic fail.
Good
Add the Wraith with animation, or Banshee please.
Chief approves
Bendueno123
on
10/13/2016
Yes, yes he does.
Needed this !!
All love !
Fact Sheet
Publisher:

Microsoft Corporation

Category:

Stickers

Released:

Oct 13, 2016

Current Version Released:

Nov 15, 2016

Version:

1.1

Size:

6.1 MB

Compatibility:

Requires iOS 10.0 or later.

Recommended Age:

9+

Game Center Certified:

No

Supported Languages:

English;

Parental Advisory:

Mild Cartoon or Fantasy Violence;