This version of the app is not recommended
App last updated
Feb 23, 2017
Screenshots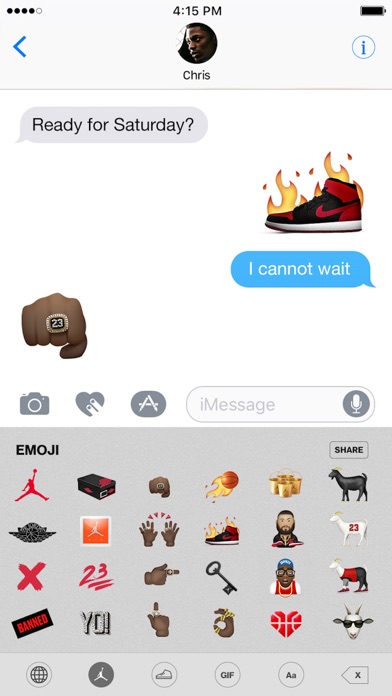 New in version 1.0.3
Bug fixes and enhancements.

Note: After installing this update, please restart the app if you are experiencing the "null bug" issue and the keyboard will function as expected. Thank you.
Description
Inspired by the brand and Michael Jordan himself, the Air Jordan Keyboard brings all things Jordan to your fingertips.

Send your friends iconic emojis that are updated regularly and as new sneakers are released.
Reviews
Privacy please
Needs full access to phone that tracks and saves all you do🤔
Card info made available to developers and any other info in your phone
I use my phone to shop online so therefore ive used my cards multipul times on here. I do not feel the need to share that information with any developer for any reason. So as much as i would love to use this jordan app, issa no from me.
Don't do it!!
Read the warning before you agree! Talks about you credit card information and your private massages could be sent out.
Calvin 🤘🏾
j jayairjordan
on
7/13/2017
Crashes my phone
Frustrating
Super excited - then realized spell check function stops working with this app loaded. Copy and paste is annoying as well. App deleted.
It's amazing
It's very good I hope for update soon
Cool concept but....
Seems like a great idea until you're asked to allow the app to access, collect and transmit all the data you type including bank information, credit cards, location, photos, etc. Thanks but no thanks!
Awsome
Ant1pablo16
on
12/28/2016
Awsome
Awesomeness
Shoes are amazing
on
12/27/2016
This is a great app for people who love Mj,basketball,and shoes, if u have an apple product updated to iOS 10, u don't just have to copy and paste, u can go to the "A" on the right and put it on there however u like, u can shrink it and twist it so it fits however you like it. So overall, this is an amazing app and the creators of this app are very imaginative and super creative. So to NIKE, well done!
Privacy Concerns
Looks like a cool idea, but why would I ever allow a third party, Nike in this case, access to everything I type? Is there a way to get this without compromising my privacy?
THESE ARE TOO BIG 👎👎👎
First off these emojis are too too big. When you choose an emoji it says copied. So that means you have to copy and paste the emoji you want. Then once you do that, the emoji is stretched out when it's pasted meaning the image distorts. It works fine when using it as a messaging sticker but other than that this keyboard is 🗑👎👎👎
This is awesome for real
Send me a pair plz
on
12/26/2016
This is awesome in my humble opinion
App Crashes
The Phantom of Thee Opera
on
12/15/2016
App crashes
Won't open.
The_Ultimate_Lifeform
on
12/15/2016
The app won't even open, and keeps crashing. This app is whack.
BEST STICKERS EVER
Love this pack, my favorite yet!
Sweet app
This is awesome. Nike needs to do more of this!
So cool!
The best emiji keyboard
Favorite app!!
Champagnepapppi
on
12/2/2016
Love this keyboard. Fun content to share with friends. It's awesome!!!
A must for Sneakerheads
My favorite iMessage app. Been waiting for something like this forever! #goat Great work from Nike here!
Amazing
digitalseduction
on
11/28/2016
Such a vibrant way to keep up with the masses while giving the brand a tangle expression. Amazing
Dumb
David S. Pumpkins
on
11/24/2016
If you're going to do lame social stuff, at least assert ownership of the "Crying Jordan" meme.
This needs work
Kflock (Add Me On Steam)
on
11/24/2016
I want to text my friends these emojis but it won't show up on my screen
Very laggy
When I downloaded this I was so excited but there was nothing to be excited for I couldn't even get on the app it's a good idea but needs some work
Can't open
Thx for free coins klkk
on
11/24/2016
Can't open the app
Awesome!
For free? thank you Nike
Wont Work
Njblookin4njg
on
11/23/2016
restarted the phone, redownloaded the app, followed instructions twice, wont work. Giving a 3 for the idea and excitement i had around the app but minus 2 stars for not working.
App doesn't even open
@insta_buckets
on
11/23/2016
I was happy to download it, but once I downloaded it the app would crash after 2 seconds
Great!
Jack Michal Desmarais
on
11/23/2016
Great emoji app though could have a few changes.
Update asap
Roselikederrick
on
11/23/2016
App opens then right away crashes.
app
the app doesnt open for me
Crash
All it does is crash. Wont even open.
Not Very Good
Every time I open the app it crashes I have downloaded it five times and still doesn't work.
I love this keyboard!!
George56486
on
11/23/2016
So much fun
Glitches
I just installed it and was disappointed it didn't work cool emojis but you can't send them
Won't open
Th app is done downloading but will not open and if it does it keeps crashing.
Great app. Love it.
JacksonLinPhotography
on
11/23/2016
One amazing app you guys made.
Lag issues
Great idea but it has some lag issues. When I try to use the emojis they don't load and I'm stuck with a white screen
Do not download
I am a huge air jordan fan so when i saw this was a thing i downloaded it immeadiatly when i enabled the keyboard and went to test it out the entire keyboard was gone it was just a white bloack where my keyboard usually was...please fix this app
Keyboard goes black
I was really excited about his app but when I turned it on in the keyboard option and gave it full access. I went to go type and my keyboard went Blank and wouldn't let me type. Please Help!!
Fact Sheet
Publisher:

Nike, Inc

Category:

Utilities

Released:

Nov 18, 2016

Current Version Released:

Feb 23, 2017

Version:

1.0.3

Size:

34.6 MB

Compatibility:

Requires iOS 9.0 or later.

Recommended Age:

4+

Game Center Certified:

No

Supported Languages:

English;