This version of the app is not recommended
App last updated
Dec 14, 2017
Screenshots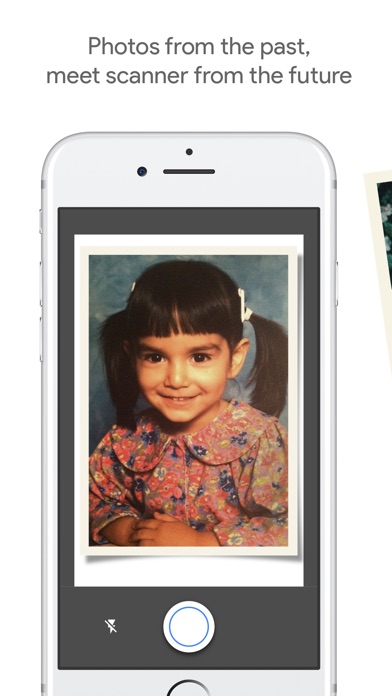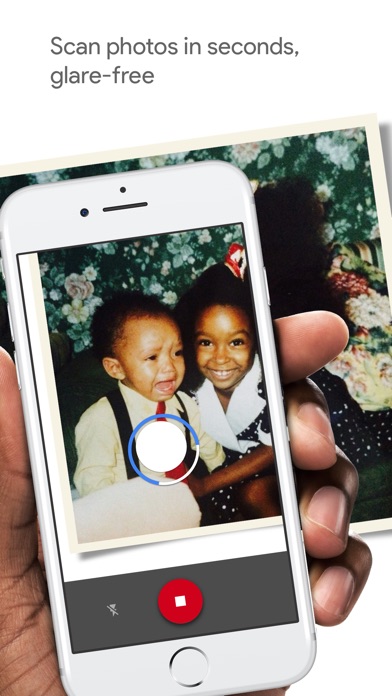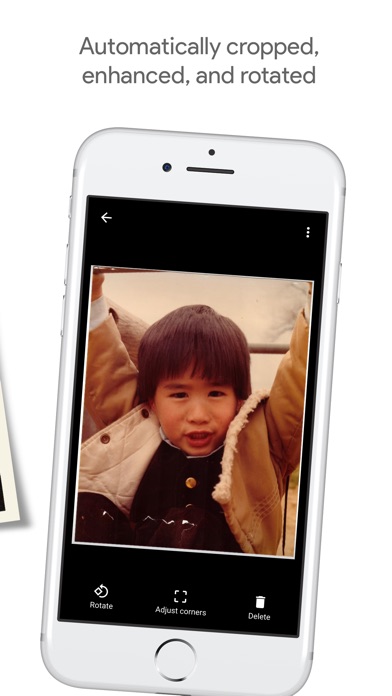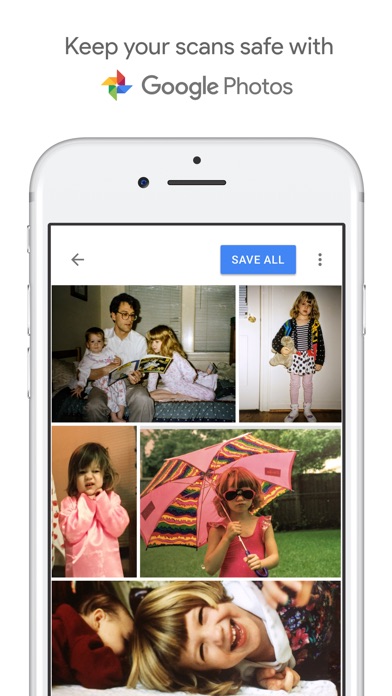 New in version 1.5
Easier capture and save
• Scanned photos are saved to your device on capture.

Improved corner editor
• In addition to the corners, you can now drag the edges to adjust the automatic cropping of your scanned photo.
Description
Photos from the past, meet scanner from the future.

PhotoScan is a new app from Google Photos that lets you scan and save your favorite printed photos using your phone's camera.

PICTURE PERFECT AND GLARE FREE
Don't just take a picture of a picture. Create enhanced digital scans, wherever your photos are.
– Get glare-free scans with an easy step-by-step capture flow
– Automatic cropping based on edge detection
– Straight, rectangular scans with perspective correction
– Smart rotation, so your photos stay right-side-up no matter which way you scan them

SCAN IN SECONDS
Capture your favorite printed photos quickly and easily, so you can spend less time editing and more time looking at your bad childhood haircut.

For documents and photos in glare-free environments, toggle off glare removal for even faster scans.

SAFE AND SEARCHABLE WITH GOOGLE PHOTOS
Back up your scans with the free Google Photos app to keep them safe, searchable, and organized. Bring your scans to life with movies, filters, and advanced editing controls. And share them with anyone, just by sending a link.
Reviews
So frustrated
Silly Mustang
on
1/23/2018
When I first got the app I was thrilled. Then as my phone system updated I could no longer use the app. It just crashes. I've deleted and reinstalled. I've done the phone restart. Still nothing and I lost several scanned but not saved pictures and some I had saved will no longer let me open them in photos. I've uploaded it to my iPad and it works fine. Urrg
Disappointed
0831momo0303
on
1/23/2018
When I open the app it crashes... very disappointed.
I love it
I like it, it works better.
Great
This app is wonderful. I have struggled to scan old family pictures into my computer but this is so much simpler and actually improved the quality of old treasured photos.
Needs work...
This app is far from user friendly. The dots you are asked to hover over move all over the screen, making it unable to capture the photo. I love Google apps and products, so this one really disappoints me. Quality idea, poor execution. Work out the kinks and we got a deal.
Good start
Good app. Convenient needs work for export and exposure control
Stops working
It was working very well but now it just goes black and closes the app when I try and get on it. Very disappointing. I have a lot of photos on here and a project with many more photos I need pictures of but now I can't take any more. I'm hoping it's just a glitch and an update can fix it.
Love this app
There is no flash reflection and the pics actually come out brighter after the scan. I don't have to mess with my complicated photo scanner anymore.
Most useful app I've ever down loaded
My family has thousands of photos from the last 100 years family pictures, trips and such this makes it so easy to organize and show them off. My grandfather leads tours to Vietnam and Korea for war vets and this app has allowed me to easily catalog and digitalize the thousands of photos he took on each trip. If this app wasn't free I'd pay for it.
Crashes more often than works
Gribbly Snard
on
1/14/2018
When it works it does a good job, but now it frequently stops working before it is complete or else it crashes the app altogether.
Scanning Pics
jackrileystudio43
on
1/13/2018
This app is awesome!
Photo scan
not tec inclined
on
1/13/2018
It's freaking amazing even "non technological" people can work it it's awesome.
Another great Google product
Working perfect for getting photos off an old photo album, precious memories
Best App
I've never ever come across such an excellent app that's easy and does what it says and no more annoying white lights when I take a picture of a picture Thank you Thank you
Keeps crashing
silverdustcloud
on
1/11/2018
App keeps crashing
Bad update.
The new version of this app now has a watermark on all the photos and there is no way to save the photos to my iPhone gallery seamlessly. Shame.
Winner
I was having a tough time scanning old photos for my a funeral. Needing them in quality digital format for a presentation at the procession, I found this app and haven't looked back. It take quality scans in seconds and is extremely user friendly.
Simply amazing how reliable
...reliably, incredibly excellent at capturing an opposite-sides-parallel image!
Glare removal-good, image quality-bad
Do not discard your old photographs after scanning. The resulting image appears to be over compressed, presenting artifacts. Zooming in on the image I can see that the quality is degraded compared to just taking a picture with the iPad Pro. Perhaps it works better on an android device. No, Google would not do that, would they?
High quality, intuitive document scanner
PhotoScan gives you very accurate borders for documents and the color representation is perfect. This is a must-have app, as you never know the next time you'll randomly need to scan a document.
Former 5 star app - crashes immediately
I used this for several months, but since December it crashes as soon as I open it, even after uninstalling and reinstalling the app.
Great, simple, and quick
Very easy to use and great results! I recommend it.
Makes perfect scans
It's almost like a game... Very happy w/ the end results. Kudos!
Blown away
Highly innovative application.
love it
takes great photo. neat adjustment features.
App Stopped Working
I was scanning a bunch of old pictures and the app worked fine. Then all of the sudden it stopped working. Every time I tried to reopen the app it would close out. Please fix.
Scanning photos
PLEASE FIX DIS
on
12/30/2017
I have many old pics I want to copy for my kids . This has been much easier than using my home scanner. Good quality
Awesome awesome
Simply amazing work by google ! Pictures scanned look better than the real photos. I had very old pictures and was not sure how scanned would look. Lo and Behold! They are like new !
Great app
Works wonderful to preserve old pics
Fantastic app and idea
This is so neat and such a good idea. Real helpful getting recipes digitized and up on the cloud.
Very good
Zena A @awkwardcameron
on
12/28/2017
It does what it says it does and I works very well and it's easy to use. I really like it
AMAZING!
This is exactly what I need to organize and archive all my photos dating back to my childhood in the 1950's to current year of 2017! Definitely completing the top priority on my Bucket List!!
Amazing
This is the best way to quickly digitize your photo albums. The technology is incredible and the results are excellent and the app is easy to use. Highly recommended!
iPhone X
I would really like for the app to be optimized to fit my iPhone X screen the app works great and is awesome and I enjoy Google's vision with how easy to use everything is.
never again.
ca$h money $uho (not)
on
12/26/2017
i tried scanning my album photobook but it comes out looking the same way it would if i took the photo with my regular phone camera! i dont reccomend it at all. and the movement is so annoying, it didnt even let me move the circle into all four corners. you might as well just take the photo with your phone 🙄
Crashing
I read all the incredible reviews and was excited to try this app. However, it keeps crashing on me for no apparent reason. I have had to uninstall and re-install but now it has crashed again and will not restart without crashing. Very frustrating.
Best photo scanner. Period.
No need to take photos out of an album. Just point, click, and shoot
What a great photo scanner.
A must have. It will replace my desktop scanner.
Good product
Easy and not perfect but does a good job
Good for scan photo
It 's good for me to scan own photo
Easy to use, excellent results
Great app
Fantastic!!
This app is so great for digitizing photos! It's so easy and works perfect every time!!
Need to edit the time taken!!!
Perfect in terms scanning function! But, Please add a function in app for us to edit the time taken info of the scanned photos, so that they will stay at where they should be in my timeline, such as 1995 not 2017.
Best one out there
Best one available and it's free too :)
Best photo scan app!
I use this app to scan photos and baseball & Magic cards to sell on eBay and this is the best app I've found! It's a must have!
Love Google Photo Scan!
What an awesome app!! I have scanned photos,documents, recipes..you name it! So easy/user friendly!
Small prints
family photo guy
on
12/20/2017
Over I'm happy with the glare reduction function yet on small prints I find the "corner dots" have difficulty gauging the picture (way outside the frame) resulting in less than adequate finished product. The too I could be doing it wrong!
Buy it!!
MR LUCKY BROCK!!
on
12/19/2017
One of the few apps I have purchased that does more than what It says ...if you hold steady and take the picture the way they tell you to do it no one will be able to tell it's a picture of a picture. You basically have to take five pictures of each photo but it is well worth doing it because it comes out perfect!!!
Excellent
Krish Avanthsa
on
12/18/2017
Exceptional app to scan your old photos and digitize 👏!
Scanning to quick and convenient.
Dazs Haagen
on
12/17/2017
Took me a few tries, but I've got it now. :-)
Fact Sheet
Publisher:

Google, Inc.

Category:

Photo & Video

Released:

Nov 15, 2016

Current Version Released:

Dec 14, 2017

Version:

1.5

Size:

76 MB

Compatibility:

Requires iOS 8.1 or later.

Recommended Age:

4+

Game Center Certified:

No

Supported Languages:

Arabic; Catalan; Valencian; Chinese; Croatian; Czech; Danish; Dutch; Flemish; English; Finnish; French; German; Greek; Hebrew; Hindi; Hungarian; Indonesian; Italian; Japanese; Korean; Lingala; Malay; Norwegian; Bokmål, Norwegian; Norwegian Bokmål; Polish; Portuguese; Romanian; Moldavian; Russian; Chinese; Slovak; Spanish; Castilian; Swedish; Thai; Chinese; Turkish; Ukrainian; Vietnamese;