Screenshots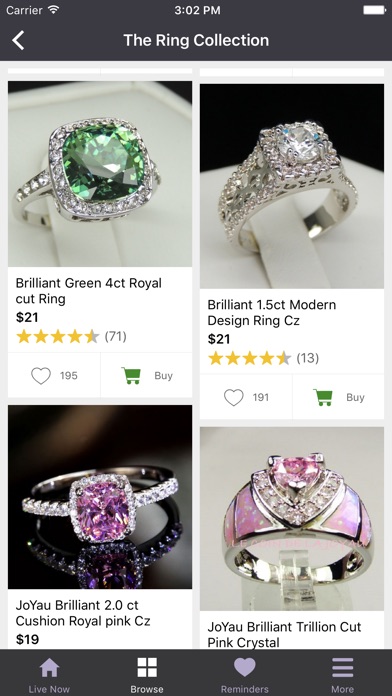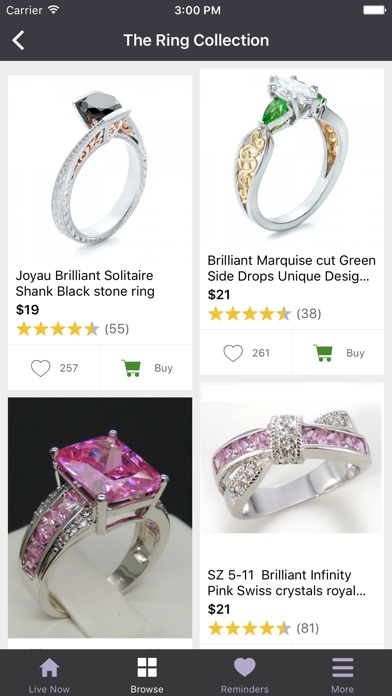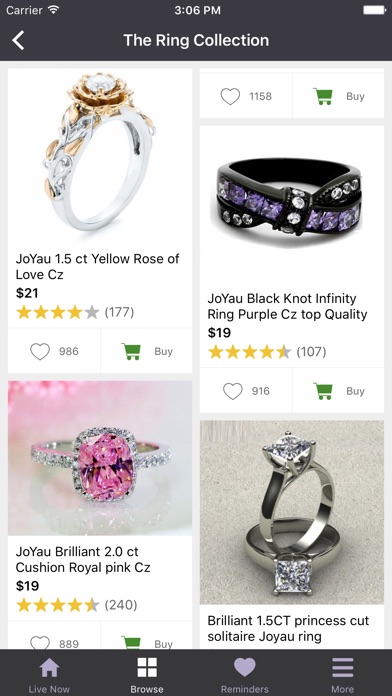 Description
Shop for the latest jewelry styles at up to 90% off. The best deals in jewelry and fine jewelry.
FREE app! Download now!

Once you've downloaded the app, you won't want to stop shopping! Bring the excitement of shopping to your fingertips.
iPad Screenshots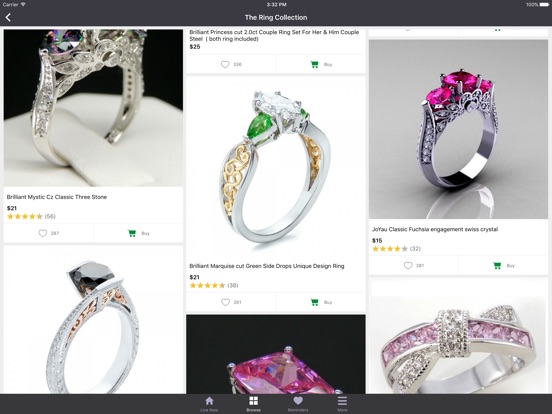 Reviews
Having Fun!
Phyl is wright
on
9/22/2017
I have ordered many items. Most I'm pleased with. Read descriptions carefully. Biggest frustration; hard to judge the size by the picture on a lot of items. Thanks!
Ruby
I love using this site and have purchased some beautiful items that are of good quality.
Amazing
This is the most amazing app to get quality jewelry at an amazing price
Review
LOLZERISCOOL
on
8/31/2017
I feel that some items are very nice while others (mostly Sterling chains and ankle bracelets are poor quality) or not totally sterling. I've had to throw out ??Sterling chains ?? That turned black or rusted and were not able to be cleaned.
Amazing
Bristol's mom
on
8/28/2017
I love this site and the items you buy are amazing.
Pleasantly surprised
I have ordered several things off of the live bidding site here at Ruby. Everything, and I mean everything that I've received it so pretty, looks so good, doesn't look cheap I'm impressed with quality of materials and you blink your eyes n order is in your mailbox! Every girl loves to get mail...Shinnin!" I love it! you got to get on live bidding! 😮don't out bid me! Lol. May the best bid WIN!
Great site
Too addicting! Beautiful jewelry ! Everything I have bought is very pretty and arrives quickly! I love this site!
Love this app !!
Can't believe the quality of the jewelry on here it's beautiful stuff !!
LunaBell
I love this app!!! Easy to use and great products for a wonderful price. It's seriously my go to.
Great app
teriberrypie
on
8/21/2017
I enjoy this app great deals quality products and addicting
Nice app
Really good, I love it!!!
Pretty Good
I find myself addicted to this app I do find a lot of great jewelry you just have to be careful and read the description but I enjoy it I just had to limit myself!! JUST BE CAREFUL because there's a lot of ppl selling nothing but JUNK that's why I rarely buy on this app anymore!! I got so tired of sending things back that I hardly get on the app anymore!! They need to put a stop to the ppl selling JUNK in here it's bringing the app down where it use to be very nice!!
I've enjoyed my shopping experience.
Nice stuff and fun bidding 😊
Love rate
Love shopping and makes for great gifts
Wedding Ring
tamoleta1962
on
7/29/2017
I ordered a wedding ring set on Tuesday and got it on Friday!! Love the wedding set! Just like the picture showed. I have 6 more orders through Ruby and can't wait for them to get here! Will definitely order again because it is so easy and fun!
Rings and earrings
Beautiful and quick delivery
Great App
Britany-1103
on
7/20/2017
There's so many cute things to order & I love how you can set reminders to bid on the things that you like. Great App...I literally open it everyday!
Love it
lilmomma1980
on
7/18/2017
Everything I have order has gotten here on time or before. All even more beautiful in person. Enjoying how easy the bidding and purchasing is on this app
Fun
Critter chick
on
7/18/2017
I love perusing this site.
Rings
My sister-in-law introduced me to your website and I am very pleased with the rings and necklaces I have ordered so far. I love the prices and sometimes free shipping.
Awesome
Awesome very nice and the jewelry is great love it and the bids are not bad
Omg
Wow, I love this site. Lots of good deals.
Reasonably cheap jewelry
I purchased a created sapphire ring and and sterling chain. The ring is gorgeous and sized perfectly. The chain was smaller than I expected but lovely. I plan to purchase more.
Great jewelry
I've ordered several items from this site and the merchandise is really nice. It's so much fun to bid on different items and the prices are great
Great to pass the time
Cool app
💯💯💯
It's a great app. Items are good quality
Mostly good quality
The things I've received so far have been pretty good quality. I gave it 5 stars because the prices are so low. My items have met and even exceeded my expectations.
Love
I really love the variety and great quality Jewelers I have purchased. Also, very good customer service.
Better than others
Quick shipping and handling n pretty decent jewelry.
Jewelry
Some jewelry quality is good and others I have received look cheap. Some of it does not look anything like the picture shown or described. I've purchased quit a bit from this site, and like I said some of the jewelry is very pretty and shown and described as the picture while some others were of very poor quality and looked nothing like the picture shown or described.
Using Ruby is😘💞😘💞💘💕
I love your App. Im new to it just 5 days but after my Brain surg Wed. AM, hm fri., we stopped at PO to get my 4 items, waiting on 7-8 to arrive. They are 1 size too small- may I exchange for 8? Size. Im loving your site! Judy McC
I'm excited!
I just got my first thing from here, I'm so excited!!!
Rings
jammnabe1966
on
5/23/2017
Love this app I just wish they had more options with rings that are bigger like size 11 and 12 I have larger fingers but other than that I love it
Truly amazing sight
In one week i was able to buy jewelry and watches for my family, birthday gifts for every one and didn't have to leave the house and everything is so inexpensive. I recommend Ruby sight to everyone. Thank you Margie
Ruby
This is the best site to get nice quality jewelry at affordable prices!
Ruby
I enjoy the variety and selection. I have been impressed with items I've ordered and how quickly they arrive.
Love it😍!!
HeatherMcDonough23
on
5/15/2017
This app is truly amazing I love buying jewelry off of it. I got my nana a bracelet for $18 it's truly amazing its starts off low but if you really want it you gotta outbid everyone. I recommend this to everyone who loves jewelry and hates spending around 3 or 4 hundred dollars on it.
sizing
sizes dont meet standard size chart.
Retired
I can afford jewelry again. You auction good products & it's quick.
Review
I like Ruby because it is fast, has nice items
Rave Review!
Really enjoy the bidding and am very happy with the reasonable prices!!! Having a lot of fun and the quality has always been great!
Nice deals BUT one major fallback
Lyricallife007
on
4/30/2017
I have purchased beautiful items for a price I would have never expected! BUT the issue is they don't give you the $10 referral credits they promise. I had to fight them to get the one I earned and then when I went to use it it didn't get deducted.
So easy!
I love Ruby! It's so easy and you get your purchases so fast!
Great app and addicting!
I love the Ruby app. I've bought so many pieces and they also have great customer service. I had a small issue that was resolved in 24 hours and no fuss.
The real deal
My day doesn't feel complete unless I'm at home,after work, watching a channel on rings and earrings. Of course, however I am on my ruby and Tophatter apps! I tell all my girls about it!!! Love love!
review of ruby
Rover 82,84'85
on
4/13/2017
I bought lovely jewelry and other items which I will have a pleasure of wearing or my daughter will or in the future my granddaughters will. The quality is fine also!
Mostly quality merchandise
I have purchased many items from this site. Some are of higher quality than others. They come from all over including China. So far I have been pleased with everything received.
Fact Sheet
Publisher:

Tophatter, Inc.

Category:

Shopping

Released:

Oct 29, 2016

Current Version Released:

Sep 23, 2017

Version:

4.2.1

Size:

45.3 MB

Compatibility:

Requires iOS 9.0 or later.

Recommended Age:

4+

Game Center Certified:

No

Supported Devices:

iPad2Wifi-iPad2Wifi, iPad23G-iPad23G, iPhone4S-iPhone4S, iPadThirdGen-iPadThirdGen, iPadThirdGen4G-iPadThirdGen4G, iPhone5-iPhone5, iPodTouchFifthGen-iPodTouchFifthGen, iPadFourthGen-iPadFourthGen, iPadFourthGen4G-iPadFourthGen4G, iPadMini-iPadMini, iPadMini4G-iPadMini4G, iPhone5c-iPhone5c, iPhone5s-iPhone5s, iPadAir-iPadAir, iPadAirCellular-iPadAirCellular, iPadMiniRetina-iPadMiniRetina, iPadMiniRetinaCellular-iPadMiniRetinaCellular, iPhone6-iPhone6, iPhone6Plus-iPhone6Plus, iPadAir2-iPadAir2, iPadAir2Cellular-iPadAir2Cellular, iPadMini3-iPadMini3, iPadMini3Cellular-iPadMini3Cellular, iPodTouchSixthGen-iPodTouchSixthGen, iPhone6s-iPhone6s, iPhone6sPlus-iPhone6sPlus, iPadMini4-iPadMini4, iPadMini4Cellular-iPadMini4Cellular, iPadPro-iPadPro, iPadProCellular-iPadProCellular, iPadPro97-iPadPro97, iPadPro97Cellular-iPadPro97Cellular, iPhoneSE-iPhoneSE, iPhone7-iPhone7, iPhone7Plus-iPhone7Plus, iPad611-iPad611, iPad612-iPad612, iPad71-iPad71, iPad72-iPad72, iPad73-iPad73, iPad74-iPad74,

Supported Languages:

Arabic; Catalan; Valencian; Czech; Danish; Dutch; Flemish; English; Finnish; French; German; Greek; Hebrew; Hungarian; Indonesian; Italian; Japanese; Korean; Malay; Bokmål, Norwegian; Norwegian Bokmål; Polish; Portuguese; Romanian; Moldavian; Russian; Chinese; Slovak; Spanish; Castilian; Swedish; Thai; Chinese; Turkish; Ukrainian; Vietnamese;