Screenshots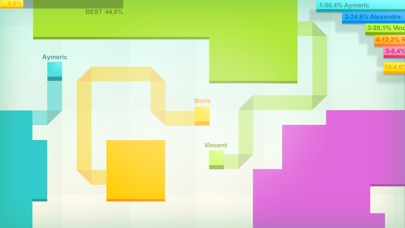 Description
Discover Voodoo's new game: Paper.io.
Your goal? To conquer as much territory as possible. It's initially very simple, and the game can be mastered immediately, but watch out: there's competition, and not everyone can win!
Whether you're bold or more careful, you have to be more cunning than your adversaries by finding the best strategy to conquer the most space. But be careful! You have a weak spot: your tail. If an enemy touches it, that's the end for you.
Try to stay ahead, because victory in Paper.io is never certain until you possess all the territory. Stealing is allowed, and your enemies won't hesitate to do so.
After the success of Quiz Run, 1 Pic 8 Words, and Bool, Voodoo now offers you a new gaming and graphics experience inspired by io type games (made popular by agar.io). Enjoy the simplicity and strategy of an io game in a world with unique graphics.
Paper.io is for the whole family and doesn't require an Internet connection.
iPad Screenshots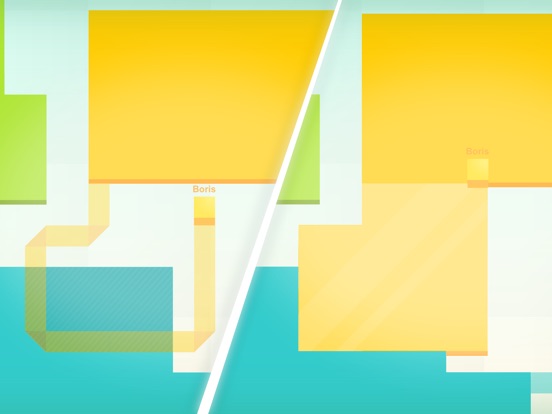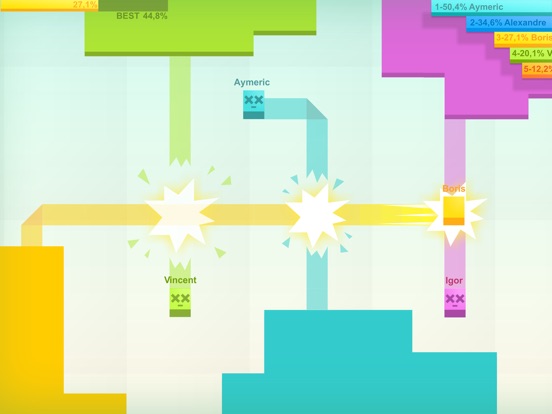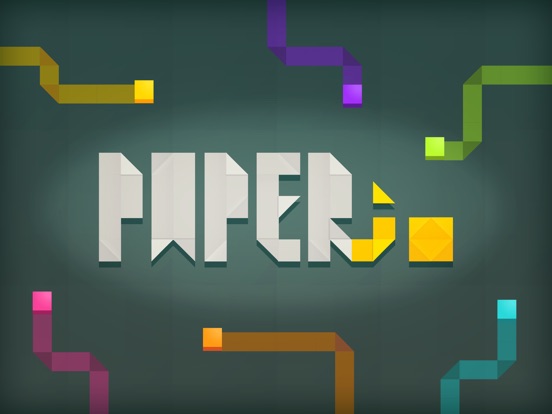 Reviews
What's up with the spawning
I thought every game would start with a blank board why is every round you join already filled with people and no space typically already being in someone's color because the game has been going so long
Love it! But.......
I Honestly liked the old version better it had way less ads!! It got on my nerves so I just deleted it..
Simple, Addicting, Misleading
Fun to play, a bit of a battery hog and even on the iPad Pro has some screen stuttering issues that would be nice to see resolved. The most frustrating part is that even after paying to have ads removed, they still slip a 30-second forced ad in every time you want an extra life. I mean, I paid, right? That's fine that your extra life respawn isn't instantaneous, but to force me to watch a 30 second ad after I clicked on a "remove ads" in-app purchase is very misleading.
Great waste of time. Lol
This game is fun and addicting! Sometimes glitches for split seconds, but mostly good.
Really fun game with some flaws
This is by far the most fun concept I've found on the App Store. It's fun and requires constant planning and strategy. The opponent AI is fun too. It feels like you're playing actual humans. However, theres a lot of small issues that take away from the game. For example, other people can be the same color as you, which makes things quite confusing when you're not sure where your territory ends or begins. There's also no setting for speed and there's no pause button. Probably my favorite game right now but it just doesn't feel like a finished product.
Ads still present after paying, regularly unresponsive controls
As stated in the title, I paid to dismiss ads but still encounter them (such as when it offers you to extend a life... a video ad starts w/ no discernible way to dismiss / cancel). Even more concerning though is that the app regularly disregards my control inputs (happens every 2 to 3 games) rendering it unplayable. I think the game concept seems fun, but the actual experience is poor.
I hate Paper.io
I think that it is rigged every time I go out I get killed in five sec so if I where you I should save your time thank you
SO MANY ADS
Cheeseyweesy1239
on
9/24/2017
THERE ARE SOOOOOO MAAAANNNY AAAAAADDDSS
Love it
Awesome game need more stuff
on
9/24/2017
I love this gameee
Too many adds
Almost every time you die there is an add!!! 😡
Too many Adds
I do like this game but every time I die a add pops up and there are way to many adds
Addicting
Xxlemonzdisxxx
on
9/24/2017
The ADs are annoying but overall it's a fun game
Nice avatars
Imgettinganoybsh
on
9/24/2017
I like how there is a variety of avatars and a unicorn
Needs a few more bug fixes
Love this game and totally addicting!! A few thoughts though... - we have "accomplishments" but can't see WHAT accomplishments we are trying for and/or have already accomplished...I'd (maybe 'we' would) like to see these things... - what happened to being able to 'unlock' new avatars each day you logged in?? :( those were fun & exciting to see 'what you got each day'! :) - what happens if 2 players have the same aviator? Is there a way you can put a border around each persons areas? Could just be a simple solid black line or something, I don't know know... Just a thought ;) - I really like this game and think there's a lot more that could be done to improve the awesomeness ;) Thanks for reading and hopefully improving...like I said, totally addicting game, I want to continue playing! :)
Would be awesome with a multiplayer option
Awesome awesome game , would be perfect and much more fun if there was a multiplayer option where we can play with friends ... please make a multiplayer option in the following options
Great Game, but Very Laggy
Tiller Lastnamé
on
9/23/2017
I have had a ton of fun playing this app, it has a sort of intense and stressful yet addictive quality to it, but the game is constantly lagging, and I have experienced quite a few crashes mid game, and it is frustrating. Looking at the trailer, the cubes are sped up, and move faster, and I still don't know if they do move that fast because my game has never stopped lagging. I would recommend it if you have a high patience (not me).
<3
It is super ADICTING :P
Yea
boss5slayer234
on
9/23/2017
After you download this you and the toilet will become best friends for life
Very good game
Like the new update. Made game much more enjoyable.
ADDZ FOR DAYZ
Ok let's get started, first of all I did love this game till every time you die and sometimes get on ADDS PLAY, Second of all why so many adds?? Really why, you guys went crazy with the adds. I'm really bad at the game so I die like every five seconds in. Then I have to sit though half a minute watching an add. FIX THE ADDS PLEASE
Don't play
Terrible game riddled with ads.
Fine but too many ads
I'm fine with ads but this game has way too many. I shouldn't have to watch a 30 second ad every time I die, especially if I choose not to continue. Absolutely ridiculous.
New updates all the time that don't "update" anything.
Missions??? That was an update. Like 3-4 updates ago. Still waiting. Game WAS fun until you get 100%. Then there's nothing to do and it's lame. Missions sounded fun. I think I'll delete the game and leave another 1 star review if the next bull$hit update they put out does nothing AGAIN.
Updates Ruined It😞
I really liked this game.... back when it was fun. The updates ruined it. What's the point of even playing if you can't get new avatars? Before, you could buy them (I liked buying them). Then, you could check daily (Went downhill). And finally, you finish "quests" that you don't even know what they are! Just please restore it back to when it was fun. It's pointless and I will delete it soon if you people don't change it back.
REALLY
I love the game but someone Deleted it and now I can't get it BACK!
Fun game buttttt
I love this game. My buddy finally got me hooked after watching him a few times. But the game destroys your battery. Like legit. Faster then anything else. And it messes up other parts of your phone. A lot of times the podcast app just craps itself when I'm playing.
Could be good.
The free version has too many ads. There are so many ads and you can die so quickly if the opponents spawn too close. You end up watching more ads than playing the game.
To many apps and no online mode
The great thing in other .io games is playing online with people around the world. This game is only vs cpu, little sad about that. Other thing is the many ads that it have. 60 mb of my data plan was wasted in only 30 minutes of video ads. I know that you needs make money, but this is insane. I buy the "no ads" option but please make this real online.
Glitchy!!
I play this game all the time, I paid for it to not have the adds. Lately it has been freezing up and getting super glitchy once you get to a high percentage,and randomly moving in other directions.I'm getting to point of deleting this game because it's getting so bad. Please update and fix the glitches, I don't need more avatars, I need to be able to move my square around the map without it lagging out. Please fix!
An obvious money grab
Ads after literally every game. Not worth the trouble. Uninstalling
TOO MUCH ADD
Every frikin time you die there is an ad and this completely ruins this well made game
Could be better.
Johnny-rebel01
on
9/22/2017
It's a fun game. Personally I'd like the pace set a little slower. And that glitch when you kill someone and their ghost trail cuts you off and kills you instead needs to get fixed. But overall good game. Just a bit of nit picking here.
Good but need more/(LOTS of) improvements
I love this game, got 100% tons of times (for real) but the flaw is that whenever you're close to 70~80+ % of the territory, other players pop up on you while you're taking baby steps outside of your territory. Like you can't move outside your spaces and it gets annoying because you're trying to finish it but all these new players keep popping up when there's hardly any spaces left. It get stressful because you can hardly move without other played popping up on you. And too many ads (but that's typically of today's society).
100%! 🤘🏻😃🤘🏻
darkwaysolitude79
on
9/21/2017
Working great. Finally cleared 100%. Addictive. Can't stop playing! 👍🏼
So glitchy but a little fun and enoying
Not good!!!!!😢😢😢😢
on
9/21/2017
The Game is a little fun but to many glitches I wish it would be better!!!!!!😭😭😭you just die from all the glitches and barley get to play 😭😭 even if you are connect 😔😔😔😔 please fix the game!!!!!!
Needs to be fixed
MarvelousMarvelForever124
on
9/21/2017
This game is really fun and fresh, but it's so frustrating to a point that I don't want to pay anymore. Every time I unlock a new character it crashes; whenever I watch a video for a life it crashes. My progress is never saved, and I am constantly loosing my avatars even though I had it before. It must be the constant bombarding of ads every single chance there is, I watch more ads than I get to play the game, and that's a problem that needs to be fixed
Wow🙄
This game glitches so much
BEST GAME I EVER DOWNLOADED!!
Dog lover 125
on
9/21/2017
But I spend WAAAAYYYY too much time on it 😬💓💯👌🏾🌸
Mm mhmm I like this game
It's addictive that's for sure...... I wish there was a zoom feature to see how much area you need to cover and where other players are
Dangerously Addictive
In just one day since I downloaded this app I have lost my wife, my son and even my dog! I don't know what happened, they were here when I started playing at. Real fast yesterday morning, I think I heard my wife say something around lunch when I got my charger but she didn't come home last night.... Oh well, I'm sure by the time I finish playing this one last life she'll have come home!!
Add a multiplayer mode
skeeteryanta
on
9/21/2017
I love this game but I really want a multiplayer mode so try to add multiplayer mode 🎖🎖🎖🎖🎖
Fun but ads are inappropriate
parent with young kids
on
9/20/2017
This game is rated 4+ but the ads are inappropriate for children. Cartoon games with sexual scenes, a game about growing marijuana, another showing how to increase the breast size of a game character. If you are going to continue with these ads the game rating needs to be adjusted.
Awesome
Cory the new kid always
on
9/20/2017
Addictive and awesome
I like the game
BUT, make it a online game pls. The boys are getting boring and I really like the game :/
Boring
Parrymaniacs
on
9/20/2017
Could be fun... But the game ends quick, and then have to go through the ads that take forever. Can't ever get into a flow to learn to get better.
You guys who make it have to read it
I mean I like it but like all the people trying to kill me I like just crashing into me and also there's too many ads
Fact Sheet
Publisher:

Voodoo

Category:

Games

Released:

Nov 04, 2016

Current Version Released:

Sep 26, 2017

Version:

3.3.52

Size:

228.1 MB

Compatibility:

Requires iOS 8.0 or later.

Recommended Age:

4+

Game Center Certified:

No

Supported Devices:

iPad2Wifi-iPad2Wifi, iPad23G-iPad23G, iPhone4S-iPhone4S, iPadThirdGen-iPadThirdGen, iPadThirdGen4G-iPadThirdGen4G, iPhone5-iPhone5, iPodTouchFifthGen-iPodTouchFifthGen, iPadFourthGen-iPadFourthGen, iPadFourthGen4G-iPadFourthGen4G, iPadMini-iPadMini, iPadMini4G-iPadMini4G, iPhone5c-iPhone5c, iPhone5s-iPhone5s, iPadAir-iPadAir, iPadAirCellular-iPadAirCellular, iPadMiniRetina-iPadMiniRetina, iPadMiniRetinaCellular-iPadMiniRetinaCellular, iPhone6-iPhone6, iPhone6Plus-iPhone6Plus, iPadAir2-iPadAir2, iPadAir2Cellular-iPadAir2Cellular, iPadMini3-iPadMini3, iPadMini3Cellular-iPadMini3Cellular, iPodTouchSixthGen-iPodTouchSixthGen, iPhone6s-iPhone6s, iPhone6sPlus-iPhone6sPlus, iPadMini4-iPadMini4, iPadMini4Cellular-iPadMini4Cellular, iPadPro-iPadPro, iPadProCellular-iPadProCellular, iPadPro97-iPadPro97, iPadPro97Cellular-iPadPro97Cellular, iPhoneSE-iPhoneSE, iPhone7-iPhone7, iPhone7Plus-iPhone7Plus, iPad611-iPad611, iPad612-iPad612, iPad71-iPad71, iPad72-iPad72, iPad73-iPad73, iPad74-iPad74,

Supported Languages:

English;