TapNova doesn't recommend this version of the app.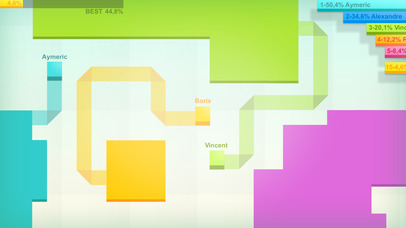 New in version 2.10
Bug fix
New game over screen
Improvements
Description
Discover Voodoo's new game: Paper.io.
Your goal? To conquer as much territory as possible. It's initially very simple, and the game can be mastered immediately, but watch out: there's competition, and not everyone can win!
Whether you're bold or more careful, you have to be more cunning than your adversaries by finding the best strategy to conquer the most space. But be careful! You have a weak spot: your tail. If an enemy touches it, that's the end for you.
Try to stay ahead, because victory in Paper.io is never certain until you possess all the territory. Stealing is allowed, and your enemies won't hesitate to do so.
After the success of Quiz Run, 1 Pic 8 Words, and Bool, Voodoo now offers you a new gaming and graphics experience inspired by io type games (made popular by agar.io). Enjoy the simplicity and strategy of an io game in a world with unique graphics.
Paper.io is for the whole family and doesn't require an Internet connection.
iPad Screenshots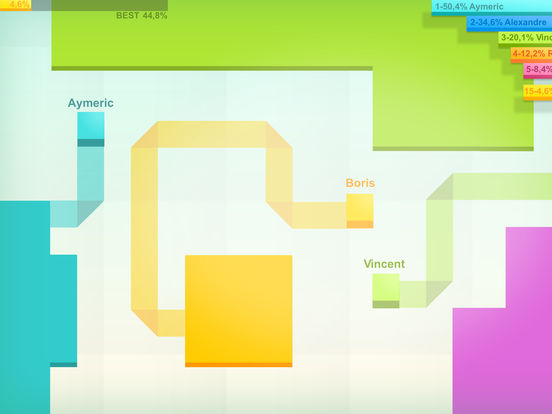 Reviews
This game is so asome
Mightyfurball
on
7/21/2017
I love it
Good game
The best57...........
on
7/21/2017
Is a game except if you are reincarnated next to another paper.io you die
THE BEST!
Berenicelas112
on
7/21/2017
I really like this game! I had it on my phone for a long time! And I always play with it! The only thing I don't like bout it y'all need to stop putting ads every time u die. Anyways it's so addicting!
We need real players.
Of,Dundee,dksejdieksjsiiskskd
on
7/21/2017
I love this game! I play it all day! But there is only one problem for me, the robots. It's not challenging after a while. If you could add more skins as well, that would be great.
Best.
lola cecilia
on
7/21/2017
This game is so much fun
too many ads!!
monise magalhaes
on
7/21/2017
the game is awesome, but there are WAY TOO MANY ADS! it's unbearable! sometimes they even appear DURING the game, I mean, limits! if i didn't download those games the first 100 times they appeared, I will not download now, geez! I'm about to delete it because of it
DOWNLOAD NOW
This game so stupid !! I love it 😛
I Didn't Know I Wasn't Playing With People
GraceOnToast
on
7/20/2017
What's the point of this game if you aren't actually playing with people and bots instead. You advertise this like as game similar to agar.io which has only a few bots to fill a LIVE server.
Nice
Frankieroseocean
on
7/20/2017
Nice
Too many ads
ashleypatrick520
on
7/20/2017
I love the game but there's just too many ads
TO MANY ADDS 😠😠😠😠
Softball Life Forever
on
7/20/2017
I love the game but the are to way many adds. Every time I die an add shows up!! This app is very addicting but I am not patient enough to wait for the adds to end. I don't recommend this game 😠😠😠😠
YALL R STUPID THINK
Ibraheem Abbas
on
7/20/2017
so everyone is complaining about ads, JUST TURN THE WIFI OFF! THE PLAYERS R JUST COMPUTERS SO U CAN PLAY PEACEFULLY WITHOUT ANY ADS! Can't believe no one thought of this...and I thought the human race was intelligent...turns out they have the intelligence of a monkey...at least I DONT
I cant stand it. 😡😡😡😡😡
I cant stand the fact that when I watch a ad to continue to play in the middle of the ad it kicks me out and takes me back to my home screen. P.S- I love the game but if you can do anything please fix it.
Needs fixes
I accidentally pocket deleted the app and had to download it again. I don't mind starting from scratch to get the avatars again, but it isn't remembering that I paid for ads free. The IAP (in app purchases) button does not work. I have reached out to the company several times with no response.
Alright
Eric3830174720000
on
7/20/2017
Very fun and addictive game. I don't understand why they give the option to watch ad and continue. The button to watch the video doesn't always work and when you decide to not hit the button to continue and watch the ad, you still have to watch an ad to start over. So what's the point.
Ad heaven
I have been watching ADs more than playing the game itself. Yes, there is a AD free game for a small fee but this first impression is just awful. I would buy the game if I actually had more gaming experience than watching silly ADs. Secondly, lags!!! Especially after forcing to watch an AD. Thirdly, are we competing against live players or bots? The reason because why are players having two words nickname, I have not seen any drugs and sex related nicks, and they seems generated.
Fun, simple, good time consumer
Much like the other games they make
I love it
app critic 98 appel
on
7/20/2017
It's great
Just got a 100% it was insane
fun game cuh
Friends?
Hdjdosbcidhcmso
on
7/20/2017
I like it but they should add friends so we can play with friends
Love it
This game has been the most amazing game ever but it has a few problems 1 too many ad a few are okay but there are too much 2 ALS not multiplayer but als they are too good
Fun, but the ads are not helpful
This game is amazing and all, like splix.io, but there's video ads about every time you die. Plz change this, it's highly annoying.
Fun but...
Fun game but the ads get stuck and I lose my progress in the game.
Cool but to many adds
Love__bucky_183
on
7/19/2017
4 stars for a cool game it's addictive and I really love to play it but I tend to stop playing after like 5 minutes because there are too many adds but it's still a very fun game to play
Ad-Free Purchase Fraud
ZorosTheSecond
on
7/19/2017
Purchasing Ad-Free will only remove adds on respawn, not for extra lives, and those extra lives may not activate even if you watch the add, if you can even select yes because the button often freezes. The game is a good puzzle-strategy game, but sadly all the opponents are CPUs instead of other players. Also, don't bother buying all avatars unlocked, you'll get the money you need for any avatar in like 17 games or so and it's just not work the extra $2.
I love the game but there's a problem
Allys awesome Reviews
on
7/19/2017
Ever time I join a server,people just kill me and it's not fun at all so I gave this game a one star
Bugs
Do you all know there is the bug where're you go and make a trail and then make it back to your territory? But then they say you didn't make it to your territory in time! Also I hate when you kill someone and then they try to kill you and out of the two they say you loose! I love this game but there is a lot of bugs and glitches they need to fix in the next upgrade P.S. It is so bad when they spawn you in a busy spot and you die before you can even move you body
Addictive
I want investors
on
7/19/2017
This game is insanely addictive but I LOVE it. The only reason that I did not give it a 5th star is the ads. They are often and heavy. I am in the 100% club and I have hit 100% more than once.
FavoriteGame
Addictive and fun. Only game I play on my phone. I do have a problem with the extra life pop up in exchange for an ad. It never lets me click the green check and I have to close out that game. Also it's very glitchy and sometimes the box gets caught for a moment or two with the new update. But enjoy playing overall.
Do u
Michaelguy113
on
7/19/2017
Do u play with REAL people or just coms?
More Skins Please!
I love this game and I am addicted to it, but I have around 350,000 coins and all the skins. It's the middle of July and I'm still looking at Valentine's Day skins. An update would be much appreciated.
Too many adds
Literally after every game there's an ad. Too much to enjoy it
Don't buy in! Game is NOT multiplayer.
appReviewer997
on
7/19/2017
This game is a complete scam. They debts try as hard as they possibly can to hide the fact that this is not a multiplayer game. I'm telling you all, every single opponent you've ever played was programmed- no matter how real they seem. This info is only told obscurely on the bottom of the app description, and I just don't want anyone else to fall into this trap like I did.
Too many ads!!!!
Unicorn12345679
on
7/19/2017
The only thing I don't like about this is the ads you have to pay 3 dollars to remove them!!!!😡
Needs work
The game keeps freezing up and keeps exiting automatically.
Awesome Game! If you don't mine the ads
Paper.io is a "decent game" with just a few flaws. One of them being just too much ads. Second is that it get's boring after some time, you buy all the stuff and done. Nothing more to do. If there were upgrades (temporary ones) during the game it could probably make it a bit more interesting, and maybe more variety of stuff fore you to buy. If your interested in a game to play from time to time I would recommend this one. Paper.io does function without internet so ads become no longer much of a problem as long as you don't mind turning the Wi-Fi off.
No ads trick
If you Turn off cellular data for this game in your Settings you will have zero ads
Good game
mineing master
on
7/19/2017
Omg this is so exciting to play at first saving up for an avatar is frustrating and boring but Leo I bight the bundle pack omggggg so worth the $5. In all you shout get this app
ADDS EVERY FIVE SECONDS!
RoyalRobloxians
on
7/19/2017
There are literally adds every five seconds if you die you watch an add and one time I watched two! Soooo annoying!!!😡👿😡
This is not a io game
Despite what the name suggests this is not a multiplayer game you are NOT playing against real people you are playing against bots 100% bots I kid you not try going on airplane mode. This game is super deceitful and ontop of that it lags do yourself a favor and don't download
I wonnnnnnn bitchessss
Finally got 100%. You guys should add like challenges ges or something
Awesome
This game is so fun to play it is one of my favorite games ever. I get so happy when I become king and when I lose I just want to keep playing there are so many different characters and so many different things to do in the game. My only little complaint is the ads. Every time I lose there is an ad that I have to watch before I can play again it's kind of annoying and a little time-consuming. Other than that I love the game.
What!!!!
I really loved this app and it's really not your fault that I said "Loved". It's my fault. So, one day I was just playing paper.io when I wondered something. All the names in the game are really weird. Then I searched, "Is paper.io a multiplayer game". And it ruined the whole thing. It said "Its all robots" and "I don't know why but this isn't an online or multiplayer game.". WHAT?? I was super surprised that all these "robots" were super smart. How do they sense to kill my tail and run into it? And when I build my space on the "robot's" lawn, it goes on mine too. I am really disappointed in myself for searching this 😔. PLEASEEEE make this a multiplayer game if this is true. I truly love this app and would love it more if you made it multiplayer if it isn't!❤️❤️❤️
Deleted after about three minutes
BambiRaptorrr
on
7/18/2017
Your game ends every minute and a half. Waste of a download. Deleted.
Fun lasted a day
free_spirit96
on
7/18/2017
It's a cool game but it has an overwhelming amount of ads for an app that doesn't even need to be connected to the internet to use. Because it became quickly obvious to me that the other players were bots, I played in airplane mode to avoid ads. Realizing they were bots kind of took the competition out of it. Fun while it lasted.
Nice
I e had way too much fun playing this game so far.
Good but less adds pls
Need to get rid of adds it's so annoying
Spawned me in the middle of nowhere READ
ThaModdar1337
on
7/18/2017
I have gotten 100% but wish to see the updated win screen, so I'm doing it again. I swipe left but still run into the wall. I almost had a circle around the map. I watch a video for a second chance, and when its over, it spawns me right smack dab in the middle of where I had no territory as I died. Complete bs if you ask me, or anyone really.
If they limited the ads
barryawesome
on
7/18/2017
This is a 5-star game. Period. I'll revise my review if that happens but sadly the ads are overwhelming. I get that you can pay to remove the ads but even the free version is so bad it doesn't really wanna make me pay it. It's just too much.
Goodish meh
Donuts and pies
on
7/18/2017
I don't like how people can cut u off because I just want enjoy the game and not have to start over
Fact Sheet
Publisher: Voodoo
Category: Games
Released: Nov 04, 2016
Current Version Released: Jun 29, 2017
Version: 2.10
Size: 287.9 MB
Compatibility: Requires iOS 8.0 or later.
Recommended Age: 4+
Game Center Certified: No
Supported Devices: iPad2Wifi-iPad2Wifi, iPad23G-iPad23G, iPhone4S-iPhone4S, iPadThirdGen-iPadThirdGen, iPadThirdGen4G-iPadThirdGen4G, iPhone5-iPhone5, iPodTouchFifthGen-iPodTouchFifthGen, iPadFourthGen-iPadFourthGen, iPadFourthGen4G-iPadFourthGen4G, iPadMini-iPadMini, iPadMini4G-iPadMini4G, iPhone5c-iPhone5c, iPhone5s-iPhone5s, iPadAir-iPadAir, iPadAirCellular-iPadAirCellular, iPadMiniRetina-iPadMiniRetina, iPadMiniRetinaCellular-iPadMiniRetinaCellular, iPhone6-iPhone6, iPhone6Plus-iPhone6Plus, iPadAir2-iPadAir2, iPadAir2Cellular-iPadAir2Cellular, iPadMini3-iPadMini3, iPadMini3Cellular-iPadMini3Cellular, iPodTouchSixthGen-iPodTouchSixthGen, iPhone6s-iPhone6s, iPhone6sPlus-iPhone6sPlus, iPadMini4-iPadMini4, iPadMini4Cellular-iPadMini4Cellular, iPadPro-iPadPro, iPadProCellular-iPadProCellular, iPadPro97-iPadPro97, iPadPro97Cellular-iPadPro97Cellular, iPhoneSE-iPhoneSE, iPhone7-iPhone7, iPhone7Plus-iPhone7Plus, iPad611-iPad611, iPad612-iPad612, iPad71-iPad71, iPad72-iPad72, iPad73-iPad73, iPad74-iPad74,
Supported Languages: English;