TapNova doesn't recommend this version of the app.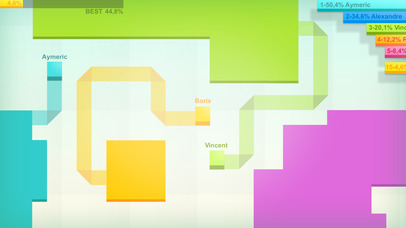 New in version 2.8
app size optimization
restore IAP
Description
Discover Voodoo's new game: Paper.io.
Your goal? To conquer as much territory as possible. It's initially very simple, and the game can be mastered immediately, but watch out: there's competition, and not everyone can win!
Whether you're bold or more careful, you have to be more cunning than your adversaries by finding the best strategy to conquer the most space. But be careful! You have a weak spot: your tail. If an enemy touches it, that's the end for you.
Try to stay ahead, because victory in Paper.io is never certain until you possess all the territory. Stealing is allowed, and your enemies won't hesitate to do so.
After the success of Quiz Run, 1 Pic 8 Words, and Bool, Voodoo now offers you a new gaming and graphics experience inspired by io type games (made popular by agar.io). Enjoy the simplicity and strategy of an io game in a world with unique graphics.
Paper.io is for the whole family and doesn't require an Internet connection.
iPad Screenshots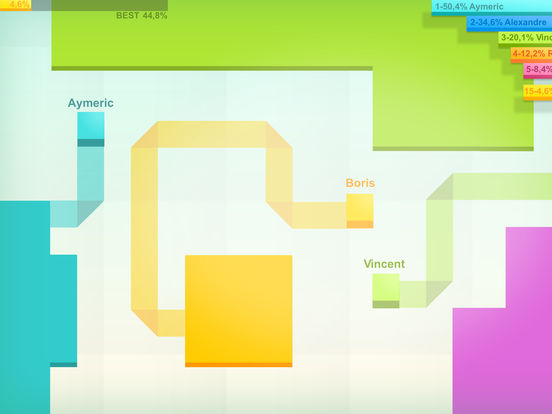 Reviews
OVER WELL A GOOD GAME
Dugssufdhavbss
on
6/22/2017
THE FRICKEN COMMERCIALS ARE SO ANNOYING #STOPTHESUFFERING
Love it but have some more ideas!
Lalaloopsyfan
on
6/22/2017
So I live this game so much play it a lot but I feel like you should make there an easier way to earn coins! I was thinking the bigger the person you kill the more coins you get! I feel like it would make people more active to the game and not just get a big square --- thanks love the game :)
Awesome and addictive
DramaQueenXXIII
on
6/22/2017
#Speechless
Love This App!
Nicole Alisson
on
6/22/2017
Omg I LOVE this app. It's so fun to play, and it keeps you busy when you're bored. Honestly this is my favorite out of all the .io games. Definitely a 5/5 from me. But maybe update it so you can actually play with other people, but still...IF YOU ARE READING THIS DOWNLOAD PAPER.IO RIGHT NOW!
Fun.
Deeloveeeeeee
on
6/22/2017
Super fun game. If you're competitive like me you'll get a little mad, but it's easy to play, easy to control, no lags, just there are WAY to much ads. Besides the ads the game is pretty cool.
Ripoff of splix.io
PinkyAwesomeness05
on
6/22/2017
I kept getting spammed by these stupid ads so I finally decided to download it. It took me one second to figure out it was just like splix.io... I tried it anyway, and it was so laggy and awful quality that I couldn't do anything. I can't even get to 100%. This is a stupid game, uninstalling it and I do not recommend it.
Amazing
I love Paper.io always have and my score the best look at crooked slither.io, sad!
Great game, too man adds
This game is great, but the adds are overwhelming!!!
Ads are annoying!
Fields nation
on
6/22/2017
I love the concept and idea to the game. But unfortunately I am rudely irrupted by the ads. If the game had more gaming then ads I would love it ❤️
Ummm... YESS!!
Toooopoooooooooooooo
on
6/22/2017
There's only one thing I have to say to this app... thank you for existing! I hate ads, but overall this is a fun game that I could spent hours playing.
TOO MANY ADS
#madatthisapp
on
6/22/2017
Too. Many. Ads. Every time I click on something there is an add. It also takes up too much space
Awsome
this is a great game and a very addictive🙂🙃😚
THE BEST GAME EVER!!!❤️❤️❤️❤️❤️
I love this game SO MUCH! I was looking for a new game one day (because o don't already have enough LOL) and I found paper.io. I had played other .io games in the past and I always like how simple but challenging the games were, so I decided to try paper.io. LITERALLY ONE OF THE BEST DECISIONS OF MY LIFE! It is very addicting 😂. It never lags or glitches or anything! The characters are cute and I love playing as the ladybug! It is very simple and never ending, so you can just keep building your paper empire (until you run into a wall like me😝). All around, Paper.io is the best game and I definitely recommend it to anyone!
Awesome game... just one problem.
I have had this game for a while and it's really fun and addicting. I could play it for a long time and not get bored. However, the only problem that I have with this game is ads. Not the ads themselves but the amount of ads. Almost every time that you die, the game gives you an ad to watch before you start again. It is not such a big deal at first but after a while of watching one ad after another is annoying, but, overall it is an awesome game. It lets you play against other people and it is suuuuuuper(I spelled super with that many u's on purpose) addicting.
AWESOME
1,0000,000000,000000,00000, AWESOME
BEST APP EVER!!
This game is addicting, yet frustrating. You feel so achieved when you get a new character or a new high score. This is a game for people of all ages. Voodoo, this is your best game yet!
Review
SphericTerror76
on
6/22/2017
I thought it was a really good game! You combine thinking with skill with logic and you get this game! I give it 5⭐️⭐️⭐️⭐️⭐️
Good game
Best .io gamer ever
on
6/22/2017
Good game just needs more variety of avatars and decorations to make it more better
Has potential
This was my favorite game on the App Store until I realized it was all bots & no real players
Fun but Issues
Hurricaneal3x
on
6/22/2017
1. Too many ads. Thing withh video ads is that at times you spend more watching than you do playing. 2. Controls. Swiping, it gets very unresponsive. I keep swiping butit takes too long or doesnt go where I want it to. 3. The extra lives are stupid! How would that even work? Once someone goes through your tail and you somehow live that would defeat the concept of the game. Make it give money or something but not lives 4. How come when you collide with someone head on there's a chance that the other person lives. It's very unfair. 5. Sometimes when you touch the tail at the same time it will kill you instead of both of you at the same time. Or when you touch the safe zone at the same time they touch your tail you still die. Which is bs as when you touch your safe zone the area in your tail should become yours.
Disappointing
the first time i got this game it was amazing but then i deleted it. then i redownloaded it and it didn't work. i started playing the game but then it took me to my home screen. then today I redownloaded it again. this time it didnt let me in at all. i tried and tried again and again but it closed right back out every time. id recommend to not download this. its just a shame because its a good game just is so stupid to not even let me in. id rate this STUPID.
Can we get a multiplayer option please!
I really love this game!!!! I wish it was multiplayer though! I would love to play against my friends in this this amazing addictive game!!!!
great
Sarahorsesllama
on
6/22/2017
amazing and wanderful
Great game
Very addictive
TO MANY ADS GOOD LORD
YESSSSSLOVESIT
on
6/21/2017
I love this game but god bless there is way too many ads. No joke every time I die there is an ad before I can go to the next game. EVERY. TIME. I mean his would be a 5 star rating but when I play the game half of the time I'm watching ads. This is ridiculous.
Cool
Great game. Really fun. Took a while to understand, but now it's really fun!!
Addicting!
Super fun! Just get premium to get rid of the ads so you can enjoy without having to deal with the annoying ads
Ads
This is a fun game and I would rate it 5 stars but there are too many ads (one each time I die) I just want to play the game.
Get it
Sincerely Francis
on
6/21/2017
Addicting
I don't know what to say AMAZE
Wow...that's all I can rlly say!! This app is to good to be free..MAKE APP £4.00!!
Awesome
It is really entertaining Has lot of adds Has different characters
Rqte
Pooooootfmlt
on
6/21/2017
I F****** love this game
The best game of my life
vitorgamingkidtv
on
6/21/2017
It's so much fun to play and the best part is that you don't need internet to play the game
Good game
Huntsvillerocket
on
6/21/2017
Great game but way too many ads. Every other time you die there's a ad. I understand every 10 - 20 but every other is ridiculous.
Boom
Static_monecraft
on
6/21/2017
Best games ever
❤️
Ariijones223
on
6/21/2017
I love this game
Addicting
Joseph_DeSantis
on
6/21/2017
I can't stop playing, send help
Rip off
Charizard3141592
on
6/21/2017
I'm I the only one who has played splix.io. Because this game is a cheap rip off of splix.io 😡
Good god enough
The ads are insane. They spawn you into death and play an ad. Easy way to make money on their part. But I won't be subject to app rape.
😍😘😍😍😍😍😍😍
😍😍😍😍😍😍😍😍😻😻😻💋💋💋🌹🌷🌸🌺💓💗💖💘💝💝💘💖💗💓♥️♥️♥️♥️♥️♥️♥️♥️♥️♥️💋💝💓💘♥️💗💖🌹😍😻😘
stressful
Terraria.pixies
on
6/21/2017
sjsjjdndenje
Great game
Chandler Lilly
on
6/21/2017
Best Game Ever
Sooo good
Maryama255&@&
on
6/21/2017
Your game is so good I want to live your game
Sooooooo many adds
Lolzing around
on
6/21/2017
It's a really fun game and pretty addictive but when you're just starting out you die over and over and every time you die you have to watch a 28 sec video... a way to fix this is every 5th time or every 10th time ... or just buy the no adds thing
Too many glitches, not real opponents, and Too Many Ads
I was playing this game like I would any other day and I suddenly lost all of my coins. I thought it was fine but then about a month later, I load the game and all of my Coins and Avatars are gone and it gives the starting tutorial like I just downloaded Paper.io. Also I Want to play Real PEOPLE! Seriously you can tell straight away your playing with Computers. The controls get stuck too many times to count! And last of all get rid of all the Fricking Ads. Its too much advertising. Stop it. They really need to fix this game. But until then Im not interested.
Secluded moon
Make things cheaper
Paper.io
Rufina Ortiz
on
6/21/2017
I really no love this game!!! THE BEST IN THE WORLD!!! :) ;)
Fact Sheet
Publisher: Voodoo
Category: Games
Released: Nov 04, 2016
Current Version Released: Apr 27, 2017
Version: 2.8
Size: 281.4 MB
Compatibility: Requires iOS 8.0 or later.
Recommended Age: 4+
Game Center Certified: No
Supported Devices: iPad2Wifi-iPad2Wifi, iPad23G-iPad23G, iPhone4S-iPhone4S, iPadThirdGen-iPadThirdGen, iPadThirdGen4G-iPadThirdGen4G, iPhone5-iPhone5, iPodTouchFifthGen-iPodTouchFifthGen, iPadFourthGen-iPadFourthGen, iPadFourthGen4G-iPadFourthGen4G, iPadMini-iPadMini, iPadMini4G-iPadMini4G, iPhone5c-iPhone5c, iPhone5s-iPhone5s, iPadAir-iPadAir, iPadAirCellular-iPadAirCellular, iPadMiniRetina-iPadMiniRetina, iPadMiniRetinaCellular-iPadMiniRetinaCellular, iPhone6-iPhone6, iPhone6Plus-iPhone6Plus, iPadAir2-iPadAir2, iPadAir2Cellular-iPadAir2Cellular, iPadMini3-iPadMini3, iPadMini3Cellular-iPadMini3Cellular, iPodTouchSixthGen-iPodTouchSixthGen, iPhone6s-iPhone6s, iPhone6sPlus-iPhone6sPlus, iPadMini4-iPadMini4, iPadMini4Cellular-iPadMini4Cellular, iPadPro-iPadPro, iPadProCellular-iPadProCellular, iPadPro97-iPadPro97, iPadPro97Cellular-iPadPro97Cellular, iPhoneSE-iPhoneSE, iPhone7-iPhone7, iPhone7Plus-iPhone7Plus, iPad611-iPad611, iPad612-iPad612, iPad71-iPad71, iPad72-iPad72, iPad73-iPad73, iPad74-iPad74,
Supported Languages: English;