This version of the app is not recommended
App last updated
Jan 09, 2018
Screenshots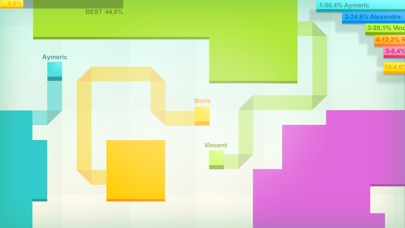 Description
Discover Voodoo's new game: Paper.io.
Your goal? To conquer as much territory as possible. It's initially very simple, and the game can be mastered immediately, but watch out: there's competition, and not everyone can win!
Whether you're bold or more careful, you have to be more cunning than your adversaries by finding the best strategy to conquer the most space. But be careful! You have a weak spot: your tail. If an enemy touches it, that's the end for you.
Try to stay ahead, because victory in Paper.io is never certain until you possess all the territory. Stealing is allowed, and your enemies won't hesitate to do so.
After the success of Quiz Run, 1 Pic 8 Words, and Bool, Voodoo now offers you a new gaming and graphics experience inspired by io type games (made popular by agar.io). Enjoy the simplicity and strategy of an io game in a world with unique graphics.
Paper.io is for the whole family and doesn't require an Internet connection.
iPad Screenshots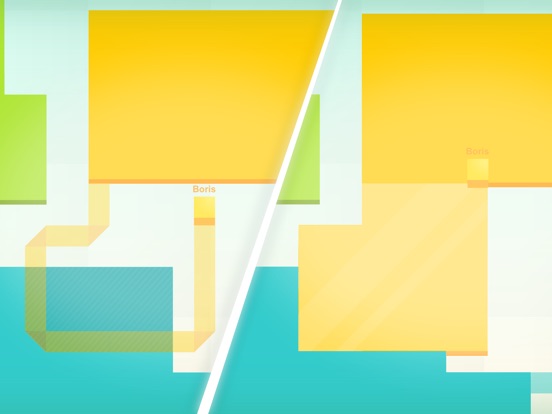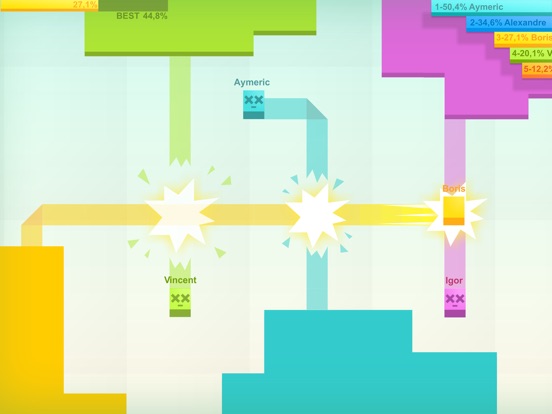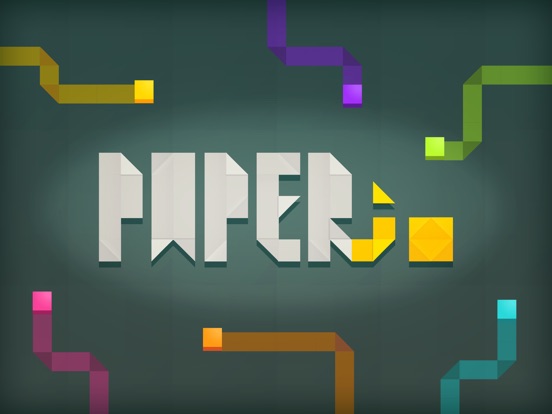 Reviews
Great game
Me & 6 yr old
on
1/23/2018
I've been playing this game for a few weeks and I really like it. I like that I can play a couple of games quickly (assuming I don't live long). The only issue is getting the avatars. I have them all except the 2 for getting avatars, the one for 1000 games and the donut for crashing the cop car. Three of these are a result of a coding error.
Something that might add to the game..
Good game! Fun! However I think it would be more fun if there was an option to play online with real players like in slither.io. Other than that, really fun.
Fun idea: plagued with ads.
Fun to play, but every single time you lose there's an ad. Clearly trying to make money, not an enjoyable game. Sad.
It made me purchase
Loren McDaniel
on
1/22/2018
I had just downloaded it then on the screen a thing poped on the screen so i just pressed something to get off of it and it purchased no ads for 3.00$ 😡😡👎👎👎
Love it but...
ShadowFightlover
on
1/22/2018
Good love how you can do a complete take over but 2 things 1 it freezes so much 2 when you are running away from people trying to cut your tail it's like they speed up and it happened to me a few times a head on hit with someone they survive but I die
Don't get!
THE SECOND I OPENED THIS GAME IT AUTOMATICALLY CHARGED ME $3.
😀 Amazing!!!!
Caracalgirl6666
on
1/22/2018
PLEASE READ THE HOLE THING!!!!! Great app!!!! I hade it on my iPad when it first came out so when I got my phone it was one of the first things I downloaded. It unfortunately has stopped working on my iPad though. (I'm twelve years old and I literally cried!!!!!) I love it so much!!!!! 😍😍😍😍 It's super easy to get more characters unlike most similar apps. My only problem is adds. (But if turn on airplane mode they will disappear.😉) Even though it no longer works on my iPad I frequently use it on my phone and it has no problems glitches nothing which is pretty good for a free app. I think the reason it stopped working on my iPad was because my iPad is old. (I don't think it was the fault of the app itself however I would still enjoy clarification on this theory. ) Also if you've ever played slither.io you'd know how popular that was and for good reason. Well I would say from someone how has played both (and loves both) that Paper.io is better!!!!!!!! It's more addicting ( which I didn't think was possible) and the online version has less glitches. ( The computer version) THANKS SOOOOO MUCH FOR READING!!!!!!
Simple, but not necessary
Ickilce tickle my belly button bum chum
on
1/22/2018
(I don't know anything about creating games btw, so don't get mad at me) I think it would be awesome if the game was multiplayer. Besides that game is awesome and addictive!
Way too many ads
Everything thing you do there's an ad for that. It makes you sit through an ad even if you start over instead of watching an ad to continue, otherwise a good game but I can't handle the ads
This is the best game
chrisislitty
on
1/21/2018
I love this game a lot and I just wish the people can get more Avatars
...
Dan-Dan is my name💙💙💙
on
1/21/2018
Well I just learned that the players aren't real players, which explains why I can go back to my exact place in the map without being killed. This freakin ruined the game for me. If it's like agar.io, then the main expectation is to play with REAL people. I'm just disheartened after hearing this. Especially since I thought I was seeing the same "players" again and believing they were real and silently connecting with them. It's even more mocking that they tried to make the usernames human generated. I'm sorry but after one week of thinking I was playing with real people it kinda deflated me. Maybe make it more clearer?
Pretty good
chandler Sorrell
on
1/21/2018
The game is awesome and so satisfying ( great game )
Love this game soooooo mush
megan dehart
on
1/21/2018
I love this game sooooooooooooooo much
I hate the adds
Braintree dude
on
1/21/2018
I like the game but I will like It more if there's no adds
Suggestions for the game
Paigerrr Murphy
on
1/21/2018
I have a lot of suggestions for this game. So my 1st one is that there should be a customize avatar thingy. My 2nd is there should be game modes like fast or slow. And I think that there should be a online mode or offline mode too.
Toooo many addddssss
zomthing_ztupid
on
1/21/2018
If I wanted to watch something I would've gone to Netflix, I can't go without a game without a add piping up.... UGH!!!!!
Ads oh the ads
This app is soooo annoying. So what happened is I won the challenges but it didn't do anything and it's not that they're hard but everytime I complete a challenge it just does nothing! I love this app so much and it's really addicting but it always glitches an and it's not only for the challenge. the other "big problem" is that I am in the middle of making a square and someone spawns right in the middle of the square. The third "big problem" is that the freezing trivia crack ad is the only ad I've ever heard on paper.io and now I know all of the words to it. I wouldn't get this app if your phone is glitchy.
Avatars
The pink donut is to hard to get please explain it more. It says I have to unlock 15 avatars to get the love letter but i have unlocked 20 something avatars and I still don't have the love letter.
Rip off
AVeryLongNameBleh
on
1/20/2018
I love this game... I'm addicted! But when I don't want ads anymore and I pay 3 dollars to get rid of them and they don't go away, it makes me angry! Don't buy the no ads! It's a rip off
My review
Hey I love this game don't get me wrong but there needs to be some more things. There should be upgrades to unlock like start off with a bigger percentage or when someone touches your line you have more time. And there should be a custom character and things like that and active challenges to get coins like kill 100 players for so many coins. There also should be online playing so it is harder. If this was added it would be so much fun!
Good Idea, Bad Execution
Herobrine13922
on
1/20/2018
I really do like this game, but the gameplay could be such more. First of all, it is not an online game. It works just fine with full data and WiFi off. It continues as if nothing happens when you pause it for hours. This is kind of a good thing, allowing custom game modes and the aforementioned pausing and offline play. But the game only has only one mode. Sure there are challenges but they are easy and over within minutes. I will list some cool game modes that shouldn't add for Voodoo's convenience. This game also just never stops with the ads. I get it, you gotta keep the lights on, but Voodoo has many apps and games, all with way too many ads. Come on! Another annoying thing about this game, not as annoying as no 1v1 mode but still annoying, is the fact that you can't change the difficulty or the number of players on the map, even though it isn't an online game. Cool game modes (easy to make): -1v1 with an AI -regular play but with a huge complex map -local multiplayer -a "round" system. There is a small map and the winner is whoever can take 50% first. When someone wins, a new round starts. Maybe a timer and some interesting and complex maps to keep things from getting boring. -the round system, but like a championship. Those are all I can think of right now, but there is just so much untapped potential in this game.
Horrible game
Poop~Meister
on
1/20/2018
This game was enjoyable... at first. Let's look at a list of BAD things: 1) WAY TOO MANY ADS I like this game, but I got like at least 25 ads for 5 minutes. 2) SUPER LAGGY Like I said, the game is cool, but it's way too laggy for me. 3) Bad Update I liked the fact that when I first started how you could buy the avatars. But now, you need to complete challenges on challenges to get them. That is why the game is bad. But yet again, I sorta like it.
Need improvements for this s$&t
GoldenMafioso25
on
1/20/2018
Need improvements
ADDS!!!!!!
Okay my dad bought add free on his phone and on our family's phone and we are on the same App Store account so if he buys something it is free on this phone and EVEN AFTER THE NO ADDS WAS BOUGHT, THERE WAS STILL ADDS!!!!!!!!!!!!!!!!!!!!!!!!!!! Rly fix your stupid game you stupid voodoo people
Totally addicted to this game. However...
2 Lil Monkeys!!!
on
1/20/2018
... the glitches are not fun. The avatar does not easily back track. I have to make a square to make it happen. Not all the avatars unlock as they should. Can't figure out what the progress bar on the donut doesn't move, even though I've crash the cop car multiple ways. The progress bar on the unicorn does moves then resets to zero, then goes back. And the progress bar to unlock a new avatar after unlocking a specific number of avatar does not move. Please fix this!
Ads dont work
Palalaaaadns
on
1/20/2018
After i lose, and i tap to play an advertisement so i can continue playing with my same score, the audio for the ad plays but the screen freezes. I have to restart the app and it turns out every time that happens my score doesnt save. The ads to used continue playing only work rarely.
Amazing
Blaine Freeman
on
1/20/2018
This is a great game that takes a lot of focus and more on than slot of my free time.
Buggy bots
Bots spawn too close and too quickly. I was about to expand territory until a bot randomly spawned right next to me and killed me. It would be better if we start with a certain amount of players in the arena and if they were real players but overall good game
fun game...
Good game. Good to pass time with. But I've been playing for at least 5 consecutive days, but the game always logs it on 0. wanna get the cubicorn! Also, s'more characters should be added. And maybe even holiday templates to play in. it does really need a bit of improving, overall. pretty glitchy, as well.
Stink
UnicornGirl66🦄
on
1/20/2018
This game is so unfair I don't like it at all because of all the ads and just the way the game is set up and I would change EVERYTHING about the game if I were you. Still don't like this game, Unknown😡
Um something is wrong
Pokemon/Fgteev lover
on
1/20/2018
I love this game but there is something wrong. On level 21 and 22 it's just a regular map! Umm where did the special map go? Did it just well disappear? And the special map is one of my favorite place! Why is it not a special map any more? PLZ PLZ PLZ PLZ FIX THIS!!
Ads in other games
The ads for this game in other games do not obey my iOS sound settings and blast the speaker on my phone when they play ads for this game. Funny how this doesn't happen with any other ad ever. You guys wanted my attention, and you guys got it.
It's okkk
So this game is reallly fun to play but is constantly glitching for me and spawning people into my area so they can unfairly trap me. Plz do more bug fixes :)
Really
Holy molly tallburd
on
1/19/2018
Can't play the game it is literally frozen
Stop this horsey malarkey budankadonk
This game is absolutely terrific, unlike madden mobile. That has to be the worst game in the history of horsey Clark monkey donkey. I love this game, but you need to stop spawning these horse patooyey monkey ba ba every time I'm getting new land. I shouldn't have to worry about some random loser trying to kill me. Thank you very much Much love
Amazing
It's very addicting and I highly recommend it. 👍👍
I have a problem (game is still awesome though)
Catness Style
on
1/19/2018
Okay, I REALLY want the cubicorn so yesterday I decided to play Paper.io every single day, but today when I checked the progress, it was 0! I knew I played yesterday but it didn't save! Is there anything you can do to help me?
Super g-l-I-I-I-t-c-h-y-y-y-y
One of the most glitchy games I have ever played....is it because I won't pay for it....ads after ever game and for a precision turning and timing game terrible game play.
Super fun... for two days.
I loved this game right away! Very addictive and challenging at first. But I got disappointed when I saw that I was just playing against bots and not online players. Once you figure out how they play it becomes easy. Th challenges add to the fun but it's still not enough. Make it multiplayer!! I finished it in 2 days, now some of the badges don't work (play X days in a row don't work).
Amazing
Amazing if u play online get this it's better!
Amazing Game!
DancingLine Lover
on
1/18/2018
I love it. It's simple and very fun. There is just one problem: glitches. I try to earn the unicorn avatar, but it says I never keep my seven day streak. Also, there is a glitch so that no matter what I change my nickname back. Don't get me wrong, I love my nickname (UNICORNPERSON17) but sometimes other people play on my phone and they can't change the name
Disturbing add content
LivesForBooks
on
1/18/2018
Ok so I know that the app is rated 12+ but to be honest, does anyone really listen to those it is a good game and i would give it five stars but I just watched an add centered around growing drugs and selling them illegally. I feel this isn't an okay topic to have in this kind of app and it should be removed.
I hate it don't bother to download
FIRST OF ALL THE ADDS. I MEAN ITS TOO MUCH SECOND OF ALL WHENEVER I KILL SOMEBODY THE GAME GLITCHES ME OUT THIRD OF ALL IT KEEPS TELLING ME TO BUY AN IN-APP PURCHASE FOURTH OF ALL THE GAME STOPS AUTOMATICALLY PLEASE FIX THIS
Voodoo
Jennifer1234567123
on
1/18/2018
Like every other game that Voodoo has made including dune, rush, and twisty road, this game is soooo addicting! Thank the gods for you, Voodoo! BIG FAN❤️❤️
Game
porsha yayyy
on
1/18/2018
This game is fun however I think u should make it where u can turn around right away. Because if u can't turn around right away then others can get you out yet you can't get them out. And then if it don't let you turn around fast then u may run into a wall 🙄🙄
Character Unlocking
ItzJustKennedy
on
1/17/2018
This game is good and all. I am addicted to this. Just one thing I am having a problem with. When I play, I manage to unlock characters. Like everyone else. But when I go to change my character, it's not unlocked. But when I press unlock, it's says "play 3 days in a row" or something like that. The bar is full. Just won't give me the character. 🙄🙄🙄🙄
love app but it always lags
ughhhh this app is so fun but the lag is terrible!!😑🙄 when i try to get an extra life it lags and i have to exit the app and restart. this app is a pain because of this problem.... but i love the app so i give it three ⭐️ stars
Fun
Very fun game.... 5 stars
It coo
Shel candy crush
on
1/17/2018
L
Um
unicorns!!!!🦄🦄🦄🦄🦄🦄
on
1/17/2018
Okay first off amazing game!! But, Where is my game? It has disappeared off of my devise and I can not find it or play it in any way possible even if I try pressing open on the app store. Oh yea that leads to another thing! My devise says I still have it but um? Where? But still over all amazing game and I absolutely love it! But still
Fact Sheet
Publisher:

Voodoo

Category:

Games

Released:

Nov 04, 2016

Current Version Released:

Jan 09, 2018

Version:

3.4.63

Size:

222.5 MB

Compatibility:

Requires iOS 8.0 or later.

Recommended Age:

12+

Game Center Certified:

No

Supported Languages:

English;

Parental Advisory:

Mild Cartoon or Fantasy Violence; Mild Sexual Content and Nudity; Mild Simulated Gambling; Suggestive Themes; Mild Realistic Violence; Mild Alcohol, Tobacco, or Drug Use or References; Treatment Information; Fear Themes;