TapNova doesn't recommend this version of the app.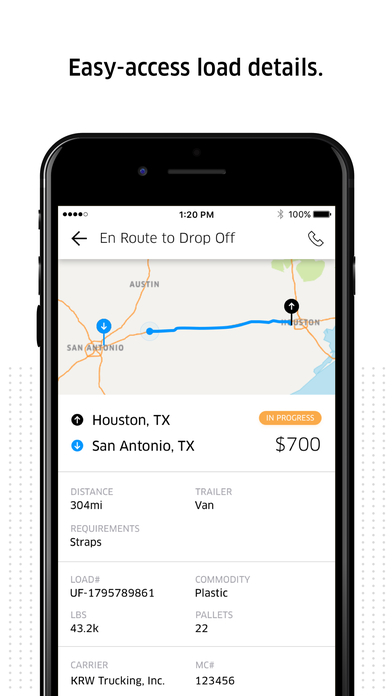 New in version 1.0.2
Thanks for using Uber Freight! To make our app better for you, we bring updates to the App Store regularly.

With each update to Uber Freight we focus on improving the speed and performance of the app. We're also constantly working on additional features that will improve your overall experience.

Love the app? Rate us! Your feedback keeps the Uber Freight engine running.
Description
Uber Freight is an app that matches carriers with shippers. Carriers can just tap a button and instantly book a load, and the price you see is the price you get—no more back-and-forth negotiations. Loads on our app are exclusive to us through our contracts with shippers.

Before you can start using the app you'll need to sign up at https://freight.uber.com. When your account is approved and authorized you'll be able to access our exclusive loads and book them through the app.

Like us on Facebook at https://facebook.com/uberfreight
Follow us on Twitter at https://twitter.com/uberfreight

Have a question? Email freight-carrier@uber.com
iPad Screenshots
Reviews
Good app, needs updates
Александр Александрович
on
7/19/2017
App is good, easy to work with, but need updated so owners can make offers to the load and add something like chat or email to broker about offer, possible to shift PU/Del time changes...
Pickup truck loads ?
Do you have loads for flatbed super duly pick up trucks or just semi trucks
Bid
I'd like to see an option to Put a bid in on a particular load like your competitors have.. Also some kind of notification on new loads popping up.. Did one load with you guys went smooth paid in 9 days not bad like to see 24hr pay.. R&A Trans
You have to be a truck driver
LaurenWithLyft
on
7/8/2017
It would be cool if uber freight would expand to suvs and larger cars. You have to be a truck driver to driver with uber freight. I like the idea a freight driver but I'm not a truck driver but I have a Prius and I can fit small loads of boxes in my car lol. Wishful thinking. Great job and idea with this one though, Uber.
11/10
I was able to ship all my children to their mother within a day
Shippers and Rates
The rates you guys have posted with the shippers loads, are they the averages on the lanes or actual rate of payment? I also have a hard time believing that most shippers want to deal with getting their loads moved themselves.
Sent me to Uber app
MC Express CA
on
5/18/2017
Did forgot password and it sent me to Uber app, not Uber freight.
Strange
Not all freight is as cut and dry as your hoping for. Sometimes the need for a middle man is necessary to get the rate that is fair or doable. Say they a costumer/shipper posts a load. Turns out it's oversized not a typical load. Now your back to negotiations to find a do able price after permits possible escorts etc. unless your only planning to support van freight only this won't work. Freight itself is to versatile for this to work across the board. Nice try tho. Maybe in a perfect world.
Love it
Makes booking loads so easy - love this app.
Niiice
SquarePiston
on
3/15/2017
Makes my life easier + great rates
First experience is great!
Got invited to the beta testing program and have been using the app since Feb. The rates are great and it's so simple and easy to book a load. They are always asking me what they can do better as well. Excited to see where this goes.
Great way to find loads
Sportsguy3321372
on
3/8/2017
The price you see is the price you get and it's awesome. Love this new way to find loads. Keep them coming!
AppReview
KatieLWilliams
on
3/8/2017
Easy to use and very easy to book loads. Great app.
Logistics
A fast and efficient way to book loads without having to pick up the phone. Cannot wait to see the APP roll out to other regions!
Amazing app!
Same day payments!!
So easy
Upfront pricing. Great rates, no haggling. Everything is automatically tracked so there are no annoying "check" calls.
Easy
Easy 2 use. I chek evry mornin. Rep I talked to said new stuff was coming n Im excited
Seamless and easy to use
Love the new app! Super clean, efficient, and easy to use
Great App
Excited to see Uber getting into this space! Game changer
Nothing works with Uber
What is wrong with you people I can't do anything. Don't download this. It's full of crap!
How to sign up?
Unable to sign up
Fact Sheet
Publisher: Uber Technologies, Inc.
Category: Travel
Released: Feb 04, 2017
Current Version Released: Jul 17, 2017
Version: 1.0.2
Size: 82.4 MB
Compatibility: Requires iOS 8.0 or later.
Recommended Age: 4+
Game Center Certified: No
Supported Devices: iPad2Wifi-iPad2Wifi, iPad23G-iPad23G, iPhone4S-iPhone4S, iPadThirdGen-iPadThirdGen, iPadThirdGen4G-iPadThirdGen4G, iPhone5-iPhone5, iPodTouchFifthGen-iPodTouchFifthGen, iPadFourthGen-iPadFourthGen, iPadFourthGen4G-iPadFourthGen4G, iPadMini-iPadMini, iPadMini4G-iPadMini4G, iPhone5c-iPhone5c, iPhone5s-iPhone5s, iPadAir-iPadAir, iPadAirCellular-iPadAirCellular, iPadMiniRetina-iPadMiniRetina, iPadMiniRetinaCellular-iPadMiniRetinaCellular, iPhone6-iPhone6, iPhone6Plus-iPhone6Plus, iPadAir2-iPadAir2, iPadAir2Cellular-iPadAir2Cellular, iPadMini3-iPadMini3, iPadMini3Cellular-iPadMini3Cellular, iPodTouchSixthGen-iPodTouchSixthGen, iPhone6s-iPhone6s, iPhone6sPlus-iPhone6sPlus, iPadMini4-iPadMini4, iPadMini4Cellular-iPadMini4Cellular, iPadPro-iPadPro, iPadProCellular-iPadProCellular, iPadPro97-iPadPro97, iPadPro97Cellular-iPadPro97Cellular, iPhoneSE-iPhoneSE, iPhone7-iPhone7, iPhone7Plus-iPhone7Plus, iPad611-iPad611, iPad612-iPad612, iPad71-iPad71, iPad72-iPad72, iPad73-iPad73, iPad74-iPad74,
Supported Languages: Czech; Danish; Dutch; Flemish; English; French; German; Greek; Indonesian; Italian; Japanese; Korean; Bokmål, Norwegian; Norwegian Bokmål; Polish; Portuguese; Russian; Chinese; Spanish; Castilian; Swedish; Chinese; Turkish; Vietnamese;