TapNova doesn't recommend this version of the app.
New in version 1.1.8
The Asphalt Street Storm Racing facelift is here!
The sun shines brighter and the cars look better. The races are faster and victory sweeter! Every part of the game has been improved and the whole experience streamlined:
- Cars are slicker, shinier and more of them available in the shop
- All three cities are now looking even cooler
- Menus are smoother to navigate and look better
- FPS has been optimized to give you the perfect photo finish
- Loading and connecting times have been reduced
- Fine tuning and minor bug fixes
Take the challenge and make your engine heard!
#RaceRuleRepeat
Description
Take the challenge and make your engine heard across the world's most glamorous cities in all-out drag races! Raise the stakes, then smash your way through rain, snow and scorching heat to win your opponents' pink slips and claim their cars.
Think you're up to it? How about 4-player live runs? The harder the race, the greater the triumph!

Download, and enjoy all these cool features:
• THE CAR COLLECTION OF YOUR DREAMS
Collect and race cars you've owned or always dreamed of, ranging from old-school muscle cars to the fastest hypercars. All licensed by top car manufacturers: Ferrari, McLaren, Bugatti, Mercedes-Benz, BMW, Ford, Chevrolet, and many others

• TAKE THE BET!
Whether you bet small on each run or carefully study your opponents for the perfect time to let it ride, you've never experienced a more exciting quarter-mile of racing!

• 4-PLAYER DRAG RACES
Seamlessly shift gears from single-player action to intense, multiplayer races with real-time PvP for up to 4 players!

• MIND THE WEATHER!
Keep sharp, because you never know when a drag race will throw a blizzard, pouring rain or burning heat your way. Don't lose your grip and get the perfect start!

• RACE AROUND THE WORLD IN THE MOST STYLISH LOCATIONS!
Try not to get distracted by the highly detailed 3D environments when cruising by famous landmarks in some of the world's coolest cities, like New York, Paris and Hong Kong.

• MAKE YOUR CAR UNIQUE!
Whether you're going for looks, performance or both, browse through numerous customization options. You'll need to choose your upgrades wisely, though, if you want to succeed in Streetstorm Racing.

• OUTSTANDING GRAPHICS
Feast your eyes on the superb visuals and natural lighting effects. Console-level graphics are what we do!

Tell us what you think or check out tips at:
» Forum: http://bit.ly/AsphaltStreetStormForum

Join our Racer Community!
» Facebook: facebook.com/AsphaltStreetStormRacing
» YouTube: youtube.com/c/AsphaltGames
» Instagram: instagram.com/AsphaltStreetStormRacing
_____________________________________________

Visit our official site at http://gmlft.co/website_EN
Check out the new blog at http://gmlft.co/central

Don't forget to follow us on social media:
Facebook: http://gmlft.co/SNS_FB_EN
Twitter: http://gmlft.co/SNS_TW_EN
Instagram: http://gmlft.co/GL_SNS_IG
YouTube: http://gmlft.co/GL_SNS_YT

Privacy Policy: http://www.gameloft.com/en/privacy-notice
Terms of Use: http://www.gameloft.com/en/conditions-of-use
End-User License Agreement: http://www.gameloft.com/en/eula
iPad Screenshots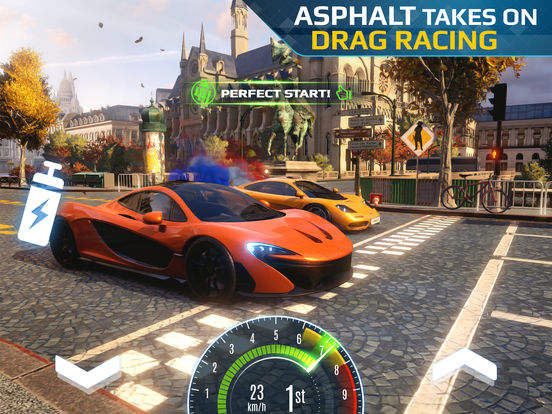 Reviews
It's really fun.
I have a lot of fun playing this game because it is just so addicting.
Best car gaming
This is is the best car racing game for mobile that I have play, the best competition for CSR!!!!!!
This car game
I really like it
Graphics improvement
This game is awesome just wish it was easier to win the crates
Useless at all
1st, if it's just a lower level clone from CSR, what's the point about the game? 2ed, if even no drift system like racing rival, what's the point about why GL set so lower level to clone CSR? 3rd, CSR has tons of free cool stuff to customized ur car, what's the point about this game has set so less customize stuffs? All of them told tell us this game is useless and a big shame to waste resources of the galaxy! Well done,GL HQ, you guys spent another 2 yrs to dev a uselessness arrived and dead game!
Dopeness
This game is the best i ever had
Always has server problems
Mike 4 the win
on
6/21/2017
It's a fun game with good graphics but every time I try to race it says how the servers aren't connecting yet my wifi is perfectly ok so please fix this and I will rate 5
Now what?
WroundeyeWrex
on
6/21/2017
Pretty cool game as far as graphics and actual play. Problem is once you beat all the "crews" in each city then what? Just racing random players, most of the time for $0. I wish there was more to the game after the first couple of days, now it's just boring.
Under average game
Won't let me start up game I tried several it several times it says something is wrong but it is not will never download again
Very realistic, but needs practice races
Needs time trial, or practice area
Biggest ripoff ever
Lllllllllppppppphhhhhffffgggg
on
6/21/2017
I play a game called CSR racing and this is almost a mirror image. I would like these developers to think of their own ideas. And I still play CSR racing because it's THE ACTUAL ORIGINAL.
So much fun!
Jasmine31227
on
6/21/2017
Awesome game!!!
Terrible
The server is absolute garbage and constantly crashes, absolutely nothing will load with perfectly good wifi
Great Game
This is an amazing concept done well. The only problem will have to be the graphics they can be updated to be a little better but they are good enough. The customization could have a wider selection of modifications. Love the game and I know it will get better with time.
Pretty CSR rip off
Not so sure what took so long for a CSR clone but at least this one has new effects similar to console games.
Yo
Zacharymphelpsssss
on
6/21/2017
Awesome
Asphalt
Hkghidjdjffh
on
6/21/2017
Sick
Stupid
Awful game, hope you like to gamble
Pretty cool
This game is the best, not only do they have the newest cars they have some old timers. Pretty easy to win, and a good game to waste time.
Really cool
Javion Terry
on
6/21/2017
Awesome
Underwhelming and bad
Legomaster1197
on
6/21/2017
I had high hopes for this game. But there is so many problems. First, it tries to copy other games like CSR but without copying the stuff that made games like it fun. There is only three cars per class you can get with in game cash with the rest being from crates and diamonds. Unlike csr, you don't get keys or whatever to open crates. You use diamonds, the same premium currency you need to buy better cars and speed up things. And while on that topic, a basic D class car costs at the lowest 170 diamonds. The cheapest pack of diamonds costs $1.99 for 115 diamonds. The price for a S class car is 3000 diamonds. I'm assuming Gameloft didn't read my review entirely because they mentioned there is more cars after the d class. I'm aware of that. So let's list the cars you can initially buy with coins after you move up to the next class: D class: 3 cars before finishing the d class, 1 car after finishing the d class C class: 3 cars during c class, 2 cars after. B class: 3 cars during two cars afterward A class: 2 cars during. S class: I don't know what the "exclusive races" are, but knowing this game, I'm assuming it's premium races costing $69.00, so no cars during the races. If you want to get cooler cars, pay up. The damage mechanic is stupid, where If you want a faster car you can't use it for too many races without a penalty. There is a severe input lag. The pink slip races are unforgiving. But my largest problem is that there is no single player races to get money. If you want more coins, you better be good at racing with input lag. I bet 14500 and the race never started. I lost it all. If you run out of coins and not good at online races, you better shell out the real cash. A D class car costs a minimum 32000 coins. The cheapest cash bundle is $1.99 for 18000 coins. I'm not entirely good at this game, but when it is the only way to make money, you're only encouraging hacking and cheating and alienating people who just want to have fun on their own. The way to get money, better cars, etc is crates, which which costs diamonds. If you want more diamonds, either buy them, or finish all daily tasks which give you 15 diamonds. A bronze crate is 100 diamonds, a silver is 250 diamonds, and a gold is 600. There is no free daily crates. In the gold and silver crates, there is a chance to get a blueprint to a car rather than an actual car. I hate to keep comparing your game to a great one like CSR, but in csr 2 there was a free bronze crate every day. And in the silver and gold crates, you are guaranteed a rare car, with a gold car being three stars or better and a silver being 1 star or better. The buttons are too small to use on an iPhone accurately. There are targeted pop up ads where you least expect them. The graphics are subpar at best. The fact that I have to wait to upgrade my car, get my car, or repair my car means that I enjoyed myself for 2 minutes and waited for 45 minutes. I have been playing every game in the asphalt series since asphalt 4 elite racing, and I have been disappointed at how much more money Gameloft wants me to give them to enjoy myself. But this pushed it too far. The graphics look like a downgrade from asphalt 8. Even asphalt 6 adrenaline's graphics are better. They have made spinoff games before. Asphalt overdrive and asphalt xtreme debatably were fun. The reason why they were fun, at least to me, is that they were free to play and didn't try to shake you down for all the money you have. The blueprint system I asphalt xtreme works fine and decently in asphalt 8. Asphalt overdrive had fewer cars to get but it felt like each car is almost obtainable without real money. It feels rewarding when you get a car through your own effort. I felt none of that pride and enjoyment with this one. If you enjoy games like this, enjoy the two minutes of racing you get. If not, this game is bad. It feels like they focused more in how to make more money rather than how can we make it more fun. If you had hopes for this game, I'm sorry. I did too. And to Gameloft, you could do so much better than this trash heap. You could say that you will fix it later all you want, but you won't have many fans to come back to when you do.
Better then CSR 2
It's better, that's all.
Good game but.......
Beast racer2335
on
6/21/2017
It's a good game but it needs work better graphics to make the cars look more real the sound on the car kinda sound wierd. They need to put more cars in the game and like bumpers and spoilers if they do all that this game would be the best racing game ever. Other than that the game a pretty good game for racing pinks and stuff I recommend getting it and the takeoff is not good people take off before 1 it should be like 3 2 1 go and right when it says go push lunch I don't like how you push it before one
Great game
littykitty123
on
6/21/2017
A little buggy with some parts, but the game is new and the bugs should eventually be fixed.
Glitches
Having the same issue as reviewer Mik3nik a few comments below. Place a bet over $500 on a race. Game 'freezes' I sit and wait a few seconds to a couple minutes. Game miraculously un-freezes and the money I bet is now gone. Has literally happened 2-3 times in the last half hour. Otherwise, this game is a great way to kill time when I'm bored.
Best racing game
Great fun and addictive
...
mmmahdavi362
on
6/21/2017
I think it's a unsuccessful copy from csr
Strong game
Woody3132!!!
on
6/21/2017
Try it out
Cannot be installed at this time
Olivia413636149
on
6/20/2017
IPad Air 2 2gb free for this game iOS 10.3.2 Cannot be installed at this time. I'd like to play this but can't.
Awesome
Meetsolanki2006
on
6/20/2017
Best game ever The gameloft is the best! Im the best fan of gameloft
Crashes
I downloaded the game yesterday, and was having fun with it. Now, it won't load properly. The game crashes, or when it does try to load, it comes up in race challenge mode against myself. Then it freezes.
Good
Good bad fps but English??
LAN evo
PreztelFTW kol
on
6/20/2017
Add the car Mitsubishi lancer evolution VIIII.
Lamborghini
This game is awesome but there should be easier ways to get diamonds.Hope you enjoy the game.Do Ballzy bets z
AWESOME
Great fun love you can bet pinks . Great balance game car prices are to high .. but it's fun
13??
Why do you have to be 13 to play???
Is a good game but
They are few cars and they have few problems
What
NoobGamer555
on
6/20/2017
When you download the game it says 4+ but when you enter something lower than 13 your not allowed to enter????? Change this
Cool
Blaazee blizzo
on
6/20/2017
Litt
Ok game
I gave it a three star because it is fun but I'll upgrade my car and it will not actually do it wasting my money
Would give 5 but
I love be game so far everything seems good but at the moment the game crashes and freezes a lot and when I was trying to bet for cash or pinks they would accept then the game would freeze and say the opponent disconnected and sometimes I would lose my car but overall pretty good game although more customizable cars would be fun :)
Potential
Niggarachie72
on
6/20/2017
Game has great potential but needs more customizations. It has great graphics and isn't a game you can beat in one day without paying.
Need help
So I downloaded the game and it said we cant download the game right now try later and when I try to delete the game, it doesnt do anything so developers please help and fix this bug
Horrible
Because they s game is just like CSR and the graphical are terrible and the app cover has better graphics.i play asphalt 8 and the graphics are out standing.
نضام العب سيا جدا
انا اخسر في كل السباقات بحجه انقطاع الاتصال يجب تحسين مستوي الاتصال فلعبه
Fact Sheet
Publisher: Gameloft
Category: Games
Released: Jun 14, 2017
Current Version Released: Jun 14, 2017
Version: 1.1.8
Size: 1346.9 MB
Compatibility: Requires iOS 8.0 or later.
Recommended Age: 4+
Game Center Certified: No
Supported Devices: iPad2Wifi-iPad2Wifi, iPad23G-iPad23G, iPhone4S-iPhone4S, iPadThirdGen-iPadThirdGen, iPadThirdGen4G-iPadThirdGen4G, iPhone5-iPhone5, iPodTouchFifthGen-iPodTouchFifthGen, iPadFourthGen-iPadFourthGen, iPadFourthGen4G-iPadFourthGen4G, iPadMini-iPadMini, iPadMini4G-iPadMini4G, iPhone5c-iPhone5c, iPhone5s-iPhone5s, iPadAir-iPadAir, iPadAirCellular-iPadAirCellular, iPadMiniRetina-iPadMiniRetina, iPadMiniRetinaCellular-iPadMiniRetinaCellular, iPhone6-iPhone6, iPhone6Plus-iPhone6Plus, iPadAir2-iPadAir2, iPadAir2Cellular-iPadAir2Cellular, iPadMini3-iPadMini3, iPadMini3Cellular-iPadMini3Cellular, iPodTouchSixthGen-iPodTouchSixthGen, iPhone6s-iPhone6s, iPhone6sPlus-iPhone6sPlus, iPadMini4-iPadMini4, iPadMini4Cellular-iPadMini4Cellular, iPadPro-iPadPro, iPadProCellular-iPadProCellular, iPadPro97-iPadPro97, iPadPro97Cellular-iPadPro97Cellular, iPhoneSE-iPhoneSE, iPhone7-iPhone7, iPhone7Plus-iPhone7Plus, iPad611-iPad611, iPad612-iPad612, iPad71-iPad71, iPad72-iPad72, iPad73-iPad73, iPad74-iPad74,
Supported Languages: Arabic; English; French; German; Indonesian; Italian; Japanese; Korean; Portuguese; Russian; Chinese; Spanish; Castilian; Thai; Chinese; Turkish;