TapNova recommends this app!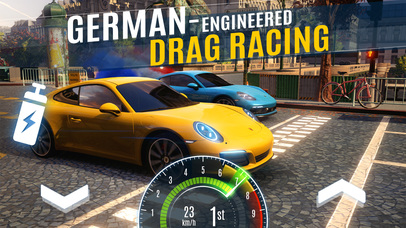 New in version 1.2.1
Porsche just pulled up to the starting line, ready to bring some German-engineered drag racing to the game!

PORSCHE POWER
Try 5 amazing new drag racing machines that bring the finest German engineering to the strip:
- 718 Cayman S
- 911 Carrera S
- 911 Turbo S
- 911 GT3 RS
- 918 Spyder

IMPROVED PERFORMANCE
Accelerate your game with several quality and speed improvements:
- Improved User Interface
- Faster connectivity

Take the challenge and make your engine heard!
#RaceRuleRepeat
Description
Porsche just pulled up to the starting line revved-up and ready to drag! Prove your worth in the newest all-out drag racing game:
- Up to 4-player simultaneous PvP
- Race for money, fame and even your opponents' pink slips
- Amazing real-life cars, ranging from McLaren and Lamborghini to Ferrari -- all up for grabs!

Take the challenge and make your engine heard across the world's most glamorous cities in all-out drag races! Raise the stakes, then smash your way through rain, snow and scorching heat to win your opponents' pink slips and claim their cars.
Think you're up to it? How about 4-player live runs? The harder the race, the greater the triumph!

Download, and enjoy all these cool features:
• THE CAR COLLECTION OF YOUR DREAMS
Collect and race cars you've owned or always dreamed of, ranging from old-school muscle cars to the fastest hypercars. All licensed by top car manufacturers: Ferrari, McLaren, Bugatti, Mercedes-Benz, BMW, Ford, Chevrolet, and many others

• TAKE THE BET!
Whether you bet small on each run or carefully study your opponents for the perfect time to let it ride, you've never experienced a more exciting quarter-mile of racing!

• 4-PLAYER DRAG RACES
Seamlessly shift gears from single-player action to intense, multiplayer races with real-time PvP for up to 4 players!

• MIND THE WEATHER!
Keep sharp, because you never know when a drag race will throw a blizzard, pouring rain or burning heat your way. Don't lose your grip and get the perfect start!

• RACE AROUND THE WORLD IN THE MOST STYLISH LOCATIONS!
Try not to get distracted by the highly detailed 3D environments when cruising by famous landmarks in some of the world's coolest cities, like New York, Paris and Hong Kong.

• MAKE YOUR CAR UNIQUE!
Whether you're going for looks, performance or both, browse through numerous customization options. You'll need to choose your upgrades wisely, though, if you want to succeed in Streetstorm Racing.

• OUTSTANDING GRAPHICS
Feast your eyes on the superb visuals and natural lighting effects. Console-level graphics are what we do!

Tell us what you think or check out tips at:
» Forum: http://bit.ly/AsphaltStreetStormForum

Join our Racer Community!
» Facebook: facebook.com/AsphaltStreetStormRacing
» YouTube: youtube.com/c/AsphaltGames
» Instagram: instagram.com/AsphaltStreetStormRacing
_____________________________________________

Visit our official site at http://gmlft.co/website_EN
Check out the new blog at http://gmlft.co/central

Don't forget to follow us on social media:
Facebook: http://gmlft.co/SNS_FB_EN
Twitter: http://gmlft.co/SNS_TW_EN
Instagram: http://gmlft.co/GL_SNS_IG
YouTube: http://gmlft.co/GL_SNS_YT

Privacy Policy: http://www.gameloft.com/en/privacy-notice
Terms of Use: http://www.gameloft.com/en/conditions-of-use
End-User License Agreement: http://www.gameloft.com/en/eula
iPad Screenshots
Reviews
Very good but...
The Bacon Kid
on
7/21/2017
It is nearly impossible to buy new cars. Otherwise good game
Race on
Fun challenging game
Garbage
Egkqfkpefncicwenchfnpejde
on
7/20/2017
Why would you make a game where it's nearly impossible to buy a car and sell other cars and selling gives you no money?! I fully upgraded car with more torque and power can't even beat my other opponent and I'm literally doing everything correctly starting before the race counts down, shifting properly, turbo boosting, etc. need to be better at making games idiots
Great game butt....
Devil girl X
on
7/19/2017
It's a great game overall but the car repairs are a pain in the butt.
Amazing game
Awesome game
Great
jesse cowdrey
on
7/19/2017
Awesome
App crashes
Don't do pink slip races cause the app will crash half the time and customer service will say it's your fault you lost your car
ممتازة goood
روعة مررررررررررره good
Cool game
Michael Sones
on
7/19/2017
This game you have came up with is very cool and fun to play
Diamonds
AndreaMaccarrone
on
7/18/2017
I love this game, but there needs to be an easier way a buy a car in this game. Also some of the cars need to be brought by diamonds witch is hard to come by. In Asphalt8 and Asphalt Xrteme I have a lot of diamonds, but in this game I have zero. P.s. When is Asphalt9 supposes to come out.
Love for race
Love this game
Fun game, very competitive
Mrawesomeatdoingthings
on
7/17/2017
Fun game, very competitive
5
Bossmanjr1216
on
7/17/2017
Love how they deleted all the comments so far so good for now but need to fix lobby have more people
Great game, non pay to win.
Rob - Asia top 5 player
on
7/17/2017
Without spending a penny you're able to get the best cars in the game. It's not pay to win but play to win. Regardless of your car and wether on multiplayer or story mode, you will have a great time. The graphics is amazing and the updates and new cars they add just make it so much better. I'd give this a 4 star for their customer support which takes a bit to reply but the game is just way too good. Be aware of bugs and scammers within the game, there are many players who will help you out. - Rob Asia's top player.
Wait time for engine repair.
DemonicAlpha
on
7/17/2017
The game is really awesome and I love the 4 way race that's so fun! But I don't like the whole engine stress and repair thing. The engine is damaged so little but then have to wait so long for it to repair and people don't always have the money to buy jewels to rush past the time. It should be like CSR using fuel. Waiting for that to fill when you run out isn't bad plus I race back to back either doing campaign or racing other players. Same goes for parts the wait time on those are ridiculous also needs to have an option where you can install certain stages all at once instead of individually buying each part. Other than this games good!
Awesome game but
It's a good game but u guys should probably be careful cause I saw people being racist and xenophobic and stuff I think this game is not kid friendly
Have to try
Wheels1974#1
on
7/16/2017
Fun game to play
So cool
De game es so cool end will not lose
This game is amazing
Oscar Jesus Tellez
on
7/16/2017
I like the other game they made but this one I like it just a little bit better it still as fun but gives you the option to race people directly
Alex leal
My opponents start earlier than me and I lost my Subaru can I get it back plz
The best drag racing game!
I give this game 5 stars! It's very fun, and was made very well. Not hard to get over 1 million cash or diamond. You just have to work your way up. Definitely not an easy game but it the right amount of challenging. The only problem I have is that there isn't much to do and also, there is no racing groups. Please make it to where friends can make a group and where we can do different events. Also, we need a lot more cars that are not given away in the main event. Too many people boost in the event so a capacity on how much points can be obtained by racing the same person over and over again would be great! Thanks! If anyone needs help add me! Ign: Galata
Great
Appguy554543793
on
7/15/2017
Great game, but the repair and upgrade times are longer than real life times.
It's a good game
Kinda like CSR2 but asphalt version
AWESOMENESS
ghostasseater
on
7/14/2017
Most addicting game I've played in a while, really enjoyable and overall super fun
Great
Spike lee joint
on
7/14/2017
This is a great game to spend time playing!
Best game
Best game hands down
Street outlaws
I like this game a lot I will definitely keep playing, thanks
Impossible to get good cars without paying
The game had interactive ads that gave you 500 diamonds, which I thought were fun and made the game interesting to play. All of a sudden these ads became 500 cash (nothing in this game), which makes getting gold boxes impossible without spending a ridiculous amount of money. Lost all its appeal, don't waste your time if you don't plan on spending $100+ in this game (which I NEVER would).
Great game and all but
How is a 476 rated car going to beat a 485 rated car by a long shot? Or even beat it in general? I don't know if I'm not seeing the logic of this game correctly but I don't think that's how it's supposed to work, 485 B class car is way out of reach from a C class 476 car
Bueno
Este juego de carreras es muy bueno me gusta preparar los auto waoooo me dievierto bastante
Very good game
I like the way you can get tunes and the game is great
De pelos
Este juego está de pelos, solo falta un poco más de gráficas jejejej
Just rating
Citadel curse
on
7/10/2017
👍👍👍👍👎
I have a problem
So while playing campaign my up grades are higher then the guy but every time I race the race is to long and I have C rank ss camaro and I think if you gave it more shifts it would work better because almost wining I have no more to shift and it goes all the way at 6 and it slow down and I lose there's only 3 shifts
Fun game in the 1st hour...
Yucel Sifontes
on
7/10/2017
Game is overwhelmed with adds. Additional vehicles are locked behind loot boxes or in game currency from the very beginning too. I would keep playing except for the obvious cash grab this game is. I wouldn't bother putting time into it. You'll hit a pay wall very soon and end up paying WAY more a$60 video game. Pass it up.
This game is EPIC!!
If you love Drag Racing Against People this is the game ! You gotta beat all the crews in one city to level up and be the boss !
GAMELOFT PLZ READ!❗️❗️❗️❗️
EnragedBannana
on
7/10/2017
Don't get me wrong, it is a fun game and I play it like every day. There are just always glitches! 1️⃣When people lose they will shut off their game and then we have to wait for them to reconnect an sometimes it doesn't even let us win (that's happened to me with pink slips and it is really annoying) 2️⃣More glitches yay! Well, I've lost cars just from nowhere before and I still want them back. I've lost a Subaru BRZ which was really annoying because at the time that was my best car so I couldn't really win any races. Also, today, I lost my McLaren P1 and that was my best car as well it was fully upgraded and 515 car rating! Now it's gone! That's what brought me to write this review. GAMELOFT PLEASE GIVE ME MY P1 BACK!!!!' (My username is NoRacesForFree)
good
radin amiri LM10
on
7/10/2017
nice
How
Like the game until I did a race against someone for a bet of $500K and I won. I thought that was great until the game took $500K out of my account. Howwwwww????
Awesome game
Love this game.
Big Fun
I like this game for burning time.
Money grab
Jzbbxkzkjsbzbzv
on
7/8/2017
Money grab, way too many adds. Greedy model
Looks cool
Ok.This is my third time I change my opinion about this game.I play this game regulary at least 1hour at evenings.Great game.BUT.Very laggy,There is annoying bug is when you make bet 1000$ and other person got two options.1 call your bet,2 raise your bet,but there is people who actually decreasing my bet and accepting race.Example,I was challenged which means I do bet so my bet is 50000$ right so other person somehow can decrease my bet from 50000$ to 124$.Are you serious?!Normally it's people with gameloft plates.There is much more bugs.Problems with connections,when race starts its lagging so you can easily lose perfect launch start and in this game it's crucial to start perfect launch.Wake up gameloft!!!!You created a masterpiece in my opinion but it's falling apart cause of all this problems this game have.We don't need more cars more content if game is not playable at all.Thank you.
Eh
It's pretty entertaining, except the fact that you must purchase some bundle deal bs to get you hands on a good car. Good game tho
I think this game makes my phone hot
mizz unnastood_1
on
7/7/2017
I have an iPhone 7plus. This game makes my phone very hot. Use with caution iPhone users. On my tablet, it's the best! I love race games!!
Fact Sheet
Publisher: Gameloft
Category: Games
Released: Jun 14, 2017
Current Version Released: Jul 17, 2017
Version: 1.2.1
Size: 1429.7 MB
Compatibility: Requires iOS 8.0 or later.
Recommended Age: 4+
Game Center Certified: No
Supported Devices: iPad2Wifi-iPad2Wifi, iPad23G-iPad23G, iPhone4S-iPhone4S, iPadThirdGen-iPadThirdGen, iPadThirdGen4G-iPadThirdGen4G, iPhone5-iPhone5, iPodTouchFifthGen-iPodTouchFifthGen, iPadFourthGen-iPadFourthGen, iPadFourthGen4G-iPadFourthGen4G, iPadMini-iPadMini, iPadMini4G-iPadMini4G, iPhone5c-iPhone5c, iPhone5s-iPhone5s, iPadAir-iPadAir, iPadAirCellular-iPadAirCellular, iPadMiniRetina-iPadMiniRetina, iPadMiniRetinaCellular-iPadMiniRetinaCellular, iPhone6-iPhone6, iPhone6Plus-iPhone6Plus, iPadAir2-iPadAir2, iPadAir2Cellular-iPadAir2Cellular, iPadMini3-iPadMini3, iPadMini3Cellular-iPadMini3Cellular, iPodTouchSixthGen-iPodTouchSixthGen, iPhone6s-iPhone6s, iPhone6sPlus-iPhone6sPlus, iPadMini4-iPadMini4, iPadMini4Cellular-iPadMini4Cellular, iPadPro-iPadPro, iPadProCellular-iPadProCellular, iPadPro97-iPadPro97, iPadPro97Cellular-iPadPro97Cellular, iPhoneSE-iPhoneSE, iPhone7-iPhone7, iPhone7Plus-iPhone7Plus, iPad611-iPad611, iPad612-iPad612, iPad71-iPad71, iPad72-iPad72, iPad73-iPad73, iPad74-iPad74,
Supported Languages: Arabic; English; French; German; Indonesian; Italian; Japanese; Korean; Portuguese; Russian; Chinese; Spanish; Castilian; Thai; Chinese; Turkish;