Screenshots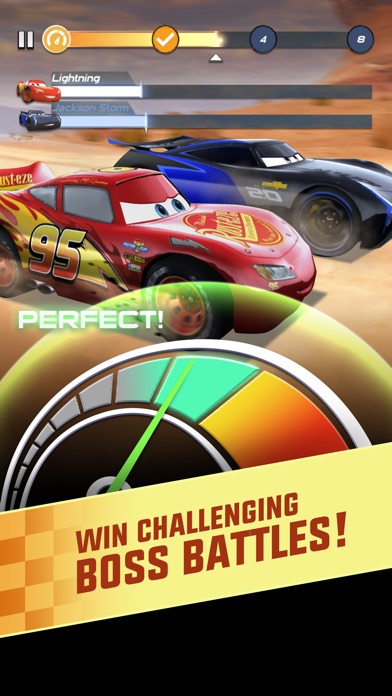 New in version 1.5
NEW DAILY REWARDS
Race back every day to claim your daily reward, and work your way to a grand prize Reward Box!

KEEP RACING PAST THE CLOCK
Run out of time before hitting your goals? You can now use your gems to continue racing without having to start a level over!
Description
Feel the thrill of high-octane sport racing in Disney•Pixar's Cars: Lightning League!

Blindsided by a new generation of blazing-fast racers, the legendary Lightning McQueen is suddenly pushed out of the sport he loves. To get back in the game, help train the Piston Cup champ in iconic film locations as he prepares for a speedy comeback in this all-new game inspired by Disney•Pixar's "Cars 3." Race fast, race smart, and prove to the world that it's not over until lightning strikes!

Give it everything you've got by assembling a garage of legendary racers featuring Lightning McQueen, Cruz Ramirez, Jackson Storm, and more. Upgrade each car and explore their true potential by reaching insane record-breaking speeds!
• RACE on "Cars 3" inspired tracks—cruise the beach, burn rubber near Radiator Springs, and more!
• COLLECT new speedsters like Jackson Storm and Cruz Ramirez, and old favorites!
• COMPLETE high-speed missions to gain new upgrades and blitz past your rivals!
• WIN challenges to earn slick prizes and go LIGHTNING FAST!

Like us on Facebook for cool games tips & the latest news: www.Facebook.com/DisneyGames.

Before you download this experience, please consider that this app contains social media links to connect with others, push notifications to let you know when we have exciting updates like new content, as well as advertising for The Walt Disney Family of Companies and some third parties. This mobile app contains in-app purchases and advertising messages, including the option to watch ads for rewards. In-app purchase cost real money and are charged to your account. To disable or adjust the ability to make in-app purchases, adjust your device settings. We respect your wishes regarding your Privacy. You can exercise control and choice by resetting your Advertising Identifier in your device's Privacy Settings.

Privacy Policy - http://disneyprivacycenter.com
Terms of Use - http://disneytermsofuse.com
iPad Screenshots
Reviews
Bugz Bugz and some more Bugz
Do not buy anything in this game. Mysteriously it crashes after making a purchase and game wont load. I've emailed twice asking them to fix so my son can play and after days no response. Even after my messages and knowing it crashes they proceed on charging me for an app that doesn't work. Dishonest and zero customer service.
Updates
Brado storm
on
11/29/2017
I think there should be different modes like racing mode so you pick you're car and with no power ups you race against other racers. Go 12 laps maximum. And Jackson storm be the fastest car. Also add Florida 500 and Thomasville think about it it's a really good suggestion
They should have stuck with GameLoft
It takes too many gems to learn the game if you aren't good at the controls. It's not useful for younger kids unlike Cars: Fast As Lightning who are very into the Cars line at their age.
It keeps shutting down 😢😢
I ABSOLUTELY LOVE THIS GAME I have been playing it for a long time but the problem is it is started to glitch, I got to the demolition derby and I am playing with fully upgraded Lightning McQueen and still can't get passed and now it won't even let me in the app! every time I click the game it goes to the loading screen then it shuts down this is my favourite game on my phone it just can't play it cuz I can't get in the app. I AM LIGHTNING MCQUEEN BIGGEST FAN no joke I have cars posters all in my room and went as his race car driver for Halloween and that's just the beginning (I have a huge obsession) I want to rate this 5 stars but I can't because I can't get in the app to continue playing I wish they would do a update to fix it
Almost impossible 😕🙁☹️😢😭
It is almost impossible to play every time I try to tern away from the obstacles it won't let me so I always end up losing 😕
Exits the app
irene...okay
on
11/17/2017
My son loved this game so much and now it just exits him out. It doesn't even fully load. Gets to 89% then exits out the app.
Fun is gone
Was an entertaining game but now crashes on start. Please fix!
Lost everything
Vin diesel23
on
11/5/2017
I've been playing this game for a while now. Nearly finished the game. A few days ago it stoped loading pass the 90% loading screen. Kept crashing. Decided to delete the app after doing many failed soft reset to try to get the app to work. I lost all my progress. I wish Game Center or some type of account will save your progress but currently it does not. I also spent some money on it too for some gems. Didn't get that back as well.
Full of bugs
IronMan@0795
on
10/18/2017
I've been playing this game since it was first released and have really enjoyed it. It reminds me of a Cars style Minion Rush. It was challenging enough without being too hard and I have made it through almost the whole thing without a single, real-money purchase. The only thing that stops me from giving it five stars are the bugs. Going up against one of the competitors in Demolition Derby is impossible, although I'm doing it with a fully upgraded McQueen. And now the game won't even let me in! It gets to the initial loading period and immediately exists the app. As an avid, longtime Cars fan I would gladly keep playing this if only you would make it playable! And if the Demolition Derby problem isn't a bug then make a car powerful enough to beat your competitor at some point and move on.
Lightning: This Game is Great
@junior_meh
on
10/15/2017
This game I totally My favorite. But there is a recent problem: App Crashes. I want to keep playing, but it crashes, please fix it!
Suggestions for updates
I think the game is pretty good for now but I think the developers should make more levels and characters such as cal weathers bobby swift miss fritter and other racers or characters in the movies. Also they should make maybe even a new mode 👌 these modes I came up with is contests for exclusive items or characters in the game and this mode is all about the demolition derby cars go start ramming into each other for a limited amount of time. Ok last suggestion make new areas for levels like thomasville or the mss motor speedway of the south and even the scenes from cars 2
Be reasonable...great game.
STL people are dumb
on
10/14/2017
My son love it and I set my phone up to where he cannot make purchases without my Vincent. So a negative review for this game because you cannot set your password and authentication up is your own fault. Not Disney's or the app maker or anyone else. But yours. You are fromSTL so that makes a lot of sense.
Crashes on load
Haven't been able to get the game to open for days. Gets stuck at loading 91% and crashes.
Needs improvement
Maximus The Gray
on
9/20/2017
This game is addicting and fun. Like many of the other reviews, I have a few complaints: 1) Many levels tell you to accomplish the wrong thing, so you have to wait until the level starts, look at the picture, and then do the right thing for stars. 2) I have 297/300 stars, I have a fully maxed out Lightning McQueen at the 3 stars blueprint level, and I can not beat Broadside on level 100. As stated, I have 3 started every other level, but have not unlocked Storm, I only have 2/3 blueprints for Storm. I have not invested any money in the game, but I assume they are wanting me to buy the gems to unlock storm and upgrade him to beat level 100....dumb tactic, there should be ways to win more blue prints. 3) It takes a long time to get more gas, 10 minutes for 1 gas is a bit excessive. 4) The game is super easy until like level 90, then you have to intentionally crash to add more time to the clock if you want to 3 star each level. Sometimes, you also have to spend earned gems to obtain even more time after the first free crash and time addition. Dumb tactic too. 5) Needs more levels, and incentive to upgrade other cars and use their special ability. **UPDATE** Issues 1-5 still not fixed. Now the game crashes at 89% loaded. I'm guessing somehow my database got corrupted. So guess what? I'm totally hosed because your in game progress is not backed up and so should I reinstall the app, I'll lose everything. Terrible app.
Fun
The game is fun and my 4 yr old grandson loves it. Just wondering though, where did Cars Fast As Lightning go? He asks for it all the time and it has just disappeared from App Store
Was good but...
The app was good at the start. Similar to other driving/racing games. Dodge objects and collect coins. Made it to lvl 89 then the game started crashing every time I tried to open it. Finally gave up and deleted it. Gem cost is a little high for no more than what you get. No need to waste your money or time here. There are better games.
Don't get this app!!!! It doesn't work!
Got this for my son and he was only able to play it twice. Now every time I open it it won't work! 😡😡😡😡
Disappointed with this app.
Cars: lighting league won't upload on my iPad 2, but it uploads on my iPhone 6s. Very disappointed cause it's the kind racing game my nephew would love!
Iike
JawadLakhani
on
8/28/2017
Asm
Game is cool for kids
Gay1234568790
on
8/6/2017
Only thing my son doesn't like is that you cant pass the regular levels with 1 or 2 stars like you can in the head to head race. My son hasn't spent a dime on the game because he cant without my fingerprint! Nor has he asked to. Yes there are glitches like the eventual straightaway with nothing in it that you run out of time. My son is 6 and is on level 60 in under a week.
Super glitchy
The levels are great but the time you get to complete them is sometimes unfair as heck! And there are so many glitches! I used a gem to continue a level and it immediately made me lose forcing me to quit the level! I hate the glitches it is so unfair! 😡😡😡
Fair
Reenactor 61
on
7/24/2017
It's a pretty good game. It's a good game to pass the time. With that being said, it has some glitches. For example, some levels don't give you enough time to finish the race. There is also way too much money spending as well. Overall it's a entertaining game.
broken
the game is not giving me the rewards update please
Cars
I love the game make more
😐
I was playing and I got 2 out of 3 stars but It wouldn't give me credit. Please fix this
The glitch
George Meraz
on
7/14/2017
Game is fun but when the game try to make me download some data it started glitching and made me log out of the game
I like all the cars movies
KennethTDSG95
on
7/13/2017
I love 1,2 and 3 because I love cars movies and the game
Devastated, but fun
I'm just really upset that it's not Owen Wilson's voice, it doesn't even sound like lightning McQueen 😓 But overall it's a fun game
It's ok...
Pokémonlover4life
on
7/12/2017
I am a HUGE fan of Disney Pixar Cars, and I was really excited when I found this game, but it was not what I expected at all😥. I thought it would be REAL racing, not just like collecting coins and and avoiding obstacles. I was disappointed, but if you are a Cars fan and like those type of games, then get it. By the way, the Cars 3 movie was amazing!!!!😃 Oh and this is a message to the people who made this game, could you possibly make it possible for them to have a higher top speed, because my favorite racer to use is Lightning McQueen, and he can only reach up to 195. Could you do that please? Thanks😄
Fuel time
This game is great the characters animations I love 3 lane games but you have to wait 10 minutes for each fuel and you have to wait 1 hour and 40 minutes for full fuel this should be changed to 5 minutes per fuel
Not like cars 3 at all 👎🏽👎🏽
Missjordan7515
on
7/8/2017
Not a at all 1. The cars look so weird 2. The game is weird 3. The game is not fun 4. I think cars game should be better than this game 5. The most not fun in the word Oh and BTW if I could give this game no stars I would. And it's not a racing game at all
Love this game!
DisneyGirl0528
on
7/8/2017
The graphics are great! Too advanced for my 5 year old, but he loves to watch me play! He always asked me to play the "McQueen Game"
Best cars game ever !
kevin1&kevin2
on
7/8/2017
Only problem is why is mator faster than lightning McQueen? Please change this.boss battles are really fun.i think that when you Beat a boss you should earn a shard for the character.amazing game!
Cars fast as lightning
Eu achei legal este jogo cars3 mas não é nd demais, mil vezes o outro jogo que tenho até hj o cars fast as lightning. Pq lá vc tem a cidade radiator Springs, que virou qse um personagens as casas de algum deles de tão importante que foi isto para a serie cars. Gostaria que eles atualizassem o jogo antigo para o cars 3. Pois vale a pena.
Dead End Game
Seriously... I reached a dead end... I can't progress or go any further or get any upgrades because of the way the game is designed. I am inextricably stuck. Horrible design. I am requesting my money back for gems because it literally got me LITERALLY nowhere ... Literally.
App Crashes Upon Opening
iMythicalFlames
on
7/5/2017
I'll have to rate this app one star for now since I'm unable to open the app anymore to play the game. Eagerly waiting for the next update for this. [ Edit #1 ] I managed to get into the game, but I've noticed that it took much longer to download the data than normally. Might be why the app crashes for other people.
Crashes and Bugs
I've been playing this game for a while now and I was really enjoying it until the new update came along which started off by screwing up all the labeling for the buttons. The game still worked fine then but recently the app would always crash as soon as I would open it. I'm almost done completing this game so I needed this to be fixed asap. Thank you.
New uptade is very bad game is not opening
Pls
This rating is for the latest version
The game crashes when I try opening it.
Why
I think there is a little bug in my game because instead of it saying next or yes it says you've unlocked
Not a racing game
I got this game thinking it was going to be a racing game, like Need for Speed. This is more like a runner style game, like Sonic the Hedgehog. You have to collect coins and avoid obstacles as opposed to real racing. I was very disappointed. Even so I am giving it two stars bc it is so HARD! I never even made it past the first 5 boards! On the jumps, you'll go up in the air, then when you come down, you have to immediately swerve to avoid obstacles! This is in the first few boards! Gems are also insanely hard to earn. You only earn gems when you complete a board all the way. Also, you only earn one gem per board. You have to spend gems to continue a race, as well as for certain upgrades n things. I don't like it. If you want to get a runner style game, Talking Tom: Gold Rush is a lot more fun and not anywhere near as hard.
P2W
This game is great. It has the best graphics I've ever seen in my life and the storyline is so engaging that I cry whenever I leave mater in the dust. The only down side is it's pay to win and it triggers me so much that I've broke 3 phones since I got the game
I hate the new update
GA Gaming YouTube
on
7/1/2017
So I have found a few bugs 1 is that on level 28 you can not get 3 stars and you have to preform 6 boosts in 1 minute and I maxed Cruz Also when a car gets maxed part it no longer says max like it says "tap to play" Finally on levels when it tells your objectives for the level it says the wrong things, I have not beat all the level but for the I found most were wrong like level 28 you have to get boosted it say preform near misses. It was fine in the old update In conclusion none of these problems occurred in the old update (Sorry for any misspelled words I'm in 5th grade) P.s you guys did absolutely amazing on Car3 :)
Watching ads to 3 star
I found to beat the later levels with 3 stars you had to crash and watch the ads. This actually adds 20 seconds to your time. So if I can see I'm not going to make it around when I have about 20 seconds left I just crash, watch the ad and boom. Enough time to finish. I fully leveled my lightning McQueen 3 full times. And still wasn't able to do some of the last near miss levels. But after finding out about the 20 second add on after watching the ads all the levels became easy. Now just waiting for them to release new levels
Fun
ShadowDragon9000
on
6/29/2017
This game brings back so many memories when I was a kid and this game is fun but my game keeps on crashing every time I do mission 24
Want your money
Personally I love the cars franchise it's the best but something you should know is the game is out for your money once you get to the end it will waste 4 fuel for normal games then 5 for drag races which is crazy considering the fact that you only get 10 fuel every three hours so unless you waste money you will have fun.
Doesn't connect to the internet!
I was playing and it said to do a download so I did it And it sent me to the first level Please fix this bug
Good game
Good game but stuck on level 87 no matter what
Amazing buuuut...
It deleted everything I did... I had Cruz mater I was on the beach I had one of the old cars ( he was very bad lol ) but it was alllllllllll gone. The game is still amazing and swag. ( sorry I deleted it cuz I was to lazy to do everything again )
Best just like the movie
DigestivePeak
on
6/25/2017
It is awesome and I enjoy it I may be a little old for it but,hey I grew up watching these movies and I have a lighting mcquuen blanket that I sleep with.GO 95!
Fact Sheet
Publisher:

Disney Electronic Content, Inc.

Category:

Games

Released:

Jun 15, 2017

Current Version Released:

Jul 12, 2017

Version:

1.5

Size:

201.7 MB

Compatibility:

Requires iOS 9.0 or later.

Recommended Age:

4+

Game Center Certified:

No

Supported Devices:

iPhone5s-iPhone5s, iPadAir-iPadAir, iPadAirCellular-iPadAirCellular, iPadMiniRetina-iPadMiniRetina, iPadMiniRetinaCellular-iPadMiniRetinaCellular, iPhone6-iPhone6, iPhone6Plus-iPhone6Plus, iPadAir2-iPadAir2, iPadAir2Cellular-iPadAir2Cellular, iPadMini3-iPadMini3, iPadMini3Cellular-iPadMini3Cellular, iPodTouchSixthGen-iPodTouchSixthGen, iPhone6s-iPhone6s, iPhone6sPlus-iPhone6sPlus, iPadMini4-iPadMini4, iPadMini4Cellular-iPadMini4Cellular, iPadPro-iPadPro, iPadProCellular-iPadProCellular, iPadPro97-iPadPro97, iPadPro97Cellular-iPadPro97Cellular, iPhoneSE-iPhoneSE, iPhone7-iPhone7, iPhone7Plus-iPhone7Plus, iPad611-iPad611, iPad612-iPad612, iPad71-iPad71, iPad72-iPad72, iPad73-iPad73, iPad74-iPad74, iPhone8-iPhone8, iPhone8Plus-iPhone8Plus, iPhoneX-iPhoneX,

Supported Languages:

English; French; German; Italian; Japanese; Korean; Portuguese; Russian; Chinese; Spanish; Castilian; Chinese;