This version of the app is not recommended
App last updated
Mar 16, 2018
Screenshots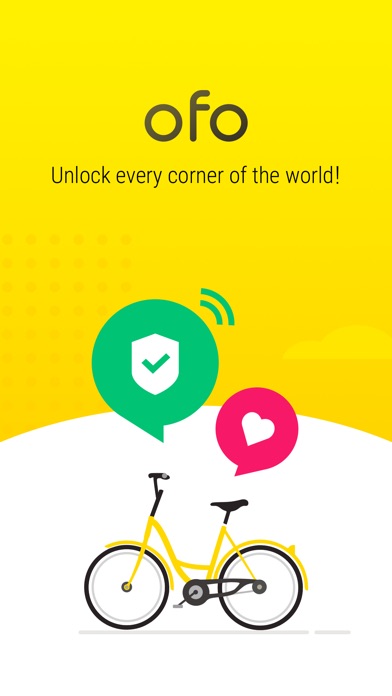 New in version 2.4.0
ofo is more fun with friends!
Invite your friends to get free rides. Upgrade for further details!
Description
ofo is a bike-sharing service provider that is making short city trips more convenient than ever before. Our yellow bikes are available for riding anytime, anywhere.

They do not require a specified docking station, which means you may park the bike anywhere permitted by local law. Please ensure other riders can easily locate the bike after you park and secure it.

Hop on an ofo & soar to your next destination!

Curious how ofo works? It's easy!

1) Find a bike
2) Tap & scan
3) Enjoy the ride
4) Park and lock

We hope you enjoy your ride!
Reviews
Excellent service
The bikes are easy to find and use, check in is super simple and quick, ride is smooth, lock and check out is quick. These bikes and this program are great and I wish we had dock free bike sharing in my city! Plus, of course, the price of free cannot be beat! Will definitely be recommending this to others.
Best experience!
Great system and best experience during my trip in Seattle. Thanks!
Doesn't work
NE Steph in SoCal
on
3/16/2018
Not sure what's going on, but I'm never getting the text code (despite multiple attempts), or an email. I would like to ride your bikes— please fix this app bug!
Fun!
This is so fun and the bikes work well
Cambridge UK ofo
Fantastic service. I registered today and have already used three times. So practical. Thank you ofo!
Terrific
Great way to really see the area. Very convenient and low cost. Bikes in new condition. It was fun. A little small for a 6 ft male however.
Love it
Fruitbootylicious
on
3/14/2018
It's very convenient the bikes always work great in there always seems to be one when I need one.
Great idea!! People just need to be nicer to the bikes, and a couple app glitches
I took my fourth Ofo ride today, and this is such a great idea!! The bikes are comfortable and easy to ride. My guess is that most of us buy a bike and then it sits unused 98% of the time, so it's a good way to make better use of resources, plus let Ofo take care of maintenance, upgrades, etc. I hope this succeeds. Two pieces of feedback: - People need to be more respectful of the bikes. I've found then tossed on the ground with handlebars in the mud. That's not right. - I had a couple glitches with the app. It didn't unpair my experience, but on this last ride the app said I went 66 feet on my 35min ride, which is definitely not correct. I'm not worried about tracking my miles, but would be good to figure out why that happened (eg, issue with the phone or the app or the bike)
Like the app and the concept, hate the bike
George Wangersky
on
3/12/2018
Nice app, and a nice concept, I use these bikes a lot for convenience. Especially since they are free. The bikes are always in good repair. But they are necessarily bulletproof and weigh a ton, which make peddling on anything but concrete an aerobic experience, the only downside.
Can contact them 😡
The idea is amazing and I am so glad to use this system. However, I've had an error with payment and now I can't take up new rides, and I don't know what's causing the error because my payment methods are fine. I hardly managed to find contact info in the app (that should be easy!). there is an option to email them, which I did and the email came back rejected. There's also a 24/7 option to call them but there's NO PHONE NUMBER to call at!! In other words, nothing to do about this..
Hidden bikes and broken
1st bike was hidden inside someone's apartment. Can't report because illegal parking requires serial number. 2nd bike handlebar had been loosened. Unsafe to ride. Great concept but they need to come up with an idea to stop abuse.
So fun!
These bikes are great quality and the basket is so convenient! They are extremely easy to rent and great for a date :) would highly recommend!
Thank you
Thank you so much ofo. You are a godsend truly
Best bike rental app there is
Yo boyyyyyyyy
on
3/9/2018
Quality is the bike is hands down better than LimeBike, Mobike, and spin. This is the one you want to use
It is like a healthy uber
Instead of driving 2 miles to the store I bike there and get there in the same time as no traffic worries. Bikes have cool baskets and easy to use. I have take 3 rides now and plan on using it more in the summer and weekends. No isssues of finding a parking spot. Nice to be the fresh air
Locations not correct
I just spent 45 minutes trying to locate a bike. I went to each location shown on the map and there would be no bike there. It happened with 6 bikes. My Husband's phone did the same thing.
I like it
App is easy to use and the concept is awesome.
The fastest and most fun way to get around downtown.
JustinClark2119
on
3/6/2018
Love the cost effectiveness of these bikes. So easy to use once you do the initial setup on the app. Hop on a bike and ride in literally less that 10 seconds. Amazing idea. Can't find parking where you want? I just park near a bike and ride to and from. So easy.
Easy to find.
Easy is the key.
Love it!
This service is VERY easy to use and saves me so much time.
Awesome! Why didn't I think of this!
Way cool idea. Used it twice and what a great concept!
To legit to quit!
Jghamilton897254
on
3/2/2018
I take Ofo everyday. Its always great.
Very convenient
Pamela Cj Ortiz
on
3/2/2018
Especially for college students
This is great
Amazing way to get around
No Apple Pay???
This would be so much easier with Apple Pay!!
Love this app
I love this app I just wish that there are more bike locations
Basically functions, but...
ofo bikes were seeded here less than two weeks ago and the two bikes I've tried were already in disrepair, one seriously with an inoperative rear brake. Worst of all, app would not let me submit a broken bike report. Button remained gray after filling all fields.
Bile review.
Perfect. More gears would be better.plus maybe a place to rent a helmet. Other that very innovative idea. 👍
Cool service
Great deals on bike rentals just wish the upkeep of the bikes was better and that every seat of all the bikes were not stuck at the lowest setting. I'd be more than happy to be a tech and fix all these bikes, every other one I'm on needs to be serviced.
Perfect!
I am so happy to have something so convenient, for my health's sake. So affordable too. Easy to use. Thank you soooo much.
Unreliable gears
bikeless in seattle
on
2/8/2018
Overall, ofo is ok. The bikes are generally sturdy and the brakes work well (admittedly, all the bikes are new since they've not even been in Seattle for a year). There are also a ton of bikes. They aren't hard to find. My number one complaint is the gears. There are only 3 and 3rd gear isn't high enough for cruising downhill or gathering enough speed to head up the next one (a big deal in Seattle) On top of that, the shifters don't work properly on more than 50% of the bikes I've ridden. I've had bikes that can only shift between 2 gears or cannot shift at all. I'll use ofo if it's free or if I'm in a pinch, but I will likely choose Spin when that option is available.
App doesn't have option to show nearest bike.
Wish I could wander
on
2/6/2018
Nuff said. Without the app showing me where the nearest bike is it's only useful if there is a bike every two blocks. There isn't.
Loved the ride
Veronica121212
on
2/2/2018
I saw the bike near my hotel room and was interested. When my ride was finished I literally felt so good and energized. Wish you guys would think of a baby feature where their is a seat because I know my daughter would enjoy it.
Horrible Experience getting Deposit Back
Think twice of before signing up for Ofo as you might never get your deposit back. While in Shanghai for vacation, I used their bike sharing service and Ofo collected a deposit of 200 RMB which they charged to my credit card. When I left Shanghai I closed my account and requested a refund of my deposit thru the app. Four months later, I am still waiting for the refund of my deposit. With Mobike, I got my deposit back within 5 minutes. Ofo obviously believes in giving consumers the run around. Poor customer service!
Scam
NobodyEpic214
on
1/31/2018
Why do you make us buy rides ?
The Bikes
My first time, or whenever I'm on one, something is always broken like the brakes, seat, bell, and many more. Please fix them.
Bike share
Really fun, good app, great idea. Use it all the time.
More stable bikes than mobike
I like this new entry comer
Kids
Company needs to find a way to eliminate kids unless supervised by an adult from riding! There causing damage like light being broke and kickstands being broke by as the call it ghost riding
突然换了个程序,之前的不能更新
Adamflowerryan
on
1/23/2018
之前用支付宝登录的,现在支付宝也登陆不了,还要重新付押金。
强制安装独立app 不在微信里退押金
DesmondLiang
on
1/22/2018
非常弱智的设定 下载独立app之后还无法用微信绑定的手机号登陆
Account Created on Android does not work on iPhone
I previously created an account on Android using my Chinese phone number. Then I got rid of the Android device and changed to an iPhone. The app does not recognize my phone number and asks me to create a new account. Then I tried to create a new account... and surprise! "Your phone number has been registered, please log in using your own phone number" called customer service line 4 months ago and still not resolved today. I guess No one ever gets fired from OFO. Must be a great company to work for when you don't want to work at all. What a great scheme to get free money, App development team...
Great bikes down in the South!
Ofo has to be best bike I have ridden as far as support and fit goes. Smooth ride and everything works when I ride. All are in tip top condition! Great ride share bikes for Charlotte, NC! 😃🚴🏾‍♂️👍🏾
GPS inaccurate and app freezes
The GPS was more than a block off in showing where the bike was. When I finally found it, the app couldn't validate the bike tag. When I tried to enter the number manually, the app froze. One star because there is no way to contact customer support in the app. This is poorly designed and could be much better. There is also no way to report a bike that is in a different location than GPS shows.
Ofo bike is great
ireviewstuff2
on
1/16/2018
I'm enjoying getting around Charlotte on an ofo bike. Try to avoid big hills!
Error message when unlocking bikes
Keeps telling me timed out
Amazing
Super easy, downloaded the app and got l of January free. Bike is clean and easy going, amazing way to get around Charlotte, NC since parking is $11 anywhere
App Needs Work & So Does Service in DC
Cyclist Edge
on
1/12/2018
App: The app is very buggy. Here are a couple of quick issues: 1. The app is slow to unlock the bike; 2. many times the app fails to unlock a bike at all; 3. There is no way to cancel an unlock after you have submitted it if it is taking too long; 4. At the end of the trip, when one locks the bike, the ofo system does not communicate back to the app so the app shows your trip as continuing, even though it has ended; 5. In the situation described in number four, if one tries to in the trip manually, then the app communicate with the server and tell you the trip is already ended, yet the app continues to display the trip as if it's continuing with no way to cancel; 6. Most annoyingly, the app continues to use your location after you have ended a trip even if you have no active trip. This kills your battery and continues to compromise your privacy. The only way to in this is to force quit the app by double-clicking the home button and swiping up to close the app; 7. Finally, there is no way to search for a location to see if bikes are near your destination. One needs to scroll the map manually, which is very cumbersome. Needless to say the app needs a lot of work. Service: If I were just reading the service, I would give it three stars. As I mentioned above, the bikes take too long to unlock. Capital bike share bikes and lock in seconds. It can take Ofo bikes minutes to unlock. Additionally there are three gears on the bike, and the low gear is not nearly lower enough to do the hills in Tacoma Park in Washington DC. They either need to gear the first gear lower, where they need to add five gears like bike share bikes in Seattle have. Finally, and this one makes little sense to me, minibikes show up on the map as available, but when you try to unlock them you get an error message telling you that the bike has been locked by the service for being wrongly parked, or that it needs maintenance. Any bike that is not actively available, should not show up on the Ofo map. This is probably the largest problem with the service.
Love them
Monica_speak27
on
1/11/2018
I love that our city has these bikes Love riding them Wish the seat could be more comfortable but i still like them App is easy to use
Fact Sheet
Publisher:

Bikelock Technology CO., Ltd.

Category:

Travel

Released:

Jan 13, 2017

Current Version Released:

Mar 16, 2018

Version:

2.4.0

Size:

69.7 MB

Compatibility:

Requires iOS 8.0 or later.

Recommended Age:

4+

Game Center Certified:

No

Supported Languages:

Czech; Dutch; Flemish; English; French; German; Hebrew; Italian; Japanese; Korean; Malay; Portuguese; Russian; Chinese; Spanish; Castilian; Thai; Chinese;