TapNova doesn't recommend this app.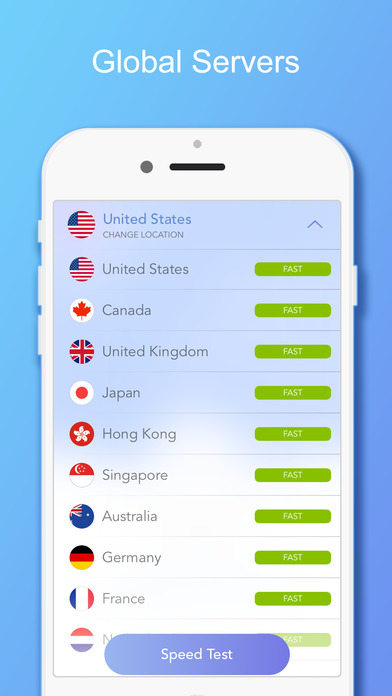 New in version 1.1.6
Optimized connectivity experience.
Description
VPN 360 is an Unlimited Free VPN to access any APP and Website using the FASTEST VPN Servers.

With VPN 360 you will be able to:
* Protect your privacy
* Access any app and website
* Hide your IP and physical address
* Secure your internet activity and WiFi connection

VPN 360 is one of the best and easiest ways to access all your favorite online content for free. With super-fast VPN servers and other premium features, VPN 360 is the best choice for you.

In-app purchase:
You can be a premium user and get more features through auto-renewable subscription:

1 Month: $11.99
1 Year: $35.99

- Your iTunes account will be charged for subscription renewal within 24-hours prior to the end of the current period.
- You can turn off the auto-renew at any time (24-hours before the end of the current period), but No cancellation for the current subscription period.

Legal:
Please see VPN 360's "Terms of Services" and "Privacy Policy":

Terms of Services: https://vpn360.wordpress.com/2017/01/18/terms-of-services/
Privacy Policy: https://vpn360.wordpress.com/2017/01/17/privacy-policy/

Contact us:
support@infinitysoft.co
iPad Screenshots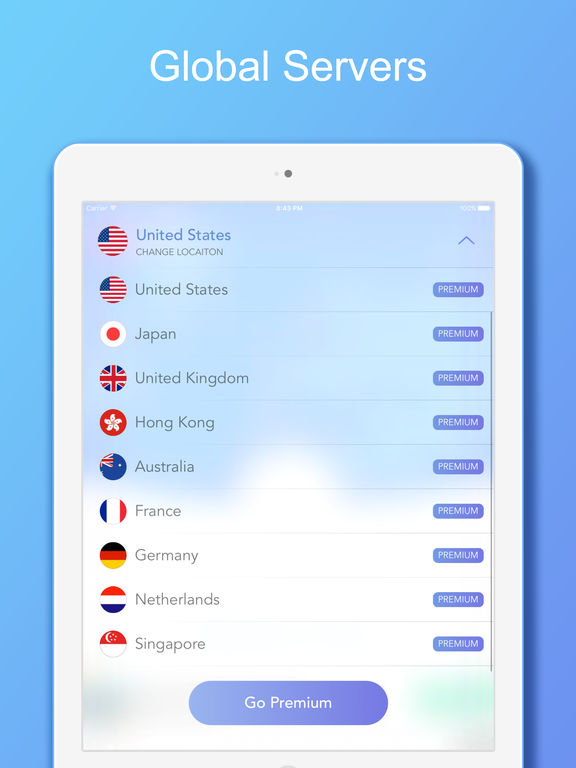 Reviews
Vpn360
Mohsen siyadati
on
6/21/2017
Very good application
عالي
Mr ali heydari
on
6/18/2017
حتمن دانلود كنين خيلي عاليه و پر سرعت از دستش بدين ديگه بيچاره اين
One Weeks Experience
It seem I might have made a mistake in choosing this particular VPN app? At this point it prevents or hamper downloading my music from iTunes in iCloud, and its "infected" with pop up ads even though it think it promised none! Perhaps there are some adjustments needed and it may improve with time? I'm an optimist.
Best free option
Nikkitakeschina
on
6/18/2017
This has been reliable for me more times than not.
Garbage and Thieves
Lucite768321
on
6/16/2017
Impossible to cancel without AppleCustomer Support. Doesn't perform any function that iPhone doesn't already do better
Great app
I have tried multiple VPM apps. And this one is by far the best.
Don't use this app.
It's the worst and expensive VPN. I wanted to stop my subscription after the first month of my purchase. Unfortunately,they been taking my money for over 3 months. At last I had to called apple customer service and stop them.
The worst !!!
This is the worst one I've ever used, always disconnected and super slow! Waste my money , never come back for this!
Реклама при включении
Бесплатно и просто
Vpn 360
Best Game Ever On PS3
on
6/12/2017
Good enough till my school blocks the app from there wifi
Best iPhone VPN Hands Down!
Give it a try and see for yourself!
Like it
Do it's think! Easy and useful
Vpn360
The best vpn for an iPhone you should try it fellas😊😊😜😜
Works great!
Works great in China!
Good but not the best (in China)
Guram Gudashvili
on
6/4/2017
It worked first days in China but then started annoying me to turn it on and off many times. Probably you wanted me to buy the full version, right? It was not working several days after as good as in the beginning. Now I use VPN Proxy Master. It never stops!
That's very good for us. Thank you
Thanks for your vpn
Great!
It works great when I need to use it.
Always...
kingpin of midwest
on
6/1/2017
...tells the cold hard truth no matter how ugly!
it works -
for what it was designed to it works well, however one negative effect was slower internet. i personally could not overcome that negative effect, but anyone willing to trade speed for security will fine this app to be just fabulous!
It could be better
Hannah_____2728349
on
5/31/2017
Kinda disappointed
mehdi
خيلي خوبه براي ما ايراني ها اين vpn
Fast easy no fuss
Fast easy no fuss
It's great
It's free and easy to use
Awesome!
Unblocks just about everything except for snapchat but other than that it works amazing
Netflix
It lets me use Netflix
Doesn't Open
it won't let me open up the app, when i click on it , it pops up for like 3-5 seconds then exits out by itself.
Great app.
Your app is great. Thank you!
Mr.Kh.Rahman
The best VPN I strongly recommend to all.
Great for a free VPN
Using the app always and sometimes it disconnects but works great. 4 stars due to the abrupt disconnection. Also works for personal VPN! Thank you!
VPN
Adventure boy time
on
5/19/2017
App is really glitchy and only works sometimes
Pretty good
Deedaleetfeet
on
5/19/2017
Consistently fast, but disconnects often no matter what connection method is used. It will take as little as five minutes to disconnect on you or as much as thirty, but it will happen. It won't even attempt to reconnect. Also, it lacks a connect on demand feature in iOS. Meaning every time you unlock your phone after a few minutes you need to manually connect again. The reason three stars and not lower is because it is Indeed really really fast. Fix connection issues and it might be the best VPN on the App Store!
stopped working
app was working perfectly but now it doesn't work :(
Nice app
It is very nice app and design I am using free service but happy go ahead.
Use to work great until the update
I used this vpn to watch Netflix at school because my school blocks Netflix. Use to work great until my phone automatically updated it. Now it fails to connect all the time and if does connect the second I open an app it shuts off. Use to be a great app. I hope the next update can fix this. Until then anyone know a good vpn?
Turns it self off a lot but it's works
Cool
doesn't even open
once you download it & click to open it, it never opens and just takes you back to the home screen.
Nope
An Apple User 637363733
on
5/16/2017
Before the last 2 updates the auto mode worked amazingly. Now both auto mode and stay connected mode don't work. After I connect and exit the app nothing works, and when I go back in it says "network error" and I have to restart the app for it to try again (but to no avail). Please fix this it used to work fine. It makes my school wifi even slower than before. iPhone 5s current version. I've had to resort to Betternet, although I don't think it does as good as a job as yours use to.
Ok
Works for like the first 5 minutes then after it stops.
great
it helps me go on snapchat when i'm in school
Slow, unable to unsubscribe
I tried this for the free trial to see if it would work well enough to be worth the price. It's not worth the price (slow, limited access to some apps) and so I tried to unsubscribe within an hour of downloading the app and there's no way to do so. Their support has not responded to many messages I have sent.
Paid for nothing
notacrook_1km
on
5/12/2017
List Uk, Us, Holland, Singapore, etc,.mRegardless of any server I try to connect to, it never connects.
Crooks
buttchuggernautns
on
5/12/2017
It worked fine for a while now it cuts on and off by its self
Great until now
Base10Twenty86
on
5/12/2017
Does not perform on iOS 8.4.1
Are you serious?!?
IAmNotTheOctopusz
on
5/12/2017
Unlimited FreeVPN
Wack
Dunwich_Horror_qp
on
5/12/2017
Maybe I didn't read thoroughly, but why have I been charged $15.97 last month and $10.98 this month for the $2.99 mobile plan? Unsubscribing..
Yolo
Please fix that problem"
Fact Sheet
Publisher: Infinity Software Co., Limited
Category: Productivity
Released: Jan 20, 2017
Current Version Released: Jun 13, 2017
Version: 1.1.6
Size: 59.2 MB
Compatibility: Requires iOS 9.0 or later.
Recommended Age: 4+
Game Center Certified: No
Supported Devices: iPad2Wifi-iPad2Wifi, iPad23G-iPad23G, iPhone4S-iPhone4S, iPadThirdGen-iPadThirdGen, iPadThirdGen4G-iPadThirdGen4G, iPhone5-iPhone5, iPodTouchFifthGen-iPodTouchFifthGen, iPadFourthGen-iPadFourthGen, iPadFourthGen4G-iPadFourthGen4G, iPadMini-iPadMini, iPadMini4G-iPadMini4G, iPhone5c-iPhone5c, iPhone5s-iPhone5s, iPadAir-iPadAir, iPadAirCellular-iPadAirCellular, iPadMiniRetina-iPadMiniRetina, iPadMiniRetinaCellular-iPadMiniRetinaCellular, iPhone6-iPhone6, iPhone6Plus-iPhone6Plus, iPadAir2-iPadAir2, iPadAir2Cellular-iPadAir2Cellular, iPadMini3-iPadMini3, iPadMini3Cellular-iPadMini3Cellular, iPodTouchSixthGen-iPodTouchSixthGen, iPhone6s-iPhone6s, iPhone6sPlus-iPhone6sPlus, iPadMini4-iPadMini4, iPadMini4Cellular-iPadMini4Cellular, iPadPro-iPadPro, iPadProCellular-iPadProCellular, iPadPro97-iPadPro97, iPadPro97Cellular-iPadPro97Cellular, iPhoneSE-iPhoneSE, iPhone7-iPhone7, iPhone7Plus-iPhone7Plus, iPad611-iPad611, iPad612-iPad612, iPad71-iPad71, iPad72-iPad72, iPad73-iPad73, iPad74-iPad74,
Supported Languages: Arabic; English; French; Chinese;