Games
Entertainment
Word
Board
This version of the app is not recommended
App last updated
Mar 15, 2018
Screenshots
New in version 10.65.1
The world's most popular mobile word game is better and more clever than ever with all new game modes built for the word player in all of us. Beautifully and intelligently redesigned, Words With Friends 2 is teeming with more ways to challenge your friends and your brain than ever before. Try the NEW Solo Challenge events, Lightning Round, and more! Play today!

May the Best Friend Win.
Description
Words With Friends 2

THE WORLD'S MOST POPULAR MOBILE WORD GAME is better and more clever than ever with all new game modes built for the word player in all of us. Beautifully and intelligently redesigned, Words With Friends 2 is teeming with more ways to challenge your friends and your brain than ever before.

Want to boost your word game? Play against fictional characters in NEW Solo Challenge events, updated with new themes and opponents twice a month. Got a competitive streak? Jump in for a fast-paced team match to test your rapid word building skills in the NEW Lightning Round.

The classic one-on-one gameplay you love is here too and now you can earn unique themed badges for completing weekly challenges and scoring big against your friends. Words With Friends 2 backs up your gameplay by pulling in all your past games, friends and progress from previous versions. There's nothing to lose, and more fun to gain!

Sometimes staying in touch is as simple as playing the perfect word. Download and play the NEW Words With Friends 2 today! May the Best Friend Win.™

CREATE A GAME
It all starts here. Challenge your Facebook friends and family members to a game or use Smart Match to find your perfect word puzzle opponent.

TRAIN IN SOLO CHALLENGE
Test and improve your word skills against themed WordMaster characters in NEW Solo Challenges events. Stay sharp, because as you move up the ladder, the WordMasters will get tougher to beat.

COMPETE IN LIGHTNING ROUND
Collaborative meets competitive gameplay in this new, fast team mode. Play on a team of up to 5 players, and face off in a match to score the most points first and win.

COLLECT UNIQUE BADGES
Play the weekly challenge and earn fun, themed badges that are different every week. Build the ultimate collection and display them proudly in your badge case.

ACCESS 50,000 NEW WORDS
Our biggest update to the Dictionary ever includes 50,000 new words, inspired by our players and pop culture.

Play Words With Friends 2 without third party ads between moves if you previously purchased either Words With Friends Pro or no third-party ads in the original Words With Friends on any mobile device. Be sure to login with Facebook or the email account you used to make the previous purchase to continue to play without third party ads between moves.

Already an accomplished Wordie? Like us on Facebook or follow us on Twitter to stay up-to-date on game news, contests, polls and other fun stuff.

https://www.facebook.com/WordsWithFriends
https://twitter.com/WordsWFriends
https://instagram.com/wordswithfriends

Thank you for playing Words With Friends 2!

Additional Information:
The game is free to play; however, in-app purchases are available for additional content and in-game currency. In-app purchases range from $0.99 to $99.99 USD.
iPad Screenshots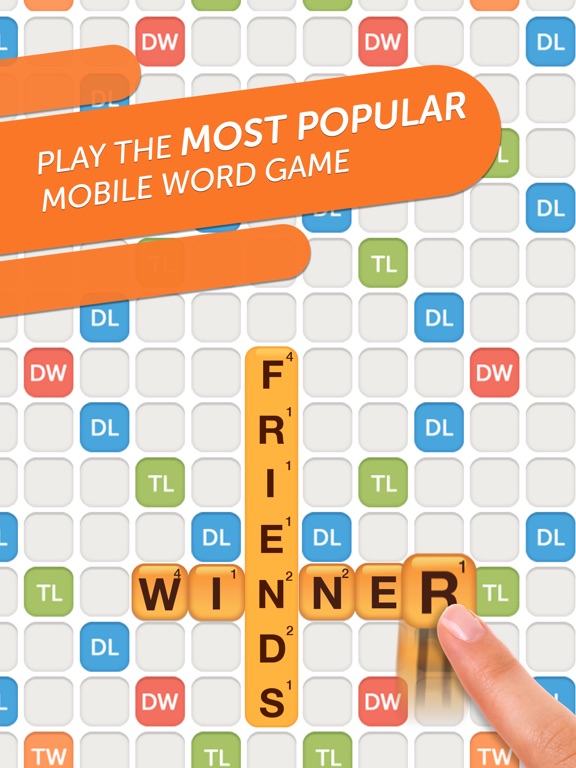 Reviews
Please, I beg you...
Today's Fresh Hell
on
3/23/2018
Allow me to opt out of the Events!! I don't care about collecting coins, or the app deciding that I'm taking too long and offering to show me where to play. I just want to play Words with Friends without all the extra garbage.
Agree with most ... eliminate the Words that are not "words".
Red cowboy boots
on
3/23/2018
This game has too many made up words which makes play frustrating and unfair. A word defined in the words with friends dictionary as acceptable only for Words with Friends is just plain dumb. Please remove them
Some improvements and not so much
The graphics are superior to WWF. However, the dictionary now does that annoying autocorrect thing phones do at times, presuming I don't know how to spell the word I'm looking up. Insults the intelligence and forces you to retype the word over again. Time waster. Also, they've removed the ability to submit words for inclusion in the dictionary.
It's ok...
SublimeCalliope
on
3/23/2018
But can't stand that ads pop up that do NOT fit the screen! Cannot close out of them. Have to completely close out of the game to get away from the ad!
Enough with the ads already!
YellowJacket89
on
3/23/2018
I enjoy the game and the interface, but the ads are so intrusive. The ads have made the game unplayable. I would be happy to pay for an ad free version. I have essentially stopped playing while I await an ad free option.
Unappealing
The new version is ugly. Feels like a child's interface. Please stop requiring updates. I want the old version to remain.
Too many ads
I would give this game 5 stars if it weren't for the intrusive advertisements. An option to pay to eliminate them would be great!!!!
Ad city
If you want to see ads every time you put a word down, then by all means go ahead. And the game recognizes some words and then sometimes it just doesn't, even though the word itself is an actual word.
The ads are CRAZY
Rough Terrain 11
on
3/22/2018
Seriously.. the ads are trash.
Love this game
I love this game but I have had trouble with the app recently. I will play my word and it doesn't actually count and it will not submit for the other to play. It will count the points play an ad and then say it's my turn again with the same letters! This has been happening for 4 days with 2 games. Very frustrating!
Fun game with serious glitches!
kevinsusan95
on
3/22/2018
This game constantly gives you multiples of letters. Sometimes I have 5 O's and 2 U's, for example. I wish they'd clean it up.
Thieves
the ℒℴѵℯɕhìℓ∂
on
3/22/2018
I paid to remove ads some time ago. Everything was fine until recently. Now I can't play the game without ads. I think this is unfair and would like my money back...
Comment
chillachella
on
3/22/2018
Very well displayed. Very challenging to increase vocabulary. I could go on and on. However I really wish you would put back the messaging on individual game played. Hoping you take this request seriously. Hoping you respond. C.
Where are you getting the new "words"?
Have noticed that you are allowing weird words. When I ask for definitions of the words, there is none, however, the words are allowed. What the h#€l, I am playing in America English. What are you using for a dictionary? Can you just stick to the American language!!!!!!! Also still waiting to be able to buy AD free game!!!!!
ADS ARE AWFUL
brookuslicious
on
3/22/2018
I have to close my app so often after making a move in a game! Sometimes I only get a black screen and sometimes, more recently like today, there's some hotel ad that isn't centered correctly so I can't even find an X to click out! Makes it extremely irritating to try and play.
Missing points
When I win a special mystery box sometimes the items inside do not add to my game. Why is that?
Playing tiles to make a word conflicts with iOS gesture
It's terribly frustrating to try and pull letters from the "tray" to make a word, but instead iOS thinks you're swiping up to view the app-dock or "Control Center." This is a huge conflict between the app and the OS that really needs to be addressed.
Love game but Please Remove ads
We love this game but we would love it even more if it did not have Ads. Some ads are every inappropriate for my kids who play. I would gladly pay $0.99 to take them off, as would a lot of other people.
Did not like the new version
The new version interferes with the original. No longer get notification on the old version and forced to install Words 2 otherwise can I play the original version
Fake words
Magic Looper
on
3/22/2018
I like playing the game, but hate the use of made-up words which have no part of the English language being valid words. When playing practice games, the app uses these words. I could use them too, but it makes no sense. The whole point is use of vocabulary. I deleted the app. I miss it, but not enough to deal with what is cheating.
Sick of ads
I bought this app a year and a half ago so I didn't have to see the ads all the time. I recently deleted and re-uploaded the app and made a new account for various reasons, some technical, and now I have ads constantly even though I have previously paid for the app. I used to play this every day with a few friends and now Ive deleted it, it's too annoying with ads.
Solo play wait is too long
ladysharkdiver
on
3/22/2018
The previous version I could play Solo when I wanted. The great thing about that was I didn't have to wait on a friend to play. The current Solo I have to wait HOURS - sometimes the next day before I can play. Yes, I know I can use coins to eliminate the wait but why should I??? I'd rather use coins for other game options. PLEASE bring back the fulltime Solo game. Thank you for your consideration.
Great on the iPhone X now, but
Horrible on the iPad. 75% of the time you try to place letters on the board, the Control Center opens. It such a horrible design flaw.
Ads
I used to really like to play this game. Lately there has seemed to be an abundance of ads. Especially long ads and even ads that will not close that have a close option (X) that redirects you to App Store. And still will not allow you to close add. Have to close game and reopen. Can see deleting this game real soon!
All ads!
One move, and the ad is playing again. Disabling all of my control. I understand that to make money, ads must be present, but PLEASE stop the video ads after every move! There's ads everywhere! Just cut those out and it would be the best app ever!
Takes me to App Store?
Suddenly yesterday this game started repeatedly taking me to the App Store to download other games. I can't even get in a move. Does it over and over. This never happened before. What's happening? Edit: this issue stopped as abruptly as it started. There are still adds that don't load or are too big for the screen so in order to clear them and move on to my next game I have to quit the app and reload. Not as bad but still annoying.
Can't get free rewards
Every time I get a notification for 2 free rewards when I open the game it doesn't deposit the free rewards
Went from good to ridiculous.
If I could rate this minus 5 stars I would. This started out as a fairly sophisticated way to play a classic game and devolved overnight into a cheap carnival trick. Horrible design, Saccharine colors, ludicrous movie references, random historical references(wtH?????), ugly icons, constant interruptions, rewards and points that mean absolutely nothing. I'll keep trying but I don't know how much more of this I can take....off I go, cleopatra is waiting! SMH.
Game froze
Nice new graphics and like Fast Play but I have a game in progress that won't load, let me lose/resign, and won't delete. Another APP taking my info from my phone?
Runs like crap
Put a letter where I need at it goes shoots cross the bored and I can not move the tiles in place sometimes it shoot back in to the rack and I problems opening up Safari and the App Store I did not touch anything. I close the app all way out long back still dose this I even deleted the and reinstall the game and still have these problems with I the issues with older game. Still fun to play.
Frustrating
I enjoy playing words immensely but prefer the competitor's game even more. First, there are too many accepted words where no definition is available. There are so many two letter words accepted by the competitor, and not accepted by Words, where a definition (by competitor is readily available). Second, Words accepts too many foreign words and accepts words readily available in our dictionary. Third, Words 2 has a Solo option (on my game board) which has been "processing for two days. My only option is to delete the app and reinstall it. That means I lose all my stats, to to mention the 19 games I have running. This makes me very unhappy. To the creators, you need to get this stuff together, otherwise, I'm going to ha e to flee to the competitor and take my friends with me. Oh, and create an incentive for me to buy swaps. Why should I purchase 5 swaps for 75 coins when I can purchase one at a time for the same price? Makes no sense. I'd rather go back to the old Words where there are no swaps.
Amazing
Loving the new update and lightning game ☺️
Goofy pop ups
Paperboy, Ink
on
3/21/2018
Please include an option to turn off the childish and annoying eggs and gifts. The game is starting to feel a little silly.
Get rid of the gun ads!!!!
There have lately been some really weird ads running in between games. In one, you see a guy pull down his pants and sit on the toilet to play Sudoku...EW!!!! But the absolute WORST are the ads for Tactical 4-gun ads! Have you no ethics at all? Screen your ads before you run them-and be a part of a positive solution for gun control and stop running ads that show people brandishing their weapons in their cars! Young people play these games--they are impressionable and immature. Don't promote having guns as if it's the coolest thing in the world. And get rid of the guy pulling down his pants while you're at it. The ads are getting longer and longer-if they're going to be commercials, don't run them after every game.
Ads
The one guy there
on
3/21/2018
The ads are horrible and we can't pay to remove
Not compatible with iPhone X?
Have been playing the ad free for years. Now that I've upgraded to the iPhone X the app won't load.
Posted high scores are fake!
I enjoy the game but on the right side you show the highest point score for the word most recently played. For example "James played 'UH' for 1769." How on earth is this possible? Either let me know how such a score is possible or remove this feature! I have a screen shot of this but I don't see how to paste it here.
Extras not available on iOS?
Love the game, my husband and I challenge each other all the time! He has rewards and "extra challenges" to earn coins but it's not available on iOS? Why... please add!!!
Won't open
I haven't been able to open Words on my iPad mini for a few days. It's fine on my Apple phone, just not on the devise I choose to use. Please fix. Thanks
Wayyyyy tooooo mannnnyyyyy adddssssss!
Are u kidding me with this? Every time we add a word/take a turn, we have to watch a commercial!!!!! I'd pay $ not to have to watch. It'ssoooooo annoying! :-(
Problems with Android app
I have this installed on my Ipad and on my Android phone. It works perfectly on IOS but I am having problems with some games not showing on my Android phone. I see the games, but the board is grayed out and does not show the moves that have been made. This has been going on for over a week. Anyone else having this problem?
Latest Update
App was great until it started opening the App Store all by itself while in the middle of trying to play a word 😒
Fun game but the ads are out of control
Like most I love the game. I'd even pay for it. It does freeze up a lot. But I'm blown away at the ads that pop up after every single word you play. They jack the volume up as loud as possible and play ads after every single move you make in the game. I put up with it by playing and closing out the app after every play I made. Eventually I got sick of it. I get that you need to put up these useless ads but the way they do it is relentless. Makes a good game horrible. Would you not want to make a few bucks by charging for ad free game?
Great game, but ads are completely out of control
The gameplay and new power ups are really great on this app. You have to watch an ad at the end of every game. For me, even when my phone is on silent, it still plays audio, which is obnoxious. The settings cog is in a really weird place, and now it has started opening the App Store during my gameplay. I understand that the designers are in this to make money, but it can't be at the expense of providing a good app to play on. Currently, that is definitely the case.
Problem processing update on solo challenge
I love words with friends and play several games everyday. For the past several days the solo challenge is stuck processing results on a game. I have tried all steps recommended to correct this but nothing has helped. According to comments made on FB page several people are having this problem and some even deleting the game. I have made comment but have not had any answer. Please correct this.
Wow
Decided to try a challenge. The computer cheats incredibly bad, using words that don't exist, and it won't accept words that do. I played Ovid, wouldn't take it. If it can't provide a definition, then it shouldn't accept it
Please remove the add!
I'm so tired of the same ad over and over again, I do not mind paying to have them removed. Will give a better rating once this issue is fixed. Thank you.
Poor update
I haven't been able to open the app since the last update. I get the main load screen, and nothing happens after that.
Needs a bug fix....
App closes periodically, buffers and stalls A LOT!
fun but barely works
fun game but the app barely works. Ads won't load and when they do they take forever. I'm very disappointed, honestly a huge waste of time
Fact Sheet
Publisher:

Zynga Mobile

Category:

Games

Released:

Nov 07, 2017

Current Version Released:

Mar 15, 2018

Version:

10.65.1

Size:

192.8 MB

Compatibility:

Requires iOS 10.0 or later.

Recommended Age:

4+

Game Center Certified:

No

Supported Languages:

English; French; German; Italian; Portuguese; Spanish; Castilian;