Screenshots
New in version 10.26.1
The world's most popular mobile word game is better and more clever than ever with all new game modes built for the word player in all of us. Beautifully and intelligently redesigned, Words With Friends 2 is teeming with more ways to challenge your friends and your brain than ever before. Try the NEW Solo Challenge events, Lightning Round, and more! Play today!

May the Best Friend Win.
Description
Words With Friends 2

THE WORLD'S MOST POPULAR MOBILE WORD GAME is better and more clever than ever, and built for the word player in all of us. Beautifully and intelligently redesigned, Words With Friends 2 is teeming with more ways to challenge your friends and your brain than ever before.

Start a match with friends, family, or a new opponent to spell words, expand your vocabulary and sharpen your wit. Earn unique themed badges for completing fun weekly challenges and scoring big against your friends. Words With Friends 2 backs up your gameplay by pulling in all your past games, friends and progress from previous versions. There's nothing to lose, and more fun to gain!

Sometimes staying in touch is as simple as playing the perfect word. Download and play the NEW Words With Friends 2 today! May the Best Friend Win.™

CREATE A GAME
It all starts here. Challenge your Facebook friends and family members to a game or use Smart Match to find your perfect word puzzle opponent.

TRAIN IN PRACTICE MODE
Play offline and sharpen your word skills in practice mode to become the ultimate word master.

POWER UP WITH BOOSTS
Play smarter and faster with helpful boosts and powerups like Hindsight, Word Radar, and Tile Swap+.

COLLECT UNIQUE BADGES
Play the weekly challenge and earn fun, themed badges that are different every week. Build the ultimate collection and display them proudly in your badge case.

PLAY IN 6 LANGUAGES
Choose your language and start a game in Spanish, French, German, Italian, Brazilian Portuguese or British English.

Play Words With Friends 2 without third party ads between moves if you previously purchased either Words With Friends Pro or no third-party ads in the original Words With Friends on any mobile device. Be sure to login with Facebook or the email account you used to make the previous purchase to continue to play without third party ads between moves.

Already an accomplished Wordie? Like us on Facebook or follow us on Twitter to stay up-to-date on game news, contests, polls and other fun stuff.

https://www.facebook.com/WordsWithFriends
https://twitter.com/WordsWFriends
https://instagram.com/wordswithfriends

Thank you for playing Words With Friends 2!

Additional Information:
The game is free to play; however, in-app purchases are available for additional content and in-game currency. In-app purchases range from $0.99 to $99.99 USD.
iPad Screenshots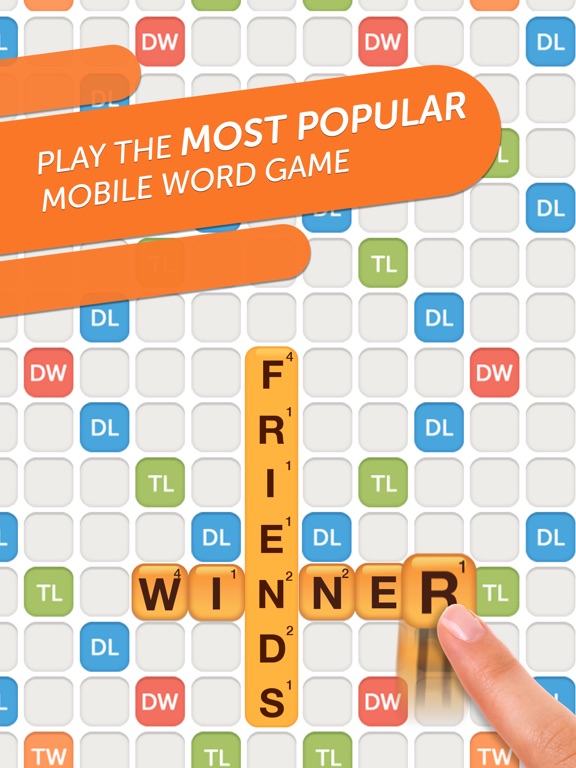 Reviews
Too many ads
It's a great game, but I have stopped playing several times due to the amount of ads I have to get through. I'd gladly pay $5-10 for an ad-free game.
Bs
puppydriver
on
12/16/2017
This game is bs. You have to set up an account just to find words
Ads ruin this game
Not impressed987
on
12/16/2017
I used to play this game all the time. Picked it back up last night and cannot believe the ads on this thing! Between every play I have to either watch something or play some stupid game or something ridiculous. Definitely would not recommend this game to anyone as the frustrations aren't worth it.
Still badly designed
This new version of Words with Friends is too busy. The home screen has lots of distractions on it, and keeps asking me if I want to start games with people I haven't played in months (duh, because I don't want to!). They need to get some UX pros pronto --not just marketing designers. The daily rewards now require you to tap 3x -- tap to go to the reward screen, tap to open the reward, and tap to go back to the main screen. The animations make it annoyingly slow. And all that for LESS reward. Again, the old app was better -- open the app, boom, there's your reward displayed. No need to tap to collect. Don't annoy people so much to gain so little.
Words 2
I don't like it. I want the old one and it won't let me use it.
It's a Fun Game, Considering...
The game itself is enjoyable, but the ads are such an unnecessary annoyance. I feel like the developers were trying to figure out the sleaziest way for them to make a lot of money off of this game and they succeeded. An ad pops up after every single move you make. There is also no option to get rid of ads indefinitely, only temporarily. First, I saw an ad about paying $9.99 for 500 ad-free moves. Today, I saw an ad about purchasing coin packages to receive a LIMITED number of ad-free days. P-A-T-H-E-T-I-C, how many points can I get off of that word, eh?
To many ads
the eye of raa
on
12/16/2017
I like this game but quit playing it because of all the annoying ads.. make a play ad.. stop to think ad.. shuffle tiles ad 👎
No more adds
At least with the first version you can buy out of the adds. Will be deleting this app.
Can't access since last update
Just won't open
Love the new challenges
Love the new challenges and all the nuances
Love the game!
Teacherttacy
on
12/16/2017
But why did the the support for the iPhone X disappear with the last update?
Ads are annoying
Downloaded to new phone and would love to give them money to get rid of the ads, but they make it really hard to figure out how to buy. Far too much crap to get through when you just want to buy it and play.
Remove the junk
Coins, mittens, and cheats made this word game into a complete waste of time. I dislike the option to swap letters within your own turn. I dislike the word strength meter. I dislike collecting coins during a simple word game. I dislike the high number of screen taps necessary to open the app and get into a game; the app seems to need four or five clicks just to receive daily free coins. I don't even want the coins. This junk has gotten pretty bloated. How about an honest word game without cheats or prizes. Just words. Come on.
Below 0
Hard to rate when I can't play the game. So much junk has been added with no way to go directly to WORDS. I downloaded WORDS 2, and after trying to get past a new feature, Winter Tales, for about an hour, including asking for app support, I am giving up. My advice, don't delete your original WORDS.
The solo challenge with Mrs claus is rigged
Solo challenge is rigged 😡🤬😡🤬
iPhone X
tonywhite58473792
on
12/16/2017
Needs iPhone X support
I hate the noise
How do I get all the noises to stop??? I don't want to mute my phone in case I forget to un-mute it. Super annoying
Deleting this app ASAP
Made the mistake of downloading the Version 2 app and deleting the classic. The new version is bloated with "features" I don't want, making it much more cumbersome to simply play a game with a friend. Wish I could go back to the old version.
Took away iPhone X support?
Dougteeshot35
on
12/16/2017
It appears that the last update removed iPhone X support, which was set in place by the update before. What gives?
Liked the old version better
Was forced to use this version since my iOS doesn't support the old. Paid for the ad-free old version and read that I should be able to continue ad free if I used the same login, which I did, but still seeing ads. Didn't log on with Facebook and yet my photo was in there (infuriating due to certain privacy issues but was relieved I could change the photo). I couldn't care less for all the coins and badges and challenges; just want to play a normal game with a few friends. Friends I know in REAL LIFE - I don't want to be matched! Can't get rid of the rando people on games which I declined on my stats page so that's annoying. I'll close with semi-positives. The new look of the board is fine and, if you want to twist my arm, the hindsight feature is kinda cool.
Awful adds
I paid for the original game to not have adds. The new one has many adds. Too distracting.
Move the pop ups to the bottom, it's annoying
tony_kariotis
on
12/16/2017
Very Annoying
Ad bug
Dvyhsthubyg
on
12/16/2017
Love the game 100%, but the final fantasy mini game ad has a bug that doesn't allow you to exit it. I have to quit out of words with friends just to go anywhere 👎🏽
Too much crap
I just want to play the game w my friends - don't want all the extra bling
Fun but premium version needed
There are just too many ads to enjoy this app. Forcing an ad after every single play is too much.
Ads are ridiculous
NOPDOfficer
on
12/16/2017
The amount of ads flying on the screen is stupid!!!
Why go backwards?
Update one day uses full iPhone X screen, then update the next day reverts back??? Doesn't make sense.
Horrible
How are you going to do an update for the iPhone x and then the update looks horrible and turn around and do another update and then take away the iPhone x support how hard is it to update an app for iPhone x get with it
Dislike new look and sounds
LunaSisterMoon
on
12/16/2017
I hate the lack of contrast on the new board; it's hard on the eyes. And the sounds are too cutesy; sounds like I'm playing Candy Crush. I can't see myself spending as much time with this version as I did with the original. What a shame.
Thanks
But no Thanks! I don't want any crutches or more bell and whistles. Just fast cutting edge play with friends who use their own knowledge. Maybe you need a Scholar Version for us nerds. Mauri
Words 2
I absolutely love this game. I would have given it 5 stars however the lack of removing ads is where it fails. Once this has been fixed. I would gladly give it 5 stars.
Having problems
Ice'd Icelandics
on
12/16/2017
I have been playing Words with Friends for many, many years; I think since very near the beginnings. Now I cannot see hindsight, and until this update, I couldn't see the coins I had collected. My daughter who also plays bragged about what she could see on hindsight and I was confused as I didn't have it. She came home for the holidays and showed me the hindsight features and the coins she buys with. I had nada on my version. This new version came out and I excitedly downloaded it, bought with my coins a five-pack to view hindsight, BUT still no hindsight. We have been through settings, everything and can find no where to turn it on/off or anything about it. If you have any ideas I would appreciate it. Otherwise, I'm disappointed.
They pulled iPhone X support
CambridgeMA
on
12/16/2017
Smooth move, Ex-Lax.
From 😊 to ☹️
At first I was excited, it appeared as though my friends list and current games made the move from the old version to the new, Not so. ☹️. I hate that you have forced this change upon us all, and have not considered that in a transition there is inevitable some attrition and lag as the newer "better" is rolled out. Now I'm wishing I had chosen to simple stop playing.
Ads Rob Game Of Fun
"Upgraded" to Words 2 after years of playing the ad free original that I️ paid for. Followed company directions to "be sure you log on with Facebook" in order to continue to play ad free. Guess what? Ads! Annoying banners, constant stoppage of play between games, and incessant fishing by the company to play their new add-ons. Busy and full of cheats, this new game is all flash and no fun.
Love the game
Great upgrade on my favorite game. Wish there was an ad free version you could purchase for a flat fee.
Ads overriding iPhone Mute settings!!!!
NOT OK No screenshot I'm afraid. Happened very early Friday morning. Very loud over iPhone speaker (phone on mute) "You have been selected" yada yada... immediately force-quit WWF to stop it.
Play Lightning round with friends
Universal Language
on
12/16/2017
I only play the lightning round so it's a shame that I can't join a friend or two for this mode
Unable to Report Abuse
Adams Rinder asks for $
on
12/16/2017
Adams Rinder is asking for money and I am not able to use the game's REPORT ABUSE to submit a complaint against this guy
Too many ads that make you engage them
Superbat man
on
12/16/2017
Good game but expect to see ads in between every move you make in a head to head match. The ads make you engage them to be able to exit out of them which is super annoying
Removed iPhone X support!?!?
The latest update removed support for the iPhone X screen size! The support wasn't great to begin with but it was a start.
Cheated
I had originally paid for the Words Pro (?) and the claims were if you'd paid you would be grandfathered in to the Words 2 without ads. Well, I wasn't and there are so many ads the game becomes pretty "unfun" very quickly. Including one ad for a game that I couldn't get rid of on my screen.
Where is the paid version?
I like the new version overall and the different challenges and tracking features—but want a paid version to get around the ads!
Frozen
Drivemebuggy
on
12/16/2017
Very disappointing, WWF said it was an update but it installed another app. The app froze during the tutorial, I didn't get to play the games. Well I guess it is a good thing it was a new app. Delete it and continue with the old app. Some of us just want to play the games. We don't care about all of the badges, challenges, etc. If people want those thing please create a new game for that but stop adding more hoopla to what was a good app.
Fun...but...
Gossip girl 2010
on
12/16/2017
Fun to play. Only reason why not 5 stars is because of the ads. If there is a way to get rid of the ads I would change to 5 stars.
ADDDDDDSSSS
Honestly I love the game but these ads are killing my vibe. Can there be an option to pay maybe $1.00 to get rid of them? It's quite annoying that they pop up after EVERY MOVE and even worse it interrupts whatever music I have playing 😒.
iPhone X Support Gone?
With the update that came out a couple days ago you guys added support for the iPhone X'a resolution so the game filled the whole screen. With the update they came out today you took that away so the game no longer fills the whole screen. Was this on purpose?
Keep the old version
Madam mijanou
on
12/16/2017
I find this less than an improvement. I'll go back to the last version
Stop forcing the upgrade
Antithesis666
on
12/16/2017
I'm happy with words with friends one. I don't want to upgrade. Stop forcing it.
Variety
I enjoy this game, however, more variety with letter combinations would be nice. All to often the only letters given are vowels.
Fact Sheet
Publisher:

Zynga Mobile

Category:

Games

Released:

Nov 07, 2017

Current Version Released:

Dec 15, 2017

Version:

10.26.1

Size:

178.9 MB

Compatibility:

Requires iOS 10.0 or later.

Recommended Age:

4+

Game Center Certified:

No

Supported Devices:

iPhone5-iPhone5, iPadFourthGen-iPadFourthGen, iPadFourthGen4G-iPadFourthGen4G, iPhone5c-iPhone5c, iPhone5s-iPhone5s, iPadAir-iPadAir, iPadAirCellular-iPadAirCellular, iPadMiniRetina-iPadMiniRetina, iPadMiniRetinaCellular-iPadMiniRetinaCellular, iPhone6-iPhone6, iPhone6Plus-iPhone6Plus, iPadAir2-iPadAir2, iPadAir2Cellular-iPadAir2Cellular, iPadMini3-iPadMini3, iPadMini3Cellular-iPadMini3Cellular, iPodTouchSixthGen-iPodTouchSixthGen, iPhone6s-iPhone6s, iPhone6sPlus-iPhone6sPlus, iPadMini4-iPadMini4, iPadMini4Cellular-iPadMini4Cellular, iPadPro-iPadPro, iPadProCellular-iPadProCellular, iPadPro97-iPadPro97, iPadPro97Cellular-iPadPro97Cellular, iPhoneSE-iPhoneSE, iPhone7-iPhone7, iPhone7Plus-iPhone7Plus, iPad611-iPad611, iPad612-iPad612, iPad71-iPad71, iPad72-iPad72, iPad73-iPad73, iPad74-iPad74, iPhone8-iPhone8, iPhone8Plus-iPhone8Plus, iPhoneX-iPhoneX,

Supported Languages:

English; French; German; Italian; Portuguese; Spanish; Castilian;