Screenshots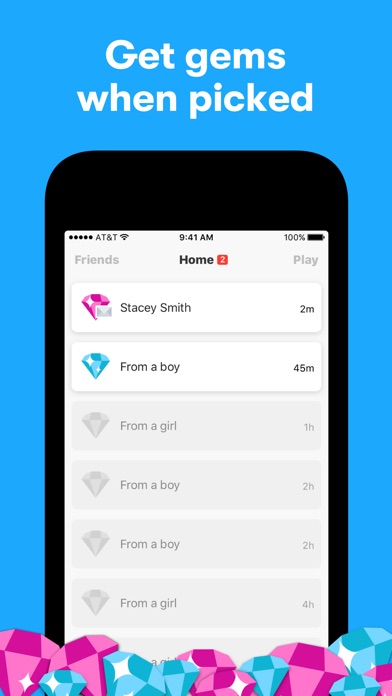 New in version 1.0.1
Bug fixes and some secret new features!
Description
Join 5 million people on tbh!
The only anonymous app with positive vibes.
Featured on BuzzFeed & Fortune Magazine.

◆◆◆

tbh is where friends tell you what they like about you.
And no—they don't roast you like other apps.

How does it work?
1) Add your friends
2) Answer polls, anonymously.
3) Get gems when you get picked.
4) Reply and they can reveal.

What are you waiting for? hmu on tbh

◆◆◆

"While I hesitate to call any app 'woke,' TBH is definitely in that neighborhood."
— New York Magazine

"If you're not on the TBH app, god you're sad and old."
— BuzzFeed

"The innovation of tbh was getting rid of the typing."
— Techcrunch
Reviews
Tbh app
TBH IS THE BOMB
on
12/13/2017
The tbh app is great way for you to feel better about yourself and others.It's probably the best app out there because you can't say mean things about others that kill confidence.Also, it a good app because kids get to know stuff from other kids and if they respect them or not plus it is very nice.
Amazing
alllllllll1111111111000000000
on
12/13/2017
I think tbh is awesome because you get compliments from your friends and you can give it too them
Nice app
deedlebug612
on
12/12/2017
Noice
Amazing
kinsley adams
on
12/12/2017
It's really good!! You can see what people think of you, and can connect with people.It also helps you see people in a new way.
TBH rating
This is a really good app for stress relief and when your having a bad day !keep it up
Bottom line: GET THIS APP
The only reason I gave it four out of five stars is because the app would not let me turn off the post notifications so my phone was just like... DING DING DING😂 But anyway... this app is so great because u can see what people think off u.
Love it!
It's a very fun app to "play" on I guess you could say. It's fun to see what your friends think of you, definitely recommend.
LOVVEEE😍😍
Maxdoggy112233
on
12/11/2017
For real. This app is sooo fun it's addicting and there's no bad questions only positive ones. It can really make you feel good about yourself's
TBH
This app shows all positive and nothing but positive
Ella💕
Soooo fun totally obsessed!!! I just wish u didnt have to wait as long for more!!!
Tbh review
djrbtbfjdkf
on
12/11/2017
Best app I've had so farr🙌👏👌👌👌👌👌🤤🤤🤤😏😏
Cool but...
TBHfanandpotato
on
12/11/2017
The app in general is really cool! But my best friend does not have an iPhone and she cannot install it. She has the play store as in every Android. Could u please add it there. I really want her to get it
Awesome
Las Vegas chick
on
12/11/2017
It is awesome. Good quality not slow at all. Also you can tell people the truth without them knowing you said it. It's epic. I encourage you to get it
Tbh
Cool game I love it but why should we wait 50 some minutes to play a fun game that makes people happy when there sad and yea so it's a nice game but a slow and annoying game. love Anna chicken nugget
Error
ShahinGhani
on
12/11/2017
The app keeps telling me that I must enter a valid phone number on the sign-up page! My phone number IS valid it just doesn't make sense.
Love this app
I love this app it lets you communicate with your friends in a whole new way and once you receive a pole you want to know who it's from and you can send a revile request and find out how it's from
This Is my favorite game
cassie darcy
on
12/10/2017
Get it it's worth ur GB
Cool app
Best Social Media app EVER!!🤯
This app is lit🔥🔥
Link bridge
on
12/10/2017
You can answer all kinds of questions about your friends! If you have a crush on someone and you want to answer a flirty question, it is TOTALLY anonymous!!!! I love playing this app when I'm bored or just when I have extra time! I would definitely recommend it!👍🏻
Organized
Really simple to work with.
Okay
The app is okay but I think there should be more to it
Great game....
Pokemonzlololol
on
12/10/2017
OMG! THIS GAME IS GREAT! I love how you answer questions about someone and it goes to them anonymously!!! If ur into Social Media and stuff, check this game out!
Amazing
Nothing wrong with it
Great app
I like it a lot, you should get it!
Love it
The app is a good app but, you guys need to make it better jk love it❤️❤️
It's okay
I like this app. But I don't really like how it will always give notifications saying "new polls now"
Jdnfidmdid
Fuhfjbgfggffg
on
12/9/2017
It is great for a while then everyone just got bored of it. IT DEFINITELY NEEDS MORE FEATURES
Ugh
Whylululutakenbralala
on
12/9/2017
It's a fine game... I accidentally changed my name and I can't change it back. So annoying!
GREAT APP FOR TEENAGERS
Battlefieldisawesome
on
12/9/2017
You can do as many things as you think you can ask someone out you can tell someone something that you are just too scared to tell them in person. And if you regret telling them you don't have to reveal yourself. When you vote someone it's completely anonymous
five outta five
Http.xxmaria
on
12/9/2017
Great app to find out what people really think about you
Great, but...
AWESOME but I feel like instead of only being able to search for usernames, we should be able to search for the person's real name too!
Good, but one thing
I like it, it is a great app, but it never lets the polls I submit be in the app, even if they're not good. 😀😕
Loveeee
Except you need lots of people on here in order for it to be fun
Tbh
It is stupid and inappropriate for kids I won't let my daughter use this app
Super cool
Another Christmas Eve
on
12/8/2017
Super cool when it came out boring now
its good.. but
Black_Blooded_Demon
on
12/8/2017
i like tbh but i get constant notifications for absolutely nothing.
A really good app
but i wish i had friends to use it
It has died
There is no bringing it back it has died and there is no fixing it u messed up so get your life back to in order
Meh
Was lots of fun but the phase only lasts a few days so they should just stop
100%
To be honest I LOVE IT
Great app
5sosheyeverybody
on
12/7/2017
Cool
best
Sarah Da Jake Pauler
on
12/7/2017
my crush added me and one of the polls was "who is drop down hot" i picked my crush and he kept asking ppl who did it i never confessed🤷🏽‍♀️😏
Tbh
Sexysaintrow
on
12/7/2017
The best thing
TBH
Macie Wollenberg
on
12/7/2017
This is a fun app that tells you what people think about you. I like this app a lot because I can find out what people think about me.
Tbh is the best app
Lesty the Beaty
on
12/7/2017
Fast and easy and is awesome
Fact Sheet
Publisher:

Midnight Labs LLC

Category:

Social Networking

Released:

Jan 29, 2017

Current Version Released:

Nov 20, 2017

Version:

1.0.1

Size:

78 MB

Compatibility:

Requires iOS 9.0 or later.

Recommended Age:

12+

Game Center Certified:

No

Supported Devices:

iPad2Wifi-iPad2Wifi, iPad23G-iPad23G, iPhone4S-iPhone4S, iPadThirdGen-iPadThirdGen, iPadThirdGen4G-iPadThirdGen4G, iPhone5-iPhone5, iPodTouchFifthGen-iPodTouchFifthGen, iPadFourthGen-iPadFourthGen, iPadFourthGen4G-iPadFourthGen4G, iPadMini-iPadMini, iPadMini4G-iPadMini4G, iPhone5c-iPhone5c, iPhone5s-iPhone5s, iPadAir-iPadAir, iPadAirCellular-iPadAirCellular, iPadMiniRetina-iPadMiniRetina, iPadMiniRetinaCellular-iPadMiniRetinaCellular, iPhone6-iPhone6, iPhone6Plus-iPhone6Plus, iPadAir2-iPadAir2, iPadAir2Cellular-iPadAir2Cellular, iPadMini3-iPadMini3, iPadMini3Cellular-iPadMini3Cellular, iPodTouchSixthGen-iPodTouchSixthGen, iPhone6s-iPhone6s, iPhone6sPlus-iPhone6sPlus, iPadMini4-iPadMini4, iPadMini4Cellular-iPadMini4Cellular, iPadPro-iPadPro, iPadProCellular-iPadProCellular, iPadPro97-iPadPro97, iPadPro97Cellular-iPadPro97Cellular, iPhoneSE-iPhoneSE, iPhone7-iPhone7, iPhone7Plus-iPhone7Plus, iPad611-iPad611, iPad612-iPad612, iPad71-iPad71, iPad72-iPad72, iPad73-iPad73, iPad74-iPad74, iPhone8-iPhone8, iPhone8Plus-iPhone8Plus, iPhoneX-iPhoneX,

Supported Languages:

English;

Parental Advisory:

Mild Realistic Violence; Mild Profanity or Crude Humor; Suggestive Themes; Mild Cartoon or Fantasy Violence;