Screenshots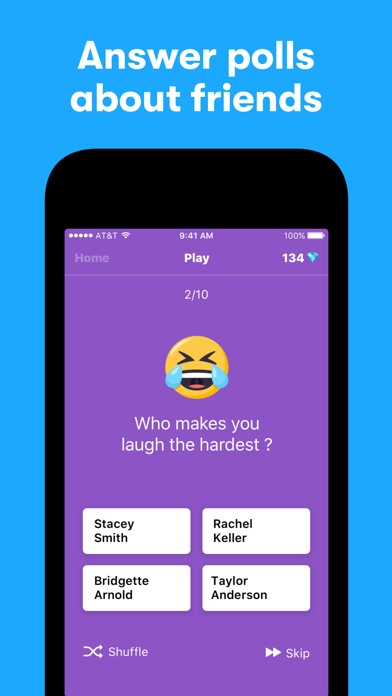 New in version 0.7.4
Now Available:
▶ Alabama
▶ Arizona
▶ Arkansas
▶ California
▶ Colorado · NEW
▶ Connecticut
▶ Delaware
▶ Florida
▶ Georgia
▶ Kansas · NEW
▶ Kentucky
▶ Louisiana
▶ Illinois · NEW
▶ Indiana
▶ Maine
▶ Maryland
▶ Massachusetts
▶ Michigan
▶ Mississippi
▶ Missouri · NEW
▶ Nevada
▶ New Hampshire
▶ New Jersey
▶ New York
▶ North Carolina
▶ Ohio
▶ Oklahoma · NEW
▶ Oregon
▶ Pennsylvania
▶ Rhode Island
▶ South Carolina
▶ Tennessee
▶ Texas
▶ Utah
▶ Vermont
▶ Virginia
▶ Washington
▶ West Virginia
▶ Wisconsin · NEW
Description
Join 5 million people on tbh!
The only anonymous app with positive vibes.
Featured on BuzzFeed & Fortune Magazine.

◆◆◆

tbh is where friends tell you what they like about you.
And no—they don't roast you like other apps.

How does it work?
1) Add your friends
2) Answer polls, anonymously.
3) Get gems when you get picked.
4) Reply and they can reveal.

What are you waiting for? hmu on tbh

◆◆◆

"While I hesitate to call any app 'woke,' TBH is definitely in that neighborhood."
— New York Magazine

"If you're not on the TBH app, god you're sad and old."
— BuzzFeed

"The innovation of tbh was getting rid of the typing."
— Techcrunch
Reviews
Loads of Help
Little_Nerd_Kat
on
10/19/2017
Really helps students boost self esteem and it gets a lot of the drama out of our systems.
WHY
Abress 14589954345577890
on
10/19/2017
Not sending me the code I need to sign up. Can't even do the thing..
Thank You
StarRacer701
on
10/19/2017
Thanks to this app. My school is on FOX news. Vape Nation. Free Canyon. Free Pegg
amazing self-confidence app
The Public of Paper.io
on
10/19/2017
this app is hilarious and boosts self-confidence 10/10 recommend
Great and Positive!
Minecraft lover 10
on
10/19/2017
There's absolutely nothing wrong about this app! Everyone loves compliments and (hopefully) giving them. Good work!
Good app
The sims cheats app
on
10/19/2017
A great app to tell the truth and see everons votes So get this app
Have a possible messaging system
Nyla Haswell
on
10/19/2017
Say you were scrolling through your gems and find someone who said something nice about you or that the liked you if you could enable a way to message the said person anonymously to talk to them and possibly your friends and if you get to know said person and feel comfortable you can tell each other who it is it would be a great way to make friends by liking someone's personality over looks or popularity. Thank you for taking the time to read this.
Awesome
Mix Friend18
on
10/19/2017
It's fun to know what people actually think of you.
MAKE MESSAGING!!
Goldendad99
on
10/19/2017
Please make messaging so you can anonymously talk to each other because when they say they and like you from like middle school I'm gonna wanna talk to them!
Ya
Super fun! No ones left out either!! Nice way to get to know your classmates
Love this app!
Logangster12345
on
10/19/2017
I learned door much about friends while using this app, every middle school girl should have it
Good app but...
It's a good app but they need to get rid of the whole waiting list thing. My app always crashes and it gets kinda annoying. Overall a really good app lots of fun finding what people truly feel about me. It was a great way to meet new people in my high school!
Kinda like truth or dare but anonymous
Diamondwolf1115
on
10/19/2017
This game is great because you can tell the truth about someone and they won't know its you, thankfully it has nothing mean on it.
Block!!!!
You should be able to block people that just spam you because it gets really annoying when they do
So fun!
I love this game so much! It's so fun and nice to like send your friends funny or like sweet things and to receive funny or like sweet things
Awesome
Whoever came up with the idea of this app, is a GENIUS
App
Haley vandecoevering
on
10/19/2017
Amazing app. Highly Recommend.
Litty titty
This is honestly a really dope app
fun
Frida.Sofia.G
on
10/19/2017
fun
Great app
Dillpickle1120
on
10/19/2017
I'd like to see an option to spend the gems to see who chose your name. Like 10-20 gems every time
4.9/5
This is game is really fun :)) HOWEVER, I wish you could see who got picked for your own polls :)
Does not work
Snark dismantle
on
10/19/2017
It doesn't send me the confirmation code when I give them my number. 😡😡😡😡
Great but....
It was a great app until I was logged out and can't log back in. It keeps asking me to enter my phone number and get the code. It's not sending any codes. I tried multiple phone numbers and nothing's worked. Might wanna fix that.
Good
bittytwoshoes
on
10/19/2017
Good app
Love it
It's a fun way to build friends self confidence!
Nice app
Joe rericha
on
10/19/2017
Yo nice app
Eh
It got boring. Can you add something new to it?
So much fun!
Shannon Dapplefrost
on
10/19/2017
😂
Absolutely love this app!
I love this app it is so addicting and boosts my self esteem! The only thing that I wish was different, would be that you can change your name more than twice and the questions were unlimited!
Really fun
Fun just to past time and be honest
Fun
Nygkryhbgghfb
on
10/19/2017
Fun
Cool
Lily aldermen
on
10/19/2017
Fun and cool
Great but...
Supercalafragalisticexpe
on
10/19/2017
This app is amazing and it is so well done but my only complaint is the menu system maybe have tabs at the bottom so we can just press where we want to go instead of having to scroll
Happy Vibes! ❤️
UglyMonkeyBrain
on
10/19/2017
At first I thought tbh was a terrible anonymous insult app kinda thing. But it's really not! When I got it and gems started coming in, I started getting really happy because I got so many compliments and I don't really care about the anonymous part. It also helped me realize things I liked about other people! It made me really happy to be part of this. But just to clarify: tbh only has good compliments. You have to submit questions to the developers and they approve some and decline some but they're all happy. The whole app is only positive. Here's my one problem: when the reveal yourself feature came, it made it sort of scary to give some of the more awkward compliments. I think the anonymity was a really special part of the app, and I wish we didn't have that ability anymore. I did have an idea though; a comment feature could be cool. On the Friends page, if you made it so people could scroll through and comment on each other's gems I think that could give the cool reply option but it still has the anonymity feature. All in all, this app is awesome! It makes me so happy!
Amazing app!!!
Puppykittykatieme
on
10/19/2017
It's an amazing way to know how your friends feel about you personally!!
Amazing
Ngdigurueuf
on
10/19/2017
I love this app so much. I wish the time limit was less and it was easier to find friends.
👌🔥😍
Quinny_The_Poo
on
10/19/2017
Ok, I have to admit this app is like my go to thing when I'm bored. It's so fun! I know it's not there, But I pick 6 stars ⭐️⭐️⭐️⭐️⭐️⭐️
55min
Im2cute4u2332 omg
on
10/19/2017
You have to wait to play new polls
Great app, but a few questions
jordan bush
on
10/19/2017
So for starters where is the reply button? A few people including myself are curious to see who sent us stuff. Could you make adding people easier so I can add people by username or code instead of number?
Fun
Chubbz J. Harris
on
10/19/2017
This app is really fun to play with my friends
TBH... this app is awesome!
I love this app because you can let people know how you feel about them and it's anonymous ! Replies are not anonymous but you do not have to reply.
Suggestions
I love this app, but i would LOVE if... 1. You could delete the gems that you don't like. For example, one of my highest gems is "Quotes the most movies" but I don't like that, so i could delete it. 2. You could message people after you receive their gem. It wouldn't show who it was, and they could either ignore the message or reveal themselves. 3. You could shuffle until you get through everyone on your friends list. I HATE when I see something and think of one specific person, and then I shuffle and shuffle and shuffle, but their name never comes up. That's all! Thanks for reading.
LOVE ITTTTTTTT
Sky the star
on
10/19/2017
I absolutely love this app. It's fun and easy to use and it's so simple yet so addicting. Everyone who gets this app will enjoy it.
I love it
I love how you can just pick whatever you want and you don't have to say it to their face
Kooo
midgetcleanfreak
on
10/19/2017
..
Great App
Really fun and anonymous, I wish you guys would let us add a short Bio for our profile
Fun
Fa'res Al-Husseini
on
10/19/2017
Pretty fun way to kill time. I would suggest the devs add more shuffles but it's overall a cool idea with great execution
Fact Sheet
Publisher:

Midnight Labs LLC

Category:

Social Networking

Released:

Jan 29, 2017

Current Version Released:

Oct 16, 2017

Version:

0.7.4

Size:

77.7 MB

Compatibility:

Requires iOS 9.0 or later.

Recommended Age:

12+

Game Center Certified:

No

Supported Devices:

iPad2Wifi-iPad2Wifi, iPad23G-iPad23G, iPhone4S-iPhone4S, iPadThirdGen-iPadThirdGen, iPadThirdGen4G-iPadThirdGen4G, iPhone5-iPhone5, iPodTouchFifthGen-iPodTouchFifthGen, iPadFourthGen-iPadFourthGen, iPadFourthGen4G-iPadFourthGen4G, iPadMini-iPadMini, iPadMini4G-iPadMini4G, iPhone5c-iPhone5c, iPhone5s-iPhone5s, iPadAir-iPadAir, iPadAirCellular-iPadAirCellular, iPadMiniRetina-iPadMiniRetina, iPadMiniRetinaCellular-iPadMiniRetinaCellular, iPhone6-iPhone6, iPhone6Plus-iPhone6Plus, iPadAir2-iPadAir2, iPadAir2Cellular-iPadAir2Cellular, iPadMini3-iPadMini3, iPadMini3Cellular-iPadMini3Cellular, iPodTouchSixthGen-iPodTouchSixthGen, iPhone6s-iPhone6s, iPhone6sPlus-iPhone6sPlus, iPadMini4-iPadMini4, iPadMini4Cellular-iPadMini4Cellular, iPadPro-iPadPro, iPadProCellular-iPadProCellular, iPadPro97-iPadPro97, iPadPro97Cellular-iPadPro97Cellular, iPhoneSE-iPhoneSE, iPhone7-iPhone7, iPhone7Plus-iPhone7Plus, iPad611-iPad611, iPad612-iPad612, iPad71-iPad71, iPad72-iPad72, iPad73-iPad73, iPad74-iPad74, iPhone8-iPhone8, iPhone8Plus-iPhone8Plus, iPhoneX-iPhoneX,

Supported Languages:

English;

Parental Advisory:

Mild Realistic Violence; Suggestive Themes; Mild Cartoon or Fantasy Violence; Mild Profanity or Crude Humor;