This version of the app is not recommended
App last updated
Jan 05, 2018
Screenshots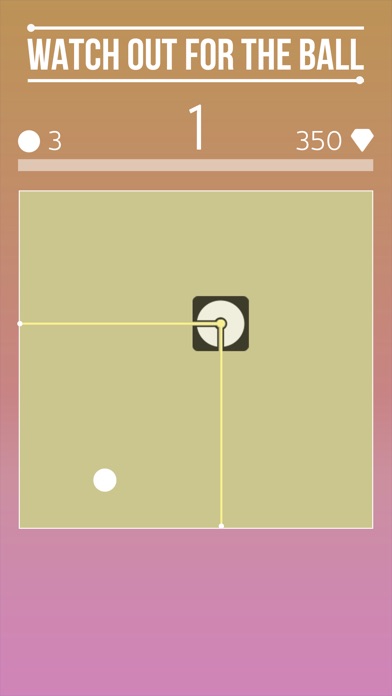 New in version 2.3.34
Happy New Years!

More levels and performance boost!

We hope you are ready for the challenge, A brand new and most addictive game mode "Shapes" and many new levels are waiting for you...


Happy Scaling!
Description
Scale is a free and an addictive arcade game with an unique gameplay containing slicer and balls.

Truly a brain teaser and Its super fun!


How to play?

Its easy, all you have to do is to cut and shrink the board by placing the slicers.

You need to be strategic to scale the board visely and watch out for the ball!

If you touch the balls before your cut is complete, you lose a life.

Increase your score, get diamonds, check the leaderboard and compete your friends.

Try this fun game now!

Best arcade game ever, how far can you go?
iPad Screenshots
Reviews
Adds are ridiculous!!!
BillyBob19751975
on
1/23/2018
The game is fun but, the ads are so overwhelming that's it's easier and faster to restart the app than to wait on the ad to finish. When you run out of lives it asks if you want to watch an ad to get a free life, your going to watch the ad either way, even if you say no you have to watch the ad anyway.
Meh...
The game is pretty decent but I cannot give it more than this score if they force you to watch so many ads... every 2 games at least 10 second ad. Not worth it. Deleting right after writing this.
The new ads are absolutely unreasonable, and a piece of advice.
Until this last update advertisements respected the phone's state of being on silent mode. I just got an advertisement on maximum volume in a sensitive situation while in vibrate mode. This is absolutely absurd. Please restrict this behavior before it affects more people! Immediately after that, and having to force-quit the app, get the phone's media volume down to mute, and beating the level, I was presented with the reward of a 30-second ad. Here's a piece of advice: people are more likely to pay for the game, to remove the ads, if they truly enjoy the experience of playing it. That is several times more likely if you reward beating a level with the non-showing of an ad, which would happen if you failed.
Game is Glitchy
delilahandbentley
on
1/21/2018
I have beat level 20 on shapes multiple times and it won't let me advance to the next level. It was fun until I got there. I even have three stars on ever level but 20! Hopefully the developer can fix this. It shows next level with present and after the ad, you can't advance.
Awesome, addictive
Very impressive. Super addictive. No other words.
Ads
Way too many advertisements. Can't even enjoy the game
Ads are out of control
The ads are constant, relentless and pay zero attention to whether you have your phone silenced or not. I feel that the last part is actually a violation of their agreement with Apple.
Too many ads
Annoyingly long and multiple ads. Zzz
Good game but
If you like ads this is the game for you Fun game but there is almost always an ad at the end of every game
I adore this game
I'm not big on phone games but this one is a must 😍😍😍 I'm so addicted to it I can't get over it!! The only semi problem I have is that my favorite game mode doesn't seem to be working correctly. When I click on Shapes I've completed 20 but the main page says their is 20/50. I cannot access anything past 20! I hope they fix this or add more levels to shape !!
Super addicting!
I love this game so much!
The game
duckkiller24
on
1/18/2018
This game is so awesome n
Wayyyyyyy to many ads
Bible reader 808
on
1/17/2018
Takes too long o play cause even if you win levels it take you to a 30 sec ad.
Ads play sound even when phone is muted
Packersfanbman
on
1/17/2018
The ads play sound even when my phone is muted
Frustrating
I have never written a review for any game before. So this will be my first one. This game very addicting. But the ads gotta chill!! I know you're making money off of it but I don't need an ad to play every time I die!!! Like seriously, give it a break for a while. Besides the ad problem I give it a 4 star rating.
TO MANY ADDS
Just like it mentions ... it has TO MANY ADS!
ZFilms
It is avoid game but it freezes a lot.
Too many ads
Fun game but can't get momentum. Every level you win comes with an add after it. Considering a level takes about 5 to 10 seconds... ya
Fun but...
I love this game it's awesome but there's one thing! It's really hard and I think it should be a tad easier but yeah great game oh and the ads are inappropriate
Scale was good.
Biggest Mikey Ever
on
1/11/2018
Scale was good. But it has changed. There is now a video you have to watch every video. After every lvl. I am going to delete this game.
Still never got my stuff back
I still lost everything and haven't gotten anything back. Please do something because I loved this game.
Used to be a fun game
I've played this for a while and just now went back to it after taking a bit of a break. While the game itself is still fun, the ads are absolutely terrible, and they still play noise even with my phone on silent. It makes it impossible to play this game if you're anywhere where you need your phone to be quiet, and they play after almost every level. If you want a fun free game, don't get this. If you're willing to pay to get rid of ads, then you'll love it.
Warning: Video ads with sound when muted
Immediately uninstalled after getting a video ad that played sound despite me having it muted. When will developers learn not to use these ad networks that do this? Seemed like a good game, too, but now I don't care.
Shape Stage - no level after 20??!
Why doesn't it go to the next level after completely level 20 on the Shapes stage?? Are you doing an upgrade soon with the rest? Are those only if you buy the app? After completely level 20 and you click the gift with next level it goes to an Ad and then it says to "try again."
stupid ad
too many ads, but the game is ok
Ads are relentless
ScottButNotBaio
on
1/7/2018
Way too many ads. Immediate uninstall.
Constant spamming of ads
Ffvgghijdesijj
on
1/7/2018
Seriously it's not playable. Ad after ad repeatedly. Not worth buying if it's not worth trying. Can't try it with ads repeatedly going off. L4M3
Good fun
E Tx Music Student
on
1/7/2018
I don't like fast games that increase my anxiety. I don't like slow games where I'm waiting around. This is good for me: I can decide my next move just when I'm ready; and the game itself makes its moves quickly - and also no big pauses between levels or after losses
The best review
It a good game and I like to play it a lot but it needs to be more challenging By Assassintk56
Annoying
ابو محمد رضا الشيوخ
on
1/6/2018
Very bad bc the ads. I watching ads more than playing game. It got me nervous. Do not like do not recommend
Really fun, but wayyy too many ads
Kwalakwe deshaun
on
1/5/2018
This is a fun, somewhat challenging game, but there is like a 20-60 second ad after every time you lose. It's absurd. It is annoying enough that, despite loving the game itself, I am considering deleting the app.
Scale
33333333333333333333333333333d
on
1/5/2018
This is my favorite app
Engaging!
reckless carpenter
on
1/5/2018
An awesome concept. And a lot of fun!
One of the worse app ads on every single fix king game
Bad
New mode doesn't have all the levels
I would rate it 5 stars but the new mode with the shapes only has 10 levels but says it has 50...whats the deal??
Rip off!
I paid your fee to have the ads removed and they are still there! I want them removed or my money back! I can't help but wonder how many people are getting screwed out of their money by this.
frustrating to play
the_inked_poet
on
1/4/2018
fun game... too many ads!
Ads
Ads every 2 seconds, played it for 10 minuets and got annoyed, defeated it in seconds, oh well more storage for other games that dont have ads
Too many ads!!!
The game itself would be fine, but there are way too many ads. This developer adds way too many ads in ALL of its apps. You can't get through 3 rounds of a game without a 30 second ad popping up. I'm deleting the game for this reason. It makes it unplayable. 😡
Beautiful game
Bahaajamal1992
on
1/3/2018
I I first gave it a one star review because I I paid For ads free but i made restore purchases and everything worked fine The game is awesome and addictive
Bugs and ads
The game is great but too much ads and with the new update there is a bug in the shapes mode i cant get stars in some levels and so on i cant continue bcz u need at least 2 stars please fix some levels ( lvl 5 and 10 ) i think
Too many ads
Torr_________________________
on
1/2/2018
Too many ads
Great game, put problems with new mode.
Problems with balls and stars spawning outside the shape of the "shapes" mode, please fix this!
New mode doesn't have all described levels
The new mode that came with the latest update described itself as having 50 levels, but the only way to "progress" after level 10 is to push the button that says "Next Level" with the gift package that leads to an ad, which I went along with. After the ad, that button had disappeared and I was left only with the option to retry the level. Given that it's been a bunch of updates with no new additions to the shop for ball or slicer skins, I can't help but feel like this app keeps making promises and not fulfilling them.
New version keeps freezing up after every game! Waaa!
Player 6789221
on
1/2/2018
Fix the bug, I'll give *****!
Fun game for first hour....
Level 1-49 are pretty reasonable when it comes to difficulty and then all of sudden when you reach the last level they quadruple the amount of balls in the area. I understand you don't want the last level to be easy but quadruple the difficulty level?!?!? There needs to be some better build up to better prepare a player! Good luck trying to get any straight line through all of them....my final verdict: this is a fun game but that's it. After an hour I'm over it.
To many advertising
To many advertising, you can not play
Getting interesting with updates!
It was challenging and addictive already but now it's more than that...
Disgusting and full of ads
Between every click and the other you get a 30 seconds super annoying unstoppable ads. And you get really get to have fun in the game
Boo
Ninjapotpie
on
12/31/2017
To many ads
Fact Sheet
Publisher:

Good Job Games Bilisim Yazilim ve Pazarlama AS

Category:

Games

Released:

Mar 17, 2017

Current Version Released:

Jan 05, 2018

Version:

2.3.34

Size:

34.4 MB

Compatibility:

Requires iOS 8.0 or later.

Recommended Age:

4+

Game Center Certified:

No

Supported Languages:

English;