Screenshots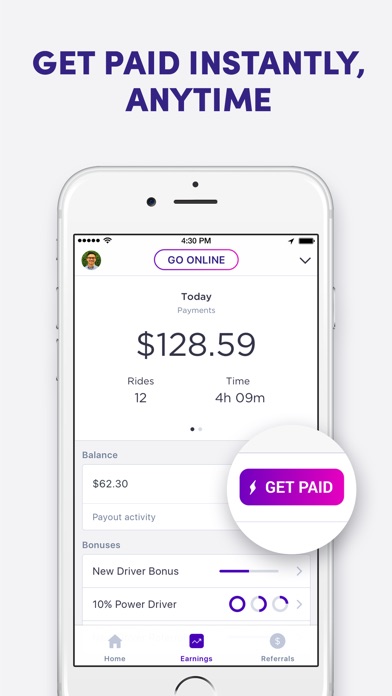 New in version 1001.25.3
From day one, we've wanted you to be safe and supported on the road — and starting today, you can talk to us live 24 hours a day, 7 days a week, 365 days a year. We're excited to announce the following new features in the Lyft Driver app:

- 24/7 Phone Support: Drivers can now tap "Call Me" from the Lyft Driver app to receive a call back and help from a Lyft team member in 2 minutes or less.

- Ayuda en Español: A partir de octubre, el centro de ayuda, el formulario de contacto, y la función 'Llámame' 24/7, estarán disponibles en español.
Description
Download Lyft Driver, the app created just for drivers.

__

Whether you're paying rent, saving for the future, or could just use some extra cash, drive with Lyft.

WHY LYFT?

FLEXIBLE HOURS
Driving with Lyft is an easy way to earn money whenever you want.

$200 MILLION IN TIPS, AND COUNTING
Passengers are encouraged to tip in the app — and you keep the whole amount.

HAPPY PASSENGERS
The Lyft community is full of friendly people, passengers and drivers alike.

ONE EASY APP
Whether you're checking local demand or working towards a bonus, the app has everything you need to earn more.
Reviews
800$ Lyft Driver Bonus
Goanofanboy356
on
10/16/2017
Use code " HEYLYFT123 " to earn 800$ new driver bonus while earning from every ride!!
Garbage
Two separate times I've had scheduled pickups. I followed the instructions to a "T". My Scheduled pick ups disappear and was "redispatched" to another driver. This cost me $33-$38 times TWO. I called help and was informed it's a known issue and received "Sorry". I've won Car of The Month and made a lot more profit via their competitor. Lyft is taking AWAY my time and money. Gave it another try(October 9th). While waiting in The Airport Queue Lot I get logged off or lose connection. I keep going from the 5 drivers ahead of you to 25 drivers ahead of you. Lyft is wasting my time! **Today, 10-16-2017. I was waiting in the queue for an hour. I received a dispatch to passenger pick up. The writer failed to show after 10 minutes so I canceled. Lift put me right to the back of the line instead of securing my position or immediately dispatch in another passenger. That means I just waited two hours to make five dollars at the airport. I was warned. I'm done!
Price to the customer vs just my portion
I enjoy driving for Lyft however it is rather disappointing to think I made a certain amount only to realize it's the overall price of the ride versus just knowing my portion.
Not good.
fernandomacia
on
10/15/2017
I hope they improve
App needs a rebuild
I've read a lot of the reviews and most of the problems being reported have not been fixed, I've been having all of them. It needs in app navigation. The developers would be wise to go out and use the Uber app, 10 times more user friendly. The app is the key to success or failure for Lyft, it puzzles me why the problems have not been addressed.
Can't drive
Sushmeister
on
10/15/2017
I would love to start driving for Lyft, but it seems my background check is at a standstill. I've never had a background check sit this long without being reviewed. Come on, now. If you want new drivers, like really want to expand your business, make it a little easier before prospective employees pick up another gig.
Malfunction of app, specifically the destination function
Is just me? Did Uber buy out or invest in Lyft recently? Recently, as in the last 5 or six versions, the app times out with no warning, specifically the destination function-says I have "used" it six times. I got one trip only. What a disappointment!
Fake rides are possible under this app
Santa Fe Stucco & Roofing
on
10/15/2017
I have experienced that Lyft may be susceptible to hackers generating fake rides. When I reported the problem, the support center througs a $5 bone . Disgusting
Not sure if buggy
Been driving for lyft about 3 weeks now. The app seems to lag out and lose signal or freezes on me. So I get a canceled ride or I can not accept a ride when it pops up. As for getting a pick up 30 to 40 mins away, then have the rider cancel on me, as I'm half way to pick them up. Makes me lose gas money for no reason. Not sure if that's the apps fault for giving me riders that far away. With Uber after 3 mins and the rider cancels on you they pay you something. With those reasons it's hard for me to keep driving for lyft.
Terrible
Awful interface. Low payout. Limited demand even in a large metropolitan area. I'd have to be on the road 15 hours per day to qualify for a weekend bonus. I'd still be making below minimum wage with the cost of gas and wear and tear on my car. They keep surveying me asking me why I don't drive for them anymore. I give feedback, the same feedback I'm seeing on here, no changes are being made to improve. I can't wait until these companies cease to exist so they can stop exploiting those they employ. Fooling people into working slave hours for less than minimum wage after costs and taxes. Foh
Very bad iteration of the app.
Really awful - still! Requires numerous reboots to allow Online/Offline switching. This has been a problem since IOS 11. I wrote Support immediately but never heard back. (Typical, Lyft's support has been abysmal since I started 2 years ago.) Still no text possibility to reach customers. Lame. Still multiple taps to call customer. Lame. Several other problems...
Inconvenient, arbitrary restrictions
TheUltimateparadox
on
10/14/2017
Don't expect to get your money soon, the "Express Pay" feature has an arbitrary daily restriction on it. This restriction is indicated absolutely nowhere in the app and is terribly inconvenient. Very bad form.
Frustrating experience with riders...
Lyft first of all I wanted to say thank you for making the app accommodate to Deaf drivers. However ever since the Deaf driver feature was added to alert the riders about us has dramatically changed how riders would respond to us compared to Lyft's direct competitor. Deaf drivers I knew personally and I has came to consensus agreement that Lyft riders is several times more likely to cancel Deaf drivers more than direct competitor does. Often we would drive distances to pick up the riders only to get canceled on when when we are nearly to the pick up point. We are bleeding a lot of money and gas because of this. I know one driver drove for 20 miles only to get canceled on, immediately switched over to direct competitor app, got hailed by very same rider who canceled him again. Overall the direct competitor are less likely to cancel on Deaf drivers and it's frustrating because we really liked Lyft better for many good reasons. The only drawback is that the certain riders doesn't realize how perilous experience for Deaf drivers to drive around and spend a lot of money on ever-expensive gas. Please try and figure something out to make the changes to this. I'm sticking with Direct Competitor for out of safety for making more money and conserve more gas. Lyft gotta to figure something out as you guys could. Thank you
The cancellation rate is absolutely ridiculous
Geometry dash hard
on
10/14/2017
Out of 10 lyft request i get, 7 of them cancel the ride i dont know what it is but these people are so annoying with their cancellation, as soon as i start driving towards them they cancel or if im driving home and someone requests a ride and i get off a different exit to go to them, they end up cancelling, and then lyft has the AUDACITY to tell me that i have been cancelling too many rides when i never even cancelled a single ride and its been the other way around. You guys need to start charging people for cancellations like how uber does, its very rare that i get a cancelled request from uber, way too many people have wasted my time on lyft and its so annoying
Bad App as hell
Please spend some money on better developers or pay more to Google. First, App doesn't navigate turn-by-turn. 2nd, map works upside-down, wait I haven't chosen North only. 3rd app doesn't open Waze automatically. What a shame, you are asking to use Waze or Google, why can't you fix yours. No wonder why others prefer other companies. Was it possible I would not give even a 1 Star . Uhh
Can't connect
Was good for the first week, but now I can't connect to the app. Stays on the startup page and says still loading. Still loading while I'm writing this review.
More and more annoying
Blondegirl1387
on
10/13/2017
I don't like how loud ride alerts are or how loud the navigation voice is. I don't want push notifications, so you've decided to spam me every five seconds asking me to turn them on or "not now". Not now does not mean bug me every seven seconds. Show areas of prime in more than just two shades. Also, I had a ride say "$45 in prime", and I ended up with less than $40 on the ride, because I think it was calculating $3.50 fare minus 20% commission then adding their estimation of prime. By the way, $2.70 as a base fare is terrible. What an insult to drivers for their time, gas, oil changes, and tires. And taxes!! Pay drivers better. You take the same exact commissions as Uber and charge the same and think you're better.
Cancellation Fee
No cancellation fee for additional line pickups......give me a break.
Needs improvement
Gdjsiehwkansjsk
on
10/12/2017
I have a problem with the app!! My acceptance rating it's going down time to time by its own! Even wend I work to get the rating up! Still it's going down! Please help meeeee!
Rating system is very poor
Apparently no one told the customers that giving a 4 Star rating will destroy a drivers rating. Ever since I got the new app my rating keeps dropping even though I'm doing a plenty adequate job.
I love driving with lyft but...
I love driving with lyft but the navigation maps messes up my routes. I download Waze and at first it started out great then the next day waze was rerouting the directions and was freezing up so I deleted waze and downloaded the google maps. Google maps started doing the exact same thing that waze was doing. I constantly kept apologizing to my passengers for the malfunction of the navigation system luckily they weren't upset and laughed it off.
Horrible app and Cust Serv
Signing up to drive with Lyft is horrible compared to uber . The app didn't work, crashed and Customerservice is useless. Asking you to re-upload documents multiple times, the whole process is completely sketchy. After two weeks of uploading documents and trying to get it to work, I give up. I will stick with Uber
Love the new feature
Am particularly excited about the addition which makes communicating with support much easier. Lyft is a great company to work with and I don't have any regret being part of the Lyft family. Compare to some companies I have worked for whose work also involve driving, it is awesome and the atmosphere is not toxic compare to some of them. I love the encouragement the support team gives every time I reach out to them. I have been doing lyft more lately and the experience is amazing.
Far from seamless. Lacks transparency
A clunky app at best. Confusing. Lacks significant transparency in driver performance (pay & ratings). One star is too generous. Response to developer: my concerns are the poorly designed app including the lack of transparency to the driver. Contact you personally...no, concerns you would retaliate.
Former Passenger, now about to drive For Lyft
Since day one of being a passenger it's been all good experience with them. For the exception of one driver was having a bad night. That's okay because the other drivers made up for that. I'm excited to get on the road to start driving for Lyft.
Maps
With the update for Apple maps I really wish iPhone users could use Apple maps. I like it much better than google maps. Please take a look into allowing the use.
Wrost company
Wrost company no respect
Great organization
AnthonyGHarris
on
10/9/2017
I love driving for Lyft. The only thing I would like to see integrated in the app is the option to read reviews and see my ratings.
They cut you off right away
As soon a costumer do a false allegation Lyft will cut you off from the platform until they do their investigation basically They will always listen the costumer even if it is a false allegation. Not good.
Call back in less than 2 mins?
Getting a call back from support sounds like a great addition. Unfortunately, it is automated and you will be on hold. First, last, and only call had me on wait for more than 10 min before I was able to get to talk to a rep. And the rep was next to useless for a basic found item request. This, along with the poor ride matching (drive 30min to pick up someone a town over for a min. rate ride), ridiculous notifications ("You have lost connection. Move to an area with better service" Really? Right I do that. ) and just the general quality of the service, has led me to stop driving for Lyft and focus solely on other service.
$800 bonus -"ZOOM900" 🚕
First of all welcome to Lyft and get amazing experience. I got refer by friend and get $800 bucks 💵. You are new driver then use this - "ZOOM900". Been driving for about 2 years now and I can say that it's been great with Lyft! I've never had any issues with any passengers. People are friendly and respectful. There could be improvements made to the gps application that are currently partnered with Lyft. Besides that this is the best "Side" job I've ever had in my working career! Work schedule? You make your own time lol. Pay can be excellent depending on how often you drive and how far. The cool thing with Lyft is that you get free gadgets and apparel for giving a certain amount of rides. I also enjoy the Lyft driver's meet and greet event once in awhile to break the chain and loosen up the stress people go through daily. Lyft has been a great company to work for. i have always been treated fairly and given the opportunity to make money. they are constantly improving on the experience.A typical day at work would be driving around, picking up lyft passengers, and bringing them to their drop off location. I learned how to jump into a fast passed environment, and how to manage my time appropriately. Flexible schedule allows you to keep this job work anywhere else so you have a backup ready just in case you need to make a little extra for a trip or event.Had a good run but the hours are crazy needed more time with my family. Am trying to work with some good hours so I can pick my kids up from school something ending at 2.Not as competitive or fast-paced as uber, lyft is as well a very fun sociable job experience. A chance to provide help to those in need of ride and an excellent way to be your own boss! I find that working for Lyft is fun, rewarding and well worth driving for the company. I spend time talking, laughing, conversating, and having fun with each passenger. My passengers talk about everything to me whether it's about there love life or politics. The diversity of people makes the drive well worth the time and money. This is something I love to do because I'm such a peoples person. My passengers love to do car pool karaoke.
Network connectivity problems all the time
I enjoy driving for Lyft but it is very frustrating that the driver app always has connectivity issues. I make sure I am in an area with great service but that doesn't change the error message. I've been having to delete the app completely then re- download it. This is my third time doing it and I don't want to have to do this every time I drive.
It does have glitches
Taking a ride that is twenty miles or more away! To take Them inside the city for only three dollars! You taking your cut be we are losing! No one pays anyone three dollars for a twenty minute ride! Your discounts for are cars repairs are horrible! We are putting miles on are vehicles! And people in areas were there is a lot of country roads are being penalized for not wanting to take the ride! Your prime time is a joke opting in to guarantees is a joke , what if you are not in a high ride area or in a smaller city! Really thought this was better than Uber! Guess they are both a joke then all the estimated scheduling rides always are shorter pay! Because they make sure they get theres
Signup with CTPLYFT
Airport Queue system needs work.
Add perks menu, Accurate gps
This is a great app to work with. I love the integration with existing navigation apps, so I can stick to my favorite. Some things I wish we had: 1. A menu included to see the perks we get. I know it takes a lot of work to forge partnerships for perks, and we want to use them! It would be great if a list were more accessible. 2. Although Lyft uses other navigation apps, the accuracy of this apps GPS can be frustrating; getting paired with a passenger the moment you pass them, or floating icons that are inaccurate when trying to find which block your passenger is on. Great work so far! Looking forward to updates!
Ratings
I honestly love driving for Lyft and it's making me a lot of money but there's just one thing I'm not satisfied with and that's the Ratings system that the passengers give, i think they are highly unfair to us drivers and it effects our enthusiasm to drive because we completely go over the whole tutorial before driving, we ask passengers if they have a preferred route and at the end of the day they still rate us low because of something we're not aware about and I wish that we could see that but we can't ? It's like putting in a innocent person to death not know what they did. I urge that this issue gets resolved and Lyft makes a change.
Distance
DeAndre's Wife
on
10/8/2017
I really hate driving 20 min away from my location just to take a $3.00 ride. It shouldn't take no longer than 12 min to get to a passenger.
Done driving Lyft
Good luck going for the guaranteed hourly they promise. See a ride 20 minutes away that you will lose money in gas on? TOO BAD you have to take it or you won't have 90% accept rate. So you lose money in hopes to qualify for this hourly wage. Need to go to the bathroom? Better be in 10 minutes or you're screwed because you need to be logged online 50min out of the hour. I got canceled on 2 times in a row after I accepted and drove to them, did this increase my acceptance rate? NO. Goodbye lyft...
iPad support
It needs a proper tablet support.
Make $800 BONUS CASH!!!
Chatty Kathie
on
10/7/2017
This app works very well. Connects seamlessly to Google Maps to make the drive that much easier. All my requests have been really awesome people. Type in code STEVE57989 after downloading app and get $800 BONUS!!!! It's that easy.
Kicking me off in Airport Queue
Each time in airport queue it looses internet for some reason and I go into the end of the line...;( lately don't even turning it on. I use Uber because I never had a problem with it in airport.
Call now
I don't see the option even after updated the app today
Update 10/6/17 works just like the main app now. Doesn't work with Amp
Update 10/6/17 - works the same now as driver mode in the main app. Had to follow steps to reconnect Amp but all is working well now. Seemed to work ok but doesn't work with Amp at all...Amp displays open Lyft app...when Lyft app opens it displays open driver app...go back to driver app and continue drive but Amp no longer works. It's an annoying cycle. I deleted the app and will wait for a new version.
Can't upload pictures of DL or Insurance.
I try to upload DL and insurance with my iPhone and then it's not there and it says I still need to do it. I even updated the app. It needs work.
Does not list surge rate on zone area
Does not list surge rate on zone area
Needs work!
The Lyft Driver app is much too cumbersome to use. You need fewer taps to navigate to the rider, fewer to confirm arrival, and fewer to drop off. Plus the integration between the app and navigation is way too unreliable, you need navigation integrated into the app or do something to make the integration between the app and Waze or Google Maps smoother and more reliable. I cannot conceive of trying to use this app when very busy. Much too cumbersome!
Buggy app. Never improved
I have been driving with Lyft for more than a year. They updated this app every week but nothing changes. Buggy app. Crashed all the time. Force you to go offline and say "You have lost contact with the Lyft system. Please relocate to an area with better network coverage." I'm in the freaking staging area of DFW airport where do you want to move. I turn on both Uber and Lyft apps and never have that problem with Uber app. Imagine you are number 17 in line and the app get crashed force you to be offline. Back to #80+ in line. Whoever is in charge of this app dev need to get fired. After tons of updates NOTHING HAS BEEN CHANGED.
many problems
The app has been improving over time, but the more I use it, the more issues I find with it. I'd be happy to write of these problem inside the app's Help, but I can't find options outside of presets. First, the biggest one: when Lyft redirects to an outside app for, say, pick-up directions, half the time those are missing completely or are input incorrectly, and I may, for instance, receive the passenger's destination directions instead. I've been hearing of this problem months ago, is it so difficult to fix? Second, if there is no choice but to drive with the Lyft platform's map, could it be made to at least re-center automatically? Third and last for now, the Fuel Rewards doesn't link up these days; the Connected Services page hangs on redirecting. Thanks!
Pay
I have been driving for Lyft a little over a year and I started doing this part time and now do it full time in Boston. Great company to work for never had a issue that has never been resolved so, quickly but, I believe they should lower the Lyft fees percentage. I feel even if they lower to 15-20% they would still make money. For someone that does this full time to see for ever $100 I make I need to pay $25 and then need to pay taxes reduces my profits significantly and makes it seem harder to actually make money. I believe 15% in fees in fair enough.
$800 cash 💰 - LYFTD500
ridelovers🚗🏍🛩🚈
on
10/5/2017
Works fine with Iphone 6 and Iphone 7. Mostly getting customer immediately as might be lucky to get busy spot. Get upto $800 credit as driver if apply - "LYFTD500" when you register with Lyft. Easy registration process and very quick driver registration .Awesome experience with Lyft. Here is some improvements they can do it in future apps : 1) Need CarPlay support and I like Apple map + apple watch rather then google map or waze, 2) Sometime getting request from customer 15-25 mins away. 3) Does not pair with nearest Driver(A rider want to ride with me after few minutes and apps always pair with another driver 15 mins away , we tried multiple times) 4) Display number of miles/km drive on one session which will help for gas intake. 4) Need support for cash payment as supported by Uber in some country.5) Rarely map hang during peak times and does not show real time location.7) Battery life is very low without charging so need some improvements. Ios 11 is amazing update. All are looks new phone and i loved new control center and notifications.
Fact Sheet
Publisher:

Lyft, Inc.

Category:

Travel

Released:

May 08, 2017

Current Version Released:

Oct 14, 2017

Version:

1001.25.3

Size:

95.5 MB

Compatibility:

Requires iOS 9.0 or later.

Recommended Age:

4+

Game Center Certified:

No

Supported Devices:

iPad2Wifi-iPad2Wifi, iPad23G-iPad23G, iPhone4S-iPhone4S, iPadThirdGen-iPadThirdGen, iPadThirdGen4G-iPadThirdGen4G, iPhone5-iPhone5, iPodTouchFifthGen-iPodTouchFifthGen, iPadFourthGen-iPadFourthGen, iPadFourthGen4G-iPadFourthGen4G, iPadMini-iPadMini, iPadMini4G-iPadMini4G, iPhone5c-iPhone5c, iPhone5s-iPhone5s, iPadAir-iPadAir, iPadAirCellular-iPadAirCellular, iPadMiniRetina-iPadMiniRetina, iPadMiniRetinaCellular-iPadMiniRetinaCellular, iPhone6-iPhone6, iPhone6Plus-iPhone6Plus, iPadAir2-iPadAir2, iPadAir2Cellular-iPadAir2Cellular, iPadMini3-iPadMini3, iPadMini3Cellular-iPadMini3Cellular, iPodTouchSixthGen-iPodTouchSixthGen, iPhone6s-iPhone6s, iPhone6sPlus-iPhone6sPlus, iPadMini4-iPadMini4, iPadMini4Cellular-iPadMini4Cellular, iPadPro-iPadPro, iPadProCellular-iPadProCellular, iPadPro97-iPadPro97, iPadPro97Cellular-iPadPro97Cellular, iPhoneSE-iPhoneSE, iPhone7-iPhone7, iPhone7Plus-iPhone7Plus, iPad611-iPad611, iPad612-iPad612, iPad71-iPad71, iPad72-iPad72, iPad73-iPad73, iPad74-iPad74, iPhone8-iPhone8, iPhone8Plus-iPhone8Plus, iPhoneX-iPhoneX,

Supported Languages:

English;