Screenshots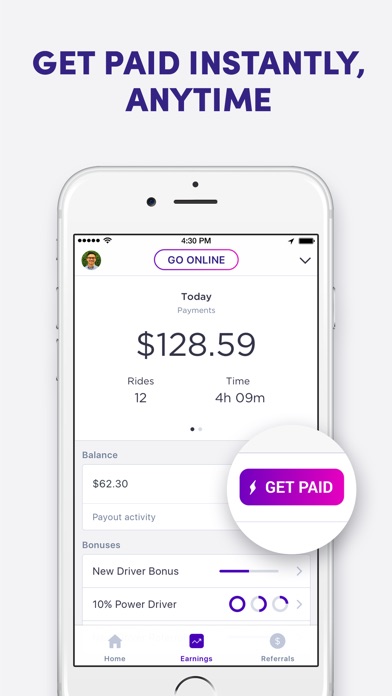 New in version 1001.34.31
Lyft Driver is your key to earning on the road. Designed just for drivers, it conveniently offers all the information you need to succeed: how busy your current area is, how much you've earned, how close you are to a weekly bonus, and more. It's all at your fingertips, with even bigger features in the works.
Description
Download Lyft Driver, the app created just for drivers.
__
Whether you're paying rent, saving for the future, or could just use some extra cash, drive with Lyft.
WHY LYFT?
FLEXIBLE HOURS
Driving with Lyft is an easy way to earn money whenever you want.
$200 MILLION IN TIPS, AND COUNTING
Passengers are encouraged to tip in the app — and you keep the whole amount.
HAPPY PASSENGERS
The Lyft community is full of friendly people, passengers and drivers alike.
ONE EASY APP
Whether you're checking local demand or working towards a bonus, the app has everything you need to earn more.

___
For Lyft drivers, continued use of GPS running in the background can dramatically decrease battery life.

By downloading the app, you agree to allow Lyft to collect your device's language settings.
Reviews
Bugs after last update
Spartanian_
on
12/16/2017
The Dashboard its not loading correctly. Please check!
Terrible app.
cupcake_grind
on
12/16/2017
Terrible company.
Where are the Power Zones?
The last time I saw Power Zones was last Friday, December 8, 2017. I haven't seen them at all this week, but I keep getting texts about bonus streaks. Where are the Power Zones? And I the only person not seeing them in D.C.?
Lyft App is good
DJ KC-MR NYC
on
12/15/2017
My only issue is I have an iPad and I would love to use my Lyft Driver app on my iPad instead of my iPhone.....What's the deal?!?!??
Map on request receiving, pickup glitchy
The app glitches, not accurately showing pick up location when receiving ride requests. Occasionally during pickup or drop off, the map zooms out to show the entire Western Hemisphere. (That doesn't provide any aid in performing pickups)
Fake prime and heat map
Oh my god you losing customers like never ever before specially at airports while we see prime time but not getting why you don't use your mind if trip requested before prime time it need to be expired in two minutes otherwise it jusf keep circling and no one will accept Lyft confuses drivers here heat map then then here then another side this's hell not good at all
Insurance update nag is too much!
App repeatedly, multiple times a day, throws up annoying update-your-insurance nag screen. Please, PLEASE fix this, Lyft! Current policy is good for weeks and this is WAY distracting— especially while driving!
Request
I dont know if you read these or not, but i would like to make a request. whenever i'm online waiting for a request, i would like to know how is my connection with the server in real time. it has happened to me in many occasions, when i drop a passenger, i just look for a shade, park and wait for the next passenger to request me, and after 20-30 min i would get a message saying "You have lost contact with the Lyft system. Please relocate to an area with better network coverage." and there i lost 20-30 min without a passenger, the weird thing is that when im waiting im watching videos on youtube, with no problem and no lag. so i really don't know what causes it to "lost connection". i would like to monitor how strong the connection is in realtime, so i don't have to wait 20-30 min to find out, it could be like a little wifi signal, i don't know get creative :D
Spanishh
if they want to be number 1 they must add more languages ​​and Spanish
Networking Issues
Scott_Davidson
on
12/13/2017
Still knocks me out of the airport cue!!! After being in the cue for half an hour I get the dreaded text message stating "You have lost contact with the Lyft system. Please relocate to an area with better network coverage," then I am placed back into the cue 10 or more places behind where I was!!! Stop wasting my valuable time. I'm on AT&T's LTE and 3G network with full bars and my iPhone isn't damaged nor shows any signs of connectivity issues in other situations. The Uber driver app never gave me these connectivity issues.
Scheduled Pickups — map gives drop-off, instead of pickup area.
On iOS, this app gives drop-off area. On Android, this app gives them the pickup address. Please, treat both apps equally. The drop-off area is useless as the little map is too small to even guess where the pickup will be on iOS.
The best
Lyft is the best platform for drivers that exists. They truly care about the drivers, and offer many ways to receive bonuses. I wish everyone would switch over from Uber, so that demand and earnings would be higher here, and Uber would be forced to fix its policies or shut down. Thank you Lyft for making me feel safe and letting me know you have my back!
Thinking hit uber back
I don't really what's going on lately!! I just going to talk about today without count my last week. I drove today 6 hours and 9 minutes , I made 14 rides , I put 25 dollars on Gas, i get my car to car wash and I paid 19 dollars, but the money that i made today was $ 84.62 ! Seriously? Do you guys think that is money . I usually start to work after 3 in the morning because too many people hit the airports but the problem is sometimes I have to go so far to pick up a pax and the paid is really ridiculous for not say that early in the morning pax request line .. I think u guys have to pay prime time or do not let request line early in the morning I spent more time ,miles and gas that the money that I made. 3 days ago I ran like 15 minutes to pick up lady 4 in the morning and the ride was line for less of one mile.
Best ride share out there!
I drive for them and I ride with them. The passengers and the drivers are really nice. It's a great way to save money on a ride around town and a nice way to make extra cash. If you are about to sign up use my code to unlock cash bonuses for drivers and riders! Code: EEZDRIVER
Equally as bad as uber
Dijutal assassin
on
12/10/2017
Quit effin threatening me over missing ride requests. Im not missing them. Im choosing not to go out of pocket on requests 15 plus minutes away that will earn me 4 dollars. How dare you !!!!!! Threaten this marine one more time. One more time!!!! Yeah. Cost to operate vehicle according to irs is 54 cents a mile. Pay for lyft. 60 cents a mile. And thats only when you have a passenger. You will do over three miles for every dollar you earn. You cant even break even with a dollar to mile ratio. Awesome. Haha. Its dropped in both lyft and uber from that which sustains actually doing it to what it is now, some form of twisted community service. I highly recommend that you checkout the uberpeople forums before using any rideshare app because there you will find the real empirical experiences and reviews. Lyft even had their own thread. The only thing lyft has going for it is the format of scheduled pickups. Thats how trip requests should be displayed when we decide whether or not we want them. Theres always a right person for the job but its always the wrong person tricked into doing it. Oh and at 6 cents a minute, it was awesome ditching people trying to go through the drive through. Best perk of this gig. Taco bell mode? Lol. What is this demolition man? Goh.
Lyft is a joke
Rider can be drunk and say all sorts of lies about you and poof your no longer a driver, the passenger is by far more the asset than the driver will ever be and they make sure you know it! Hope it works out for ya!
Not enough time
I only drove for Lyft two weeks. I was disappointed with the money I actually made. There wasn't enough time to confirm a prospective rider either and I had GPS problems. I would like to have known the exact location I was supposed to go instead of just an address. If these problems are addressed I would consider driving again.
Discouraging.
Avenged Sevenfold77
on
12/9/2017
Tried to sign up my '04 Dodge Ram, said it wasn't new enough! Tried to say it was an '05, said "vehicle does not qualify" Thanks Lyft!!!
Don't like Google Maps
RoyalPinkness
on
12/8/2017
The only downfall of this app is Google Maps. It messes up half the time. There needs to be an option for when passengers leave things in your car. Also, within the map & the app itself, I wish it told you the actual name of the destination (every time) instead of just the coordinates or address. Getting paid for waiting awhile would also be nice.
LYFT Support is frustrating to deal with
It's as if no one on the support staff has any reading comprehension skills - or maybe they just don't read at all. So many times, I have written to support only to have them respond in a way that does not address my issue or addresses an issue I never mentioned. It's incredibly frustrating when I have to respond to their responses asking them to "please read my entire email before responding". In addition, there seems to be no one to train or assist these staff members with these issues because there has been no improvement in over 6 months. Furthermore, it appears that no one on the staff talks to each other because I have had to contact support multiple times about the same issue, and every time, I get incorrect information and have to follow up and "teach" the support staff in order to finally get a follow up that they were sorry for the misunderstanding- and all I am doing is referencing their website for the information. Something needs to be fixed with support.
toll issue
Onassis(Reza)
on
12/8/2017
after this update i have had two times this bad experience, when you pass the toll the application don't consider the toll amount for ride and on both times i paid my self and also when i open ticket for review the lyft operators mentioned they couldn't find any toll on my way with those rides
iPad version, please!
The Lyft Driver app works well, and I have no issues with it except one: I use an iPad mini in my vehicle for navigation and ride-share duties. The larger display is fantastic, but the Lyft Driver app is iPhone-only, meaning that I have to use an ugly and hard to use 2X iPhone view. Please update the app to support iPad like your major competitor does!
You have lost contact.
Well let's just say that the app from what I have seen and other full time drivers say the app is useless. Had to be a crew of monkeys that designed this app. Most the time it just shuts off saying you have lost connection. Learn from Uber how to do an ride share app it works 98 percent in the same place Lyft says you have lost connection. And don't bother trying support haha Lyft support.
Beware of bad reviews
Beware you can get deactivated from bad false customer reviews and you have no say so against those reviews
(Driver) Will be five stars once these features are added..
The entrepreneurs
on
12/7/2017
How can we as lyft drivers receive automated tip as a mandatory?Our passenger community is more than happy to tip, being that they have the best service professionals working for Lyft. This will help us (Drivers) to get compensated under the safety net provided as another other tip regulated job would. Is there a reason why that this goes without correction? Some passengers even leave no tip, slams doors, use charger, ask for extra stops to be made with out request. Yet, be dropped off without tipping. That's horrible when all you see in your comment board from passengers is that "He was Such a great guy." That hurts the pay, and I have a family to provide for. Though I'm still LOYAL IN HOPE OF CHANGE! SECOND, our PREMIER & UP (Drivers) are loving Lyft with a quick 5 stars. Especially if they ARE ON THE LIST to drive as PREMIER DRIVERS. As for me, with a new 2015 HONDA SUV ''4 DOOR" "LEATHER SEATS" MEETS REQUIREMENTS BUT NOT LISTED EVEN AFTER RECENT NOVEMBER 4th UPDATE, Lyft Line also Lyft DRIVERS have to be subjected taking Lyft Line Rides & Regular Lyft Rides with no advantages even though the qualities of my car function meets requirements. I'm upset. Because I struggle to get tipped and been struggling to be a PREMIER DRIVER. SECOND, WE NEED A VEHICLE UPDATE WHICH ALLOWS ANY 2015 SUV OF HONDA BRAND TO BE SET AS (PREMIER DRIVERS) APPROPRIATE VEHICHLES THAT CAN OPERATE TAKS AND HAVE INTERIOR AS WELL AS OTHER VEHICLES SHOULD NOT HAVE BE UNDESERVING OF QUALITY AND STANDARD. (NOT HAVING HONDA JUST BECAUSE, DOES NOT MEAN HONDA IS NOT SELLING UPDATED VEHICLES TO DRIVE WITHOUT PROPER FUNCTION.) My car in particular even has the type of seats you ask for! So please hear me out. I love driving for Lyft. Though I'm unsure of what may happen from here guys.
ican't re-ratting star to pax
I saw many driver can re-rateing pax but I can't
Glitchy
Ugh...worked fine for a few months but now it won't connect with google maps ... so I have to put in destination addresses by hand! So Inconvenient and dangerous when you are trying to pick people up and take them where they need to go! I have uninstalled and reinstalled both google maps and Lyft app ... I am hoping that will make a difference!!
Driver app suggestions
I wish you could have the arrow show which direction the car was driving because it would help with navigation and also have some way to make sure the app is working like a timer or something so we could tell.....
iPad
When will this be available
Connectivity?!?
Beside the fact that it's a great app for ride sharing. Lyft app does have connectivity errors and it makes it hard for drivers to find riders..
The worst ride sharing app that I have ever seen
ThisShouldBeaJoke
on
12/5/2017
It constantly loses connection with the server. It seems like the app is intentionally programmed to lose connection, too many drivers and to few riders. So it loses connection, then when you check the hours you have "worked" with the payment you realize that you have made $5 per hour. To prevent you from seeing that you've actually made $3/h they disconnect you. I can't find any other logical explanation. Paying millions of dollars to developers I fin hard to believe that this is a bug.
Update Suggestion
Drivers should be able to have the option to select a certain $ amount of rides they want to receive especially in heavily populated areas. There also should be a weekly goal option for drivers to put in
$800 promotion code: john94178
Get $800 by driving with Lyft, and give 100 rides in 60 day, remember use code: John94178
Make over $7k with code RideOnMe1111PLZ
Easy to use and great for all ages. Meaning you don't need to be smart with technology because it only takes the click of a screen once to accept a ride and on you go to make money. Customer support is available 24/7 now so make sure if you have a question give them a call or email and they usually reply within minutes. Enter code RideOnMe1111PLZ for FREE Rides or to make over $2000 on bonuses within your first 60 days of driving. Drive as a second job at night or during free time and give as many rides as you can especially during peak times and power zones and also keep an eye out for those Prime Time pays which can be juicy at times. I make several thousands a month riding 4-6 times a week for about 5 hours. There's more ways to make that money so can ahead and see for yourself. Code gives you a bonus and you driving to meet criteria will probably make you earn over $5k or $8k like me. Good luck and happy driving! Get them bonuses!
Good improvements and bad improvements
Dellomorgan123
on
12/4/2017
Lyft is a great company but it definitely needs some improvement.Lyft did release some good updates where passengers get charged if they cancel within the first two minutes which is much better than driving for 5 mins and realizing you are not being paid. The new update also did mess things up, Lyft would now cancel rides In any given time and give it to the closest driver I think this is not a good option since drivers now do not get paid for driving for 5 mins and realizing Lyft cancelled it without paying the driver a fee for his time and distance travelled.sometimes there's constructions and rides and freeways and closed and drivers have to take other routes and it would be great if the driver could let the passenger know that and Lyft should not automatically cancel the ride .lyft should also charge a small fee for drivers who have to drive more than 5 miles to pick up passengers I think that's fair.the other problem is automatically adding passengers without the drivers approval I love seeing the passengers feedback before approving them and that's not a possibility when the passenger is added to the queue. Great features it has is that it tells you if it's a long ride and destination mode is great. Other than that I like everything else about Lyft.
Not a bug
Riyadh uddin
on
12/3/2017
This app has a lot of bug can you guys fix this please . the last update you did . basically it's really bad can you guys fix this.
Lyft eat
CTN Boy Flow
on
12/3/2017
Please when Lyft eat coming up ? There will be Lyft eat please? I've been using Lyft Driver for like 11 month that's really good job for people to do .since I been driving for Lyft I left my other job just to do Lyft , actually I'm not regret that I left my job to become a Lyft driver it's really fun to meet new people,and fun on making money that you never make in a restaurant, I work any times I feel I want ,if you want you can make over $1500 a week.yes you can because me i work just 5 days a week now I make over $1200 a week.if I work 7 days I should make over $1500 a week .my strategy is I work like a truck driver I go out to work for 5 days Wednesday through Sunday nights I finish to work on Sunday night at 4am on the following week that how I work.i get like 2 days Monday and Tuesday to rest get fun at home and on Wednesday go out for 5 days .if I do it you can do it there's no risk I work 14 hours a day after every 14 hours Lyft cut you off so you can get 6 hours break me I usually get 8-10 hours rest and work for 14 hours try it out in like two weeks you paying off your bill I'm telling you guys try it there's fun in that . Lyft I'm waiting for Lyft eat or Lyft delivery please .
Lyft still exists???? Hello?
James6363737
on
12/2/2017
I applied to be a driver 2 years ago. I was approved and had my test drive schedule for 12:00 on the next day. Then an hour later, I get an email saying I was denied. No mention of the already scheduled test drive or even that I had already been approved. Since then I have drove with Uber. (Still a horrible company) but at least they reply. I started trying to contact lyft again after a year to see why I was approved and then denied. No phone number for support, of course. I've sent multiple emails (probably 10) over the course of a year. No response. Not in my spam folder. Nothing. It's been 2 years since I was approved then denied. I'd think 2 years is plenty of time to respond to a customer/applicant. Now, I can't say Uber is any better at all, but at least they didn't go back on their word when I was approved. I've driven Uber part time for 2 years. Have done 2,257 trips total. 90% acceptance rate and 3% cancelation rate. I have also maintained a 4.9 star and have received nothing but good things from my riders. Unfortunately, Uber doesn't pay the bills (at all) and their support and marketing team are horrible. Flood the roads with uber drivers. Now you can't catch a request because of all the uber and lyft drivers. So what's different? Why am I a "VIP" driver with Uber and Lyft won't even respond to my emails?
It works but...
CasualGarlic
on
12/2/2017
So driving for Lyft is great. I haven't had any issues with bad riders for the most part. A few sketchy rides but that's to be expected. My biggest gripe is about the actual app. It works but it has some massive issues. For example, it sometimes takes forever to load after I click on "Arrived". I'll have 4G service, but it just will not load and I'll have to retry several times before it finally works. Another thing is that it'll make decisions for you. I was on my way to pick up someone from a store, and I had hit that I arrived. They called me and told me they were at a different store, and not the one that I was directed to. Since I already hit arrived, the 5 min countdown already started and ran out before I got to my rider. I didn't touch my phone AT ALL before arriving at the correct address and the app automatically chose that I picked up the rider. It did the same thing when I dropped someone off at a store and was waiting for them so I could take them home. There are also some other bugs, and no matter how many updates they do, they stay. PLEASE FIX THIS CRAP
$350 code below!
I've been driving for a little over a month now and love it! I have 1 promo code available for new drivers only! The first person to use this will get a $350 BONUS (3.50 extra per ride) on 100 rides! The code is: AUSTIN65724. Lyft pro tip: buy small water bottles and pass out to riders! My tips increased once I started doing the water bottle thing. Other than that stay friendly and you'll do great!
NO SUPPORT
Hdhehdhskdgh
on
12/2/2017
Be carful Lyft does not have support for you it's all done online UBER is BETTER my car has been up to date with everything I still can't find the answer to why I can't drive Lyft they want you to find every answer online no phone support I emailed no response I keep searching online hoping to find the answer why my app needs to be updated everything is updated but still can't drive don't drive with Lyft
Wonderful company
uberlyft guy
on
12/2/2017
I don't know why other drivers gave low rating to this company. Don't you compare it with other ride share like Uber? Lyft is so wonderful though issues with the app is common and disappointing especially during busy times and I hope they will find a solution to that, otherwise wise I am loving it. I have been driving with Uber over three years and I know how cheater they are so I have no complaint about Lyft for they are the best options. They are trustworthy unlike Uber but Lyft have to work hard in order to be popular like Uber. Yes of course, Lyft requests are very limited compared to uber but they are catching up. The most important thing is " very few Lyft trips pays you more than a lot of Uber trips".The reason is b/c Uber cut is more than 45% though uber claims it is 30%. Pls do the math. Thank you Lyft
New rating system is bad
Last Paying Customer
on
12/1/2017
The process to rate you're passengers now is so long and complicated that I don't think I'll spend the extra time to do it. I see they now all have the default of 5 stars so unless they're horrible people everyone looks amazing. Boo.
App freaks out with Lyft Line and route updates.
App is currently broken
Update
Just did the last update, now it keeps popping up and saying connectivity issue retry connectivity issue retry. Even when I'm in Wi-Fi and on the road.
Improvements Needed
Nice up grade however only giving it 3 stars. No notice improvements made. Integrated navigation is good but needs the following still not corrected. 1. Automatic Day/Night mode. Please integrate night day mode. Makes driving at night safer. 2. Have the ability to review what the next few turns. 3 Need to provide enough time to confirm destination before switching to navigation. Once improvements have been made will update my rating. Lyft Driver
New Update
It's horrible what happened to the yellow stick figure to show us where the passenger is at. Having to guess passenger location is not fun, at least with the yellow stick figure we could see where they're at.
Make an iPad version.
In this day and age, there's no excuse to not have an iPad-specific version of the app for those of us that mount iPads in our car.
Lyft is GREAT!
This is a fantastic App! Easy and streamlined work experience with everything you need only a few steps away. The only issue I have noticed is that the display of prime time areas on the map is not accurate and usually lagging behind the time of what is actually happening in real time.
Use Code: FH17 for $900 bonus
Make 7500 in the next 30 days driving lyft Full Time.
Fact Sheet
Publisher:

Lyft, Inc.

Category:

Travel

Released:

May 08, 2017

Current Version Released:

Dec 14, 2017

Version:

1001.34.31

Size:

127.4 MB

Compatibility:

Requires iOS 9.0 or later.

Recommended Age:

4+

Game Center Certified:

No

Supported Devices:

iPad2Wifi-iPad2Wifi, iPad23G-iPad23G, iPhone4S-iPhone4S, iPadThirdGen-iPadThirdGen, iPadThirdGen4G-iPadThirdGen4G, iPhone5-iPhone5, iPodTouchFifthGen-iPodTouchFifthGen, iPadFourthGen-iPadFourthGen, iPadFourthGen4G-iPadFourthGen4G, iPadMini-iPadMini, iPadMini4G-iPadMini4G, iPhone5c-iPhone5c, iPhone5s-iPhone5s, iPadAir-iPadAir, iPadAirCellular-iPadAirCellular, iPadMiniRetina-iPadMiniRetina, iPadMiniRetinaCellular-iPadMiniRetinaCellular, iPhone6-iPhone6, iPhone6Plus-iPhone6Plus, iPadAir2-iPadAir2, iPadAir2Cellular-iPadAir2Cellular, iPadMini3-iPadMini3, iPadMini3Cellular-iPadMini3Cellular, iPodTouchSixthGen-iPodTouchSixthGen, iPhone6s-iPhone6s, iPhone6sPlus-iPhone6sPlus, iPadMini4-iPadMini4, iPadMini4Cellular-iPadMini4Cellular, iPadPro-iPadPro, iPadProCellular-iPadProCellular, iPadPro97-iPadPro97, iPadPro97Cellular-iPadPro97Cellular, iPhoneSE-iPhoneSE, iPhone7-iPhone7, iPhone7Plus-iPhone7Plus, iPad611-iPad611, iPad612-iPad612, iPad71-iPad71, iPad72-iPad72, iPad73-iPad73, iPad74-iPad74, iPhone8-iPhone8, iPhone8Plus-iPhone8Plus, iPhoneX-iPhoneX,

Supported Languages:

English;