Screenshots
New in version 1.4
- Old Man's Journey now correctly requires iOS 10 (Because of our use of App Slicing)
Description
******* Apple Design Award Winner ********
A story game about life's precious moments, broken dreams, and changed plans.

"A gorgeous experience" - TouchArcade (10/10)
"An absolute joy to look at and play" - The Guardian
"A whimsical poem" - Polygon - (8/10)

Immerse yourself in a visual narrative as you uncover stories of the old man's life told through beautiful vignettes of his memories. Interact with the serene, whimsical environment as you solve playful puzzles and shape the landscape around you, growing the hills to create the old man's path forward.

Explore life's complexities through the old man's eyes as you experience his heartache, regret, and hope.

- Designed for touch
- A powerful and emotional narrative told only through imagery
- Gorgeously whimsical landscapes with hand-drawn art and animations
- Handcrafted, pressure-free puzzles
- Unique landscape-shaping mechanic
- A compact game experience perfect for a wanderlust-evoking escape
- Original and emotionally compelling soundtrack by SCNTFC
- Crisp drawings designed to look beautiful on your iPhone and iPad
iPad Screenshots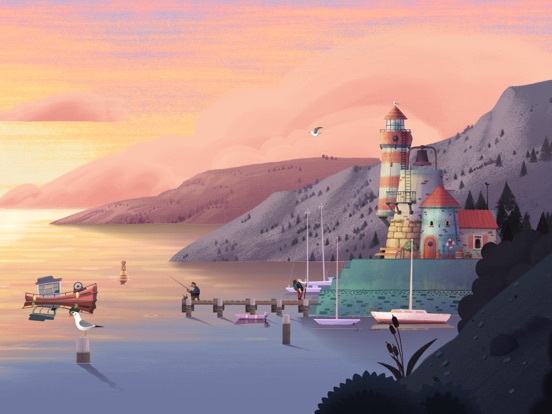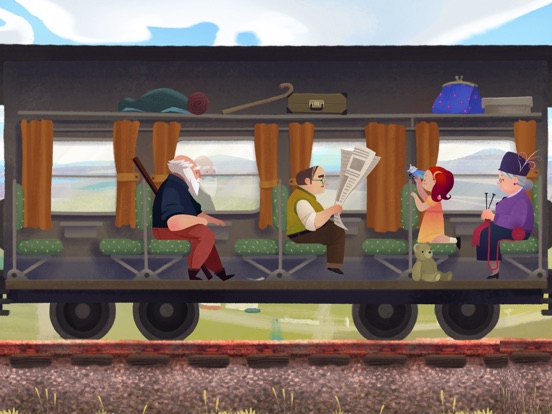 Reviews
Now Requires iOS 10!
MyTakeOnTheMatter
on
9/23/2017
Dont update.
Truly beautiful!
Fahad Jafarullah
on
9/23/2017
The art, colors, style and everything about this game was just beautiful. I just wanted to keep on going. Sure, the game is short but I felt as if it was just the right amount. Not too long where it gets boring and not too short where it felt incomplete, just perfect in my opinion. A lot of people complaining saying it's not worth it... well, I rather pay $5 and have a beautiful experience than have a game with ad pop-ups or micro-transaction. I think the developers of this game deserves every penny of it for creating this beautiful masterpiece.
Unplayable on iPad 3
Crashes before starting up. On new iPad it works. Will review after I play. Could have been a cute story but the game play is dull. Same thing over and over and over.
I & my 5yo son both love it
I played this enthusiastically until the end (which I _loved_, so great to see that not all endings are cheesy all-good, but dare to be more complex and bittersweet). I then handed the game down to my 5 year old son, who finished it in roughly a week of occasional playing. The visuals and story kept him hooked the whole time. The ending wasn't a problem - it was a great opportunity to discuss that in life we sometimes face tough choices. Overall easily my top3 this year.
Nice game but...
MegaraHercules
on
9/21/2017
A really beautiful game and great story line, but too short. If you wanna pay five dollars for a game you can finish in a week, go for it. But in my opinion; not worth the money.
Will Not Load
Crashes before it fully loads. Will wait a couple of days for an update.
Waste of $
For all intents and purposes, I paid $5 for a tap game... 😪
We loved it!
This is a wonderful little game with great art. The puzzles are not super difficult, but then the puzzles are not what the game is about. It's the story that unfolds during the game. The old man gets a letter and sets out on a journey that the player does not get to see. You gradually learn during his journey through snippets of memories that he recalls, what happened in his past life and why he is making this journey. It does not take long to complete the game (two to three hours), but the ending is worth the journey. Enjoy.
Lovely game
Beautiful visuals, very calm puzzle game. Difficult enough to challenge you, not so difficult that it becomes an unpleasant undertaking. We actually finished the game in a few hours and that too was satisfying. Highly recommend - family approved! :-)
an incredibly beautiful experience.
an incredibly beautiful experience. so creative and evoking human tenderness. we need more games that celebrate our humaness and care for each other. grace
I loved it!
UhmNoooooooo
on
9/10/2017
It a pretty dope game
Beautiful and boring
BlodgettBlodgett
on
9/8/2017
This game is truly beautiful. But that's pretty much the only good thing I can say about it. It's slow. The puzzles aren't actually puzzling. And it's really just the same puzzle over and over. I wouldn't even call them puzzles. If you like games about sitting and walking slowly, you may enjoy this. If you like some sort of challenge, look elsewhere.
Continual crashing-unplayable
The game crashes frequently, game progress is thus lost. After closing the game some processes continue to run in the background exhausting the iPhone battery. Useless and overpriced.
Wow.
Intuitive controls, gorgeous visuals, and a beautiful story. Not super difficult or long, but that isn't really the point. This game is more about the art and the story than the puzzles. Simply amazing.
Fantastic Game
You get what you pay for and I think this was worth every penny and then some. Beautiful, touching, and fun! Nicely done.
Amazing Game
hello its Beat
on
8/8/2017
This is a great game! The music was relaxing and nice. While the animations were great. This is a fun game. At certain points it could become a little challenging but then you always come over it. It is quite short but I don't think I wasted my money!!
Lovely and Sad Game
Game Revenant
on
8/8/2017
What a beautiful game! The story should serve as a warning to young people about their priorities in life. Great graphics, aesthetics, and narrative. Why not 5 stars? The little jiggle the mountains do drives me insane! It made the main mechanic of the game frustrating... other than that, I really enjoyed it.
touching story
Thank you so much for this story, I'm not real young and don't play video games, when i saw this and read it was the journey of the elderly man, I wanted to go through with him. It took me a little bit to figure out how to help him along, but it really isn't difficult and the animation is beautiful, I love all the details! This is a sad but happy tale! Thank you!!
Frustrated just getting started
How the heck do you play this game? No instructions anywhere? Googled the game and found you tap the screen to get the old guy to move, so he hops to a bar and just sits there. Can't move on, and when I leave the game to go find help I have to start all over and watch him get that stupid letter over and over and over again. Deleting app now.
Too pricey
I was looking for a fun new game to play. I don't mind paying for a good game every now and again. This game was visually very nicely done. The storyline was sad and the puzzle element itself was extremely repetitive. The whole thing can be beat in a couple of hours. I was disappointed over all. It's priced too high for the value. 1.99 or .99 would have been more on the money.
Not enough...
Thoroughly enjoyed the gameplay that was present. Art work was amazing, story was amazing, and the music was excellent. However, there just was not enough to it. This game had such potential to be far more interesting. Envelope though the puzzle were simple (which was the idea) they could have thrown in few more elements to not be so repetitive while maintaining its simplicity. Also, they could have extended the storyline to make the game last longer. Again, great game, but for the price verse amount of gameplay I would be hard pressed to recommend it.
Lovely
This is the kind of game I love, it's beautiful, and story based. The interaction with the land is fun, not too hard or clever. The game is enjoyable and fun! Great storytelling too
Interesting game
How can i say about this game, it is such wonderful game. No wonder i can see 5 stars rating among peoples who plays the game. I Like the game so much..but i need more!!
Overpriced
Given the length, story, replay value, and gameplay it shouldn't have been more than a dollar
What the heck?
Enthused fan
on
7/23/2017
Paid good money for this game. Got stuck immediately. Made me feel completely stupid. Not the experience I was hoping for.
Snooze...
Too easy and too boring. Definitely not worth the money. Looking pretty only gets you so far.
Loved it!
The only complaint is that there aren't more levels. Other than that, it's a beautiful story, a fun game and I liked the challenges. Make more levels please!!
Great if you are 6 years old
Unfortunately I am not a child, so found this hardly a 'game' and mostly boring.
Life's Regrets
Such great story telling about life's regrets wrapped around a game. You will want to solve the puzzles just to see the next part of the story. I consider myself a "tough guy" but I must admit I teared up near the end. The only game in my life to have had such an effect. Great job Guys!
Amazing game, but...
OMG so annoying 👎🏻
on
7/14/2017
This is an amazing game with creative puzzles and beautiful graphics. However, I did not like how the level starts over when I turned my phone off or closed out of the app. I also experienced some crashing in the middle of some of the levels. I think that this should be fixed soon. But all in all, this is a great and beautiful game.
Great game, too short
KrisssyTeeena
on
7/13/2017
A wonderful game to play during a commute. It's very quiet and peaceful. But way too short. If you're commute is as long as mine, you'll be done in a week and craving so much more.
Cute but boring. Finished in what... half hour?
See title. Thanks for the "reply". Did Kellyanne Conway craft that for you?
A real gem
Though very short, this is well-worth playing. Some games can struggle for hours to get you emotionally engaged (if you even stick around that long). This one had me within minutes. Gorgeous art, lovely well-told story, unique gameplay, this game has a style all its own. Good for adults, good for kids, though they might need help with a couple of the puzzles. I recommend playing this game slowly, savoring it like a fine wine, a sip at a time.
Beautiful
Beautiful story, beautiful art, beautiful design.
Really great game
Really, really enjoy this game...beautiful graphics. Developers did a lot with this game - graphics, storyline, etc., and its definitely worth the money, unlike many other games in the App Store.
I'm not crying
You're crying. It's not about the destination it's about The Journey. The Old Mans Journey is not about the game, but about the experience. Lovely💕💕💕
Good story....over priced.
I enjoyed this games or story rather for the emotional content it embodied. As far as length from beginning to end I completed all the levels in under 2 hrs. VERY SHORT for something that's priced as such...guess I expected more for what I paid.
Wonderful Games
This is a very beautiful game, filled with brain teasers which, by the way, are not too difficult to conquer. I appreciate that thought of the developers, since children will have fun playing it, too. Very cute story line, beautiful art, and yes, this is one of the few games that made me weep, just a little.
Love it. Thank you for an intriguing pleasant experience
Im Not my own
on
7/3/2017
This game is beautiful and interesting. I love how it plays. Part of the puzzle is figuring out how to play it. Smooth and peaceful flowing game that is entertaining and relaxing. It would be wonderful to see Extensions to this game. I got to the part of the game where the old man travels in the truck. It was the Final scene with the rolling hills and occasional mountain in the back ground while traveling down the road. I found no way out of it. I turn the game off and back on. It restarted me at that same level. And ended the same way. How does this get fixed? Thank you
Don't waste your money or time
This was the most boring game ever and I have p,ayes many games.
Gorgeous
A person who likes it
on
7/1/2017
This game is beautiful! It's nice to enjoy a game where you move through it silently- no words, just the images you see. Everything was pure eye candy! The colors popped! I personally enjoyed the story. I even got a few tears in my eyes...
Old Man's Journey
thankyou. a very beautiful and moving story. the art for the memories was exquisite. It was a story, not really a game, and it made me want to mend my relationships.
Sheep.
A very captivating and picturesque look. It's a fairly easy gameplay...although what I had found most difficult was getting through the darn sheep! 🐑 Uplifting and poignant moments leaving you wondering why there isn't more to the story.
I love it but....
It's awesome! I just need a little help... I bought the game but it has no sound. I deleted it then got it again but it still had no sound. All my other apps have sound.
Very boring
Danny Hartono
on
6/27/2017
Well,, if I could turn back time I WOULDN'T HAVE bought this game... The gameplay is super boring and repetitive. The story and design itself doesn't justify the price... Waaayyy overrated
Beautiful and groundbreaking
Not since Monument Valley have I seen a game so fresh and unique that I am only playing one chapter per day so the experience will last longer. I hope they introduce more chapters and characters and the journey continues indefinitely. Brilliant.
Love This Game!!
So very different and enchanting with whimsical music and animations!! Delightfully charming and not so hard as to be frustrating!! Could hardly put it down!! Please make more!!!
Powerfully Heartfelt
DavidAtNight
on
6/25/2017
This game artfully paints the dynamic of a man rehashing his regret in the waning years of his life. The player joins in on the quest to heal old wounds and repair what he can. Powerful and poignant, this game teaches a powerful lesson.
Best game ever in the App Store
I cant stop playing and loving this game. Best game ever in the app store.
Absolutely amazing!
You have once again crafted a truly beautiful masterpiece. Enjoyed the experience from beginning to end.
Fact Sheet
Publisher:

Broken Rules Interactive Media GmbH

Category:

Games

Released:

May 17, 2017

Current Version Released:

Sep 23, 2017

Version:

1.4

Size:

1853.9 MB

Compatibility:

Requires iOS 10.0 or later.

Recommended Age:

4+

Game Center Certified:

No

Supported Devices:

iPhone5-iPhone5, iPadFourthGen-iPadFourthGen, iPadFourthGen4G-iPadFourthGen4G, iPhone5c-iPhone5c, iPhone5s-iPhone5s, iPadAir-iPadAir, iPadAirCellular-iPadAirCellular, iPadMiniRetina-iPadMiniRetina, iPadMiniRetinaCellular-iPadMiniRetinaCellular, iPhone6-iPhone6, iPhone6Plus-iPhone6Plus, iPadAir2-iPadAir2, iPadAir2Cellular-iPadAir2Cellular, iPadMini3-iPadMini3, iPadMini3Cellular-iPadMini3Cellular, iPodTouchSixthGen-iPodTouchSixthGen, iPhone6s-iPhone6s, iPhone6sPlus-iPhone6sPlus, iPadMini4-iPadMini4, iPadMini4Cellular-iPadMini4Cellular, iPadPro-iPadPro, iPadProCellular-iPadProCellular, iPadPro97-iPadPro97, iPadPro97Cellular-iPadPro97Cellular, iPhoneSE-iPhoneSE, iPhone7-iPhone7, iPhone7Plus-iPhone7Plus, iPad611-iPad611, iPad612-iPad612, iPad71-iPad71, iPad72-iPad72, iPad73-iPad73, iPad74-iPad74,

Supported Languages:

English;