Screenshots
New in version 1.4.1
NEW CHARACTERS: A furry friend and a wise man are waiting for you, check them out!
NEW LOCATIONS: Prove you are the best in these new, multi trampoline levels!
CHOOSE YOUR TRICKS: You can now activate or deactivate your tricks at will!
Bug fixes and general improvements
Description
The ULTIMATE TRAMPOLINE GAME on Mobile!

Master the trampoline with Frontflips, Backflips, Gainers, Layouts, Jumps and Bounces on your backyard, gym or circus trampolines and train to be the Master of Trampoline!

With a custom physics engine and animated Ragdoll Physics, Flip Master is the most dynamic and entertaining Trampoline experience ever created! Defy the laws of physics and prove yourself worthy!


Download Flip Master NOW and get:
--------------------------------------

VARIETY OF COOL LOCATIONS!

Pick your location! A Backyard, Gym, a Competitive trampoline, Crazy Circus and Trampoline Park with multiple trampolines!

SKILLS AND TRICKS TO UNLOCK!

Unlock dangerous and spectacular skills! Backflips, Frontflips, Gainers and 10 more tricks at the palm of your hand!

CRAZY POWER UPS!

Power-up Frenzy! A huge amount of power-ups to choose from! Select the medicine ball or the Foam Cube and get the jumping party started! Even More - go to a gold rush with the Coin Rain power-up and much more!

AMAZING CHARACTERS!

Choose, upgrade and customize your characters. Jump as an athlete and reach amazing heights! Every character has their own unique physics!

SHOW OFF YOUR BEST MOVES TO YOUR FRIENDS!

Record your best moves and funniest falls! Show the World who dominates the Trampoline!

--------------------------------------

This game does not require internet connection and can be played offline.
iPad Screenshots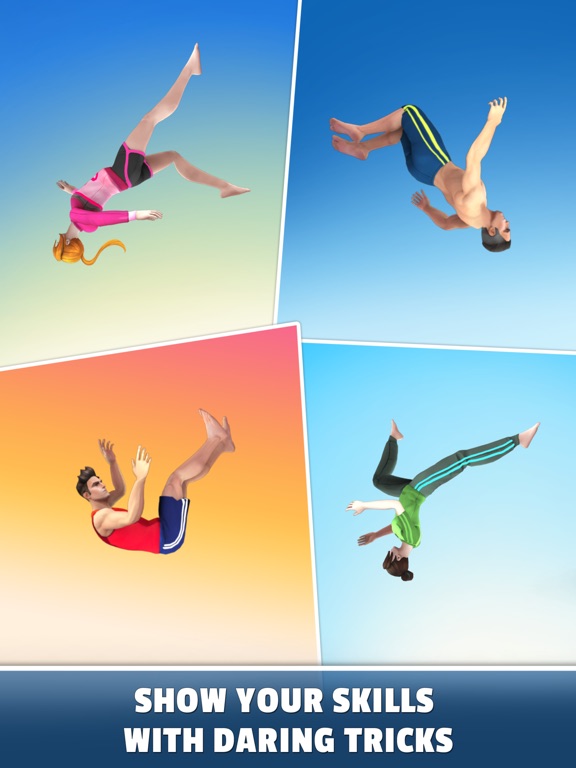 Reviews
The best
I'm addicted to this game it is the best
Addicting
alecworthleyy
on
10/19/2017
Good fun game
Flipping great!!
Von Hellion
on
10/19/2017
Such an addictive game!! Recommend highly:)
Flip master
So simple, but it's so amazing!
Flip master is awesome
Awesome game!!
Asome game
Johnnytry1048
on
10/18/2017
It is good but it has some bugs to work with.
TEAD THIS
The baby dragon
on
10/18/2017
This is not a fake review. I'm a little girl. I love this game AND I GAVE IT 5/5 BECAUSE ITS A AMAZING GAME DOWNLOAD IT NOOOOOOOOOOOW
You shouldn't have to buy characters
Kitty Miew Moew 🙀
on
10/18/2017
You should not have to buy characters I have to pay one 99 we should be able to chose my name is Jennifer/girl ☹️ 🚺girls are cooler so I rated 3 stars because it don't like how we have to pay. 😭😭😤😤 I'm not 🤑 you know
AWESOME!!!!!!!!
One Of The Bes Games On IOS!!!!!💯
Fantastic
PlanetSurfer94
on
10/18/2017
Great Game very fun to play. Try it you won't regret it.
Nice
TUCKER🤷🏽‍♂️
on
10/18/2017
Game is very good
Great but one problem
Brayden Croyl
on
10/18/2017
I love this game and it helps me pass time. But I have one question and a suggestion to fix it 1. I have been doing stuff to get coins to get new characters but I never get them from the spin and I don't know what color has them because red gives power ups blue is tricks and green is maps . Could u just maybe make another color for characters so it could be easier to get them because I don't want to pay to get stuff.
Great game (suggestions)
Joles the Jewel
on
10/18/2017
Hi! I love this game so so much. There are barely no glitches, if any at all and you don't need to wait to get lives or anything! I recommend this game to everyone. Suggestions: It would be great if there was more than one free spin everyday, or after we get the free spin, the price of the spin forgetting another one should go back down to its original price. Also, there should be a leaderboard so everyone can see how high they are getting their point amounts. ADD MORE CHARACTERS AND TRICKS PLEASEE :)
So dope
Fresca_chesca
on
10/17/2017
Love this game
Awsome
This game is lit af bro
Good game
This is one of few games on apple App Store that I actually like! You should give this game a try!
Most fun and Addicting Game
Gta5 minecraft
on
10/17/2017
This game is so fun! Best game I've ever downloaded. Usually I get bored with games quick, but so far not even close to getting bored. Props to whoever made this game! GG 👌🤙👍✌️
Pretty Awesome
Gymnast_girl674 🤸‍♂️🔥♥️
on
10/17/2017
This game is very fun and I love that you get coins so easily! 😊the only SMALL issues are that there are too many ads but every time you watch one, it gives you coins!! Also, this game can get tricky because it is sometimes hard to get the stunt person to land. Other than that, I totally recommend everyone to get this game! It is so fun and I am in LOVE with it!!❤️😍
Funn game
c.s.l bobby
on
10/16/2017
I'm to attached now
The great game
First I really like the graphics but I wish there were more things to do and the tramp is really laggy
My review
Diesel Minarf
on
10/16/2017
I bought this game thinking it was going to be fun and I was completely right this game is really fun and I like to play this game when I'm bored. This game is a 5 star review I really like it
very fun but...
there is way too much glitch if, when I try the flips the person just stays stuck in one position sometimes and no points are added.
Haley
Random rainbow bananas
on
10/16/2017
This game is so great I love getting updates by spinning I love this game so much I really recommend this game
Addictive
babshxudjns
on
10/16/2017
It is so fun
Eh
I hate it but like it also
Amazing
Talking Tom App User
on
10/15/2017
As myself I am a level 10 gymnast and I would love if you add more skills,characters and make more games like this!
Add more tricks
Add more tricks
Super Fun Game!
I love the game, however I thought it was lame that the longer I played the game, the more frequent the ads popped up. At the beginning they weren't popping up so much but if you are on for long durations (road trips) the ads popped up nearly every minute. In fact I'll probably delete the app just because of the frequency of the ads!! Annoying. And it's a Shame because I really like the game. Sweet game!!! Sad day!!!
Great game🤑🤑
Flip Master Lover
on
10/15/2017
Love this game not to hard not to easy. Also, it's good to play when your trying to pass time👍🏻👍🏻👍🏻
This game is amazing
xHallucinatingx
on
10/15/2017
The game is great and fun and full of entertainment with a great way of playing it all day and every time!
Amazing
lukasthemyth
on
10/15/2017
You should totally get this game
BEST GAME EVER
Leah Bichon
on
10/15/2017
I really love this game! I like the animation, I like all the different trampolines, and its a good game to play with your friends. If you pass some time here's the game! 😜😜
He
Mikeyzfromp
on
10/15/2017
Sean
Racist
Y'all need some black peoples
Silly exciting and fun
KantTouchMe
on
10/14/2017
Easy time eating fun
601 days
The game says that my next daily spin is in 601 days?
Flip Master review
It is a good game very addicting very fine makes you want to beat your record and get your stance and level up I like playing it in class when my teacher is being boring
Good
UGLY-E-T(GUY)123098
on
10/14/2017
Not to shabby
Trampoline madness
falopian swim team
on
10/14/2017
Great game, makes me want a trampoline and I'm 24...
Time killer
burnner 4EC294558
on
10/14/2017
Great game but needs an option to disable adds there way too many!
Beast
This game is lokey addicting
So much fun but I don't know how to get gold bars and it drains my battery
Vbchgu
New characters
game man yaaaaaa
on
10/14/2017
Add santa
Faucets photographically Luzon mg
Hshshaibsnsj
on
10/14/2017
This game is pretty addicting. I really suggest you get this app. I'm surprised they don't charge money for it. Have fun!
Awesome
Very fun game it's awesome so fun
Fact Sheet
Publisher:

Miniclip SA

Category:

Games

Released:

Aug 29, 2017

Current Version Released:

Sep 22, 2017

Version:

1.4.1

Size:

193 MB

Compatibility:

Requires iOS 7.0 or later.

Recommended Age:

9+

Game Center Certified:

No

Supported Devices:

iPhone4-iPhone4, iPad2Wifi-iPad2Wifi, iPad23G-iPad23G, iPhone4S-iPhone4S, iPadThirdGen-iPadThirdGen, iPadThirdGen4G-iPadThirdGen4G, iPhone5-iPhone5, iPodTouchFifthGen-iPodTouchFifthGen, iPadFourthGen-iPadFourthGen, iPadFourthGen4G-iPadFourthGen4G, iPadMini-iPadMini, iPadMini4G-iPadMini4G, iPhone5c-iPhone5c, iPhone5s-iPhone5s, iPadAir-iPadAir, iPadAirCellular-iPadAirCellular, iPadMiniRetina-iPadMiniRetina, iPadMiniRetinaCellular-iPadMiniRetinaCellular, iPhone6-iPhone6, iPhone6Plus-iPhone6Plus, iPadAir2-iPadAir2, iPadAir2Cellular-iPadAir2Cellular, iPadMini3-iPadMini3, iPadMini3Cellular-iPadMini3Cellular, iPodTouchSixthGen-iPodTouchSixthGen, iPhone6s-iPhone6s, iPhone6sPlus-iPhone6sPlus, iPadMini4-iPadMini4, iPadMini4Cellular-iPadMini4Cellular, iPadPro-iPadPro, iPadProCellular-iPadProCellular, iPadPro97-iPadPro97, iPadPro97Cellular-iPadPro97Cellular, iPhoneSE-iPhoneSE, iPhone7-iPhone7, iPhone7Plus-iPhone7Plus, iPad611-iPad611, iPad612-iPad612, iPad71-iPad71, iPad72-iPad72, iPad73-iPad73, iPad74-iPad74, iPhone8-iPhone8, iPhone8Plus-iPhone8Plus, iPhoneX-iPhoneX,

Supported Languages:

English;

Parental Advisory:

Mild Cartoon or Fantasy Violence;