Screenshots
New in version 1.5.10
• NEW LOCATION: Jump on the stairs of the stadium to become a true champion!
• NEW CHARACTERS: The King of Dinosaurs is here to show off his trampoline skills! Fly high with the Superhero!
• CUSTOM ITEMS: Big Dave came back from the Sumo Contest and The Dude dressed up for Christmas! Check out the new customisation items now!
• NEW SHOP! Get better deals with amazing Bundles!
• Login with Facebook while wining a reward in the process!
• iPhone X support! It's looking better than ever!
• Bug fixes and general improvements
Description
The ULTIMATE TRAMPOLINE GAME on Mobile!

Master the trampoline with Frontflips, Backflips, Gainers, Layouts, Jumps and Bounces on your backyard, gym or circus trampolines and train to be the Master of Trampoline!

With a custom physics engine and animated Ragdoll Physics, Flip Master is the most dynamic and entertaining Trampoline experience ever created! Defy the laws of physics and prove yourself worthy!


Download Flip Master NOW and get:
--------------------------------------

VARIETY OF COOL LOCATIONS!

Pick your location! A Backyard, Gym, a Competitive trampoline, Crazy Circus and Trampoline Park with multiple trampolines!

SKILLS AND TRICKS TO UNLOCK!

Unlock dangerous and spectacular skills! Backflips, Frontflips, Gainers and 10 more tricks at the palm of your hand!

CRAZY POWER UPS!

Power-up Frenzy! A huge amount of power-ups to choose from! Select the medicine ball or the Foam Cube and get the jumping party started! Even More - go to a gold rush with the Coin Rain power-up and much more!

AMAZING CHARACTERS!

Choose, upgrade and customize your characters. Jump as an athlete and reach amazing heights! Every character has their own unique physics!

SHOW OFF YOUR BEST MOVES TO YOUR FRIENDS!

Record your best moves and funniest falls! Show the World who dominates the Trampoline!

--------------------------------------

This game does not require internet connection and can be played offline.
iPad Screenshots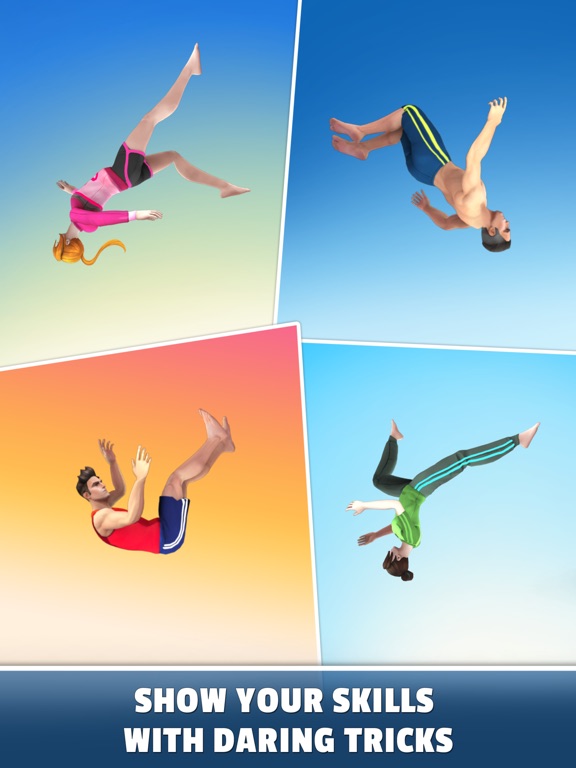 Reviews
CREATORS PLEASE READ THIS
Please Read This Creators
on
12/12/2017
I have been playing this game for a while now, and I love it! But there is one thing that bothers me. One of the ads I find very disturbing. It is for the for the game yarn. If you could please add a way to get rid of the adds, that would be very appreciated.
Ways to help the game
Ethan Teller
on
12/12/2017
This game is honestly amazing but I feel theirs some things that could help. One thing is to add the option to toggle the flips that you want to use because it gets very annoying having to scroll through these flips. Another suggestion is adding more flips. Like when you do a full it make you go in a flip how about adding a trick that allows you to continuously spin like do double and triple fulls and stuff like that.
Having trouble starting app
SHIZAM12345
on
12/12/2017
After recent update cannot open app
It's OKAY and here's why...
Brother blue
on
12/12/2017
I guess it's kinda fun and it's OKAY but it makes me end the game for no reason. It would say I bellyflopped or back flopped when I really didn't. I also don't get how you lose just for getting hit the tiniest bit. If this was fixed, it would keep me wanting to play the game.
Bad Update
DiamondEye290013896
on
12/12/2017
Ever since the last update my game has been constantly freezing and crashing. I dont know what is going on but i need it fixed
Really Great Game
braydenmcflopper
on
12/11/2017
This game is really fun to pass time.But , one thing that would be cool is to add something like celebrations when you do a trick.Lets say you have a set celebration when you do a trick 3 flips or greater, the character could start throwing their hands in the air.Also,there could be a celebration where another person is standing on the frame or to the side of the trampoline, and when you do a trick 3 flips or greater, the other person comes over and hugs you.That is a suggestion on what you could add into the game,that would be something extra!Please acknowledge
Freezes phones
Why is it when I connect this app to my Facebook and it freezes my phone,But when it's not connected it works great...
Think it's a great game
trompoline lover77
on
12/11/2017
Love the game and I think its the only good game for trampolines on the App Store
Suggestion
stalolojack
on
12/11/2017
I love flip master so much and it is so fun to play, but I think that It should be easier to collect coins and get coins bc I feel like Its always so hard to get coins and It takes so long. Please consider adding this
Hay
God game but need more moves to jump
Amazing game and time killer
This is a very good game which kills time, becomes addictive (not in an unhealthy way) and is LOADS of fun.
Flip bar
TBONEEEE❤️🤤
on
12/10/2017
The only thing that I believe need to be fixed is where it's hard to scroll to different tricks on the trick bar when you are playing the game I believe that you should make it where you can put the flips in the order that you want them so it is more convenient to press the flips you like to use the most.
Pretty Good Game
ReviewWriter5
on
12/10/2017
Has really fun mechanics and rewards system. I would like it if the game would give you more people and places rather than power ups when you spin for prizes. Is fun when in need of a distraction. I enjoy this app very much.
Awesome
I think Flip Master is an amazing game!! The only thing I think would be better is that I wish that every time u spin a lot of times the price(for coins)can stay the same. I also wish that when you have a free spin, there should be bright green balls too so we can unlock new locations easily and get new characters. Other than that, this game is Awesome!!
TOO MUCH ADS!
Notsocoollol
on
12/9/2017
I enjoy the game, but it has way too much ads. Please remove them or make them happen less often.
Best games
Emma77777543
on
12/9/2017
This game is so so fun I never get tired Of It and it's Not boring
Rating
Likeaboss2004
on
12/9/2017
The game is awesome and fun like to play anywhere
Fun and Addicting
It's a wonderful way to kill time. I really enjoy the simplicity of the game and ability to level up! Definitely download this game and you won't regret it! You'll play it everyday!
Great game super fun
If your a fliper this is a great game even if your not a flipper I don't know what to say other than get the game
Best game ever.....
Shelbers10123
on
12/9/2017
I absolutely love ❤️ this game. It is very fun but.... it costs 270 coins to spin a wheel to get coins or new flips. I think it should cost like 50 or even 30.
Good game but...
You really need to fix the ads and make another way to unlock characters, tricks, etc.
Hilarious
This game has given me and my friend so many laughs
Best game
jakiensnansna
on
12/8/2017
❤️game is great
Crashing bug
Vhfhhhvggffghvfgn
on
12/8/2017
I signed into Facebook and now the app won't open without crashing
Irresponsible Ads
Your game is rated for ages 9, but your adds are rated for an older audience.
Flip Master
CraftingBlades
on
12/8/2017
Flip Master is an awesome game. It's really fun
Crashes
Jekfjdjsbsivdjsvxjsh
on
12/8/2017
It is a great game but it freezes on the loading screen and crashes so I can't actually play it.
New game
Monkey413561
on
12/8/2017
This game is great but sometimes we want something different to play. What if you made a game where you can flip on ground instead of on trampoline. I like flipping in real life so please make a game where you flip at different locations on the ground like layout flips and regular flips thanks plz make the game
Best game ever!!!!!!
👍🏼I love this game it's awesome I wish they made more! But I don't like the ads that pop up when I'm playing the game👎🏼
Fun time wasting time!!
Enjoy playing this game. As an ex-gymnast it is fun game.
Great game
This is so fun
Awesome
Dkhsykcficdsrjb
on
12/5/2017
I love this game
I absolutely LOVE this game!!!!!
I play this game 24-7 I just wish they could make a gymnastics game just like this with all these cool flips and things! That would be really cool. But if someone wants a game that you can enjoy playing, this is the one! I love how you can choose what you want to do and do it for as long as you want. Over all I LOVE this game. Especially with all the detail. ♥️♥️♥️I CANT STOP PLAYING!!
Love it😍🤤
RedditBallLol
on
12/4/2017
Best game ever. I know that I have no complaints. Love that you can get coins by watching a video and the ads that pop up you can X out right away!!!! Recommended.
Racism
You are racist because there are no black people
The best game ever
I love this game so much and so addictive I started played on the computer but now I have it on my phone awesome
Amazing, but...
I love the game, but the prize wheel is clearly rigged. I have every character BUT the dog.
Really a great game
powerspliter246
on
12/3/2017
This game is fun loving graphics are nice too.
Crap
This is bull every time u get your daily reward it is always 75 coins or a power up for half a jump fix your game
Ok
Good game but gets stuck a lot
❤️❤️❤️
This game is super fun and addicting and the "unlimited" amount of videos you can watch to get coins is awesome!
😲😵😳😎
The dog is awesome and the upgrades help a lot 👍🏼
Needs to optimize the screen to fit the iPhone X
The game was awesome
on
12/1/2017
The game is great and all, but it needs to optimize the screen to fit the iPhone X
coin sizes
can you guys make the coins a little bigger? it REALLY BOTHERS ME when i'm trying to get a coin and i lose. due to the size of the coin, it really bothers me how it's just sitting there i don't know why but it would be much appreciated just to make them a little bigger
Rigged Prize Wheel!
Although this game started out fun and still is, I have noticed that the prize wheel is obviously rigged. I have unlocked every trampoline and character EXCEPT for the dog. I know that you obtain trampolines and characters from the green balls in the prize wheel, but these balls have not shown up in my prize wheel since I unlocked everything BUT the dog. The only reason that I played through this game wa stop get the dog character in the end, and it isn't even possible due to the creator's greed for money, which will not be received from me unless this issue is fixed.
Good game!
Youtube_Princess_Kyndall
on
11/30/2017
A great game to play when ur bored
review of flip master
this game is very fun but it's glitches on my phone and only lets me play for like one second i know it's fun cause i've played on my friends phone but i'm not able to play on mine maybe you could consider fixing?also it would be cool if you added different modes like where you can flip however you want and it won't make you reset just for practice
Fact Sheet
Publisher:

Miniclip SA

Category:

Games

Released:

Aug 29, 2017

Current Version Released:

Dec 05, 2017

Version:

1.5.10

Size:

223.5 MB

Compatibility:

Requires iOS 7.0 or later.

Recommended Age:

9+

Game Center Certified:

No

Supported Devices:

iPhone4-iPhone4, iPad2Wifi-iPad2Wifi, iPad23G-iPad23G, iPhone4S-iPhone4S, iPadThirdGen-iPadThirdGen, iPadThirdGen4G-iPadThirdGen4G, iPhone5-iPhone5, iPodTouchFifthGen-iPodTouchFifthGen, iPadFourthGen-iPadFourthGen, iPadFourthGen4G-iPadFourthGen4G, iPadMini-iPadMini, iPadMini4G-iPadMini4G, iPhone5c-iPhone5c, iPhone5s-iPhone5s, iPadAir-iPadAir, iPadAirCellular-iPadAirCellular, iPadMiniRetina-iPadMiniRetina, iPadMiniRetinaCellular-iPadMiniRetinaCellular, iPhone6-iPhone6, iPhone6Plus-iPhone6Plus, iPadAir2-iPadAir2, iPadAir2Cellular-iPadAir2Cellular, iPadMini3-iPadMini3, iPadMini3Cellular-iPadMini3Cellular, iPodTouchSixthGen-iPodTouchSixthGen, iPhone6s-iPhone6s, iPhone6sPlus-iPhone6sPlus, iPadMini4-iPadMini4, iPadMini4Cellular-iPadMini4Cellular, iPadPro-iPadPro, iPadProCellular-iPadProCellular, iPadPro97-iPadPro97, iPadPro97Cellular-iPadPro97Cellular, iPhoneSE-iPhoneSE, iPhone7-iPhone7, iPhone7Plus-iPhone7Plus, iPad611-iPad611, iPad612-iPad612, iPad71-iPad71, iPad72-iPad72, iPad73-iPad73, iPad74-iPad74, iPhone8-iPhone8, iPhone8Plus-iPhone8Plus, iPhoneX-iPhoneX,

Supported Languages:

English;

Parental Advisory:

Mild Cartoon or Fantasy Violence;