Screenshots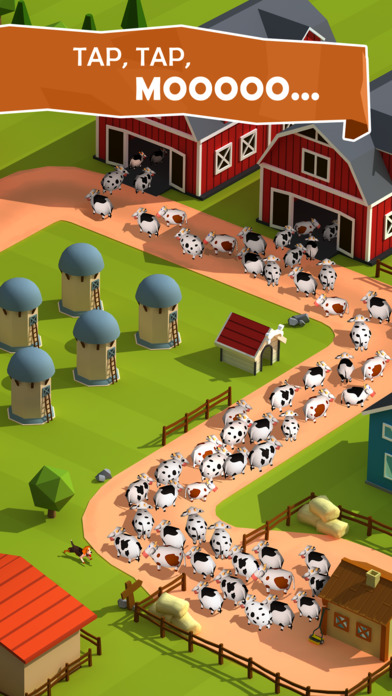 New in version 1.8.0
- Improvements Added
- New Fortune Wheel!
- New Boosts
- Bug Fixes
Description
Tap, Tap, Moooo!

Love cheese? Love Riches?

With a cloning machine and some healthy cows at your lush farm you have hatched the perfect plan to grow rich by serving the word a vast variety of exotic cheese.

Now it's in your hands, or should we say fingers, to tap your way through this ultimate plan to riches beyond your wildest imagination right at your peaceful farm!


WHY PLAY TINY COW?

SUPER CASUAL GAMEPLAY Tap to clone cows and watch your farm grow as you keep stacking cash!

KEEP GROWING Dozens of upgrades to mark your progress, including cow houses, transport vehicles and quirky science researches

IDLE GAMEPLAY Make money even when you are away!

ENDEARING VISUALS Soothing 3D farm visuals

PETS!! Cuddly pet dogs to help you around the farm and enjoy your success along you

WHAT ARE YOU WAITING FOR? Becoming a cheese tycoon is only seconds away. Your empire awaits!
iPad Screenshots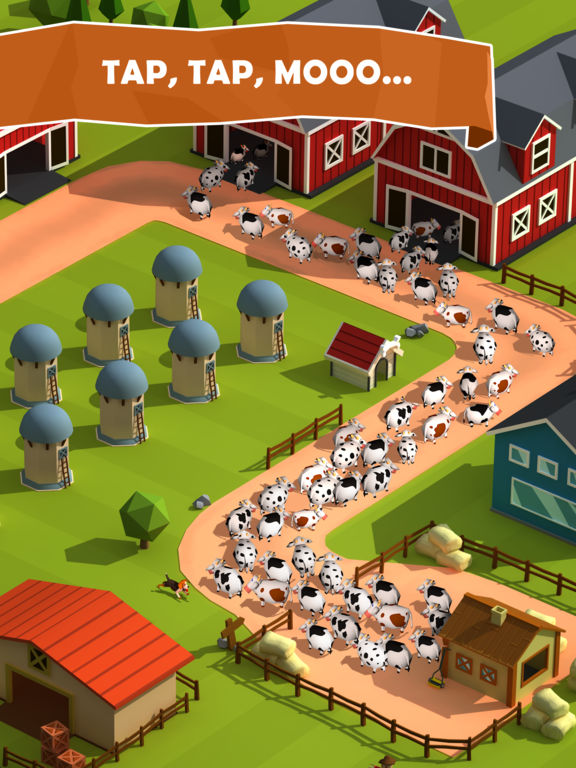 Reviews
Cows
I like the cow version. Especially happy with the product being cheese. Love me some goddamn cheese.
Fun
I got it yesterday and I'm already hooked
Nice
Bacon Nanner
on
8/20/2017
Just what the people need
I've Nearly Mastered the Game
twice i purchased the blue diamond cheese that builds up while you place, the second time i purchased it was 30,000 cheeses for 2.99. ive halved the cost of everything, i raised to maximum my + 5% farm value i've raised my special rennet bonus to + 30%, and my rennet bonus is over 250,000%. i am near giving up because i still haven't obtained mimolette cheese. Just want you to know where you stand if you are playing this game....
Candy
Mr. Bobby Joe Bambrick
on
8/19/2017
I got candy for this
Hi
Hrieneyrbeyegey yeah
on
8/17/2017
Hi
Fun to play
chick a bomm
on
8/16/2017
The best
Tiny cow
It's fun and addicting
Cool
Cool game I like it so far
Candyboys
Joe bob201215
on
8/15/2017
I like your game I'm addicted
Engaging Game to Play!!
I love this game because it is the perfect game you can just pull out on a work break as a minor distraction to have some fun!
Love it
horseluvr4evrr
on
8/13/2017
Love this game!
Fun!!
AngryHollieGirl
on
8/12/2017
Great game!
Wooo mooo
catladyprobz
on
8/12/2017
Obsessed
Good game
The Cow owner
on
8/11/2017
It's a good fun game.
Great
Mikey Richardi
on
8/11/2017
Amazing
So addicting!
Rhys long legs
on
8/11/2017
Play it all the time.
Addictive
Can't stop playing
5 candies
CaptainChicken
on
8/9/2017
Game is great
Holy cow
Good game so far, I like to pass time with this
Just like the chicken hut game but with cows.
pusspussnigletboi
on
8/8/2017
Almost exactly the same.
Candy :)
Turnthepaige2002
on
8/7/2017
Thanks the games pretty cool I guess
Yes
Kristinawoodys
on
8/7/2017
Great
Great game!
WistfulWonder
on
8/7/2017
Super fun game! Addicting though! Quite a battery killer, but if you've got a charger handy, you're set to go!
5 candies
Wooohooo I just got skipper 5 candies.Im gunna go back to the app now.
Amazing
I'd give it 10 stars (aka) candies
5 candys
I like this game alot
Candy
Do it for the candy
Tap
Andrea.schaffel
on
8/6/2017
Tap tap tap. Nothing but time to kill. Fun and a good waste of time 😂
Review
Give it a five stars right now just started playing it
Addicted
Sugarboogerwoogermooger
on
8/6/2017
Wow. Wasting my time but it's so addicting.
Very good
I like business games but this is the best one yet
Stupid glitch
Wheel always lands on 2x (delete)!
Great game
Epicplayer5216
on
8/6/2017
Really
I want my candy now
There you go now give me my five candy please
Candy problems
It would be really nice to rarely collect candies with videos Or buy them with diamonds ex. 100 diamonds = 1 candy Thank you for your time and this great game, Kaleb Fischer
Tiny Cow
Really fun also go play Tiny Pig!
Cool game
Dylanyo123456
on
8/5/2017
Tiny cow is a very cool game and i love it
Candies for skipper
I ❤️skipper
Best game ever
Sk8er420blazin
on
8/3/2017
Awesome
Nice game
I just wanted to give my dog 5 candies
Awskejdh
Sweet1234love
on
8/3/2017
Bbxbxxhgdbdkzijdjdjdjdhdnchjfhf
Fact Sheet
Publisher:

Mindstorm Studios

Category:

Games

Released:

Mar 23, 2017

Current Version Released:

Jun 21, 2017

Version:

1.8.0

Size:

221.5 MB

Compatibility:

Requires iOS 8.0 or later.

Recommended Age:

4+

Game Center Certified:

No

Supported Devices:

iPad2Wifi-iPad2Wifi, iPad23G-iPad23G, iPhone4S-iPhone4S, iPadThirdGen-iPadThirdGen, iPadThirdGen4G-iPadThirdGen4G, iPhone5-iPhone5, iPodTouchFifthGen-iPodTouchFifthGen, iPadFourthGen-iPadFourthGen, iPadFourthGen4G-iPadFourthGen4G, iPadMini-iPadMini, iPadMini4G-iPadMini4G, iPhone5c-iPhone5c, iPhone5s-iPhone5s, iPadAir-iPadAir, iPadAirCellular-iPadAirCellular, iPadMiniRetina-iPadMiniRetina, iPadMiniRetinaCellular-iPadMiniRetinaCellular, iPhone6-iPhone6, iPhone6Plus-iPhone6Plus, iPadAir2-iPadAir2, iPadAir2Cellular-iPadAir2Cellular, iPadMini3-iPadMini3, iPadMini3Cellular-iPadMini3Cellular, iPodTouchSixthGen-iPodTouchSixthGen, iPhone6s-iPhone6s, iPhone6sPlus-iPhone6sPlus, iPadMini4-iPadMini4, iPadMini4Cellular-iPadMini4Cellular, iPadPro-iPadPro, iPadProCellular-iPadProCellular, iPadPro97-iPadPro97, iPadPro97Cellular-iPadPro97Cellular, iPhoneSE-iPhoneSE, iPhone7-iPhone7, iPhone7Plus-iPhone7Plus, iPad611-iPad611, iPad612-iPad612, iPad71-iPad71, iPad72-iPad72, iPad73-iPad73, iPad74-iPad74,

Supported Languages:

English;