This version of the app is not recommended
App last updated
Nov 28, 2017
Screenshots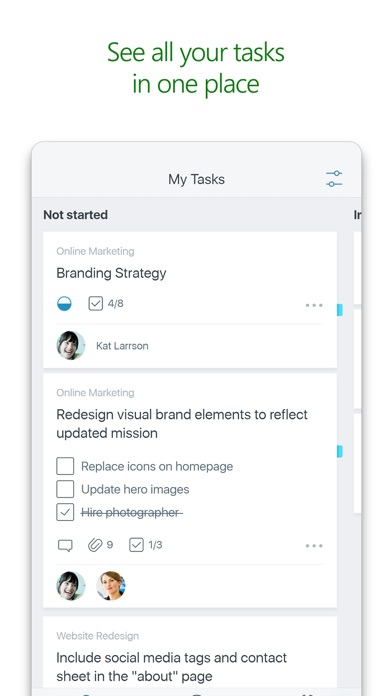 New in version 1.3.1
The Planner app now supports iPad!

Thank you for using Planner.

We regularly release updates to the app, which include great new features, as well as improvements for speed and reliability.
Description
Microsoft Planner requires an eligible Office 365 work or school subscription. This app does not support Office 365 personal accounts (for example: name@outlook.com or name@hotmail.com). If you are not sure about your company's subscription or the services you have access to, please contact your IT department.

Planner provides a simple, visual way to organize teamwork. Planner makes it easy for your team to create new plans, organize and assign tasks, share files, chat about what you're working on, and get updates on progress.

-- Organize work visually --
Each plan has its own board, where you can organize tasks into buckets. You can categorize tasks based on their status or on whom they're assigned to. To update the status or change assignments, just drag and drop tasks between columns.

-- Visibility --
The My Tasks view provides a comprehensive list of all your tasks and their status across all your plans. When working together on a plan, team members always know who is working on what.

-- Collaborate --
Built for Office 365, Planner lets you work together on the same tasks, attach captured photos directly to them, and even have conversations around tasks without switching between apps. With Planner, all your team's discussions and deliverables stay with the plan and don't get locked away across disparate applications.

-- Works across devices --
Planner works across all your devices. And with Planner, everyone is always on the same page. Continue conversations and updates tasks while on-the-go or at your desk.

Terms of service: https://go.microsoft.com/fwlink/?linkid=846830
Privacy policy: https://go.microsoft.com/fwlink/?LinkId=521839

To learn more, please visit https://go.microsoft.com/fwlink/?linkid=849067

The Microsoft Planner app will request permission to access your photos and your camera: When you try to attach a photo to a Planner task, the app requests permission to access your Photos app in order to select images. If you choose to take a photo to attach to a Planner task, the app will request permission to access your Camera app.
iPad Screenshots
Reviews
Planner app
Not enough options
Works great but can see some ways to make it better
One way you can make it better is allowing multiple accounts like One Drive. I have my personal, two Businesses and my non-profit that all use planner and office. It would be great to "flip" like on one drive. Otherwise. Works great.
Really!?!?! Checklists disappear
ScreenNameAlreadyChosen
on
12/15/2017
Functionality between Web IU in office 365 and App differ thus neutering it. The newest bug I've uncovered shows checklists created via the web break hose revealed in the app... thus making it almost useless.
Great app that will only get better!
Great app that will only get better!
The most useless app
12 disappointed
on
12/11/2017
It has absolutely 0 value. If there is something I am doing wrong good luck figuring it out. If I only had a crystal ball perhaps.... User interface is all blank. No place or messages guiding if something is not properly connected.
No notifications kills the usefulness of the app
Theshadow0710
on
12/6/2017
No notifications on updates of tasks or new tasks assigned handicaps what could be an amazing app.
iPad version Looks great!
The recent addition of the iPad option is well done, and I am enjoying using this app again. Keep up the great work guys!
Notification planner app
Planner App needs to have notification capabilities.
Rudimentary
Arealscreenplay
on
11/29/2017
It would be nice if Microsoft could get it together. Every time they come out with an app, it doesn't work as intended. If you click a link to a document embedded in a task it reports error 912. This renders the app useless as it will not open docs in the OneDrive app or in OneDrive online. It works "somewhat as intended" on the IPhone: It wont open in OneDrive, but after 3 clicks on the request to open in browser, it finally will open the document. Really, Are you doing any QA testing before you release. This product should be somewhat mature and not have Mickey Mouse issues at this point. No insult intended to Mickey!
Good
Just need the graph option here to get five stars
The Ultimate To-Do!
averagejohn
on
11/27/2017
I've been using Wunderlist for years now, and it's a nice app but it's not what one would call "business class," Microsoft Planner however is wonderful! It's polished, powerful, simple, a true joy to use. My only gripe is, this isn't available for everyone with a standard Live account. I think I speak for the majority of people when I say I would gladly pay for the privilege to use this app as a standalone product. It's THAT good!
Like it
Helped to plan my work!!
Great app
ontotheshore
on
11/15/2017
I use this to keep track of my tasks I need to do. I can add my own and my boss can add them as well. I love this app! It makes it really easy to keep track of things and cross them off my list.
iPad
Needs an iPad friendly version.
Awesome!
andres.cardenas7
on
11/3/2017
Will give 5 star after it gets optimized for IPad Pro
Tagging
I love how you can assign tasks but your comments cannot be tagged to call out a specific person, not can the checklist be assigned to a specific person. We use a group and in some cases not all portions are relevant to each person but holistically we Are aiming to complete the said task/Project. Still learning the tool but liking what is there. Just needs some more product enhancements.
Worked great ! Needs iPad app
Great app, finally it makes life easier, and on the go. Would be great to have an iPad version.
Plans aren't synchronized properly
Dr. Stormer
on
10/18/2017
I have 9 plans. All visible and editable in the web, but the iOS app only get 5. One plan is Shawn twice. Please fix. Other than that, the app is really awesome. Keep up good work!
Good start, but lacking essential features
Apple user 077921
on
10/17/2017
Missing these essential features: 1) Export to speadsheet 2) Can't archive a bucket/board 3) No recycle bin for deleted tasks/buckets 4) No calendar view 5) You can't view/sort by labels 6) No ability to view all files attached on a board 7) No search 8) No permission levels
Great app, needs templates
Planner is great for managing projects. I use it for a small team. Right now its missing two things. 1. Templates to for repeating projects. 2. A calendar view by project and due date.
Love it but lacks color customization features
sunshinefrawg
on
10/6/2017
Really like the planner. Just wish I could change the colors of the task not just label it.
Disappointed
After last update if you assign someone a task or try to open up a task to do anything it crashes and closes. So let down. This impacts my business and should have been caught before being released. Hope it's fixed ASAP!!
Please, optimize it for iPad
Love this app but I often work from my iPad in Landscape mode. This makes me use web version instead of the App.
Can't believe I'm rating a Microsoft app 5 stars
I really like this app. It's the right blend of simplicity and power. Feels a lot like how I tried to make Wunderlist work for business years ago but it never really did. This feels cleaner and less friction overall than Trello. Keep up the great work. I don't use Teams though. I'd love to get this hooked up to Slack. One thing I'd change: after clicking into a task from the 'My Tasks' section, the name of the Plan is in the upper left, next to the Bucket Name. Clicking the Plan name should take me to the Plan, not to change the bucket, like makes sense would happen when you click on the bucket name. I can't seem to get back to the Plan unless I go to the Planner Hub. Just a few extra clicks that mightn't be needed...
Progressing Well
Planner is certainly functional. I like the enhancements. However, many more to go.
Loses checklists
The app has stopped syncing properly. I enter checklists and they get lost. I have to re enter the checklists more than once. Going to stop using this app.
This app was new to Planner
I think you sometimes some of the people from my teacher
In ❤️
Lyd Phondice
on
9/15/2017
I'm truly in love with this app. I'm always planning several projects at once and it's a convenient, affordable way to stay on top of things. Lydia
You really need some push notifications
What is the use of a task manger that can't remind you when something is due, overdo, upcoming, etc... also need tasks that repeat on a scheduled basis.
Unimpressive!
Lacks form or function. A short-lived app.
Works great
I like the sync, visibility to others, and card view with checklist. It takes a little to get the hang of this interface but once you do, you can realize the benefits. I even use it for study and organizing complex topics.
Ok for basic viewing of tasks but needs update
The app is fine for viewing basic tasks, but needs support for iPad and to look like the graphics that you see in office 365.
Very intuitive and useful
I've just started using Planner (via web and iPhone app), but I'm already really liking it. It looks especially useful when used in conjunction with Teams (I love Teams). This will likely replace Trello for us. What's missing is an iPad app. The web version works well on iPad, but it would be nice to have a dedicated app. It would also be nice to have Apple Watch support.
Not good on iPad
TWOenterprises
on
9/4/2017
MS DID NOT UPDATE APP WITH FEATURES FOR IPAD JUST A CLONE OF IPHONE APP
Cannot complete my request
MiladyOfScott
on
8/30/2017
I have my "Plan" set, but I cannot add any buckets. Every time I try, it says I cannot complete my request. I like this idea, but I just wish it worked.
Extremely useful
This is great to use in conjunction with the online version or by itself.
Great app!
Very clean and simple project planning tool.
Not too shabby
DeaconLordJob
on
8/9/2017
I've been anxiously awaiting the Planner app since I first stumbled on the web version. Easy to use and no real learning curve as the UI is fairly seamless from the web version. I wouldn't mind seeing the charts in the app but for on-the-go task tracking, I'm quite pleased!
Decent for 1.0 App
trvincanity15
on
8/4/2017
Pretty good for tracking tasks that have been assigned to you. No way to view tasks you have signed to others or create new tasks.
Need reminder notification
Great app for group tasks. Hope to have push notifications when task is due and reminder notifications
👌
So grateful this app made it to the App Store. Thank you!
Love it!
welfare and food stamps
on
7/7/2017
Love the app!
On the right track.
Really enjoy where they are heading with this application. It's beginning to take the shape of becoming the MOST used app. Thank you developing it. Really believe that lots of resources should be directed to it..
Good app
Good app for collaborating with team members. Needs a few upgrades: iPad version, offline access, reminders to be linked to calendar. So far so good. Looking forward to more features and upgrades.
Works Great
ashleighadele41
on
7/1/2017
After the most recent upgrade it resolved the issues I was having logging in. I am able to create and assign tasks as well as update heir status from the app. This works great when I am out of the office and need to be able to track the status on my projects.
Cannot login to organisational page
This app starts redirecting to our corporate login and then stops and goes back to the login page.....I can't even get past the login screen yet - come on Microsoft Development team - I know you can do better. Update: The Microsoft team came through and fixed the issue.
Can't Log in!!!!
Won't accept my 365 login credentials!!!! Says I'm not in the system! I don't have a personal account! I don't have outlook.com or hotmail.com. It's my business email. Shouldn't you ask me first before telling me that's my problem?
Easy to use
Stephan Pastis
on
6/28/2017
Great app with a great UI, very responsive and good layout. Can't wait for the app to support creating a plan.
So far so good
So glad is app is finally available. I use this as to-do lists for myself that are categorized. I love the structure, but I wish I could sort my tasks by due date so that I can take a quick glance at what's due today or overdue to prioritize.
Yet another incomplete Microsoft app
Why can't you guys finish one app instead of releasing a whole bunch of un-usable incompletely apps. I really want to give Microsoft a try but apps like Planner and teams haven't been updated in months.
Fact Sheet
Publisher:

Microsoft Corporation

Category:

Productivity

Released:

May 17, 2017

Current Version Released:

Nov 28, 2017

Version:

1.3.1

Size:

91.8 MB

Compatibility:

Requires iOS 9.0 or later.

Recommended Age:

4+

Game Center Certified:

No

Supported Languages:

Catalan; Valencian; Croatian; Czech; Danish; Dutch; Flemish; English; Finnish; French; German; Greek; Hungarian; Indonesian; Italian; Japanese; Korean; Bokmål, Norwegian; Norwegian Bokmål; Polish; Portuguese; Romanian; Moldavian; Russian; Chinese; Slovak; Spanish; Castilian; Swedish; Thai; Chinese; Turkish; Ukrainian; Vietnamese;