TapNova doesn't recommend this version of the app.
New in version 1.0.1
Description
100% Millions of Free Music! No limits!

Browse, search and listen unlimited free music to your iPhone/iPod/iPad and support to iPhone 6s/6s plus.

It is an amazing music player which enables you to enjoy your favorite music Anywhere Anytime!!

App features:
● Show you the trending music.
● Search your favorite music.
● Add music to your favorite playlist.
● Create & manage playlists.
● Powerful music player.
● 3 kinds of play mode:normal, loop one song, shuffle playlist.
● Display album artwork.
iPad Screenshots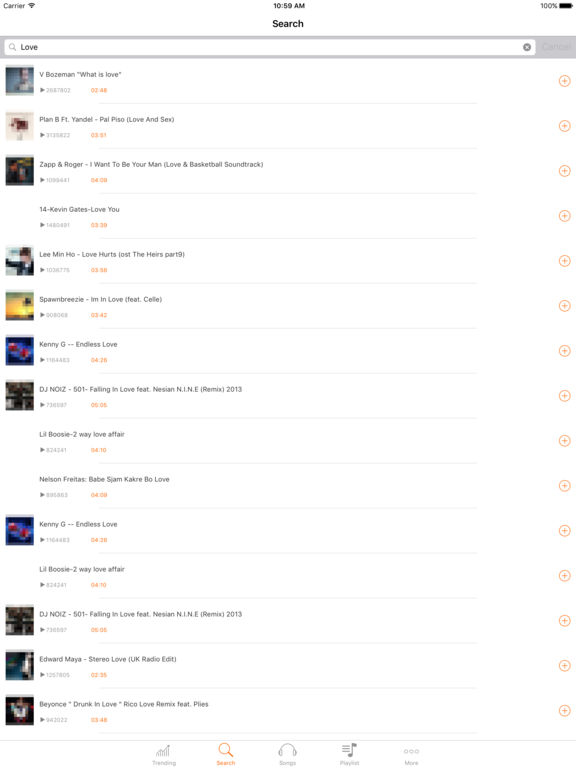 Reviews
It's litt
Man SoundCloud stopped working for me and I hoped on this and now my life is saved
Awesome needs work
It's an amazing app and is way better than spending 10-12$ on spotify, apple music or soundcloud. The only issue is that they don't have all songs possible. Say you look up a particular song it's either a remix or a cover. I wish they had more songs instead of remixes or covers. App crashes from time to time, but besides that it's amazing and I would recommend to anyone.
Trash
The app is trash! I can't even go on a road trip in the car, or on the plane without the song pausing every five seconds.
Easy
This ap is easy and easy to use
Katie
It's pretty good and has all my music
Good
Fjdjgnbyvhdjxirkk8285
on
7/23/2017
App is good
Good af
Ira Turpin 4
on
7/23/2017
Good af
Nice
roes goldman
on
7/23/2017
Has lots of good songs and mix up I love it
I like it!
I love it!!!!!❤️
Good Music App
Raay Balmain
on
7/23/2017
Good App To Listen To Music
Amazing all my favorites in one spot
Actually works, but has adds
Two things but perfect
Ever after Ashley
on
7/23/2017
Perfect but you can't delete saved songs and you don't always find the official song you want. It might be a cover from someone else but so far I've had good luck finding official audio after some searching
Lindsay Crawford
This app is absolutely amazing and Free!!! I would recommend getting it anytime!!!
Good
Hedge giving
on
7/23/2017
Good
God job
Little man 102&
on
7/23/2017
This app so amazing
Awesome
The best music app I've ever used
Swag
Anthems jabs
on
7/23/2017
Ri
Litt
Love Stacy plays
on
7/23/2017
Litt
Nice app
Its soooo good i swear u just need to try it it gives u songs and u can choose one of them and all the languages its just so amazing
No offline
Soren frisch
on
7/23/2017
Best way to listen to music, except u do need service
I like it
It give you a lot of music that are not in all apps
Meh
lindia's i phone
on
7/22/2017
It wasn't the best some the songs wasn't like not the same lyrics as the original so I give it 3 stars ⭐️⭐️⭐️😐😐😐😐😬😬😬
Great choice
Search for it. They got it
This app is horrible
Littleman790
on
7/22/2017
I was able to get a few songs And when I tried to scroll down it wouldn't show any more songs. I even tried downloading again but. I still did the same thing
Can't find songs
#AmAzING12345
on
7/22/2017
Won't let me search up any songs. I have searched up song for song yet not one song comes up
Really? Theres not a single song?
Hsjeobbzhxbd
on
7/22/2017
Sh*t. Absolute trash.
It's good but..
It was working extremely well when I was playing it but after a couple of weeks when I went on it said no songs and I tried deleting the app and getting it again but nothing worked so now I have to choose a new music app
Umm
It's good but needs some fixes bc when I'm looking for songs it doesn't work
Worst app ever
Worst app ever 2 seconds in downloading and having the app it it showed me all these songs and the moment I clicked the song it said no song available then I went back and it continued to say no songs no matter what I did. I deleted the app then downloaded it again and it said the same thing. The worst don't download.
Crap
Us Marines 1911
on
7/21/2017
Crap
Wat
Wwe fan 1 janelle
on
7/21/2017
How do I do this 🤔🤔🤔
I kinda like it
charity45224
on
7/21/2017
Well I like this app but after a few days it wouldn't let me see anymore apps or download any
"no results" for every search
every time i try to search a song it says, "no results". it is not a connection problem either. on a cellular network or wifi there are no results. plz fix🙏🏾
Horrible
freighter 27
on
7/21/2017
Is it is horrible because if you don't have connection then you can't listen to music
It works but
Savage Vibes
on
7/21/2017
It's great but sometimes it goes through a long period where it says "no songs" for trending and search
Pretty Good With Kinks
It could be better but sometimes when I search for a song it doesn't work
Horrible
shahadahgobrazy
on
7/21/2017
It started out good but when it hit about 43 songs it stopped working...I couldn't get anymore songs. I could only play the ones that I already had, so I would change the review if you guys can fix that...
Wow
When I tried to work this app no music showed up at all... 🙄
Good
Person#1000000
on
7/20/2017
Good
Fact Sheet
Publisher: Shelly Wang
Category: Music
Released: Mar 31, 2017
Current Version Released: May 10, 2017
Version: 1.0.1
Size: 9 MB
Compatibility: Requires iOS 8.0 or later.
Recommended Age: 4+
Game Center Certified: No
Supported Devices: iPad2Wifi-iPad2Wifi, iPad23G-iPad23G, iPhone4S-iPhone4S, iPadThirdGen-iPadThirdGen, iPadThirdGen4G-iPadThirdGen4G, iPhone5-iPhone5, iPodTouchFifthGen-iPodTouchFifthGen, iPadFourthGen-iPadFourthGen, iPadFourthGen4G-iPadFourthGen4G, iPadMini-iPadMini, iPadMini4G-iPadMini4G, iPhone5c-iPhone5c, iPhone5s-iPhone5s, iPadAir-iPadAir, iPadAirCellular-iPadAirCellular, iPadMiniRetina-iPadMiniRetina, iPadMiniRetinaCellular-iPadMiniRetinaCellular, iPhone6-iPhone6, iPhone6Plus-iPhone6Plus, iPadAir2-iPadAir2, iPadAir2Cellular-iPadAir2Cellular, iPadMini3-iPadMini3, iPadMini3Cellular-iPadMini3Cellular, iPodTouchSixthGen-iPodTouchSixthGen, iPhone6s-iPhone6s, iPhone6sPlus-iPhone6sPlus, iPadMini4-iPadMini4, iPadMini4Cellular-iPadMini4Cellular, iPadPro-iPadPro, iPadProCellular-iPadProCellular, iPadPro97-iPadPro97, iPadPro97Cellular-iPadPro97Cellular, iPhoneSE-iPhoneSE, iPhone7-iPhone7, iPhone7Plus-iPhone7Plus, iPad611-iPad611, iPad612-iPad612, iPad71-iPad71, iPad72-iPad72, iPad73-iPad73, iPad74-iPad74,
Supported Languages: English;