TapNova recommends this app!
New in version 1.0.1
Description
100% Millions of Free Music! No limits!

Browse, search and listen unlimited free music to your iPhone/iPod/iPad and support to iPhone 6s/6s plus.

It is an amazing music player which enables you to enjoy your favorite music Anywhere Anytime!!

App features:
● Show you the trending music.
● Search your favorite music.
● Add music to your favorite playlist.
● Create & manage playlists.
● Powerful music player.
● 3 kinds of play mode:normal, loop one song, shuffle playlist.
● Display album artwork.
iPad Screenshots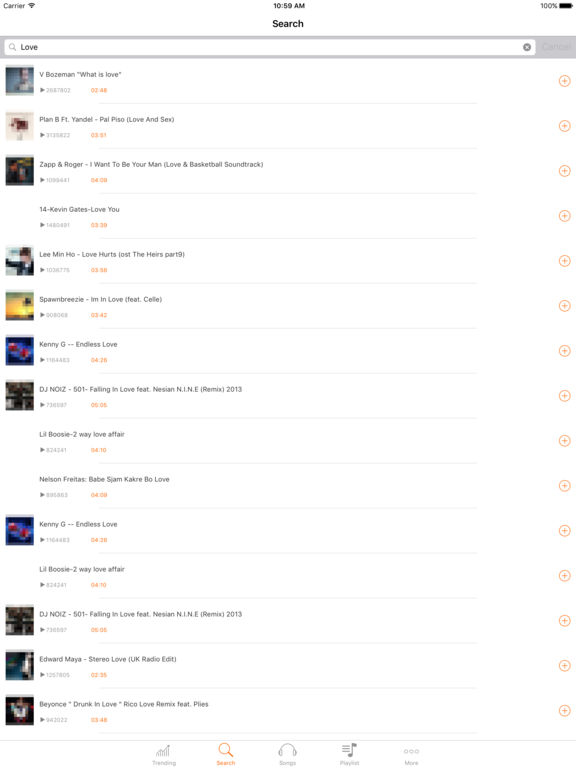 Reviews
DO NOT GET IT
This game I give NO STARS because I wanted to look up Blank Space by my favorite singer in the world Taylor swift and I typed it right but it just said no songs and do not get it it's a waste of your time.
GOOD
This app is about 99% good and 1% not it's just the ads are a little annoying. Some songs are hard to find. But what I like about this app is that it's not like the music app that is automatically downloaded onto a phone. That music app you only get 3 months free then you have to pay $10 a month, but with this app you don't have to pay because it's free! The the music app you can download songs and listen to them offline but on this app you can't... or you can I just haven't found it yet.
Won't let me search
Won't let me search songs and the app glitches with to many ads
Dissapointed
-_- That one review writer565
on
6/22/2017
It stopped working. For me, an app that suddenly cannot function is useless, so I give it 1/5
great app
goatboytheboat
on
6/22/2017
great app
App is very good!
The app is very, very good so far! I like how you can chose your own songs and add them to a list. But the downside, is that the app feeds on internet. To be fully honest, if it didn't have to constantly feed on the internet. Kind of like an app that doesn't need Cellar Data, I'd give it a full five stars! Other than that, it's pretty good! 😅
Dope af
big dicksyndrim
on
6/21/2017
This is so awesome it has every song u can think of
It says you can use it 'Anywhere, anytime'
Butternubz69
on
6/21/2017
You cannot use it anywhere at anytime.😕👎 Please make it so you can have music offline for times that you won't have internet.
Good so far
Haven't done much yet but has a lot of good songs!
LOVE IT SO MUCH
GAGE GIRALDO
on
6/21/2017
It is a good app why you may ask because it gives you all the newest music. Also because it has all the newest remixes. I LOVE it because you can create your own playlist. There are adds but I just ignore them. The BEST part about it is that all the music is FREE. So I totally recommend this app
Great
I think it's perfect
Pretty good
Aàrfjskfnskfnefknsfc osnfksnd
on
6/21/2017
It's great and the music still plays when I close the app so it's a win for me!
❤️❤️AMMMMAAZZIINNNGG❤️❤️
Paige :-P yeah, that one.
on
6/21/2017
This is llleeegggiitt 5 stars!! 🎧🎧🎧 The app "music player" is good too, but it doesn't let me play while offline... This? CRUD YEAH!!!! This lets me play my Shawn Mendes anytime, anywhere!! 😁😁😁👏🏼👏🏼👏🏼
Rate
This App Is Good !! Has All The Music I Want To Listen To .
Love it
Really love this app
ehh .
i hate that I can't unsave a song . but other than that i love this app . yahh feel me ? 😉😂
Love it <
Alexa goes to Mexico
on
6/21/2017
It's such a great app u can listen to music without ads omg so much better than Spotify
AMAZING
GabriellaMorganEller
on
6/21/2017
I LOVE THIS APP SO MUCH U CAM EVEN LISTEN TO MUSIC AND TURN UR PHONE OFF
Lov it
LatinDiva123
on
6/21/2017
It is terrifico
Lit
Bruhman was here
on
6/21/2017
This bih raw af
😍😍
I love it so much. It is one of the few apps that I will listen to music on but it is probably one of the best ones.
Awesome.
It's great but it Crashes too much.
Cool
Nice you can even play game songs
Very impressive for a free app😊!!!!!
Carrot on a Bow
on
6/21/2017
Supa sayin
The best
It's a really good app I like the backround play I love it because I can go to this app put on a beat then go to my notes and write songs 👍🏼👍🏼
LOVE IT!!!
Hailey evens
on
6/20/2017
I LOVE THIS APP!!! Now I don't have to pay to listen to music or buy YouTube red! Thank you so much
Works well
The app does everything you want from it
Disks jake
Kajakanakzmlsmxkskzkwlslks
on
6/20/2017
Sjskzkskdksksk
Music best
It's a very good app to listen to music not stoping, I'll give it five stars
The only one that works
Very good app
The best
La Baby de Orland
on
6/20/2017
I like this app
Why I like it
I like it is cool
Awesome
TRannyponannnniiii
on
6/20/2017
Pretty cool app for the stream life
Hmm
SarcasticQuest
on
6/20/2017
That's bc I haven't used it and it asked for a review
Good app
This is a good app, there is only one problem... a lot of songs are remixes and covers, but overall an excellent app
Offline music
Its a really good app but it would be more enjoyable if you could save music and be able to still play songs when your not around wifi or offline. More people are into apps such as that.
Don't like it
turnboughk14
on
6/20/2017
It doesn't keep playing when I start videos or get offline
App
playlist for the 4th
on
6/20/2017
I love this app!! It's useful for my 4th Of July party!!
Music
This app good it's just that ads pops up
Fact Sheet
Publisher: Shelly Wang
Category: Music
Released: Mar 31, 2017
Current Version Released: May 10, 2017
Version: 1.0.1
Size: 9 MB
Compatibility: Requires iOS 8.0 or later.
Recommended Age: 4+
Game Center Certified: No
Supported Devices: iPad2Wifi-iPad2Wifi, iPad23G-iPad23G, iPhone4S-iPhone4S, iPadThirdGen-iPadThirdGen, iPadThirdGen4G-iPadThirdGen4G, iPhone5-iPhone5, iPodTouchFifthGen-iPodTouchFifthGen, iPadFourthGen-iPadFourthGen, iPadFourthGen4G-iPadFourthGen4G, iPadMini-iPadMini, iPadMini4G-iPadMini4G, iPhone5c-iPhone5c, iPhone5s-iPhone5s, iPadAir-iPadAir, iPadAirCellular-iPadAirCellular, iPadMiniRetina-iPadMiniRetina, iPadMiniRetinaCellular-iPadMiniRetinaCellular, iPhone6-iPhone6, iPhone6Plus-iPhone6Plus, iPadAir2-iPadAir2, iPadAir2Cellular-iPadAir2Cellular, iPadMini3-iPadMini3, iPadMini3Cellular-iPadMini3Cellular, iPodTouchSixthGen-iPodTouchSixthGen, iPhone6s-iPhone6s, iPhone6sPlus-iPhone6sPlus, iPadMini4-iPadMini4, iPadMini4Cellular-iPadMini4Cellular, iPadPro-iPadPro, iPadProCellular-iPadProCellular, iPadPro97-iPadPro97, iPadPro97Cellular-iPadPro97Cellular, iPhoneSE-iPhoneSE, iPhone7-iPhone7, iPhone7Plus-iPhone7Plus, iPad611-iPad611, iPad612-iPad612, iPad71-iPad71, iPad72-iPad72, iPad73-iPad73, iPad74-iPad74,
Supported Languages: English;