TapNova recommends this app!
Description
100% Millions of Free Music! No limits!

Search & listen to your favorite music for FREE with this Totally Free app!

Key Features:
• Discover new trending music with different categories
• Stream any song and organize your music
• Create and manage your streaming playlists
• Sort by name, type, size, date
• Full featured media player
• Repeat and shuffle songs
• Background playback
• Lock screen playback controls
• Share music with friends
• Add your local library music into your own playlist
iPad Screenshots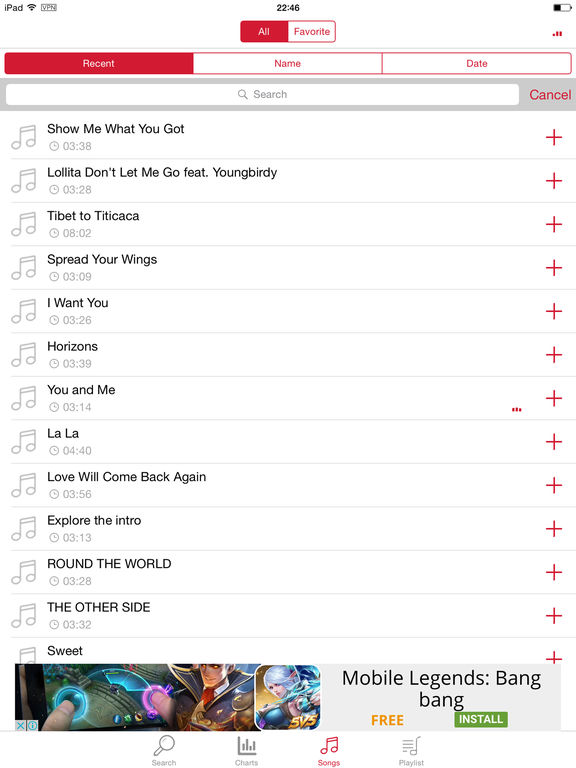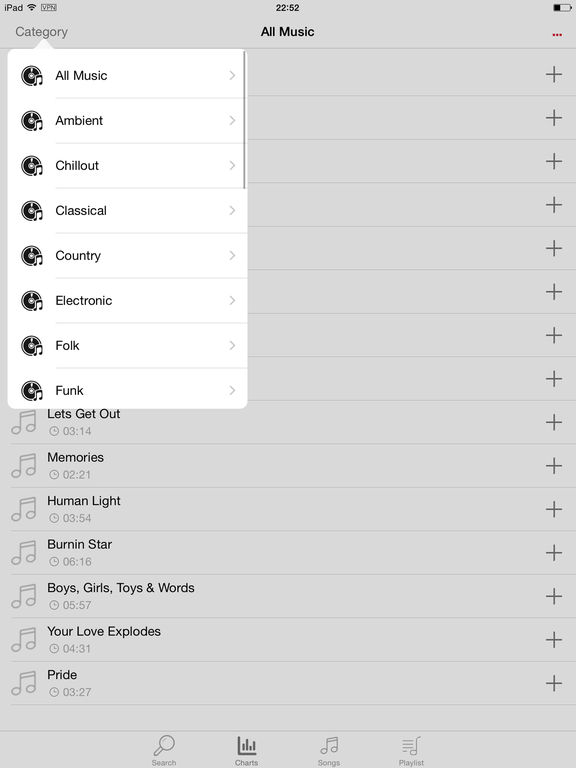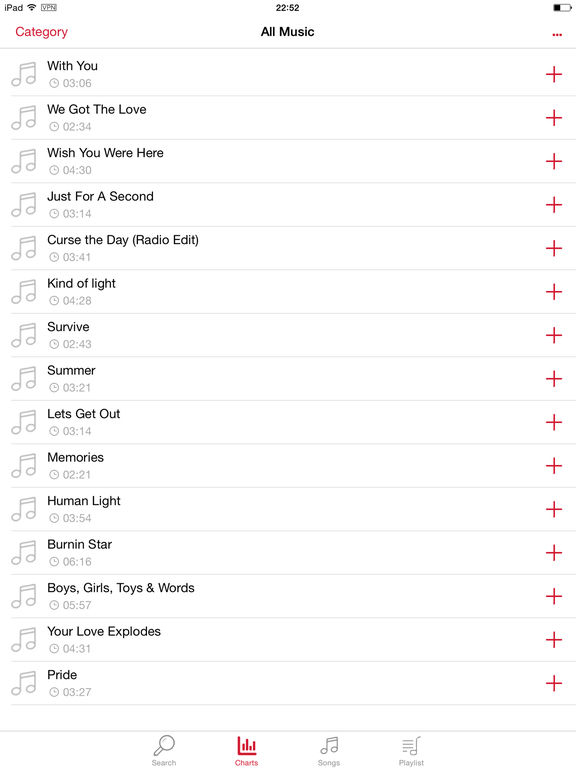 Reviews
Meh
This app is only good if you are looking for truly awful remixes of songs you like 👌🏻
Lol
Ji I'm reddy fr dis game
on
7/21/2017
Still love the app
Fantastic App now I get to listen to my Gospel music
Ahdjeoxneidjejdke
on
7/21/2017
🙌🏼🙌🏼🙌🏼💯💯💯👍🏼👌
SOLID APP
Best app ever, truly recommended.👍🏼
Awesome app
👍🏻👍🏻👍🏻 download it
It's okay, but. . .
I have mixed feeling about this app. It's good at finding music, even remixes and mashups of the same songs and is played well and clearly. There are downfalls of this app, though, and quite a few. First, the app has much too many ads. Every time I were to turn on my iPod touch and find a new song, the ad (saying 'the' because it's the same ad, over and over) would pop up. I understand that developers need adds to show off their apps and such, but not that frequently. Secondly, the ad music mixes in with the song your listening to. That's right. I muted an ad so it wouldn't play right over my music (another problem) and when I clicked a new song, the ads' music AND the song I was listening to were clashing up. At first, I thought it was a remix, but the title stated no such of a remix and that is what made me assume that it was the app doing this. Another problem is about how the music plays. You are unable to manually change the songs from your screen, but have to click the app to change songs. Even such - the music glitches and takes a few seconds to load. Even if you hit the play button, it won't change from its original pause button to play button. I do recommend toning down your ads and maybe fixing a few things. Other than that, the app is alright. But it still gets 3 stars.
Great
Good but one bad thing
on
7/21/2017
It's all free and works fine no glitches or crashes
Great app
Nice app good music
Love it
Bluesupergirl21
on
7/20/2017
Love the app
Absolutely love this
Lololxdhaley
on
7/20/2017
All free. It's perfect.
i love it
it's awesome i love it so much
Best App
Best app for downloading new music. Love it!
Can add more to song selection
If more song add in selection will be excellent app
Best app
1990 State Champ
on
7/20/2017
I love this app so much. It tops all the other ones.
Get it!!!!
It's amazing and works really good
Really good!
StarWarsNerd#1
on
7/20/2017
It is a good app, it gives any music you want, but they won't always show the right version of the song
best app ever
you can download any songs you want
ITS GREAT!!!❤️
you can download so many cool songs just like that! awesome app❣️❣️
😎
This app is great it has all my favorite songs for free I recommend it
I love this app
10 out of 10😘😍😙🙃
Great app!!!
Great music!!!
Finally
Great app, with great content. Good songs good quality.
It's free!
I like how this app is completely free and it has no ads!
The best free music app
Ascheli Miranda
on
7/19/2017
Love it❤️
Fabulous!
Pink flowers
on
7/19/2017
Just what I was looking for and more.
Garbage
Unknown193945
on
7/19/2017
Only remixes of songs, its trash.
Nice
Diditforchest
on
7/19/2017
Nice
😱
NinjaStriker777
on
7/19/2017
I love this app! It has everything I listen to with 37 different versions of it! I can go outside the app or go into sleep mode, and it still plays! Move over Apple Music! Go away YouTube Red! Music Player is all you need. It needs wifi but its still awesome.
Love it!!
apple for me
on
7/18/2017
I get all free music 👍🏻love it
Better than Spotify and YouTube!!!👍
Only add when entering and browsing app, not when listening unlike the two in the title, AMAZING👍🙂
Get this app
This app is the best because I can lince to all my favorite song where I want to and also I don't need to pay for nothing.
It's great
templo la hermosa
on
7/18/2017
I recommend this application its great.
Amazing
Best music app I've found for my iPhone hands down has almost any song you can think of it's truly better then any other app I've downloaded for music and I've downloaded a lot! Haha
THIS IS THE BEST!!
Barbnotimpressed
on
7/18/2017
This app is the best!!! FOR SO MANY REASONS!! - not only you can listen to your fav song you can listen to internet songs!!! - It's so easy to find songs!! - every song you can think is on this!!!!!! FIVE STARS FROM ME!!!
Its lit
Songlistener20213
on
7/18/2017
Its lit
This app is awesome
Someone you use to know
on
7/18/2017
Not having to use my data to listen to music I don't have, yes please!
Love it
Free music is pretty lit
Worst
Princess. Lovely bear
on
7/18/2017
The app doesn't even have the songs that I want plus is doesn't work without wifi.
Genial app
Freilin Liriano
on
7/18/2017
Works amazing! Great
I love it!!!
Jessylovesmike
on
7/18/2017
I love it!!!!
Fact Sheet
Publisher: Weitao Chen
Category: Music
Released: Apr 07, 2017
Current Version Released: Apr 07, 2017
Version: 1.0
Size: 11.4 MB
Compatibility: Requires iOS 8.0 or later.
Recommended Age: 4+
Game Center Certified: No
Supported Devices: iPad2Wifi-iPad2Wifi, iPad23G-iPad23G, iPhone4S-iPhone4S, iPadThirdGen-iPadThirdGen, iPadThirdGen4G-iPadThirdGen4G, iPhone5-iPhone5, iPodTouchFifthGen-iPodTouchFifthGen, iPadFourthGen-iPadFourthGen, iPadFourthGen4G-iPadFourthGen4G, iPadMini-iPadMini, iPadMini4G-iPadMini4G, iPhone5c-iPhone5c, iPhone5s-iPhone5s, iPadAir-iPadAir, iPadAirCellular-iPadAirCellular, iPadMiniRetina-iPadMiniRetina, iPadMiniRetinaCellular-iPadMiniRetinaCellular, iPhone6-iPhone6, iPhone6Plus-iPhone6Plus, iPadAir2-iPadAir2, iPadAir2Cellular-iPadAir2Cellular, iPadMini3-iPadMini3, iPadMini3Cellular-iPadMini3Cellular, iPodTouchSixthGen-iPodTouchSixthGen, iPhone6s-iPhone6s, iPhone6sPlus-iPhone6sPlus, iPadMini4-iPadMini4, iPadMini4Cellular-iPadMini4Cellular, iPadPro-iPadPro, iPadProCellular-iPadProCellular, iPadPro97-iPadPro97, iPadPro97Cellular-iPadPro97Cellular, iPhoneSE-iPhoneSE, iPhone7-iPhone7, iPhone7Plus-iPhone7Plus, iPad611-iPad611, iPad612-iPad612, iPad71-iPad71, iPad72-iPad72, iPad73-iPad73, iPad74-iPad74,
Supported Languages: English;