Screenshots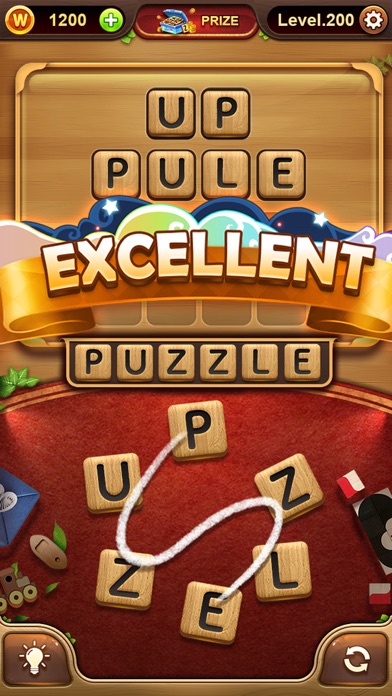 New in version 2.139.0
Brand new version of Word Connect available now!

We have added two new languages in the game, Traditional Chinese and Japanese! Also, we've heard your feedback and have optimized game performance for an overall funner player experience in this update!

Enjoy Word Connect and thanks for playing!
Description
Do you enjoy the excitement of classic word games? DOWNLOAD Word Connect to TRAIN your vocabulary and become a word master, for FREE!

Simply swipe the letters and build words to earn coins! It's time to discover all of the hidden words and enjoy the fun and excitement of building words! What are you waiting for, PLAY Word Connect NOW!

What makes Word Connect so special?

• Simple, easy, and addictive gameplay!
• 2,300 levels with tons of words await you!
• Spanish language is now available in game!
• Login every day for an exciting daily challenge and a wonderful daily bonus!
• Want to check previous levels? Go back to the Level List and play again!
• Up to 6 delicate themes for you to choose from!
• Ask your family members and friend for help and send coins to each other on Facebook!
• With no time limits, you can use your time wisely to find new words at your own pace!
• Wooden block graphics will bring back nostalgic childhood memories!
• Hidden extra words are waiting to be discovered!
• No wifi? Don't worry, play Word Connect anytime, anywhere!
• Supported on iPhone, iPod and iPad

Word Connect is an app designed to train your brain and learn new words, all while having a great time. Share the fun with your family & friends and enjoy Word Connect NOW!
iPad Screenshots
Reviews
Word challenge
Fun game, sharpens your spelling skills!
Fun fun
funeducator
on
12/12/2017
Challenging and great brain work
Addictive
Very addictive!
This game cheats
I've put in words that didn't take until I have used my points for hints. I've put in the same words several times and word connect wouldn't accept it. The I would use my points to buy hints only to find that that same word suddenly becomes accepted. Very disappointed!
Good Game but Want more Value
Link a dictionary explanation with the word and voice pronunciation will be perfect.
Not too bad, not great👍
Lady K......
on
12/12/2017
Likable enough for bonus words, but could really use some improvements. Not trying to dis you ppl, please do not be offended. I prefer a different format and not to have to drag my finger letter to letter. I still enjoy your game 😊😊
Ads cover buttons!!!!
Howismynametaken
on
12/12/2017
They actually cover the hint button by ad banners. How slimy. Heavy right-wing advertisements after every round. Not worth keeping around when there are other similar games in the App Store.
Word connect
It was a wonderful game.
Awesome
puppy girl#coco101
on
12/12/2017
I love it because its challenging but my mom doesn't let us use hints or ask a friend lol😂🐶😎😘
Fun & challenging
jessmillett
on
12/12/2017
Love it
Word connect
I love it! It is so fun trying to figure out words to get points! I rate this 5 stars!
Word game
I have just discovered this game. So far it is easy, but will get harder as I progress. I think I am going to enjoy it. Nice little brain teaser.
Fun way to while away the time
Fun way to while away the time
Ads, ads, ads
Nothing but ads.
Fun but...
This game is fun. I would give it five stars, but I have one complaint. I paid to go ad free from my IPad but I don't get ad free on my phone even though it's the same account. Most games you get both. Also, they don't coordinate. I'm on level 581 on my iPad and only in the hundreds on my phone. Why aren't these linking.?
Wonderful Game
Jewel Mania Queen
on
12/12/2017
My entire family enjoys this game! I love that it helps sharpen our brains and that is not the case with most games today! Irma Shattuck
This is uh good
girl ni ni ni niah
on
12/12/2017
At first I was like bro I know this is going to be a bad idea
Word
What a great way to encourage reading and spelling!!!!
Fun but inconsistencies make it less so.
I love word game and this has potential. But: Levels recycle, words I consider ordinary are not recognized, higher levels have incredibly obscure words. When first playing, I went along pretty smoothly and got enough points so that when I needed a hint I could afford it.y Also, although I have my game set for American English I find when a word is not accepted it may be if I spell it as the British do...
Great Game
A great way to exercise your brain.
Fun game lots of ads
First off, the game is fun and the puzzles are really good. I like the daily challenge as well. Ok the bad, If you purchase anything it removes the ads, however I bought this on my iPad but the phone won't let me restore purchases. Also at least one ad per game also many of the ads you can't close, either the 'x' is missing or doesn't work. You have to kill the ap and reopen and hope you don't get the same ad that will pop up when you try and play. You can remove ads for ad little as .99 and it is really fun. Wish they would just fix the ad issue.
Great game
beanstinson
on
12/12/2017
I love to relax and this game helps!
Not all words
Breathe13579
on
12/12/2017
There is slang and abbreviations used. I thought it was supposed to be real words. Just a bit disappointed.
One of the Best
One of the best apps of its kind with the exception of some non-closable ads like Audi Sales Event which does not have the X to exit and continue playing. Must close app and restart again!
Super fun for wordies
This is great fun for people who have a decent size vocabulary. The ads are not even too big of a bother as they happen after a game won and are not long
Need more
I LOVE this game but almost completed it. Wondering if there will be a word connect 2 coming out? I hate to see this game end, I'm addicted.
Fun for all ages!
Chaserbug44
on
12/12/2017
We really enjoy the game as a family - but way too many ads, and some are inappropriate for my kids!?
Addicting in a good way👌🏽👌🏽
Omg I play this when I'm in an awkward situation or when I'm bored it's sooooo fun,cool,and addicting hope u guys enjoy the game because me, my mom, and my aunti
Word Connect
Good way to pass the time.
Ads ads ads
wheredafugowe
on
12/11/2017
Shopping pop ups DO NOT DL
Wordscapes
It's Awesome can't stop playing it
Was enjoying - bad ads killed it
Was enjoying playing, even though some obvious words aren't recognized and some words that it requires aren't even in the dictionary. However now that it is showing ads with an X that doesn't function (NYU langone) and one that doesn't even show an X (Audi) - that force me to force quit the app to get past the ad... I'm done.
Fun word game
O'side Lady
on
12/11/2017
So far, so good. Fast paced, some ads, enjoying it so far!
Fun
Frustratedbyit
on
12/11/2017
Too easy at first but then really fun! Have learned new words 😊
Excellent!
Fun and I like the graphics!
Word connect
aussiemillie1
on
12/11/2017
Love this game.
Stash
lilystalk66
on
12/11/2017
I always enjoy games that challenge me! This does just tat! Thank!
Me
byron silas
on
12/11/2017
Too many ads,knock it off a bit,get going on game a stupid game add comes up but its a good game sort of addicting good for a plane flight keeps u awake!
Super Game
I love this game what a fantastic way to pass the time. It is a challenge.
Awesome
This game is fun yet challenging at time and it's super addictive.
Love it!!!
A good exercise for my mind. Some of the words are odd, but it can be a challenge.
Word connect
brittanyanger30
on
12/11/2017
It is awsome but hard
Game
dinkydugger
on
12/11/2017
Stimulating game!
Superfun!
Kids love it and also educational..
Jkalya
I had love ❤️ this game I can't stop playing 😮 can you Believe this make sure you like this game so much and that's it so yeah 👋🏾
Improve vocabulary
I love this application , I'm improving my vocabulary having fun
Play it Everyday
I love playing this game. I enjoy the daily challenge.
Fact Sheet
Publisher:

Zentertain Ltd.

Category:

Games

Released:

Apr 17, 2017

Current Version Released:

Dec 02, 2017

Version:

2.139.0

Size:

134.1 MB

Compatibility:

Requires iOS 6.1 or later.

Recommended Age:

4+

Game Center Certified:

No

Supported Devices:

iPhone3GS-iPhone-3GS, iPhone4-iPhone4, iPodTouchFourthGen-iPodTouchFourthGen, iPad2Wifi-iPad2Wifi, iPad23G-iPad23G, iPhone4S-iPhone4S, iPadThirdGen-iPadThirdGen, iPadThirdGen4G-iPadThirdGen4G, iPhone5-iPhone5, iPodTouchFifthGen-iPodTouchFifthGen, iPadFourthGen-iPadFourthGen, iPadFourthGen4G-iPadFourthGen4G, iPadMini-iPadMini, iPadMini4G-iPadMini4G, iPhone5c-iPhone5c, iPhone5s-iPhone5s, iPadAir-iPadAir, iPadAirCellular-iPadAirCellular, iPadMiniRetina-iPadMiniRetina, iPadMiniRetinaCellular-iPadMiniRetinaCellular, iPhone6-iPhone6, iPhone6Plus-iPhone6Plus, iPadAir2-iPadAir2, iPadAir2Cellular-iPadAir2Cellular, iPadMini3-iPadMini3, iPadMini3Cellular-iPadMini3Cellular, iPodTouchSixthGen-iPodTouchSixthGen, iPhone6s-iPhone6s, iPhone6sPlus-iPhone6sPlus, iPadMini4-iPadMini4, iPadMini4Cellular-iPadMini4Cellular, iPadPro-iPadPro, iPadProCellular-iPadProCellular, iPadPro97-iPadPro97, iPadPro97Cellular-iPadPro97Cellular, iPhoneSE-iPhoneSE, iPhone7-iPhone7, iPhone7Plus-iPhone7Plus, iPad611-iPad611, iPad612-iPad612, iPad71-iPad71, iPad72-iPad72, iPad73-iPad73, iPad74-iPad74, iPhone8-iPhone8, iPhone8Plus-iPhone8Plus, iPhoneX-iPhoneX,

Supported Languages:

Arabic; Dutch; Flemish; English; French; Hindi; Indonesian; Italian; Japanese; Portuguese; Chinese; Spanish; Castilian; Chinese;