Screenshots
Description
Roll quickly, be alert, manage your way through the obstacles, score high and challenge friends
iPad Screenshots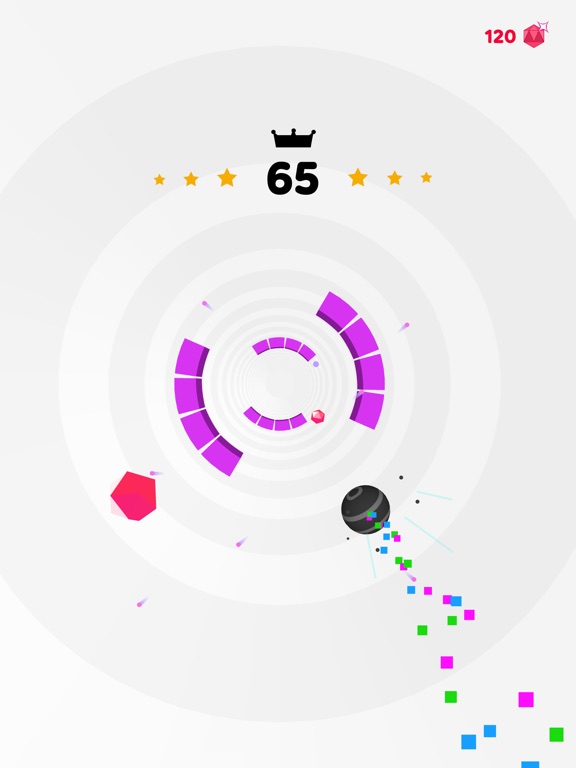 Reviews
Fun, but the ads are KILLER.
Especially on the harder levels where death is frequent. There are ads every few minutes and they're the kind that make you play a game to close them. It's annoying af and makes me want to delete the app.
THIS GAME IS SO ADDICTIVE
Kaydence😘😘😘
on
12/13/2017
I cant stop playing after school it's so addictive!! Keep it going and make more games like this!! 😊😊💜💜😊😊❤️❤️😁😁
The game
mmbrule14768
on
12/12/2017
I like this games it's great for passing the time when you are at the airport waiting to get on the plane or for the plane to land or take off
Entertaining, but ads...
Are unavoidable and are annoying. I get ads, I don't mind going through a few of them, but they're practically every other time you lose. Then if you are offered a second chance but if you chose not to watch the ad, then you may still get an ad anyway, or if you do select to watch the ad even still after that another may appear. It really breaks the flow of the game, and I couldn't get into it because of this.
Best app ever
addisno mooring
on
12/12/2017
I just want to play this app all day
BEST GAME EVER!!!!
Bob the janitor 😒
on
12/12/2017
This game is super fun
ROLLY VORTEX
This game is easy at the beginning👍🏽 but hard towards the middle and end 👎🏽 😜👌🏽
Visual Design/Ads
BepisBestDrincc
on
12/12/2017
The gameplay is pretty fun, and the challenges are a treat - just challenging enough. I only have three complaints. The first being are the ~10-15 second long ads in between every 3rd game, and the second being the visuals are a little lacking - changing the volume obstructs the view of your game, there's no way to preview vortex skins, and the third being there's no pause button. Other than that, good game.
It is not good
raneem hammad
on
12/11/2017
I don't like it because it has to much ads but it is so much enjoyable
Ok games but it gets obnoxious
Voodoo games makes some cool, and fun to play stuff, but since they're mostly time killers, I like to have music, or YouTube playing in the background, but every second attempt, an obnoxiously loud, dubstep filled ad bursts my eardrums. And I can't mute most of them, along with the 5 second wait until I can skip. If there was another developer that had the same games, and actually cared for headphone/earbud users sense of hearing and won't constantly be trying to make me go deaf, I would hastily choose them.
Good but one minor issue
butler_brat7
on
12/10/2017
The sensitivity is WAAAAAYYYY to sensitive I wish we could've changed it idk it might be part of the game but overall it's awesome
It's Not Great
I like the game but it's not my favorite. It glitches a lot and there are a lot of ads (the glitching is probably because of my internet). Voodoo has a lot of fun games and this one is fun to but it isn't awesome like the other ones I have. That's just my opinion and others have theirs so they can rate it what they want but I rate it a 4.
Great game
I just started playing this game and I love it it is very entertaining and addictive but the ads are pretty annoying
Why
I want to let the moving thing to be still let it happen
Really fun
I enjoy Playing it it's fun, but it can get confusing cause you think that the obstacle behind it, you think that is the one you are trying to get around.Other than that it is really fun🙂👍🏻
Games
emily thetge
on
12/10/2017
I really like this app
How great this game is
So glad for you and your crew
It's the ads!
There is so much ads whenever I'm going to hit something a ad will pop up they have to chance it but overall it's a pretty awesome game
So addicting
I LOVE THIS GAME it's so much fun
Great
I like this game alot🙂🙂
Voodo
This game is Tarbell
Too many ads
Too many ads
The best game
Idhejshejshsjejdjjddb
on
12/9/2017
I like this game so much I start to play it more
😋😋😋😋😋😛😛😋😋😛😛😝😝😝😜😜🤪🤪
This game is awesome gtg bc I have work to do
This game only
Awesome game makes me want play it only
Good, but..
Mr. Babadook 🅱.
on
12/9/2017
The game is great and fun but it lags!!
Addicting
Playback Crashhh!!!!! :(
on
12/8/2017
This game is very a addicting
Really awesome but...
Unknown onimous
on
12/8/2017
This game is really fun and I love it but I hate that when you spin the wheel it never gives you anything good. I would give you a five star rating but the challenges also are just all the same pretty much and way too easy. Also some of the tasks you have to do to get balls are impossible. Sorry but the app isn't that entertaining either. Everything else is all good and I really love the app a lot!
Rolly vortex
I like it because it's so much fun
Rolly vortex
If you would like a game that after every time you die there is a commercial then this game is for you. In my opinion it is very annoying.
Wow
Give me free skins yeah and die
Adds
Freaks in bikinis
on
12/8/2017
You spend more time watching adds than you do playing the game. Not an exaggeration.
it's ight i can't lie
Beastyplayer99
on
12/8/2017
this game is really fun and addicting only if you play on the night mode vortex. you guys have to add more vortex's with less chances of me getting epilepsy
MUSTY
This game is so musty that I wanted to kill my self so much ads and my teacher is not pregnant cause of this game have me aids
Missions
Please update the missions, i finished it
My review
It really helps me stay on task 😁😁😁😁
This game is so addicting 😫
unicorn_14.6
on
12/7/2017
Amazing
👎🏻
I like sonic & Ashuro that game
Eh
Bella10272003 ;)
on
12/6/2017
The game itself is fun but there is WAAAAAYYYYYY too many ads and it just got annoying. Also, there needs to be more balls and vortex and they need to be less gems
IT'S SO AWESOME (NOT)
DancingKaKa24💖
on
12/6/2017
This game is very very BORING compared to Snake vs Block and all of the adds like if you guys would tack out the adds I bet more people would play this game because there's adds every time you die in the game! Written by:Lovely_Dancer_Kaka
Mildly amusing spams adds every 10 sec
Brian 01828281037
on
12/5/2017
After every single game which is usually very short an add appears, does not give noticeable buttons to try and get you to watch add after add. Would have kept the app if they weren't spamming me every couple seconds. I had the add downloaded for maybe 5 min and at least saw 10-15 adds. Absolutely ridiculous!
This game is the best
It is the best stress reliever and I played up to the 4 level and the feast like no more stress I even play this games in class and don't even get caught. It is also very good to play this game when u have nothing to do this is a ⭐️⭐️⭐️⭐️⭐️ game
Levels are POINTLESS
vintagehussie
on
12/5/2017
The levels are completely pointless in this game and more annoying than fun. There's no real objective to get to the next level and after two turns you've already made it to the next level or you can watch a video to get to the next level. I think the levels should be ditched completely and make the spin wheel where you get a free spin every 12 hours or something like that. I dont care to spin a wheel every time I "level up", I just want to keep playing!!!
Best app EVER
Brianna_lit_lol321
on
12/4/2017
It's so fun and enjoyable👍🏽😄❤️when your bored😐and it has a lot of ads but it's really fun😁👍
Jeff
Punisher is back
on
12/4/2017
Jeff
Fact Sheet
Publisher:

Voodoo

Category:

Games

Released:

Aug 28, 2017

Current Version Released:

Nov 30, 2017

Version:

1.4.4

Size:

126.3 MB

Compatibility:

Requires iOS 7.0 or later.

Recommended Age:

4+

Game Center Certified:

No

Supported Devices:

iPhone4-iPhone4, iPad2Wifi-iPad2Wifi, iPad23G-iPad23G, iPhone4S-iPhone4S, iPadThirdGen-iPadThirdGen, iPadThirdGen4G-iPadThirdGen4G, iPhone5-iPhone5, iPodTouchFifthGen-iPodTouchFifthGen, iPadFourthGen-iPadFourthGen, iPadFourthGen4G-iPadFourthGen4G, iPadMini-iPadMini, iPadMini4G-iPadMini4G, iPhone5c-iPhone5c, iPhone5s-iPhone5s, iPadAir-iPadAir, iPadAirCellular-iPadAirCellular, iPadMiniRetina-iPadMiniRetina, iPadMiniRetinaCellular-iPadMiniRetinaCellular, iPhone6-iPhone6, iPhone6Plus-iPhone6Plus, iPadAir2-iPadAir2, iPadAir2Cellular-iPadAir2Cellular, iPadMini3-iPadMini3, iPadMini3Cellular-iPadMini3Cellular, iPodTouchSixthGen-iPodTouchSixthGen, iPhone6s-iPhone6s, iPhone6sPlus-iPhone6sPlus, iPadMini4-iPadMini4, iPadMini4Cellular-iPadMini4Cellular, iPadPro-iPadPro, iPadProCellular-iPadProCellular, iPadPro97-iPadPro97, iPadPro97Cellular-iPadPro97Cellular, iPhoneSE-iPhoneSE, iPhone7-iPhone7, iPhone7Plus-iPhone7Plus, iPad611-iPad611, iPad612-iPad612, iPad71-iPad71, iPad72-iPad72, iPad73-iPad73, iPad74-iPad74, iPhone8-iPhone8, iPhone8Plus-iPhone8Plus, iPhoneX-iPhoneX,

Supported Languages:

English;