This version of the app is not recommended
App last updated
Mar 21, 2018
Screenshots
New in version 1.2.20
HQ Trivia is now available on iPad! You can also change your username in settings.
Description
HQ is the live trivia game show with cash prizes. Every day at 9pm EDT. Weekdays at 3pm EDT.
iPad Screenshots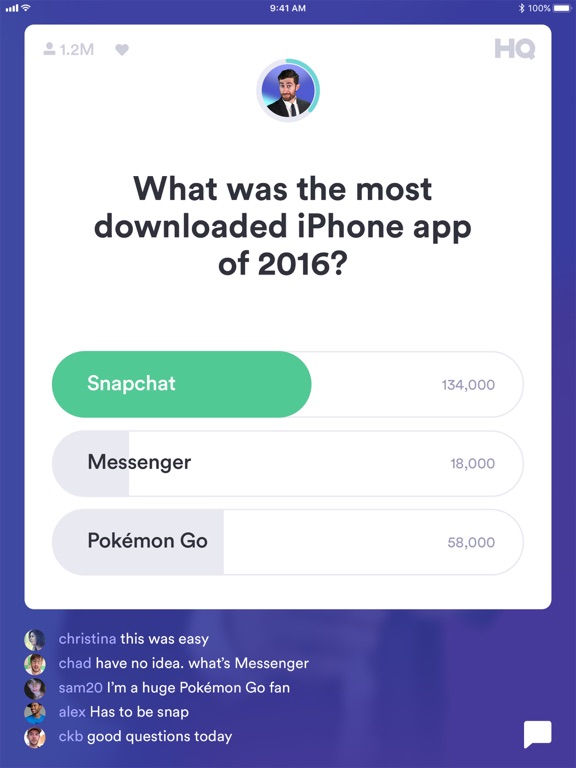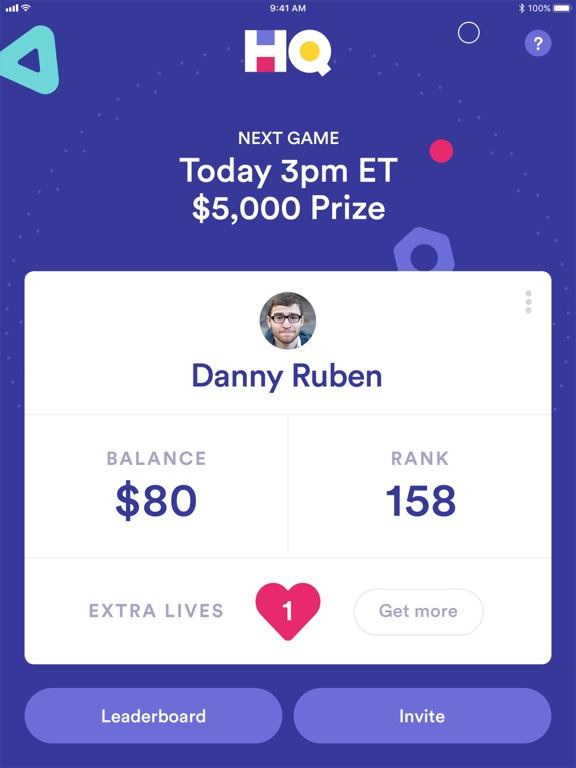 Reviews
HQ is for you and you and you!
Not good for iPhone or itouch
on
3/22/2018
I finally won last night. It was a tense and exciting journey answering all of the HQ questions. When I finished the 12 th question and realized that I won I jumped for joy.
Fun game, keeps freezing
It's a fun game but it is really frustrating that the feed keeps freezing, sometimes in the middle of a question. That's my excuse for why I haven't won a single dollar yet.
Freezing screen
World Race Mom
on
3/22/2018
Frustrating to try and play the game when it freezes mid question.
App needs improvement
Please fix! So annoying when your trying to play and it freezes constantly!
Timer
Chris 589150
on
3/22/2018
Can't tell you how many times I clicked the answer before the bell and it wouldn't let me choose- check your timer!!! because it definitely isn't a full 10 seconds, such a scam
I was eliminated
After selecting the correct answer
Fun Trivia Game
This is a good way to stretch your brain a little, and have fun with all your family members at the same time. Sorry Scott, but sometimes I have to turn down the volume. Your enthusiasm can be overwhelming.
Most anticipated part of the work day
This game is the unofficial break for my entire brokerage. Once we get the notification everyone puts work on pause, and huddles to outlast the competition. The most anticipated part the work day!!
😒
loveitbuthateit
on
3/22/2018
It's a great app... But once you apply a referral code you can't change it. So annoying.ugh
Great
Donnieman 2374
on
3/22/2018
I don't know about the rest of u guys but this game is pretty freakin amazing
AMAZING APP!
Airyanadream🌈
on
3/22/2018
This app is honestly amazing me and my mom play it everyday at 3pm est and 9pm est it's so fun were gonna win one day lol definitely recommend playing this.
Scott Is the Best
CaptCroctopus
on
3/22/2018
Yeah he rambles... but that is his job.
The Prize money is insultingly low:(
First off, the game is cool, entertaining and Creative! If my review isn't posted I will take action! OK Let's be honest for a second shall we! The game show gets hundreds of thousands of players everyday and multiple times a day! The prize money of $2500 to be split between 1 winner and sometimes hundreds of winners is a joke. The amount of money that businesses are paying for advertising for 5 mins of air time is alottt. I would Personally pay 2500 a day to the winner if they mentioned my biz for 10 seconds! buttt common stop being so cheap and let someone at least pay a phone bill or a car payment for beating hundreds of thousands of people! Take out a insurance policy or something to offer someone who wins back to back days or 2 times a week to make a good paycheck. Nevertheless it's not worth my time by walking away from a group of people or taking a bathroom break or pulling over on the side of the road to play this game that's almost impossible to win for just a few bucks! If anyone agrees with me leave a review as well.
Getting Better
iPad support is nice, but it really needs to support landscape mode.
The best ever!!
Not only is the game tres chaud but Scott is tres hot!!
Could be better
Should be able to change answer before time is up.
Love
I love this game!!!!
Great fun
Arye from Israel
on
3/21/2018
Like playing it and I won some money tonight. These guys are awesome.
Glitch
Sstowell2196
on
3/21/2018
This game is so addicting. I look forward to playing it every day. Lately there has been glitches when I am playing it. Everything freezes and I just hope I don't miss a question. I have heard others have had this problem too. Is there a way to fix it? I really want to play the game and not feel like I am going to kiss something.
Fun!!
Psooooasiiii
on
3/21/2018
This game is fun and the way to avoid lag is playing with wifi. Use referral "Psoas" when you sign up
Fun
Unexpected radio Fan
on
3/21/2018
Exciting even if you don't win!
Laskarasnuncaparan
laskarasnuncaparan
on
3/20/2018
Awesome just got introduce to it and I'm loving it whooooooooo!!!!!!!😂🤓😎🤣🤣
GLITCH
I answered correctly and was eliminated! Did the same thing happen Sunday when there were 2 people vying for 25k and one DISAPPEARED BEFORE ALL OF OUR EYES?! FISHY STUFF, HQ!
HQTrivia
HundredthCoast
on
3/20/2018
Such a perfect way to quiz your brain on a cold and rainy day.I💙this game so much!!!
Fun, Scott change up the patter once in a while.
Very entertaining.
Great but timeing off
Awesome and very pranky
on
3/20/2018
Need to start at 3:00 and/or 9:00 instead of 2-5 minutes after 3:00 and/or 9:00
A bout needs updates
I love playing hq but I hate when it glitches, I think that they need to find a way so it don't glitch. Like a new update! My friends glitched on hq8 and he got it write. He listened to all the other questions and he go ten right also. So if it didn't glitche he would have won 315$
Fun trivia time for the family
Studio99Productions
on
3/20/2018
This game is a lot of fun for the family. As long as you don't plan on actually winning you will enjoy the 15 minute live broadcast. Only thing I don't like is the game automatically used my extra lives before I was able to cancel.
Waste of time
Not only is this game a waste of time they will rip you off and not pay you even if you do win.
Notifications
Notifications keep starting earlier and earlier...the last few days they have come 6 minuets in advance, so I end up forgetting by the time the game starts...the game doesn't start till 2-3 minutes after the start time anyway. I'm not going to sit there for 10 minutes just waiting. 1 minute before is all the notification that is needed.
So much fun HQ
Thanks for the fun days and nights of almost winning! ❤️❤️
Fun game, don't enjoy the host
I enjoy the ascent of live trivia, especially the potential chance to win real money. I don't rate this game as 5 stars because I really wish there was a way to turn off the commentary from the host. It's distracting and just too much jabbering for my taste.
Never works
I've used both 4G and WiFi only for a full week, 7 days each, and have been kicked from a lagging game 6 days on each, it's ridiculous, time to delete and use one of the trivia games that works!
Glitchy AF
So annoying. Glitches out nearly every game.
Scott is really hot; game is great.
The game is dope. Scott, what's your number?
Cheat to win
Not worth playing against cheaters imho.
Could be better
Just started playing but you don't give any lives just for signing up. Beside using a friend referral. You should give lives just for fun. Mike
Lagging bad
Game keeps lagging so bad you can't play
Beast
the dune dude
on
3/20/2018
Bed
Rigged
Locks up never have a chance, seems rigged.
Review on HQ the app
Savannah Mcshane
on
3/19/2018
This app and very fun and keeps my on the look out for the time limit and the right answer. The first game I played I FELL in love with this game and every time I see it almost time to start I yell around the house it HQ time I even play at school bc it's so much FUN!!!! Savannah Mcshane
App crashes.
Tonight was third time playing. The app hung up after two questions and I was not able to view or answer any questions.
Crazy fun idea
Have played twice, it runs shockingly well for having 750K players on at the same time. Would really love something that lets you still vote (even if for fun, no money) if you arrive late. Otherwise really great idea. I can see all game shows going this way.
Game crashed at Q2 - but Scott kept going
After game stuck on Q2, Scott's head remained in circle talking but new questions never appeared. Could only see Scott asking them. Happened to many players.
Game freezes up!
This is the worst! This was my first time playing and the game froze up on the second question and I couldn't answer. Looks like hundreds of people's me were in the same boat. Don't waste your time on this POS. Sadly, I knew every answer too— just had to listen to him go on and on without being able to answer. Waste of time.
Bs
Game kicks you off when you do well
Server issues?
I love playing trivia and the fact you can play and win actual money is awesome. BUT actually being able to play without the app freezing up or having a glitch is key. And I feel you should be able to change your answer if done before time is up.
Freezing
apparelmaven
on
3/19/2018
It would be fun if the screen didn't keep freezing, I lost tonight just because of that
Froze and couldn't play.
Happened to download the app about ten minutes before a round. Went away, came back about 5 minutes before it had said the round was going to start but now it said the next round was tomorrow... Strange. After reloading, it let me join the current game during the countdown. The video of the host talking kept playing, but after the second question (I got the first two correct), the questions would not come up on the screen anymore so I could not select an answer. The chat also froze. The third question just stayed on the screen forever (with the correct answer that I had selected). And even for the first two questions it never showed how many people selected which answer like the screenshots show. I would have failed around question 6 anyway, but this was a pretty bad experience for the first time playing.
Fact Sheet
Publisher:

Intermedia Labs Inc.

Category:

Games

Released:

Aug 25, 2017

Current Version Released:

Mar 21, 2018

Version:

1.2.20

Size:

97 MB

Compatibility:

Requires iOS 10.0 or later.

Recommended Age:

17+

Game Center Certified:

No

Supported Languages:

English;

Parental Advisory:

Mild Profanity or Crude Humor; Mild Alcohol, Tobacco, or Drug Use or References; Suggestive Themes; Gambling and Contests;