Games
Entertainment
Action
Arcade
This version of the app is not recommended
App last updated
Jan 10, 2018
Screenshots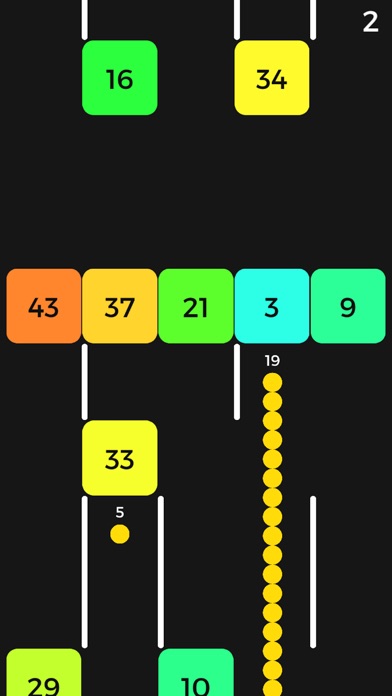 Description
Swipe your finger to guide a snake of balls and break the bricks.
Try to break as many bricks as possible.
Get additional balls and make the biggest snake ever!

Very easy to play but very hard to reach high scores!

Game Features:
- Free to play
- Endless gameplay
- Simple swipe control
- Challenge your friends with the best highscore
iPad Screenshots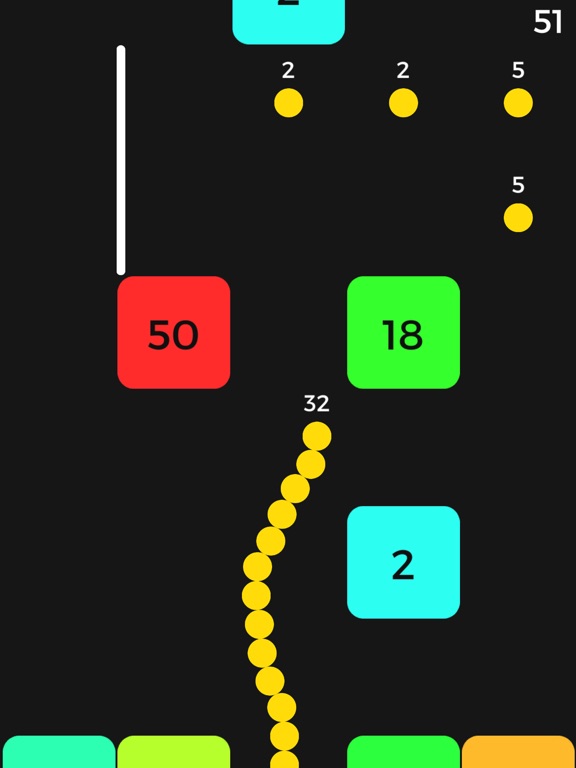 Reviews
Fun way to much ads
to much ads boi
on
1/23/2018
The amount of ads is unlike any game I have ever seen before in a free to play game, I mean it's every time you lose or do really anything! Plus the ads are legit all about sexual stuff from that episodes game. I can't tell you how many times I would sit down to play this game but within 2 minutes close it out because how many ads. I understand the need for them but at the rate they pop up is completely uncalled for. Plus, when it gives you the option to exit the ad, once you hit the ad it sometimes takes u to the second part of the and makes u wait another 10 seconds or so. You need to chill out on these ads, this game is fun but you're not going to get me to pay for ad free, I'm sure at one point I'll just delete it.
WAY too many Ads
I know the creators have to make a profit but... I couldn't even grasp and get addicted to the game without getting annoyed by all the ads! They should only make the player watch ads after a certain time limit. If I'm just learning how to play and my average game time before losing is 20 seconds, a 30 second ad after every loss is overkill. Not sure it's worth the $3 for the ad free version.
8jjjutrght5ft53d 8
ittijjihgyoljgygyhujgy
on
1/22/2018
Trjfuhyy.ihu(n- - H-0in80n0uhuonunounnoun
Cool Concept, Poor Controls
The concept of this game is actually really fun, but the movement controls make it unusable. I think it should be set up like Subway Surfers where there are a set number of lanes and each swipe only takes you to the next lane over. I find myself constantly moving the snake either too far or not far enough.
Love the game but...
Dooley and Googy
on
1/22/2018
I love this game but what really annoys me is the ads after every round I get a 30 second ad and it's pissing me off because I don't want to pay 3.00 for no ads
It is so much fun
I just wish that there weren't so many adds
Love this game
About a month now, and I have loved it since I decided to download it. I saw the ad and played the double game and really liked it, so I thought about it and decided to download it ,it's a blast ever sense
Doesn't work
Don't be fooled, this decreases the ads, but doesn't eliminate them. I'd like a refund.
I like it
There are different funny characters
Love it
I love ❤️ this game so much!!!!! My little brother just loves this game!!!!👍👍🤘👍🤘👍
Rate
Andersonbravo
on
1/22/2018
This is a good game and u should download this
Bad bad bad
Game was a waist of my time .. too many ads .. not worth it
It's so annoying that it's fun
This game is the worst. It's so annoying, and I hate it. Keep up the good work
Awesome Game!
It is a very fun game, in my Opinion I think it is a amazing game and recommended for all these readers.
Ridiculous Ads
MMlovesnordstrom
on
1/21/2018
I very much enjoyed this game, and I recommend it to anyone who is interested in puzzle like but fun games. However the amount of ads between each round of the game were awful, and frankly one of the occurring ones was titled "HOOKED ". This game seems almost stupid, and includes background pictures of horrific events that younger kids should not see. I fully intend to email the company on the amount of ads produced and their background images.
Tricky but intelligent experience
This game is good for math timed When I am in class, I take a math test but timed This game is good as it teaches you
Worse game ever and too many ads
This game has so many ads that it is so hard to play and every time you die there is an ad there also this game is not interesting nor fun I am very disappointed
Commercial Machine
Don't bother. It's non-stop forced ads. You can barely play the game. What a waste.
Stupid amount of adds
jessiejames918
on
1/21/2018
I get it...you need adds on a free game to make money. But good grief. I can shut down the app and start it up again quicker than some of these add times. Plus having to click x multiple times to close out the adds. And some of the adds are just downright inappropriate to be advertising on a simple game that kids could enjoy as well. Seriously! Cut the add times back and if someone wins a level why does there need to be an add after the win?! Make them after the losing rounds only. Makes people not want to continue playing if they win a level and want to go to the next level but have to sit there through 30 seconds of add time.
Paid $2.99 and still seeing ads!
Channel 27 News
on
1/21/2018
What gives? Paid for the "premium" version, and while it did cut down on the near constant ads, there's still the "One more life" screen when you die, and if you click this you see an unskippable 30 second ad, even if you have the premium version. You have to wait five seconds for this prompt to go away to avoid seeing an ad, even if you've paid. Very scammy. Will be trying to get my money back.
From Kaelyn
Love this app it is so fun at the moment I am playing it
It's OK
It's very hard but I kinda enjoy it.The numbers are a little to big.
This app is kind of good
Okay I'm sorry I'm this game kind of good. But unlike some people I really enjoy playing this game. The only problem with it there is way to many ads like I was in the middle of a game and a ad showed up
To many ads
deadmemscree
on
1/21/2018
The game is annoying because of the ads I don't care about "final fantasy 15 a new empire" that's a horrible game anyways and don't make me pay to get rid of ads
Errrr
lpsbellaz (my username)
on
1/21/2018
Lots of adds. Lots...
Trashy adds
Theplaystationdude
on
1/21/2018
Adds were overwhelming and obnoxious this is how every game by voodoo is
Meh
disney hogger <3
on
1/21/2018
The game is fun but I wish it was a little more detailed and there were no ads
It's simple
WhatIfIt'sBlockVsSnake?
on
1/21/2018
Stop complaining. When you're good at the game, you hardly notice the ads. I can play for five to ten minutes then watch a thirty second ad. So you all are dumb
Fun!!
It's very entertaining and fun but there are some glitches but good game overall 🤪
Ifijfjygiiifirodorjefjfitityncgncnjf
Fuuffb
I LOVE SNAKE VS BLOCK
I LOVE SNAKE VS BLOCK!!!!!!
on
1/21/2018
This is a great game and I can not stop playing it. The only thing is that when when you have one left it counts as zero but other then that it's great! At first I was really precarious when I started playing but then I got the hang of things! And if you get this game I'm sure you will get the hang of things to!
Awesome
Easy and really fun!!!!!!👍🏼👍🏼👍🏼👍🏼👍🏼😀👍🏼👍🏼👍🏼👏🏻👏🏻👏🏻👏🏻👏🏻👏🏻👏🏻👏🏻🤟🤟🤟🤟🤟🤟🤟🤟🤟👌👌👌👌🖐🏿🙏🏼🙏🏼🙏🏼🙏🏼🤴🤴🤴🤴🤴🤴🤴🤴🚶🏾‍♂️🚶🏾‍♂️🕺🏻👭👩‍👩‍👦‍👦👨‍❤️‍💋‍👨👩‍👧‍👦👨‍👩‍👧‍👦
Great game but Ad free version has Ads
Paid for the Ad feee version but it still has Ads
Too many ads.
DesiRenee845
on
1/20/2018
I spend more time watching ads than playing the game
Savage
savage broski
on
1/20/2018
This game " snakevsblock" is a very fun game, I recommend it. You can unlock levels and get new types of snake. And again I recommend it
Snake vs Block
Mrs Sartorius 1245
on
1/20/2018
I hate this game it's terrible don't download it
Really fun but...
Snake Vs. block is SUPER fun I really love it and recommended it the only reason why it's not five star is because it has a bit to many ads like when I got it I was like well I can stand a few ads but I was just playing it and every other time I went it gave me the same exact ad. Other wise if your like me and you can stand a few ads then you should get it it's really fun!!!!!!!!
Rip Off
I paid the $2.99 to remove ads and it has not removed one stupid ad. Please refund my money!!!!
TOO MANY ADS. DONT BUY
Amberdalholt
on
1/20/2018
Thought that maybe the ads would go away when I bought it because there are SO MANY ADS. But there are still ads even after purchasing and it makes me not want to even play. At least allow people who purchase to skip ads.
WAAAAYYYYY too many ads
Love to critic
on
1/20/2018
Let me just say, great game and all. I love how you can get new skins and stuff, but there is one problem: this game has waaaaayyyyyy too many ads. Like, literally, I lose, and an ad pops up. Super annoying. Would love it if you can fix this please
A little to sensitive
I had this app before about a year ago and it was good. Then I got a new phone, and realized it had updated. When I re-downloaded it was way to sensitive. So now it is very hard to get a good score. One more thing is that there are way to many ads. So I would suggest if you lower the price on the no ads version, and that's really it.
Eh
hxhchxhchfhdhdhdjsjdjdkzkcjfjf
on
1/20/2018
It good I wish it had no ads
Ads
I understand the need for ads and I don't usually mind them but most of the time I play this game it's not over WiFi and i was tired of using all my data on a game that doesn't even need WiFi so I purchased the remove ads for $2.99 only to find out it doesn't actually remove all the ads yes it removes the banners and pop ups but if you want a second chance you still have to watch an ad which is ridiculous and I want my money back
Too many ads. Purchasing ad removal doesn't work.
Chess fan 1981
on
1/20/2018
Too many ads. Purchasing ad removal doesn't work.
Stop the buzzing
Coolio-thtsme
on
1/20/2018
I used to like this game until it started vibrating every time the snake hit a block after getting the star power-up. Please stop vibrating my phone or at least give the option to stop vibrations in the settings. It's so annoying
Don't buy app ads don't go away
There is an INSANE amount of ads. And they claim that the app can be ad free for $2.99 but even after purchasing app the ads remain. It's a shame because I actually enjoy the game.
Juliana les dice
Me encantan sus juegos sigan mejorándolos y saquen nuevos juegos
I love this game soooooo much but
I love this game it is soo fun especially when your in the car or on the bus.the only thing I don't like is all the adds but other than that I love it
Why I picked three stars
Well, I picked three stars bc the game, is well, kind of difficult. When I play the game it is fun at first but then it gets boring. Your adds where great on this game tho. Well that's all I can say now, we'll bye!
Fact Sheet
Publisher:

Voodoo

Category:

Games

Released:

May 16, 2017

Current Version Released:

Jan 10, 2018

Version:

1.20

Size:

72.3 MB

Compatibility:

Requires iOS 7.0 or later.

Recommended Age:

12+

Game Center Certified:

No

Supported Languages:

English;

Parental Advisory:

Suggestive Themes; Fear Themes; Mild Alcohol, Tobacco, or Drug Use or References; Mild Realistic Violence; Treatment Information; Mild Simulated Gambling; Mild Cartoon or Fantasy Violence; Mild Sexual Content and Nudity;