Screenshots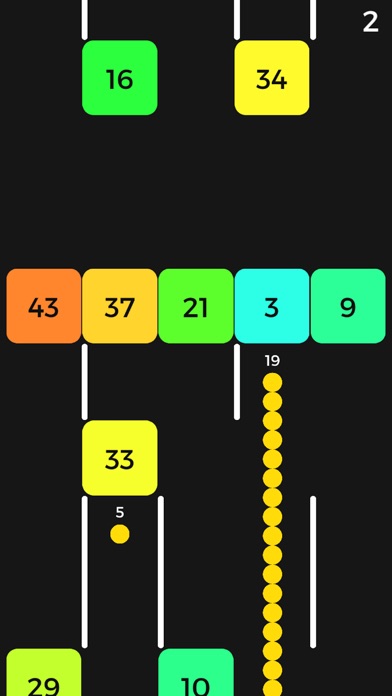 New in version 1.19
- New Bonus Block! The Star block make you invincible during a short period of time.
Use it wisely to make big scores!
Description
Swipe your finger to guide a snake of balls and break the bricks.
Try to break as many bricks as possible.
Get additional balls and make the biggest snake ever!

Very easy to play but very hard to reach high scores!

Game Features:
- Free to play
- Endless gameplay
- Simple swipe control
- Challenge your friends with the best highscore
iPad Screenshots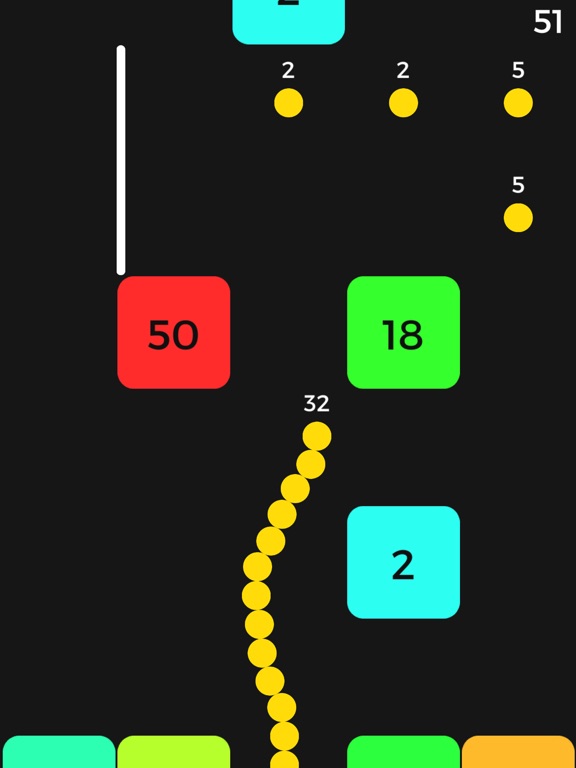 Reviews
Okay
This game is okay and AWESOME and bit creepy WHY IS THERE AN EYE? REMOVE IT!
Dont waste your money.
Too many ads, especially since each game is over in few secs. Ad after ad after ad. Even after you pay premium, ads dont go away.
Ok game, sneaky w the ads
The game is ok, but when you pay to remove ads, they remove some, but the most annoying ones remain. Feels very misleading. And the game is not good enough to make up for it.
Too many ads
Game is fun when you can actually play. Screw up a few seconds in 30 plus seconds of ads to follow. It's brutal. Wish there were less so the game could be more enjoyable.
Awesome game! 😊👌
Nanie's Music
on
11/18/2017
I say this game is cool and interesting, it's a good time killer and it's worth the fun, rating this game as a four star. 😎
?????
What's up with the new ad on the bottom of the screen that causes GLITCHES 😑
A great game
I love the game it is a little challenging but it is so much fun 😘😘😘😘❤️❤️❤️❤️💕💕💕😍😍😍😘😘😘
Great app
This app is so much fun guys think you should get it bye
Ok
I like roast beef
on
11/18/2017
I like it a lot but there are a lot of adds and it's frustrating
Too many adds
Gustricolorrio
on
11/18/2017
Too many adds The game is funny but the company could reduce the amount of adds.
Meh.
This game would be cool. But way too many ads. Even the 2.99 version has ads 😑
Great, until the Japanese PORN Ad
KandR Parent
on
11/18/2017
My 7 year old son was playing when the ads came on. First was an ad for a game, then a graphic ad for Japanese porn, complete with preview.
This awesome
Awesome bro I think there should be a phone snake
Asian Porn?
AlexandraReid
on
11/18/2017
I love this game, it's very addicting. Of course I was annoyed with the ads because I hate them but I refuse to pay for the version with no ads. So as I'm playing the game, an ad for AN ASIAN PORN SITE pops up. This has absolutely never happened to me before and I was understandably appalled. It wasn't even during the usual ad time, it was right in the middle of the game. I honestly couldn't believe something like that would pop up on one of the top games on the app market right now. I'm extremely disgusted and disappointed.
Ehh
As you already know the adds are horrible. The game itself though is my only complaint. I got pretty good at moving the snake to the point I can collect many links. But I eventually realized it really doesn't matter what block you choose to attack the next one will most likely be bad and it will lock you in to attacking that block via a wall or something. The only way to really make it skillful would be to make it the same map, or with levels or something. Besides that not much skill is needed, just luck.
Ok
punssssssslik
on
11/17/2017
We're is the pause button.😞😤😞. You know if you don't have a pause button then something's wrong with your game
Paid. Still got ads
Want my money back
Let the player feel success!!!!!!
You lose too quickly. Players become frustrated and axe the game. However, the concept is good.
TOO MANY ADS
Stick bug spidervenom
on
11/16/2017
The game is fun but I deleted the game just because of all the stupid ads!
Great game!
Runs very smooth and has a great feel to playing it!!! I at least play It 5 times a day!! Great job game devs!! Only thing is if you could remove ads. But the game itself is great and entertaining!!
Good thing
Really fun game
$2.99 robbery
The game is fun, but the "ad free version" is not ad free. NOT OKAY!!!
This is worth it
ManuSikveira
on
11/16/2017
This is such a great game but it's getting boring
Get rid of adds without paying
Cshokcshcvhidd
on
11/16/2017
If you put your phone on airplane mode (in any game) there will be no adds :)
I wish I could give 5 ....
Rice_and_Eggs
on
11/15/2017
* edit # 2 *. Pretty cool how I still get multiple ads after paying for this game. sooooo. Gonna stay one star! Wish I could give more stars because it's a fun little game. But I bought the ad free version, and ads still make it into the game. I'll change my review if that gets fixed for sure.
Am I missing something?
This game is great, and the ad-free version is fine (if you're smart enough to avoid tapping on the "free life" timer"). But, the MAJOR thing wrong with this game is that there is NO SOUND!!! Unless I'm missing something, the game would get 4 stars if it had sound, and 5 stars if the "ad-free" version was completely 100% ad free!
H
Pennywise the dancing
on
11/15/2017
I don't like it. It makes me mad
Don't purchase
I purchased the ad-free version and it's still loaded with ads. What a joke and waste of money.
Snake vs block
maddenplayer53612
on
11/15/2017
It's ok I'm mean not the best app ever😒😒
No strategy
Most of the times it's random luck if you run into a herded lane. Plus too many adds. Deleted!
I wish
team t-swift rocks
on
11/15/2017
I wish we had more snake skins
Poopins
Played this for an hour whilest takin a shiet. Talk about a snake vs block! Haha! Then i uninstalled, 5stars
Addicting
bob the tomato!!
on
11/15/2017
Ok so this game is super fun but it makes me really mad that there are so many ads!😒❤️❤️
Cool
Scramble damble
on
11/15/2017
This game is great!
No strategy, Way too many ads
This game looked fun, but you can't see far enough down the line to actually succeed very far. I may have a snake of 15, so I aim for the 1 block to get very little damage, then right after that, it dead ends into a 30 block. There's no way to strategize. I get about 7 seconds of play(at best) and then have to watch a 30 second ad before I can try again.
Snake vs block
This game is so so fun . I recommend this game a lot . I rate it 🔷🔷🔷🔷🔷five stars
5 stars
Emma Nienaber
on
11/14/2017
Love this game so addicting worth 5 stars
Not fun
This app is a good game but it's not very exciting.
Nice Game
Nature cat fan gaming
on
11/14/2017
Fun game
GAME IS AMAZING!!!!!😍😍😍😍😍😍😍
2080😃😃😃😃😃😃😃😃
on
11/14/2017
If there were more stars to rate this game, I would rate this one as much stars possible. This game is so much fun. It is good hand - eye coordination, it is also addictive, but in a good way. This has to be my most favorite app of all time.😍😍😍😍😍😍😍😍😍😍😍😍😍😍😍😍😍😍😍😍😍😍😍😍😍😍😍😍😍😍😍😍😍😍😍😍😍😍😍😍😍😍😍😍😍😍😍😍😍😍😍😍You should totally get this app, you won't regret it
Great game but overdoes the adds
One mean duck
on
11/14/2017
I love the game but the adds are ridiculous. When you upgrade it still is not add free. Steer clear of this game!
Wonderful
Baileyhopestrickland
on
11/14/2017
It was fun and amazing
Let me join the others
mtartamella
on
11/14/2017
Fun game; way too many ads. 10 sec of play > 30 sec of ads > 10 sec of play > 30 sec of ads > nope. delete.
About the game
It's so awesome like I love it😍😍
You spend more time watching ads than actually playing!
Challen1990
on
11/14/2017
TOO MANY ADS! I get it.. I know they're needed to keep stuff up and running but This is ridiculous. Jesus.
This game is good
Abc frstival
on
11/14/2017
I like this game because it is really fun
Advertisements
I feel like I spend more time watching ads than playing the actual game! I get it.. they are trying to get me to give them money for the ad free version by bombarding me with non-stop ads. I don't think it seemed to work. It's sad that the developers would use such a tactic. I should decide if a game is worth paying for or not by how much I enjoy it.. not by how much it annoys me. I'm deleting the app.
WAY TO RIP PEOPLE OFF
I am extremely annoyed that I just paid $2.99 to "remove all ads." I still have PLENTY of ads between rounds (it's a short game each round which is why I felt it was worth it to get rid of the constant ads). This is such false advertising and as someone who is happy to pay for a fun app game, I would like to actually get what I'm told I was paying for... which was no ads. I've never had this problem with another game in the past that I actually paid for and if I knew the ads wouldn't actually go away then I would have just kept playing the game for free. It is a fun game. The game is fun and I understood and felt it was acceptable to pay for it to be ad-free at the rate of 2.99, but once you pay you don't even get it ad free. And sadly because it's the AppStore, there's not exactly a return policy for not getting what you were told to be paying for. A major rip off and I hope the developers change this although I just now read all the comments most recently posted that state the same issue so I doubt changes will be made. Wish I had read those comments prior to paying for the supposed "ad free" version.
Fact Sheet
Publisher:

Voodoo

Category:

Games

Released:

May 16, 2017

Current Version Released:

Oct 12, 2017

Version:

1.19

Size:

71.7 MB

Compatibility:

Requires iOS 7.0 or later.

Recommended Age:

4+

Game Center Certified:

No

Supported Devices:

iPhone4-iPhone4, iPad2Wifi-iPad2Wifi, iPad23G-iPad23G, iPhone4S-iPhone4S, iPadThirdGen-iPadThirdGen, iPadThirdGen4G-iPadThirdGen4G, iPhone5-iPhone5, iPodTouchFifthGen-iPodTouchFifthGen, iPadFourthGen-iPadFourthGen, iPadFourthGen4G-iPadFourthGen4G, iPadMini-iPadMini, iPadMini4G-iPadMini4G, iPhone5c-iPhone5c, iPhone5s-iPhone5s, iPadAir-iPadAir, iPadAirCellular-iPadAirCellular, iPadMiniRetina-iPadMiniRetina, iPadMiniRetinaCellular-iPadMiniRetinaCellular, iPhone6-iPhone6, iPhone6Plus-iPhone6Plus, iPadAir2-iPadAir2, iPadAir2Cellular-iPadAir2Cellular, iPadMini3-iPadMini3, iPadMini3Cellular-iPadMini3Cellular, iPodTouchSixthGen-iPodTouchSixthGen, iPhone6s-iPhone6s, iPhone6sPlus-iPhone6sPlus, iPadMini4-iPadMini4, iPadMini4Cellular-iPadMini4Cellular, iPadPro-iPadPro, iPadProCellular-iPadProCellular, iPadPro97-iPadPro97, iPadPro97Cellular-iPadPro97Cellular, iPhoneSE-iPhoneSE, iPhone7-iPhone7, iPhone7Plus-iPhone7Plus, iPad611-iPad611, iPad612-iPad612, iPad71-iPad71, iPad72-iPad72, iPad73-iPad73, iPad74-iPad74, iPhone8-iPhone8, iPhone8Plus-iPhone8Plus, iPhoneX-iPhoneX,

Supported Languages:

English;