Screenshots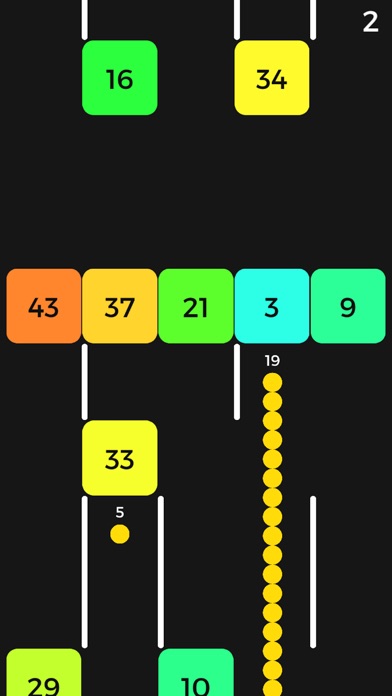 Description
Swipe your finger to guide a snake of balls and break the bricks.
Try to break as many bricks as possible.
Get additional balls and make the biggest snake ever!

Very easy to play but very hard to reach high scores!

Game Features:
- Free to play
- Endless gameplay
- Simple swipe control
- Challenge your friends with the best highscore
iPad Screenshots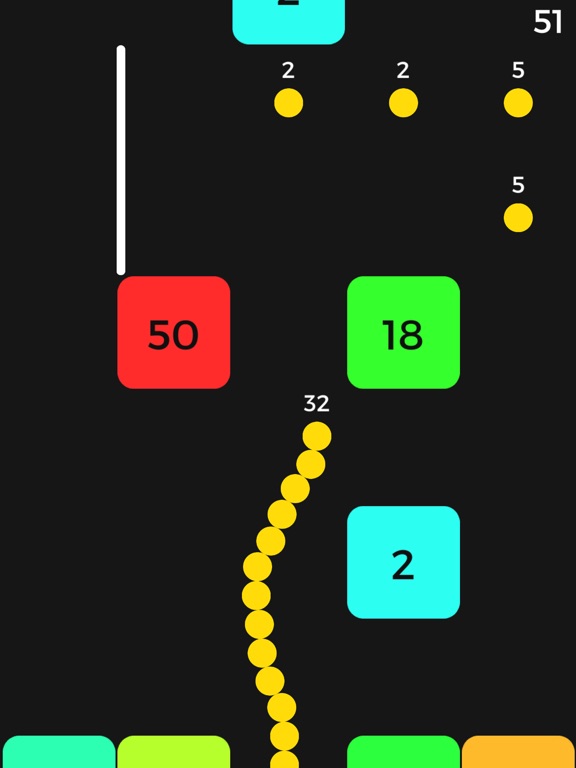 Reviews
Wow holy ads
I'm sorry- I'm fine sitting through 10-15 seconds of ads for a free game but I couldn't get through 3 minutes of this game. It's called balance... if people can't get enough game time you aren't going to hold enough interest to keep people watching your advertisements...
Inappropriate ads
clarebear1000
on
9/25/2017
This would be a fun game but there are too many inappropriate ads. If you have a child who might have access to this game I would think twice before allowing them to play.
Fun, but excessive ADs ruin the game
There are way to many ADs in this game. You die and then have to watch a 30-60 second ad each time. Really takes the fun away when you are burning data while you wait after EVERY single turn.
Awesome
Bert Sanders
on
9/25/2017
Awesome
Snake vs. Block
I absolutely love and am addicted to this game!!❤️❤️
Snake vs block
This game is so fun
plz don't get
Rainbow1234ever✌
on
9/25/2017
There are too many ads after very single game. It becomes very annoying
💝💝💝💝
Projectbaby_23
on
9/25/2017
I love it just too many advertisements that's all but really addicting game very also difficult but fun please play 🙈🐾😻😻😀😀
Ads
Ads every time you fail. You have to sit there and watch the ad video before you can start again. Annoying and no, I'm not paying to "upgrade"
Advertising is insane
The amount of advertising is nothing short of unbearable
Ad Machine
Just for the money
More ads than game
Almost instantly uninstalled. Fun to start but ended up watching more 30 second ads than gameplay while learning to play. So annoying.
Too many ads!!!
I hate how many pop ups are in this game. I enjoy the game and would pay a buck or two in order to not have to see all those pop ups. And some ads are inappropriate for my children to see. I'm taking my gaming elsewhere
Addictive
IsabellaxRay
on
9/25/2017
It's so fun! I love it.😍😂🤙🏻
Awesome game!
idk_whyIm_here
on
9/25/2017
I love this game!Its so addicting,But the only problem is that ads would come up mostly every 10 or less seconds.But I would still play this game ✌️😛
Love It
So i downloaded this yesterday and I'm addicted to it! I know that a lot of reviews say that they don't like the ads so i came up with the genius idea of just turning off the wifi while playing the game. Its free that way. Just dont go to settings and forget the network. Or if you ate in the car and hit a wifi hotspot that could become annoying. But it still works and im willing to play it.
Snake vs ads
Seriously way to many ads it's like "hey you just got done watching an ad how about an AD?!?!?"
TOO MANY ADS!!
Game is very addictive, but every time u die (which is alot) an Ad plays EVERY TIME. Its beyond Annoying!
Too many adds!!
: I r u kidding me????!!!!?
on
9/24/2017
I love this game it's so much fun but there are WAY too many ads and it should only cost 1 dollar to remove them please fix this
Disappointed
Always be thankful
on
9/24/2017
I like this app and I don't play many games on my phone but there are definitely lots of ads which was so annoying because they take to long and I don't like waiting I purchased it to remove ads but the ads are still there. I want my money back!!
MOST FUN GAME PUT THERE
I've had this for less than 24 hours and I'm LOVING it. So addicted!!
Idk just sooo fun!!
swellandstylish
on
9/24/2017
I love dis game the snake colors and shapes are just sooooooo cool but when I die it's not pretty
Too many ads
life987654321
on
9/24/2017
Ads make this game not fun.
Sup
cuckycuckycuckcuck
on
9/24/2017
I am cool
Tone down the ads!!
Literally an ad after every time you die is a bit excessive!
Wow
crazyminion101
on
9/24/2017
Awesome
Good
peepee penis
on
9/24/2017
It is good if no ads 5star
Don't get tricked
I purchased the game without the ads thinking it will stop ads. To my surprise it doesn't work you still get ads. Not right Apple
Only adds.
Only adds. Would be good otherwise.
Too many adds
There are way too many adds. I feel like I can barely play the game because of the ridiculously many adds. I would play more often if the adds stopped showing up do much. I respect the fact that they have to put in adds but honest to gosh why so many adds
Fun game too many ads
Missperfectmem
on
9/24/2017
Ad every time you die, and they are long
Good
Nothing bad to report
Too many advise
Advertisements make me sick
on
9/24/2017
This game is awesome.. but they're too many advertisements. You will spend as much time if not more with the advertisements then playing the game. Unless you pay for it. And it's not that cool that I would pay for it 😕
Hi
Casey and his family
on
9/24/2017
Hi
The best EVER 👍👍👍👍👍❤️❤️❤️
Awesome cool and very addictive. I really recommend this game to anyone who wants a fun challenge
Fun😁
thatkidluhhu
on
9/24/2017
This game is so addicting & fun
Unnecessarily too many ads.
Great game, but the amount of ads is unnecessary.
Good game but
pandazandpablo
on
9/24/2017
Ok love the game but to many ads so i know it's free but the ads
I understand that free apps need ads but...
Frequency and type of ads make for infuriating experience
Fun
Fun game but the amount of ads between games are something ive never seen before. Yes its a free game, yes theres a paid version for ad-free experience but once you spend more time watching videos than actually playing, that becomes pretty annoying. The game itself is fun and challenging, would be a great "get your mind away from things" game if it wasnt for the 30 secs ad videos every time you die.
Ok but to many ads
After every round there is a ad witch makes me so mad
God huwheeh. E
God Huss have
Omg
lol_master😍💩🤑😎🤓😇🤠
on
9/24/2017
Can't stop it is so fun 😍😍😍😍😍😍😍😍😍😍😍
ADS ARE TERRIBLE
Asjisjahahaoaonsvshakajsb
on
9/24/2017
this app is fun but the adds are annoying and come out every thirty seconds eidjordlksksjdnf
Add free my butt
I love playing this game and would play more BUTT. It should have been made clear that it is not add free or I would have purchased it. I payed enough I should not have to see adds!!!!
Awesome
This is a grate game keeps me occupied
bad
Disappearing work
on
9/23/2017
bad nasty ads
Fact Sheet
Publisher:

Voodoo

Category:

Games

Released:

May 16, 2017

Current Version Released:

Sep 25, 2017

Version:

1.18

Size:

71.6 MB

Compatibility:

Requires iOS 7.0 or later.

Recommended Age:

4+

Game Center Certified:

No

Supported Devices:

iPhone4-iPhone4, iPad2Wifi-iPad2Wifi, iPad23G-iPad23G, iPhone4S-iPhone4S, iPadThirdGen-iPadThirdGen, iPadThirdGen4G-iPadThirdGen4G, iPhone5-iPhone5, iPodTouchFifthGen-iPodTouchFifthGen, iPadFourthGen-iPadFourthGen, iPadFourthGen4G-iPadFourthGen4G, iPadMini-iPadMini, iPadMini4G-iPadMini4G, iPhone5c-iPhone5c, iPhone5s-iPhone5s, iPadAir-iPadAir, iPadAirCellular-iPadAirCellular, iPadMiniRetina-iPadMiniRetina, iPadMiniRetinaCellular-iPadMiniRetinaCellular, iPhone6-iPhone6, iPhone6Plus-iPhone6Plus, iPadAir2-iPadAir2, iPadAir2Cellular-iPadAir2Cellular, iPadMini3-iPadMini3, iPadMini3Cellular-iPadMini3Cellular, iPodTouchSixthGen-iPodTouchSixthGen, iPhone6s-iPhone6s, iPhone6sPlus-iPhone6sPlus, iPadMini4-iPadMini4, iPadMini4Cellular-iPadMini4Cellular, iPadPro-iPadPro, iPadProCellular-iPadProCellular, iPadPro97-iPadPro97, iPadPro97Cellular-iPadPro97Cellular, iPhoneSE-iPhoneSE, iPhone7-iPhone7, iPhone7Plus-iPhone7Plus, iPad611-iPad611, iPad612-iPad612, iPad71-iPad71, iPad72-iPad72, iPad73-iPad73, iPad74-iPad74,

Supported Languages:

English;