TapNova doesn't recommend this version of the app.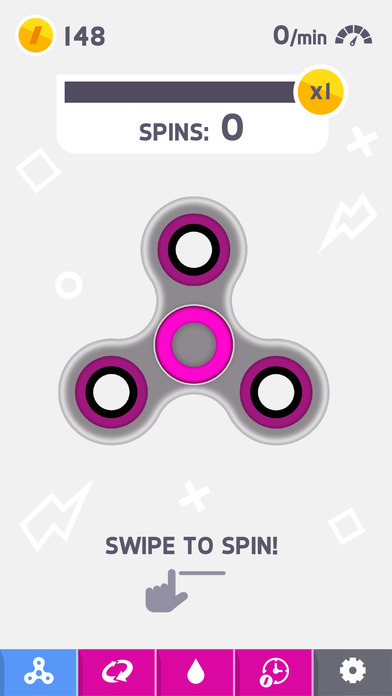 New in version 1.3.1
◉ Lava challenge! Jump either left or right onto the circles. Better do it fast, run from lava!
◉ Bounce challenge! Bounce into the walls to score, avoid the incoming objects to keep on spinning!
◉ Spikes challenge: jump from side to side and collect the coins. Remember to avoid the spikes!
◉ LEGENDARIES! Complete the challenges to get unique legendary spinners and stickers with various gameplay bonuses.
Description
Most relaxing spinner is here!

You have 5 swipes to set the best spin you can with your finger. Wait for it to stop and sweep the sweet rewards! Upgrade the fidget spinner, compete with your friends and beat the records!

Each spin brings you closer to unlocking a new fidget spinner. Can you unlock them all?
iPad Screenshots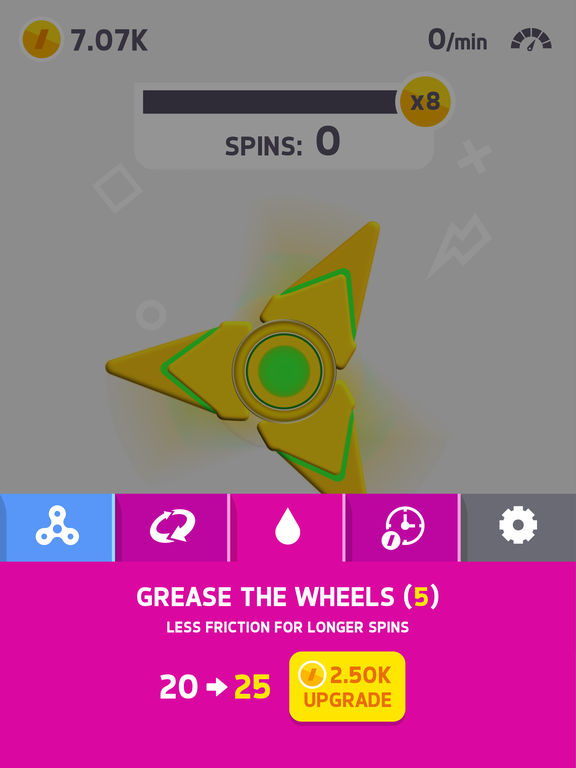 Reviews
Challenge glitches
aiming revew
on
7/21/2017
I was playing the one with the cubs and speed up and slow down in direction
Could be better
noodles_the_1st
on
7/21/2017
The bounce challenge is almost way too hard. The spikes challenge is almost too easy. The lava challenge is perfect I think. The base game however, way too little rewards once you get into the game. I'm on x8 multiplier and challenges are the definite way to go for gold. Ads also spoil the fun. Overall it could be better.
3rd best game I ever seen
Nike eco runner poll
on
7/20/2017
Congrats you made it the 3rd best game I have ever seen!
Reset my level
Accidentally deleted the app and my progresss was not saved. Very disappointing
Make An upgrade to make more spins
AvengerBoy123456
on
7/19/2017
MAK MORE SPINS!!!! FOR AN UPDATe
2 spins in one??
Bloody penguin
on
7/19/2017
Cool app. Also love the new mini games. However one major gripe I have on this is the fact that sometimes you'll spin and it'll use two of your spins instead of one. It's hard to beat high scores when half of the time I only get 3-4 spins per go instead of 5. Please fix this so it doesn't use up two spins at the same time.
App suggestion
Awesome dude 3247
on
7/18/2017
More challenges
This is what you give me
I was doing so well and all this game does to me is make me restart over and now i have to get all my progress back and its making other of my games crash
Awesome game of spinning
😳😅😎👀⚡️cool bro
on
7/17/2017
Good but it was the only good part is the interesting challenges but amazing
Very Entertaining
I have been playing all day.
Deleted
I literally deleted this minutes after I got it since it was so boring. Wouldn't recommend.
Just Adds
Fredrick Levan
on
7/17/2017
Whenever I open this app anymore it redirects me to the App Store for a completely unrelated app. I think that they've turned this game into a marketing scam. 0/10 would not recommend downloading this app as it has become obsolete. If Ketchapp would like to fix this issue, and return this app to its prior self, I'd give it an 8/10 for the fun and creative mini games that they've installed, but until that point, this app is trash.
Now, this is good!
I really do like this app! It is much better than the "Fidget spin" game that will waste your time. I mean, this app does too, but at least you can enjoy it! You can create your own spinner, and play with pre-made ones as well. I would recommend this app to anyone who likes fidget spinners.
Alex
Soccer Man214
on
7/17/2017
But I ❤️it and thought it was awesome 😁😄😃🙂😀😃😄😁😆🙂😉☺️😌😊😛🍩🍩🍩🍿🍿🍿🍔🍔🍔🍕🍕🍕🥓🥓🥓
Challenges Update Please?
Mfsensational
on
7/17/2017
Fix the challenges to where if you make more than the required target ( Example: the target is 200, I make 487 and the next target is 400) You get the next stickers. You get my point???
Awesome!!!By Calicorainbowkitty🐱
Queen 390 068 631
on
7/17/2017
Really good game customizations,ADDICTIVE FUN!!!,and more! I think it earns a 5 star (I LOVE KECTAPP GAMES!!!)
Eh
MojangOffical
on
7/17/2017
Spidget my finner
Fun but....
Infamous_Doktor_Jackal
on
7/16/2017
The challenges can be quite difficult. And I cannot begin to tell you how many times at the spinner once and it takes away to spend this. This is a glitch that needs to be fixed.
gud
nocenamenrhdhdh
on
7/16/2017
ffufvkj
Fidget spinner
Better than having the real thing... totally awesome!
Lava Challenge unresponsive
Games ok lava challenge doesn't read all my taps and is laggy. I know it's not my phone or my screen every other game works fine with no issues just this one.
WHAT THE HECK
Joshthecat12
on
7/15/2017
So I was almost getting every fidget spinner so I closed that app for couple of hours and then BOOM it all had to tart all over Please fix this
The Ketchapp Paradox
Kai :) :) :)
on
7/15/2017
Step one: Make a game Step two: Put billions of ads in the game Step three: Make another game following the latest trend ex. (Fidget spinner, floor is lava, apple pen) (with billions of ads) Step four: Repeat 1-3 till you have a ton of games with too many advertisements Step five: Take all your games and advertise the hundreds of games you've made in your own game. Step six: Take a nice shower in 100$ bills, don't worry your can afford it remember all that advertising?
Don't buy
It will make you so angry!!!
1000 REVIEW
don't download this pls
Love it
The best addicting app on the App Store! Would definitely rate 5 stars!
Hi
Httijdjenndjdf
on
7/15/2017
There
1000 review
This is the 1000 review.
Can't play and play music
Eliyah Wilson
on
7/14/2017
Stupid , also in lava it makes it intentionally glitch so you have to press at a certain speed. Basically you can't press faster to make it go faster or it glitches. So basically if you're better than the game it doesn't matter it'll make you lose. So basically it's rigged. So basically kys
THE BEST GAME EVER
1000ateroids
on
7/14/2017
Me, my cousins and sister all play this game and we love the customization and challenges cause it gives me a ton of $$. Oh and if the creators are reading this by the way I love your games!!
Love it but...
I love this app!!! The only thing is that when you go on challenges scores are big. I was doing a challenge and then I got 24 witch on it I was almost done ✅ for a new sticker. But I noticed when I tried again I start at 0 again. Please make there some way I can continue from my score.
Addictive
Irishlightning71
on
7/14/2017
I know there are a lot of ketchappp games and I think they are good (I didn't play them all)but this one is different. Yes every ketchapp game has something that's better than the others.It might be the graphics or how it's played etc.Since there is a lot of ketchapp games sometimes they don't pay much attention to some of the games but this is one of the few ketchapp tried to make better.the updates for this game have been good and I heard people complaining about the mini games being hard but if that is the only complaint...it means it's a good game. Like I said they spent time on this and a lot of ketchapp games are really simple.this game is too. But there is more things to do. So on this game you spin your customized (or earned) fidget spinner and you spin your way to the top.Earn sticker and spinners along the way. Three addicting challenges,spike,bounce,and lava. Earn stickers when you finish these challenges. I know ketchapp is probably working on their next game, but it would be nice to see another update for this game. Hopefully you found this helpful, if so download this game.
Awesome
🅚🅐🅘🅓🅔🅝❶❷❷❼❷⓿⓿❹🅗🅖🅗🅖
on
7/14/2017
The lava is great but spike is kinda hard, I love this game!
App steals my life
My life is being wasted because I got too addicted to it
Great game
Thejestershere
on
7/12/2017
This game is so addicting
Fun game
I dnt play this game much but the new updates awesome. The challenges are fun I got 900 on lava and 90/50 on the spikes and bounce ones. My best is 975000000 spins and it goes fast. Play the game it's great and u get good playing once or twice a week like me.
No one gives a sh!t about fidgets anymore
Face the fact that fidgets are a dead trend and people that still use them sorry but it's true
...
Worst game from ketchapp ever!😭😥😎 like it end up getting boring, the challenges are impossible, and just lame! Fidget spinners are getting ALOT less popular now
Crap
The first challenge bounce is extremely hard but I beat the spike one and the lava one
Challenges
In the Lava Challenge I needed 200 then surpassed it to 506. I didn't get the 400 point sticker even though my best is 506.
Best game EVER!!!
The game is amazing it's not just a fidget spinner game they have challenges and me and my sister harmony play it together we try to beat each other's levels and we take snapshots if we get a new best and we send it to each other when you move up a level you get a new fidget spinner and you can get faster speed if needed the is the Best game EVER!!!
Addictive, but has problems
Autumnbubbles
on
7/11/2017
This game is a good time passer, but it skips spins. You're supposed to have 5 spins but sometimes you only get 3 or 4. The challenges are tough to do because the targets are too spread out. Not a huge deal. But it makes it very difficult to enjoy the game
Challenges too challenging
SpartonsUnited101
on
7/11/2017
The game is good except the challenges they are too hard! I can't even do them. Please make just a little easier? Maybe..?
Ads
ALANMILLER12000000
on
7/11/2017
There are way too many ads. Block them and remove them forever. Your so annoying putting ads on games. It's so stupid and worthless. Ruins it for the players. And makes me want to quit the game!!! Don't make us pay to remove them. I'm tire of trying to click the x button and it not working. Ads are so irrelevant and I just want to play the game!!!
My broken spinner spins longer then this.
The machine 26
on
7/11/2017
I mean, come on. What you see is what you get with this. A free to play game where the actual game makes grinding slow as f*ck, so they add mini games which get dull after two minutes. Spinner will only spin for 10 seconds at first, and takes forever to get further. Buy it if you're bored. Or don't. Let this stupid fad die if you want, along with those dumb fidget cubes.
I hate phone games
This one though... LIT AF VROO
Fact Sheet
Publisher: Ketchapp
Category: Games
Released: May 16, 2017
Current Version Released: Jul 01, 2017
Version: 1.3.1
Size: 110.4 MB
Compatibility: Requires iOS 8.0 or later.
Recommended Age: 4+
Game Center Certified: No
Supported Devices: iPad2Wifi-iPad2Wifi, iPad23G-iPad23G, iPhone4S-iPhone4S, iPadThirdGen-iPadThirdGen, iPadThirdGen4G-iPadThirdGen4G, iPhone5-iPhone5, iPodTouchFifthGen-iPodTouchFifthGen, iPadFourthGen-iPadFourthGen, iPadFourthGen4G-iPadFourthGen4G, iPadMini-iPadMini, iPadMini4G-iPadMini4G, iPhone5c-iPhone5c, iPhone5s-iPhone5s, iPadAir-iPadAir, iPadAirCellular-iPadAirCellular, iPadMiniRetina-iPadMiniRetina, iPadMiniRetinaCellular-iPadMiniRetinaCellular, iPhone6-iPhone6, iPhone6Plus-iPhone6Plus, iPadAir2-iPadAir2, iPadAir2Cellular-iPadAir2Cellular, iPadMini3-iPadMini3, iPadMini3Cellular-iPadMini3Cellular, iPodTouchSixthGen-iPodTouchSixthGen, iPhone6s-iPhone6s, iPhone6sPlus-iPhone6sPlus, iPadMini4-iPadMini4, iPadMini4Cellular-iPadMini4Cellular, iPadPro-iPadPro, iPadProCellular-iPadProCellular, iPadPro97-iPadPro97, iPadPro97Cellular-iPadPro97Cellular, iPhoneSE-iPhoneSE, iPhone7-iPhone7, iPhone7Plus-iPhone7Plus, iPad611-iPad611, iPad612-iPad612, iPad71-iPad71, iPad72-iPad72, iPad73-iPad73, iPad74-iPad74,
Supported Languages: English;