TapNova doesn't recommend this version of the app.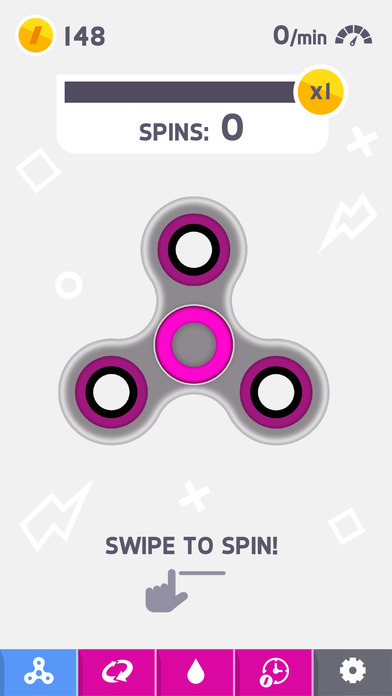 New in version 1.2
◉ Significant boost to spinner speed and balance. Less waiting, more action!
◉ NEW spinner types for additional modding!
◉ Lots of new unique, crazy and funny stickers!
◉ Genuine Ketchapp spinners with worldwide shipping are now available for order. Note: stock is limited!
Description
Most relaxing spinner is here!

You have 5 swipes to set the best spin you can with your finger. Wait for it to stop and sweep the sweet rewards! Upgrade the fidget spinner, compete with your friends and beat the records!

Each spin brings you closer to unlocking a new fidget spinner. Can you unlock them all?
iPad Screenshots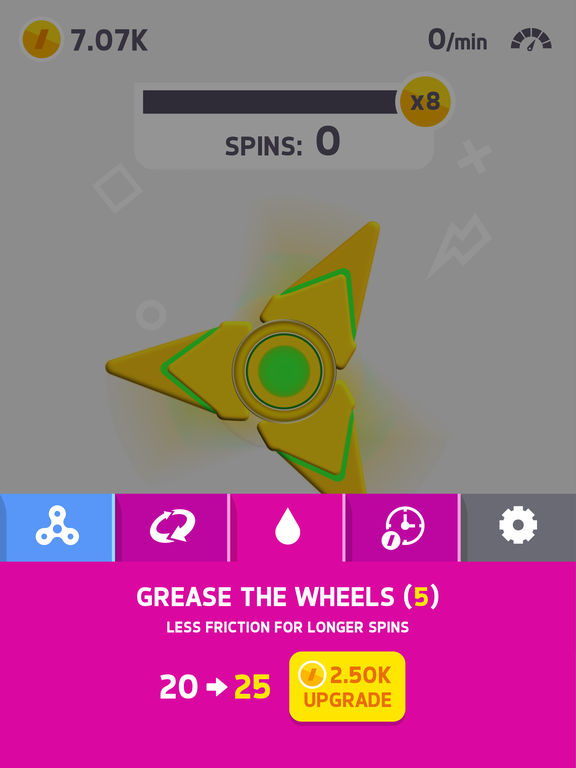 Reviews
Mind Tricks!
My friend told me to download this app and I thought it was going to be sooooo boring.But instead I'm already addicted to this app.Its kind of weird that spinning things are addictive,it's like an illusion!
My autistic son
anonymous123497
on
6/22/2017
My son has severe autism, so I was told that fidget spinners were a great treatment for the autismo specimen. Of course, like everyone else here, you can bet your bottoms dollar I'm not spendin $5 on some handy dandy 3D printed plastic on bearings, so I decided I'd give this app a go. To my surprise, it has actually worked tremendously, as I no longer have to bear that autistic screech of his since I've been hidden away in my closet for the past 48 hours playing this addictive game! If you have an autismo in the family this app is hands down a must have!!! One fidget spinner app download at a time we can be one step closer at drowning out the autistic screechers on our beautiful planet America!!!
Spinners
Love the game it is super fun I got my friends to play it and my brother and they are OBSESSED WITH IT!!! It a great game
Perfect!
Clipper fan >:O
on
6/22/2017
The kids in Germany could use this!!!
Newest ad causes glitch!
The recently added Yahtzee ad glitches every time it plays and causes my screen to go black, I have to close the app and restart it after watching the full ad and not getting the extra coins!
Fun
I love competing against myself to do better than the last time. I'm very competitive and this is perfect for that. It's also a good way to relax all at the same time, which is why I think this is so awesome! 🏆⭐️⭐️⭐️⭐️⭐️🏆
Amazing!!!!
JOE362 / YouTube
on
6/21/2017
Plz make more spins and less expensive I love this app!!!
2 star
Liv da coolest
on
6/21/2017
This app is 👎🏾👎🏾👎🏾👎🏾👎🏾 When you spin the fidget spinner they like pick which number so it's stupid. it might be a bad number or good number but rare to get a good!👎🏾👎🏾👎🏾👎🏾😡😡😡😡🙁🙁😫😫😫😟😟😕😕
Nice game
Did you steal money
on
6/21/2017
It is very easy to play and very addicting
Free fidget spinner game apps
I feel super awesome and I will always love playing my new fidget spinner that I have in person or on my app game cause I am a pro at it....
TERRIBLE
I LOVED THIS GAME UNTIL IT DELETED ALL MY DATA THE 7TH TIME I GOT ON!😡😡😡😡
Not bad read this
Everyone keeps spinning it at once you can wait until the fidget spinner slows down and spin it not bad
Fidgeting my needs
I'm terrified out of my mind
on
6/21/2017
I'm autistic
Bs
jaye leandra
on
6/21/2017
Doesn't give me my coins after watching those stupid adds.
Me howny
Plasmaticbolt
on
6/20/2017
Anyone one wanna fidget with my spinner?
Love fidget spinners
Get this game it's addictive
WHY?!
Why do fidget spinners exist?!
Bad bug
Sometimes when I'm playing it takes more than one spin. I swiped once but the number went down by 2. It happens more often than not. Sometimes it even takes 3 spins off
Awesome game
Braylon Welch
on
6/20/2017
I play this game and I think It is an awesome game
Ok
Skillz All Day
on
6/20/2017
This game is really fun. I play it a lot and see one issue about half of the time. When I spin it uses two spins and not one. Example: four spins left (I spin) two spins left.
Love it MAKE MORE SPINNERS
Great update!!!! Love it so much one problem was that I was so good before that I beat the update in 4 min
Boring
This is a boring game and I am never playing this game ever again
Perfect for 15 year olds
I'm 15 this game is fudging awesome
Extremely annoyed by missing spins!
Theredhairedgrl
on
6/19/2017
My six year old son and I were playing this mindless game together to keep us busy when nothing else is going on. The rule being...you get two turns (5 spins each) and then you pass it back to the other person. HOWEVER... if you beat the high score, then you get another turn. Quickly...I started noticing that on my first spin, suddenly I only have two spins left. What's up with that? At first, I thought it was a little weird and maybe I was just bumping the screen or something - then I paid extra attention and nope... on every second or third time you start your five spins.... you'll lose a spin or two out of nowhere. I realize glitches happen...but this is happening CONSTANTLY.
This app changed my entire life
badgersandmushrooms
on
6/19/2017
When I was 7, I was diagnosed with state 420 pancreatic cancer and severe autism. My parents were worried that I will never survive. When I hit middle school, I was made fun of for my bald head from chemotherapy and acting really strange because of my autism. I was so depressed that I wanted to commit suicide. Until one day, it all happened. I was looking through the App Store to install some games because I was super bored. I found this game, and when I started to play, my pancreatic cancer started going away. I kept playing even more, and it got cured completely. My parents were so happy, that we went to Chuck e Cheese to celebrate. Thank you Ketchapp for making this amazing game!!
Great Game Annoying Adds
I like the game but when I'm spinning it takes me to the internet for the added.😐
Seriously?
Downloaded+tried it Only to say. Why is this generation so easily impressed?
Why is this a thing
It's a game about fidget spinners, that alone is enough to earn a 1 star rating
Ehh
Triple double j
on
6/19/2017
It's ok I guess
LEARN YOUR MATH!!!
This game says I have 3 spins left. I spin it once, and it says DONE! Does this game even know how to count???
Oh my gosh this game is awesome
unicorn_10345
on
6/19/2017
This game is fun and tricky at the same time I got this app like 4 days ago and I am already on level 10 I made a custom fidget spinner it had Lammas unicorns and sand it was the color blue and purple it works really good and I love that you get new fidget spinners every level and that you get to make a custom one I always switch to see Witch one works the nest I have this green one that works really well and I have a one that is gold and that one is good there is this one that spins cool but weird my high score is 67 and my friend who has had this game for a long time her high score is 99 I asked her how she got. It she has not responded yet but I think I will get there in like two days maybe there is so many more things to say but I want to get back to the game.
🍍🌼💛🍍🌼💛🍍🌼💛🍍
I LOVE this app!!!!! That's all I have to say
Stupid
Fidget spinners are cancer
The worst game in the history of the fidget world
This game is so bad because when it puts up how many spins away you are it makes you feel like you're doing horribly and makes you slow down and feel like a piece of garbage left on the street for a lifetime because no one wants anything to do with you. You better stop playing this madness and evilness before you get addicted. This game is a terrible drug that you can get addicted to in a matter of seconds. I hope reading this will change your minds on your opinion about this game.
Amazing just great
Hi this game is amazing this is a simple review. Nothing bad about the game!
I downloaded this just to give the game 1 star.
1 star
This App Killed and Saved Me
Your Local Walmart Cashier
on
6/19/2017
Hi, I am just a local Walmart cashier, living a normal, non-magical life. One day I decided to take a detour to my house through the Claytondale city skunk reserve, where skunks live happily and do whatever the heck skunks do. Out of literally NOWHERE, some red and gold fidget spinner(I found out later)flew into my small intestine and I crumpled. Before I blacked out, I dialed 911 and told them my situation as blackness slowly ate my vision away. When I woke up again, the paramedics were pumping me with general anesthesia because they were hacking my stomach apart. My parents were waiting in the waiting room. They were looking at the fidget spinner app you have before you and God's light shown upon them. They finally cared about me and ran right into my gastrointestinal surgery room and ran through the surgeons. As they were being restrained, they threw their phones with the fidget spinner app on their home screen. My eyes shot open. Even though my lower half was cut in half completely, I felt no pain. I decided to touch the fidget spinner app onto the fidget spinner that pierced my small intestine. It immediately vanished into thin air, like it was never there. I touched my small intestine with this beautiful app, and everything healed itself. It was like Jesus in a phone. Then I blacked out again. When I woke up, I guess I was in heaven? There were fourteen different gods of fourteen different religions all telling me to "eat a sandwich with lots of dill pickles". They sent me back to Earth, and I ate a sandwich with lots of dill pickles, and suddenly I got a notification on my phone. I thought it was some sort of joke, but the notification said, "Donald Trump has just moved $14 million into your personal account". I checked my puny little bank account and its balance was $14,000,001. I thought I was being hacked, so I threw my phone at the ground, and it SHATTERED. It was a relief until it regenerated in my HAND. Then I was freaked out. I looked where the other pieces from my old phone and they WEREN'T there. So I decided that this was my life now. I now live happily with a family of six, my wife is literally Hawaii. I live happily below the Golden Gate Bridge. I also own half of the McDonald's franchise. My life has changed!!!!!!! THANK YOU EVERYBODY!!!
Amazing
Abaddon from clicker heroes
on
6/18/2017
I became autistic after playing this game. I rate it a perfect 5/7 fidget spinner stars.
10/10 lit fam
Heterosexual Walrus
on
6/18/2017
This app is incredible I already bought and adopted 15 ketchapp fidget spinnersi am a very proud heterosexual walrus. Warning may cause extreme autism. P.S. My high score is 69.22 billion but it doesn't show on the leaderboard. New update sucks😪😪😪😪😢😢😢😪😢😪😢😪😢😪😢😥😪😢😪😥😪😢
Why does this exist?
HarambeIsSalty
on
6/18/2017
Boring and repetitive. Why the hell does this exist? I get fidget spinners were a trend, but there was no reason to make a game. Definitely would not recommend wasting your time.
Updates made the game unplayable
The upgrade cost now scales to the amount of money you have. I used to be able to upgrade 20 or 30 times after one add. My rotation speed was level 425 and only cost 5 billion, after one upgrade it now costs 1.2 trillion. No matter how many spins you get, you can only upgrade once per turn.
I LOVE THE GAME SO MUCH
This game is the best game ever because it has cool fidget spinners and much more 😊
Great app
This is a great app for anyone
Double spin
Ethandabeast1
on
6/18/2017
Sometimes when I spin it once it counts it as twice please fix it
Fact Sheet
Publisher: Ketchapp
Category: Games
Released: May 16, 2017
Current Version Released: Jun 07, 2017
Version: 1.2
Size: 121 MB
Compatibility: Requires iOS 8.0 or later.
Recommended Age: 4+
Game Center Certified: No
Supported Devices: iPad2Wifi-iPad2Wifi, iPad23G-iPad23G, iPhone4S-iPhone4S, iPadThirdGen-iPadThirdGen, iPadThirdGen4G-iPadThirdGen4G, iPhone5-iPhone5, iPodTouchFifthGen-iPodTouchFifthGen, iPadFourthGen-iPadFourthGen, iPadFourthGen4G-iPadFourthGen4G, iPadMini-iPadMini, iPadMini4G-iPadMini4G, iPhone5c-iPhone5c, iPhone5s-iPhone5s, iPadAir-iPadAir, iPadAirCellular-iPadAirCellular, iPadMiniRetina-iPadMiniRetina, iPadMiniRetinaCellular-iPadMiniRetinaCellular, iPhone6-iPhone6, iPhone6Plus-iPhone6Plus, iPadAir2-iPadAir2, iPadAir2Cellular-iPadAir2Cellular, iPadMini3-iPadMini3, iPadMini3Cellular-iPadMini3Cellular, iPodTouchSixthGen-iPodTouchSixthGen, iPhone6s-iPhone6s, iPhone6sPlus-iPhone6sPlus, iPadMini4-iPadMini4, iPadMini4Cellular-iPadMini4Cellular, iPadPro-iPadPro, iPadProCellular-iPadProCellular, iPadPro97-iPadPro97, iPadPro97Cellular-iPadPro97Cellular, iPhoneSE-iPhoneSE, iPhone7-iPhone7, iPhone7Plus-iPhone7Plus, iPad611-iPad611, iPad612-iPad612, iPad71-iPad71, iPad72-iPad72, iPad73-iPad73, iPad74-iPad74,
Supported Languages: English;