Entertainment
Puzzle
Games
Family
Recommended app!
App last updated
Feb 26, 2018
Screenshots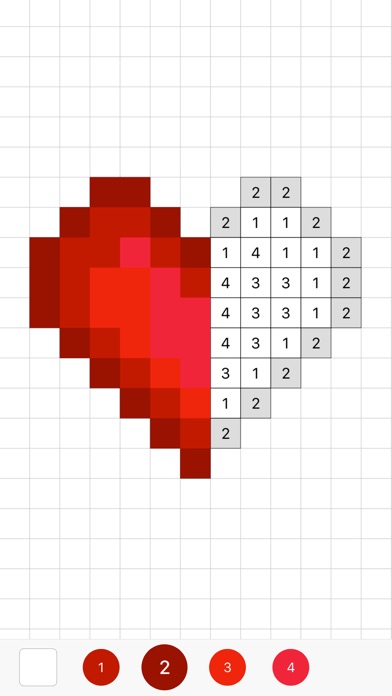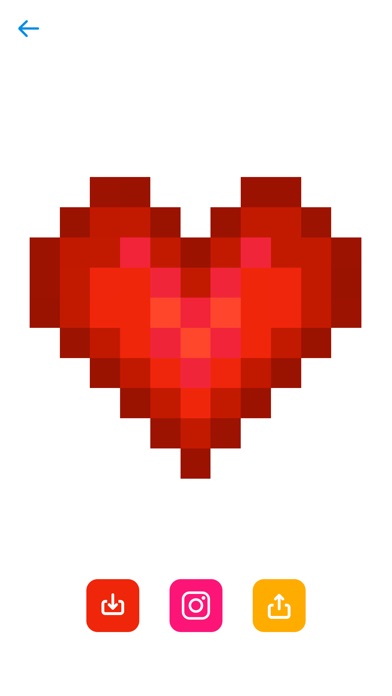 New in version 1.2.2
- Option to switch the feature "Fill by Double Tap" off;
- Double tap for faster coloring;
- Let us know your name in case your work is featured.

Sandbox Team [with love]
Description
Kids and adults love to color by numbers and we've got a bunch for you to choose from.

"Color by number pages are a great way to teach your kids or students basic number recognition, how to use a legend, and it will give them the opportunity to work on their fine motor skills."

"This is a great activity to practice your drawing skills. It's also fun for any age to try to finish the drawing."

SANDBOX UNLIMITED SUBSCRIPTION:
- You can subscribe for unlimited access to Sandbox content.
- The subscriptions are $2.99 weekly, $7.99 monthly, $39.99 annually*.
- You'll be able to access unlimited coloring pages for the duration of your subscription.
- Payment will be charged to iTunes Account at confirmation of purchase.
- Subscription automatically renews unless auto-renew is turned off at leat 24-hours before the end of the current period.
- Account will be charged for renewal within 24-hours prior to the end of the current period at the cost of the chosen subscription.
- Subscriptions may be managed by the user and auto-renewal may be turned off by going to the user's Account Settings after purchase.
- No cancelation of the current subscription is allowed during active subscription period.
- You can read privacy policy and terms of use at http://grigorkin.com/pub/terms.html.
- Any unused portion of a free trial period, if offered, will be forfeited when the user purchases a subscription to that content.

*Prices are equal to the value that "Apple's App Store Matrix" determines is the equivalent of the subscription price in$USD.

Terms of Service and Privacy Policy - http://grigorkin.com/pub/terms.html

Questions? Ask: support@sandbox.love
iPad Screenshots
Reviews
Suggestion
Don'tAskWhoIAm
on
3/17/2018
Great game but if it isn't too much of a burden make it so if you color on a number already colored but different not be uncolored?
Sucky
This app is horrible you only get to draw two images and then you have to pay for the rest. I would not recommend this app if your not willing to pay $7.99 a month.
Took my Money
I got the free trial it says turn it off in settings and I cant so now it's charging me 3.00$
I hate the ones that are VIPs.
konner morgan
on
3/17/2018
I really want to do the ones that are VIPs
needs more free realistic pages
Say for those who don't have sandbox unlimited you guys should make more of the pages that are realistic free because after a while the small simple ones just get boring.
Sandbox
#ilovedanceandmusic
on
3/17/2018
I will keep and play this game for ever
This game is amazing
Color by pixel or whatever that app is called can do quite a lot of things BUT CAN THEY DO THIIIS!!!
Sandbox
Dear who's ever I like sandbox beacause I really like colering but y'all should do one with no # and just like get a color and just tap and one pease of like a dogs tail and just press it and it will be colored !But I love it ok please make more it should be so much popular then it is now your welcome
Awesome
awesome ali apple suace
on
3/17/2018
I love it except you should make more detailed ones that don't have hearts on them
One of the Best Coloring Apps
Wolf_canine_games
on
3/17/2018
Hello. To anyone who is reading this, I am going to immediately get to the fact about why I put 4 stars instead of 5. This app is absolutely amazing, with the user-created pixel art you can color and the "make your own" canvases. This app is easy to use (I love the double tap feature even though it is kind of cheating :D), and has a clean and simple interface. My only complaint is the number of ❤️ pixel creations we cannot use. I understand that this is a free app, and you need some sort of income to keep updating it, but maybe lessen the amount of ❤️ creations. Us cheap people who want to draw want cool drawings too😂! Other than that, this is amazing, keep on keeping on with this app. Thank you for your time.
Really love the app
All I have to say is that it's an amazing app I love and you should really get it😁😜😉👍🏻❤️💛💚💙💜💖
Great
I love sandbox but the new double tap update is not the best. When you use double tap you have to tap the same square twice and if you miss that square you have to double tap again. But I love the app
AMAZING, but.......
I LOVE IT. But I don't like you have to buy most of it. That's all
I like
I like the math ones and the animated ones too I would love to see more math ones that would be so great From ~Toast~ 😜
Sandbox is da bomb
Tamia Borders
on
3/17/2018
Sandbox is so cool so many things to color and create and they are amazing keep up the good work
Photos
Abby and lily
on
3/17/2018
I love sandbox yes, but I feel like the pictures you have to pay for are too many. There are more pictures you have to pay for that people want to do than the ones people don't do. I've met people who have deleted sandbox because of the amount of pictures you have to pay for. I enjoy sandbox but I want to be able to color the pictures without having to scroll through loads of pictures that I can't do.
addictive
jake nehmzow
on
3/17/2018
this is a game you artists will really love
⭐️ Awesome!
Hi! I really love this App you should definitely get it because it's so much fun to play with
Awesome thanks
Thank yo guys for making a good game
Absolutely love this game💕
This game is so addicting but so fun. I play this game when I'm bored or just want to kill time. My friends and I like to race to see who can finish first. Also I love all the new updates there is. I think everybody should play this game.
Loving sandbox
Stgruggfhgcttgfrtggddryg
on
3/17/2018
Sandbox is so much fun and I love the new update on how if you tap a certain spot the whole line turns that color
It is fun
PrincessRose121
on
3/17/2018
I like to draw so this app is great for the kids who like to draw or color
Create your own
Julia LaFosse
on
3/17/2018
I absolutely love the feature that allows you to create your own design- worth getting the app just for that alone!!!
Great!
I love this app. It is a fantastic way to enjoy a more modern color by number challenge. I love some of the new features they've added, like the animation, custom colors, and double tap.
Amazing game!
I love Monkeys 22
on
3/17/2018
This game is truly amazing! I play this every day and it is just super fun. The double tap feature is cool to because it makes the game so much better. This app is totally recommended to anyone!
Great but...
Cool Kid Lando
on
3/17/2018
It's amazing but my pictures I submit never get chosen! Please fix this I have good submitions!
Awesome
kendallbagwell
on
3/17/2018
This is the best game ever
Sandbox Coloring
It is so fun when u can double tap to fill in a big spot.
used to love it
sorry, but lately sandbox is going downhill. i don't like the coloring options because they are all the made by user ones, and they are either not interesting or small, and then i'll color them and there's nothing else to color. please get better coloring options.
Ok
It's a great time passer but it doesn't time lapse on Android can you please make a update to fix that Above that it's a great way to pass time
AWESOME👍👍👍😃😃😃
This app is easy to use and is a great way to pass time and the best part is... YOU ARE NEVER BORED WHILE PLAYING IT! Overall, a REALLY awesome game I love the way you can save and look at your creations or colorings! This is my FAVORITE game EVER!
You should bye this game everything is perfect!
magicprincesss
on
3/17/2018
I think this game is so perfect because you can do all sorts of things!plus if you dubble tap on the same color and, poof!most of it is colored!
Ava
Heavenly Melania
on
3/16/2018
I like this game. It is so much fun, but what I do not like is all the ones I want to do you have to pay for!
Why I luv sandbox
jazmine queen
on
3/16/2018
It is fun and awesome anyone can do this even my sister that is four can do this and she does not go to school not yet but I recommend this cuz anyone can Do THIS. And I give it a A😋🦄
Five star game
BeachBum2858
on
3/16/2018
This is the best game I've ever had!😁😊
Sandbox
Little Timmy curry
on
3/16/2018
Is so good I like the colors does and I like to go to good stuff
It's great but...
SparkleUniGirl_22
on
3/16/2018
I mean I have had this app it feels like forever. but I just did this money bag one where you do some math problems to color it and that was really fun, just I want more of them with math. Sandbox if you can do more of them with math I would play the game more
Dont have a titel
Its great and fun
I love this app!
Cupcake Kitty 🐱
on
3/16/2018
This is the best coloring app I've ever had compared to other ones I've had. I have no problems with this app. Also, could someone add more Undertale stuff onto Sandbox?
Color filter please!!
I love this app, I play it every day without fail. One thing I would really like to see is a color filter. I love when a picture has one color but lots of shades of that color. They're very hard to find though.
Interesting💥
I love this app❤️ It's so fun. I can't stop playing this. Whenever I'm bored I play this. I give it 5 stars ✨ Wherever I go I play this. I like how you don't need wi-fi🌈
Someone got me hooked on this game aw06
bigmike513rd
on
3/16/2018
Fun
Absolutely GREAT App...but...
SassyPotato123
on
3/16/2018
I love your app, its all around a great pixelart app in ever way...except...im really hoping that you will remove the membership requirements from your app, and I know this is a LOT to ask, and I know you need money and all that, but what if you just added a option to donate to you(, of course willingly, dont MAKE us do it), because I find myself on a daily basis- being saddened by a absolutely beautiful picture requiring a membership. So ya, I REALLY hope you take this into consideration, but ya, other than that, GREAT APP, and have a nice day!!!
Addition and Subtraction?
Sandbox Contributor
on
3/16/2018
What's with this addition and subtraction money bag? This is the only one I've seen so far but I can tell you many people are unhappy with it. Not the coloring, just the doing math part. Even though it isn't much I just think people don't feel like thinking. For the overachievers, I think you should make a tab with only the math ones for the completionists who don't wanna do math but would also like to finish the 5 you give us every few hours.
I love it!
Dudhdhdjdjjdjshshstddhushdjd
on
3/16/2018
Usually all games like this cost so much money and they aren't even good and this one is free to do sone and it's WAY better! Even know you have to pay for some it's good still
More stuff
Please put more emojis and Disney and adventure time
This awesome game!!
This game is AWESOME I play it all the time and it helps me calm down when I'm mad or trying to go to sleep and I'm hyper♥️♥️I LOVE IT SO MUCH!!!!
Fact Sheet
Publisher:

Alexey Grigorkin

Category:

Entertainment

Released:

Jun 02, 2017

Current Version Released:

Feb 26, 2018

Version:

1.2.2

Size:

12.7 MB

Compatibility:

Requires iOS 8.1 or later.

Recommended Age:

4+

Game Center Certified:

No

Supported Languages:

English; French; German; Italian; Portuguese; Russian; Spanish; Castilian;