Screenshots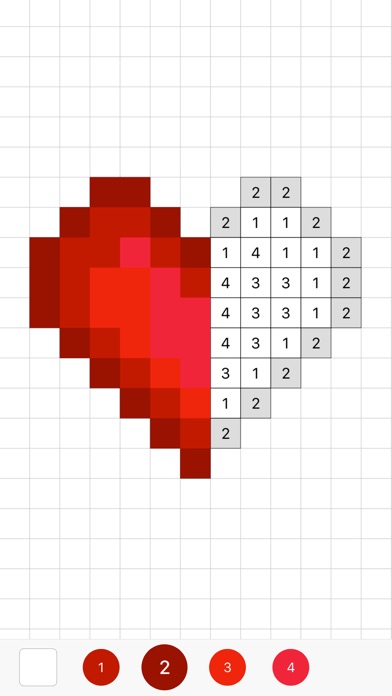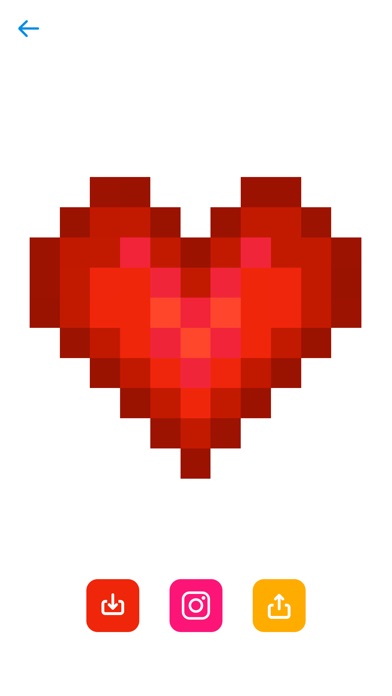 New in version 1.1.3
Good morning!

- The search feature;
- iPad optimisation;
- Settings button on the main screen.

Sandbox Team [with love]
Description
Kids and adults love to color by numbers and we've got a bunch for you to choose from.

"Color by number pages are a great way to teach your kids or students basic number recognition, how to use a legend, and it will give them the opportunity to work on their fine motor skills."

"This is a great activity to practice your drawing skills. It's also fun for any age to try to finish the drawing."

SANDBOX UNLIMITED SUBSCRIPTION:
- You can subscribe for unlimited access to Sandbox content.
- The subscriptions are $2.99 weekly, $7.99 monthly, $39.99 annually*.
- You'll be able to access unlimited coloring pages for the duration of your subscription.
- Payment will be charged to iTunes Account at confirmation of purchase.
- Subscription automatically renews unless auto-renew is turned off at leat 24-hours before the end of the current period.
- Account will be charged for renewal within 24-hours prior to the end of the current period at the cost of the chosen subscription.
- Subscriptions may be managed by the user and auto-renewal may be turned off by going to the user's Account Settings after purchase.
- No cancelation of the current subscription is allowed during active subscription period.
- You can read privacy policy and terms of use at http://grigorkin.com/pub/terms.html.
- Any unused portion of a free trial period, if offered, will be forfeited when the user purchases a subscription to that content.

*Prices are equal to the value that "Apple's App Store Matrix" determines is the equivalent of the subscription price in$USD.

Terms of Service and Privacy Policy - http://grigorkin.com/pub/terms.html

Questions? Ask: support@sandbox.love
iPad Screenshots
Reviews
Sandbox
This app is very fun and keeps you busy for hours! The longest I've spent on this app is for 2 hours.
This app is good
sippingdreams ❤️
on
12/16/2017
This app is amazing and I just finished my first artwork
Its amazing!
its sooooo relaxing at satisfing! All my friends steal eachothers phones just so they can play. Sometimes it gets annoying but i know how they feel! Sandbox it amazing and i love it 😍
Awesome
This game is amazing. You will have so much fun making all of these!!! I play it everywhere. I am so addicted!!!
Drawings
StampyDan360
on
12/16/2017
Can you please make a Facebook logo
Great!
timmy pickles mom
on
12/16/2017
Hill Billy Bob once said, "It is best to only poop your diaper once a day."
❤️
I like it! A great thing to help when you are bored😇👌👍!!!
Loved it but I miss the slower time lapses.
PatchesHyena
on
12/16/2017
I don't ever really pay for apps but I will happy pay for this one. What I miss is how slow and calming the timelapses were. If you could make an option to slow it back down, that would be awesome! Also, thank you for the search bar! Very useful! Keep up the great work ✨💕
Love it!!
I really like this app. Some of these color by numbers take a long time but they are really worth it. You can save them to your camera roll or post it on instagram. I really like how it saves to your own feed. I really like how it has sooooo many choices of drawings. One draw back is that you have to subscribe to the app at a cost of some amount of money. Even though you have to subscribe you still get a lot of pictures to color if you don't subscribe. I really recommend it.
Needs iCloud Syncing
I love this app, however, I am getting a new phone soon and I don't want to lose all of my pictures. Please change this in a new update!
Great game idea. Love the game!
I love this game so much! I play it in school, at my house, in the car. What I thought you could add is where you can take a pucture and slide a bar from hard witch would have lots of number/blocks and easy witch less numbers/block. I love the new search bar. Plz add my idea
OMG!!! I LOVE THIS APP!
Clemson tiger🐯🐯🐯
on
12/16/2017
THIS IS THE BEST APP EVER! IT'S SO ADDICTING AND A FANTASTIC TIME-PASSER! I GOT IT AROUND 1:00 AND PLAYED IT UNTIL 5:30! I COULDN'T STOP BECAUSE IT IS SO FUN AND ADDICTING!! GETTING THIS APP IS A MUST! ❤️🧡💛💚💙💜😍😘😛😝😜🤪🤪🤪🤪🤩🤩
Awesome!!!!!!!
This is honestly one of the most fun games for people who really love neatness and perfection. It has no annoying adds and has plenty to choose from even if you are not a member
Used to be awesome!
CookieStar3792
on
12/16/2017
Ok, I've had this app for a while and I loved it! It was really addicting and fun! But ever since the newest update, it's been weird. I will click on a picture to color, and it will load slowly even if I have good wifi, but as soon as I touch the screen the app either crashes or my device just totally resets! Please fix this problem! I love this app and I don't want to uninstall it.
THE best app ever
rylee gammer
on
12/16/2017
This app I haft to say thanks I am you usually bored but not anymore because of your app
Five stars
Emerson Wright
on
12/16/2017
So I really love this game me and my sister cannot get our eyes off our phones and I really love your game it's free beside the premium and I really love how you guys are doing the animations👍🏻👍🏻👍🏻🙂🙂
Best color by number app ever!
I just recently learned of this app and absolutely love it. I like the search function a lot. It is awesome. The account idea would be nice. Love it! Keep up the good work!
Beat coloring app ever but there is one thing it needs
Ok Best coloring app ever great time waster and it is so addicting and fun. But there is one thing that needs to be added in and that is being able to create your own designs and that is all I'm really asking you but otherwise it's so good!
Amazing!
I am awesomer then u
on
12/16/2017
I do this at lunch and school, it is amazing and a good Boredom killer. I don't really play it at home, but i just started doing it and I like watching Netflix as I do it. Great job on this :)
Main point of view
point of vuee
on
12/16/2017
This is very fun to play. You can learn much things. And I guarantee that you will enjoy. 💜
Stranger things coloring page
spanish weird version
on
12/16/2017
So I like how everything is set up I like how there is a search button but I think you should add some stranger things pages cause I'm obsessed with stranger things and that would help me on my journey for waiting for season 3 to come out but see if you can do it.
😧
bossatron2006
on
12/16/2017
Best game ever!!!!!!!
So relaxing
Gebs101319134414654565
on
12/16/2017
When I get stressed I play this and I get so relaxing and it helps SO MUCH.
Wow
basket ball lover🏀❤️
on
12/16/2017
This app is so amazing and it's a Game that is three different things and the different things are coloring, numbers, and tapping
They should make games
jonathan 8822
on
12/16/2017
I think that the creators of sandbox should ask Nintendo if they could use some of the games they made and make them into pictures and to where you can color the controls and when you get done you can literally play the game you just colored.😎🤩😎🤩😎🤩😎🤩😎🤩😎🤩😎🤩😎🤩😎🤩😎🤩😎🤩!!!!!!!!!!!!!!!!!!!!!!!!!!
Color good
ROGERTHEFATDOG
on
12/16/2017
Needs more cute little drawing
I think I broke the app
This game so so addictive!! I think I broke it though I went go to the next color then it just exited out
SECOND BEST GAME IN THE WORLD
Minecraft dodgers
on
12/16/2017
Before I tell you why I like this game I have to tell you why I wrote "SECOND BEST GAME IN THE WORLD" Well because the first one (This is only my opinion don't take any of this seriously) is Minecraft. Alright time to tell you why I like this game, It's relaxing and fun. But I have two complaints and a suggestion. My first complaint is that some pictures are a little too detailed, I was drawing a picture of a lady with black hair and it took me more than 7 weeks! My second complaint is that the pictures start out black and white, but when you color them, the colors are black and white! So, my suggestion is, you should add Money points [MP] So that when you earn money points you unlock more pictures, also I didn't read any of the Reviews so if I'm writing something similar to something you wrote... I'm sorry, hope the suggestion makes it on sandbox!
AWSOME
TurretedCandey53
on
12/16/2017
AWSOME PERIOD
This app is amazing
I love this app if you are an artist you should get this app👌👌👌👌👌👌👌👌👌
Hi
When you zoom in make it more clear and easy but not so easy
Best game I have ever had!
joseph 1562 YT
on
12/16/2017
I am so happy that I found this app it is so fun and addicting I play it all day during school so fun best app ever whoever thinks its bad they are dumb this game was made for me so much it's my type of style pressing numbers and Colering is so fun plz make a foxy color in the game I really love foxy the fanfic character!
Comment
This app is so fun and popular. It is also vey addicting😛
Lol
This game reliefs my stress and it's creative and awesome
It's okay
SmallBodyBigLife
on
12/16/2017
I don't like that all the Christmas ones you have to have a membership for but as for everything else I like the app a lot
k
i got charged for a free trial even though i cancelled the subscription on the same day
Very calming
iPlayClash013
on
12/16/2017
This is a great and fun casual game, love the designs. You can draw some amazing things with Sandbox
Paige
I love sandbox it is the best I play it all the time
I love it
It was the funnest thing ever #sandbox
Fun, Enjoyable
Gaming4Evah
on
12/16/2017
My only problem is that all the hard and more beautiful levels are for members only. Maybe make a few complicated levels for people who don't have the money to afford the membership. And maybe if you could have a feature where you can drag and color, like you can with the magnifying thing.
sandbox
156397597690241
on
12/16/2017
i love sandbox everyone go get it!
Addicting
It's a really fun game. It's great for kids!
Awesome!
Elise Reviews
on
12/16/2017
I love this game! It is the best game ever! I encourage everyone to download it because it is just fabulous!
The OG Pixel Art App
The unknown557357😜
on
12/16/2017
This app is a great way to pass the time. Other coloring apps stress me out for some reason but this one relaxes me. 10/10 would recommend!
Improvement suggestion
I think that the makers of this app should add a feather where you can have an account to for all of your sandbox pictures. So when you get sandbox on another devise you can keep all the pictures you have already done. I also suggest that if when this feature is added it makes it so you can link your current pictures to the new account.
PAY FOR EVERYTHING
MeeraLovesGhosts
on
12/16/2017
This app is cool and all but after a while all that's left for you to do is the ugly ones and the ones you have to pay to do it's ridiculous and I am not going to pay to coler any of the good ones please make more free ones that look good or I might delete the app
Love it! W/suggestion
Crystalrose1001
on
12/16/2017
EDIT: the animation doesn't work on my phone. I love this app! So good for stress relief, and getting your mind off the days worries! My biggest suggestion is that I would love is a way to filter between the free-to-color and pay-to-color. Bug report: sometimes the color circle doesn't let you know when your done with a color. It won't mark it as complete on the bottom bar.
Search bar
StellarNovXD
on
12/16/2017
OMG! Thank you for taking a thought to my idea, as well as to making the search bar a real feature!
Fact Sheet
Publisher:

Alexey Grigorkin

Category:

Entertainment

Released:

Jun 02, 2017

Current Version Released:

Dec 15, 2017

Version:

1.1.3

Size:

9.6 MB

Compatibility:

Requires iOS 8.1 or later.

Recommended Age:

4+

Game Center Certified:

No

Supported Devices:

iPad2Wifi-iPad2Wifi, iPad23G-iPad23G, iPhone4S-iPhone4S, iPadThirdGen-iPadThirdGen, iPadThirdGen4G-iPadThirdGen4G, iPhone5-iPhone5, iPodTouchFifthGen-iPodTouchFifthGen, iPadFourthGen-iPadFourthGen, iPadFourthGen4G-iPadFourthGen4G, iPadMini-iPadMini, iPadMini4G-iPadMini4G, iPhone5c-iPhone5c, iPhone5s-iPhone5s, iPadAir-iPadAir, iPadAirCellular-iPadAirCellular, iPadMiniRetina-iPadMiniRetina, iPadMiniRetinaCellular-iPadMiniRetinaCellular, iPhone6-iPhone6, iPhone6Plus-iPhone6Plus, iPadAir2-iPadAir2, iPadAir2Cellular-iPadAir2Cellular, iPadMini3-iPadMini3, iPadMini3Cellular-iPadMini3Cellular, iPodTouchSixthGen-iPodTouchSixthGen, iPhone6s-iPhone6s, iPhone6sPlus-iPhone6sPlus, iPadMini4-iPadMini4, iPadMini4Cellular-iPadMini4Cellular, iPadPro-iPadPro, iPadProCellular-iPadProCellular, iPadPro97-iPadPro97, iPadPro97Cellular-iPadPro97Cellular, iPhoneSE-iPhoneSE, iPhone7-iPhone7, iPhone7Plus-iPhone7Plus, iPad611-iPad611, iPad612-iPad612, iPad71-iPad71, iPad72-iPad72, iPad73-iPad73, iPad74-iPad74, iPhone8-iPhone8, iPhone8Plus-iPhone8Plus, iPhoneX-iPhoneX,

Supported Languages:

English; French; German; Italian; Portuguese; Russian; Spanish; Castilian;