This version of the app is not recommended
App last updated
Mar 13, 2018
Screenshots
New in version 1.8.1
Darn bugs anyways. We squished a few.

Thanks for using Turbo!
Description
Your free credit score and more - from the makers of TurboTax. See the three key numbers that matter: Credit Score, Debt to Income, and Income.

Do you know the three key numbers that matter to your financial health, and how lenders may view you?* Get all three with Turbo, FREE from the makers of TurboTax. Powered by your tax and credit data.

KEY FEATURES:

• CREDIT SCORE - Includes explanations to help you understand the "why's" behind it, plus insights to help your improve. Checking your credit with Turbo will never hurt your credit score.

• CREDIT REPORT - Easy-to-read credit report includes full details on credit card usage, payment history, average age of credit, total accounts, credit inquiries, derogatory marks, and more.

• CREDIT MONITORING - Get help spotting identity theft with 24/7 credit monitoring* and alerts as soon as we notice new or suspicious activity on your credit report.

• INCOME - A critical component of your financial health and how much you can borrow.

• DEBT TO INCOME (DTI) - A key financial health indicator that shows if you're living within your means, and helps determine how big of a loan you can get.

• PERSONALIZED ADVICE - Turbo gives you customized tips for better money management: Improve your numbers, pay off your debt sooner (student loan, mortgage, credit card and more), save and grow your money.

• 100% FREE - We won't upsell you or ask for any credit card info

Join other Turbo members on the path to financial freedom. Learn more and sign up at myturbo.com.

Intuit values your security. We safeguard your information by encrypting all of your data stored in our systems.

*Credit reporting provided by TransUnion. There are various types of credit scores, and lenders use a variety of scores to make lending decisions. The credit score provided by Turbo may not be the specific credit score used by your lender.
iPad Screenshots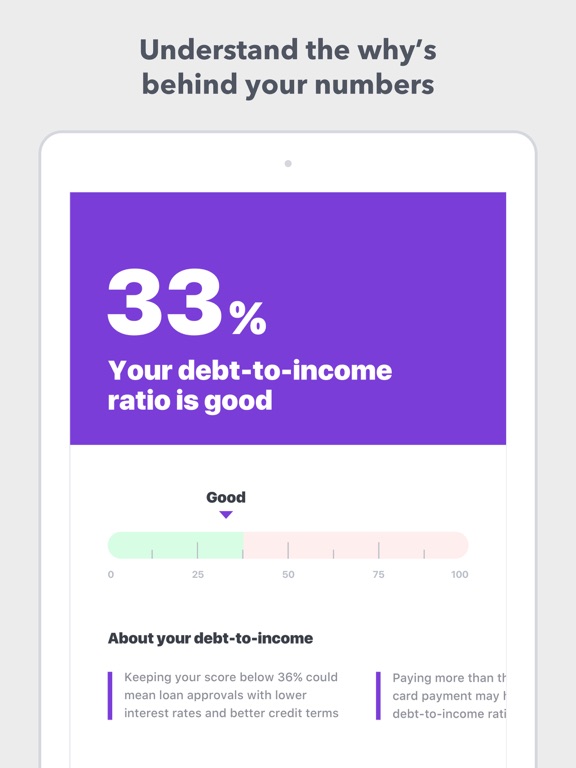 Reviews
Intuit Products
gabbymarie97
on
3/16/2018
I've never had an issue with any intuit personal products until now. For some reason it keeps telling me that my information isn't right when I verify my name address and social. I'm pretty sure I know all of those things. Very confusing.
Amazing!!!
chelseamaureen
on
3/15/2018
I use several credit apps and this one is the most informative! It has helped me see every account and it's status so that I can work on what I need to! It updates regularly and emails me when ANYTHING changes. Highly recommended for anyone trying to learn more about why their score is what it is and what they need to do to fix it!
Split bills?
Love the app, but you really need somewhere to signify that the debt you have is shared with someone else so your DTI isn't so high when in reality you split those payments with your spouse. Obviously, I know I can half my DTI % as my husband and I co-sign on anything we purchase or have, but still....
I love turbo tax
Deanacarpenter
on
3/3/2018
My first time filing taxes and I was lost- turbo tax guided me with the best interactive website I've ever seen. I felt safe and secure and was relieved to have done taxes properly.
Income
Does not reflect non taxable income which would more then double my income figures
Question
Does pulling your credit on this app consider a hard pulling on your credit or a soft pull and it really doesn't matter?
Turbo APP
This APP is unreliable. It lists my income for last year, yet excludes the income I had from Social Security. Not recommended for retirees! ☹️
Confusing
I downloaded this to start getting my credit score, but unable to get signed in. I used turbo tax to do taxes a couple time but stopped because several times their instructions where confusing. Plus they use abbreviations and at times I would have to call for help. I attempted to sign in several times but keeps telling me oops.. Really...get it right. Now I know why I stopped using you....I would score a 0 if it were possible.
Beautiful
Amazingly awesome!
Basically an app for advertising and ad revenue
The app bring almost no value, just keep advertising financial product that doesn't help me. That financial health rating is useless, very easy to tell they are trying hard to copy credit karma.
Best financial planner I've ever used!
Windswept Rose
on
2/18/2018
I've always been a little overwhelmed by Credit scores and keeping track of my finances. Turbo lays out all the information in an easy to view and understand way, and even explains how each thing affects your credit score, like the age of your accounts and even the exact amount you have on each and how credit companies view them. I've been using Turbo and its advice to pay down my credit cards in a smart way and manage both my finances and my credit score. I actually check it almost every day and eagerly await the updated score each month. Thank you so much for helping me finally understand! :)
Nice UI/UX, lacking something...
Every app that lasts has that something that helps it stick out. I'm not sure what that is yet for this app. I do love the UI, it's a beautiful app and I trust intuit...it just needs a PO on the scrum team to allow a brave developer to put THAT feature in. Right now it's good, it works, it's beautiful (nice job UI/UX team)...it's just...normal...
Good info but limited
Update: Both of my comments below have been fixed. The app functions without any problems. Very nice to see how Intuit was responsive to the feedback they were getting. The app shows credit score, debt to income ratio, and a few other things. Nice to see them put together but not an app you would need to visit often. As other users have said, this app is broken. Two problems encountered: DC isn't available as an option in the address drop down. The continue button does not progress past address input.
Now sign in works
LoverofJesus
on
2/13/2018
Credit standing and the like. Let's me know my debt to income ratio. Awesome
Incredible
Cburner10491
on
2/11/2018
I just got this app last week but it's already helping me in so many waysto understand where I am and how I can do better.
Faulty
Jordanhurtado
on
2/9/2018
This app want allow me to get past the first page of logging in my info. Great idea, but apparently doesn't work for everyone. Hit or miss!
Great app to see my full financial profile
Harsha Jagadish
on
2/7/2018
I'm an intuit employee but I'm still Happy that I can see my full financial picture all in one place.
Doesn't Work
I like the idea of this app but I have not been able to use it. It will not pull up my credit information as the "Continue" button does nothing. Wish I could, but can't progress past the setup page. Pretty disappointed.
Excellent Addition to my Apps and Finances management
DirtyDannyBoyRN
on
2/5/2018
Super user friendly and makes finances easier to understand and manage. Has innovative information to make improvements. Inspires people to increase their own type of financial freedom. Investment information, student loans repayment, buying a house, and paying off credit card debt. I use it along with Mint.
Can't use app
Can't use your app. It says my personal info is wrong. I know my name, birthday and ssn are correct. I've put in every address I've ever had and still your app says my info is wrong. The best part is you asked me if I wanted to pull my info from my turbo tax account. I said yes and you still say it's wrong...
Will Not Work
I tried this app on my IPad and iPhone. It froze on downloading the credit report. I will delete the app.
State return
carol boitnott
on
1/30/2018
I can't get ahold of anyone at turbo tax I call state of illinios,they said since I do my taxes with you I need to have you reject my state I never put illinios pin in so my return is up in the air, how long do I have to wait
Good start to what may become a great app
I like this app as it provides an easy way to determine your financial health. The most useful element for me is the comparisons to others in my age group as it helps me determine how I'm doing and what areas I need to focus on to improve. That said, the current app is limited to only 3 data points: income, credit score, and debt-to-income ratio. I would also like to see net worth (pulled in from my Mint account) broken out by assets (i.e. cash, investments, real estate & other property) and debt (i.e. student loans, credit cards, mortgage) with the same ability to compare each category and sub-category to others my age. Furthermore, other useful metrics would around savings rates (i.e. % of income saved in retirement plans, total % of income saved). It would also be nice to see both state and national averages. I love Intuit's other products and hope they can turn Turbo into something that can really help people level set where they stand in terms of overall financial health.
Not working
Internal Speaker Issue
on
1/30/2018
Logged in and all that I get is a white screen. No information shows at all.
OK given that is free, but some issues
Claims that you can manually adjust your 2018 income, but just results in an infinite navigation loop rather than allowing you to update it.
Will not recognize information
at least im honest
on
1/29/2018
Every time I try to enter my information for the credit score, the app says to verify my information. All of it is correct, sneaking assumption that it has something to do with the way the app is reading my address.
Unable to pull any information
molly_grl_2000
on
1/27/2018
I try to pull my information from my tax information and it doesn't work. I type in my information manually and hit continue then it takes me back to the same screen to type in my information. I have tried this at least a dozen different types. Very frustrating. I wish I could use this service.
Always makes it easy
Married filing seperate
on
1/26/2018
I use TurboTax every year. It's easy to use and notifies you of errors. You can't go wrong.
The best app yet
Titneybfa143
on
1/26/2018
I absolutely love this!!! It is exactly what I need to get my credit back on track!
I'd love to use it, but...
Ms. Lauren Rae
on
1/25/2018
I signed up today using the many, many verification methods, and when I got to the end it informed me that the version of the app I was using was outdated, and that I needed to download the latest version from the App Store. 😐
Unable to change income amount.
When I try to change my yearly gross income, it looks as if it's saving but the number will not change. Very frustrating!
Turbo works
Turbo is easy to understand. I benefit from this application because my finances are simplified and detailed.
Highly disappointed
A loyal turbotax user
on
1/13/2018
I'm disappointed beyond words. The app does nothing —- absolutely nothing valuable. Three fields of which one is manually entered by me as a user, the second one is fetched from he Credit bureau, and the third one is just a math formula again with my manual input. Completely useless. I don't even know what is the purpose of creating this app.
Fixed bug
Fixed this issue. Thanks for help! "Tells me that 'an error occurred and that my experience may not be fully personalized'"
Safe app
Better than credit karma! !
Not as good as Mint
Why do I need this app that does next to nothing when Intuit already has Mint? Get it together, Scott Cook!
Unfinished product...
Intuit... you practically know my spending habits, my financial burn rate, my investments, my mortgage amount, my income, and my tax returns. You probably know my financial health better than I do. I expected this app to deliver me a simple, concise, and accurate way to interpret my financial health and provide tips. Hopefully it's not done.
Nothing special
I thought they'd know something about my taxes since they asked about my ssn. Nope, I need to tell them my income, they even underline the fact that it's "self reported" as in "let's pretend we don't have your data". I just cannot comprehend what Turbo Tax wanted to do with this app :-(
Great Info & Easy to use
I love it. So easy and gives you great information.
Crash
This app crash when I open it and ask me right away my rent, the moment i put it the app crash, try the website same thing. I tweet Intuit and nothing.
So easy
Allgoodalltime
on
10/25/2017
Such an easy product!
Fact Sheet
Publisher:

Intuit Inc.

Category:

Finance

Released:

Oct 23, 2017

Current Version Released:

Mar 13, 2018

Version:

1.8.1

Size:

143.9 MB

Compatibility:

Requires iOS 10.0 or later.

Recommended Age:

4+

Game Center Certified:

No

Supported Languages:

English;