TapNova doesn't recommend this version of the app.
Description
The ground is lava! Tap to jump up right or left and stay on the platforms to go higher and higher to avoid falling into the lava on the floor!

How to play:
> Tap right or left
> Think fast, the lava comes faster the further you go!


How long can you last?
iPad Screenshots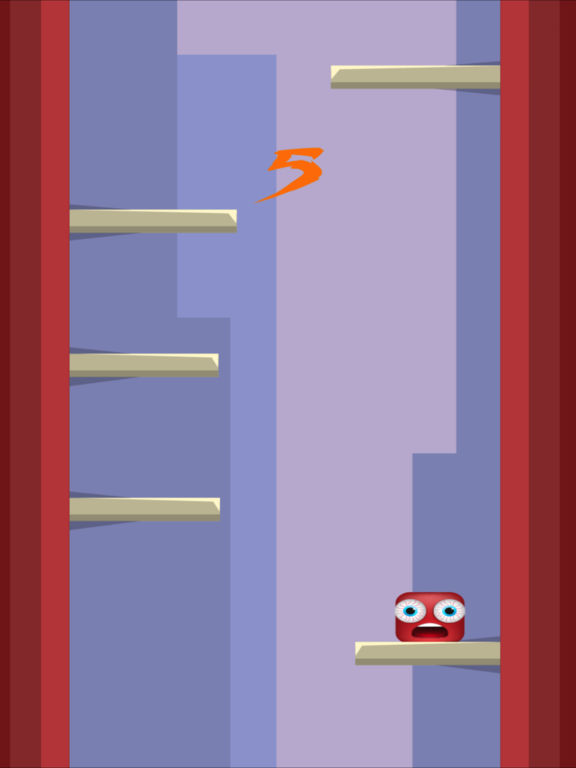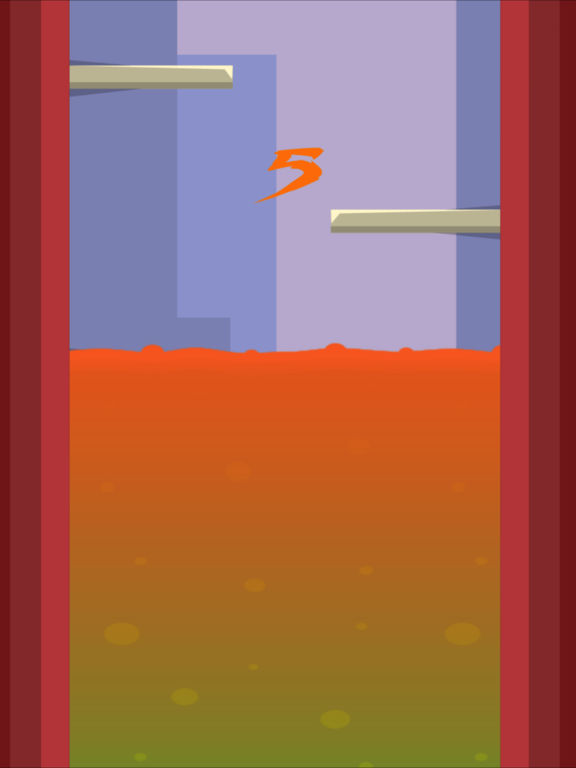 Reviews
It's a good game
GHehdjrjjehehhejd
on
7/21/2017
I think the game is good, fast paced but I was wondering what the name of that sone is.
Pretty cool
jimbojackjoy
on
7/20/2017
It's lit
I love it!
KCfromKC1977
on
7/19/2017
I love this game! I mean, it's addicting, fun, but also keeps up with the latest trends
SUPER ADDICTING
Unicorn Flatulence
on
7/19/2017
This game is super addicting to me! I saw this on a youtuber who does musical.ly her name is jojo siwa and I was like "I'll give the game a go." And when I played it it ADDICTED me a lot that I play it when ever I'm super bored I might even play it for a couple of hours🤣😂
Ok 🙄
Brenya Rawlins
on
7/19/2017
The only reason I got it was all my high school friends were playing it. It was actually a huge disappointment! 😡
Great game really fun
wolfman21savage
on
7/17/2017
The game was a great game fun and challenging it the best I've ever played in my life
TERRIBLE THEN FLAPPY BIRD
Creatureguy798
on
7/17/2017
This is so terrible that I don't even want to write anything
This game is SOO munch fun!
Ava Baunhuber
on
7/17/2017
all I can say is this game is undeniably addicting
Challenging and hard
ItsGabyGarcia
on
7/16/2017
This game for me is pretty hard to play but i love playing "the floor is lava!"
Don't get it👇🏽
KaylaKayKaylaKay
on
7/14/2017
It's ok but not good it gets boring after a while!😭
I call hacks
krazykiyra10
on
7/14/2017
Every iMessage I get close to my high sock or even if I am far away from my high score when I tap left it will go right but I can get going to like a score of 20ish before it does that. I love the game. It is really fun but this one problem really ruins the app when it didn't do that I would play this game daily.
Awesome but one thang
This app is great for when your bored. At furst it could be hard but then u get used to it. One thing I want you to fix that doesn't happen a lot though is when I tap it doesnt show it and the lava eats me. Besides that great game I reccomrnf it
Amazing
sammy and bobby show
on
7/13/2017
Too cute to resist I love the game I've been playing it for like six months now and it really improved my brother played it I played it and my mom. I think
Soooo awesome but ad's
I love the game but the ads drive me and my friends CRAZY!!!!!!!we just wanna play a simple meme game that's ALL!!!!!!!we injoy the game but the ads please fix the ads!!!!
Rating
I love how you made an actual game that everyone loves into a app! The fun part is when the lava chases you! This is an addicting game!! I love it!!❤️❤️❤️❤️❤️
The Best Game
This is the best game I ever ever played!!!!!!!!!!!!!!!!!!!!!!!!!!!!!!!!!!!!!!!!!!!!!!!!!!!!!!!
Bumbum bubbles
I love love love love love love love lo this app
Where's the $100 dollar visa gift card
Loassjsjskee
on
7/10/2017
Beat the game won 150 got 230 where's the giftcard
OK
Ich mag es. Die App ist OK, direkten für Junge, tho.
Terible
Advanced dancer
on
7/8/2017
It is not addicting at all I played with it for a few minutes then I got really board.The controls aren't good at all. I would give it one star if I could.
Awesome. But to much of stuff
It's awesome in all but there should be less adds the jumps on one side and more time to get up.so it's a fix up for the mess but most of its good just too many stuff to take care of it waits time so take care of the game
The floor is lava
This is a challenging game and fun really fun! So I'll give you five stars
Pretty sucky.
No matter how fast I go, I somehow die. Like. I was doing just fine, then suddenly i see the lava below me. I go faster. I die. What the hell? Where did this lava f**king come from???
😜😍
Don't be silly cover ur willy
on
7/6/2017
This is the best game I've ever played and I've played a lot of other games that I have addiction to idea it on jojo siwas music.ly and tried it I 💜it so much!!!!!!!!!!!!!!!!!!!!!!!!!!!!!!!!!!!!!
Great... but
Skeeter and gunner
on
7/6/2017
This game is cool but it has way to many ads
Not such a good game
I LOVE SWEARWORDS MUSIC
on
7/5/2017
The controls just lag and once you reach about forty it is impossible bc everything is too fast. The point of the game is ok but the gameplay is not good. The graphics are plain and not the best. I am deleting this game without regret and I would not recommend this. To the developers, use these comments to change something. Not many people leave four or five star reviews. You dont change anything we suggest, so we dont like it as muc. If there are changes fixing some stuff like that, I will come back and Im sure many others will too. Check out the band Swearwords (no swearwords involved MOSTLY) on Itunes or for their newest songs go to swearwordsmusic.com. Have a nice day!
There are better...
Nasutheredwolf
on
7/4/2017
I honestly don't care about graphics.. i have played another game like this where you are a lumberjack... however what got me really annoyed at this game is the slight lag you get when tapping very quickly. It felt like the game wouldn't take all the taps I put in. If I tap four times very quickly to jump up for platforms it suddenly thinks I miss one or doesn't register properly. Not that great.
I love this
I love this game so much😘😍❤️❤️
Meh
Just another twitch game
I hate this game
This game is to laggy and has to much adds
Zuri xoxo
When I fount this game I was like it's prolly nothin then when I played it ,it was so fun and cool and pretty addicting but the point is I love it .
Addicting but Super Frustrating
It was a really fun game at first but then as I continued playing it started lagging a lot. I was getting really frustrated because I would be well above the lava and then all a sudden I would die. I think I am going to delete but I would still try it and see what u think
Fun until it starts to lag
Fabulous Chick
on
7/3/2017
Can you fix the lag? When I first downloaded the game it worked fine. Now there's a lag which is frustrating. Delete. On to the next
Horrible
I could only play one time it told me to rate it the first time so I did but now it still tells me to rate it even though I already did and now I can't play anymore
It's Alright
SavagePriscilla
on
7/3/2017
It's not the best game, but it's not the worst. It's a great way to pass time and challenge yourself. It's also good to play when you are REALLY bored. So, overall, it's ok, pretty much like any other challenge game.
Stupid
This game is retarded
Amazing game
The floor is lava 😱😱 RUN 🏃 BEST GAME EVER 🤣🤣🎧
Great
CuteWorm!!):$2&/
on
7/1/2017
AWSOME anything you could ever wish for
Ehhh, okay game but, doesn't recognize taps though...
WilderTech1919
on
7/1/2017
It's an okay time waster, but you cannot get the great score that you would want, because sometimes it doesn't recognize a tap. This is SUPER ANNOYING!!! You could be tapping really fast to get up to the next planks, and then all of of a sudden it won't recognize your tap and you'll die because of a less than half a second mistake. Please fix this. 😐
Fun
This is a very fun game to play when bored or have nothing else to do. One thing is that you can only play two to three games then you have to wait for an add. So please remove the adds they get really annoying and they last at least 40 seconds each!!
Glitchy
Keagan's Nana
on
7/1/2017
I really liked the game the first few times I played it. Now it's just glitchy and doesn't jump when I know I've hit the screen.
The Floor Is Lava Ranked 394 With 1044 Score
JustinTheJBomb
on
6/30/2017
i mean i like it lol i'm ranked 394 in the world so i can't complain haha
Quick fun
I was looking for a quick challenge, and this app fits the bill. It's addictive... I always want to beat my previous score. It looks simple, but you need to maintain your concentration to be successful. I love it!
This app
hannah geradimof
on
6/30/2017
I did not like this app because their was commercials popping up during a the game and causing me to die! It was fun though when it wasn't killing me
Uhhh no
Ok I Thought this would b fun but the controls are impossible and lagging couldn't get worse. To top it off an ad after every other game like no
Laggy game and too many ads
I know you guys are trying to get your money, but there's too many ads and the game is laggy. Very disappointed.
My new fav game
This game is so fun and so addicting. As soon as I got it I was playing it nonstop! I totally recommend this app for kids with fidgety hands. 😏🙂☺️😊😃🙃😉😚☺️😃😍😗😌😁😂😘😙😉😙☺️
Visa gift card
Where is my didjjfjfjrhrucjjcjrjfjfkckksjsbdkdkskskdkrirjdjfjjcjfjrjdjdjdjdjdnxjdjdjjdjddjdjvisagiftcardjdjdjdjdjdjdjdjfjfjfurlfk??? I got passed 150 and it hasn't given me mine... don't false advertise
Lag
It could be a fun game if it didn't lag so much
Fact Sheet
Publisher: Appnoxious, LLC
Category: Games
Released: Jun 01, 2017
Current Version Released: Jun 01, 2017
Version: 1.0
Size: 16.9 MB
Compatibility: Requires iOS 9.0 or later.
Recommended Age: 9+
Game Center Certified: No
Supported Devices: iPad2Wifi-iPad2Wifi, iPad23G-iPad23G, iPhone4S-iPhone4S, iPadThirdGen-iPadThirdGen, iPadThirdGen4G-iPadThirdGen4G, iPhone5-iPhone5, iPodTouchFifthGen-iPodTouchFifthGen, iPadFourthGen-iPadFourthGen, iPadFourthGen4G-iPadFourthGen4G, iPadMini-iPadMini, iPadMini4G-iPadMini4G, iPhone5c-iPhone5c, iPhone5s-iPhone5s, iPadAir-iPadAir, iPadAirCellular-iPadAirCellular, iPadMiniRetina-iPadMiniRetina, iPadMiniRetinaCellular-iPadMiniRetinaCellular, iPhone6-iPhone6, iPhone6Plus-iPhone6Plus, iPadAir2-iPadAir2, iPadAir2Cellular-iPadAir2Cellular, iPadMini3-iPadMini3, iPadMini3Cellular-iPadMini3Cellular, iPodTouchSixthGen-iPodTouchSixthGen, iPhone6s-iPhone6s, iPhone6sPlus-iPhone6sPlus, iPadMini4-iPadMini4, iPadMini4Cellular-iPadMini4Cellular, iPadPro-iPadPro, iPadProCellular-iPadProCellular, iPadPro97-iPadPro97, iPadPro97Cellular-iPadPro97Cellular, iPhoneSE-iPhoneSE, iPhone7-iPhone7, iPhone7Plus-iPhone7Plus, iPad611-iPad611, iPad612-iPad612, iPad71-iPad71, iPad72-iPad72, iPad73-iPad73, iPad74-iPad74,
Supported Languages: Arabic; Catalan; Valencian; Czech; Danish; Dutch; Flemish; English; Finnish; French; German; Greek; Hebrew; Hungarian; Indonesian; Italian; Japanese; Korean; Malay; Bokmål, Norwegian; Norwegian Bokmål; Polish; Portuguese; Romanian; Moldavian; Russian; Chinese; Slovak; Spanish; Castilian; Swedish; Thai; Chinese; Turkish; Ukrainian; Vietnamese;
Parental Advisory: Mild Profanity or Crude Humor; Mild Cartoon or Fantasy Violence;