TapNova doesn't recommend this version of the app.
Description
The ground is lava! Tap to jump up right or left and stay on the platforms to go higher and higher to avoid falling into the lava on the floor!

How to play:
> Tap right or left
> Think fast, the lava comes faster the further you go!


How long can you last?
iPad Screenshots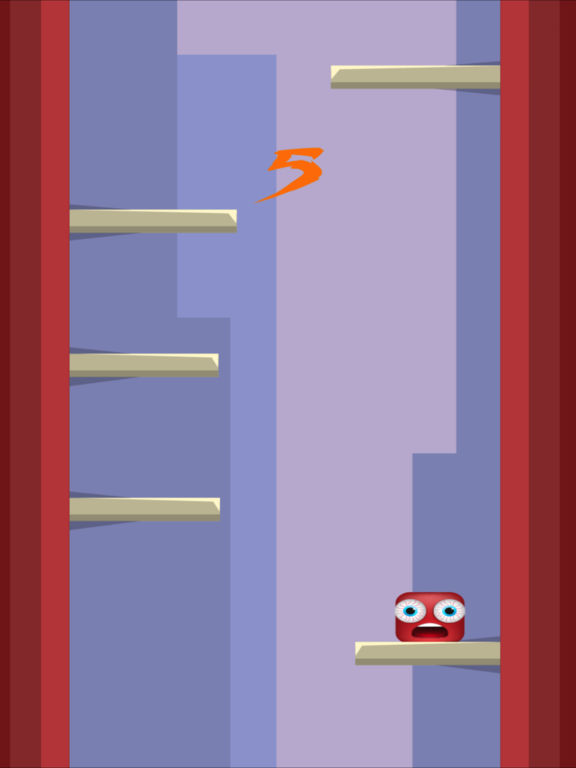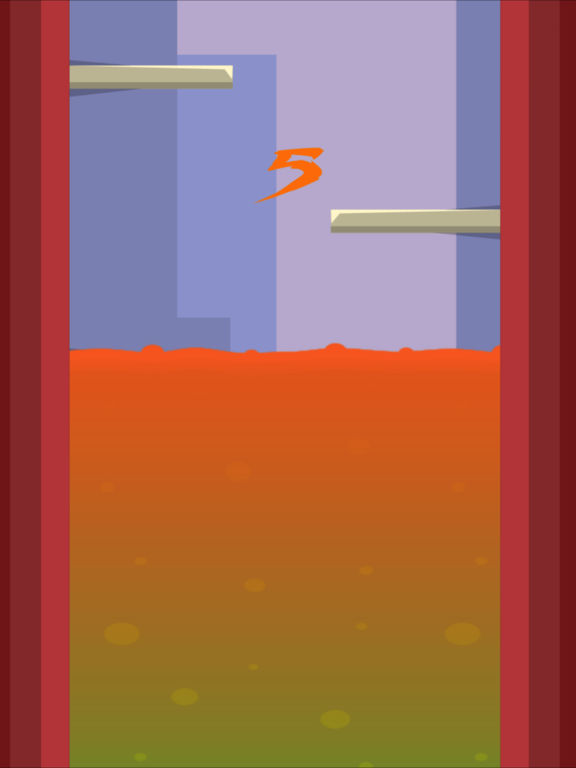 Reviews
Nfn
Brooke.blair
on
6/22/2017
It good my bro
The floor is lava
faith._.marie_12
on
6/22/2017
I love this game my high score is 196
Has MANY bugs
KlassicKilla
on
6/22/2017
Ill tap on something and itll glitch and ill die i also dont like how its quick but you dont have time to do anything but its cool idea
Extremely Annoying Popups
elliottstanger
on
6/22/2017
Easy decision to uninstall this app. I got a notification that said "I BET YOU CANT BEAT 52" when I already scored higher than that. This is a dumb game that bothers me on a daily basis with annoying notifications and ads. Hard pass.
Horrid game
It is so bad you wouldn't believe it
fun game
it's so addictive, I love it ❤️
Better
A very good game and people lie when they tell you it lags it is a very good game very fun too
The best
I like this game a lot my only suggestion is that that have a speed mode and a pro mode and the last mode the starter mode
I love this app!
It's a very fun game and so interesting to play!
This is fun
Billy Bob Joe Pants
on
6/22/2017
This is extremely fun! Not too many ads, and a fun concept!
Interesting
The music is fun, but the game has you like "OH MY GOSH"
AWESOME! It's Like Flappy Bird, but I downloaded it because of JoJo Siwa!
JoJo Siwa told us to, so I downloaded it to promote the game.
Great
Cvkkovzshnng
on
6/22/2017
🤘🏽
Addicting
I wasn't sure how fun this app was going to be but once I started playing I got addicted! Very fun game and definitely passes the time. My only complaint is that during playing an add will pop up and cause you to lose. Also I got past level 155 so uh do I get money
🔥☄️🔥☄️🔥☄️🔥☄️🔥
#calculumpus😜❤️💕
on
6/21/2017
My highest so far is 101 and it's an AWESOME GAME!!! All except for the adds every time you lose more than twice. Get it it's fuuuuuunnnnn
😐
It's ok I just wish You could do more
Fun and challenging
Super fun but super hard to keep focus
It's a really good game
Idek
Challenging- but really fun
Serious real Baller
on
6/21/2017
Its a game you can challenge your friends and a game that if you get a big high score you can brag I love this game so much.
Nice Game Overall
Fun Game To Play.
Good but bad
I am only 8 years old (almost nine) and this game is too hard my score is 81 and to get the visa gift card u have to get 150. But it is addicting on the bright side🤗
Good
StevenKellum1221
on
6/21/2017
Highly recommended
Good
mcgaryaustin
on
6/21/2017
Best game I've played in awhile
No stars
Damp Sausage
on
6/21/2017
this is the most stupid game in the world. it wasted my time, there are ads everytime you die, and if you slip, your done and have to wait for a 30 second add to play that you have to pay money to have them removed, so yea, IT'S FREE!!! but the adds are every second so you DO END UP PAYING MONEY! how can anyone like this??????
Gr8
Expert gamer0473
on
6/21/2017
It is a pretty good game I have to admit, at first I thought it was going to be terrible but it's not bad. Not bad at all.
La app
Gran app para despertar la mente y agilizar los pensamientos
AMAZING!!!!!!!!!!
I love this game although I can get past the level 12 back to the thingy yeah this is a wonderful game make more if you do thank you!!!!!!!!!! AMAZING!!!!!!!!!!!!!!!
Unoriginal and lags a lot
This game is similar to a lot of other jumping games (or exactly the same). There's really nothing special about it other than the fact that it's trying to ride on the lava trend. It also lags way too much to be a fun game.
Helps pass the time..however lacking!
MadHampton90
on
6/20/2017
I downloaded this game to help pass time on lazy days! It is very fun to play however it lacks in a lot of ways! Sometimes when I hit the screen it doesn't jump or jumps the wrong way! I also wish that it had advanced levels or different level options! However it is a fun game for what it is!
Great
Soccerlover10_
on
6/20/2017
This is a good app
REALLY
Sheby6372828&2
on
6/20/2017
Ok I have not even played this game yet but it just looks like jelly jump so if it is then they just copied it 😠😠
Goodish
Good game. But way to many ads
Love it
Happypresoneatingtacos
on
6/20/2017
I'm addicted
FUN
this game is soooo fun and I love the music
Great game but...😐😐
It's a great game if your a loser. It's only good if you need a time wasting game. I don't get why all the musically stars love it. But don't get it
Horrible
Even if you don't press the side that's wrong it's brings you over there and you die. It is very annoying if you die a million times from tapping a screen. The lava goes so fast that you can barely even think where to click.
Not bad
Hgovihgviygviygv
on
6/20/2017
To laggy
Awesome
Too many ads but addicting game
Glitchy
It glitches out a little but it is fun and addicting
Good
It really gets my brain working. It's kind of like a finger exercise. There's just one problem that it has too many ads.
Amazing 😍😍😍😍😍😝😝😝
Zaria justice
on
6/20/2017
So fun and enjoyable
Ok
chinas vlogs
on
6/20/2017
It really rushes you and it needs some improvements and not just taping
What...
Interesting ad placements on the game. I feel like the majority of the game is avoiding accidentally clicking on the ads.
Made in MS Paint
This game honestly seems like it was made with really basic tools and it's just plain overall. There's also a lot of lag mostly making you lose a lot. Deleting soon
This app is addictive
I 100% recommend you to download this app it's addictive and fun to play I love this app tbh.
Awesome
It's so fun I can't stop playing it
I love it
It is an amazing game and can teach your fingers how to work faster I totally recommend it😆
Fact Sheet
Publisher: Appnoxious, LLC
Category: Games
Released: Jun 01, 2017
Current Version Released: Jun 01, 2017
Version: 1.0
Size: 16.9 MB
Compatibility: Requires iOS 9.0 or later.
Recommended Age: 9+
Game Center Certified: No
Supported Devices: iPad2Wifi-iPad2Wifi, iPad23G-iPad23G, iPhone4S-iPhone4S, iPadThirdGen-iPadThirdGen, iPadThirdGen4G-iPadThirdGen4G, iPhone5-iPhone5, iPodTouchFifthGen-iPodTouchFifthGen, iPadFourthGen-iPadFourthGen, iPadFourthGen4G-iPadFourthGen4G, iPadMini-iPadMini, iPadMini4G-iPadMini4G, iPhone5c-iPhone5c, iPhone5s-iPhone5s, iPadAir-iPadAir, iPadAirCellular-iPadAirCellular, iPadMiniRetina-iPadMiniRetina, iPadMiniRetinaCellular-iPadMiniRetinaCellular, iPhone6-iPhone6, iPhone6Plus-iPhone6Plus, iPadAir2-iPadAir2, iPadAir2Cellular-iPadAir2Cellular, iPadMini3-iPadMini3, iPadMini3Cellular-iPadMini3Cellular, iPodTouchSixthGen-iPodTouchSixthGen, iPhone6s-iPhone6s, iPhone6sPlus-iPhone6sPlus, iPadMini4-iPadMini4, iPadMini4Cellular-iPadMini4Cellular, iPadPro-iPadPro, iPadProCellular-iPadProCellular, iPadPro97-iPadPro97, iPadPro97Cellular-iPadPro97Cellular, iPhoneSE-iPhoneSE, iPhone7-iPhone7, iPhone7Plus-iPhone7Plus, iPad611-iPad611, iPad612-iPad612, iPad71-iPad71, iPad72-iPad72, iPad73-iPad73, iPad74-iPad74,
Supported Languages: Arabic; Catalan; Valencian; Czech; Danish; Dutch; Flemish; English; Finnish; French; German; Greek; Hebrew; Hungarian; Indonesian; Italian; Japanese; Korean; Malay; Bokmål, Norwegian; Norwegian Bokmål; Polish; Portuguese; Romanian; Moldavian; Russian; Chinese; Slovak; Spanish; Castilian; Swedish; Thai; Chinese; Turkish; Ukrainian; Vietnamese;
Parental Advisory: Mild Profanity or Crude Humor; Mild Cartoon or Fantasy Violence;