This version of the app is not recommended
App last updated
Mar 14, 2018
Screenshots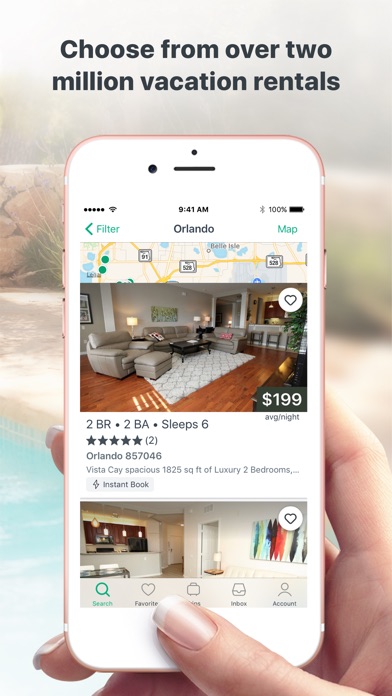 New in version 2018.06
Attention iPad users, we now have support for split-screen multitasking! Enjoy searching for your next vacation while messaging with family and friends at the same time.
Description
Book your next family vacation home with the VRBO mobile app. Discover millions of rental properties with pools, backyards, and all the room you need.

FIND A FAMILY GETAWAY HOME
• Planning a holiday vacation or reunion? Search for condos, villas, cabins, houses, and beach homes of all types.
• View photos and pricing to see if the property accommodates your trip and your budget.
• Share your favorite properties with everyone in your family.
• Search the map to find a place near your daily activities.

BOOK ANYWHERE
• Book and pay securely through the app.
• Ask the owner a question about pets or children.

TRAVEL WITH EASE
• Quickly access check-in details, Wi-Fi password, and more info for a smooth arrival.
• Share your trip with family members so they can stay up-to-date.
• Message the owner when you're on-the-go.
• Get notifications for any important property updates

Currency is displayed as USD, GBP, and EUR in the property listings, unless otherwise noted. For more info, visit: http://vrbo.com/mobile
iPad Screenshots
Reviews
So easy!
Easy to use and find a great weekend spot!
Great Booking Experience
Always feel secure booking with VBRO. The ease of booking is wonderful, great app.
Frustrated
Have tried multiple times for days to pay for this w no success using my husbands card which was perfectly fine and funded. Very frustrating. Contacted owner of property about which had no idea what was wrong and called vrob w no success.
Awesome
Bajaslammer949
on
3/12/2018
Households are awesome and everything is smooth going through VRBO 😎👍🤘
SMART and INTUITIVE
FreedomsDesign
on
3/12/2018
VRBO is crushin' it!
What's wrong?
First time using app, find the place I want and payment cannot be processed. No way to contact Brno
Not like Airbnb
Hard to get a hold of property owner
Hidden fees
The cost should actually show total cost in advance
Lots to choose from!
Nannerpuss85
on
3/11/2018
I like that there is many homes to choose from where ever you want to go. I always read the reviews for each home I'm looking at and it truly helps. So far I have not been disappointed in my choices. I would recommend VRBO.
Not enough contact info
Almost pleased with our VRBO experiences but there doesn't seem to be anyone to contact with questions if the website doesn't have the info I need. Otherwise all is satisfactory.
Virtually worthless
This app is useless. Email asks you to download app to access rental info. Then takes you to the general property listing. Super waste of time.
Garbage search filters
This app is completely useless. Sort by different variables? No. Map includes all properties? No zoom in maybe there's more. Turn off pets and actually get a quote? Nope everyone has pets of course!! Is this business run out of someone's basement? If you're looking for crashes, bugs, incomplete info and an annoying counter intuitive interface then enjoy this piece of garbage.
App not working
The app wouldn't work and I spent several minutes on the phone with customer service who were not helpful.
Linda
Linda from IR, WI
on
3/6/2018
It is fun to view all options on VRBO!
Disingenuous Price "Averages"
Just checked out a rental that stated average price/night was $63. Tried to book 4 mid-week, non-holiday nights, and the total was $1061, or $265/night, 4x the VRBO listed "average" price. There is no way the average nightly price is $63. And VRBO needs to include all the extras in calculating the average price. Otherwise it is largely a bait-and-switch.
False advertising
When you search for a house VRBO lists the prices as one low price. By the time you check out the site has added a service fee, cleaning fee and tax and the total is three times more than expected. Buyer beware.
They CANCELLED OUR VACATION 😱 Left us with no place to stay and kept our money!
We booked a $2300 condo for a month — paid in full with our debit card. A few hours later the property manager cancelled our reservation. Sadly, nothing else was available in the area and this condo later went back in the listings for twice the price. What's worse is that our funds are still tied up waiting for VRBO to refund them (they say allow 5-7 business days for refund). Our family of 5 has been stranded in Florida with no funds to rent another condo and no place to stay! Shame on. VRBO, HOMEAWAY and VACATION RENTALS. A deal is a deal — PERIOD! Owners advertised, we paid, deal. They should not be allowed to cancel. If they had waited 24 hours to cancel VRBO would help us, but otherwise no help and 3 days without our funds. 😱
Website Major Glitch
wildstrekker
on
2/28/2018
Website malfunctions repeatedly when attempting to authorize a credit card with a P.O. box billing address. It is then impossible to submit the application for the rental!
Customer service needs improvement
I have 2 properties I rent through VRBO/HomeAway. As a owner you don't experience the customer service from the travels prospective. We are taking a big trip though Europe this fall. On a number of calls to VRBO I waited on hold so long I had to hang up. When I got through the support staff has been anything but helpful and seamed to be put out by requests for help. I will be looking for another company to represent my properties.
Prices not real
This app is nice to look at different accommodations but prices are not real. Fees are ridiculous, two nights at 50 dollars turn into 250 after fees.
Lacks full disclosure!
Don't count on the price being the price. The quoted price is just the daily rate. Management fees, cleaning fees, VRBO fees are NOT included. PLUS the owner pays fees die listing. Just VRBO double dipping! For a week add another THIRD of the daily rate to find the true price. Come on VRBO how about some FULL disclosure!
I love VRBO
I have almost never been disappointed and often have been pleasantly surprised by the properties I've booked. One problem came up when a third party agency sneakily charged 10% for cancellations made after 24 hours. My bad for not reading fine print more carefully but it's unusual for charges like that on VRBO properties. VRBO should take special care to warn people when Draconian penalties will be imposed by greedy-bastard third parties. Flashing red text might be a good place to start. WARNING!!!
Beautiful homes, reasonable, and easy to access.
redbuggyreno
on
2/25/2018
VRBO is very easy to use. Homes selection is very diverse with a wide range of choices. Will use it again!! Highly recommended.
A great online experience! 👍🏼
A very easy sight to book with confidence!
Rude
Staff was extremely rude and uncaring. We booked a property for a ski trip and received a call 30 minutes before we boarded a flight five states away. Staff was extremely rude and unhelpful they did not offer an apology or any help with rebooking. I have never written a review for anything but when I spend a month planning a trip and $6000 I expect at least an apology or explanation If not a free booking. We have six members of our party flying in from different states everyone took off work and are special trip that we saved up for was ruined. This company is an Airbnb wannabe. If you are spending a lot of money on the trip don't trust it with this company. And very unprofessional and not on your side at all.
Awesome way to do business.
So easy, so fast and so convenient. Love it.
McPeek
Rockstar horse
on
2/22/2018
Excellent site
The best
Have been using VRBO for many years. I love it. Easy to use Not sure what the connection is with HomeAway but I can't stand it. Please don't ever do away with the VRBO app.
Rick haven
How long does it take for this place to respond with the details
Need more responsive owner policy
Don't allow owners to post on your site if they aren't going to respond or seems like a huge wasted effort for all involved- of response rates are zero percent why keep the posting?
Live Vrbo
Great photos and search.
Should be 5 stars
When looking at the same resort with multiple buildings, you cannot tell what building you are looking at unless the owners take a picture and point to the building. Please consider making this a feature or have owners always put building # in for large resorts
Ummm, not sure
The app seems to work just fine when booking and searching for properties. The issue I have is that it doesn't have hardly even of the features that the website has. For example, I created a profile per the website's recommendation so that owners could learn about me and see the reviews I've given and the ratings/reviews that other owners have given me, etc. but none of that shows up on the app. So that's a bit strange to me that two don't sync up.
Billing issues
Total dissatisfaction
on
2/16/2018
I have had to submit requests to 2 separate places for the same time frame because there are no other units available. My first request had not been answered within 24 hrs, so it had expired. Today I rebooked the one that expired and another also, just in case the first owner doesn't respond again. Please DO NOT CHARGE ME FOR BOTH PLACES.
❤️
I use VRBO for all my vacations bookings. It's easy and always finds exactly what I need. I recommend this site to everyone I know!
Booking frustration
I was trying to book a last minute trip. Several nights in a row I tried to book a place and the owner required 24 hours to respond. The first place never responded and the second responded that they were full even though they still are listed as available as I write this. In the meantime my trip is tomorrow and I had to settle for an option that had instant bookings.
Great way to vaca!
We love using VRBO as our way to find great places to stay for us as a large family. We've not been disappoint yet!
Difficult to find Arrival Info
I've spent 40 minutes and still can't seem to access our arrival info. How about just sending an email instead of requiring this stupid app as the go-between!?
Vacation
This is a great site in looking for apts to rent for your family vacation they give great descriptions on the apartments and you can read everyone's reviews in making decisions on your place to stay . My suggestion is when you are looking for a place get a map and look at all the places you want to visit so you are located close to rail system bus stops transportation and close to shops . Great job on the site .
Intentionally misleading
The app gives an "average nightly rate" for many properties that has nothing to do with the dates you're searching for. On top of the nightly rate expect steep "reservation fees" and often very steep cleaning fees. This makes searching within a budget pretty frustrating. I've also found that sometimes after making a reservation I won't get any kind of email confirmation. Apparently this happens when the unit rented is part of some kind of 3rd party network. Vrbo charges their fee but then just leaves it totally up to you to contact the agent and get arrival instructions etc.
Filters.
Carla's garden
on
2/3/2018
I love looking for places to stay on this app, however, there needs to be more filters, like age requirements, miles from where I want to be etc.
Wonderful
This app is very easy to use and made the search seem effortless. I will use it many times in the future
Love the app
I love VRBO. I have been using it for about 6 years.
Alright
Needs better filter options.
3177 Clara Way
Elliot with the bicycle
on
1/29/2018
Perfect! Everything we needed was here, great location, safe neighborhood, quiet, comfortable. Nancy, our host is adorable, couldn't have been nicer or more hospitable. I measure experiences by "if I would do it again", I would definitely stay here again. Elliot
Easy easy
Alice and Sparky
on
1/29/2018
I've always had such an easy time with VRBO.. a great way to go
Something fishy
just want to vacation...
on
1/29/2018
I have had 2 of my last 3 attempts to book a place be denied. I really do not want to think that it is because of race, but why is it that once I book the "calendar was not up to date" from one and we didn't get a reply at all from the second. I was only successful with instant bookings.
Easy to use
Easy to use and intuitive.
Chalet# 39
Westside story old
on
1/28/2018
Stayed here for two weeks. Very cozy and comfortable. The fireplace is great and you can see the night skiing from the large deck. Great place to relax and ski.
Excellent user-friendly app.
Simple, user-friendly app. Keep in mind, the advertised rates do NOT include cleaning fees, service fee & taxes.
Fact Sheet
Publisher:

HomeAway.com, Inc.

Category:

Travel

Released:

Jul 19, 2017

Current Version Released:

Mar 14, 2018

Version:

2018.06

Size:

109.1 MB

Compatibility:

Requires iOS 10.0 or later.

Recommended Age:

4+

Game Center Certified:

No

Supported Languages:

English; French; German; Italian; Portuguese; Spanish; Castilian;