Screenshots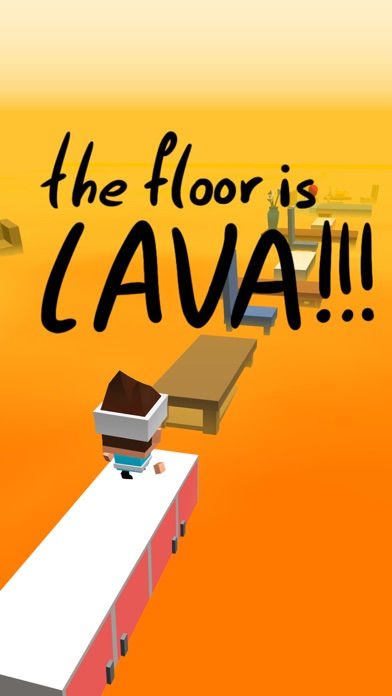 New in version 1.4
Bug fixes for Challenge 31 :)
Description
The Floor is Lava!

Your goal is simple. Jump across your living room, but keep in mind that at any point in time… the floor can turn into hot lava! Use the hearts to your advantage and keep jumping as long as possible.

Download now!
iPad Screenshots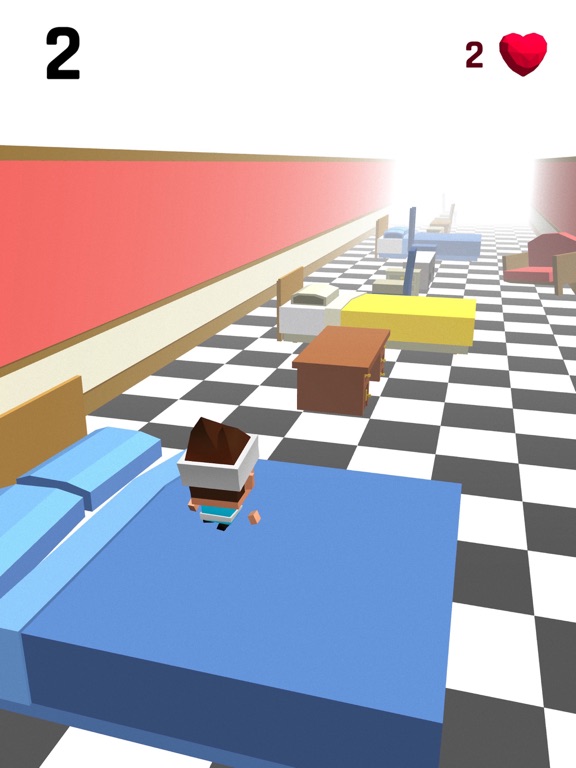 Reviews
THE FLOOR IS LAVA
This is a great game I just reached 174 awesome its gets easier the farther I get to but I shouldn't go to far that's where the lava appears in a sec one I jump forever my uncle just reach 259 almost 260 if he did I would have fainted him I bet he would have not made it to 260 he is the floor is lava games I have other the floor is lava games but this is the best so far I and just started playing to day its so addictive I cant stop playing it almost my whole family is playing it except my mom and dad and my aunt so bye!
Ads
Honestly it's a good game, but not good enough to be riddled with ads. Normal developers make ads appear before you hit play or even after when you die. Not right when you press play and an ad pops up. Then if that's not bad enough half the time there's no X so you have no close the game to get rid of the ad. It's a good game and has potential, but it's not good enough for the pain it is to play it.
Read it plsssssss
PUGCACTUS BOI
on
9/23/2017
This game is ok but like I raged I missed one jump and I died just BECAUSE THE STUPED THING WOUNDENT JUMP anyway it glitches out the first Time then u join again and no lag😀 anyway besides that what am I missing oh right don't get this game if u rage easily I repeat DO NOT get this game if u don't like rage
Okay game
This game is so annoying. I think it is programmed so that right when the floor is lava, it glitches.
The best game ever Five freaking stars
some of the jumps or a little harder
Pretty Good Game
donutlover124
on
9/21/2017
I do enjoy playing this game. I used to play this game a lot and when I saw an add for this game, I was like "omg I have to get that game!!" I am glad that I did because it is fun and enjoyable. I love the app maker, Ketchapp and a few of their games! I would recommend this game.
Trash don't get it
Every time I play there is lag and whenever the floor becomes lava I can't never keep jump to the next object. If you could actually play the game I would play it but right now it's trash this game is designed for little kids not hardcore gamers I'm very good at reaction times but this game is total trash when it comes to reaction times don't listen to these autistic 5 star reviews this game is not even worth 2 stars.
The floor is loe
I love it 😻😻😻😻😻😻😻
LOVE IT 😍
SophiaRules11
on
9/20/2017
Yeah just got the game a few minutes ago and I love it 5 stars ✨
Great Game
I love this game it's so much fun. Definitely recommend getting it. ⚠️Warning ⚠️ it's so much fun it's addicting.
Great app!!
__.Metal_Freak.__
on
9/17/2017
Luv it👍👍
Floor is Lava
Game is pretty good, however it would be better if you add levels like you did in Rider(another game of yours).
App lover
This gam is wit. (Wicked+lit)
I am so greatful😊
They great thing about this app is that it's free and it's the best game ever! I am having a little difficultys playing this but I think I can get used to it.Bless you
Lost Data
PinkLollipopPrincess
on
9/12/2017
The game was very entertaining. I enjoyed spending my free time on it. But, one day that all changed. When I opened the app it crashed. The next time I opened it, I discovered that all my data had been erased. I'm really disappointed with the quality of this app. Please review your code and find out why this happened.
THE FLOOR IS LAVA! QUICK GET ON AN OBJECT!
Oh no! The floor is lava ahh blah!! I love the game even know I die and my bigger brother Parker played it but I wonder if my other big brother Harrison will play.. UH-OH THE FLOOR IS LAVA AHH!!!! PLEASE Quick get on an OBJECT!!!!!!! AHH
Fun?
It is very glitchy but amazingly addictive and fun. I had it for ONE DAY and then I ran out of stuff to do. They should add more challenges in the next update; like at least a hundred or so. Of course, I haven't gotten EVERYTHING yet. I still have three power ups and twenty characters to go, but yeah. More stuff and I give it a five out of five. I hope you read this.
Good
Danny Gokey Rocks1432
on
9/8/2017
It pretty good but it can get boring
Fun
Wish you could change the voice
Best game
My cousin made this game
I give zero stars
Alpineskicrazy
on
9/6/2017
Horrible wast of time and barely any female characters
Not the best
The game needs a Lot of work.the jumping is so short and there are only two girls and I am a female.and there are not that many characters. Do NOT get this game it is a waist of money 🤑-🚫
I hate this game.
littyqueen115
on
9/3/2017
I hate this game i hate this game i hate this game i hate this game i hate this game i hate this game. So annoying. I hat lava
Good
Raul Mondragon
on
9/3/2017
Me and my 5 year old like to compete on it! Fun game
Fun to Play
XxToxicBeastxX
on
9/3/2017
Game pretty good as far as jumping and upgrades. This game was pretty good.
Floor is lava.
Hard to make the guy hop
Genius but
It's a great game but I keep getting killed by the lava and it's hard to jump I glitch and die plz fix the bugs
best game ever!!
Geometry – lover
on
9/1/2017
such a great game!!!
The floor is lava!
Jake_Pauler123
on
8/31/2017
I love this app it's so fun I love it so much!😍🤓
Lit lit lit lit lit lit lit
I like the game because every character I get is common rare is there an epic so that is why I like it then I also like it because there is a lot of jumping on random stuff like a sink the bed table nightstand lamp that's why I like it thank you very much for making this game sincerely Zachariah
I luv this app it's so addicting
I think that very one should download this app it's amazing
Fun ......
Don't get me wrong, I love this game but when you use your hearts you jump out of the lava you jump over the ( lets say) chair and land into the lava.
It's fun but kind of annoying
This game is really fun and addicting but there are some annoying things about it. For example sometimes when I try to jump for a heart, the table is to short and I jump right into the lava, and it's SO annoying.
Not for me.
I think this is a great game it's just not for me. This is more of a simple gamer's game.
My dad is better than me
My dad is better than me so I trying to beat him. At my barber he decided to play and he got addicted but I will beat him BELIEVE IT
Can't get enough
Sooo satisfying
Very addicting but the ads
I have this game no too long. But, all the ads are maiming my phone freeze. It is definitely not my phone because it is brand new. Even when I tried closing the app I would continue to have ads. I understand you need ads but, please don't put so much. But, the game is so addicting and I always have fun playing it.
Worst game
This is one of the worst game ever every time I tap to jump there is lag or doesn't work and when I tap it gives me a Ad so I would not play this I warn you
love it
Such an AMAZING game!!!!
It keeps spamming me during play
This game is pretty fun and addicting, but that is completely overshadowed by the fact that it has pop ups that keep coming in the middle of play. I don't mean every 2-5 minutes- I mean every 15 seconds. I don't know if it's a glitch, but I'm not going to find keep it long enough to find out.
Ads
DrEvilGenius21
on
8/23/2017
Was fun but it started every time you jumped ads would pop up blocking the screen.
Fact Sheet
Publisher:

Ketchapp

Category:

Games

Released:

Jun 10, 2017

Current Version Released:

Jul 12, 2017

Version:

1.4

Size:

123.4 MB

Compatibility:

Requires iOS 7.0 or later.

Recommended Age:

4+

Game Center Certified:

No

Supported Devices:

iPhone4-iPhone4, iPad2Wifi-iPad2Wifi, iPad23G-iPad23G, iPhone4S-iPhone4S, iPadThirdGen-iPadThirdGen, iPadThirdGen4G-iPadThirdGen4G, iPhone5-iPhone5, iPodTouchFifthGen-iPodTouchFifthGen, iPadFourthGen-iPadFourthGen, iPadFourthGen4G-iPadFourthGen4G, iPadMini-iPadMini, iPadMini4G-iPadMini4G, iPhone5c-iPhone5c, iPhone5s-iPhone5s, iPadAir-iPadAir, iPadAirCellular-iPadAirCellular, iPadMiniRetina-iPadMiniRetina, iPadMiniRetinaCellular-iPadMiniRetinaCellular, iPhone6-iPhone6, iPhone6Plus-iPhone6Plus, iPadAir2-iPadAir2, iPadAir2Cellular-iPadAir2Cellular, iPadMini3-iPadMini3, iPadMini3Cellular-iPadMini3Cellular, iPodTouchSixthGen-iPodTouchSixthGen, iPhone6s-iPhone6s, iPhone6sPlus-iPhone6sPlus, iPadMini4-iPadMini4, iPadMini4Cellular-iPadMini4Cellular, iPadPro-iPadPro, iPadProCellular-iPadProCellular, iPadPro97-iPadPro97, iPadPro97Cellular-iPadPro97Cellular, iPhoneSE-iPhoneSE, iPhone7-iPhone7, iPhone7Plus-iPhone7Plus, iPad611-iPad611, iPad612-iPad612, iPad71-iPad71, iPad72-iPad72, iPad73-iPad73, iPad74-iPad74,

Supported Languages:

English;