TapNova doesn't recommend this version of the app.
Description
The Floor is Lava!

Your goal is simple. Jump across your living room, but keep in mind that at any point in time… the floor can turn into hot lava! Use the hearts to your advantage and keep jumping as long as possible.

Download now!
iPad Screenshots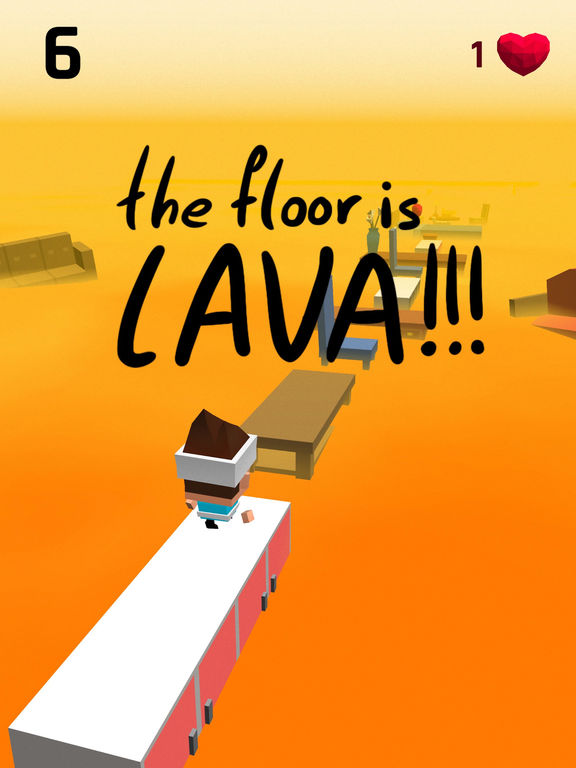 Reviews
Needs improvement
bell_piggy_lover
on
6/22/2017
It just is hard to jump and u run out of hearts💕 so fast and then u watch stupid ads and much more worse things. So i would not get this games sorry katchapp
Fun but they took my money
Earthsbestheart
on
6/22/2017
I payed the 1.99 for no ads and it said successful but the only ones that went away where the long one but some are still there! shouldn't all go away when I pay them?
Do not get!
The graphics are really bad, it is really laggy, absolutely no objective other than to not touch the floor. Also, there are way to many pop ups and adds! Definitely a bad choice. I would give it zero stars but I can't.
Good but...
Love this app, but I wish it would save your score.
Bad
Sometimes it won't jump when I press
Terrible
Game was terrible. Jumping wasn't working really well. Just an awful game.
Terrible ripoff with poor execution
I feel like this brand only rips off games, but does so what trying to execute them in the worst way possible. This is like someone took the code for steppy pants and put it through a blender.
Good But Not Good Enough
PiggyDude339
on
6/21/2017
I like the game. It's addicting just like most of ketchapps games. The problem is it is really hard and the jumps don't cover just the space. So it's ok, but not great.
Make another game
skirtskirter
on
6/21/2017
Kechapp you guys should make a floor is lava game that you are normally doing things and your phone goes off and says the floor is lava 5,4,3,2,1 at any time
If I could rate no star I would...
Anonymous 70538
on
6/21/2017
Are you serious!!! This game is literally the stupidest app I have ever seen! You would get more thrill out of playing the floor is lava in a Walmart by yourself...I would definitely not recommend getting it....EVER!!!
Really hard
Ajmasterspikelover;);$,):;$:;)
on
6/21/2017
Sorry this game is really really hard and aggrivating for me, I recomend not getting it
Not the best.
It's very hard to tell when to jump because the camera angle is off. Basically you don't know when to jump because it's hard to tell how far/close you are to the next object. The jumps are off as well. Improve these things and I think it would be a great game.
The height of the jumps are not so good
Mitcheymjtch 96
on
6/21/2017
I see why this game doesn't have good ratings. I can get past the horrible graphics, but the character does not jump high enough. He ends up in the middle of the furniture. Which isn't good when the floor is lava! Lol, look up "the floor is lava challenge" if you'd like a better app
Just not good
Alyssa Danny
on
6/21/2017
Bad graphics make it pretty hard to play
Why
This is not your best work the jumping skills are terrible and way off and there is way to many glitches. When your about to jump you should be able to double tap to go higher. The glitch Is a distraction the aviator will go into the furniture and it is not good
LAGGY!! ;(
Sassycassyabc
on
6/20/2017
This game is fun! All my friends play it irl in school @ lunch &I I love the concept of it! It's just that this app in particular is VERY laggy & needs some sort of bug/lag update. overall, I think that Ketchapp did a good job on this game, but it needs some sort of lag fix, cuz every time I jump, it lags & kills me! I would definitely give this app more stars, but the lag take away a few.
Horrible
GamingJohnny
on
6/20/2017
Horrible
Not good
Elliotgluck01
on
6/20/2017
Really bad mechanics
Poor
Bob ( from Alaska )
on
6/20/2017
Sloppy game setup, not fun to play.
Really?
Olivia_AmaZing
on
6/20/2017
I enjoy the simplicity of Katchup games. And how they are so adorable. But this game makes me so aggravated because. First of all if you are trying to get a second life by jumping up to grab a heart. You end up falling because it is off. Second of all the angle is so off I want to rip my hair out. And third of all the adds go crazy. The adds come off randomly and annoy me so much. Dear Katchup I hope you can fix this.
Laggggg
Partieversand
on
6/20/2017
The game is super laggy. Often glitches and then makes you die
I got so angry
xCaLiDrEaMiN
on
6/20/2017
I had to beat up my dog to get this anger out of me
Buggy and poorly made
The lava disappears and reappeared making a jump that was way too far for me to reach on my high score and the revive hearts will bounce you straight over the brown dresser/nightstand leaving you in the lava again Not one of the best games I've played either
Sorry ketchapp
headshot3112
on
6/20/2017
This game is horrible. I do not recommend it to anyone. The space the guy needs to jump is often too long and the guy can't jump across... NEEDS TO BE FIXED
Sorry guys
Hehdhdihshchnx
on
6/20/2017
I love to play these games like hop and ballz there addicting then this came out so I could give it a try and it's not the best I personally don't ever like running games and this one also because the camera angle is hard to see for me and the guy doesn't jump very high
VERY Bad! >:(
M Sadusky Gaming 9
on
6/20/2017
This Game is Horrible! A lot of glitches, the jumping is way off! A ABSOLUTELY HORRIBLE RESPONSE TO A GOOD MEME!! There is very little opinions to customize your game! The game gets old quickly! There is no option to change your character or upgrades or skill boosts to help you get better scores! There's ABSOLUTELY NO other maps to play on! No special abilities! You Can't Play Co-Op or play online with friends! Which is a VERY Popular thing on games on the AppStore nowadays! I DEFINITELY DO NOT RECOMMEND THIS GAME!! Unless there is Lots of Updates!!
Trash
Needs work when the floor is lava some of the jumps aren't even possible. The game also had major lag spikes and dropped God all the time. Never had these issues in other games.
Too hard
Thomas411111
on
6/20/2017
Way to hard not fun deleted after 1 min
Glitches
Please read tap fury!!!!
on
6/19/2017
All your apps have glitches
Not as bad as I expected
Greenday4eva2254
on
6/19/2017
After reading all of the reviews, like I always do when I'm about to get a game, I was almost convinced not to get it. I did anyway so I could write a review of how bad it was, but it is not that bad. The angle is weird and it is kinda hard, but I like hard games. I would half way recommended it.
Come on bros!
SevereGamingTV
on
6/19/2017
Don't download, way too glitchy, unplayable...:(
Glitch
I was playing and my game glitched out. all the sudden and it was playing by itself and go a high score of 2000
Addicting game but need some fixesssss
Emmysoccerdog22
on
6/19/2017
The game is really fun but my high score deletes every day and it glitches 24/7. Even though they need to update the app with some fixes it is still fun!!
Ketchapp took an L
SWAGMASTERZ FOR DAYS
on
6/19/2017
This game is trash. The guy barely jumps and makes it to the next object
I beat the game
After 2700 u player drops and there's no lava and no items
Bad.
Hard to control..basically just another useless app
Hard to play
Iamnotverysmart
on
6/18/2017
I thought I sucked really bad but after a while I thought "it can't be me" and low and behold all of the reviews say the same. The spaces are too big, angle is weird, and the jumps are awkward. It was free though so whatevs
terrible
lolololollipop
on
6/18/2017
I thought this game would be great but the jumps are laggy and the controls are off. I also thought it would be better because it looked like a obby but it was not. T_T
This is a waste of storage!
I downloaded this game, thinking it would be a good game. It wasn't. It was bad. It need's fixed, this is why I give it one star. It only gives you two lives! You can't even get no more! When the lava comes, the jump's become to far and you die! This is a waste of storage! **DO NOT BUY**
Hmmm...😕
JadyBlueTiger
on
6/18/2017
It's not an amazing game with the fact that the character is a boy.... Sometimes people would just have the character look both female and male. It makes me very angry and I'm surprised nobody else that I can see has reported about this. Other than that this game is super challenging, but fun. It can sometimes be very aggravating with the jumps and camera angle. Other than that this game has potential that's hard to see, but I know it's there and I hope Ketchapp can also see it❤️.
Lagging
It lags a lot it also doesn't jump when you need it to jump
Trash
This is not good it doesn't count your score half the time and the characters can barley jump you can't ever time the jump
Boi
It lags because of all the adds and half the time ur jump doesn't get to were ur trying to go.it SUCKED
Glitches
CodKoBossKiller03
on
6/18/2017
Sometimes, when it says the floor is lava. Its impossible to avoid. And it took away my score. Also i cant get characters or i cant see the leaderboard.
Horrible
This game is hastily made in response to a popular meme and it shows. The developers couldn't even take the time to work on speed as they speed the entire game up, animations and all to increase difficulty. Sloppy execution in the camera angles and jumping which are unresponsive and hard to use. It's practically impossible to get past 150 because then the whole game is sped up so fast once you fall it's game over.
mehh.
Whatever is coo
on
6/18/2017
It's alright
Fact Sheet
Publisher: Ketchapp
Category: Games
Released: Jun 10, 2017
Current Version Released: Jun 10, 2017
Version: 1.0
Size: 90.5 MB
Compatibility: Requires iOS 7.0 or later.
Recommended Age: 4+
Game Center Certified: No
Supported Devices: iPhone4-iPhone4, iPad2Wifi-iPad2Wifi, iPad23G-iPad23G, iPhone4S-iPhone4S, iPadThirdGen-iPadThirdGen, iPadThirdGen4G-iPadThirdGen4G, iPhone5-iPhone5, iPodTouchFifthGen-iPodTouchFifthGen, iPadFourthGen-iPadFourthGen, iPadFourthGen4G-iPadFourthGen4G, iPadMini-iPadMini, iPadMini4G-iPadMini4G, iPhone5c-iPhone5c, iPhone5s-iPhone5s, iPadAir-iPadAir, iPadAirCellular-iPadAirCellular, iPadMiniRetina-iPadMiniRetina, iPadMiniRetinaCellular-iPadMiniRetinaCellular, iPhone6-iPhone6, iPhone6Plus-iPhone6Plus, iPadAir2-iPadAir2, iPadAir2Cellular-iPadAir2Cellular, iPadMini3-iPadMini3, iPadMini3Cellular-iPadMini3Cellular, iPodTouchSixthGen-iPodTouchSixthGen, iPhone6s-iPhone6s, iPhone6sPlus-iPhone6sPlus, iPadMini4-iPadMini4, iPadMini4Cellular-iPadMini4Cellular, iPadPro-iPadPro, iPadProCellular-iPadProCellular, iPadPro97-iPadPro97, iPadPro97Cellular-iPadPro97Cellular, iPhoneSE-iPhoneSE, iPhone7-iPhone7, iPhone7Plus-iPhone7Plus, iPad611-iPad611, iPad612-iPad612, iPad71-iPad71, iPad72-iPad72, iPad73-iPad73, iPad74-iPad74,
Supported Languages: English;