Games
Action
Entertainment
Arcade
This version of the app is not recommended
App last updated
Jul 12, 2017
Screenshots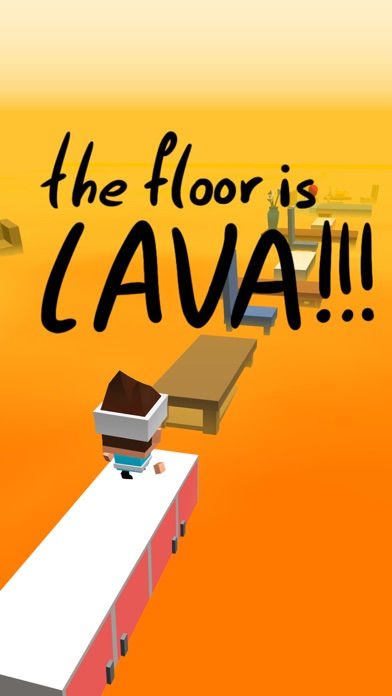 New in version 1.4
Bug fixes for Challenge 31 :)
Description
The Floor is Lava!

Your goal is simple. Jump across your living room, but keep in mind that at any point in time… the floor can turn into hot lava! Use the hearts to your advantage and keep jumping as long as possible.

Download now!
iPad Screenshots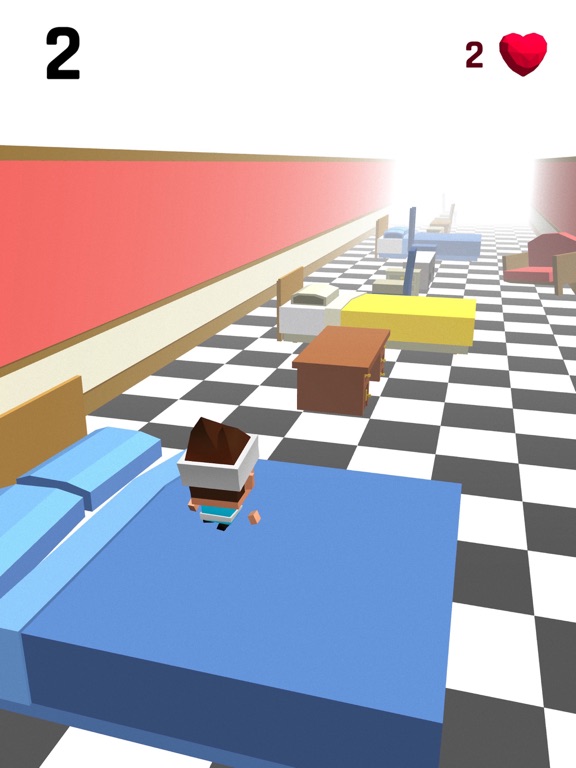 Reviews
Floor is lava review
I love "the floor is lava" game it helps me with concentration my family loves it to
Cool
Avery watterson
on
1/15/2018
Cool
😊😊😊
Great game but needs a pause button
There is no pause button
What is wrong with this game 😵
Worlds
Cat_sleeper12345
on
1/8/2018
Can there be worlds. Like if you get a zombie that would go with a world and if you get a astronaut then the world would be spaced themed, other than that it is a great, fun, addicting game.
Needs more
A very addictive and fun game but after you complete all the challenges, collect all the characters and fully upgrade all the power ups, there's nothing else to do but collect coins you'll have no use for. I wish they could add more challenges and characters or more game modes in the next update.
Not that great
Floor is lava player
on
1/7/2018
The game was fun at first but it gets really boring after a while and every time I get the rocket ship or the revive it speeds up so fast you can't even play the game. I also suggest a different scenery because the scenery is boring.
I 😍
hcLOVE PEPLE PERPOS!!!!!
on
1/5/2018
You are great everybody should play this app
Fun, but a lot of bugs
Non minecraft fan
on
1/4/2018
I love the floor is lava! It is really fun! But sometimes I can't move because it glitches out. If you haven't got it, you will love it!
Great game
shudbmlifcssgb
on
1/2/2018
The game the floor is lava is soooo fun I recommend this game for you!!!😀
?
Kinderteacheriowa
on
1/1/2018
From what I can tell , there are no Female characters!! Hope there are going to be some changes to that. Thanks! 😀
The game is very fun check it out!
Jenna McAlpin
on
1/1/2018
The game is a little hard when you start but when you get used to it it will be easier and more fun!
The floor is LAVA
happygal😇😝😄
on
12/31/2017
This game is one of the best apps I've ever played. It is so addicting!! Play this game 👍🏼👍🏼👍🏼👍🏼👍🏼😃😃😃😃👏👏👏👏👏👏👏
Love it!!!!
LUNA tuna😘😍😍😘
on
12/29/2017
I love this game!!!! Some times the character your playing with if you get in the lava then jump back out your but might get on lava!!!!aaaaa!!!! But this game is One of the best games!!!! I love it so you should download it for sure!!!!!!😍😍😍😍😙😍😙😙
Bad
Bad bad I have to rest it over and over it's not even fun I deleted it after a 1/2 min no good oh and did I say it was bad 😡 bad bad bad bad bad 😡😡😡😡😡😡😡😡😡😡😡😡😡😡😡😡😡😡😡😡😡
Good game
This game is great!!! But the only thing is that almost any time I jump it lags and I either die or have to jump again.
Way to hard
Pink Johnson
on
12/27/2017
This game is way too hard for me, it's like every time the floor is Lava, I die. I hope you make this game better😁 -pink johnson
Yejqjdv
Get boring extremely fast... don't waste your time
Cool
Pretty cool game. Glitches sometimes though
Great addicting game! Add more challenges
This is a great game that I play every time I have some time, my highest score is 642. Please add more challenges, I already finished all 100 of them.
Ads awful
Ladeh Brony
on
12/16/2017
Ads make the game buggy. Constantly die when an ad is ending or about to come up if you accidentally click anything. Will be deleting.
Fun
Social Buff
on
12/16/2017
Good for a short distraction and strangely addictive
This game is nothing but an advertisement
Jakedoguness
on
12/10/2017
Every time when I'm playing this game, in the middle of my game an ad pops up and it makes me die and lose the game. It's a fun game I don't have to lie but please fix this and my rating will go up
Read this
purplepanda7601
on
12/9/2017
This is a good game if you want a game u should because it's fun why?because it's simple u get to get new people and go faster as you jump on the objects witch is floating on lava!!so ya you should get this game like now....i said NOW!!
Slow and awkward feeling
I was not too happy with the way the game responded when I tapped to jump. It felt weird. When I jumped it seemed too quick and a very short jump. Very different from other running games. The angle seemed odd too. I'm use to a behind view not an angle view.
Scoring is off
Very addictive game. My currant best score is 1974 but it only shows being a top score of 946 in the rankings....
I really like this game
I like this game, but could you fix the glitch that when you start going faster, there is some lag on your character? Thanks!
Such a fun game
I use it when I want to play in the car or without service. F
Glitches
Jjawesomeme
on
11/27/2017
I would like the app if it did not glitch. Everytime I play it either goes to my home screen or does every move very late. I have this game on my other phone and it works perfect. I would suggest that you guys make an app called floor is ice and when you fall of the ice breaks and go underwater. Thank you if you do that
Awesome
This is a great game. I enjoy that there is not a lot of pop up adds and you can skip through the ones which do appear. It is very easy and addictive. I do wish that the different characters did actually something different though. But it is still a great game.
Horrible!
#I❤️FASHION!!!
on
11/26/2017
This game is so hard and is boring!
Best game EVER!!
This game is the best game I ever played. It is just like the game in real life just in a game!! I really recommend this game for kids!😁😁
Updates
epic freddy
on
11/25/2017
You should add new characters and a holiday update
When you jump, it doesn't always jump.....
Makanguy15432
on
11/25/2017
I don't like how you can't save up hearts to get something cool and it gets extremely glitchy when you get a really high score. Sorry to complain but I hope u can change that about the app
Great game
I'm really addicted to this game. It's so much fun and very entertaining. It work very good on my phone and it looks amazing. Absolutely love it.
Glitch
cailin whitman
on
11/22/2017
I'm not trying to say that this game is bad but there is a glitch. When I got to challenge 79/100 it said to jump exactly 60 times in one run. I got to exactly 60 but it did not take me to challenge 80 I repeated this 5 times. I am very upset about this issue. This game is fun but has a glitch. 🙁
Great game
Bobb the Great
on
11/22/2017
Great game you should get it. 😀😀 It is fun for all ages and everyone in the whole family. It is a great game for if you have nothing to do and to get your mind off of things. I recommend this game.
Great game but...
The game is self is fun and addictive but it has glitches with the advertisements. If you accidentally hit them you can't go back to the game or the game gets stuck on the advertisements. I have had to delete and reload the game.
Amazing Game!
Wkfjqjdjwkdjwif
on
11/17/2017
Stressing, but Addicting
Choppy
Fun but not fun... lots o lag for me causing delayed reactions resulting in death by lava or getting squished.
THE LAG
Ksjebfjdoshtdjskdhd
on
11/12/2017
BRUH THIS GAME IS FUN I'LL GIVE THEM THAT BUT I HATE HOW IT SCROLLS SO FAST AND I CANT SEE ANY WORDS OR NUMBERS EXEPT FOR "THE FLOOR IS LAVA"!
So addicting
The challenges makes the game so fun to play as well as make it addicting. My son and I love playing this game together.
It guuuuuuuuuuud
guuuuuud or suuuukish
on
11/11/2017
It is guuuuuuuuuuuuu
THE FLOOOR IS LAVA
tasha123prettygirl
on
11/10/2017
this game is so legit and litttttttt!👌👌😍😍😛😛😛😝😝😝
😀😏🙂🙂🙂🙂🙂😋😋😋😋😋😋😊😊😊
Ranges Poocher
on
11/2/2017
Play it! Play it! play it!⭐️⭐️⭐️⭐️⭐️⭐️⭐️⭐️⭐️⭐️⭐️⭐️⭐️⭐️⭐️⭐️⭐️⭐️⭐️⭐️⭐️⭐️⭐️⭐️⭐️⭐️⭐️⭐️⭐️⭐️⭐️⭐️⭐️⭐️⭐️⭐️⭐️⭐️⭐️⭐️⭐️⭐️⭐️⭐️⭐️⭐️
Get this!
lil heathen21606
on
11/2/2017
It's so fun and such a time killer!
Stop asking me to rate the game!
joe_is_awesome
on
10/29/2017
I gave the game more than one star at first, but I do not like being constantly asked to rate the game even after I rated it. And how about a "remove ads" in app purchase? These things make the game more obnoxious than fun in a short amount of time.
Congrats, you found me on the rating section now I j- THE FLOOR IS LAVA!
armandoleyvahernandez
on
10/28/2017
5, 4, 3, 2, 1, 1/3, 1/2, 1/1, do, re, blah, done you survived the floor is lava challenge
Fact Sheet
Publisher:

Ketchapp

Category:

Games

Released:

Jun 10, 2017

Current Version Released:

Jul 12, 2017

Version:

1.4

Size:

123.4 MB

Compatibility:

Requires iOS 7.0 or later.

Recommended Age:

4+

Game Center Certified:

No

Supported Languages:

English;