TapNova doesn't recommend this version of the app.
New in version 1.4
Bug fixes for Challenge 31 :)
Description
The Floor is Lava!

Your goal is simple. Jump across your living room, but keep in mind that at any point in time… the floor can turn into hot lava! Use the hearts to your advantage and keep jumping as long as possible.

Download now!
iPad Screenshots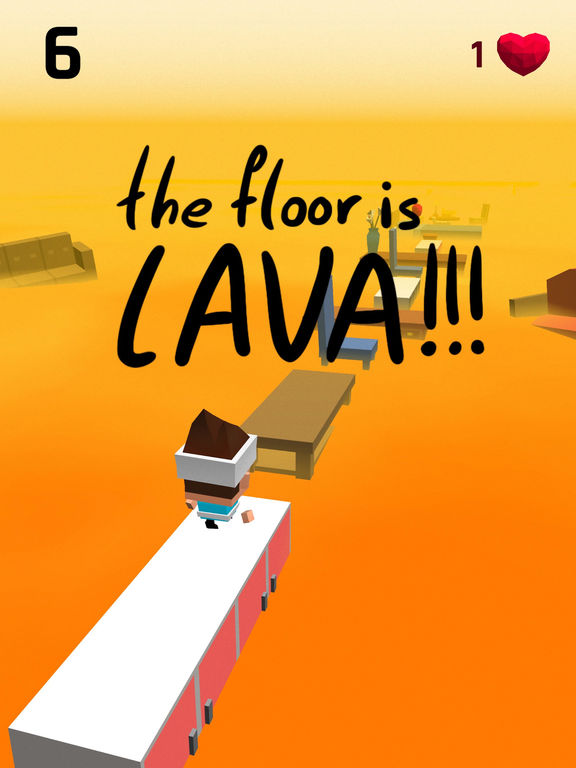 Reviews
Laggy and rigged
Pineapple head dog
on
7/21/2017
It lags so much I fail it's also rigged I give two stars
Eh
Nothing special. Just a standard game with jumping.
Terrible
I kept getting pop up ads in the middle of running 😡
Good
Michelle0108
on
7/20/2017
Its a very fun game to play! Very entertaining too!
If I could give it negative 1 million stars I would...
AvidGolfer2410
on
7/19/2017
Try to play but ads ads ads ads ads ads and then guess what...more ads ads ads ads. It would open the App Store right in the middle of game play...deleted it and then wrote this review. Surprise I didn't get hit with ads ads ads ads ads ads ads ads ads...😒😒😒😒😒😒😒
Adds
Legolas_lives!
on
7/19/2017
This game is super fun and addictive!! The only problem is the ads pop up at the most random times even in the middle of a run making me lose. Ketchapp should give a choice when to watch ads!
Great game
Hdjxjgxixgocochoc
on
7/19/2017
The floor is lava game is great but the furniture should be skinnier
Fun, but sometimes you rage hard
This is such a fun app but sometimes you rage because you fall in the lava. Very creative but just sometimes too hard... Overall This App I Recommend. 😊😊😊😊
Bad
DaBossCritic
on
7/19/2017
Bad
Too Many Ads
I couldn't play the game for any small amount of times without it bringing me to the App Store to a random app while I was playing. This seriously affected gameplay and was way too much of a hassle.
SO ADDICTING
Addicting as usual from you guys haha
Soooooo Funnnnnnnn👍👍👍👍👍❤️❤️❤️❤️❤️
space_otter1027
on
7/19/2017
I luv this game so much
Best game to play on the plane!!✈️
I was playing this half of the time I was on the plane. This app really brings you back to playing the floor is lava when you were little. I must say the adds are not my favorite but secret: if you don't won't adds turn your phone on to airplane mode!!
Unplayable for me
The game lags so much that I can't play hardly at all. I get at most 7 jumps in and then die because I lag so much I can't jump. Fix your game, please.
It's fun but....
It freezes up a lot and that causes you to die (on the game of course ;) so I love you and so does Jesus we both hope you have a good day
What do you mean level 31
Tori15454545
on
7/18/2017
What challenges are you people talking about
Always great games
You guys always make great guys and i always enjoy them , i also love the new challenges in this game
(For people who want to play it)
STARDOMGIRL💅🏻
on
7/17/2017
I haven't played for long, but it seems fine! There are multiple characters to earn, in a few classes: common, rare, and epic. You have to spend a hundred coins to get one. The wheel spins, and you don't know what your character will be. You collect hearts and coins by playing. There aren't too many adds, and the block-shaped world is really cool. You have to jump across multiple furniture objects to survive. You can also earn coins by watching an add. A very fun game. It's a classic racing game, alright!
Best game ever
Lovegirl01945
on
7/17/2017
Awesome
Best Cure For Boredom
Many-Bored-Games
on
7/17/2017
This is the best game to cure boredom. I play this game all the time, I enjoy it so much! This is a game I definitely recommend for you.
Eww
UnicornFavorite101
on
7/17/2017
I love Ketchapp's games, they're so fun and addicting. But this one, not their best. The graphics are fine, its just that there are too many ads popping up while you play. I mean, seriously, can't you do it when we die? And when they jump, they say "hoo hoo". Eww.
It's.. okay.. but
bendy._.demon
on
7/17/2017
The app is great but... every time I lose a heart it never gives u any time to jump cuz it kept doing that over AND OVER making me die EVERY SINGLE TIME. So upgrade that -_-
Lagyyyyy
Cookie dinoooo
on
7/16/2017
I hate the and the lag
Great
Knows what best 👸🏽
on
7/16/2017
I have been play for 20 minutes and my high score is 120. What a great game 😁😆
❤️❤️❤️❤️❤️
Colleen ❤️🤣😆
on
7/16/2017
Love this app and it is a great way to fill up time
Hard but fun
Hannahloveslime
on
7/16/2017
I love the game but I also do not I do not because I always fall in to the lava I love it because it is fun
👍🏼
It is a great game but it should be easier plus on challenge number 12 it won't let me pass even though I did the requirements to pass
Love it❤️
Have cake 05
on
7/16/2017
It's really fun! I love the power ups and my high score is 170!! 😂I love playing and I hope you do too
Super fun and addictive
Blueskye/anonymous
on
7/16/2017
I really love this game. I would love it if a jump counter was added since some of the challenges involve jumping a certain amount of times.
its cool but quality is okay!
they really need a boost!
Awasom
Emmajoy21212007
on
7/16/2017
I love it sososososososososososososoosososososoososososooos much
Okay 😑
Well, the game is fine but, but it has lot of glitches. When It said on one level to get exactly 20 coins and I did that and it glitches and I had to do it again.
Amazing
Banegurlqueen17
on
7/15/2017
This game is really cool so if you are thinking of getting it get right away
BAD!
l hate lt so much lt! lt glitches, and ls very very slow! Don't get lt.
Amazing
Aceyyyyyyyyyy
on
7/15/2017
They out out did themselves on the update the game is amazing love it favorite game ever
Stop please
Chronic Echozz
on
7/15/2017
Aye y'all need to stop making these s**t games foreal, y'all are just trying to do what's cool now but it's filling up the AppStore with stupid games like this one and the dancing hotdog just stop. I can't believe this game is competing with real good games it's sad
It's fun😁😃
Jordans4life2006
on
7/15/2017
This game is really fun I like it
Cool an fun but a bit leggy
This game is oaky it's...
on
7/15/2017
Some times when I jump it glitches and I fall in lava
Great GAME!👍🏻
This is so fun I rate 5 stars
Awesome
This game is fun and it's addicting
Amazing
I really like this app. it's super fun and addicting. I am so happy that they finally fixed the glitchy level 31. Now that it is fixed the game is absolutely perfect
Just got
Fun play it so much
It's alr
Cool dude😏🤙🏾
on
7/14/2017
You know it alr that all I gots to say 🤙🏾😏✌🏾out fellow fellas
Keeps redirecting
Mister Christxpher
on
7/14/2017
Every time I get maybe five-ten steps into a game, it redirects me to the App Store.
Fact Sheet
Publisher: Ketchapp
Category: Games
Released: Jun 10, 2017
Current Version Released: Jul 12, 2017
Version: 1.4
Size: 123.4 MB
Compatibility: Requires iOS 7.0 or later.
Recommended Age: 4+
Game Center Certified: No
Supported Devices: iPhone4-iPhone4, iPad2Wifi-iPad2Wifi, iPad23G-iPad23G, iPhone4S-iPhone4S, iPadThirdGen-iPadThirdGen, iPadThirdGen4G-iPadThirdGen4G, iPhone5-iPhone5, iPodTouchFifthGen-iPodTouchFifthGen, iPadFourthGen-iPadFourthGen, iPadFourthGen4G-iPadFourthGen4G, iPadMini-iPadMini, iPadMini4G-iPadMini4G, iPhone5c-iPhone5c, iPhone5s-iPhone5s, iPadAir-iPadAir, iPadAirCellular-iPadAirCellular, iPadMiniRetina-iPadMiniRetina, iPadMiniRetinaCellular-iPadMiniRetinaCellular, iPhone6-iPhone6, iPhone6Plus-iPhone6Plus, iPadAir2-iPadAir2, iPadAir2Cellular-iPadAir2Cellular, iPadMini3-iPadMini3, iPadMini3Cellular-iPadMini3Cellular, iPodTouchSixthGen-iPodTouchSixthGen, iPhone6s-iPhone6s, iPhone6sPlus-iPhone6sPlus, iPadMini4-iPadMini4, iPadMini4Cellular-iPadMini4Cellular, iPadPro-iPadPro, iPadProCellular-iPadProCellular, iPadPro97-iPadPro97, iPadPro97Cellular-iPadPro97Cellular, iPhoneSE-iPhoneSE, iPhone7-iPhone7, iPhone7Plus-iPhone7Plus, iPad611-iPad611, iPad612-iPad612, iPad71-iPad71, iPad72-iPad72, iPad73-iPad73, iPad74-iPad74,
Supported Languages: English;