Screenshots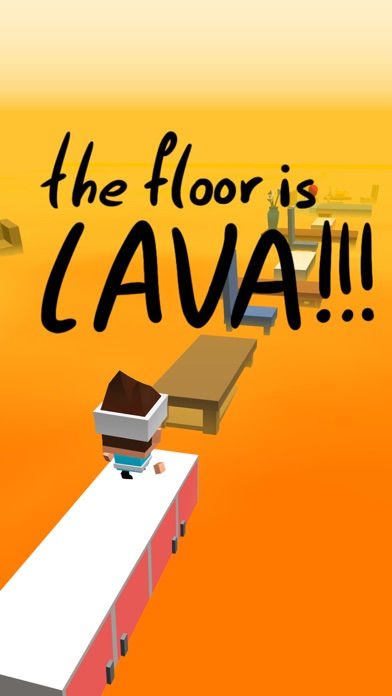 New in version 1.4
Bug fixes for Challenge 31 :)
Description
The Floor is Lava!

Your goal is simple. Jump across your living room, but keep in mind that at any point in time… the floor can turn into hot lava! Use the hearts to your advantage and keep jumping as long as possible.

Download now!
iPad Screenshots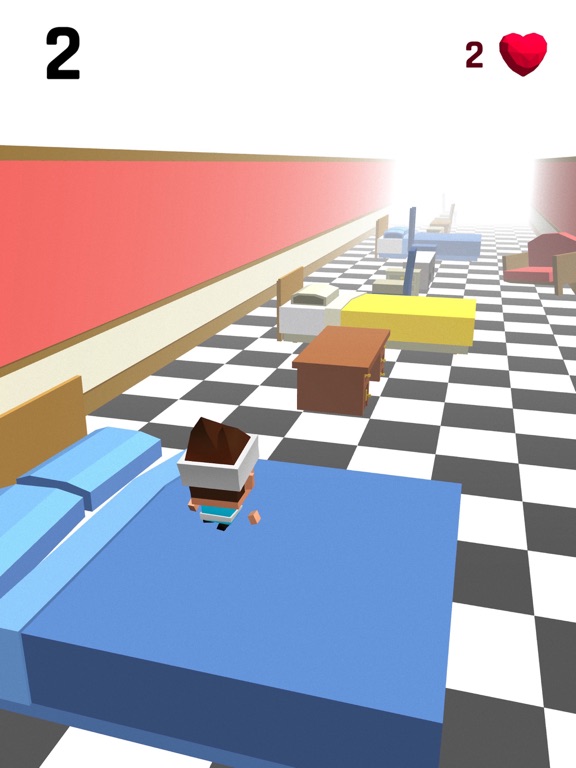 Reviews
Amazing Game!
Wkfjqjdjwkdjwif
on
11/17/2017
Stressing, but Addicting
Choppy
Fun but not fun... lots o lag for me causing delayed reactions resulting in death by lava or getting squished.
THE LAG
Ksjebfjdoshtdjskdhd
on
11/12/2017
BRUH THIS GAME IS FUN I'LL GIVE THEM THAT BUT I HATE HOW IT SCROLLS SO FAST AND I CANT SEE ANY WORDS OR NUMBERS EXEPT FOR "THE FLOOR IS LAVA"!
So addicting
The challenges makes the game so fun to play as well as make it addicting. My son and I love playing this game together.
It guuuuuuuuuuud
guuuuuud or suuuukish
on
11/11/2017
It is guuuuuuuuuuuuu
THE FLOOOR IS LAVA
tasha123prettygirl
on
11/10/2017
this game is so legit and litttttttt!👌👌😍😍😛😛😛😝😝😝
😀😏🙂🙂🙂🙂🙂😋😋😋😋😋😋😊😊😊
Ranges Poocher
on
11/2/2017
Play it! Play it! play it!⭐️⭐️⭐️⭐️⭐️⭐️⭐️⭐️⭐️⭐️⭐️⭐️⭐️⭐️⭐️⭐️⭐️⭐️⭐️⭐️⭐️⭐️⭐️⭐️⭐️⭐️⭐️⭐️⭐️⭐️⭐️⭐️⭐️⭐️⭐️⭐️⭐️⭐️⭐️⭐️⭐️⭐️⭐️⭐️⭐️⭐️
Get this!
lil heathen21606
on
11/2/2017
It's so fun and such a time killer!
Stop asking me to rate the game!
joe_is_awesome
on
10/29/2017
I gave the game more than one star at first, but I do not like being constantly asked to rate the game even after I rated it. And how about a "remove ads" in app purchase? These things make the game more obnoxious than fun in a short amount of time.
Congrats, you found me on the rating section now I j- THE FLOOR IS LAVA!
armandoleyvahernandez
on
10/28/2017
5, 4, 3, 2, 1, 1/3, 1/2, 1/1, do, re, blah, done you survived the floor is lava challenge
Amazing game but ...
This game is a really addicting game . I always play when I have my free time . But .. I finished all 100 challenges really quick . Like I was hoping later in the future there'll be more harder challenges (,: I would appreciate it & maybe other people who plays this as well .
Review
jewlz, INKFAMOUS ARTE
on
10/21/2017
Looks easy but it's mighty hard, for me, just got 70 beat that😈
I feel like...
🐶🌈🐶🌈🐶🌈🐶🌈🍲🤣🤣🤣
on
10/21/2017
This is the BEST GAME EVER!!!!!😜😀😆😄🤣😂🤡 It could use like different modes like a kitchen mode and a garage mode because that would be really really cool maybe if you guys could do that I'd give you 100 emoji stars ⭐️ but if you don't I'll give you 99 emoji stars ⭐️⭐️⭐️⭐️⭐️⭐️⭐️⭐️⭐️⭐️⭐️⭐️⭐️⭐️⭐️⭐️⭐️⭐️⭐️⭐️⭐️⭐️⭐️⭐️⭐️⭐️⭐️⭐️⭐️⭐️⭐️⭐️⭐️⭐️⭐️⭐️⭐️⭐️⭐️⭐️⭐️⭐️⭐️⭐️⭐️⭐️⭐️⭐️⭐️⭐️⭐️⭐️⭐️⭐️⭐️⭐️⭐️⭐️⭐️⭐️⭐️⭐️⭐️⭐️⭐️⭐️⭐️⭐️⭐️⭐️⭐️⭐️⭐️⭐️⭐️🌟⭐️⭐️⭐️⭐️⭐️⭐️⭐️⭐️⭐️⭐️⭐️⭐️⭐️⭐️⭐️⭐️⭐️⭐️⭐️⭐️⭐️⭐️⭐️⭐️⭐️⭐️⭐️⭐️⭐️⭐️⭐️⭐️⭐️🌟🌟🌟🌟🌟🌟🌟🌟⭐️⭐️⭐️⭐️⭐️⭐️⭐️⭐️⭐️⭐️⭐️⭐️well I guess that's good enough but get this game
It's okay.....😕😕😕
Allie_is_awesome
on
10/20/2017
Okay what all the other reviews are mostly true for me. Although this game is super addicting it still needs a lot work. It has a lot of glitching.....☹️ It has also been asking me a million times to rate it even though I already did I am just adding in to my first time rating!😐😕! But the update is well........ an update!🙂. Okay now I am SUPER ANNOYED with this app. I mean it's fun and all but ENOUGH with the ask me to rate it over and over again!!!! AND the glitches OMGOODNESS don't get me started ugggh!!! All the time!!
4 stars 😍😍
Pretty nice 4 stars ✨
Pretty good
it needs way more,
on
10/14/2017
Good except that the furniture is too far away
Why
Well I thing that if you hold down on the screen, you should be able to jump farther than just a little bit. Because than I think all of us could get it a better chance at the app.
Glitchy
Great game but super laggy and glitchy it doesnt run smoothly and sometimes just stops working all together.
Need's a lot of work😫
Oscar Valiente
on
10/8/2017
I like it but some times it's boring. I think it needs more levels and when I tap for jump it doesn't work!!!! It's boring to jump in the same thing, like chairs, tables and beds. I think it needs more levels like in the sea🌊 or mountains, sky, ground and field. It needs a lot of work!!!!!! 😞. p.s My rate id a 2 out of 10 sorry app
Laggy
So hard to play because of lag
Infinite ads
Molybdenum trioxide
on
10/7/2017
The floor is ads.
EPIC BUT
DirtCrazykid
on
10/4/2017
It can be a little laggy on IOS 11
Hi
nickbones121
on
10/4/2017
Thanks for the game
Awesome
Kristennnnnnnnnnnxxxx
on
10/1/2017
It's very addicting lol
Omg this game is gmt
The game keeps cheating
Needs work
I like it seeing that "The floor is Lava" is really popular right now but it's really difficult because every time you jump he misses the chair or desk but it's pretty fun.
Best company ever
I get used to play Ketchapp games recently and I really admired it a lot. It's addictive quick games that rid boredom of.
Good but hard🤔
The app review guy yay
on
9/26/2017
Floor is lava is had and I do think it could be better. You always get out! It is sometimes not fun at all but sometimes it is fun, so you just have to take a deep breath and go do something new. So it is not the most awesome game ever but it is ok
THE FLOOR IS LAVA
This is a great game I just reached 174 awesome its gets easier the farther I get to but I shouldn't go to far that's where the lava appears in a sec one I jump forever my uncle just reach 259 almost 260 if he did I would have fainted him I bet he would have not made it to 260 he is the floor is lava games I have other the floor is lava games but this is the best so far I and just started playing to day its so addictive I cant stop playing it almost my whole family is playing it except my mom and dad and my aunt so bye!
Ads
Honestly it's a good game, but not good enough to be riddled with ads. Normal developers make ads appear before you hit play or even after when you die. Not right when you press play and an ad pops up. Then if that's not bad enough half the time there's no X so you have no close the game to get rid of the ad. It's a good game and has potential, but it's not good enough for the pain it is to play it.
Read it plsssssss
PUGCACTUS BOI
on
9/23/2017
This game is ok but like I raged I missed one jump and I died just BECAUSE THE STUPED THING WOUNDENT JUMP anyway it glitches out the first Time then u join again and no lag😀 anyway besides that what am I missing oh right don't get this game if u rage easily I repeat DO NOT get this game if u don't like rage
Okay game
This game is so annoying. I think it is programmed so that right when the floor is lava, it glitches.
The best game ever Five freaking stars
some of the jumps or a little harder
Pretty Good Game
donutlover124
on
9/21/2017
I do enjoy playing this game. I used to play this game a lot and when I saw an add for this game, I was like "omg I have to get that game!!" I am glad that I did because it is fun and enjoyable. I love the app maker, Ketchapp and a few of their games! I would recommend this game.
Trash don't get it
Every time I play there is lag and whenever the floor becomes lava I can't never keep jump to the next object. If you could actually play the game I would play it but right now it's trash this game is designed for little kids not hardcore gamers I'm very good at reaction times but this game is total trash when it comes to reaction times don't listen to these autistic 5 star reviews this game is not even worth 2 stars.
The floor is loe
I love it 😻😻😻😻😻😻😻
LOVE IT 😍
SophiaRules11
on
9/20/2017
Yeah just got the game a few minutes ago and I love it 5 stars ✨
Great Game
I love this game it's so much fun. Definitely recommend getting it. ⚠️Warning ⚠️ it's so much fun it's addicting.
Great app!!
__.Metal_Freak.__
on
9/17/2017
Luv it👍👍
Floor is Lava
Game is pretty good, however it would be better if you add levels like you did in Rider(another game of yours).
App lover
This gam is wit. (Wicked+lit)
I am so greatful😊
They great thing about this app is that it's free and it's the best game ever! I am having a little difficultys playing this but I think I can get used to it.Bless you
Lost Data
PinkLollipopPrincess
on
9/12/2017
The game was very entertaining. I enjoyed spending my free time on it. But, one day that all changed. When I opened the app it crashed. The next time I opened it, I discovered that all my data had been erased. I'm really disappointed with the quality of this app. Please review your code and find out why this happened.
THE FLOOR IS LAVA! QUICK GET ON AN OBJECT!
Oh no! The floor is lava ahh blah!! I love the game even know I die and my bigger brother Parker played it but I wonder if my other big brother Harrison will play.. UH-OH THE FLOOR IS LAVA AHH!!!! PLEASE Quick get on an OBJECT!!!!!!! AHH
Fun?
It is very glitchy but amazingly addictive and fun. I had it for ONE DAY and then I ran out of stuff to do. They should add more challenges in the next update; like at least a hundred or so. Of course, I haven't gotten EVERYTHING yet. I still have three power ups and twenty characters to go, but yeah. More stuff and I give it a five out of five. I hope you read this.
Fact Sheet
Publisher:

Ketchapp

Category:

Games

Released:

Jun 10, 2017

Current Version Released:

Jul 12, 2017

Version:

1.4

Size:

123.4 MB

Compatibility:

Requires iOS 7.0 or later.

Recommended Age:

4+

Game Center Certified:

No

Supported Devices:

iPhone4-iPhone4, iPad2Wifi-iPad2Wifi, iPad23G-iPad23G, iPhone4S-iPhone4S, iPadThirdGen-iPadThirdGen, iPadThirdGen4G-iPadThirdGen4G, iPhone5-iPhone5, iPodTouchFifthGen-iPodTouchFifthGen, iPadFourthGen-iPadFourthGen, iPadFourthGen4G-iPadFourthGen4G, iPadMini-iPadMini, iPadMini4G-iPadMini4G, iPhone5c-iPhone5c, iPhone5s-iPhone5s, iPadAir-iPadAir, iPadAirCellular-iPadAirCellular, iPadMiniRetina-iPadMiniRetina, iPadMiniRetinaCellular-iPadMiniRetinaCellular, iPhone6-iPhone6, iPhone6Plus-iPhone6Plus, iPadAir2-iPadAir2, iPadAir2Cellular-iPadAir2Cellular, iPadMini3-iPadMini3, iPadMini3Cellular-iPadMini3Cellular, iPodTouchSixthGen-iPodTouchSixthGen, iPhone6s-iPhone6s, iPhone6sPlus-iPhone6sPlus, iPadMini4-iPadMini4, iPadMini4Cellular-iPadMini4Cellular, iPadPro-iPadPro, iPadProCellular-iPadProCellular, iPadPro97-iPadPro97, iPadPro97Cellular-iPadPro97Cellular, iPhoneSE-iPhoneSE, iPhone7-iPhone7, iPhone7Plus-iPhone7Plus, iPad611-iPad611, iPad612-iPad612, iPad71-iPad71, iPad72-iPad72, iPad73-iPad73, iPad74-iPad74, iPhone8-iPhone8, iPhone8Plus-iPhone8Plus, iPhoneX-iPhoneX,

Supported Languages:

English;