Recommended app!
App last updated
Feb 07, 2018
Screenshots
New in version 1.1
◉ iPhone X support.
◉ Premium In App Purchase.
◉ Fixes freeze bugs.
Description
Are you ready for a thrilling ride?

Rush through the void while dodging obstacles in this endless roller coaster ride. Think quick and tap to switch lanes in order to reach incredible speeds!

◉ Complete 100 challenges
◉ Rank up by gathering XP
◉ Collect 50 spheres (including 5 secrets)
◉ Receive daily rewards
◉ Unlock 25 roads
◉ Compare your high score with players worldwide

Download now and experience Rush!
iPad Screenshots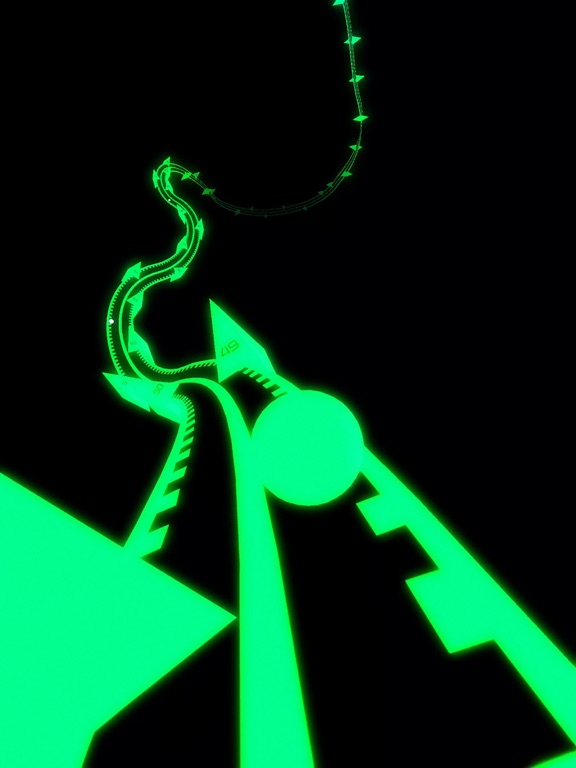 Reviews
Nice game
Brennen king
on
3/22/2018
This game is pretty awesome my friend introduced me to it and ever sense I have been hooked. The thing that I love most about this game is the colors and the physics. This game also has really cool variety of spheres to choose from, I rate this game five out of five stars.
This game is so addictive!!!
FrostedLakss
on
3/22/2018
I love this game!!
Love this
tatianaisavage👅💕
on
3/21/2018
Love this game it's addictive
The ad problem
I was playing this game and all the sudden this little ad popped up at the Corner of the page and it never left and I was playing this for what like 20 minutes and it is still there. Now the problem is that I tap lower and so when tap I hit the ad and die wich get very frustrating! Now another thing is I had just died and I clicked on the extra life thing and I watched video and I didn't get the extra life. Ugh the annoyance of ads
WOW
I never played any game like this very addictive and I love that game I play
Review
kamryn_parker
on
3/20/2018
It's hard but it's addicting I like it a lot though it's fun but I would give it 3 stars
The app
This app is the best app ever 😍😍😍😍 when I'm bored this makes me distracted and I love it.when I wait at the bus stop I play this game.i even call it by my own name.THE ALIEN ROLLERS. So thank you for who ever made this game is a genius this should have the best game award 🥇 is were they would be
Very Pleasantly Surprised
Rush is a game where I saw it for the first time and thought I would play it once and then be done with it. However, the simple gameplay manages to be enticing, rewarding, and a blast to play, which is great considering what it is in its basic form: a game where you try to get as far as you can as a constantly moving sphere while avoiding obstacles. The controls couldn't be more simple, and that's probably why it's so easy to pick up and play and enjoy. The game also allows you to purchase new spheres at random with gems you collect on the track, and you can customize the track that you maneuver on. The customization is a basic feature, but also a nice one to have. The graphics of the game are reminiscent of Rider, with a neon and color-changing track, with a black background. This look of the game is accompanied by music that is ALSO reminiscent of Rider, in that it has a modern-dubstep-electric feel to it. There are also multiple soundtracks that can play in the game, not just one. That spices things up a tad bit. The game also includes the ability to change between high quality graphics and low quality graphics. While the difference isn't too major, it's a good feature to have for people with "low-end" phones, and also shows that the developers care that your experience in the game is suited to you, which is also supported by the fact that there is a decent amount of customization. I have only one problem with the game, and that problem is the hitboxes of the obstacles. Sometimes it feels like you definitely missed a spike, but you, oddly, hit it anyways. This is a bit upsetting, as with this type of game, it is very important that all of the hitboxes are on point. Other than the occasional "misfire" of the hitboxes of obstacles, this is a VERY solid game. In the end, I can say with certainty that Rush has me hooked, and that it has me very pleasantly surprised.
Too frikin hard
beakedplains97
on
3/18/2018
I got this game and thought the first level was gonna be easy... WELL that thought just left my brain
Freezes too often
Just like all the other Ketchapp games, this game freezes way to often. Deleted it with 2 weeks
Its ok but
Its fun but i cant do it... but its LITGIT
Best game
This game is a very fun and learning.
Dope
09popciclesticks
on
3/16/2018
Dope
Awesome game
I luv this game soo much I play it every day!😁
So hard
Royalty babies
on
3/16/2018
Whyyyyy is it so hard??
Caleb
She said that I was there
Просто круто
Оч офигительно
awesome....but needs new levels
i am so addicted to this game. it is sooo much fun but i've completed all the levels all ready. there are only 100 levels. i would love if y'all would add some more.
Love it.
Love the game. Me and my boyfriend love to have little competitions when we play games. Who gets the highest score and who can beat it. Love it.
My favorite game I've ever played in a wile..
This game has no bug period not a single one, I love this game so much the glowing lights and all!
It's good:/
ansleycayers
on
3/13/2018
Well I love the game and how it's like rocking roller coaster at Disney world. What really makes me upset is that the glitching makes hard to complete challenges. Also you die when it happens so it's hard to reach a new high score. Then again I don't have all the money to buy a more official better version of the app. So could the creator please fix the glitches so I can move on with the game and collect more coins.
Rush
claireb.rules
on
3/13/2018
This is a very addicting game!!! I cannot stop playing it!! It is very cool how it is built, like you don't know what is coming!!! Then you learn, and you keep on playing. I would never change, nor delete this game in a million years!!! Sincerely, Berklee Timmons Age: 10
Awesome
This game makes me want to play this game all day long. From a scales from 1-10 I would rate it a 10. It's hard but I still love it!!:)
This game 🕹
lsadella salazar
on
3/12/2018
This game is so much fun, and addicting I can't stop playing this game ❤️
Mhjbdj
This app is really fun I cannot STOP playing it
Love it👍🏻❤️
This game is fun and addicting with cool music and a fast pace. It isn't really that hard, so you move up levels quickly. This game tests your reflexes and is an overall amazing game! One thing I've noticed though, is that since it's last update, now it's just being kinda off. My high score is like 130 and when I get something way off like 15 or something, it says " Oh wow! You are so close to your high score!" So it's just kinda weird. Sometimes, it just randomly reminds me how to play the game, even though I've been playing it for a while. But, over all, this is a really good game. So stop reading and get it! 🛑 😋
I💖this game
This game is awesome and really addictive
Great game
HowdyPistolP
on
3/11/2018
Very addicting can't stop playing it
RUSH
I think rush is an amazing game but... it should have less ads, but on the other note rush is the best game EVER!!!
Rush Review
So amazing I am addicted to this game
Fun and addicting
Im sad because i unlocked all the balls and roads but i love the game
johanna
JfkebJdkdn436
on
3/10/2018
i live how is challenging
It's okay
I use to love this game, but now it freezes all the time and when I hit revive it shows me the ad, and doesn't revive. It just shows me my score at the end
Rush
I think it's pretty fun kind of, but I HATE when there's like a bunch in the row i'm going to just run into them it's#music #karaoke #sing #youngdumbbroke #khalid like weird because they make me like run into stuff and I don't really need to do and it's like it's making you run into them!
Just like Splashy.
The game is amazing off of WiFi. You realize I said, OFF, not on data or WiFi. The only time I can play it without it glitching our and lagging is with no WiFi or data. I find this a problem because if I forget to turn my WiFi back on and it's an emergency, I can't call anyone. Correct this problem now please.
Rush Music
pi 314159265358979323846264338
on
3/6/2018
I liked the old music better, but it must've changed with the update
Reveie
happydonutface22
on
3/5/2018
Hi. My name is Sydney Alexander. I have been playing this game for 6 months! I love this game. I love all of the ketchapp games that you guys put out. They're amazing and fun to play anytime anywhere!!
Tyler Dirkson
Htnthnhtnnh ny ny hynnynyun ny y yet ht h thrunthntynynntrbrtqht tithe gratengrntheqethrwggnrhtnrgrynthrrtnynrryhrthqrnywthrynyhhryrhttrhrtbthrbtrrhtthrhnrtrhrynyrnrnyyhryhhyyhytnyhynr
Stress
This game is perfect for stress
TimeKiller
Gamerrrrrrasdf
on
3/4/2018
It's fun to kill time
Addictive!
Love this game! It's great esp for long bus rides!
How much I like rush
I love rush! It's very challenging, interesting, and very fun!!
Great time waster
Pokémon Trainer
on
3/3/2018
Awesome, slightly addicting, simple yet frustrating game. I play it everyday on the bus home.
Too many ads
Fook DisUpdate
on
3/2/2018
iPhone version has way more ads! So annoying
Addicting!
Sam1991NVCATXNY
on
3/2/2018
Cannot put this game down! Although it gives me anxiety! Ha. Overall, great game, but does glitch a bit which can cause a crash. Fix the glitch and it would be amazing and I would give it 5/5 stars.
This game is AWESOMENESS
I wish every game was ketchapp
Fact Sheet
Publisher:

Ketchapp

Category:

Games

Released:

Nov 28, 2017

Current Version Released:

Feb 07, 2018

Version:

1.1

Size:

144.1 MB

Compatibility:

Requires iOS 8.1 or later.

Recommended Age:

4+

Game Center Certified:

No

Supported Languages:

English;