Screenshots
Description
Are you ready for a thrilling ride?

Rush through the void while dodging obstacles in this endless roller coaster ride. Think quick and tap to switch lanes in order to reach incredible speeds!

◉ Complete 100 challenges
◉ Rank up by gathering XP
◉ Collect 50 spheres (including 5 secrets)
◉ Receive daily rewards
◉ Unlock 25 roads
◉ Compare your high score with players worldwide

Download now and experience Rush!
iPad Screenshots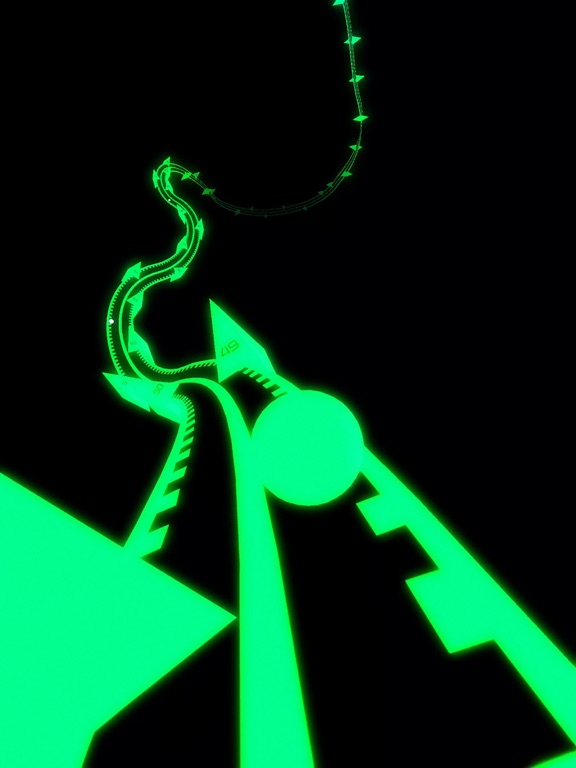 Reviews
Addictive
SlashingBen
on
12/16/2017
Don't have data and wanna play an offline game? Well you're in luck for this. This is super addictive and is offline. I always play it when I'm offline or out of data. Sometimes I even play it with WiFi! This game is great and I'll leave it up to the developer to make changes or update the game, I have no opinions on how to improve the game.
So fun
FORCAKESAKE
on
12/16/2017
I like how you can tap one side to move not just tap each side to move and it's just a fun game in general
Lit
Jaaziel Coreas
on
12/16/2017
Dummy lit
Issues
It's fun when it doesn't stall or speed up after almost stopping. And the banner ad is annoying and makes me stop playing due to it being in the way.
Unplayable (glitchy)
Interesting concept, but game is quite glitchy and unplayable. Also game shows way too many ads.
Addictive
This game is so challenging and fun ❤️❤️
Has "hit box" issues
Feybowsniper
on
12/16/2017
I call it a hit box because I'm not sure what its called but I have died the most from switching too early and supposedly hit the barrier. The human eye notices things like this because its imperfect, the speed of the ball moving forward plus the speed that the ball switches you should technically just barely miss it but you don't and you die because of it.
Don't waste your time
This game was alright the first two times I could play it. If it kept working I could see how it could become addicting but after two rounds the whole app would freeze. I couldn't click anywhere in the app. I tried closing and reopening it but that didn't work. Then I tried uninstalling and redownloading to see if it was just a temporary glitch but the same thing happened to me. I would play two rounds and then it would completely freeze. Like I said if it worked it would have been an okay game but I'm not wasting my time with something that is going to completely freeze after two rounds. Such a shame too because I love Ketchapp games.
Great for procrastinating!
NeoPabliano
on
12/16/2017
Love the Challenges
Cool game
Hdbcdzbnczbnkpg
on
12/16/2017
Fun but waaaay to many ads
Awesome
Silen Skyler
on
12/16/2017
It is awesome
Needs Ad Free Option
Kimberly Joesephine Gabora
on
12/16/2017
The ads are absurd. I spend more time watching ads then I do playing. Please give us an option to get rid of them.
I really like this game!
Fun game. Reminds me of Tron and a trip to my youth.
Great game!
Mexican3553
on
12/16/2017
I'm really enjoying this game! It's so fun and it's so addicting!
Great game but
I played this game and loved it until I got an ad at the bottom of my screen... during a run. I may sound like a baby but I deleted the app I do ads like that
Good game, A LOT OF PROBS
_Chiquitita_
on
12/15/2017
The game has a lot of glitches, which makes it difficult to enjoy as the screen/game simultaneously pauses as the game is rolling. Hope it gets fix to download it again. Otherwise, deleted for now.
Worst Game
Cesar's review
on
12/15/2017
Haven't really been able to play ever since I download it an ad pops up and freezes the screen
Great but a new bug.
Fransisco 1111
on
12/15/2017
I found a new bug not allowing me to play because it will not let me press the play button. Ketchapp you need to fix this
Addictive
It is super addicting and fun I would recommend getting it
Need a couple tweaks
The numbers on the triangles are pretty hard to see against some of the colors of the triangles. I would like to see you add some type of outline to the numbers, like white outlines and black numbers (or possibly just white numbers and no outlines). Also, an ability to remove the ads for a fee would be nice. There are too many ads that display throughout the game and either cause interruptions or lag (depending on which ad is being discussed).
Game Center
Wish y'all would make it so it would sync across devices
3/5
It's a fun little game and somewhat addicting. It would be a lot better if it didn't freeze every single time I open the app. My phone is new and works perfectly and I've tried restarting the app and deleting/redownloading the app, but no matter what I do; when I open the app it just freezes and doesn't let me play. If there was an update to fix this problem I'd continue to play.
Don't get it
Don't get it because they make it difficult to uninstall. This is the first review I've ever written, ever. That's how annoying it i
Fun game BUT...
Fishfrenzy6643
on
12/15/2017
I love this game but I can't play it half the time! When I open it, it won't let me press play half the time. Super annoying and a turn off. Please fix!
Better start updating
Rocket blaze
on
12/15/2017
This is a really great game seriously it is.But there are all these glitches that keep messing me up
Addictive
Can't put it down sometimes
Waste of my time
Djdjxjcirnix
on
12/15/2017
This game is great if you love only being able to play like two games without being interrupted by ads the screen constantly freezing and loading more ads
Game
Needs game mod s like dodge ball or more stuff
This is a fun little game. A+!
Cadence Chick
on
12/15/2017
:)
glitches!!
The best and the funny one
on
12/15/2017
the app keeps freezing when I open it. the play button goes dark, and I can't click on anything!
Great game but......
needs to save progress
on
12/15/2017
I'm looking at getting a newer iPhone because my entire screen is cracked. I would love to continue playing this game on a newer phone but there is no way to save my progress and continue later. Typical ways such as linking it to the Game Center or Facebook are not an option and I've gotten too far in the game to start all over again.
Great
Kawaiikittycat
on
12/15/2017
Can't stop playing I highly recommend it
Great game and is challenging
wolf_lover🐺
on
12/15/2017
The game is fun it challenges you I just started yesterday but I am addicted its so fun I love how it speeds up and adds more obstacles I could probably could play it for hours. The one problem is I wish it put more coins down .
IM SPEECHLESS
It's an amazing game and Literally play it all day!! It's so addictive that I play it in school!!! LOVE IT!
Fun game but too short
The game is very addictive, perhaps why I beat the challenges so quickly. I had the game for about 3 days and completed all 100 challenges. I'm still at lvl 26 and now have to play thousands of games to reach lvl 30 to unlock all roads as well as login about 17 more days straight to obtain all secret balls. The incentive has started to dwindle. To earn the remaining points to complete the game I will have to do 19 hours of game play at 100 points per round.
Addicting
Sooosooosaad
on
12/14/2017
You get addicted QUICK on this game!
Glitches a lot
The game is fun but it glitches a lot and ends the game. Frustrating. Don't recommend until they fix this issue.
LOVE IT
So addicting. I love that it's not too easy to do, so it provides a bit of a challenge. I would completely recommend this.
It's ok..
dik pik nik
on
12/14/2017
The game is fun and I love it, but all app games are ok or bad none are great, but this is probs the best app I have
Good game
Angie_Harmon72
on
12/14/2017
Ugh love it
Ads cause crash
Unsatisfied, now former user.
on
12/14/2017
This is a really fun game, however it is so full of ads that it crashes all the time. 4 out of 5 times I open the app, the first thing that comes up is an ad before even getting to the menu. And then the app freezes so I have to close and open it a few times until I have a chance to hit play before an ad pops up and freezes the game! I have even had ads come up in the middle of a run and it is really aggravating!! Again it's a fun game but when ads make the app freeze it really pisses me off.
Looks great but no longer works.
The Visuals are great but after a few days it no longer works and I can't click the play button
glitch
Edelina bagaporo
on
12/14/2017
whenever an ad for another ketch app game pops up, it doesn't allow me to press anything on the screen
Pretty fun game
Is a nickname necessary
on
12/14/2017
Pretty fun and simple. I knew a time would come where I would have a hard time advancing past a challenge and I have finally met it. I can't get passed 90+ points to save my life. So who knows if I keep the app haha. If you also like final fantasy app commercials you'll love it bc that's about the only one I ever see.
Fun and challenging
I was just looking for a new game and a new challenge. I came across Rush and thought I would try it out. Turns out it's really challenging. It has good goals that are attainable and encouraging you to keep going. The imagery is great and the changing of the spheres is fun. Im still new to the game but definitely recommend it to others.
Fact Sheet
Publisher:

Ketchapp

Category:

Games

Released:

Nov 28, 2017

Current Version Released:

Nov 28, 2017

Version:

1.0

Size:

132.9 MB

Compatibility:

Requires iOS 7.0 or later.

Recommended Age:

4+

Game Center Certified:

No

Supported Devices:

iPhone4-iPhone4, iPad2Wifi-iPad2Wifi, iPad23G-iPad23G, iPhone4S-iPhone4S, iPadThirdGen-iPadThirdGen, iPadThirdGen4G-iPadThirdGen4G, iPhone5-iPhone5, iPodTouchFifthGen-iPodTouchFifthGen, iPadFourthGen-iPadFourthGen, iPadFourthGen4G-iPadFourthGen4G, iPadMini-iPadMini, iPadMini4G-iPadMini4G, iPhone5c-iPhone5c, iPhone5s-iPhone5s, iPadAir-iPadAir, iPadAirCellular-iPadAirCellular, iPadMiniRetina-iPadMiniRetina, iPadMiniRetinaCellular-iPadMiniRetinaCellular, iPhone6-iPhone6, iPhone6Plus-iPhone6Plus, iPadAir2-iPadAir2, iPadAir2Cellular-iPadAir2Cellular, iPadMini3-iPadMini3, iPadMini3Cellular-iPadMini3Cellular, iPodTouchSixthGen-iPodTouchSixthGen, iPhone6s-iPhone6s, iPhone6sPlus-iPhone6sPlus, iPadMini4-iPadMini4, iPadMini4Cellular-iPadMini4Cellular, iPadPro-iPadPro, iPadProCellular-iPadProCellular, iPadPro97-iPadPro97, iPadPro97Cellular-iPadPro97Cellular, iPhoneSE-iPhoneSE, iPhone7-iPhone7, iPhone7Plus-iPhone7Plus, iPad611-iPad611, iPad612-iPad612, iPad71-iPad71, iPad72-iPad72, iPad73-iPad73, iPad74-iPad74, iPhone8-iPhone8, iPhone8Plus-iPhone8Plus, iPhoneX-iPhoneX,

Supported Languages:

English;