Screenshots
New in version 1.3.1
- Now supports the following languages : French, German, Spanish, Italian, Portuguese, Japanese, Russian, Traditional Chinese, and Simplified Chinese
- Many bug fixes

More stuff coming soon, stay tuned!
Description
Get on fire in this hot, epic and bouncy basketball game!
Score as many point as you can before the time runs out!
iPad Screenshots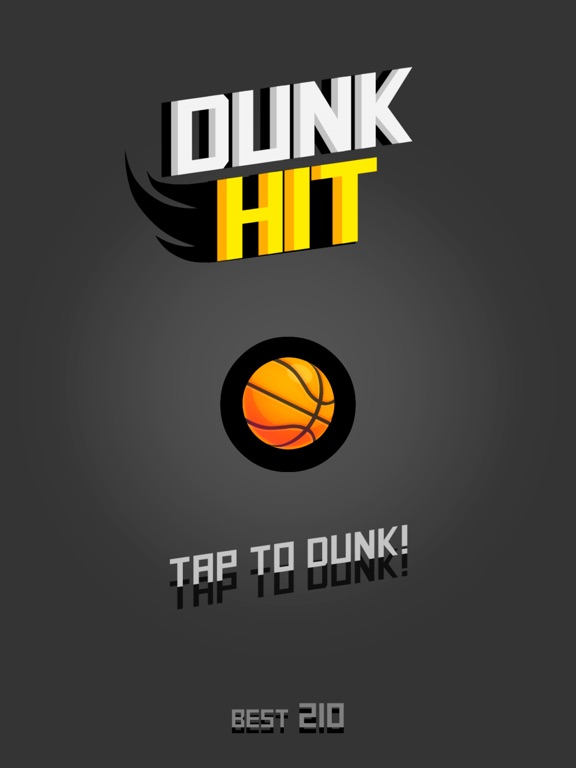 Reviews
Too many ads
Fun game, but way to many ads. I got one that I had to sit through for a minute.
I like it but....
Kissfan1981
on
10/19/2017
Where's the sound? There's no sound to this game
COPIED BOUNCY HOOPS
XxcoolkiddxX
on
10/18/2017
They copied bouncy hoops
Too laggy
MysteriousChild69
on
10/18/2017
I just got the game on my iPhone 5s and it is really laggy, I wish they can fix it, then the game would be better
A lot of ads
I paid the NO ADS version but after couple days the ads were back... i dont know ehat to do I would lime my money back.. nice game but tooo muchhh ads
Too many ads
While the game is simple and fun, the ads are ridiculously incessant.
Trash
This game is fun but the ads are killing it and all voodoo games are like this. If they keep pushing ads through players throats then they won't grow at all
Really.
Don't buy the ad remover, it doesn't remove any ads
A good game.
This is honestly a really fun, addicting game to play to pass time. I love the different balls with different animations for each theme. Only downsides are the ads and it kills my battery. Overall a good game. Can't wait to see what more they do with it.
Too many ads
This game is very good but after every attempt of the game there is an ad that takes a long time to finish before you can start another game. It's really annoying because I would like to play the game without interruptions.
Ok
Bouncy Hoops is better.
Very addicting but add some sound
Estela Rivera
on
10/16/2017
I love this game so much but please add sound when you score and when you get the combo.
Please let us shut off vibration/haptic feedback
I hate how much it vibrates when i am on a streak, it drains battery.
Plz
SavageGamerJaden
on
10/16/2017
I would make it five stars but it's to quite add some music or something to make it better
Fake cloning
Super lame clonning of the famous Bouncy Hops game ...
Ads
PEEEEEEZZZAAAAAW
on
10/15/2017
It's fun but there are SO many ads and the game costs 3 dollars to buy.
Dunk hit
The ads are so annoying you have to wait like 15 second every time it's really annoying that ruined the game
Djfmgjb
Good game download it right know
ads (deleted app 15 seconds after opening)
ads (deleted app 15 seconds after opening)
It's a good game but too many ADS!!
I love the game any enjoy it a lot but literally after every round/game there is an ad and you can't even put (x) like to close it it's sooooo annoyinggg
To many adds
Firstnams Lastname
on
10/15/2017
You can't click on anything without an add popping up
Ads
Stupid 100 percent sure
on
10/15/2017
Awesome game WAYYYY too many ads I love the game but it is ridiculous how many ads there are'
ADS!!
To many ads it's crazy. Each time I play there is an ad
Best game
it _ye _ boi
on
10/15/2017
I live This game so much
LOL read this to save your time
This is a little tap game. So timing your taps is the whole point in scoring points. I actually laughed when ADS continued to bombard me in the middle of each tap; not after you lose, but in the MIDDLE of game play, while your time is running out (when it displays ADS). When I say it's unplayable, I mean it's actually unplayable. The ads will not stop popping up. Deleted this garbage forever. 😂 A well deserved 1 star. I only wish I could affect the overall rating in hopes of saving someone the time of downloading this trash.
Fun game
Archerjared
on
10/14/2017
This game is addictive. I live this app. I cannot wait for new challenges to unlock some more balls and maybe some more mystery balls! The ads are slightly aggravating but it's nonetheless awesome!
SO FUN BUT FILLED WITH ADS
This game is fun.... and addicting... But after every round there is an ad there waiting for you! just stop with the ads!
It's a good game but too many ads
It
Too many ads
Wowowwwkendnsmale
on
10/14/2017
Addicting and fun but theres ads after every game very annoying and bad will delete if you dont get rid of this many ads
Too many ads on free version
Communicate with community
on
10/14/2017
Very fun game, and I understand the need for ads on the free version, but there are just too many. An ad after every game is crazy.
Paid and still ads?
DownWithBigCompanies
on
10/14/2017
This is false advertising! Ads still exist after I pad for no ads! Need fix
What is the Flash ball achievement?
I started my first game and it gave me an achievement like a few seconds in, I didn't read it but now I have this flash ball, what's the achievement for? I also hate the amount of ads like I understand why you need adds but I finished a game, got and add. Then I went to change my ball, got and add. Then I pressed the ball I wanted, got an add. It's pretty ridiculous.
I don't like copy's
I HAS DEPRESSION
on
10/14/2017
Is it me or is this an almost exact copy of bouncy hoops
Too Many Ads
Yo Boii Steve
on
10/13/2017
This game is overall amazing. The only bad thing is that there is ads after every single game! I mean I understand after it's at least every 5-8 games but nope after every game.
Too much ads
There are way too many ads, and if it weren't for those this would be my favorite game. Pls stop the ads voodoo. Thx.
Deargh
This game is fun but when you are connected to the internet while playing, their are ads that get in the way and cause you to lose.
Read!
Fucphhxyfifififo
on
10/13/2017
I honestly never give game reviews but this was the best game I have ever played. It makes you want to get new balls so you can see what the animation is like when you're on fire. I've only had it downloaded for a couple minutes but I already see how great the game is
Ads
Way too many adds. They could do without so many
CHILL WITH THE ADS
great game and awesome mechanics i could play this for hours but there is an ad after every single game it's impossible to to play and enjoy the game for more than 5 minutes
Awesome
This game is the best it is so addictions you guys should add themes
Game would be fun
BulletBourbon
on
10/13/2017
Game would be the best if they didn't have ads after every time you lost wasting my time. Take away the massive ads and just leave them on the bottom. You should be able to choose between a second chance and an ad.
New balls
Make new basketball types
Fun time waster, if it weren't for the constant ads
Chivakenival
on
10/13/2017
There are other games just like this but without so many ads. Also, dead silence? No music? No sounds!? BORING. Ads after every game. So you go from dead silence to blaring ads. No thanks.
Great game (mostly)
eddie707070
on
10/13/2017
Really great game. But every time you do anything, BOOM you're slapped with a 30sec ad. 😑 It's actually really annoying. Ads everywhere
Ad are crazy
Bill Watson Jr
on
10/13/2017
Good game so may 30-60 second ads use airplane mode when your playing
An ad fest
An ad after every single fail is infuriating. Deleted after 10 minutes of 90% ad-watching. Shouldn't have to pay to make your game not annoying, especially with high-learning curve games like these. Just losing players
FAR TOO MANY ADVERTS!!!
Blue Fluffy
on
10/12/2017
Expect to see an advert EVERY time you complete a game, whether you opt for a second try by watching an advert or not. Simply unacceptable.
Way to many ads
Fun game. Just after every game there is a long ad you have to sit through. The close function works sometimes but not all the time. Frustrating and doesn't make me want to continue playing.
Ads
Etu.kurosaki
on
10/12/2017
At least have the option to turn off the sound, be reasonable
Fact Sheet
Publisher:

Voodoo

Category:

Games

Released:

Aug 03, 2017

Current Version Released:

Oct 11, 2017

Version:

1.3.1

Size:

178.6 MB

Compatibility:

Requires iOS 8.0 or later.

Recommended Age:

4+

Game Center Certified:

No

Supported Devices:

iPad2Wifi-iPad2Wifi, iPad23G-iPad23G, iPhone4S-iPhone4S, iPadThirdGen-iPadThirdGen, iPadThirdGen4G-iPadThirdGen4G, iPhone5-iPhone5, iPodTouchFifthGen-iPodTouchFifthGen, iPadFourthGen-iPadFourthGen, iPadFourthGen4G-iPadFourthGen4G, iPadMini-iPadMini, iPadMini4G-iPadMini4G, iPhone5c-iPhone5c, iPhone5s-iPhone5s, iPadAir-iPadAir, iPadAirCellular-iPadAirCellular, iPadMiniRetina-iPadMiniRetina, iPadMiniRetinaCellular-iPadMiniRetinaCellular, iPhone6-iPhone6, iPhone6Plus-iPhone6Plus, iPadAir2-iPadAir2, iPadAir2Cellular-iPadAir2Cellular, iPadMini3-iPadMini3, iPadMini3Cellular-iPadMini3Cellular, iPodTouchSixthGen-iPodTouchSixthGen, iPhone6s-iPhone6s, iPhone6sPlus-iPhone6sPlus, iPadMini4-iPadMini4, iPadMini4Cellular-iPadMini4Cellular, iPadPro-iPadPro, iPadProCellular-iPadProCellular, iPadPro97-iPadPro97, iPadPro97Cellular-iPadPro97Cellular, iPhoneSE-iPhoneSE, iPhone7-iPhone7, iPhone7Plus-iPhone7Plus, iPad611-iPad611, iPad612-iPad612, iPad71-iPad71, iPad72-iPad72, iPad73-iPad73, iPad74-iPad74, iPhone8-iPhone8, iPhone8Plus-iPhone8Plus, iPhoneX-iPhoneX,

Supported Languages:

English;