Screenshots
Description
Get on fire in this hot, epic and bouncy basketball game!
Score as many point as you can before the time runs out!
iPad Screenshots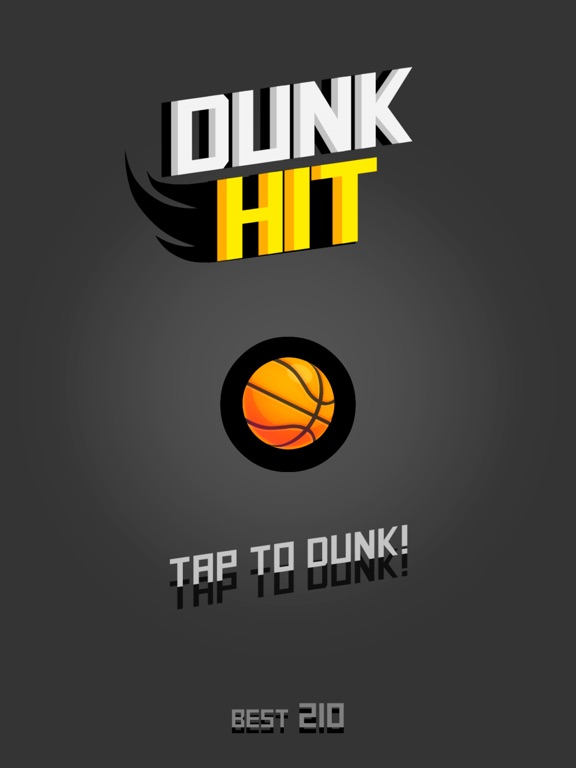 Reviews
Low the game
Glingglobgploopfhfjfjfhgjd
on
12/13/2017
Best at basketball I'll ever be
Not bad.
BummedOUTgamer
on
12/12/2017
I mean... it passes the time every now and then.
Way to many commercials
Cool game but seriously you will spend 75% of the time watching 30 sec commercials. I deleted it
Dunk Hit
It is so fun I play it all day
Great game, too many ads.
Lalalala hi
on
12/12/2017
This game is overall really cool but it would be way better if you added sounds to the game so it wasn't so quiet, and also I understand that making a game requires money and ads can help with revenue but why ads after every game? An ad once in a while would be good but why every single time?
Dunk hit
The game is fun to me because it challenges people to do your best and try your best to score have a good day and Merry Christmas
Pretty fun game
thtniggaVaun
on
12/11/2017
Just too many ads
This is the best
This is the best game get IT
Ads
DerekJeter29
on
12/10/2017
You can spend $3 to remove ads, but nobody ever actually does that so just know that there are ads after almost every game. Put your phone on airplane mode while playing.
Hello! Where is the sound!
girly singer 100
on
12/10/2017
Is it just the phone or is it a game or is it 😐 I'm deaf.
No pay for ad removal
I paid 2.99 for ad removal. DOESN'T remove the ads if you want a second chance 🙄 unlike leap on! It was .99 and actually removed the ads!!
Don't upgrade!
I upgraded to the paid version and the ads didn't go away. So frustrated.
Hard achievements
EPICAWSEOMEEDOG
on
12/9/2017
The game is great and I love it but the achievements are really hard I think they should make them easier
Has potential
Julie.erin.317
on
12/9/2017
If I didn't have to spend $3 to get rid of ads, maybe I'd try the ad free version. But I can't even tell if I like the game or not because the lag with the ads takes away all the fun. Maybe .99$ and we have a deal.
Addicting but no sound
Tank master #1
on
12/9/2017
I wish this game had sound plz fix.
Way to many ads
I love playing this game but there are way to many ads every time I play the only way to play this game is to disconnect your phone to the internet
GET IT
So this app replaced all those stupid apps that were trash. It's SUPER ADDICTIVE and FUN why are you waiting! GET THE DANG APP FAM!
👍🏾💪🏾💯👌🏾🤙🏾🤯
Very easy to catch onto fun enjoyable very addictive easily my new favorite game five stars for sure
Love it😁
x prince s x
on
12/8/2017
Best basketball game I ever played👍🏼💯🏀
Good but...
Good but to many ads:(
Good game get it
Dkaijsisjsmx
on
12/8/2017
😊😊😊😊😊
Ad remove scam.
Paid to remove ads and I still get ads!
Fun, but issues
CamoPrincess
on
12/7/2017
Great time killer and I play it often but after 2 updates ago it started lagging and making hard to get the ball to bounce normal.
I love this game
Add more Skins!
Game is awesome
The game is fun, the only thing I hate about this is the ads, and how u have to pay, but other then that it's awesome!!!
Idk
sumo_gzz add me
on
12/7/2017
Fire
Amazing
This game is LIT!!! I love it and it's just an amazing game.
Ok
Great fun addicting game but TURN UR WIFI OFF the lag is insane with it on:)
Dope
Lol gtg I hate teen titans
on
12/6/2017
Dope
Good game
Devin booker is an all star
Amazing
I think this app is terrifically awesome it has the right amount of adds and it just set up well
Great Game But Ads Are Unbearable
I have played this game for a while and it is simple yet elegant. It does it's job well as suiting the player with things to achieve an yet addicting. I rated this two stars because the ads are unbelievably annoying. It is outstanding after each game I play I get an ad. I am not going to pay 2.99 dollars.
Cool game I love it ok.
Hey
Can be fixed
Shamans manhandled
on
12/3/2017
Great game. Very addictive. Only 2 problems. The game is flooded with ads and the game has no audio.
WORST GAME EVAH DONUT GET IT!!
Dunk hit hater
on
12/3/2017
FELLOW PEOPLES IF YOU SEE THIS THEN READ THE WHOLE THING!! This game is the WORST game ever too many ads and waste of time. I JUST WANT HAPPINESS 😫😫
Game
Theis game is so awesome
Really enjoyable game but...
Yeboinickreviews
on
12/3/2017
Ok, so this game is really fun and addictive. This is because of the many basketballs you can unlock. This is probably one of VooDoos best games yet, it is very well designed!😁 Now, when you buy the Add on (for no adds), it doesn't get rid of what the Add on says. The Add on does get rid of the adds, but it doesn't get rid of the banner add for VooDoos games. If you are addicted to this game like I am, get the Add on. I got this game only 1 day ago, and I already have half the balls (including 2 of the mystery balls, in which the hints are very good in order to get them!) Random: the flash ball is very good, because it jumps a little higher (like the soccer ball), but it's faster! I hope who ever reads this, gets this very good free game😁 ENJOY! -itzyeboinickreviews (I think that's my nick-name😂)
Love the game
Please add new stuff i love the game but i get bored!
Too many ads!
jackmayhofer
on
12/2/2017
Obnoxious amount of adverts, then throw in the ones that won't close after your forced to watch them and this is an easy one star app.
Add more
Skittles blastic
on
11/29/2017
I really like the game but can u add more like backgrounds or new balls or baskets or something because I need 3 more balls and I won't be determined to play if I don't have anything I'm playing for overall really fun👍🏼
Very fun but
Timmy005411
on
11/29/2017
It's faster to close the app and restart it then it is watching the 30sec add. I don't mind adds but not so much!!
Best game ever
hatersausage101
on
11/28/2017
This is the worst game in the history of planet earth
REALLY FUN
It's pretty cool and fun but it gets annoying when it glitches other wise good fun game GET IT
Skyler Rutland
The game is really fun but the ads are out of control I literally cant even play the game because the ads are literally in the middle of the screen and every time I tap it pops an ad up
Glitching?
My game glitches a lot and when it does that the timer still goes on. Idk if that's on purpose or not. I feel like it intentionally makes me lose so I can watch their ads. The game is still addicting but I'm questioning if I should delete it or not. :(
Different Modes
Awesome24567😀😄
on
11/25/2017
Too many ads and I'm not a fan of all the vibrating. Overall I think it's really cool and I like all the skins . I think different modes or something would be a nice touch. The same old same old gets a little boring. Please get rid of some of the ads.
Bad
Kyliecrazygirl
on
11/24/2017
This game is very addictive and fun. But one huge issue is the ads. There are way too many ads and it makes me very frustrated and annoyed. It ruins the game. If you want to play I would suggest getting the 'ad free' version but it costs $2.99
Ads ads and more ADS!!!!!!!
clash royale is poop
on
11/23/2017
Every one game you play there's a 30 second add!!!! EVERY GAME!!!!!!!!!!!!!!!!!!!!
TOO MANY ADS
ThirtyCharactersName5thTry
on
11/22/2017
Fun game. Simple concept. But wow. Why so many ads? Uninstalled after 3 games and 9 ads.
FIX THIS ISSUE!
SLENDER MAN ADDICT
on
11/21/2017
The game is very addictive and fun but there is a slight but annoying issue, when customizing your ball it tends to not let you go back to the main menu also in game when u start it lags a lot
Fact Sheet
Publisher:

Voodoo

Category:

Games

Released:

Aug 03, 2017

Current Version Released:

Dec 13, 2017

Version:

1.4.1

Size:

184.7 MB

Compatibility:

Requires iOS 8.0 or later.

Recommended Age:

4+

Game Center Certified:

No

Supported Devices:

iPad2Wifi-iPad2Wifi, iPad23G-iPad23G, iPhone4S-iPhone4S, iPadThirdGen-iPadThirdGen, iPadThirdGen4G-iPadThirdGen4G, iPhone5-iPhone5, iPodTouchFifthGen-iPodTouchFifthGen, iPadFourthGen-iPadFourthGen, iPadFourthGen4G-iPadFourthGen4G, iPadMini-iPadMini, iPadMini4G-iPadMini4G, iPhone5c-iPhone5c, iPhone5s-iPhone5s, iPadAir-iPadAir, iPadAirCellular-iPadAirCellular, iPadMiniRetina-iPadMiniRetina, iPadMiniRetinaCellular-iPadMiniRetinaCellular, iPhone6-iPhone6, iPhone6Plus-iPhone6Plus, iPadAir2-iPadAir2, iPadAir2Cellular-iPadAir2Cellular, iPadMini3-iPadMini3, iPadMini3Cellular-iPadMini3Cellular, iPodTouchSixthGen-iPodTouchSixthGen, iPhone6s-iPhone6s, iPhone6sPlus-iPhone6sPlus, iPadMini4-iPadMini4, iPadMini4Cellular-iPadMini4Cellular, iPadPro-iPadPro, iPadProCellular-iPadProCellular, iPadPro97-iPadPro97, iPadPro97Cellular-iPadPro97Cellular, iPhoneSE-iPhoneSE, iPhone7-iPhone7, iPhone7Plus-iPhone7Plus, iPad611-iPad611, iPad612-iPad612, iPad71-iPad71, iPad72-iPad72, iPad73-iPad73, iPad74-iPad74, iPhone8-iPhone8, iPhone8Plus-iPhone8Plus, iPhoneX-iPhoneX,

Supported Languages:

English;