This version of the app is not recommended
App last updated
Mar 07, 2018
Screenshots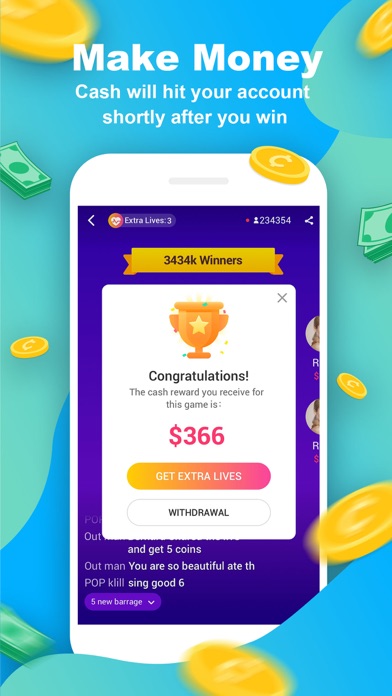 New in version 2.1.7
1. You can watch QuizBiz as a guest now without log-in.
2. Every new user can get an Extra Life for free. It will boost your chance of winning QuizBiz.
Description
Create: Cheez is an easy-to-use video maker
■ Editing tools allow anyone to easily trim, cut, merge, and duplicate video clips
■ Stitch together multiple memories and make the best holiday movies - bring them to life with text and drawing tools
■ Live filters are constantly being updated for every occasion
■ Dance, lip-sync, or music videos... It's all here

Discover: Cheez is a fun community that will make you smile
■ Fun videos will keep you entertained for hours
■ View a personalized feed of videos created by other Cheezers
■ Videos that make you smile include ones about comedy, cooking, makeup, pets, pranks, and fashion

Share: Don't just keep your videos inside Cheez, share them with the world
■ Share your videos inside Cheez and become a star!
■ Share your videos to other apps like Instagram, Facebook, Twitter, YouTube, Musical.ly, Tumblr, Pinterest, FB Messenger, WhatsApp, KIK, or LINE - even across email and SMS
■ Celebrate friendships, relationships, anniversaries, birthdays, holidays, and all your memories with the people you love

Connect: Cheez provides daily battles, challenges, Dance Off, and QuizBiz
■ Post a topic and start a battle, and see which side gets more votes and videos
■ Join a challenge to show your talent and creativity
■ Dance Off, the world's first Mobile Dancing game, brings a lot of fun and challenges
■ QuizBiz: Get ALL 12 answers right and win a CASH prize

Top video categories include:
■ Comedy, Prank, and Clever Editing
■ Talents (singing, dancing, magic, guitar, transition, and more)
■ Lip-syncing
■ Fashion & Beauty
■ Vlogging
■ Animals - especially funny and cute dogs!
Reviews
Apenas vídeos babacas
rhttggfzegrtgd
on
3/11/2018
Achei que tinha triviA e etc só tem vídeos babacas
I won not fake
I won on my first time but it's stupid how u have to have 20$ to cash out
Why did u remove fresh faces
I'm not sure if it's just my phone but I can't see fresh faces. I loved fresh faces because u got to see new cheezes instead of seeing the same thing over and over on trending. Of you did remove it please add it back. (Rates four stars because everything else is great) thank you for your time to read this.
Terrible
RandomWhiteBoy26
on
3/1/2018
Garbage app doesn't even work right. Wouldn't even let me play.
Quizbiz is great!
I've been playing HQ and cashshow, friend showed me this app for quizbiz. Have not won yet but the jackpot is higher and less people playing. Haven't had any trouble with the app booting me, but the host is always a stoner or space cadet and doesn't read the questions fast enough! If you play just know to read the question quick when it pops up on your phone!
Glitchy
Angrypoptart
on
2/26/2018
If you're getting it for quizbiz don't it's a waste either you get cheated out of winning cause of bs glitches or app crashes and if by some miracle you do win you won't be able to cash out. I've won once and I have the amount needed to cash out but it never lets me. So either way you won't be able to get your money
CHEDDARS
How do you get cheddars?
Awesome
This app is great it's like vine 2, I love it!
No payout
jameshasreviewed
on
2/25/2018
I have read briefly through the terms of service and I think it's safe to say that this company will do what they can to make sure you won't receive a cash prize. Just don't download it.
consistently bad
kicks you out sometimes, doesn't show questions sometimes, etc
Avery
I think ur app is good in all but whenever I do the dance battle it says I'm doing the wrong moves when I'm doing them right, it's so frustrating
Ur mum triple gae
Ur mum triple gae
Horrible just awful
Started it doesn't load exit just to get back in doesn't let me and always kicks me please don't waste your time if you have it delete it
Fake.
ForeverAnger
on
2/23/2018
Upon first usage if of the app, the game was supposed to start at a specific time, but failed to follow through with no explanation from the developers. There is no real game at all. Save your time, and don't download the app.
Troubleshooting issue
It won't let me play the live game. Every time I put the referral code in it says please confirm the referral code and won't let me do anything else.
Can't use extra life's and the money
Aid nick 200704
on
2/22/2018
If I tried that I cannot use my extra life and I agree with that it's 100% Rigged because 10,000 dollars sounds pretty rigged or a lie and equally split ??? People want the FULL amount of money not $1.00 dollar !!!
I like it
Swagalicouswild15
on
2/22/2018
It's cool
Total copy
Floppy cow7956
on
2/21/2018
QuizBiz has a good idea and concept of how people can win money. But the app HQ did it first and they just copied off them completely. HQ doesn't kick you off. QuizBiz does. HQ is able to handle over 1 million players every game. QuizBiz can't. Don't get it if you only want QuizBiz. Download HQ instead it is the original and WAY more sophisticated.
Recommendations
TheCowWasHere
on
2/20/2018
I really like Quizbiz, and I don't have a problem with it. But notifications wise the app is pretty annoying. I don't need someone to look at my phone and think I watch cringy belly dancing videos. (But quizbiz notifications are fine and necessary)
I love this app BUT..
I downloaded this only for the trivia and its been lagging really bad... the host was one question behind because of the lag and then the whole app crashed when I was almost about to win the game. I know people can win on the trivia but the lag and glitching has made it impossible to play:(
WHAT THE HECK!
Good ol nice guy
on
2/19/2018
I thought I was getting a quiz game not musica.ly not to mention I don't know what the heck I'm doing because it gives not instructions!😖! I'm trying to follow nd how smart they think they are 🧐🤨 I can't find it! I would not recommend this app!
QuizBiz is 100% Rigged
I was pretty optimistic about QuizBiz when I first downloaded and everything seemed great and they had amazing prize money, like $50,000, pretty often, in the back of my mind I thought it was too good to be true and I was correct! Within two days, myself and some hundreds of thousands of others were unable to answer a question due to a glitch and the show was cancelled which is totally fine and understandable. I was even reimbursed with 3 lives. But the next day during a $50,000 round, I was kicked during the 11th question for no reason and couldn't answer because the question had already timed out when I reopened the app. How convenient that I get kicked on the 11th question of a 12 question game show after using 3 lives. And I know I wasn't the only one because lots of people in the comments were sounding off about it too. They haven't given me any lives to compensate for that if it was a "glitch", but I am just convinced at this point that if too many people make it to the final question they just kick half of them and peg it as a "technical difficulty". Super frustrating and makes me feel like I've wasted any time I have put into QuizBiz and it's also just defeating when you're potentially losing money. Don't download it, it's a total waste of time.
Big scam
Valero Brian
on
2/17/2018
The Trivia kicks you randomly so only bots win and the answers are wrong half the time anyway. It should be taken down.
Why I like and dislike Cheez
I like it because it is fun and cool and I dislike it because it keeps kicking me out
Terrible app
Nicolasfinta
on
2/16/2018
It's a large scam
Same thing as musically don't get
It's practically the same exact thing as musically except the Trivia part
Crap
Rrrrrrrrrrrrrrrrrrtrt
on
2/15/2018
The picture feature is fine but the quiz is just crappy HQ trivia.
No money 😩😫😭😭😭😰
It wont let me win it keeps on saying confirm your referral code when I did
Quizbiz
Nickizbitchz0414
on
2/14/2018
I answered the question right on quiz biz and got kicked out why FIX YALL STUFF
Ayyy Gang Gang Gang
idk Clout Gang ig
on
2/14/2018
Who's also here from Ricegum's instaaaaa ayyyy
Ricegum
hoangthecurry
on
2/13/2018
I gave this a 5 star because ricegum promoted so yeah and prop to ricegum he's the best youtuber.
I am updated and it glitched and I knew all the answers
It took all my lives even though I had an extra life and I was up to date.
Mejoras
Me gustaría que fuera una plataforma para que ayudara a YouTube a crecer en suscripciones
Promo codes
Does anyone know how to enter promo codes? Cheez gave out a code but I don't know how to enter it.
really ?
vine and HQ wannabe . next. 👋
Cool game, with an annoying problem
I just started playing the trivia game and am already addicted. However, I'm not sure if I'm doing something wrong because I have no extra lives. Yesterday during the game there was an error and a wrong answer was given for one of the questions, so the girl announcing the questions gave out a free code. I have nowhere to enter a code. Am I missing something?
AMAZING
I love the special effects and this app is really fun to use in your free time! I RATE THIS 5 STARS INSTALL IT NOW BEFORE IT COST MONEY!!!
iPhone X
Support for iPhone X pls
.
Loose a star
on
2/10/2018
Your app glitched and I could not answer the questions for Roman Atwood because it was playing the intro.
Fun and challenging!!!
It's a fun game but feel robbed... I got all 12 questions correct and only won $2. Not feeling optimistic for next game. Just do it for fun I guess!
Why I got this?
I got this game because of RomanAtwood. He told his blog that if we play and do the quiz we can win $100,000. Hope I win
Timing
Would be better if didn't start the time til after u read the question and not spend so much time talking before the start of the game. Also Another way to earn extra chance.
Kool
kylie bigelow
on
2/8/2018
Very fun
Great app but to many crashes
Don't get me wrong it's an amazing app but sometimes after I make a cheez the app will unexpectedly crash and I will lose my cheez.
Use it
Omarr Jackson
on
2/5/2018
Use my code to get an extra life. You'll get one & me too! You can use THREE lives in one game its CMLU0 (thats a zero at the end)
Amazing host
When Tina hosted, it hooked me! Her hosting capabilities kept me engaged and enthralled throughout the entire game (including when the questions were glitching)! If she remains a constant, I will as a participant! Great game ad great app!
Fact Sheet
Publisher:

KS Mobile, Inc.

Category:

Photo & Video

Released:

Aug 22, 2017

Current Version Released:

Mar 07, 2018

Version:

2.1.7

Size:

145.5 MB

Compatibility:

Requires iOS 9.0 or later.

Recommended Age:

17+

Game Center Certified:

No

Supported Languages:

English; Hindi; Spanish; Castilian;

Parental Advisory:

Mild Alcohol, Tobacco, or Drug Use or References; Mild Simulated Gambling; Mild Profanity or Crude Humor; Gambling and Contests;