Screenshots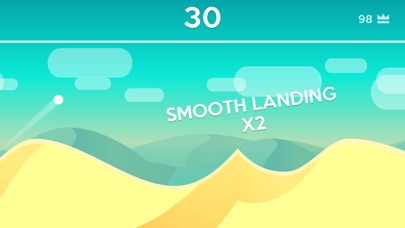 New in version 3.0
• 140 challenges!
• 9 new skins!
Description
Jump above the line to score, but beware! The higher you get, the harder the landing will be! Don't crash and keep it smooth!
iPad Screenshots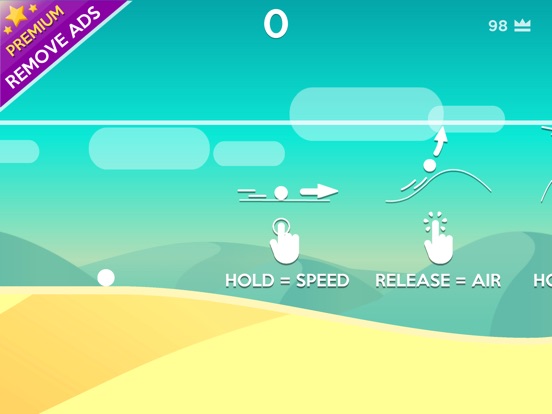 Reviews
ADSSSSSS
Dra9onSlayer51
on
12/13/2017
OK yes this game is fun but there is always ads every time you die I get your trying to make profit but you aren't going to after everyone leaves your game because it takes 30 seconds just to play again
Too many ads
Techanina248
on
12/12/2017
Voodoo kills their games with the ads
Ads
britttneyyyy
on
12/12/2017
To many ads
Good game but....
Shades362403
on
12/12/2017
Game is good keeps u entertained but good gosh way overloaded with commercial apps. Wish I cud keep playing rather than being irritated from all that. Keep it entertaining and fun. Sorry but I just deleted it cudnt go thru all that with this game.
Great game!
Drew Fischer
on
12/12/2017
Dune is a minimalistic game that is so simple yet so fun! It's casual, and can be quite a challenge. This is like one of those games you play for 5 mins on the bus before school. I've had no bugs n stuff like that, so I recommend you download this game.
So addictive
Candycrush cane thing
on
12/12/2017
It is the best game. And it's really addicting but not to be concerned about parents it's also very fun! I recommend this game!
Gratuitous Ads
casa_de_critters
on
12/12/2017
I loved this game, but having to sit through an ad after almost every turn took the fun out of it. I get that they generate revenue through advertising on the free version but for me, it was way too much.
too much mcads bruh
jaes before baes
on
12/12/2017
this game fun u know what i'm sayin but like there's way too many ads bruh. like o can't even play 1 round without no ad poppin up u know what i'm sayin
Stupid
Parkstardank
on
12/12/2017
To laggy and to many ads!
Extremely simple
But I find I play this game for at least an hour or so a day.
Amazing
This game is so entertaining I could play it for hours! It is really easy and surprisingly doesn't need any updates. And I don't have any trouble getting into the game or out of the game. #Amazing Game !
Ads
Jovanmendoza
on
12/12/2017
Way to many ads
Draining my battery!
Every time I play this game, playing for about one minute brings my battery down by 10 percent!
WAAAAYYYYYY TOO MANY ADDS
XxX_IamAnMLGnoscoper_XxX
on
12/12/2017
Not bad overall with the exception of constantly being bombarded with adds.
They were advertising narcotics to children...
The developers should choose their ads. Some of them are absolutely not suited for children.
Cool game but....
Too many ads
Great but..
Great game but the ads are way too long
Million Ads
Ghostcracker
on
12/12/2017
Literally all you do is play a round and then watch and ad. There's an ad pop up for everything. Pretty sad because I think it might be fun, but after every ad all I want to do is delete the game.
To many ads
Deleted within 5min because of to many ads. Voodoo games just has to many ads to make the game fun
Waiting for refund
I paid to remove ads (a higher price than it's worth) and THERE ARE STILL ADS!!! It's such a scam.
I️ think I️ broke the record for highest jump
Would be 5 but you have to buy a premium game to finish the game challenges.
Fun if you can make it
peacepanda87
on
12/12/2017
Ads every time you lose a round is a bit rediculous
Very fun but repetitive
Stoptryingtoforceanickname
on
12/12/2017
I wish there were different shapes to the dunes. Maybe power ups or a level progression system. It still is a really fun but simple game
Fix the touch sensitivity
Jhdstuhbvccf
on
12/12/2017
I have an IPhone 7. I've crashed on many occasions because the dive touch didn't respond. I've notice this only happens when I press near the center along the left side, and the center along the right side... please fix and it'll be a 5 star
Laggy
Granted I still have an iPhone 5, but as simplistic as this game is I don't see why this is so laggy. Probably from loading up 50 million ads while I'm playing it. Near impossible to play on the 5. Played it on my gf's 7 and it was pretty fun. Way too many ads so put your phone on airplane mode. Just don't waste your time trying with an iPhone 5.
$3, STILL HAS ADS!
I went ahead and spent the $3 because I like supporting developers. Yes it's high, but I haven't paid for a game in a while. Anyway, I spent the $3 and only half the ads were eliminated!!! It still plays ads if you choose to revive! And a 30 second ad at that! This is unacceptable and I already went ahead and requested my money back through Apple.
VERY INAPPROPRIATE ADS!
Not kid friendly ads at all. Don't let your kids play!
Game is good ads are too heavy
Like stated above its a good game but dang what's with the ad over load. Play in airplane to avoid ads and not pay for ad free
Ads
Can't play between rounds without an ad. Unplayable unless you pay. Just like Spotify but a mundane game. Too much ads!
Irritating and stressful
Anonomyous210963
on
12/11/2017
I have been playing trying to get the skull and star. I seen online that I have to wait for 30 seconds to 1 minute. I have waited 2 and still haven't got it, so I have it to my dad and he waited for me and then I got it. I got so mad and so the star. I went like 5cm farther than beyond and still haven't got it. I have been getting irritated and stressed because of how you barely go straight up and just farther straight. I would like if you could stop w the ads because you just want money for no ads and make the road so that when you hit a part of it and bounce off you don't lose.
Good, but needs sound.
WhyAmIBotheringToReviewThis
on
12/11/2017
Great game but totally silent! Get some free music or something so it's not as boring
So addictive and fun!
M@R135p@€3€@D3tT3
on
12/11/2017
This game is so much fun! It's such a simple concept but simplicity goes a long way. And I'm so glad I got premium. I love the graphics too. All around a perfect game. ❤️
TINY WINGS COPYCAT
Eugene Donaldson
on
12/11/2017
This game is a literal copied version of a game called "Tiny Wings" look it up! But nonetheless, fun as hell!
Ads
Jim buck too
on
12/11/2017
The game is good but every time I go to play again some stupid ad come up. This would be a really "smooth" game if I didn't have to close out of the AppStore every five minutes.
false about no ads after purchase
advertises no ads if you purchase for 2.99 more. still get them after you purchase it. no worth purchasing this game if you ask me.
AMAZING GAMEEE
I love this app 101
on
12/11/2017
I absolutely love this game! It's so fun and keeps me busy
Dune is life!
Pjengleking
on
12/11/2017
This game has its ups and downs just like life, it is incredibly fun, when you're not waiting on ads that is. I love this game.
Change your ads
Worldtraveler1235
on
12/11/2017
Loved the game.. but the ads were extremely inappropriate! Nearly naked girls who looked barely 18.
Awesome
This_hot_stuff
on
12/11/2017
follow their insta @dunethegame
Used to be smooth
This game used to be smooth on my iPhone 6s before 2 updates. Now it's crappy and not smooth and drains battery
Fun fidgety game
Adamhayworth
on
12/11/2017
Looking to zone out ... good game
Too many ads
Way too many ads
The ads....
This game is literally so addicting and fun, I never get bored of it and I do recommend it for anyone who wants play a simple, but fun game! One HUGE problem, every 2 games (or sometimes 3 depending on how good you do) there is literally a 30 or 15 second ad, this kills my game buzz and I just get off, can you at least make it have less ads? Everything else is wonderful.
Irritating
pitchblack0727374
on
12/10/2017
Add galore and no sound
Why?
It buzzes when you die!!! That can be sooooo annying
Ads fam
Coolguy56269
on
12/10/2017
Too many ads
Two
DeerGamerPro
on
12/10/2017
This Is not a very good game because u hit the top the first three times nothing happens and the fourth time it kills you that is why it is bad
Good
Sofivneufhsje
on
12/10/2017
Very good
Fact Sheet
Publisher:

Voodoo

Category:

Games

Released:

Oct 11, 2017

Current Version Released:

Dec 12, 2017

Version:

3.0

Size:

203.8 MB

Compatibility:

Requires iOS 8.0 or later.

Recommended Age:

4+

Game Center Certified:

No

Supported Devices:

iPad2Wifi-iPad2Wifi, iPad23G-iPad23G, iPhone4S-iPhone4S, iPadThirdGen-iPadThirdGen, iPadThirdGen4G-iPadThirdGen4G, iPhone5-iPhone5, iPodTouchFifthGen-iPodTouchFifthGen, iPadFourthGen-iPadFourthGen, iPadFourthGen4G-iPadFourthGen4G, iPadMini-iPadMini, iPadMini4G-iPadMini4G, iPhone5c-iPhone5c, iPhone5s-iPhone5s, iPadAir-iPadAir, iPadAirCellular-iPadAirCellular, iPadMiniRetina-iPadMiniRetina, iPadMiniRetinaCellular-iPadMiniRetinaCellular, iPhone6-iPhone6, iPhone6Plus-iPhone6Plus, iPadAir2-iPadAir2, iPadAir2Cellular-iPadAir2Cellular, iPadMini3-iPadMini3, iPadMini3Cellular-iPadMini3Cellular, iPodTouchSixthGen-iPodTouchSixthGen, iPhone6s-iPhone6s, iPhone6sPlus-iPhone6sPlus, iPadMini4-iPadMini4, iPadMini4Cellular-iPadMini4Cellular, iPadPro-iPadPro, iPadProCellular-iPadProCellular, iPadPro97-iPadPro97, iPadPro97Cellular-iPadPro97Cellular, iPhoneSE-iPhoneSE, iPhone7-iPhone7, iPhone7Plus-iPhone7Plus, iPad611-iPad611, iPad612-iPad612, iPad71-iPad71, iPad72-iPad72, iPad73-iPad73, iPad74-iPad74, iPhone8-iPhone8, iPhone8Plus-iPhone8Plus, iPhoneX-iPhoneX,

Supported Languages:

English;