Screenshots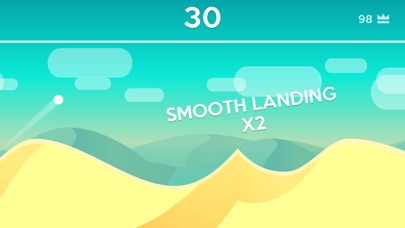 Description
Jump above the line to score, but beware! The higher you get, the harder the landing will be! Don't crash and keep it smooth!
iPad Screenshots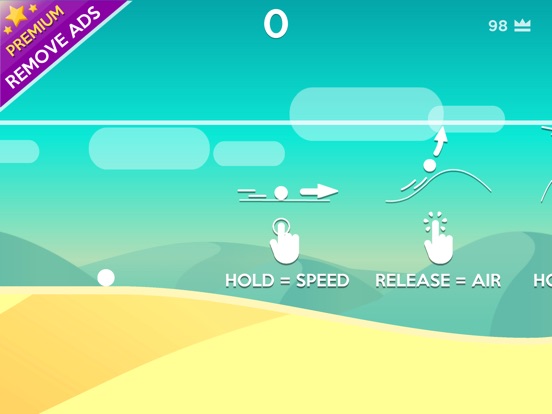 Reviews
Ads
Deathmetalre
on
10/19/2017
Great game. I play it all the time. And watch all the ads. All the time. I paid $3 to remove the ads but they are still there. After I get the ads removed and get what I paid for I would easily recommend this as 5 stars. But today it's a 1 star scam
Annoying
Makes you watch an ad every time you die, which makes it annoying to play for more than 30 seconds
Too many ads to be enjoyable
SquigglyOfficial
on
10/19/2017
This is a rip off. A rip off with rampant ads
Fun
Austin Setzerdj
on
10/19/2017
This game is simple but very fun.
Fun
sG BuffaloWing
on
10/19/2017
I HAVE MUCH FUN PLAY GAME
It's fun but the 30 sec ads ruin it.
It's an addicting fast game to pass the time but you have to start over often and they make you watch 30 sec ads in between which is a little too much when gameplay doesn't even last 30 seconds sometimes.
Ads
eatmyasstwice
on
10/19/2017
The ads are ridiculous
Tiny wings?
It's a nice clone of tiny wings but I'd rather play the original.
Ripped of tiny wings
They ripped off another game and added a toooon of adds. Yay for capitalist America💁🏼🎉
So many freaking ads when you crash
Fun but when you fail there is an ad terrible so frustrating!!!
Not as Good as Tiny Wings
The hills are too small for anyone who wants to make it far, and this just makes it too hard. There is no level system, no customizations. Good idea, but it's just not quite as one of the first great iOS games (Tiny Wings). This is free, though
Yawn
DannyUnique
on
10/18/2017
Few minutes then what's the point?
Too many ads
A f***ing video ad after every try and game is super laggy on iPhone 8
Fun but HOLY ADS
Fun game. Deleting because after almost every restart there is an AD. Never seen so many in one game.
Adds
Enough with the adds, would be a nice game if there wasn't an add every 2 second
Literally the same thing as tiny wings
مينيستيريوس مير
on
10/18/2017
But without a stupid story
Complete rip off of tiny wings
Poosniffer99
on
10/18/2017
The creator of this doesn't deserve to make money off of tiny wings' idea. Boycott this knock off.
Addicting game
Is there supposed to be no sound to this game though?
Paid for premium. Still ads
AirbodyLoveMe
on
10/18/2017
Very addicting and fun. A little laggy at times. Also I paid for premium and it doesn't seem to actually get rid of ads so I'd suggest not buying it. Goodbye $2.99 :'(
Don't listen to the low star reviews
reviewnerd01
on
10/18/2017
Guys the low star reviewers are just whining babies. This game is smooth and has good gameplay regardless if it was ripped off, because they ripped it off well. Ads are not really a problem because you can instantly skip most of them. If you were looking to get this game don't wait! Get it!
Knockoff of Tiny Wings
194820571046
on
10/18/2017
This app is basically Tiny Wings, but worse. (And riddled with ads). Go play Tiny Wings, don't download this game
Uninstalled immediately after trying it
Christmasgill
on
10/18/2017
I get that it's a free game and advertisement is the way they make money, but you get a 20 second ad after every game you play. Far too many. Uninstalled after about 5 games because that's ridiculous, all its good for os wasting time, and half that time is spent watching some ad for another game.
Knock off tiny wings.
BrainDrains
on
10/18/2017
Same gameplay at tiny wings with a fraction of the charm and nearly zero variety. Same background the entire time, same ball the entire time, random dunes that feel the same after 60 seconds. And let's not forget the ads. Play a run and die, watch and ad. Want to continue a run after dying, watch and ad. There is a weigh icon with a symbol in it that does nothing. Is this what games are now? Make a crummy little infinite runner, release it for free but stuffed to the brim with ads to make money, and then have the audacity to charge to get rid of the ads. Whomever made the business decisions for this game should be ashamed.
Ads
Jack rougson
on
10/18/2017
You have to watch a add after each game
Copy Cat Ad Game
They took a good game, tiny wings, turned it into a bad version of it, and added millions of ads. Just another greedy company.
Do i
harambe123231
on
10/18/2017
Love it kind of, hahaha yeah I do
Ads ads ads ads
twerky jerk
on
10/18/2017
There is a 30 second ad like ever other minute it's absurd!!! Not worth it
Stop sh*tting our games
Theepiclandclqn
on
10/18/2017
This is just another example of voodoo sloppily releasing games with large amounts of ads in order to get you to purchase worthless crap. Voodoo, you do not need to make so many games. Focus on one slowly and put some actual work into them and content. Ketchapp has been doing the same thing. This game is boring, full of ads, and a terrible experience. Steer clear
Good game.
Slaydesilver
on
10/18/2017
It is a good thing to play in between classes. The ads after every game is annoying but if you turn off data and don't connect to WiFi it isn't that bad. But the one thing I wish is maybe I little more leniency on the death system. It feels a little too stiff and one can easily ruin the flow
Horrible
Angry Steve 123
on
10/18/2017
A zillion adds don't waste your time.
Nice game
Jakebartley51
on
10/18/2017
Thank you
Good app
Ridesleepskate
on
10/18/2017
Fun game would pay for app if different maps. Not paying to remove ads.
Holy cow the ads
TheBartacus
on
10/18/2017
Fun game but the ads in this one are egregious. It's like every other play you're watching an ad, which, is a lot.
Ads!!!
Fun 'penguin' game, but Holy ads... batman. Seriously?? You need to force an ad after almost every play?
Ad Central
Señor Catus
on
10/18/2017
Nearly every two games I play there's and Ad. Nobody likes ads.
Pure garage
I'm just salty because I can't beat my high score
TOO MANY ADS
Riley Saunders
on
10/18/2017
All you seem to do is watch ads on this game. So lame
No sound?
locustXreign
on
10/18/2017
It's kind of really weird that there's zero gameplay sound. No music no sound effects, just silence until you're blasted with the 15th ad in a row for some stupid defend your wall game. I'll keep it in case something gets updated but it's only good for maybe 5 plays in a row
Wut
Tysonsk8ter
on
10/18/2017
Rip off of that penguin game lol
Forced ads
Xcman121212
on
10/17/2017
Instant delete. Not optional, not pop up, not on the top or bottom, no reward, literally FORCED to watch. That's a no go in my book of ethics. Cool game though if you're looking for a low stress game haha
Too many ads
fartfurnooken
on
10/17/2017
Will never play a game that makes you watch a minute long ad after every level. Very disappointed.
Omg the ads
AlexMarquez92
on
10/17/2017
The ads are crazy. The game is fun. But just about every time you loose it throws a 30s ad in your face.. definitely gonna uninstall. Way to many ads. I downloaded it for something to pick up and play real quick. But do every time I loose I have to sit through an ad...no thanks.
To many ads
Jajdvskdbdbsjdb
on
10/17/2017
Every three times a ad pops up beware
Bought the ad free but still get ads
If you take my $3 for the ad free version I should no longer get ads.
Love the simplicity
Simple little addictive game that kind of has a "learning curve" eh? 😉😉
Ad Hell
poop on a hill
on
10/17/2017
The ads make this game unplayable.
Cool app
macho 22699
on
10/17/2017
Fun game
Ads ads ads
There are ads every time you die.
Fact Sheet
Publisher:

Voodoo

Category:

Games

Released:

Oct 11, 2017

Current Version Released:

Oct 18, 2017

Version:

1.0

Size:

148.9 MB

Compatibility:

Requires iOS 8.0 or later.

Recommended Age:

4+

Game Center Certified:

No

Supported Devices:

iPad2Wifi-iPad2Wifi, iPad23G-iPad23G, iPhone4S-iPhone4S, iPadThirdGen-iPadThirdGen, iPadThirdGen4G-iPadThirdGen4G, iPhone5-iPhone5, iPodTouchFifthGen-iPodTouchFifthGen, iPadFourthGen-iPadFourthGen, iPadFourthGen4G-iPadFourthGen4G, iPadMini-iPadMini, iPadMini4G-iPadMini4G, iPhone5c-iPhone5c, iPhone5s-iPhone5s, iPadAir-iPadAir, iPadAirCellular-iPadAirCellular, iPadMiniRetina-iPadMiniRetina, iPadMiniRetinaCellular-iPadMiniRetinaCellular, iPhone6-iPhone6, iPhone6Plus-iPhone6Plus, iPadAir2-iPadAir2, iPadAir2Cellular-iPadAir2Cellular, iPadMini3-iPadMini3, iPadMini3Cellular-iPadMini3Cellular, iPodTouchSixthGen-iPodTouchSixthGen, iPhone6s-iPhone6s, iPhone6sPlus-iPhone6sPlus, iPadMini4-iPadMini4, iPadMini4Cellular-iPadMini4Cellular, iPadPro-iPadPro, iPadProCellular-iPadProCellular, iPadPro97-iPadPro97, iPadPro97Cellular-iPadPro97Cellular, iPhoneSE-iPhoneSE, iPhone7-iPhone7, iPhone7Plus-iPhone7Plus, iPad611-iPad611, iPad612-iPad612, iPad71-iPad71, iPad72-iPad72, iPad73-iPad73, iPad74-iPad74, iPhone8-iPhone8, iPhone8Plus-iPhone8Plus, iPhoneX-iPhoneX,

Supported Languages:

English;