Screenshots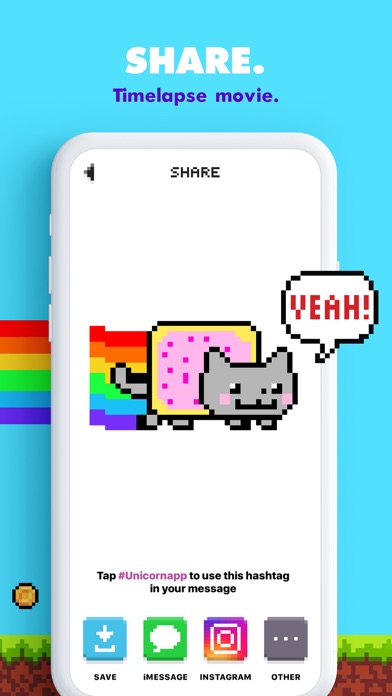 New in version 2.0.1
• Import and colorize any photos you want
• Interactive game «Advent calendar»: every day from 1st till 24th December you receive a special holiday gift artwork!
• Complete interface redesign: all artworks are now categorized. Finally, we hired a full-time designer and reconsidered app's navigation ;)
• Section «My artworks» – where your artworks are in safety.
• Optimized for iOS 11, iPad, iPhone X.

Download now. Stay tuned. Unicorns are real!

Your AppsYouLove Team
Description
Creating modern masterpieces of digital art is simpler than ever! Enjoy the art of true coloring with Unicorn adult coloring book. It really makes time fly!

Just shelter from the stress of life and complete a variety of unique anti-stress pictures. Relief your stress together with family members or friends. It's so fun and so easy to color you don't have to be good at art! Just follow the numbers in pixel boxes. A special color palette at the bottom will suggest what number is what color.

Key Features:
• Perfectly develops children fine motor skills
• Paint easily any image and watch short Time Lapse video at the end
• Share with friends on Instagram, Twitter or Facebook Messenger
• Family-friendly content: coloring anti-stress pictures suits for both adults & kids
• Perfect relaxing way to become the master of your own mind

Be careful not to get too addicted and let's fill the pixels in!

SUBSCRIPTION PRICING AND TERMS

Subscription options:

Weekly Premium Membership offers $7.99 weekly subscription after 3-day free trial for unlocking all content, features and removing ads.

End of trial and subscription renewal:

This price is for United States customers. Pricing in other countries may vary and actual charges may be converted to your local currency depending on the country of residence.

Payment will be charged to iTunes Account at confirmation of purchase.
Subscription automatically renews unless auto-renew is turned off at least 24-hours before the end of the current period.
Account will be charged for renewal within 24-hours prior to the end of the current period, and identify the cost of the renewal.

Subscriptions may be managed by the user and auto-renewal may be turned off by going to the user's Account Settings after purchase.
Any unused portion of a free trial period, if offered, will be forfeited when the user purchases a subscription to that publication, where applicable.

Privacy Policy: http://www.AppsYouLove.com/PrivacyPolicy.pdf
Terms of Use: http://www.AppsYouLove.com/TermsOfUse.pdf
iPad Screenshots
Reviews
Vhfjete
ittijjihgyoljgygyhujgy
on
12/16/2017
To gbkcncghchvvfcfhh
I'm sad
Mama K Says...
on
12/16/2017
This could be so great but $8/week?!? INSANE.
Amazing
This drawing game is so amazing you should really get it is so much fun.
Good and bad
htk12345678910
on
12/16/2017
It could have the number of colors you have left when u do it and all of them can be free but other then that it is good
Best Game Ever
I got this game bcuz i got bored this was a good decision to get this game
COOL....BUT
It's a great app, easy to use and fun. But you have to use the free trial which is only a week. Then you have to pay to use the app.
Crashed
paullefteyebrow
on
12/16/2017
It crashes so much. I was about to finish a difficult piece of my boyfriend and as I was about to finish it crashed and when I opened it again all my hard work was gone. 💔💔💔💔
Thank you
DropJawreally
on
12/16/2017
This is such a fun game
Unicorn app
unicrons are cool🦄
on
12/16/2017
This app is amazing you should get it if you can't pay money your in good luck they have plenty of coloring sheets for free right on your iPhone iPad iPod anything you have I recommend you to get it in joy coloring!!😀
Amazing
Girluamazing123
on
12/16/2017
You totally will like this game so download it NOW if u like number coloring!
Amazing
It's so addicting to finish
GamerGirl
It may look boring,but it passes your time. Played for one hour straight. 😎
Unicorn
Fede El Cruz
on
12/16/2017
Unicorn es el mejor juego que he tenido en mi vida
I like drawing
jekhi massey
on
12/16/2017
I like this is so colorful in so pixel this game gets 5 stars👍👍👍👍👍
DON'T GET IT!
Great thing to do! :)
on
12/16/2017
The coloring options are good, but most/close to all the drawings are locked. By locked, that means that you can't draw it without paying for it. Also, there are many ads, and to get rid of them you have to pay. It would be $7.99 PER WEEK for all pictures and no ads. To me, that sounds like a rip-off and a total waste of money. But if you want to pay that much money per week, the drawing are good, but nothing special. I'm sure you can find another app with drawings that are all un-locked/free.
Too pricey but great app
PhoenixAflame
on
12/16/2017
If this was a one time cost for this app, I would buy it but if you keep the app for a year it would come out to over $415/ year. Not worth that much so after the trial I will cancel it.
I love the app but there are somethings I don't like.
Mini._.potato
on
12/16/2017
The app is really cool but I don't think there should be premium. I also think the app should let you know when you've finished a color
Awesome
queen zoeb🥀
on
12/16/2017
I love it
Wish there was more available without a subscription
gert is rude
on
12/16/2017
Not enough available without subscribing and it's very expensive to subscribe Other than that recommend app Very fun and stress free
Unicorns are the best
This is an amazing especially because I love unicorns and totally think they are real
Please unlock
I love soccer 19
on
12/16/2017
I think all of them should be unlocked and not locked so please unlock them and I don't know how to unlock the ones that are locked. But so far it is good
It's awesome but.......
LittleArmstrong
on
12/16/2017
I just wish you dint have to pay for most pictures. I can only do a couple. Although the game is very fun especially for when I get bored. It's entertaining. I loved it.🎉🦄🐬🌈💜💜😆
🦄🦄❤️❤️❤️❤️❤️
J-Bean the bunny
on
12/16/2017
I LOVE THIS GAME It's so amazing because you can color and it has numbers next to each other so you know what colors go where it's numbers on the picture and the colors ITS THE MOST FUN it's amazing and if you have to pass the time just play the game
Unicorn
Dynasty Sports Empire
on
12/16/2017
I LOVE unicorn because it's very easy but active.You could do a lot of artwork and show your family and friends.This game is recommended for people that love art.
Exactly like sand box
Weird_crazy
on
12/16/2017
This app is literally CoPyrighting sandbox!!! Almost every picture to do you can't do unless ur a member!!! I would MUCH rather do sand box than thhis
Saving
I was enjoying importing my pictures and coloring them. After coloring for an hour and minutes from finishing, the app closed out and lost everything I just colored. Very frustrating and irritated.
Unicorn
Art and crafts
on
12/16/2017
I LIKE IT! It has creative things and arts and really cool pictures its Awsome!!
It's amazing!
Lexi loves unicorns!
on
12/16/2017
I love this app it's amazing but I can't do some of them because they are with money and I don't have so ya but it's okay! Thank you so much for doing this game! Bye!
Love The App
GenderSucks
on
12/16/2017
I wish there was a "fill" button so you wouldn't have to keep dragging your finger for the larger spots.
UNICORN APP
Best game ever I love it download it is worth it
Best game ever I had played in my life
meliboutweanie
on
12/15/2017
This game is so fun because you get to all the pretty colors and how all of the colors match up.
Khalin Butler
Khalin Butler
on
12/15/2017
I love this game so much!!!
The good and bad
I will say this in the way I think would be nice, I usually would avoid this developer but me being a critical criticiser I would have to look at the good and the bad the good part is that it works the bad is that all just a big massive scam, I've noticed that there's been four other apps that are the same exact thing and they all on the same exact purpose just to sell I don't recommend even trying to go near these developers they're trying to scam you and trying to mooch off money off you
Fun
Forever Evee
on
12/15/2017
Really fun game
Cool game
Cool game. Love it
I love this app!
This app is really amazing
OK for the most part but is something wrong?
Even though this game is very similar to sandbox which I cannot confirm came out before this but I'm pretty sure it did and the many of the pictures cost money to be able to color, aside from the few images that I wished to do the maiden thing that I wanted to do with this app was color in my own Photos. At first I just thought that you could only use your own pictures but when I read the update notes it said that you could use pictures that you have downloaded into your Photos which made me get very excited immediately so I quickly downloaded the app and gave it permission to access my Photos camera and give me notifications just to make sure everything worked then I went to import a Photo and when I press done nothing happened except for a completely black photo! After they have a tried deleting and then reinstalling the app, scaling the pictures it all different ways but nothing works. I will try and delete a few apps that I don't use anymore since that seems to fix some issues with other apps that I've had but I'm not too sure that it's going to work. If it does work I will come back and read it four stars instead of two but if it does not I have to ask what it's happening?
Czarina's Opinion O This Game
This is so much fun! I could play for a whole day!
Unicorn 🦄
🔮DRIPPY.JAY🃏
on
12/15/2017
This app is so addictive🤤
GOOD JOB
I love this game it it so cool
The
Pizza marie
on
12/15/2017
The truth
Needs some work
I love this app! But the fact that it's 7.99 a WEEK for premium, is a little much. Also recently the app hasn't been working it crashes every time I try and open it. Please fix so that we may continue using it and possibly rethink the premium price....
Awesome game
This game is so cool
Nice
Great app! -Nice person
This app is stealing money from me.
Piccolo0208
on
12/15/2017
This app has a subscription service that takes money out of your account on a weekly basis but they offer no way to cancel your subscription. I am so disappointed that I've lost so much money from this app. This is theft. Do not let your children download this app.
Amazing
hai.itz.hallie
on
12/15/2017
I love this app there are all kinds of pretty pictures u can color
Omg it's the best
BBBBCCCCBB8
on
12/15/2017
THIS GAME IS THE BEST GAME EVERRRR!!! ITS MY FAVORITE GAME!!! ITS FREEEEEE!!! If your bored, GET THIS GAME!!!! IT IS SOOO FUN AND ADDICTING!!!
Review
unicorn reveiw
on
12/15/2017
This is the best app ever! I just wish u don't have to pay for pictures to color I think that is dumb☹️ This is the only thing that makes me mad 😡 about this app Over all this is a really good app though😀😃
Fact Sheet
Publisher:

MODERNO DESIGN LP

Category:

Entertainment

Released:

Oct 26, 2017

Current Version Released:

Dec 03, 2017

Version:

2.0.1

Size:

106.2 MB

Compatibility:

Requires iOS 10.0 or later.

Recommended Age:

4+

Game Center Certified:

No

Supported Devices:

iPhone5-iPhone5, iPadFourthGen-iPadFourthGen, iPadFourthGen4G-iPadFourthGen4G, iPhone5c-iPhone5c, iPhone5s-iPhone5s, iPadAir-iPadAir, iPadAirCellular-iPadAirCellular, iPadMiniRetina-iPadMiniRetina, iPadMiniRetinaCellular-iPadMiniRetinaCellular, iPhone6-iPhone6, iPhone6Plus-iPhone6Plus, iPadAir2-iPadAir2, iPadAir2Cellular-iPadAir2Cellular, iPadMini3-iPadMini3, iPadMini3Cellular-iPadMini3Cellular, iPodTouchSixthGen-iPodTouchSixthGen, iPhone6s-iPhone6s, iPhone6sPlus-iPhone6sPlus, iPadMini4-iPadMini4, iPadMini4Cellular-iPadMini4Cellular, iPadPro-iPadPro, iPadProCellular-iPadProCellular, iPadPro97-iPadPro97, iPadPro97Cellular-iPadPro97Cellular, iPhoneSE-iPhoneSE, iPhone7-iPhone7, iPhone7Plus-iPhone7Plus, iPad611-iPad611, iPad612-iPad612, iPad71-iPad71, iPad72-iPad72, iPad73-iPad73, iPad74-iPad74, iPhone8-iPhone8, iPhone8Plus-iPhone8Plus, iPhoneX-iPhoneX,

Supported Languages:

English; French; German; Indonesian; Italian; Japanese; Korean; Portuguese; Russian; Chinese; Spanish; Castilian; Thai; Chinese; Turkish; Vietnamese;