Screenshots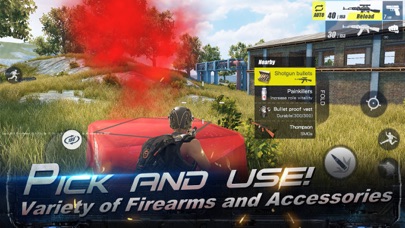 New in version 1.0.4
1. General
-Enhanced anti-cheat detection.
-Increased fluency when picking up items.
-Optimized the game's performance and reduced lag. Reduced the CPU consumption of supply crates, footstep sounds and special maneuvers.

2. Gameplay
-Adjusted the ultimate range of signal area.
-Adjusted the distribution of grass density, slightly lowered the height of vegetation.
-Lowered the damage of M4A1, AR15 and AKM over 100m and slightly reduced their fire rates.
-Slightly lowered the fire rate of Thompson. Thompson can now be equipped with different sights (Red dot, Holo, 2x Scope).
-SMGs equipped with quick magazines and quick ext. magazines can increase their fire rate.
-Added default scopes for sniper rifles.
-Added closing scope delay after shooting. Players can see the hit point easier.
-Fixed the issue where players in a prone position could not aid their teammates. The posture now auto will switch to a crouch while aiding.
-Increase the effective range of aiding.
-Added distinguishable colors for damage inflicted to vehicles and players.
-Canceled the audio cues of bicycles.
-Reduced the spawn rate of the blue sports cars.
-Removed audio cue for when vehicles are not being driven but are still moving.
-Move speed will not be slowed when players are unarmed or equipped with close ranged weapons.
-Increased the attack range of melee weapons and slightly increased the attack rate.
-Adjusted the display of throwables' countdown.
-Increased the throwing range of throwables.
-While checking items, tapping fire button can stop checking and start shooting.
-Players now automatically switch to their main weapon when getting ashore after swimming.
-Removed audio cue when moving while holding a grenade.

3. New Features
-New clothing and parachutes added.
-Rewarded share function unlocked! Get gold and clothing via sharing the game.
-Added a tutorial to help new players to better understand the game rules and controls.
-Added parachute sound effects.
-Updated the game lobby and team interface, optimized the UI display and control logic.
-Added a new sniper rifle.
-Added a new vehicle.
-Added reset feature for when a character gets stuck. If you get stuck your position will be reset later after some time.
-Added customized buttons in the settings which allow players to customize the buttons' location, size and opacity.
-Added a share feature in the wardrobe. Players can share their characters' looks.
-Added a new melee weapon - rubber chicken. Holding the rubber chicken can increase sprint speed. Enemies will make special screams when getting hit by it.
-Added car horns and bicycle bells. Players can use them while driving.
-Added sprint locked button. Characters can switch to sprint locked mode from position.
Description
Welcome to the arena of RULES OF SURVIVAL!
You will be one out of 120 unarmed players who get air dropped into a vast, deserted island. Only the last one survives. it is not a game. You are writing RULES OF SURVIVAL!

Remember! Your safe zone is diminishing. You are racing against poison gas spreading, enemies shooting, and ultimately death chasing.
You could either fight alone or form a small team up to 4 players. Collect weapons scattered, arm yourself to the teeth, wield your wisdom and tactics, loot gear from the unlucky.
Alert !!! This is not just about a game. This is about a life & death fighting.

【Game Feature】
Run or Fight!
- Absolute fair play in a massive HD map.
Last Man Stands!
- Solo or team mode in a 120 survivor's battle.
Pick and Use!
-Variety of firearms and accessories.
Fast and Furious!
- Drive vehicles across different terrains.

it is not a game. You are writing RULES OF SURVIVAL!
iPad Screenshots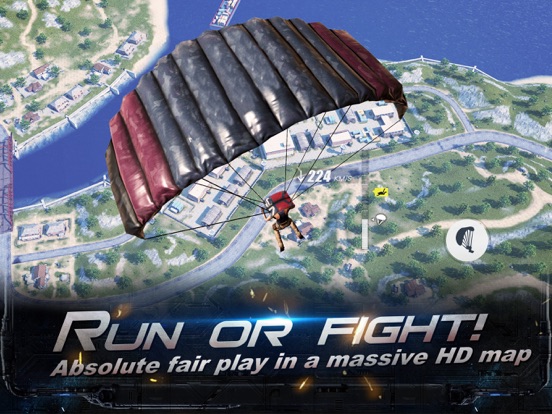 Reviews
It's pretty good.
A lot of fun. Very impressed with the gameplay for a mobile game. It's really easy to get used to, and really fun to squad up with friends if you have them.
Amazing
Heatslinger28
on
12/16/2017
Great game super addictive, just need to make suppressors more common
It's good!
Very similar to pubg, Impressive on a phone!
Exquisite
Enhanced_traits
on
12/16/2017
This game is really fun so far, I just got it but it has a really good system way of play
OMG SO DARN GOOD!!!!
ImAFanOfYouGame
on
12/16/2017
IT THE BEST GAME EVER BEST MOBILE GAME OR APP!!! I DON'T CARE OF YOU A RIP-OFF!! Best Mobile Royale!
PUBG shitted this one out
AND ITS GREAT!!! Well done! Work well. Controls are really smooth. And worth the download. Looking forward to play more of this game. -KG
Good Game
It has very good graphics.
Amazing game am addictedlol
PR_cartel😘😍💯
on
12/16/2017
Only thing i ask for is that we can speak to our squad in the main menu before we start the game that way we plan our game strategy planing where to land etc.. but thanks for a amazing game
Awesome game
Super fun and addictive just wishing the sniper rifles came with a legit scope when you pick one up
Gang
This game is lit as ever know what I'm saying
It's like PUBG on your phone!
Lakakakakakakakaklalalal
on
12/16/2017
Would recommend! UI is a little awkward but fun game!
Iron sights
Please add iron sights for assault rifles sub machine guns well you get the whole point don't you?
Best survival game
Top of the line best survivor game for iOS
Wow
SleepyGal15
on
12/16/2017
I normally hate mobile shooters but this one is actually really nicely made. I really enjoy it.
So much fun!!
Great game.
Great
Great game. Almost as good as PUBG and better than fortnite. Great mobile
Rules of survival
This game is awesome it's just need more clothing
PUBG mobile
Just get the game, it's worth it
Awesome
Victoryourdad
on
12/16/2017
This game is legit the best game I've ever played graphics are a Amazing definitely a 5star
The game is great but..
Chatoloco90
on
12/16/2017
I love this game so much it's amazing but there's some features that I would really want in this game that's in Knives out. The one thing that annoys me a bit is not being able to move the shooting button on the right side. When ever I'm trying to look around I sometimes accidentally hit the shooting button. My last thing that I think needs to be added is an automatic running button. I know there's auto lock for run when your already running but I would also love a separate button. These thing would make me enjoy this game even more.
It is pretty fun
Andrewbfuirhdhjfjrjhd
on
12/16/2017
I have won once or twice and have had quite a bit of fun playing it , it is pretty much just a pUb G for your phone and it is dint to get crates as well
Best game
Dominic43218
on
12/16/2017
This game is so cool and the updates are the best
Ten out of ten
Micetro Memes
on
12/16/2017
Clearly based after PUBG but a really good one I must say I was skeptical at first but I really love it it's enjoyable. A must play.
Oof
This is a very fun and interactive game and i honestly really enjoy. But there is a reason why i have taken off two stars. The game glitches and lags super hard. Not throughout the entire game but it'll happen a couple times and will happen for a couple minutes each time. This really hinders the gameplay, but i think it only does this when the servers are busy. Try playing when servers don't have many people on and the game will be much more playable.
Great!!!
Jason Ridge
on
12/16/2017
Takes a little getting used to but the game play is smooth and fun.
Great game!
Finally a FPS with creativity and entertainment plus team mode with coms (if I can ever figure them out) and competitive fun for all you pros and us newbs excellent job to the creators and not many bugs I love it
Great game
I love this awesome game
improvement
more guns better guns. smaller maps. easier way to gain coins with better rewards.
BEUH AGAIN
Suggestor of Game
on
12/16/2017
Teammate can kill me why is that
Awesome Game
Kong.Mong.Shlong
on
12/16/2017
So far my favorite mobile game everything I've ever wanted from a battle Royale game right here on this app!
Great game
The updates have made it a lot better and a pc version.
Amazing
I love this game so much and it's amazing how it's so hard and then it becomes so easy and fun!
Rules of Survival
Great game! Loving being able to play a game like this on the go. Let's see some more guns added eh?
PLEASE FIX IT
Hello! My Username is "NNun0U" I Ever be the last survivor =Think= -you should fix & add more effects -fix about the moving of character -fix about the car & bike (It look not realistic) (It stuck sometime) MORE I CAN'T SAY....
Lots of fun
Great game. It has replaced Guns of Boom for me.
Great game
Mpfrockstar
on
12/16/2017
Best game ever some bugs but it is a load of fun and it is a multiplayer game that can let you play with 100 people keep up the great work
Best graphics ever.
KittenSpartan2
on
12/16/2017
Amazing
This game is soooo good but can be better
This game has major potential just needs to make more guns in it like scar h which I feel needs to be a must be
The best game ever
MysticKing007
on
12/16/2017
This is the best game you will ever find like pubg and will always be the best
GREAT GAME!!!!!!
Great game! I love this and never will stop playing!!!!
Fun, but...
Everything is pretty good in the game. Yet, whenever you buy a supply box, it gives you the same clothes every time. It gets annoying and its almost pointless to buy the supply boxes if it gives you the same things. Another thing too is the supply box thats supposed to be "coming soon". I've had a chance to see that crate twice but I didn't have the coins to buy it. Overall though the game runs pretty good and its fun. Just the supply box needs to be fixed.
Awesome game
This game is literally pubg on ur phone. At first I thought if I played it on my phone it would be super laggy but after playing once the game was working beautifully. It's a solid game.
DEVELOPERS HELP PLEASE
PLEASE HELP WHAT DO I DO WITH ALL MY DUPLICATES OF ALL THESE CLOTHES I DONT WANT I WANT THE NEW CLOTHES AND THINGS NOT THE OLD SAME ONES HELP PLEASE!!!!!!!!!!!!!!!!!!!!!!!!!!!!!!!!!
Awesome game
This game is pretty fun to play
Fact Sheet
Publisher:

Hong Kong Netease Interactive Entertainment Limited

Category:

Games

Released:

Nov 14, 2017

Current Version Released:

Dec 15, 2017

Version:

1.0.4

Size:

615.6 MB

Compatibility:

Requires iOS 7.0 or later.

Recommended Age:

17+

Game Center Certified:

No

Supported Devices:

iPhone4-iPhone4, iPad2Wifi-iPad2Wifi, iPad23G-iPad23G, iPhone4S-iPhone4S, iPadThirdGen-iPadThirdGen, iPadThirdGen4G-iPadThirdGen4G, iPhone5-iPhone5, iPodTouchFifthGen-iPodTouchFifthGen, iPadFourthGen-iPadFourthGen, iPadFourthGen4G-iPadFourthGen4G, iPadMini-iPadMini, iPadMini4G-iPadMini4G, iPhone5c-iPhone5c, iPhone5s-iPhone5s, iPadAir-iPadAir, iPadAirCellular-iPadAirCellular, iPadMiniRetina-iPadMiniRetina, iPadMiniRetinaCellular-iPadMiniRetinaCellular, iPhone6-iPhone6, iPhone6Plus-iPhone6Plus, iPadAir2-iPadAir2, iPadAir2Cellular-iPadAir2Cellular, iPadMini3-iPadMini3, iPadMini3Cellular-iPadMini3Cellular, iPodTouchSixthGen-iPodTouchSixthGen, iPhone6s-iPhone6s, iPhone6sPlus-iPhone6sPlus, iPadMini4-iPadMini4, iPadMini4Cellular-iPadMini4Cellular, iPadPro-iPadPro, iPadProCellular-iPadProCellular, iPadPro97-iPadPro97, iPadPro97Cellular-iPadPro97Cellular, iPhoneSE-iPhoneSE, iPhone7-iPhone7, iPhone7Plus-iPhone7Plus, iPad611-iPad611, iPad612-iPad612, iPad71-iPad71, iPad72-iPad72, iPad73-iPad73, iPad74-iPad74, iPhone8-iPhone8, iPhone8Plus-iPhone8Plus, iPhoneX-iPhoneX,

Supported Languages:

English;

Parental Advisory:

Mild Sexual Content and Nudity; Intense Realistic Violence; Mild Cartoon or Fantasy Violence;