This version of the app is not recommended
App last updated
Mar 21, 2018
Screenshots
New in version 2.1
- Haptic Feedback
- Star Block
- More Skins
Description
Fire out balls and break as many blocks as you can!

Upgrade your tank to become stronger and unlock cool tanks!

How far can you go??
iPad Screenshots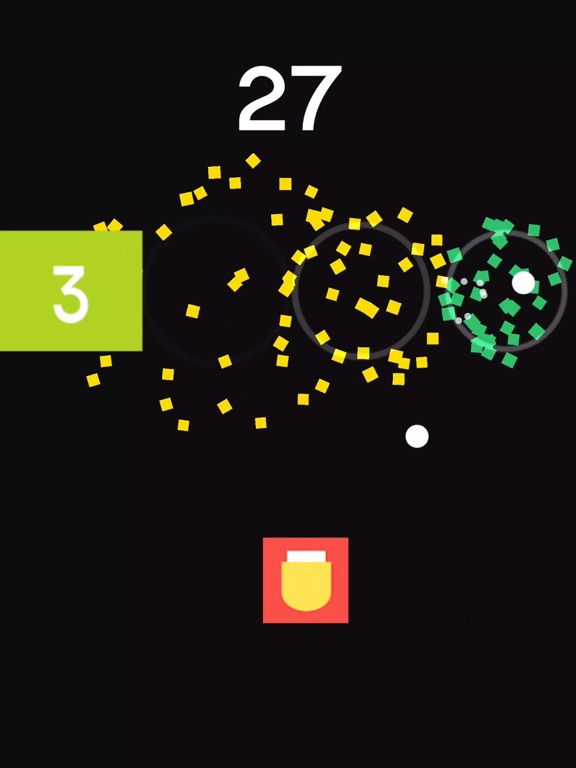 Reviews
Addicting!!!
OMG when I got this game I knew it was going to be fun, but what I didn't realize is that I would be playing it 24/7. I completely ignored ALL of my games and apps and all I've been playing for the past days is Fire Up. Do not doubt on getting it. I have been playing so much of this game that in Less than a week my high score is 100.8k. Download this game NOW, you will thank me!🙂 Really fun and easy to play.
Bad just bad it get boring and disappointing
Thundereagle143
on
3/23/2018
It's just so bad it's not worth looking at the details this game gets boring on your first playthrough it's to easy u get frustrated on how much it costs to upgrade the perks I would not suggest playing this and downloading it AT ALL so just look for a different game to download DO NOT DOWNLOAD THIS GAME
Awesome Addictive Game
Very fun strategic shooting game! Addictive not over the top hard but just right to make you think , a total winner in my book$$
Nerfed
manunited221
on
3/23/2018
Going to delete the game I got 2.3 billion yesterday without hacking them the next day everything was nerfed I can't get past 100 million without dying.
Horrible
Yourlittleangel47 msp
on
3/23/2018
The update is horrible I can't get hight scores now Amman
It feels like android
BashirAlnory
on
3/23/2018
Ads everywhere popping up
Fire!!!
Arney Stafford
on
3/23/2018
Game is lots of fun and time passing!!!!
Latest version pretty much ruined the game.
Bummer. I use to get 100m+ runs. Now I maybe hit 10m. Nerfed the shooter and ruined the power ups. Bummer.
Nice
Map down loaders
on
3/22/2018
I love it it is sooooooooooooooooooooooooooooooooooo(Hopefully You Get The Point) AWESOME
Great
Exactly what I expected
Kool
killergun626
on
3/22/2018
I like it, fun.
Yeeee
It's too easy I'm like a boss
Ruined by update.
Now impossible to level up after the update.
Did I beat the game?
So I have been playing this for a week or so now and the highest score I can get is 2.15 billion. It stops adding up at this point! Is this the end of the game? Why does it stop at such a random number? I really like this game but I feel like it is pointless if I can't get a higher score.
Hello
This. Game is awesome and the power ups r overpowered
Dawg
Jewlz6688846993
on
3/22/2018
I can't stop playing
Fun but with bugs
Apparently when you reach the 2 billon mark the game doesn't like you and it crashes. It's a tad frustrating. To those complaining about the lack of high score possibility they aren't playing it right (if that makes sense). Also, my high score currently 2.15 billion but when trying to watch a video to double my score it didn't actually double it. Fix these issues and I will increase my rating. **edit 1/24/2018** with the most recent update the points you can earn in a single play through is now capped at 1.12 billion. This needs to be fixed **edit 3/21/2018** with the newest update they allowed you to get past the 2.15 billion cap on one play through that can be used for upgrade and even allow the points to be double correctly when watching a video. Unfortunately it caps now at 4 billion points. You can keep playing but there won't be anymore blocks to kill. And you can't die...so for now..it's best to die just before 4 billion points so you can double it and actually use those points to upgrade your stats. They also significantly reduced how many points one can earn from perfect kills so amassing the points take longer.
Great
I don't see why people are dissing this because I love this game👍
My review
itsmecoreyp123
on
3/21/2018
Purchased no ads. Still flooded with ads
Bug fix?
I guess getting almost one million from 5 blocks was too much of you had the shooting power tank and the red power buff. You would get like 200k from each block for some reason so my high score of around 35 million now is impossible to surpass lol. I don't know why this was changed I guess it was game breaking
What dose this tank do
Can you add what the tanks do
Yassssssss
Beat Voodoo Game Yet Love It
on
3/21/2018
The best voodoo game I've played yet!!Love it and I am addicted to this game
Addictive!!!
Addictive!!!
Great Game
Fire up is an awesome game that I play all the time.You can great crazy bests.My best is:3.55 Billion.You power up speed and power.There are different bots to use.I use the power bot, but there are other ones such as :triple shooter and sideways shooter.Again this is a great game and you should get it.Also get the other"Voodoo" games!!!!!!
Wicked!
Massachusetts man
on
3/21/2018
It's wicked fun! I love it!
New update
The new update won't let you move until after the 1st few blocks
Shooter
Just truly awesome shooting game.
It said only 1% could get 10 K.
On my game I did the impossible and went to 10 K. and I got past it too so why say only 1% can do it? Good game. Good luck to the people who play it.
Addicting and fun
Not giving all of point earned
You rock
This is cool !!!!!!!!!!!!!!
Knjdjdjdjdnd
jfcnmdndmdmd
on
3/20/2018
Kjdjdjndjdmdmdmdjdmcmdmmskxmxmxmxmxmxnurvuf netuntguehiutgitg tignfrirfihrfbirwfhbwrfihwrfirwfwrkfhbwrfirfwhibtrentpeter12345@gmail.comjawxcwbrdhwahbdcrradwcnrdaw not tabnwqadqcwmacdmtcamdwqabqcdjajdwqaqkcr ackrqqtarcktacqkrakqrcm mcrkswrckrssqrcqarkcacqmkracqmkacrqkmrqacmkrkqkarrawkrcqakrkqakfrwsrkfws fswtkvlewdhulwvhs,lvwtsswlswhflswtswk floveshlhvswedeedlwvhvehdlwhvdlvsh lets,lvwtsllshwlls,Ghent's,wowstskwongl,stew,tsk,lvtvkh,w,vsktvstw,kvtswstkvvswtk,vkswktw,vs,fswtkt,who's,vswkt,skeet,shows two,ltwsvswtfso,wkhveshvweshskvwevhh,v,eshvewksk,vswk,evhwse,kiss,hvvhksesxessewewwvkshweh,ehvswks,egwsesxlelsxeswlsleswexlwlewxleexshyselsezfesyfe, safes , efshesxynxels,selsxensxexeg,sex's,g sense,n see n,sexy,sip, ens she's e sense s see sexsexsexses es e sesxsexexses es s se e sea es. Esrxssxsxigrsxg. Rcsscrdcrcdrjcsrvd crrd crdrddrd r dcrdrd. Dr drdccrdrcddcrdc dd dr drrdccdrdcrcdtcdtcrdtcfttcdcdtdctdcdct tvfbtrcurrtfurrufurvvufvufvufrvuvur
Why Max 2.15B Pts?
Why am I making out on Points at 2.15B? No matter how high I score in the game, I never get more than that after the game to increase speed and power, even though it shows the higher amount below the 2.15B.
Ripoff
I paid to upgrade and I still have to watch the ads. Nothing changed by paying to upgrade.
Very addictive.
ElyjahTheBoss
on
3/20/2018
This is a very fun and addicting game, I can play it anywhere which makes the game even more fun. There is a lag problem please fix it when I connect to wifi and try and play it, it starts to lag that's my only complaint besides that ten out of ten.
High score glitch
Twitter.com/DANDREKID
on
3/20/2018
After a certain score the game won't register your points. After 2 billion if you go higher the game won't give up anymore points to add to your weapons. I got 5.5billion twice but every time I go to use those points it only shows me having 2 billon
Awesome
Super addicting but a little to easy
HELLA FUN
The kid revuer
on
3/18/2018
Super fun love it
Good but has a small problem
Maximum number of points you can earn for upgrades is 2.15billion, even if your score is north of 10billion. It's really slows progress and is frustrating.
Ads
Love the game, but I get an ad every time I die and the one time I played an ad to double my points, it constantly would send me to the App Store. Wouldn't even send me to the App Store for the ad it showed me and now it's affecting the other games on my phone, if it continues I'll have to delete the game to see if it'll fix the problem with my other game apps
Great but buggy
This game is awesome and very addicting but it freezes a lot.
Great game
This game is a blast! Very addictive once you start leveling up. But they need to raise the max level of points. Capping it at 2.15B is too low! I've beat that in one round so I didn't get all my points. Please update the game to allow more points. Thank you!
🍌🦑
Glingglobgploopfhfjfjfhgjd
on
3/18/2018
Lot of fun
Fun
It's a great game and fun to play
Absolutely Terrible
This game as terrible mechanics which and can be fixed. Getting stuck where I'm stuck on the left/right of the screen and it only happens on this level and is pretty ridiculous. The absurd amount of constant 1k when my strength is 15. plus it take so long to level up your stuff it's almost not fun. ———————————————————— STOP USING US FOR MONEY DEVS!!! THAT IS RIDICULOUS YouTube/Twitter ICatchDubs
Fact Sheet
Publisher:

Voodoo

Category:

Games

Released:

Nov 08, 2017

Current Version Released:

Mar 21, 2018

Version:

2.1

Size:

139.4 MB

Compatibility:

Requires iOS 7.0 or later.

Recommended Age:

12+

Game Center Certified:

No

Supported Languages:

Chinese; English; French; German; Italian; Japanese; Korean; Portuguese; Russian; Spanish; Castilian;

Parental Advisory:

Suggestive Themes; Mild Alcohol, Tobacco, or Drug Use or References; Mild Sexual Content and Nudity; Mild Realistic Violence; Fear Themes; Mild Cartoon or Fantasy Violence; Treatment Information; Mild Simulated Gambling;