This version of the app is not recommended
App last updated
Feb 08, 2018
Screenshots
New in version 1.9
Major Update
1. All-new Mode for the Lunar New Year
Wishing everyone a very happy year of the dog!
Grab some firecrackers, fireworks, fire sticks,
gather your buddies together
and go wild!

2. New Highlights System
Godlike actions, winning moments, who has time among the action to record that?
Thanks to the new Highlights system you can save and share your epic moments with a single tap.
Let everyone see just how awesome you really are!

3. New Tier System
The all-new tier system is now available.
Climb the tier to claim your place at the table.
Duke it out and see who's just talk and who's action!

4. New LBS Rank
What to know how many survivors are nearby?
What to see how you compare in your area?
Description
【100 enter, but only 1 emerges】
100 players are scattered throughout the 6400m*6400m battlefield. Explore the map, collect weapons, take aim, and pull the trigger. Remember, there can only be one winner!

【It's a big bad world out there】
Explore islands, snow-capped mountains, train tunnels and other unique locations while you wait for your moment to strike!

【Team Up, Speed Up, Tear Up】
Storm the battlefield with battle buddies in Duo Mode, Squad Mode and Fireteam Mode. Coordinate your attacks with your teammates using voice chat to outmaneuver and crush your enemies.

【Play with your own rules】
It doesn't matter if you choose to ambush your enemy or attack head on, snipe from a distance or get close and messy, there is only one objective, survive at all costs!

*Follow Us
Facebook (English): https://www.facebook.com/KnivesOutGame/
Customer service: gameknivesout@service.netease.com
iPad Screenshots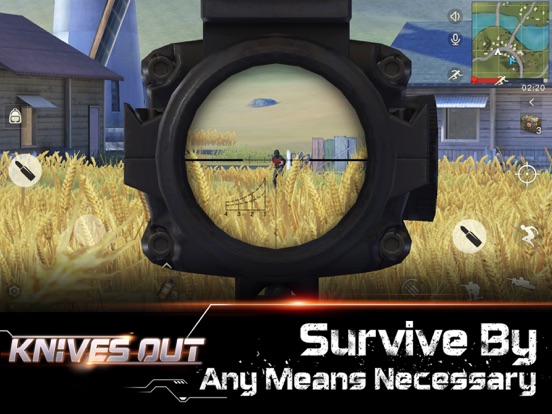 Reviews
Got my first dub
This game is pretty good:)
Great game but heavy on battery
ArshadVayani
on
3/22/2018
I really like this game but unfortunately I can't continue playing it because of heavy battery drain issue on my iPhone 7 when I play this game. Phone heats up a lot as well. If performance issues are resolved then this is the best game for sure.
Great game but several issues
This game is great and I love it but it's super laggy. Most of the time after playing one or two matches I can barely move because of how bad the lag is. Usually when I try to shoot someone it won't let me because it lags that bad. Also my second issue is with the lovers and couple relationship with intimate friends. I think gay couples should be allowed, not just people of the opposite gender.
I'm almost done with this game
I'm almost done with this game, because I'm getting spawnkilled, I, crashing, and I'm lagging.
Lost my progress and had to start over
After recent maintenance lost all my progress/medals/coins/diamonds. I really like the game but that really just set me back and I'm very disappointed
Crashes
madpr0fess0r
on
3/21/2018
Every time I play it crashes. Fix please
Great until now
I have had a great experience with this game until the last update. I have been able to run this game fairly good until now. I try to enter a match, and it just kicks me off the game. The game has been fine until now, so please get this fixed so I can continue to enjoy the game.😢😥😓👉👍
Great game
This is a great game, in my opinion better than rules of survival. This game has really cool graphics and is an awesome adventurous game and has a giant map. I have not experienced lag or the map not loading in. So plz download this game you wont regret it and you can friend me at bluefox505. Thanks.
HOW DO YOU GET BLUE HAIR( diamond touch; hairstyle
I mean I LOVE the game but I can't get the blue hair or diamond touch hairstyle in the game doesn't have a price nor can you redeem it. But people have it and I'm still IDK about. If you please can anyone help me out on how to get please let me know. Thank you for letting me get your attention, thank you.😄
Love it but there's some glitch...
Casey loves c.c.
on
3/20/2018
Thought it was the Internet, but it's been in several different areas not just my house. I will be running let's say from a building, as I'm running from the building I will magically be back inside the building. Leave the building be on a cliff and magically back in the building. This glitch makes it impossible to open doors or get in cars. Please fix! Also... if you have chosen to play on a team, this is just for players, don't kill your teammates by running over them or hitting them with frying pans! Thankfully you can't shoot a teammate, but come on, your teams are lit up for you to see, and you can see our names! :) Thanks... this has been a non paid announcement.
Game needs to be optimized
The_Sloth_King
on
3/20/2018
Been playing ever since the launch of the game and recently I've been experiencing major lag spikes. Netcodes and desync should be fixed. It's been happening a lot lately after the recent patches. I know that it's hard to fix something without breaking 6 more things but the game should be able to run properly to be fun. Please fix the problems soon. It's a great game and I would like to see it grow!
This game needs more modes
Um this game is amazing and fun so you know how you made rules of survival and other stuff like knives out can you make the zombie mode instead of the tranning ground cause no one players that anymore so I'd love it if you could make more modes.cool game!
Where's the support???
I received an error message about a known login problem and lost the ability to use my account. I have been trying for a week via Facebook messenger, in-game support, and email, without any response. I'll probably be contacting apple about this problem and attempt to get my money refunded.
Pretty fun
I like this game. I mainly play it cause of my friend. Although, there is a few things that annoy me: The clothing shop is so cluttered messy and confusing seriously fix the shop. Second You should really try hiring a translator to fully translate this to English. Then I have some recommendations. First you should add a grenade launcher. Second, you should add a new location a large secret underground bunker. I'm sorry if this review sounds negative to you netease I do like your game and you did a good job just hope to see some cool new stuff soon
LAGGY
I had to go a whole round with glitches lagging for the rest of the game at thirty players it wouldn't let me shot, use healing items , crouch, lay down or even pick up so laggy do not download
BUG还可以再多一点
bug1、车翻了有的时候莫名其妙到地底,消失了!尼玛刚加的油! bug2、掉线了重进,好多按钮消失了!关于这点用户体验极差,要不然程序吃屎要不然产品吃屎! bug3、翻车了有的时候人居然会到地底! bug4、不开镜瞄准位置和开镜瞄准位置不一样,会打偏!这个锅谁背!
updates
you guys should add new map and add a new matches we're you can do a free forall vs friends
Request
KNIVES OUT PLAYER
on
3/18/2018
I feel it would make the game more exiting if there were more explosives such as IED, C4, or RPG. Also I request that the drones have weapons such as stun guns or low damage machine guns. The guns on cars also need more ammo but otherwise the game is very good.
Better graphics then rules of survival
we like pitsa
on
3/18/2018
After I played rules of survival the graphics were and are worse then knives out. Knives out is better than rules of survival.
One of the greatest mobile games out there.
Omni Galaxii
on
3/18/2018
"Knives Out!" Is a amazingly well done mobile replica of the popular battle royal game "PUBG" (Player Unknown's Battle Grounds). From the graphics, and the game play, this game is severely underrated. Well done to the developers.
It's terrible
gsmhdibdusbvsbsisn
on
3/17/2018
It lags the graphics are terrible it takes forever to load there is nothing good about this game get rules of survival it's way better and the people actually know what there doing there I give it 0 stars
Lag! Was never able to play
This game lagged a lot and bothered me a lot. I tried playing a game but it would take like an hour to start the game. When the game started and I was in the helicopter, I would jump out and everything started to freeze. Before I could ever reach the ground, I lagged out of the game to my home screen. Plz fix this knives out, I really want to play.
Good game
Fun, but all of the good stuff costs vouchers and you have to pay a ridiculous amount of money to buy one in game item... real low if you ask me. Gameplay is good, but it is annoying that you can't see the buildings from the chopper, so you have to zoom in on the map a ton, it gets on my nerves. Lastly, I think that vehicles run out of gas too fast and would like to see this problem patched. Other than that, I like this game and would recommend it to whoever is looking for a fun, shooter
Better than RoS!!
It's way more fun than RoS!! Definitely recommend 💯
苹果手机闪退是什么鬼?
垃圾。一星都不想给。 老是闪退闪退 战斗中闪退。
Best game for iOS yet
I see no flaws in this game and all modes are great although this game is basically a remake of rules of survival
Winning
I won the first game I ever played. I almost died from play zone. It's an good game but just needs easier controls.
Game is awesome and free
Comment #666
on
3/16/2018
Game is awesome it's free and it runs very well especially for being a Phone game! It's pretty much a direct clone of pub G but it is a lot better than pub G in my opinion runs a lot smoother and it works really good on my iPhone X!!!
Good
coldbeast115
on
3/16/2018
It would be great if u could add a bikini and a Apc if u could thx anyway for the great game
Better then Survivor
Less lag, more realistic. Better controls.
Love this game
Love the battles and the weapons!
Great game but...
thegamingtitan
on
3/16/2018
Don't get me wrong I love this game but I've recently encountered a glitch that while driving my character will get locked in place and I am unable to move leave the vehicle or switch guns it basically glitches me out of existence it mite by my trash internet also why is most of the text in an Asian language and how uncommon ak and ar ammo is pleas make it more common. I still love this game.
Friend request
Can someone tell me how to add a friend because every time I try it say unsupported characters. I don't know what to do. Other than that great game.
Hours Of Fun RUINED BY LAG
The game is awesome the only problems I'm having is the lag even after connecting to wifi and closing out other apps the game LAGS ALL THE TIME every once and a while you get a good gameplay but PLEASE FIX THIS!!
Great game but lags ALOT and freezes
Age of ultron
on
3/15/2018
Any time I get in to the game let's i was running or trying to shoot it lags and I don't like it so pls pls pls I'm begging u pls make this in its best quality cuz I'm playing on an iPad
It's too easy
The games fun and all but it's too easy. Heres why. I've only played this game once and in the first game I had 5 kills and I won. The people you play just aren't good enough.
I've played on different device
Geometry troller
on
3/15/2018
The game is fun but it won't let me start the game it won't let me select the server and click the start button Also Fortnite mobile is out Then on top of that I signed up for their beta game and someone else's cough Fortnite and Fortnite got to me before FortCraft and I signed up weeks ahead but they emailed me with a invalid code
How do I change the color of my dominator
someone plz tell me how to change the color this is $$lance leader of the $$ clan on knives out Add me if you wanna go up against my clan or if you wanna join or to tell me how to change color of car
Help
holiiys mebegehehehsywhwh
on
3/14/2018
It says no server does anyone no what this means I can't click on any bittons and want to mplay
How?
How do I get in the game I press start it won't let me start
Knives out player xXxlilpumpgod
Your servers are down
Starting game
Purple_sweet4132
on
3/14/2018
My knives out starting screen says no server chosen yet when I try to chose one it won't let me and whenever I click start it just makes the starting noise and keeps me on the homescreen
Nice game!
This is better then my last review. I love the game but I lost my progress. I used to be meh meh but since I lost my progress I became meh meh 2. Please restore my progress please? Thanks!
It just needs these things good game thank you for it love it!!!
Creeper boss for fun
on
3/14/2018
It's good game but can you please make zombies mode and keep making more guns maps and events and can u guys also make it and lower the prices on outfits for vouchers and make it so that why when you level up you get vouchers 1 star rate till vouchers are made when you level up and when the prices lower for outfits
BEST GAME EVER!!
TotallyTroy58
on
3/14/2018
I tried this game out and I really liked it. Everybody should get it.
GREAT GAME...but
Its a fun guy
on
3/14/2018
this game is a great game.But there is some glitches if u have scope on and switch weapons it keeps it on unless u switch back to the other weapon and sometimes when I move it glitches me back to where I was...And when I try to open a door it doesn't open sometimes. So If U are Looking For A Fortnight Game THIS GAME IS IT.
what the game needs
what the game need
on
3/14/2018
the game needs better graphics and game needs to be more realistic
Its alright
Awesome the super man
on
3/14/2018
I mean it glitch and there is a lot of t-poses
Fact Sheet
Publisher:

Hong Kong Netease Interactive Entertainment Limited

Category:

Games

Released:

Nov 14, 2017

Current Version Released:

Feb 08, 2018

Version:

1.9

Size:

779.8 MB

Compatibility:

Requires iOS 9.0 or later.

Recommended Age:

12+

Game Center Certified:

No

Supported Languages:

Chinese;

Parental Advisory:

Mild Simulated Gambling; Mild Cartoon or Fantasy Violence; Mild Realistic Violence; Mild Sexual Content and Nudity;