This version of the app is not recommended
App last updated
Jan 18, 2018
Screenshots
New in version 8.8
• Advanced auto-formatting options (including code block and tables!). Go to Account > Settings > Notes
• Misc bug fixes and performance improvements:
• Fixes for top crash and sync issues
• Fixed an issue where lines made with Apple Pencil appear jagged
• Fixed an issue with quoted searches not returning exact results
• Fixed an issue with the note list briefly showing before PIN lock activates
Description
Let Evernote change the way you organize your personal and professional projects. Dive in: take notes, create to-do lists, and save things you find online into Evernote. We'll sync everything between your phone, tablet, and computer automatically.

---

"Use Evernote as the place you put everything… Don't ask yourself which device it's on—it's in Evernote" – The New York Times

"When it comes to taking all manner of notes and getting work done, Evernote is an indispensable tool." – PC Mag

---

GET ORGANIZED
Evernote gives you the tools you need to keep your work effortlessly organized:
• Write, collect and capture ideas as searchable notes, notebooks, checklists and to-do lists
• Take notes in a variety of formats, including: text, sketches, photos, audio, video, PDFs, web clippings and more
• Use the camera to effortlessly scan, digitize, and organize your paper documents, business cards, handwritten notes and drawings
• Use Evernote as a digital notepad and easy-to-format word processor for all your thoughts as they come

SYNC ANYWHERE
Evernote gives you the ability to sync your content across devices:
• Sync everything automatically across any computer, phone or tablet
• Start your task working on one device and continue on another without ever missing a beat
• Add a passcode lock to the mobile app for more privacy

SHARE YOUR IDEAS
Evernote gives you the tools to share, discuss and collaborate productively with others:
• Create, share and discuss with the people who help get your work done, all in one app
• Search within pictures and annotate images to give quick feedback
• Develop your projects faster and let multiple participants work on different aspects

EVERNOTE IN EVERYDAY LIFE
• Make personal checklists to keep your thoughts organized
• Set reminders to keep on top of activities and write to-do lists
• Gather, capture and store every thought you need to stay productive
• Plan events such as holidays, weddings or parties

EVERNOTE IN BUSINESS
• Create agendas, write memos and craft presentations
• Annotate documents with comments and thoughts during team meetings, then share with colleagues
• Get your projects underway faster and maximise productivity by letting multiple participants access and work on different aspects alongside each other

EVERNOTE IN EDUCATION
• Keep up with lecture notes so you don't miss a vital thought
• Clip and highlight articles from the web for academic research
• Plan and collaborate for better academic group work

BETTER NOTE INTERACTION WITH 3D TOUCH
• Quick Actions for faster note creation and search
• Sketch in notes with pressure sensitive ink

EVERNOTE FOR APPLE WATCH
• Dictate notes and they will be transcribed in Evernote
• Dictate searches and get results on your Apple Watch
• View newly created & updated notes
• Set reminders, get notifications, and never forget anything

---

Also available from Evernote:

EVERNOTE PLUS - More space. More devices. More freedom.
• 1 GB of new uploads each month
• Unlimited number of devices
• Access your notes and notebooks offline
• Save emails to Evernote
$3.99 monthly, $34.99 annually

EVERNOTE PREMIUM - The ultimate workspace.
• 10 GB of new uploads each month
• Unlimited number of devices
• Access your notes and notebooks offline
• Save emails to Evernote
• Search inside Office docs and attachments
• Annotate PDFs
• Scan and digitize business cards
• Show notes as presentations, instantly (desktop only)
$7.99 monthly, $69.99 annually

---

Price may vary by location. Subscriptions will be charged to your credit card through your iTunes account. Your subscription will automatically renew unless canceled at least 24 hours before the end of the current period. You will not be able to cancel the subscription once activated. Manage your subscriptions in Account Settings after purchase.

---

Privacy Policy: https://evernote.com/legal/privacy.php
Terms of Service: https://evernote.com/legal/tos.php
iPad Screenshots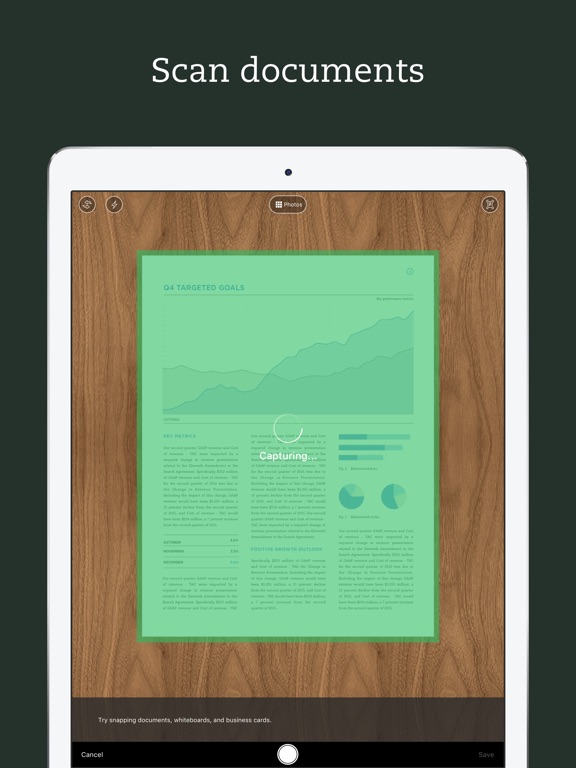 Reviews
Code Block 3 Backticks- Whaaaa?
Was happy to see code block added to the mobile app but.... "type 3 backticks" HUH? Probably the hardest thing to type on the phone. Requires TEN gestures to make this (unless I am missing something?!?) 1. click "123" 2. click and HOLD apostrophe 3. slide over to ` 4. click "123" 5. click and HOLD apostrophe 6. slide over to ` 7. click "123" 8. click and HOLD apostrophe 9. slide over to ` 10. press Return Congrats. You have a code block. Wasn't that easy?? :/ smh
Lost it all - No one will respond
This year I decided to trust Evernote with my previously hand written system. I've been putting it all in there. It's all gone & no answers from anyone at Evernote. Don't waste your time.
Cada vez peor
Una aplicación que ha ido perdiendo público debido a que la versión gratis poco a poco le han ido quitando funcionalidades
AWESOME!!
Simple awesome! Wish there was a way to send individual reminders to calendar from within a Note. Currently, it's the whole Note only that can be set up for reminder.
Refuses to sync remote notebooks and tags
The syncing has been very buggy lately, including in this update. Entire notebooks I have created on the desktop are not showing up as options in the iPad app weeks after creation.
Too frustrating on mobile
The Dragon Reborn
on
1/19/2018
Key functions are not available as main icons, so I've moved this review to 2 stars. First, the "notes" icon now hits you with ALL your notes! A pointless massive pile of things. Reminders on notes are inexplicably hidden, and now instead of using titles during input, it quickly puts you in the body so now I've a bunch of reminders marked "note." Tags are buried also difficult to assign in a note. Lastly, a key space for an icon on the home screen is given to "my account" which I almost NEVER need. These design flaws in the app goes against the whole point of having Evernote on your phone. forcing you to use Evernote how the devs think you use it. Please make the app flexible. Allow me to change icons based on how I use Evernote. It's SO powerful on the desktop, why stop innovation on mobile?
Auto title feature!
Write in the body of the note then have the note take the first few lines for the title! Love that this feature is finally here!
Extortion tactics to get me to upgrade
BEWARE! IF YOU UPGRADE YOUR DEVICE YOU WILL BE FORCED TO BUY THE UPGRADE OR YOU LOOSE EVERYTHING! I got the free version of this app and absolutely loved it. I used it both professionally and personally for over 2 years, if not longer. I told everyone how much I loved it, I was their biggest advocate. But then I upgraded my phone last week because my husband and I switched cell phone carriers. Beyond disappointed that when I went to Evernote on my new device I was told that unless I pay to upgrade, I loose everything that I had in the app. So you get the free app, but if you switch phones at any point you will loose everything you did on your old device unless you give in to their extortion tactics and pay for the upgrade. What is so frustrating about this is that I loved it so much that I always said to myself that if I get to the point of running out of space on the free version of the app, I would pay to upgrade. What does getting a new device matter? Just because I got a different phone I now can't use the free version anymore and not only that, I can't go back and get any of the stuff that I had saved on what I thought was the free version. So not right and now I will be looking for another note taking app. There's plenty of them around. This is not how you go about getting people to upgrade and now they lost a customer over it. I did try and messaging Evernote through Facebook and have been ignored. Also not good customer service. If your going to force people into upgrading, maybe have better customer service..... So disappointed....
Bug issues - notes disappear
I have long depended on the free Evernote to keep up with birthday ideas, shopping lists, etc. Recently it has been duplicating notes and one important note vanished entirely (no I didn't accidentally delete)...its title now shows as the title of another note. Things have scrambled. You have to pay for email support. Total BS.
Buggy
Isthisnametakenyet74837483
on
1/18/2018
I love Evernote and have used it for years. Lately, though, it has a crashed a lot. It's usually when I'm unlocking my phone and Evernote was still in the foreground. Super frustrating when you're in the grocery store, checking items off your list, and you keep having to restart the app. Please fix! iPhone X by the way.
Software great. Service lousy.
I can't imagine functioning without Evernote. It's one app I use everyday. That said .. as others have said.. it's impossible to get to customer support. There is also one very irritating formatting bug. When you share a link to a note, the web page of the note has a "Report Spam" button that sits over most of the note title. I've tried to report it, but other than the forums ..there no direct way to do so.
Awful
InsertNicknameHerexx
on
1/15/2018
Horrible, glitchy, low-budget app. Fails to sync quite often as well. And the app erased a particular note I had been working on all day - it was long. I have no idea why. Now all of my work is lost and there's no way to retrieve it. Force closes often as well.
Can't use it any more
Took forever to figure out
on
1/15/2018
I have a note that is to large and I don't need to sync it. But the app keeps popping a message to upgrade or edit the note. Stop holding me hostage. I can't use the app at all because this pop up appears every time I close it.
Requires
Kevin Goodrich
on
1/15/2018
Account
Old favorite now being replaced
I've been using Evernote for 5 years. I'm sure it's been discounted at times but it was a premium app that I paid to download at the time that I installed it per the recommendation of another user. I always felt it was worth the cost - more reliable and more features than Apple's notes app. But in the past week I've had a "sync error" that has completely erased several notes. Some of these were notes I've had running for 3+ years that I'll never be able to retrieve. It's happened several times now in the past week. I'm not willing to risk losing anymore valuable information so I'm switching to a higher rated notes app. My fault for not backing up my notes, but be warned.
Downside & Suggestions
Ladyinfulleffect
on
1/14/2018
Evernote, I need more flexibility in where text and objects like pictures can be placed in a note. For example, Microsoft Onenote and Word and Publisher allow for text boxes on any part of the doc. I need this in my Evernote life. Another very important task to me is the ability to add comments to any parts of a note. For example, Microsoft Word has a Review command where comments and changes to text can be added and tracked as well as accepted and integrated in the doc or rejected and deleted or kept as a comment in the margin in red coloring. This would make collaborating on notes perfect! I love the ability to link notes to other notes. A way to enhance that feature (and a wonderful treat to me) is to have hyperlinks to any part of the content inside a note. I need words and headings inside notes hyperlinked copied and pasted into any other note so that when clicked, that part of the note comes up! I get excited just thinking about it!
Best I've Used
I use Evernote because it is so easy to quickly jot note and start blog ideas. It is the main source I use for 90% of my writing.
Search not working correctly on mobile
(Evernote v8.7.1 on iOS 11.2.1) Saved searches not working correctly. Specifically, it is searching across all notebooks instead of just the specified notebook in the saved search. This issue is only present on mobile; saved searches are working correctly in Apple desktop app.
Ive used Evernote for 6 years but 1/5 stars
Schnark Buckerbird
on
1/10/2018
Update: Recently evernote has lagged so much that it often doesnt open or freezes, making it impractical app for note taking. This app is often unable to sync across devices. Whether it be automatic syncs or manual, this app simply refuses to update my documents on other accounts. This app freezes like crazy! Writing this review on the app store is a way more effective way to document anything than this app. Evernote has gone downhill. Writing lists and notes in evernote is now a chore. It's too slow to work often times From incompetent merging problems where my documents would be duplicated 10 times simply because two devices have the same document that is not being changed at the same time. It's just a shame that I took all of my notes on a horrible service like Nevernote. Edit: they have still not fixed the problem where notes don't sync or duplicate. Ditch evernote. Edit 2: A year later and the app has actually gotten WORSE. Shame on you Evernote
Customer service
JustTryingToHelp1
on
1/10/2018
Bottom line is there is no clear way to find a way to talk with customer service regarding service issues or suggestions. And I'm a paid subscriber.
Good app, but..
Good practical functionality. Why does the keyboard take so long to appear on iPhone x
Great note/reference program
Update on pricing I am a premium user subscribed through iTunes. Evernote recently offer 40% off however, you can't get that it you are subscribed through iTunes. iTunes is convenient but they need to allow developers to offer the same discount. I've noticed all the negative reviews have nothing to do with the quality of the app people are suppose to be reviewing. Rather they are rants about Evernote's pricing. Seriously? Well, you could switch to the free Onenote. Microsoft will never change their pricing. Unless you recently had a 15 GB free Ondrive account and found it suddenly cut to 5 GB. Or you could use use the free Springpad. Oops. They went out of business. How many free users have no problem dropping $20 for a pizza or more for a few drinks with friends after work and complain about a few bucks/month for an app that can hold all your notes and important info? If you don't like the service, feel free to use something else but rate this app on the quality of the app and service. People can decide for themselves about pricing. Old review below The latest tweaks show Evernote listens to users and keeps making this a better program. I love the new bigger buttons right on the top of the home screen to quickly add notes. The new color options, while limited, are welcome although I find the standard green the easiest to read for me. I continually find new ways to use Evernote and even replace other apps. For example, want an inventory of your house items? Don't buy another program. Take pictures of everything and tag with room. Add receipts to each entry to know the cost if you have them. Another use: Every time you buy something search for a PDF manual online. Add to an Evernote "manuals" folder and you never have to search for a manual again.
Keep having to re-down load.
When i open the app it keeps shutting down. I've uninstalled and reinstalled and still having issues. Can y'all help?
Great app to write down those hard to remember things
I love the app because I put all of my IDs and passwords so I always have them at my fingertips. As good as the app is, it's overpriced.
Sharing and more
I have been using Evernote for my own record-keeping and note management for a year or two. I just started to use it as a project management sharing platform and I love it.
Best app for notes you want to keep private
List of pros and cons at bottom I love Evernote. To me personally, it's the best app for taking private notes, writing in general, and making lists. I only have the Basic (no pay) version, and it works perfectly for me; there have never been any necessary features that I've had to pay for. I've never spent any money on this app. Pros are+ •It has a passcode lock (you can turn this off) so your notes can stay personal. Any people trying to steal your private info, or sneaking looks at your diary? No more! •With all its updates, I have never lost a note as far as I know. •Evernote has many cool features such as: -You can create drawings for your notes -You can make a list to check off with check boxes -You can add audio or pictures to your notes -You can set reminders -You can duplicate notes -Unlimited note making as far as I know (and I have a lot of notes) And all this for the no pay version. •It has a pleasing layout •You can have several notebooks (all named differently) for different types of notes- e.g. Drawings, Business Plans, Random Brainstorming, Poetry, Notes on Kittens, etc. Cons are- •there is a monthly limit of storage you can take up- 60 mb Hope you enjoy! Hope it helped!
Long time paying user, lost confidence in it keeping my data intact.
Somehow the data from random notes is mysteriously corrupting the data from other notes. This has been a known and ongoing problem with Evernote (for over a year) that was thought to be resolved. Well it is happening again and seems to related to ios and their database as I have mostly been using EN with the ipad (2017 model) the last days. This is maybe the 3rd support request I have put in for this problem in the last year. After ten years of use I was very comfortable and adept with their product, now I've become very uncomfortable with the only things I use a product like this for - storing simple text and keeping it intact.
A Bit Frustrated
I use this app all the time. It's a way for my husband and I to share ideas about vacations and to-do lists. However, it recently stopped letting me sync. If you don't sync and open a note that was updated by another user it "modifies" the note in the worst way. I also am not able to get notifications from the app anymore either, which is especially annoying when my husband is trying to chat with me through the app. So I thought I would reach out to customer service to troubleshoot beyond their recommendations on their site. Since I'm not a paying customer I cannot submit a ticket. This is especially frustrating. They are sending a message that their non-paying customers aren't important. I don't want to look for another app with similar functions, but I may be forced to if they can't fix the bugs.
Ok but not very user-friendly
I like the idea to access my notes everywhere including my iPhone. But the user interface is not very user friendly. Notes look messy especially when editing both on my phone and the desktop version. UPDATE: I'm now on Apple Notes. There are two major reasons for me to ditch Evernote. First Evernote's sync has quite dumb. It can't integrate changes from two different sources at the same time. I run into every now and then when I edit a note on my phone while it's offline. I get "conflicts". Google Docs and Apple Notes don't have that issue anymore and are passed that nonsense. Evernote is lagging behind here. Second, when you copy-paste from web pages - which I do all the time - it tries to be smart in keeping the formatting but in practice this confused the Evernote note editor leading to a note I can't edit anymore - especially on IOS. Basically it makes it unusable for me. I really want Evernote to win, because I like the idea of an independent software. Apple can just change their mind and not focus on Apple Notes anymore because something else is more important to them, but Evernote needs to step up their game to stay relevant and keep me as a customer.
Best note app ever!!!
I am a premium Evernote user and have been pretty dissatisfied with Evernote for the past year. If you have a a lot of notes, forget about using it. I've has to delete and reinstall just to get my notes to sync. Support has been horrific responding in 3-5 days and they would tell me the same thing: delete and reinstall the app. I have lost lots of productivity due to having to delete and reinstall Evernote just to get my updated notes. Not recommended and will be discontinuing my premium account. I have been a user since 2008.
App Crashing
I have been a premium user of Evernote for 3 years. I recently upgraded to the iPhone X and now Evernote will not stay open. I will try deleting and reinstalling.
Limited Free Version
If you don't upgrade and pay a monthly fee then you can't sync your notes across your devices - which renders this app useless
Lost photos I uploaded for recipes
Turkey Sandwiches
on
1/6/2018
I used to love Evernote until today. I bragged to all of my friends how great Evernote. I use it for many things including as a recipe storage. I am using Evernote basic. However, today the App lost 2 of my recipes. I'm very frustrated. I had a special pasta recipe I was going to make with my son. I saw the photo of the recipe on my phone and when I clicked on it and opened it up the photo disappeared. I can't seem to get it back in any way. I think this is a terrible thing to have happened. I tried to organize my recipes electronically and pitched the hard copies. Now I have lost that recipe and another. I clicked on another recipe from the app and that photo disappeared as I opened it. I think I took these photos in 2015. The app worked fine for a recipe photo I took in 2017 this morning but it losing older photos. This is unacceptable. I stopped opening recipe notes and went to the webpage on my Mac to open other recipes and the browser version worked fine with the other pasta recipes I added the same day. But now I have wasted an hour trying to no avail to restore the image. Because I'm a basic user, I'm not even able to email customer support. The app appears to be garbage right now if it loses photos while the web browser does not. I'm so disappointed.
Evernote can't do literal searches (searches contained in quotes)
I have used Evernote since 2008, and I have over 10,000 notes. I am dependent upon the program. But in the last six months the literal search feature has stopped working (searches contained in quotes don't work), making it nearly impossible to for me use this product. It turns out this is a problem that has affected some users and not others. I've been in touch with Evernote and they say they are well aware of the problem but they have no timeline in place to fix it. They told me that 3 months ago and they repeated the same again this week. There is no timeline to fix this problem for the affected users. That's incredible. As I said I have grown dependent on Evernote, and there's no easy way for me to back out now. But if you are a new user, I'd be VERY HESITANT to make a commitment and find yourself in my situation in a few years.
Useless watch app
Despite installing, uninstalling, and reinstalling this app twice on the watch, it shows no notes or lists of notes. The only option is to create a note. So useless and unforgivable for an app this successful.
Bait and switched
No_name_given
on
1/5/2018
Huge price increases. Good luck turning off all the ads. Takes magic to close the crammed notifications- the "x" is so tiny and overlaps with the scroll bar. Depressing to open
iPad Pro Evernote Premium user
Premium user - Evernote is my go to for notes, to do lists, and planning - Great tool! I would like to see these three features added to the Evernote App IOS (iPad and iPhone versions) like the Evernote for Windows App on the PC. 1. Merge | add ability for all the same reasons to use merge on the PC. 2. Inset Horizontal Rule | add ability as in the Evernote for Windows app on the PC. 3. Reminders | add the ability to set multiple reminders inside a note. For example, my To Do list has multiple items that come due at different times - It is more efficient not to have to have a separate note for each item in order to set a reminder. ... or at least the option to set up multiple reminders.
crash crash crash
loyal_evernote_user
on
1/3/2018
come on team! this is unusable again ... it keeps crashing ....
Good
But since last update I'm not receiving notifications
Still really slow for me
Typing this review after waiting 30 seconds with the app locked up to open a note, gave up. It's up to date, I don't know what gives. By far the slowest app I have ever used.
Chrashernote
diegoartorres
on
1/1/2018
I have always been a fan of Evernote and converted people to use it. Now, every time I try and use the app, it crashes within 15 seconds of use. I have tried every troubleshooting option I can find and nothing is working. I guess it's time to try something else.
Fantastic!
Smilin' Snake
on
1/1/2018
Works great on multiple platforms, scans even quicker with sister app Scannable, changed my life and fulfilled my deepest OCD desires! Can't believe all the negative reviews! I must have a different Evernote? Customer support is fine, no problems. Running iOS 11.2 and Windows 10 laptop. I guess if the breeze isn't just perfect some will just go back inside, and about that pea under the mattress...
Nice app but forget about notifications
Nice app but forget about notifications on iPhone 6 Plus
Search Function downgraded in version 8
After successfully avoiding upgrading to Evernote version 8 for 10 months, in November I accidentally upgraded. I did not like it. It took a lot of work to get back to version 7. Somehow, last night (December 30, 2017) automatic updates got turned on and I am again stuck with version 8, until I get back home. So, I will use it and put in a little review. Reflecting back on my conversation with Evernote technical support last month. I noticed in the transcript of our conversation, she was not able to replicate my search complaint. Now that I have it on my iPad again, and am stuck with it for a few days, I took a deeper look. The developers have added multiple search locations. One of them does search the titles first (which was what I complained about being missing in version 8.) Unfortunately, it only gives a handful of results from the title. They have also added a menu which simplifies searching for multiple tags at the same time. It looks like they have tried to make Evernote more versatile. Now that I am forced to use it until I get back home, I might even get like version 8 enough to stick with it. I am a Premium user, (yes the high price is irksome), have been using Evernote for about 7 years, and have over 6000 notes in Evernote. I've changed note taking locations many times over the years, and for now will stick with Evernote.
Used to be great.
The problem with Evernote is that they were ahead of every other company until Apple, Google and Microsoft decided to enter the game. Now Evernote is an overrated and overpriced former shadow of itself. The free apps built into most phones now take the place of Evernote. I exported all my notes out of Evernote and have not missed it.
Forced upgrade
I loved this app and used it every time I needed to make a note. Now it forced me to upgrade and pay or else they will delete my account. Thankfully none of the notes are important but this left a sour taste in my mouth. I deleted the app and will never use it again. Garbage!!
the best note app so far
just one minor flaw: it doesnt support persian/arabic languages in terms of writing from right to left
Years pass, not much improves
I've been using Evernote since it was a month or two old and have paid for a premium account since then. I have nearly 10K notes categorized into 100 notebooks. I use it every day but I wish someone would build a competing product that imported my notes. The UI/UX for Evernote is a two-steps-forward-one-step-back kind of process. They rewrite the UI and throw away things you had come to rely on, just like the old Soviet leadership change would deny the previous regime's follies. Specifically, sorting is still universal! For some bizarre reason, if you sort a notebook, ALL notebooks sort that way. Is there a good reason for this? No. But why make the app flexible when you can add crap that nobody want? I dare you to take a photo and try to crop it in the app, when you tap the photo to crop, it changes size and when you are done cropping it shrinks size and messes up the cropping. Guys, this is 8th grade geometry, hire some people that know geometry! Can you set the default font for notes on an iPad Pro? No, because why would you want people who have reduced vision to see their notes, after all *Everybody* in the world can see as well as a 20-year-old can't they? Really, a ten-year-old app and the preferences don't include the default size? I have to edit my text in another app and copy it to Evernote. Geez, guys, hire some good UX people to study and fix the app and spend less time on features nobody cares about. Presentation Mode? Chat? Messaging? Geez, how about building an excellent note taking app? If anyone builds an alternative that imports my notes from Evernote I'll try it without hesitation, none. I feel little loyalty because I have to fight the UI every day. It is not very good. Despite that, I lived through the early days of Evernote and their synchronization process has been rock-solid for years. I never worry about it. Unfortunately, they are trying to become some kind of everything-for-business app, but they keep swinging at useless trends. Focus on improving the UI/UX and being the best app for taking notes., As it is I use other apps and copy my stuff into Evernote for the reliable synchronization.
December Update
I updated last night and now my notes will not sync at all. I did not submit a trouble ticket because of the terms. You guys don't need to see my content. 🤷🏻‍♀️
Fact Sheet
Publisher:

Evernote

Category:

Productivity

Released:

Jul 11, 2008

Current Version Released:

Jan 18, 2018

Version:

8.8

Size:

189.5 MB

Compatibility:

Requires iOS 10.3 or later.

Recommended Age:

4+

Game Center Certified:

No

Supported Languages:

Arabic; Czech; Danish; Dutch; Flemish; English; Finnish; French; German; Indonesian; Italian; Japanese; Korean; Malay; Bokmål, Norwegian; Norwegian Bokmål; Polish; Portuguese; Russian; Chinese; Spanish; Castilian; Swedish; Thai; Chinese; Turkish; Vietnamese;