Screenshots
New in version 8.4
Updates for iOS 11
Use Siri with Evernote: Create, update, and find notes
Updated Watch App: Improved performance, create audio notes
Misc bug fixes and performance improvements
Description
Let Evernote change the way you organize your personal and professional projects. Dive in: take notes, create to-do lists, and save things you find online into Evernote. We'll sync everything between your phone, tablet, and computer automatically.

---

"Use Evernote as the place you put everything… Don't ask yourself which device it's on—it's in Evernote" – The New York Times

"When it comes to taking all manner of notes and getting work done, Evernote is an indispensable tool." – PC Mag

---

GET ORGANIZED
Evernote gives you the tools you need to keep your work effortlessly organized:
• Write, collect and capture ideas as searchable notes, notebooks, checklists and to-do lists
• Take notes in a variety of formats, including: text, sketches, photos, audio, video, PDFs, web clippings and more
• Use the camera to effortlessly scan, digitize, and organize your paper documents, business cards, handwritten notes and drawings
• Use Evernote as a digital notepad and easy-to-format word processor for all your thoughts as they come

SYNC ANYWHERE
Evernote gives you the ability to sync your content across devices:
• Sync everything automatically across any computer, phone or tablet
• Start your task working on one device and continue on another without ever missing a beat
• Add a passcode lock to the mobile app for more privacy

SHARE YOUR IDEAS
Evernote gives you the tools to share, discuss and collaborate productively with others:
• Create, share and discuss with the people who help get your work done, all in one app
• Search within pictures and annotate images to give quick feedback
• Develop your projects faster and let multiple participants work on different aspects

EVERNOTE IN EVERYDAY LIFE
• Make personal checklists to keep your thoughts organized
• Set reminders to keep on top of activities and write to-do lists
• Gather, capture and store every thought you need to stay productive
• Plan events such as holidays, weddings or parties

EVERNOTE IN BUSINESS
• Create agendas, write memos and craft presentations
• Annotate documents with comments and thoughts during team meetings, then share with colleagues
• Get your projects underway faster and maximise productivity by letting multiple participants access and work on different aspects alongside each other

EVERNOTE IN EDUCATION
• Keep up with lecture notes so you don't miss a vital thought
• Clip and highlight articles from the web for academic research
• Plan and collaborate for better academic group work

BETTER NOTE INTERACTION WITH 3D TOUCH
• Quick Actions for faster note creation and search
• Sketch in notes with pressure sensitive ink

EVERNOTE FOR APPLE WATCH
• Dictate notes and they will be transcribed in Evernote
• Dictate searches and get results on your Apple Watch
• View newly created & updated notes
• Set reminders, get notifications, and never forget anything

---

Also available from Evernote:

EVERNOTE PLUS - More space. More devices. More freedom.
• 1 GB of new uploads each month
• Unlimited number of devices
• Access your notes and notebooks offline
• Save emails to Evernote
$3.99 monthly, $34.99 annually

EVERNOTE PREMIUM - The ultimate workspace.
• 10 GB of new uploads each month
• Unlimited number of devices
• Access your notes and notebooks offline
• Save emails to Evernote
• Search inside Office docs and attachments
• Annotate PDFs
• Scan and digitize business cards
• Show notes as presentations, instantly (desktop only)
$7.99 monthly, $69.99 annually

---

Price may vary by location. Subscriptions will be charged to your credit card through your iTunes account. Your subscription will automatically renew unless canceled at least 24 hours before the end of the current period. You will not be able to cancel the subscription once activated. Manage your subscriptions in Account Settings after purchase.

---

Privacy Policy: https://evernote.com/legal/privacy.php
Terms of Service: https://evernote.com/legal/tos.php
iPad Screenshots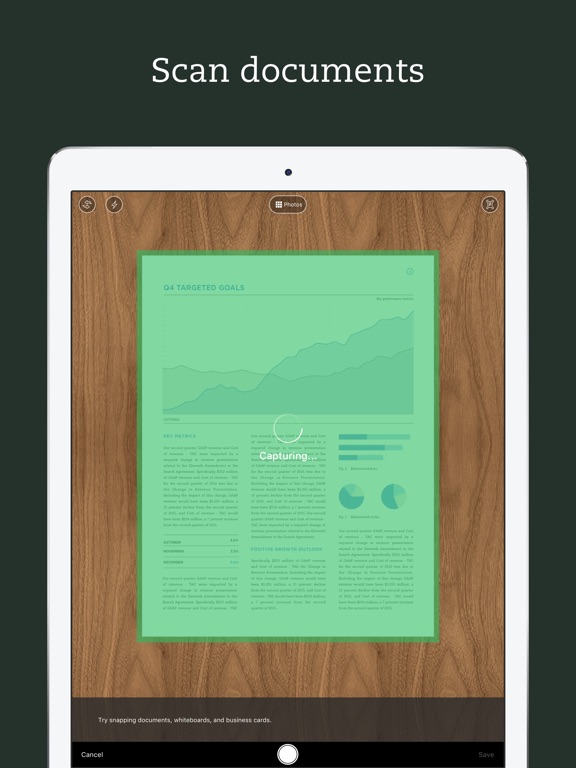 Reviews
Some serious syncing issues
Evernote is a great app most of the time, but it often hinders my productivity because of its major synchronization issues. I would edit a note on my computer and make sure to sync it to the cloud, then open it on my phone to see the old version, which then (instead of downloading the new version first!!!) over-writes the new version in the cloud so that the next time I open the same note back on my computer, it gives me the old version again, the new one being lost forever. A lot of work lost that way!!!! The old "conflicting notes" were annoying enough but this is definitely way worse!
Crashes Every Time (iOS 11)
Every time I've opened the app since updating to iOS 11 (both the app and the iPhone), this app crashes. I deleted it, reinstalled it. Still no luck. Extremely frustrating.
Version 8.4
Perhaps this new update works great with iOS 11, but for those of us with iPhone 5c ... it won't even open. How can we downgrade to an earlier version?
CRASHES ON STARTUP ALL IOS DEVICES WITH CPUs A9 +
Herr Steadfast
on
9/24/2017
UPDATE: I need to add to the fact that now all my iOS devices with processes a nine or greater that is including the iPhone SE and my iPad 12.9 with a 9AX and above all crashing the moment I try to execute the application reboots reinstalls do nothing. ODDLY my Ipad pro 10.5 (2017) [A10x] that's not have that problem I can explain why there's no logical reason and it basically is running in the image of the same applications on the other systems that all crashing. While this used to be an excellent app and I rely upon - daily - as I much storage on the iCloud and exported down to my computers. EVERNOTE developers... PLEASE FIX THIS NOW ! If need be you can contact me and I can give you more technical data as I am current Apple developer.
Difficult to impossible to close account
Very sorry I ever downloaded. After they have been apparently hacked I want to close the account and support desk not only Unhelpful but obstructive!!!!!
Crashing since the new update
For some apparent reason, the app's been crashing ever since the new update. As soon as I add a photo, it crashes. Hope there's a fix soon.
Buggy and losing data
the worst possible bug for this app is happening - data is being randomly lost. If you care about what you put in your notes, then don't use evernote because it may disappear. Also, the most important feature is to make text entry easy. Not so in the app. And searching within a note is hard. Multiple touches to open search and then you can't cycle through multiple hits. Evernote people, do you use your own tool? Or ever do user research? Just get the basics right!
Crashes when adding picture. Please fix!!!!!!!
This app breaks everytime an iOS upgrade!!!!!
Bad release
I love Evernote, but this update does not work at all. I've reinstalled the app twice and it still quits the moment I open it. Unfortunately it's unusable until the next update. Here's hoping we won't have to wait too long.
Great. Try it.
Yyyyeeessss
Limited Notebooks, and limited notes 🛑
Did not find this "limit" out until recently. This is 2017 🤔 I wanted a lifetime of note taking. I'm at over 10,000 notes in less than 2 and half years, and at my 250 Notebook limit 😝 They raised the subscription not long ago and they are one of the top note taking app companies ➡️ doesn't make any sense to me to have limits for simple note taking ‼️ Plus, no help for my "Recent Notebooks" issue for recent update in iOS. Leaving the Elephant 🐘 and possibly saying hello to the Bear 🐻 ➡️➡️➡️ If the Bear 🐻 has limits I'm off to see one of the big dogs 🐶
Dont bother
Waste of time and money!!!!
Could use more setting toggles
Crystalleyezedreams
on
9/22/2017
I downloaded this to use this in conjunction with OneNote. While handwriting notes, it automatically shapes lines and shapes which I find particularly annoying. Please have this as a setting which we could turn on/off. It slows down my writing speed because I have to constantly go back and undo so the feature won't interfere with my original written item. I like that it can split screen which is the main reason I use it.
After all these years, still terrible tag functionally. Bear is calling.
PLEASE OFFER DECENT VIEWING OPTIONS FOR TAGS for users who do not want to live in search, and for heaven sake's, nested tags.
Disappointed - do not upgrade
I understand everyone needs to make money, but after I upgraded and didn't need the upgrade again for the following months... it took away my ability to link across all my devices without upgrading. It did that THE SAME DAY my upgrade went away... coincidence? I doubt it. Plus the longer you've been using it, the more they charge you per month to upgrade. I know that, because I went to sign up another account out of necessity BECAUSE I couldn't log into my account on all my devices at the same time anymore... and it was cheaper for my to have an account as a new person than as someone who's been a customer for a long time. Not a very good way to treat the people that have been around for a long time.... It also concerns me that they will keep raising the price on their longer-term clients… So I need to find something other than Evernote to use unfortunately. I used to love this app… I can't even explain how many people I've recommended it to… "What goes up, must come down"
Keeps crashing
The app keeps cracking right after opening in my iPhone and iPad. I have updated both devices to the newest iOS and latest version of Evernote and the app is still unusable on each device.
Can't use after iOS 11 update
I'm not able to use the app after the update, every time I open a pdf to annotate it crashes, I tried uninstalling and reinstalling but it didn't work, fix ASAP!!!
Ever half-baked
Despite numerous updates, it remains clunky, slow, and unreliable. It hangs when you need it, and syncs forever. Update 09-2017: It's worse a year later. After the last update, it quits without opening its database. Do not count on its "Premium" support: useless.
Normally it's amazing...
Since upgrading to iOS 11 the app gives me a sync error roughly ever 15-30 seconds at most. Makes the app unusable as it cuts off what ever you are doing to give you the error multiple times. This after updating everything, turning the phone on and off, and checking the Evernote Sever status.
Needs Update
The app crashes in several scenarios. It needs an update with iOS 11.
Wait to update, crashes a lot...
I was excited to see the integration of Skitch and being able to markup PDFs or other images. I use it for all my class notes and other things, however now the Skitch integration simply causes my app to crash. Also sending documents to Skitch via the share tab also doesn't work... Now I regret updating the Evernote app, as it clearly wasn't regression tested well...hope it gets fixed soon!
Conceding defeat with Evernote
I have been trying to use Evernote for several years. I thought it was great when I first started using it but this program has continuously deteriorated to the point where I recently restructured thousands of entries in Simplenote and copied them to Apple Notes. I can now be gloriously rid of Evernote. I have never experienced an app that went from being great to useless. Although the original problems were primarily syncing issues now this app just freezes, and this is on a brand new iPad. What a shame to destroy what was once a great app. At least I'm now thankfully done with this piece of crap.
Can't log in with Safari on an iPad
Safari for iPad pop up wants me to "Open in App Store" whenever I try to log in. What a joke! I don't want to go to the App Store or use the app, as I'm logged into the app already with another account. Irritating that something so simple won't work.
Crashes during PDF annotation
With the new update, the app crashes upon attempting to annotate PDFs. Since this is the primary function I use with this app, it's a deal-breaker.
Latest update crashes on sync
Very disappointed that the latest version keeps crashing the app on sync. The app doesn't disappear, per se, but instead drops into the background. Bringing it forward crashes it again, ad Infinitum. This app has been pretty reliable until now, but this is a killer.
New update only crashes..had to delete app and reinstall
New version I just downloaded crashes on startup Unusual-able.
Does not sync well
martinplaysdrums
on
9/18/2017
I've been using evernote for years and it has NEVER SYNCED across my devices with ease. I'm the kind of person who writes down ideas on the fly -- so I like returning to notes which I've started on my computer, on my phone, which at the moment are nowhere to be found. I think the past 5-10 notes created on my computer have failed to be on my phone when I need it the most! In the spur of a good idea, on the fly, when I'm trying to quickly add to a list of items on a note. What's the point of an app that is meant to sync among multiple platforms if it does not sync well? Feel like I'm wasting my time here.
Easy, fun, and beautiful
aberrantartist
on
9/18/2017
This app is very well made. It provides many options for different kinds of not taking; photos, drawing/writing with a stylus, audio and typing. There are lots of ways to share and organize them also. It would be even better if it allowed greater flexibility with organizing notes such as wrapping text around images or drawings, and being able to move images or drawings after placing them so your not forced to put them right after the last line of text. Also being able to change the size of the images and text. And the feature to change your profile picture is not very good. It doesn't allow you to crop very far and doesn't show what will be cropped out and what won't. Thanks for a great app overall though!
Excelente herramienta. Ayuda a tu Propósito!
CarlosElCoach
on
9/17/2017
Si sientes que tienes un propósito en la vida, EVERNOTE es tu mejor herramienta para cumplir ese sueño. Es mi segundo cerebro! CARLOS - EL COACH
Super fast now!!
I think the new look is a much needed facelift! Its much to faster and easier to get thoughts down
I love this app than any other.
cheli_belly94
on
9/17/2017
I can organized them in certain ways, it also can do both ways. Recording and writting my notes at the same time, knowing that a lot of apps cannot do that. But I really do hope that their monthly payment or annually is not very expensive for plus and / premium plans. Even though there is discounts going on. But, I used it for taking notes and records important stuffs. I wish that they will give the free or basic plan more GB memory. And maybe add more features if you want us as customers to be interested on the premium or plus plans. So far, I had no concerns or problems with this app.
Evernote lost my data
i have entrusted everything to evernote - for 7 years. premium always. this year whenever i go back to an old note the attachments are corrupt or gone. i'm just beginning to realize the devastating consequences i will now have to deal with, as evernote IS the archive and backup of all this data. the elephant never forgets right ? b.s.
Worthless
Discovered today that I've been thinking I've been saving important emails since March, but actually they've been disappearing. I got no notice that my membership had expired, nor did I ever get a "cannot save" message. There's no way to phone any tech support. What a rip-off, not to mention all the vital info I've lost!
Delete the old app and reinstall
I thought this app was dead. Would not even open. I delete it and reinstalled and now I can access my notes again. Too soon to tell if behavior has improved but I'm updating the rating to 3 from 1 since it seems usable again
Evernote is crap
Use google docs it's WAY better
Formatting poor
Should be able to turn automatic formatting off on iPad & iPhone. Seems like Evernote fiddles with the product too much. Am starting to consider looking elsewhere for a note app, especially since they went up in price.
Don't download/upgrade!
bugaboo28374
on
9/11/2017
This version has a bug which causes it to loop crashing on startup. You cannot use the app in iOS!!
Sluggish
The app hangs on all devices now while syncing, apparently. Every few seconds. Very frustrating; I've cancelled my subscription.
One of my most-used apps.
Syncs seamlessly with the desktop version. The best feature of mobile is the scanning option that converts photos of documents into tidy files.
Disappointing, limited, overpriced
I meant to just try it out and ended up with an annual subscription. (No refunds) My intended use was to track receipts but it doesn't show imbedded images -only a place holder shows up. I wanted to be able to see the receipts without downloading them. When I click on the placeholder it downloads the image. Rather pointless I could just leave it in my email for that! That's not worth $75. (69 W/tax). Meh. I dunno if there is any good reason to use this. I went online and found an article on how to get the best of Evernote. It didn't help at all. It simply just advocated that I put everything I want to save on Evernote, and then I will somehow benefit from centralized data. I could achieve the same results Evernote offers by using a simple Note taking app with Dropbox. Google sheets, Apple notes, free Microsoft one note, etc. I thought it would offer more. SHAME! OVERPRICED!
Price increase way too much
Cmc09876544321
on
9/9/2017
The new annual subscription is just way too much for what you get. Moving everything to a new solution.
Simplify Formatting by default
Can I paste with default formatting of the note? now I must paste and tap simplify formatting every time.
Can't live without it
My favorite app
Needs some minor work to stop a horribly INCONVENIENT problem
Kat's MacBook
on
9/7/2017
I just switched to Evernote from years of using Notability; I needed to be able to make marks, highlight, and write on PowerPoints, which Evernote can do perfectly. However, Evernote shuts itself down in the middle of me "annotating" (making marks, taking notes, etc) the document. It shuts down and does NOT SAVE ANY OF THE MODIFICATIONS I HAVE MADE. So, in order to battle this problem, I close and let my annotations auto-save about every 5 minutes to be safe. So far, this method has been working, but I shouldn't even have to do it. Please update and fix this app. Also, the Evernote app works the best on my MacBook Pro, but isn't as good on my iPad.
Devastated with updates
nyrangersinak
on
9/6/2017
I am devastated with the performance of the app lately. I know the last update was supposed to resolve slow response issues but it did not ... and it may have made it worse. I'm devastated because I loved this app. I'm even a Premium member because I felt the app was reliable. Please, please, please keep working on this and resolve these concerns. I'll keep an eye out and hope to have you as my primary organizer again.
New update bad design
Can't see the notebooks in "notebook" form only in list form. That was the only reason it was working for me :(
Fact Sheet
Publisher:

Evernote

Category:

Productivity

Released:

Jul 11, 2008

Current Version Released:

Sep 18, 2017

Version:

8.4

Size:

177 MB

Compatibility:

Requires iOS 10.3 or later.

Recommended Age:

4+

Game Center Certified:

No

Supported Devices:

iPhone5-iPhone5, iPadFourthGen-iPadFourthGen, iPadFourthGen4G-iPadFourthGen4G, iPhone5c-iPhone5c, iPhone5s-iPhone5s, iPadAir-iPadAir, iPadAirCellular-iPadAirCellular, iPadMiniRetina-iPadMiniRetina, iPadMiniRetinaCellular-iPadMiniRetinaCellular, iPhone6-iPhone6, iPhone6Plus-iPhone6Plus, iPadAir2-iPadAir2, iPadAir2Cellular-iPadAir2Cellular, iPadMini3-iPadMini3, iPadMini3Cellular-iPadMini3Cellular, iPodTouchSixthGen-iPodTouchSixthGen, iPhone6s-iPhone6s, iPhone6sPlus-iPhone6sPlus, iPadMini4-iPadMini4, iPadMini4Cellular-iPadMini4Cellular, iPadPro-iPadPro, iPadProCellular-iPadProCellular, iPadPro97-iPadPro97, iPadPro97Cellular-iPadPro97Cellular, iPhoneSE-iPhoneSE, iPhone7-iPhone7, iPhone7Plus-iPhone7Plus, iPad611-iPad611, iPad612-iPad612, iPad71-iPad71, iPad72-iPad72, iPad73-iPad73, iPad74-iPad74,

Supported Languages:

Czech; Danish; Dutch; Flemish; English; Finnish; French; German; Indonesian; Italian; Japanese; Korean; Malay; Bokmål, Norwegian; Norwegian Bokmål; Polish; Portuguese; Russian; Chinese; Spanish; Castilian; Swedish; Thai; Chinese; Turkish; Vietnamese;