Games
Card
Casino
Entertainment
This version of the app is not recommended
App last updated
Jan 17, 2018
Screenshots
Description
RECRUITED BY APPLE TO LAUNCH WITH THE APP STORE
All your favorite games. Every deal is winnable. Beautifully designed and feature-rich. Highly rated and loved by millions.

Try before you buy! Tap on the Related button (above) to download the free, ad-supported version of Solebon (silver icon).

CLASSIC SOLITAIRE GAME PLAY
Enjoy Windows style Klondike solitaire and other classics including FreeCell and 4 versions of Spider. Try new player favorites such as Baker's Game, Demon, Pyramid, Scorpion and Yukon plus 10 original games not found anywhere else including Russian Revolver. Our leading solitaire suite delivers 50 solitaire games wrapped in high-resolution graphics within a clean, intuitive interface developed exclusively for Apple devices.

KEY FEATURES
• Available on iPhone, iPad and iPod Touch
• Portrait and landscape play
• 50 solitaire games with 10 original games
• Every deal can be winnable with Winning Deals
• See how to win on every Winning Deal
• Celebrate victories with Custom Animations
• Play with friends via Match Play
• Simple tap card movement
• Pinch to Zoom to resize the play field
• Choose from several, easy-to-read HD card styles
• Leaderboards
• Detailed statistics with backup and sync
• Favorite games feature
• Right or left handed play
• Foundation Auto play
• Unlimited undo
• Rules for all games
• Timer
• Scoring
• Moves tracking
• Color preferences
• Speed preferences
• Many more features managed within Settings

50 SOLITAIRE GAMES
Accordion, Aces Up, Agnew Sorel, Ambrose*, Askew*, Baker's Game, Baker's Game Easy, Beleaguered Castle, Blind Alleys, Bouquet, Busy Aces, Colorado, Creepy Crawly*, Demon, Doublets, Easthaven, Eight Off, Eight Off Easy, Fanny, Fanny Easy, Fortune's Favor, Four Seasons, Fourteen Out, FreeCell, FreeCell Easy, Golf, Honeybees*, Klondike Deal 1, Klondike Deal 3, La Belle Lucie, Lady of the Manor, Monte Carlo, Pas Seul, Penguin, Provisional*, Pyramid, Pyramid Easy, Russian Revolver*, Scorpion, Single Rail, Spiderette, Spiderling*, Spiderling 2 Suits*, Spiderling 4 Suits*, Thumb and Pouch, Triple Mulligan*, Vertical, Whitehead, Will o' Wisp, Yukon. (* indicates our own original games not found elsewhere)

For support and answers to frequently asked questions, head over to http://www.solebon.com/support.html. Follow us on Twitter @SolebonApp. Like us on Facebook https://www.facebook.com/SolebonApp. Play everywhere!

Solebon is built in the USA. Sharpening minds at play!
iPad Screenshots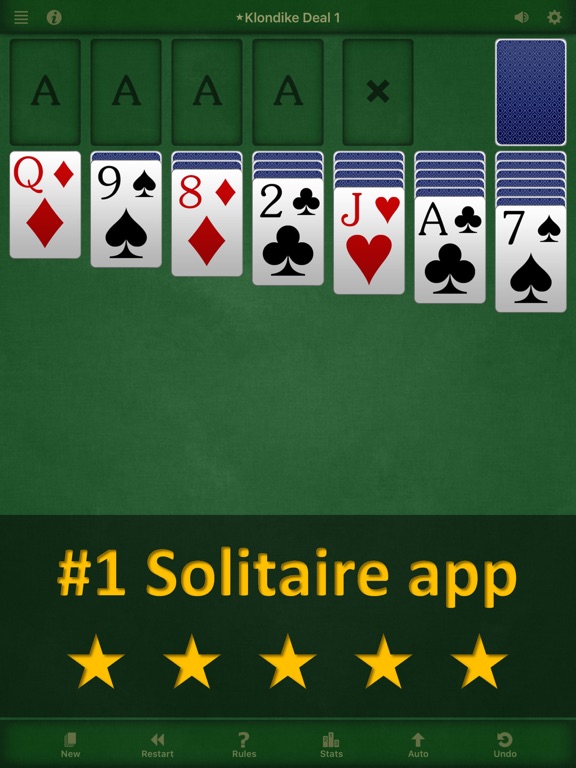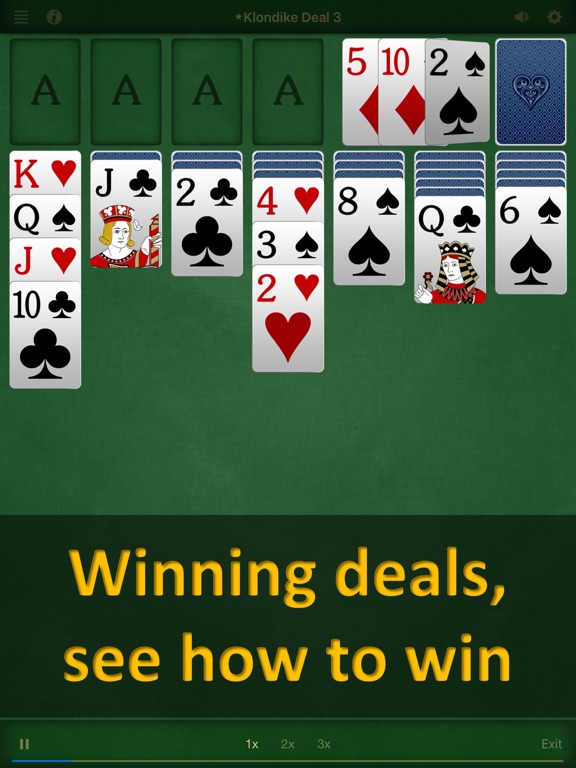 Reviews
Easy, handy, engaging, fun
I like it.
Only OK now
This app was better before your last update.
Winning
Love that you can win any game. Sometimes going back many times to do it.
Keeps bugging me to rate the app
When an app keeps pestering me to rate it, then I obligingly give it a 1-star rating.
Relaxing
JR from Winnsboro
on
1/17/2018
A wonderful, diversionary pastime when I'm taking a break from a busy day!
Only card app I use
This is a perfect app. It is the only card app I have. Has all the features one can want. Fun to play. The improvements only make it more compelling. Only game I ever play. I like the look of the update. It is a good app. The latest up grade is great. The upgrades keep making it better and better. Love the look and the play. You should get it. I always enjoy playing it.
Solitaire
Lorrie Savage
on
1/16/2018
I like the choices this game offers. It is easy to use and pretty instinctive in the way it works.
Best Game Ever
Love this game. I play Demon every day!
Creepy Crawly
I love playing solitaire. Klondike 3 was my favorite until I discovered Creepy Crawly. I now play it all the time. It's very challenging and a game at which I have improved over time.
OS matters. Love this app on IPod. Has many problems in Android.
IPod App has many features that are absent in Android. Also Android has many bugs that IOS version has worked out.
Need Option to Turn Off Metics
Need the ability to turn off metrics. I used to love this app for relaxation, now it's all competition against other players and my own scores.
Ask for a review you get one!
Like the program but they bug the crap out of you about writing a review.
No ads!
Cheetah bo-beetah
on
1/14/2018
Had to find a new solitaire game for my wife. The avalanche of ads on her old solitaire game was killing the enjoyment. With this game, she's happy again 🙂
Needs more work!
Previous versions never dealt random hands and would frequently break winning streaks by re-dealing. Re-deal error is gone as well as last ace at bottom of stock pile (nearly 100% of time) but random deal is still missing.
Fun app - Highly recommended
George Garvin
on
1/13/2018
Lots of games to choose from. Easy to navigate. Challenging yet possible to win. Various stats to compete against, such as speed and number of moves. You can also play against other players.
Addicting!
My go-to when passing time
Best
Too many pop ups asking you to rate game
My favorite app, bar none...
Charlie Pete
on
1/13/2018
...as my grandfather used to say. Fast. Great graphics. Tons of games. Syncs between iPhone and iPad. Great stats to remind me of just how much time I waste/spend playing this great app.
Feedback
THEE_PROPHET
on
1/13/2018
Stop asking for my feedback
Fun, high quality game
You can easily get hooked on this game, but it's a fun diversion and is always improving.
Best game app I have
ApieceofJaded
on
1/13/2018
I have play this game at least once a day for the last few years. Awesome!
Great software. One request ...
Moving cards to an open parking spot is really resistant. It causes me to record extra moves because the card won't sit in the space, or it won't move out easily when trying to put it back onto a stack. It doesn't make sense.
Bouncy & colorful
Colorful & Bouncy 5 stars
Good variety of card solitaire
Instructor250
on
1/12/2018
This app offers a good selection of solitaire card games. If you are not aware of some, you will find rules and enough to learn a new game. Some of the new have been fun. Some of the old were known for being fun. A good app. Very versatile.
Stop the pop ups already
I paid for this game to get rid of annoying pop ups & ads between every completed game. Now I get pop ups between every game asking me to rate it. So I did.
Long time user
I play this game a lot but am getting very irritated that they ask me to review it very time I finish a game. Hence, one star. Forced reviews force me to give bad reviews.
Not Better
Stop trying to get me to rate the stupid game every other time I win!!! I don't rate things unless it's to give a poor rating to something that's constantly trying to get me to rate it.
Fair, challenging
crankyspants
on
1/12/2018
Lots and lots of games. More added, more fun. Good way to pass the time while waiting for the bus.
Too many asks for rating
Stop continually asking me to rate the app.
Addicting!
Love this app!
Enjoy solitaire
Serene Rocks
on
1/11/2018
Lots of game choices- simple to more complicated. Good stress reliever.
Love it! Best solitaire in App Store. But begging for rating? = 1 Star
Hey! Developers! All of you. Here's a tip: if you nag for ratings, you're gonna get bad ratings. Nag me once, ok. Nag me after every d@mn deal? You get 1 Star. It's a shame, too. This really is one of the best solitaire games out there.
Awesomely good!
Slickspeedy76
on
1/11/2018
Its very entertaining card game
Best Solitaire by Far!
I loved this app, and bought the paid version. Game play is still great. What completely detracts is the return of the incessant nags to rate the app, again and again, even for the paid "no ad" version.
Awesome
RAP is not a song
on
1/11/2018
I like relaxing in the evening and playing Solitaire! Thank you.
Solitaire
Love this game. All types of games.
Waiting Room Blues
Can't think of a better way to while away the wait time at a doctors office. Keeps my mind busy!
The game moves up such that the top row cannot be seen. Very annoying
Please fix ASAP
Soliciting reviews
Nordberghstein
on
1/11/2018
Suddenly the game began asking me to review it with every new deal. Super annoying.
Lots of Solitaire varieties to keep you occupied
It works the way you expect card games to work. It doesn't get any better.
Great interface, fun to play
Interface is great, they support it with updates, great game
New Options
I play these games all the time! I love having the games automatically move the cards for me. Speeds things up so I can play more games in the same period of time. I love the recent updates. Also, enjoy seeing how quick I am versus everyone else. FUN!!!
Good game!
I love Aces. It's easy to play but is also challenging. I often replay a game I've lost until I finally win. Also, though it might look mindless it's not. Often you need to think which move would take you to a win. Takes logic to do that. Creepy Crawly is another favorite. Just when you think all hope is lost for winning no you often find a card you overlooked and that leads to more fun!! Solitaire is a great collection of card games!!!
Love love love it
I have played the various games for years and it never gets boring. I have won over 11,000 games in scorpion!
Enough
you are bothering me
on
1/11/2018
No review
Stupid ask for review messages
Average iTunes Review
on
1/10/2018
When it asked for stars I gave it and then it asked fo a review, which had no escape! So this is it, high scores but zero for the evaluation window!
Great app
Mike K in PA
on
1/10/2018
I love this app. Wide choice of games and levels of difficulty. Seeing how your scores and times compared to the best makes it challenging.
App developer forced me to rate this
I miss earlier versions. I like to play one game directly after another. It used to be super quick and easy to deal a new game once you had won. Now, even after turning off the obnoxious new winning animations, I have to hit a very small tap target to launch a new game. It usually takes me 3 or 4 tries. So frustrating. I have always liked the variety of games in this app. I am addicted to several of them. But now it's harder to indulge my addiction. Nag screens that hassle me after I purchased the app? That takes my rating down to one star.
Best Solitaire Game Available!
I've played other versions but this application is the Bomb!
Fact Sheet
Publisher:

Solebon LLC

Category:

Games

Released:

Jul 11, 2008

Current Version Released:

Jan 17, 2018

Version:

8.4.1

Size:

54.6 MB

Compatibility:

Requires iOS 8.0 or later.

Recommended Age:

4+

Game Center Certified:

No

Supported Languages:

Arabic; Catalan; Valencian; Czech; Danish; Dutch; Flemish; English; Finnish; French; German; Greek; Hebrew; Hungarian; Indonesian; Italian; Japanese; Korean; Malay; Bokmål, Norwegian; Norwegian Bokmål; Polish; Portuguese; Romanian; Moldavian; Russian; Chinese; Slovak; Spanish; Castilian; Swedish; Thai; Chinese; Turkish; Ukrainian; Vietnamese;