Recommended app!
App last updated
Mar 05, 2018
Screenshots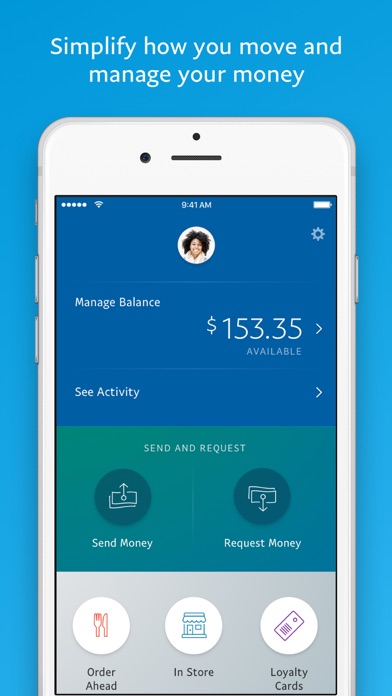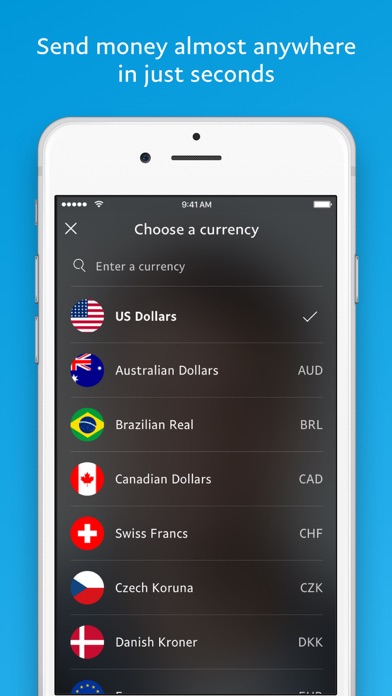 New in version 6.23.0
We fixed some accessibility issues, and made your payment details easier to read.
Description
Description
TAP INTO YOUR MONEY
Send money or pay online to almost anywhere in the world in just seconds. Manage all the ways you send, receive, and spend money at a glance – download the PayPal payment app today.

SEND MONEY IN SECONDS
Transfer money to PayPal account holders in over 100 countries using just their email address or mobile number. When the money arrives in their account (usually in seconds), they can spend the money online or withdraw it with just a tap. And it's completely free when you send money to friends in the US from your bank account or PayPal balance.

GET PAID WITH EASE
Send a request for money that allows people to pay you back with just a tap. Whether you're collecting money for a group gift or something you sold online, PayPal mobile app makes it easy for them and even easier for you.

STAY ON TOP OF IT ALL
Whenever you send, receive, and spend money with PayPal, the app sends an instant notification to help you keep track of it all. Whether you use PayPal Credit, your balance, your bank, or your debit and credit cards to pay with PayPal - you can find everything and anything you need to simply manage it all in this secure payment app.
Reviews
I like it!
Super easy to use. Great updates. Better than ever.
Pretty cool.
The app is pretty cool.
Excelente
Aplicación confiable y segura. Lo mejor en este tipo de apps
I love PayPal
This app on my iPhone as help me numerous times it's very easy to use and I've never had any problems with tech-support or sending/receiving money. I've used other companies in apps that do the same thing and Paypal for exceeds and excels pass any of their competition.
PayPal is the Best
I use PayPal from 2005 is my business favorite tool. I recommend to everybody has a PayPal account.
Best way to send money
They address any problem I've ever had in a timely manner and it's the easiest way to send money IMO
I hate this app
picklednipple
on
3/17/2018
My friend spent a week trying to transfer me money but it said that she was fraud and after a week of frustration I finally get the money and now it won't let me deposit in my card. Idk if it's that app or PayPal it's self but after I get my money out I'm probably never gonna use it again
Love it
Makes my life so easy..: Easy to use Easy to set up Easy to navigate I share it with everyone ❣️
Better....keep up the good work!
I've used PayPal for many years now, the better it gets the more I use it. I had a Very, Very big problem some years ago and my money wasn't recovered from the seller. I didn't get any help from PayPal other than them making inquiries. But thanks to The Better Business Bureau, the seller was closed down. My trust has been a long time coming....
Love PayPal
I've been using PayPal since it's inception. I've never had any trouble. The app is great!
Love it!
D:LkjsdaflkJADS'FJac
on
3/17/2018
Makes life easy when you want to pay someone, especially when they live across the country.
Editing options
7BFamilyMuzik
on
3/17/2018
Since my relative location is shown to people who have my paypal.me link, I should be able to edit my main address. We should be able to change whether our full name shows for payments Basically give us the option to be more private
Good app
Easy to use app for managing and looking at PayPal activity, and managing PayPal.
Great App!!!
Didn't realize how effective and easy this app is!! It's at the top of my list for ease and secure use!!! This should be on everyone's phone apps list!
Love it
lorissamozel
on
3/17/2018
Easiest way to get money to my son.
PayPal
It's simple And to the point.
Great Ap
Have been using PayPal for years. The ap makes it easy to send money especially when you realize you forgot an important birthday and need to send a gift pronto.
Great App
PayPal app is easy to use! Wish other apps were this stable
Transfers Made Easy
I love how easy it is to send money. I recommend this app.
Awesome!
PayPal helps me connect to clients & family fast and efficiently. Such a useful and proactive tool.
Safe, Fast & Convenient
Momma Connie
on
3/17/2018
I feel so much safer making purchases with Paypal. When businesses offer the pay with PayPal option I usually choose it because that's one less chance of my account information being spread. Also, if I want to send a financial gift to someone it's so easy to do when they have a Paypal account set up, as well. I would highly recommend Paypal. Oh, also, I had made a purchase online using Paypal. I never received my product and reported it to Paypal. They did their usual investigation, which does take a few days but at least there's the peace of mind knowing it's being checked out. In my case they found it appeared to be suspicious and they refunded my money to me. Just that easy!! Thanks Paypal. :)
PayPal makes it too easy...
I use PayPal for everything from paying the dog walker to paying large travel bills for business and/or pleasure from remote corners of the world. I never have to worry about security, and for that I'm forever grateful. I don't trust any other service to run my life, even my bank. If your not using PayPal for your daily, monthly and annual transactions, your doing yourself and your finances a disservice.
Decent app
For the last year or so one person who is no longer in my contact list is still in my recent sent list. Meanwhile someone I send money to every week or other week doesn't even appear in the search bar when I start typing their name in which is very frustrating.
Love the App - Just hate the High PayPal fees
Mike_in_Denver
on
3/16/2018
Most of my transaction are less than $50 and as such the high 3.5-5.0 % fees add up quickly.
Love my PayPal
So glad that my friend recommended this awesome way to send money easily and efficiently!!! Thank you!!!
Seems ok
Angel Dander
on
3/16/2018
I've been using PayPal for a while and had no problems except when some bi@&! In Texas scammed me for a bottle of perfume I sold her on eBay.but that wasn't their fault. Mine for not tracking it
Better than Venmo, no doubt
I don't know why people choose Venmo over this app. It's the best!
I love this little app!
I love this Paypal app! I can pay my auctions, send money to friends and so much more with my Touch ID. Also, love that I can make donations without whipping out a credit card. Paypal does it all. Fast, efficient and it alerts me when I send money. Thanks for this wonderful app!
Quick n Easy
It's really great to use. Quickly send money to anyone in your address list.
So far so good!
PayPal has done a great job over the last few years I have been a customer. KOKO!
Top Notch
Alexiiis-boo
on
3/16/2018
It's great.
Easy to use- easy to send
The app makes things so much easier for when I need to send money home. with the touch login and clear ease of use, it's very handy.
PayPal
Love the ease of the app. Instant. No fees. Safe.
Simply brilliant
Lionheart'sLove
on
3/16/2018
Thank you guys for this service
Uncluttered and intuitive
Its uncluttered, intuitive, fast and by far the easiest and quickest way to transfer money
Super EZ
Lori's Bella & Izzy
on
3/16/2018
I've been using PayPal for 10+ years. It's the easiest application there is on the Internet. It's nice to know that Paypal backed you up if there's any problems too.
Not as what they say
Try to deposit money from Bank account. Doesn't allow them when I call them they say it will automatically deducted from my account. Another lie
Just Awesome!
Trickdriller
on
3/16/2018
I love using PayPal! The buyer's protection is amazing and makes me feel comfortable making purchase online. I wouldn't hesitate to recommend this app to anyone!
Easy
Kirafromeverywhere
on
3/16/2018
Couldn't be easier to use
Great easy and secure
I love it. I wish I can use it at the stores too.
So easy to use.
Excellent application. So easy to use and secure.
Annoying
capo di capi
on
3/16/2018
Great convenient app. Only gave two stars because it keeps annoying me to rate the app.
Recommend
Rilythebeast
on
3/16/2018
Does what it needs effortlessly.
PayPal
PayPal is so very convenient...it allows me to pay for items purchased securely or send money to family without worry or the need to leave my home...and it's so much easier and less expensive than other money gram companies!!! PayPal is so great!
Works great
Thanks for the simplicity. Very intuitive, very straightforward. Exactly want you want an app to be. Good to know security checks are in place. Nice job!
Easy to send money to college student!
Great app. Takes me second to sent money to my son who is away at college.
Website always working...
Disappointed with the app. Tried to use it to send money on two separate occasions and it did not work well. I went through the web site and it was ok. Overall it's ok. I like PayPal. They enable very secure transactions and provide good customer service.
Handy!
Truly enjoy this app
Sensational
It's really hard to see the point of Cashapp and Venmo when Paypal makes it this easy.
Fact Sheet
Publisher:

PayPal, Inc.

Category:

Finance

Released:

Jul 11, 2008

Current Version Released:

Mar 05, 2018

Version:

6.23.0

Size:

226.8 MB

Compatibility:

Requires iOS 9.3 or later.

Recommended Age:

4+

Game Center Certified:

No

Supported Languages:

Arabic; Chinese; Czech; Danish; Dutch; Flemish; English; Finnish; French; German; Greek; Hebrew; Hungarian; Italian; Japanese; Korean; Bokmål, Norwegian; Norwegian Bokmål; Polish; Portuguese; Russian; Slovak; Spanish; Castilian; Swedish; Thai; Turkish;