Recommended app!
App last updated
Feb 22, 2018
Screenshots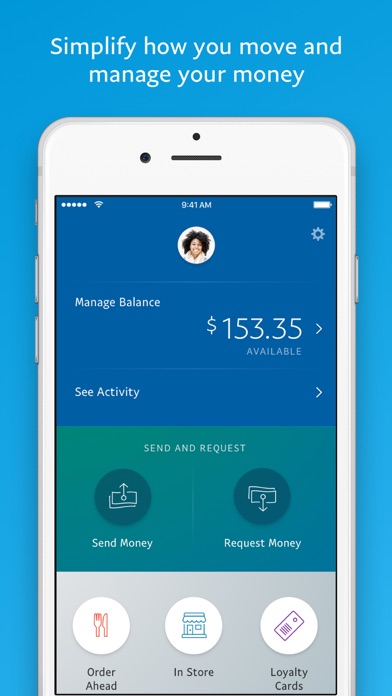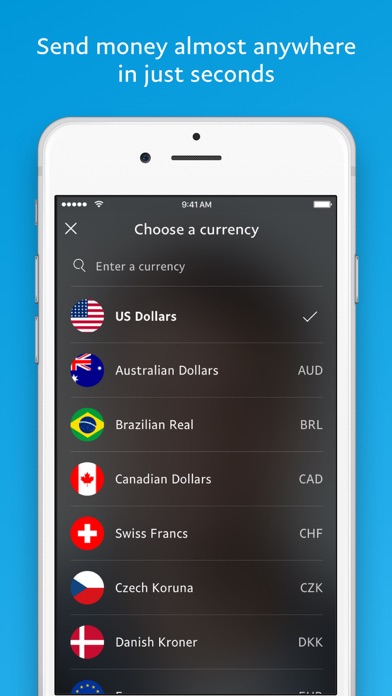 New in version 6.22.0
We fixed some accessibility issues, and made your payment details easier to read.
Description
Description
TAP INTO YOUR MONEY
Send money or pay online to almost anywhere in the world in just seconds. Manage all the ways you send, receive, and spend money at a glance – download the PayPal payment app today.

SEND MONEY IN SECONDS
Transfer money to PayPal account holders in over 100 countries using just their email address or mobile number. When the money arrives in their account (usually in seconds), they can spend the money online or withdraw it with just a tap. And it's completely free when you send money to friends in the US from your bank account or PayPal balance.

GET PAID WITH EASE
Send a request for money that allows people to pay you back with just a tap. Whether you're collecting money for a group gift or something you sold online, PayPal mobile app makes it easy for them and even easier for you.

STAY ON TOP OF IT ALL
Whenever you send, receive, and spend money with PayPal, the app sends an instant notification to help you keep track of it all. Whether you use PayPal Credit, your balance, your bank, or your debit and credit cards to pay with PayPal - you can find everything and anything you need to simply manage it all in this secure payment app.
Reviews
Friends and Family
I have used this option for a few years living out of state. It has made it easier for family and I. Whenever I have an issue PayPal customer service always is very customer service friendly .
Excellent
I've been using PayPal for nearly a decade. It's reliable and secure. I use other electronic payment methods but PayPal is my go to app!
PayPal is great!
babymax79936
on
2/20/2018
PayPal makes my life so much easier!
Serves me Well
God Kept iPhone 4
on
2/20/2018
I use it to help out friends and charity
Works great!
Convenient to use, plus I like the PayPal Me feature. I use it for all my clients.
Fix
NachoValencia54
on
2/20/2018
It's annoying how the page of primary card choosing is set up
Easy money
uilvert okazzio
on
2/20/2018
Doesn't matter distance, you'll get or send your money. Pretty good !
Chinese text.
3D-touching the app icon results in Chinese text, regardless of your device's language.
Great app
rains loving
on
2/20/2018
Great app
Unprofessional
As my first review for having an iPhone for years. When you deal with my money. That really means something. I didn't update my new debit card and deposited money into my old one. Realizing this I called support. They told me it would be rejected and back in my account today to send correctly and they can't do anything. For what I thought would be in my account in 30 minutes. It's been a day and still nothing. I need that money. Online they said if the money doesn't appear in 30 days then contact support. Like who tf can't wait 30 days for a few hundred to get back to them. Pay me interest or smg. The app told me. If the transfer has issues it may have a delay. Thinking nothing. Press send. It says there's a delay. Of course. And now my money's locked up for who knows how long. You couldn't of told me before I pressed send. I never knew how useful crypto currency would be for transaction until I had to deal with this bs. When you deal with people's money. You have to have a better system then this EDIT: I called today. For being 48 hours without my money. They said I will probably get it after 72 hours. I have to wait another day to get my money. If a person did this to me I'd probably punch them. This is outrageous EDIT: okay I was joking about punching them but it's been 72 hours and I got my money back. Used my current card and that got delayed for ANOTHER 72 hours. I pray this company fails. They are not worth having a dime of mine EDIT: okay it's been 144 hours they said it has gone through my card and it's on my banks side. My bank said we have only seen a with withdraw on the money. No deposit. So they tried taking money from me. So we called PayPal for the 8th time. They said they have sent it but in he process the transfer has gotten lost and it may take another 72 hour for the transaction to go through. Of course being my luck. So what I thought would be half hour turns out to be 216 hours. And I take that back. I do want to punch someone now. I will not use PayPal ever again
Love this app!
Love PayPal! I have been using it for years and never had any problems. It's the easiest and most secure way to pay for things.
Me gusta mucho
He utilizado la aplicación por varios años en mi negocio y ha funcionado de una forma maravillosa. Mi calificación no es de cinco estrellas porque creo hay algunos elementos a mejorar sobre todo en la versión móvil como el cambio de idiomas ya que mis clientes Son de diferentes países y mi solicitud siempre le llega en español. Poder tener también el dinero en una tarjeta de débito en México sería muy funcional.
PayPal is the best!
I absolutely love using PayPal, it's great for sending money to loved ones out of state, And for shopping online. I don't know what I would do without it.
Excellent app!
Abu Mahmoud1
on
2/20/2018
This is such a useful and convenient app!
I love PayPal.
Don't have no nickname
on
2/20/2018
This makes shopping on line safer and makes it possible to pay people who would have required payment by check or cash in the past. I also like the no interest for 6 months option on larger purchases.
Used it for years
Fullmetalangel
on
2/20/2018
I never had a problem customer support and service always good
Convenient
I have been using paypal since I opened an ebay account, it is now convenient to purchase online and have piece of mind if I am scammed or do not receive an item. It also makes paying bills easier as well.
App doesn't transfer money
KirstenHanna
on
2/20/2018
The app stopped transferring money 4 days ago for me. Every time I attempt a transfer, I receive a "Sorry about that..." notification. Will you please fix your app? This is ridiculous!
My favorite App
Reggie "Vision" Alexander
on
2/20/2018
Works great I feel more secure using PayPal as a middleman sending interstate money to my Family,children and Grandchildren!
Excellent application
Rittmeyer's account
on
2/20/2018
Love the application, fast, efficient.
Excellent
Im really glad i rediscovered my pay pal again. This is one of the best services i have used period. Easey safe flawless money transfer oh yes quick and cheap. Pay pal is my new bank and i am getting others on board so i can interact with them receiving and sending money. Way to go Pay pal
Works great.
Love the app. Easy and convenient. My only complaint is, why the processing fees when Venmo is free? Common now. But from the standpoint of the app it's easy and works well.
Very Useful
Great app, it does what it's supposed to do.
Not good for those with visual impairment.
The picture security checks are almost impossible to use for someone with a visual impairment. I always have to find someone to do it for me after trying for 15 or 20 times unsuccessfully. If you choose letters and numbers that are not completely scrambled it would be a lot better application.
It WORKS !!!
Easy to set up and use... Feels safe and secure.
Great, with one exception
tamikarsmith
on
2/20/2018
I love this app; love it. But,they need to add a search feature to search by dollar amount. How can you have an app that manages finances, but no search feature for dollar amount? Doesn't make sense to me. If PayPal could add this feature, it would be a perfect app.
Thank You to PayPal for protecting me!
KimberlyMoore kmoore24
on
2/20/2018
Thank You to PayPal for protecting me! etsy fails to protect customers from sellers that receive our money then after 5 months of excuses never send the item. PayPal got me the refund!
Great app and super easy
Can't close commercials
on
2/20/2018
This is one of the easiest pay apps I have ever used. Love Pay pal and the app.
Love this app
Elegant Catering
on
2/20/2018
The best app for fast money transactions and secure payments
Great app!
I'm a novice and even I can do it! It really is easy and allows you to pay timely. Its great
Sharon W
Love it, simply said!!!!
Top Notch app!!
Mimi 66778890
on
2/20/2018
Thanks pay pal for making payments easy pezzy
Great App
I have been using PayPal for years and have to say that they are the best in customer service and the easiest app to use. I highly recommend to all my friends and family.
PAYPAL
debraflorida
on
2/19/2018
I think PAYPAL is wonderful!!
Needs a help function
I accidentally sent money to the wrong email address. It shows pending and I am somewhat confident that it will work out, but i don't like having to wait.
Takes entirely too long to transfer to bank
3+ days to transfer into an account is ridiculous
App is horrible
PayPal, why does your app never work?
Safe and secure for everything!
I use PayPal for a ton of purchases and now that you can send money and receive it instantly (for a $.25 charge) I use it more than any of my other 'cash' apps to pay for stuff at send friends money.
Love it!!
Joytoallfriends
on
2/19/2018
This ap saves me time,all the time!!
Buena
Hasta el momento la app es bastante confiable. La plataforma es sólida y puedes realizar tus operaciones sin estrés. Podría ser más dinámica pero de resto es buena.
Works... but lacks needed features
Oddly missing things like account nicknames makes it much clunkier than it needs to be.
Super Easy
App is great for on the go payments & requests for payment. Has recently been streamlined & I can literally send a request for payment in less than a minute!!
Family solutions
Sending my children money or paying for other things couldn't be easier using this APP.
AMAZING
Life saving I live on this
Convenient and Easy to Use
At first I didn't think I would use it much, but over the last month that I have had it, I've easily used it 10 times to receive and send money. Especially between friends, it's easy to pay someone back for lunch!
Best online payment experience
My primary use is to make payments to friends and family, and it literally could not be easier or more intuitive to accomplish. Though I do also use it for other payments as well, and I find those activities to be easy and safe.
So easy. So fast. 💯💯💯👍🏼👍🏼
Love this site/app. The app is so easy and almost instantaneous. If you ever plan to use PP, get the app.
Business payments
Easy, quick and immediate payments for my business. Works great! No issues
Easy to use
Missjavamama
on
2/19/2018
With so many ways to pay with technology, I really find PayPal the easiest. User friendly and no surprises. Great app!!
Easy to use!
Steve Shannon
on
2/19/2018
The iPhone app is easy and intuitive to use. I've had no problems with it.
Fact Sheet
Publisher:

PayPal, Inc.

Category:

Finance

Released:

Jul 11, 2008

Current Version Released:

Feb 22, 2018

Version:

6.22.0

Size:

225.9 MB

Compatibility:

Requires iOS 9.3 or later.

Recommended Age:

4+

Game Center Certified:

No

Supported Languages:

Arabic; Chinese; Czech; Danish; Dutch; Flemish; English; Finnish; French; German; Greek; Hebrew; Hungarian; Italian; Japanese; Korean; Bokmål, Norwegian; Norwegian Bokmål; Polish; Portuguese; Russian; Slovak; Spanish; Castilian; Swedish; Thai; Turkish;